On 1st July, we took the 11pm flight to Delhi and 6 am flight from Delhi to Leh. After 2 months of painting, German and engineering exams back to back, I finally got my time of freedom….travelling! Ladakh, a place people dream of visiting, finally ticked off from my list of places! Kolkata's tourism fair was the source of our connection with a local tour organiser at Ladakh. I had already set a route in my mind and Mr. Stanzin had accepted the plan too, with a few modifications from my father, and we agreed on the dates, so finally, Ladakh it was!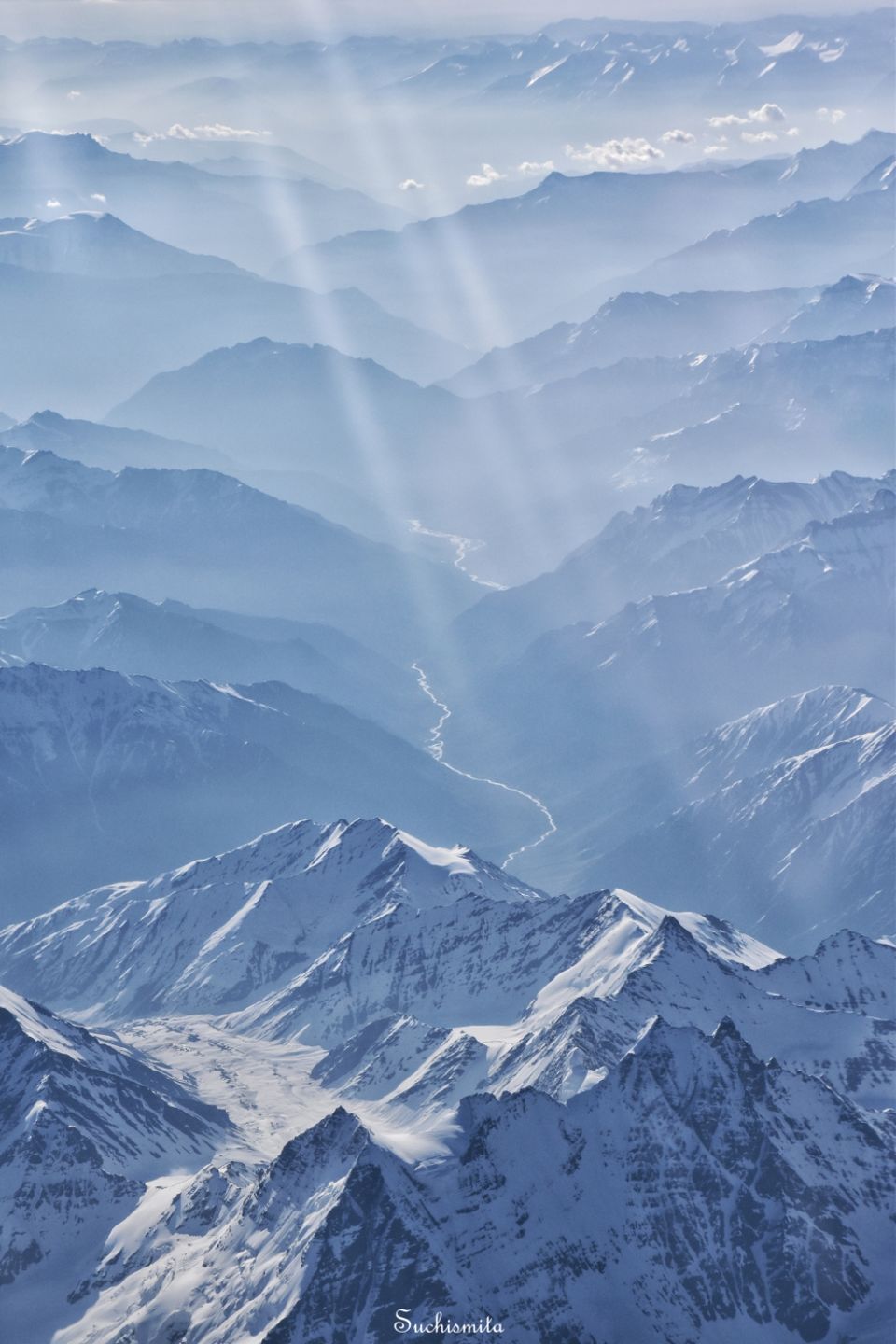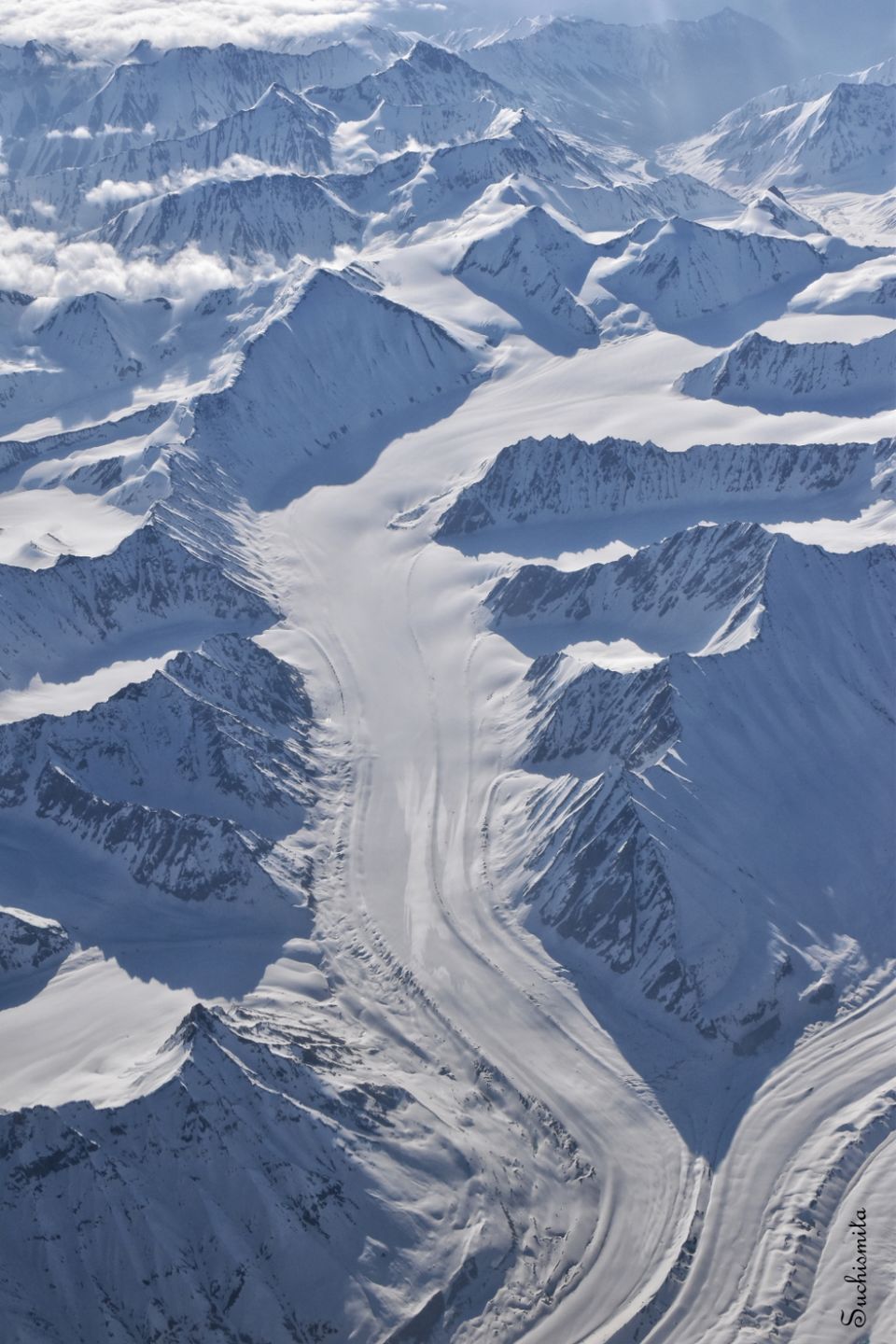 We landed in Leh at around 6:30 in the morning of 2nd July. I had never in my life flown over snow mountains, and be it roadways or airways, the way to Leh is tremendously beautiful. As for the well known breathing problems that people who go via flight especially face because they don't get the time to adapt to the thin air, surprisingly, I had no problems at all. I say "surprisingly" because I was almost quite sure back at home that I'd have either a migraine attack or something as soon as I'd reach Leh, but my health was better than ever during the entire Ladakh trip, and oh dear Ladakh, this place tried it's best to show me everything possible, from Dalai Lama's birthday to migratory birds and wild animals to snowfall to sand storms to rainbows to Sonam Wangchuk… As a matter of fact, I felt so good there that when I returned to Kolkata the air felt so warm so heavy, almost suffocating and uncomfortable!
We were welcomed at the Kushok Bakula Rimpochee Airport, Leh, by Mr. Dorje, who would be our local travel guide for the rest of the tour. Our hotel at Leh was Sangaylay Palace, where we were welcomed with a Health Advisory that's distributed to every hotel by the Tourism department of the Government of Jammu & Kashmir. In the advisory the main topic of interest that I myself have seen quite many tourists suffer with, is the Acute Mountain Sickness, which basically happens due to the huge altitude and lack of oxygen in the air. The advisory even provides emergency numbers, so I'd advice everyone to carry one all the time. We had breakfast and the hotel's manager himself asked us to take rest for a day, just drink water and sleep. However we were just in Ladakh, how do you expect me to not be excited! I freshened up and walked around in the lobby and lawn of the hotel for a few 2-3 hours, then decided to go to the Leh main market road as there were no other plans for the day. Whenever you are organising for a trip to Ladakh, everyone will recommend you to keep 2 whole days in hand for rest and adjustment to the altitude, but it didn't seem necessary for me, I already felt fine, so a 5 minute walk to the mall road was fine too. Leh's mall road is a very busy spot. During a small conversation with some workers at the hotel, I had come to know that the tourist footprint in Ladakh has reduced by almost 60% this year. The 4 main reasons being, Elections, Pulwama bombing in Kashmir, World Cup, and the sudden cancellation and increasing costs of airlines. However, the mall road was busy with not just tourists, a lot of locals inhabit the main market. There are a large number of dustbins almost every 5 seconds to remind tourists to not litter around the road. I believe that closely observing the market road of a city gives me an idea about the lives of the natives, their culture, religion and colour, and so did Leh main market. From Aryans sitting down along the sidewalks to the millennials walking around with a softie in hand to the old wrinkled women sitting down to sell their sacks of dry fruits, Ladakh's mall road has so many stories to tell. 2nd July was soon over and another fact is that, the sun sets at around 8 pm, which gives Ladakh a very long day.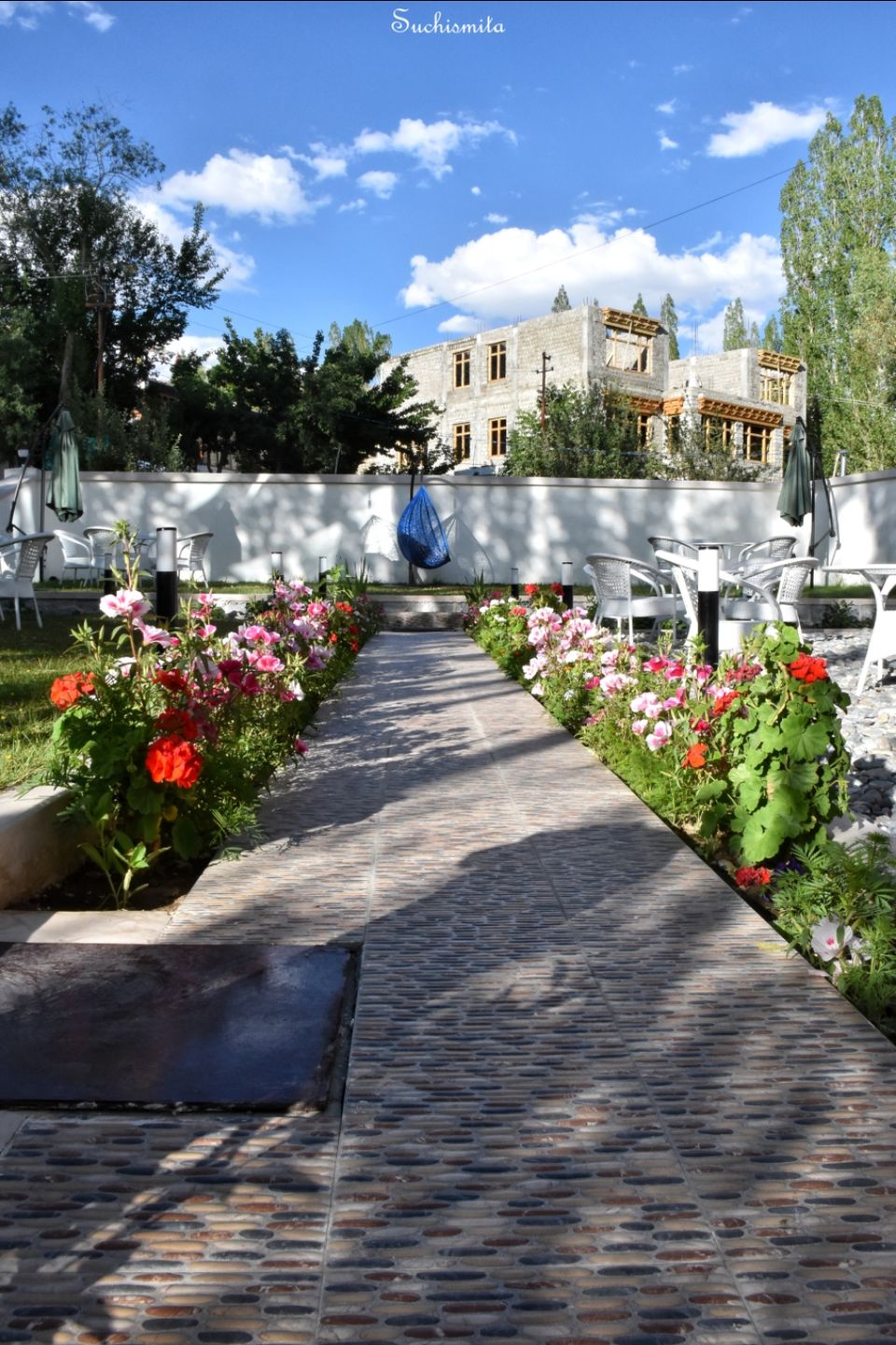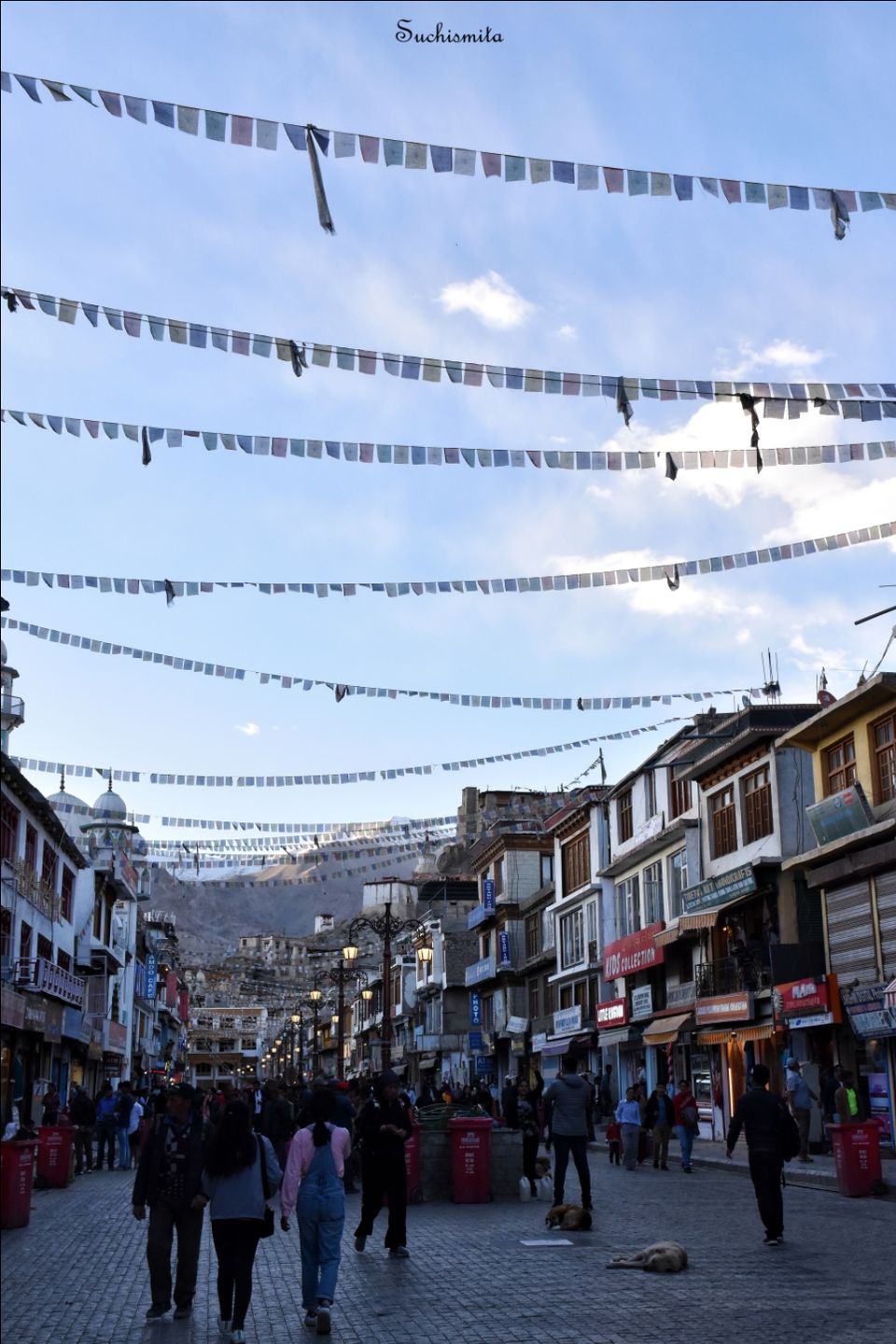 The next day was supposed to be another rest day at Leh, but our plan was to go out for sightseeing, which included Lamayuru, Alchi, Likir, Sangam, Magnetic Hill and Hall of Fame. The route is known as Sham valley. Our first spot was the Lamayuru Moonland. The road to Lamayuru monastery is through an area of barren land that looks absolutely like the moonscape, full of craters, uneven randomly formed hillocks on the mountains, dried river beds and chapped clay at some places. This monastery was built during the 900-1000 AD era and presently has a lot of it's parts in ruins, but the site was preserved as much as possible. Yet it doesn't matter because the ruins of the monastery mud walls, in the backdrop of the moonscape looked even more aesthetic. From Lamayuru we went to Alchi monastery, which is presently under the Archaeological Survey of India, another very beautiful and one of the oldest monasteries in Ladakh, from the 11thcentury. I could feel the difference in the style of art and the age-oldness of this monastery because they looked very different from all the monasteries I've seen. And I've seen this uniqueness in art form in all the monasteries of Ladakh, which makes them different from all the ones in other parts of India. After Alchi Choskhor, we visited the Likir monastery built in the year 1065, our third monastery of the day and again that unique Ladakhi beauty in the stone paintings. The monastery includes a 75 feet tall statue of the Maitreya Buddha. From my visits to so many Buddhist museums in the monasteries of Ladakh, I came to know that we live in the era of Sakyamuni Buddha, the present and Maitreya Buddha is the future. It is believed that his "kalpa"(relatively long time period, coined in first in Mahabharata) will start when terrestrial existence, rather human existence will be facing a great low on this planet. This basically means, even Buddhism has a point in their scriptures where the world comes to an end and starts over in full cycle again, just like in Hinduism, we're living in the Kaliyuga, the last stage after which the cycle of yugas start from the beginning once again.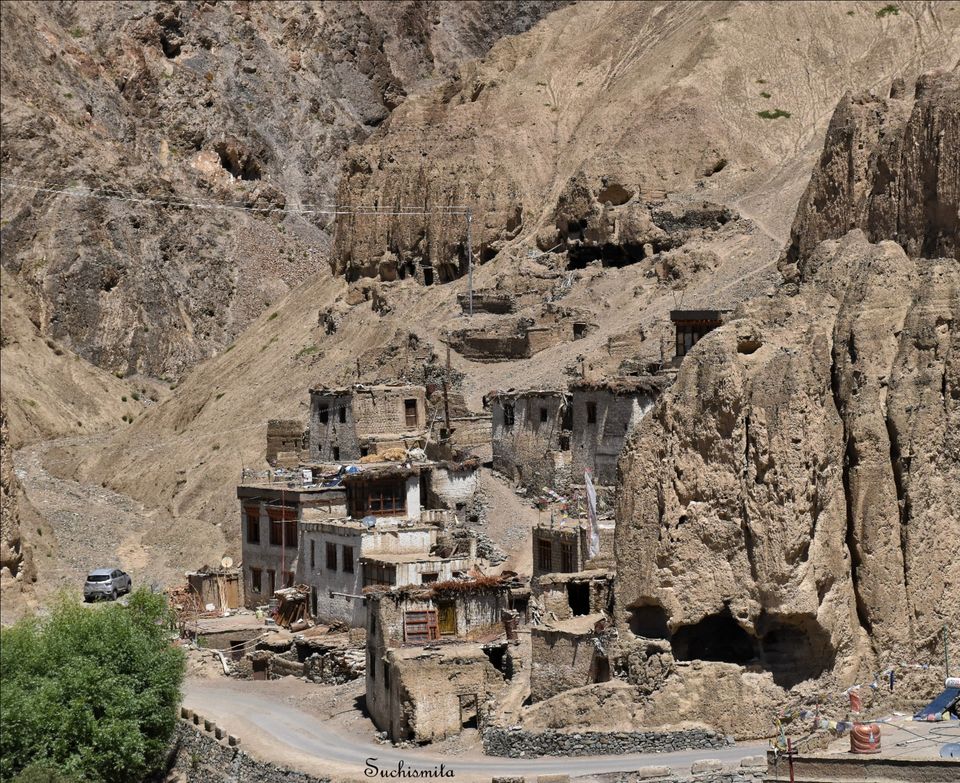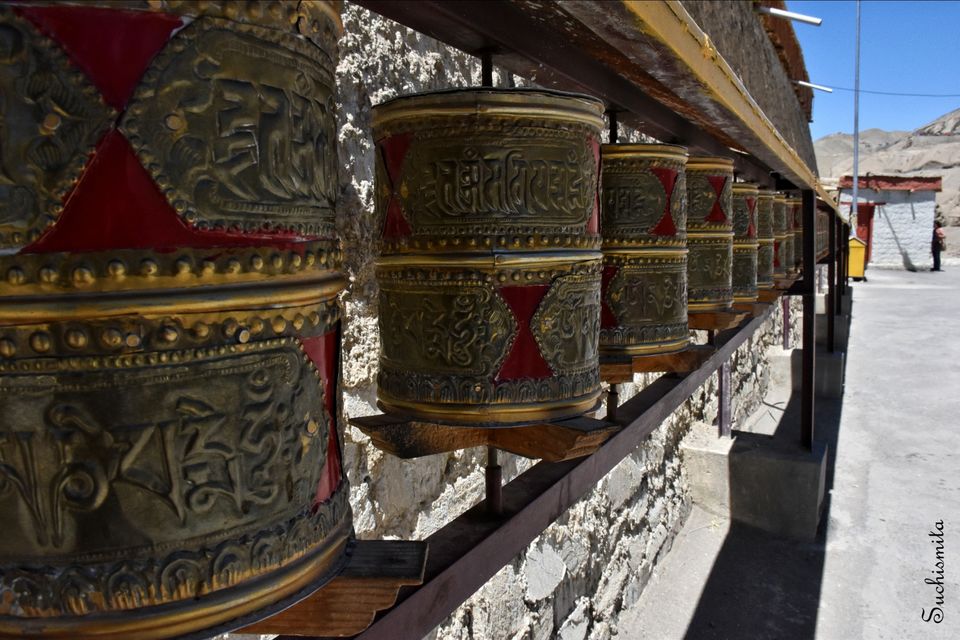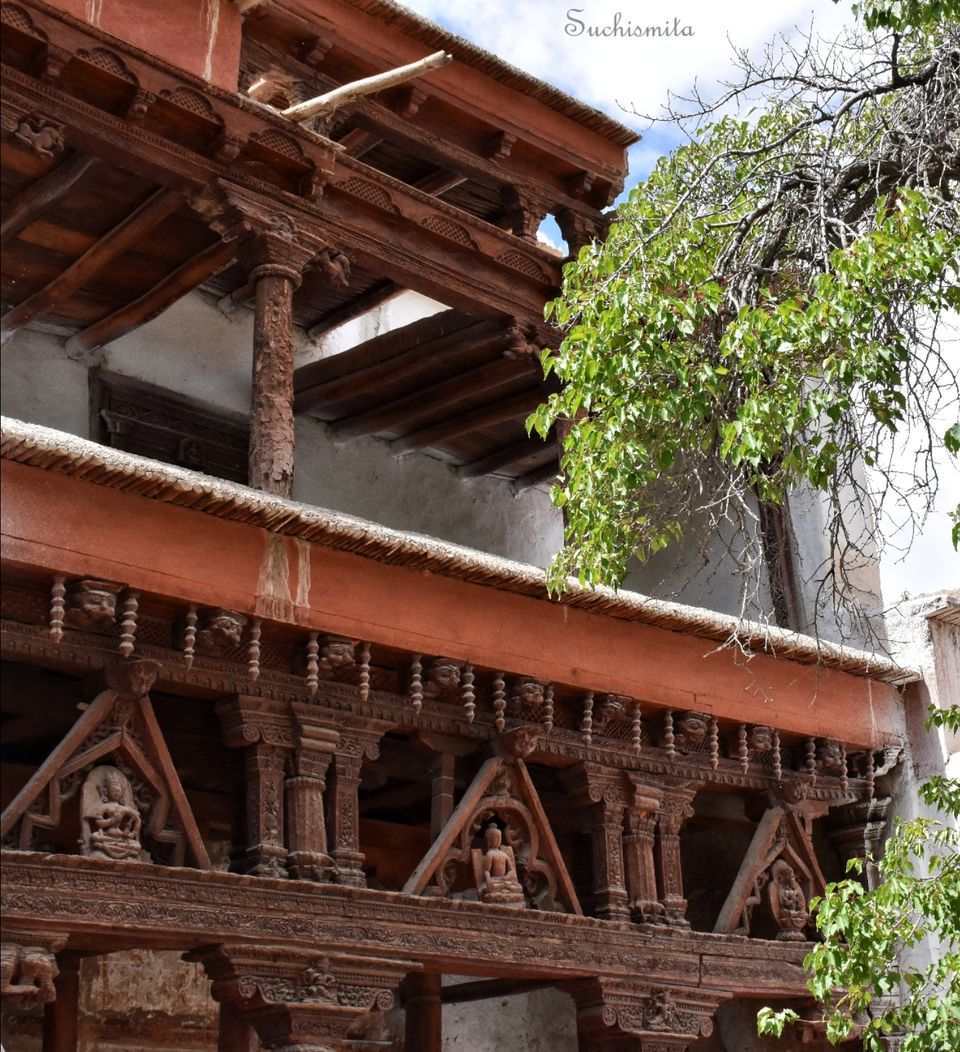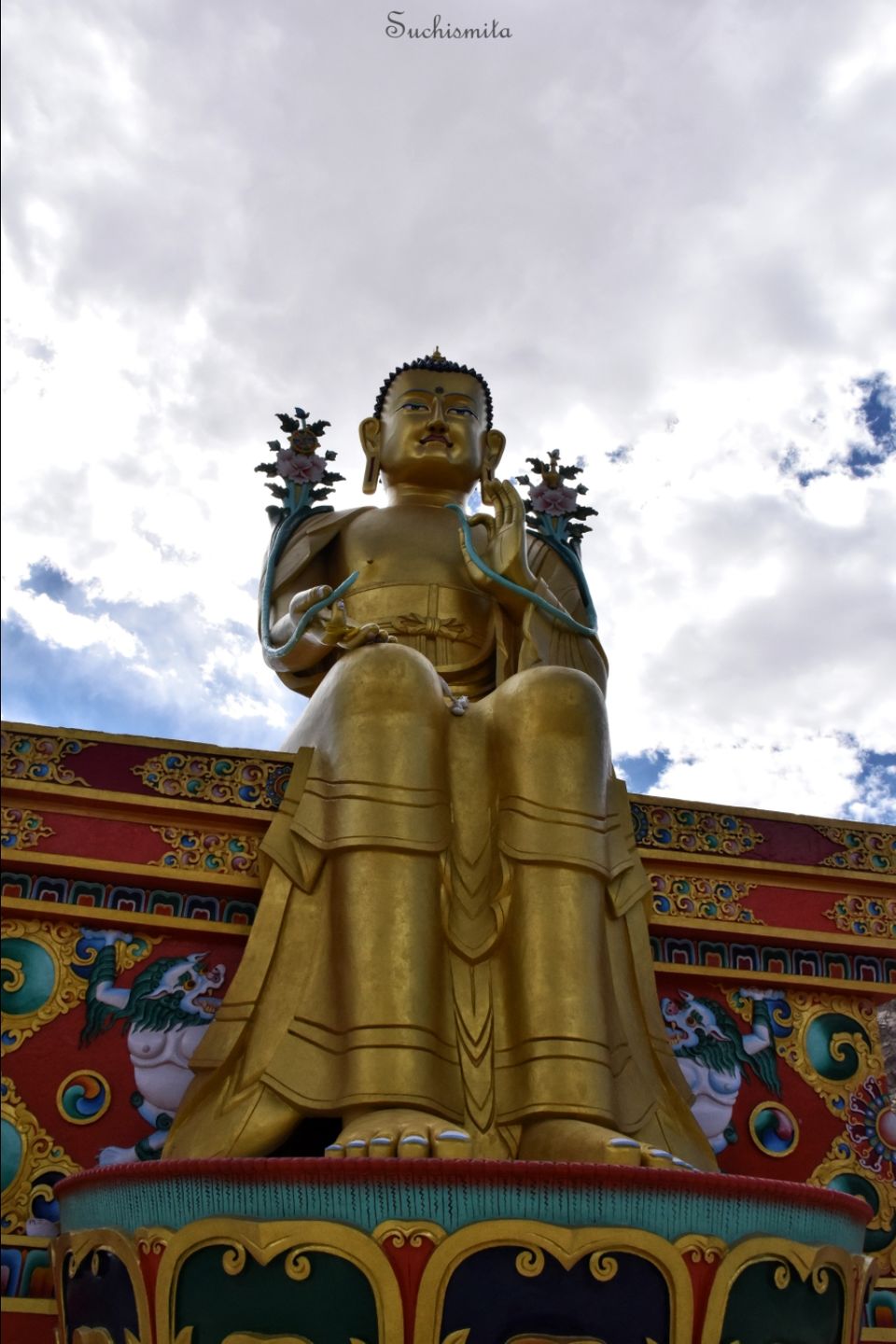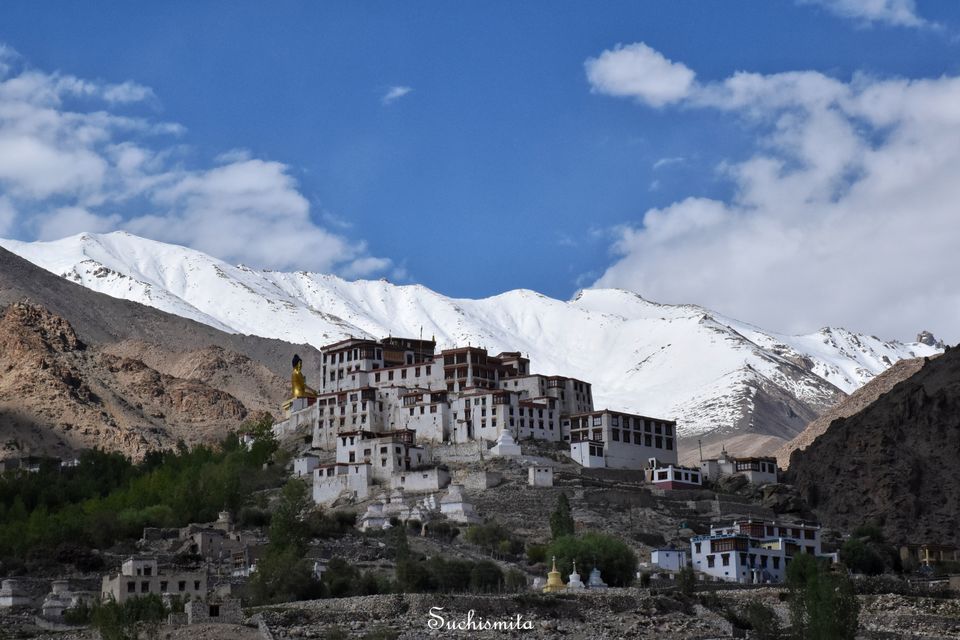 After Likir, we went to the Sangam (confluence) of Zanskar and Sindhu or Indus rivers. Another piece of information to be kept in mind during exploring Ladakh is that the sun is scorching with it's full energy during the day, so do carry sunglasses, proper sunscreen and if possible a cap/umbrella. We went to the Hall of Fame from the Sangam, through the Magnetic Hill road. The Hall of Fame is a memorial and museum by the Indian Army for the brave soldiers and martyrs for the Kargil war. With this, our 1st day at Leh sightseeing ended.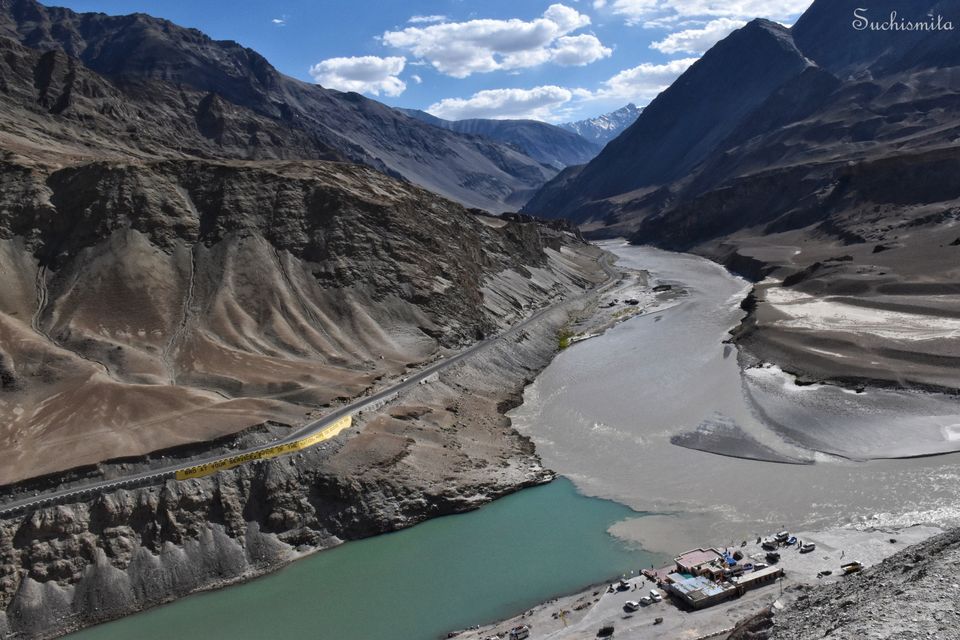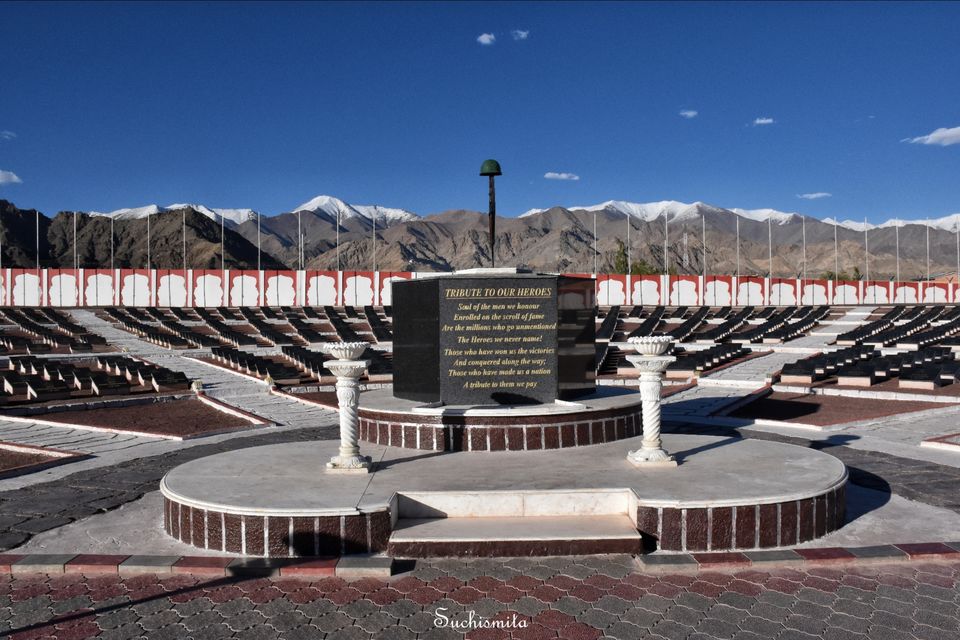 Leh - Nubra valley - Turtuk village
(I'll upload the details in a separate blog)
Nubra valley - Diskit - Leh
(I'll upload the details in a separate blog)
6th July it was, the present (14th) Dalai Lama's birthday. Mr. Dorje informed us, he'd be taking us to a community birthday celebration in the evening. Meanwhile, it was a day for sightseeing in Leh, to some of the best and oldest monasteries. At around 8 in the morning, we went to Hemis, a Himalayan Buddhist monastery of the Drukpa Lineage, under the patronage of King Namgyal. Hemis monastery is said to be one of the oldest monasteries, existing since before the 11th century. As we walked towards the entrance of the monastery, we could hear trumpets. When we walked in, we realised, the monastery was already decorated for the Hemis Festival, and the monks were practicing their traditional dances for the celebration of Dalai Lama's birthday. We had narrowly missed 2019's Hemis Festival because of our schedule, where this same form of dance is performed. Traditional Tibetian horns and drums in the background, the courtyard of the monastery looked very busy, much like when we'd have sports day preparations at school. After almost an hour of watching them practice, we went into the monasteries and museum of Hemis. I'm quite sure that if you read all the information in the museum, you'll know at least 40% of Buddhism very well, it's very informative. After having spent a lot of time at Hemis, we went to Thiksey monastery. I want to mention here that, I've heard many tourists say that "oh, all these monasteries are the same". No they aren't. Every monastery has it's own speciality, it's own form of art, it's own style, it's own religious importance and history. If you are interested and patient enough to know about it, do so, otherwise don't hurt the sentiments of the locals with such remarks.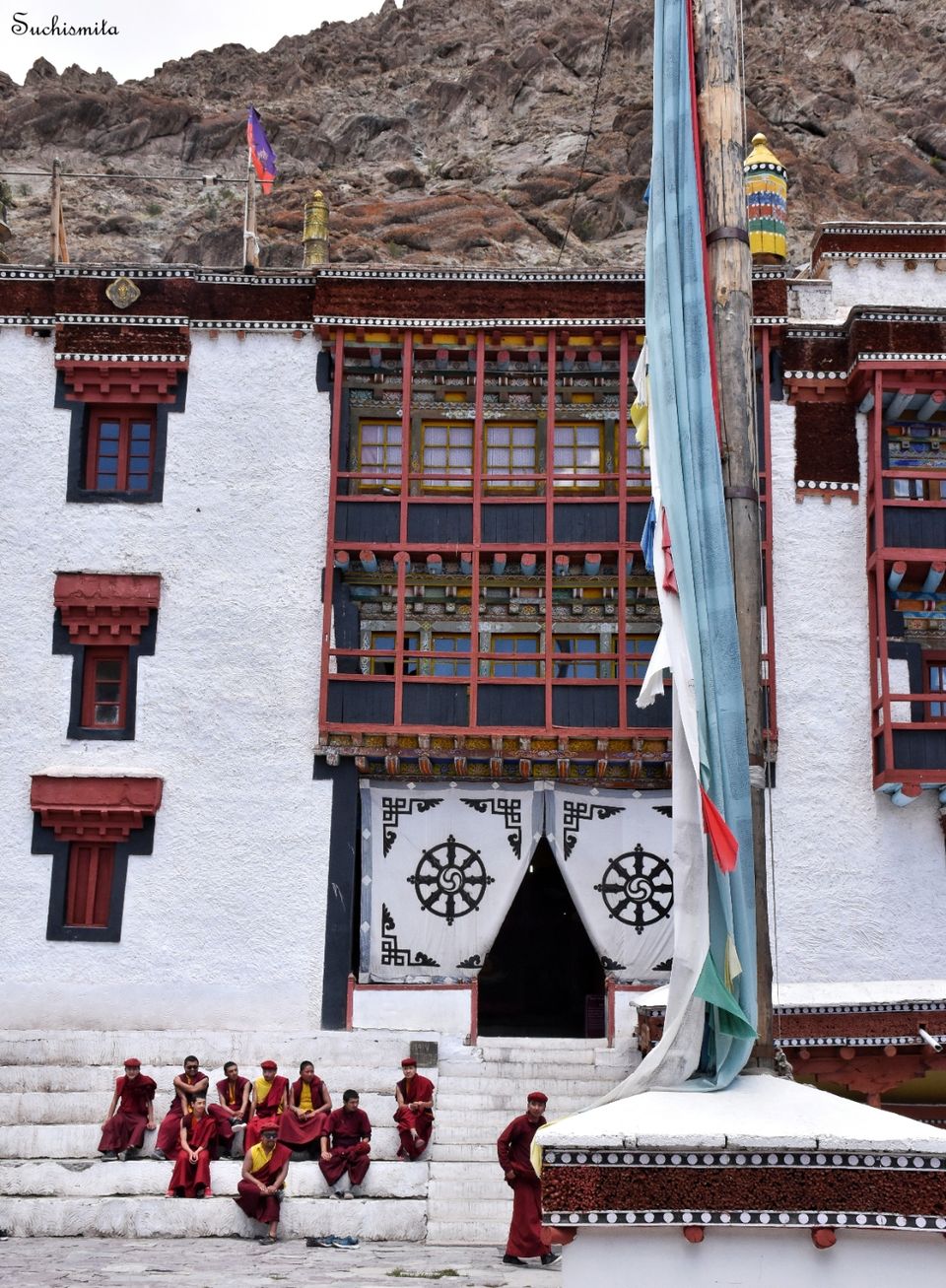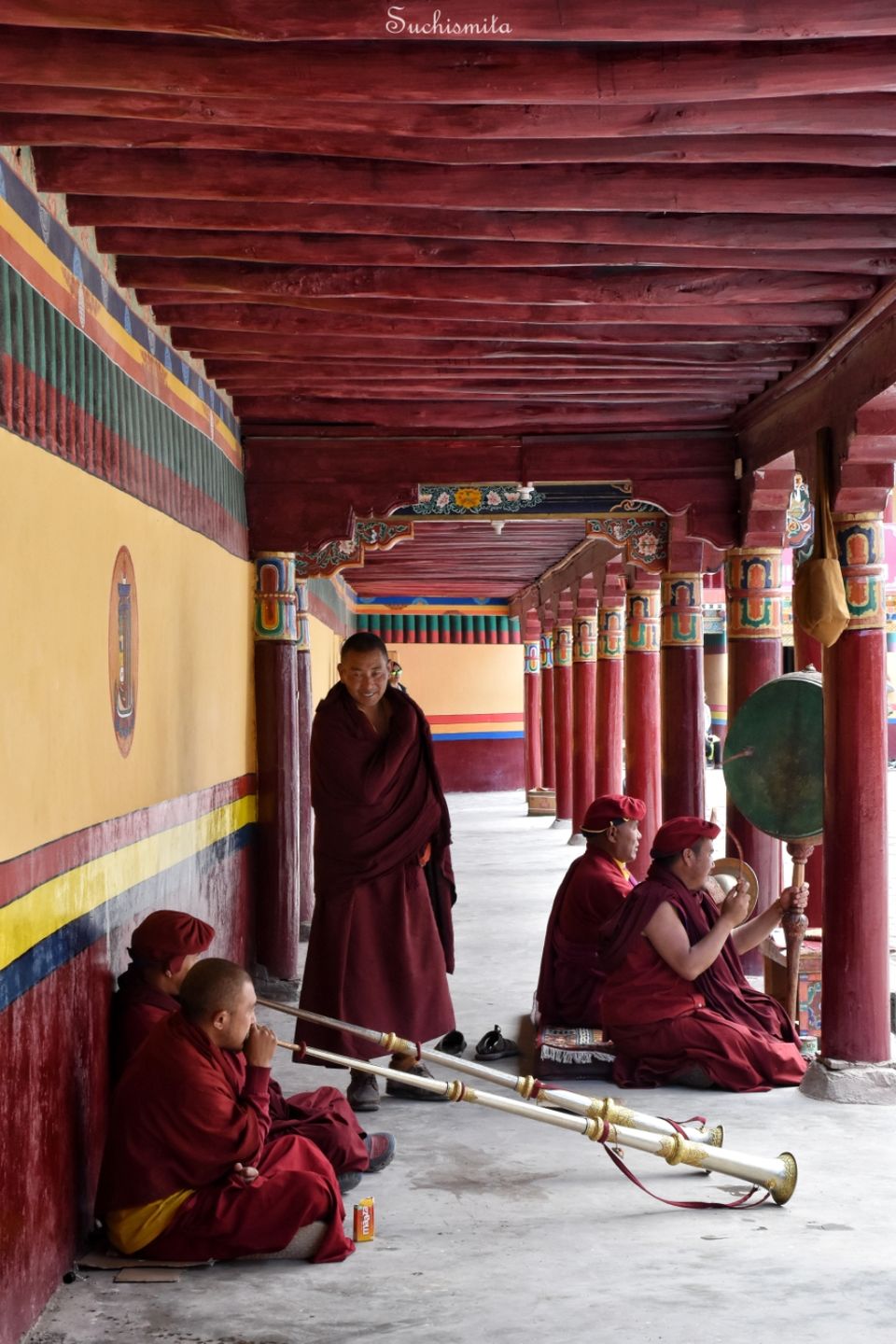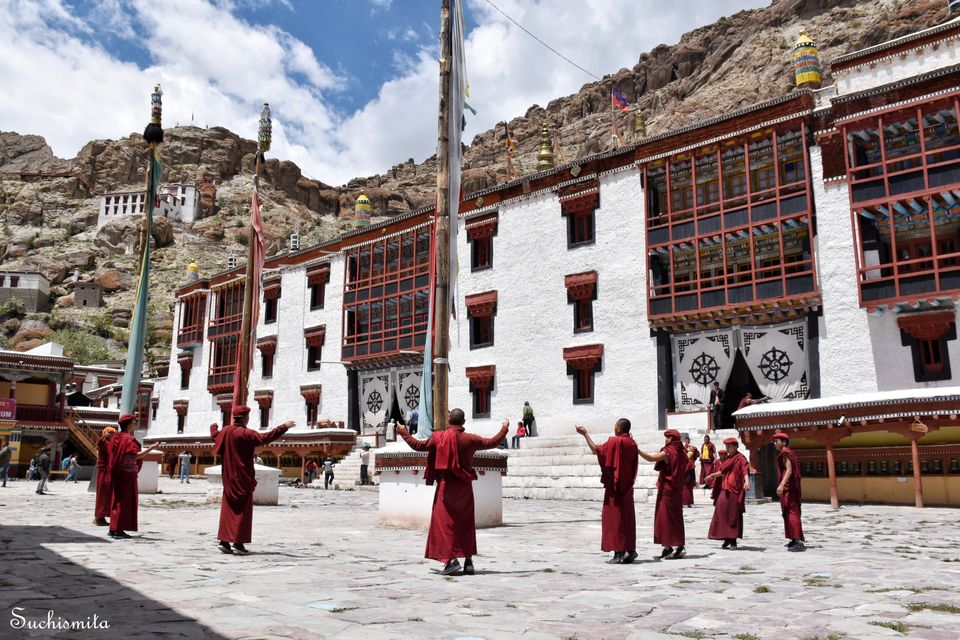 The Thiksey monastery is an early 15thcentury monastery of Tibetian Buddhism. I need to say, it's one of the best maintained monasteries I visited on my tour. From Thiksey, we went to the Rancho's School, very popular among movie lovers. Yet, personally, I feel like it shouldn't be what people expect when visiting Ladakh. Ladakh is much more than the location for shooting of "3 Idiots". The Rancho's school is just a wall with graffiti done from the movie. From there we went to Shey Palace. Before Leh, the capital of upper Ladakh used to be Shey. However, the building is absolutely crumbling due to it being the oldest palace of Ladakh. A lot of preservation work was ongoing at the palace, so we weren't allowed to go anywhere other than the monastery at the lowest level of the building. From Shey Palace, we went to Sindhu Ghati and realised it might have been the worst part of Leh. Plastic bottles everywhere, on the grass, in the water. A beautiful backdrop of snow capped mountains with a beautiful river flowing right in front, but on it, are plastic bottles flowing with the water too. So many states of India are already running out of water and then there are people polluting the sources of water that might save their lives if unpolluted. It's extremely urgent that people minimise the usage of single-use plastics. Carry your own bottles, almost every café or hotel in Ladakh offers free filtered water, just refill on the way. I was honestly disturbed and worried to see the condition of this river bank. Rivers are supposed to be in their purest forms in the mountains, and that's where the pollution is staring, which makes it even more dangerous. By 4:30, we reached a local gathering for Dalai Lama's birthday. It was huge and definitely a special day for the Ladakhis. By 7 in the evening, we reached our hotel.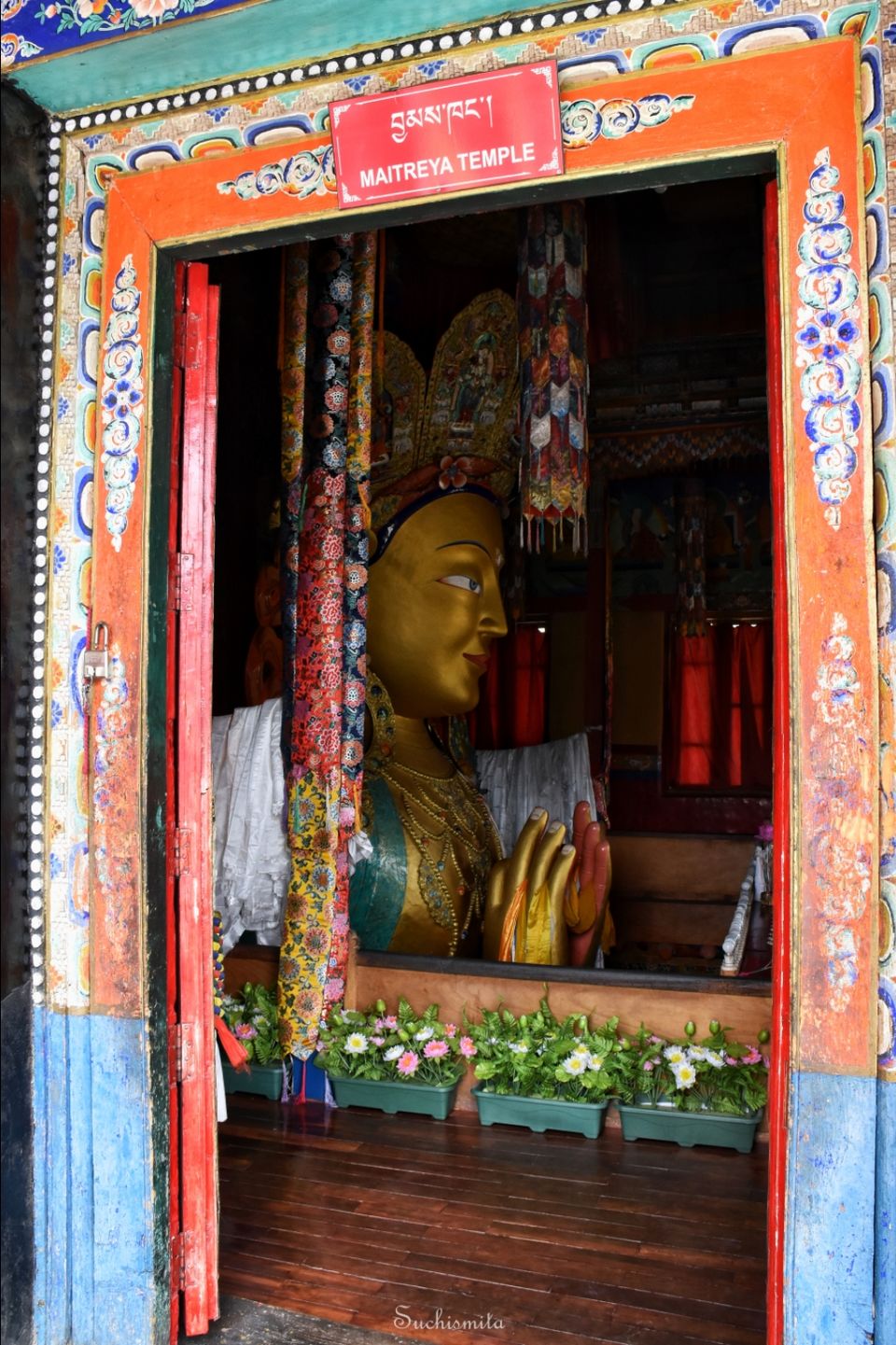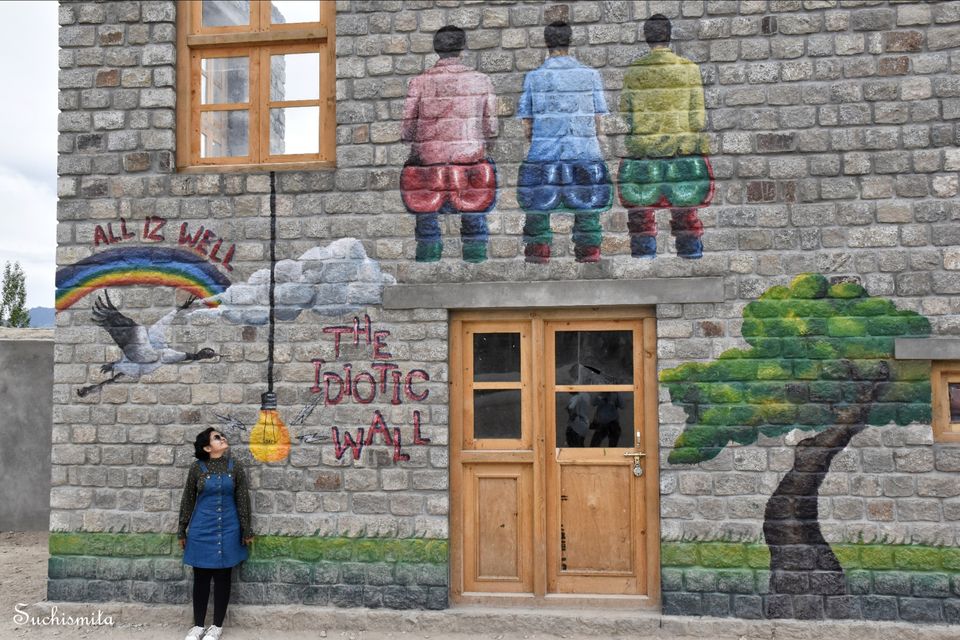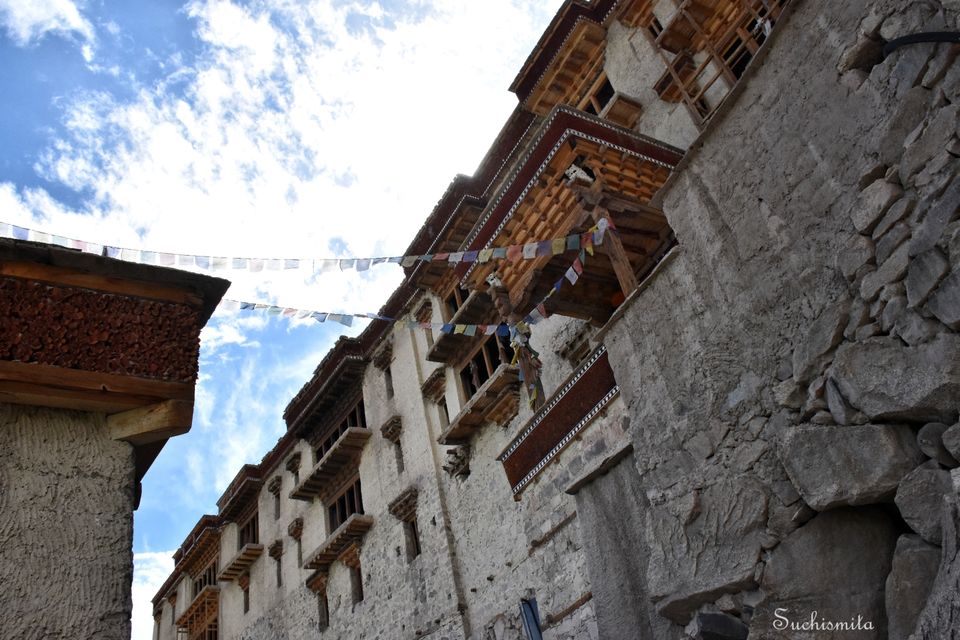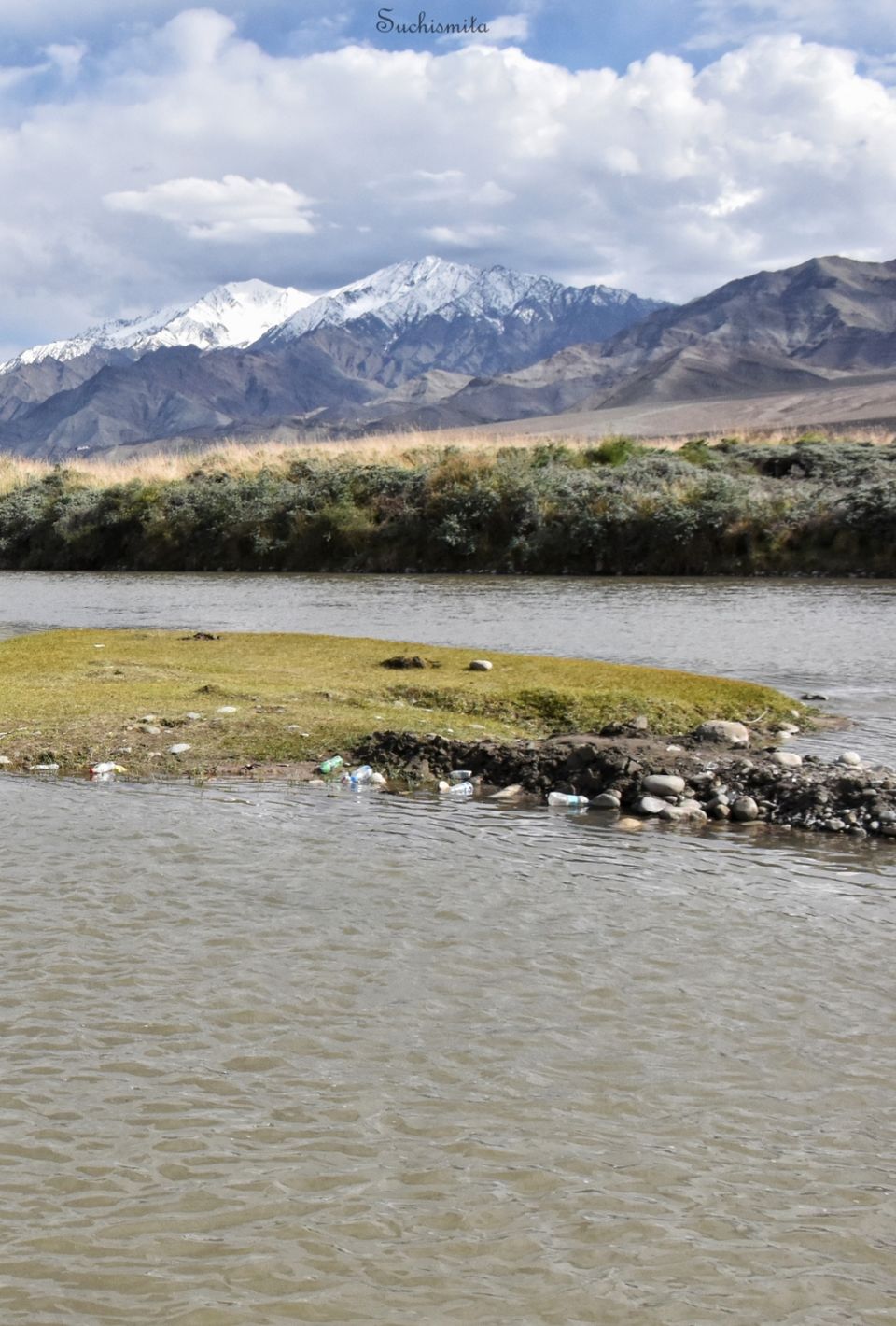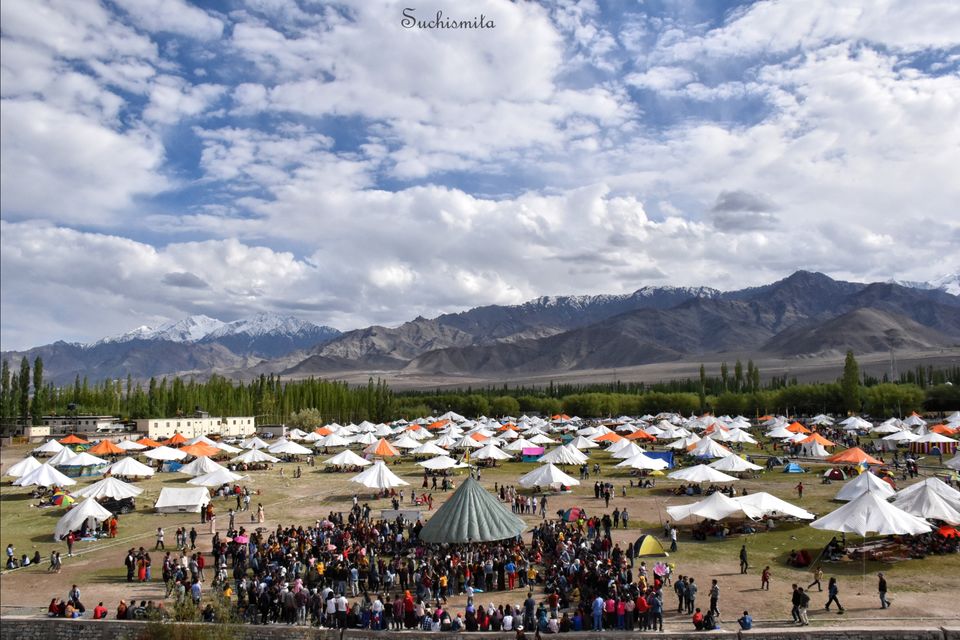 Leh - Pangong Tso
(I'll give details in another blog)
Pangong Tso - Tso Moriri
(I'll give details in another blog)
Tso Moriri - Leh
(I'll give details in another blog)
In the morning of 10th July, I realised my camera's memory card had run out of space, so we went to Leh main market road to get a new card, however it was the last day of our trip. On our way to the market, Mr. Stanzin joined us for the day. There he showed us the difference between the native Ladakhis, the Aryans and the prevailing religions of Ladakh. From there we went to Leh Palace. This is the 2nd oldest palace after Shey, and the 2nd capital of Ladakh, built in the 1500s by King Sengge Namgyal. It is a 9 storey palace with the 7th to 9th floors belonging to the royalties and the lower storeys belonging to the servants and workers at the palace. The palace is entered through the Singe-sgo (the lion gate) and there is a Khatok Chenmo (platform for social and cultural performances) and even a royal shrine. Every detail about the palace is provided at it's entrance by the Archaeological Survey of India. From the Leh palace, the view of the entire old or ancient city of Ladakh is seen. The interesting story of how the Muslims have an influence on Ladakh is that, an Emperor of the Namgyal dynasty was at war with the Mughals. When he returned to Leh after a victory, he married the daughter of the Mughal King that he defeated, to hold his claim over that territory. So when he returned to Leh, his new wife brought in a clan of Muslims with her, who now had a new settlement made for themselves in Leh. Thus, a region with only Buddhism as it's major and only religion, now had another major religion, Muslimism.
Inside the Leh Palace is the royal shrine of the different forms of Buddha. Just like Mr. Stanzin gave us a detailed talk on the history of the Leh palace, he also gave us a talk on Buddhism. Here I came to know, Buddhism has 3 parts, Mahayana(the more modernised form of the religion, which now exists throughout India with a lot of historical significance), Hinayana (the more conservative schools of early Buddhism, which has now died out in India, but prevails in Sri-Lanka) and Vajrayana (the Tantric Buddhism from medieval India). The royalties mostly followed Mahayana. After the palace we went to Shanti Stupa. Leh's Shanti stupa and monastery were actually established by a Japanese monk as a part of the Peace Pagoda mission. This stupa was built to mark 2500 years of Buddhism and the ties of peace and prosperity between the people of Ladakh and Japan.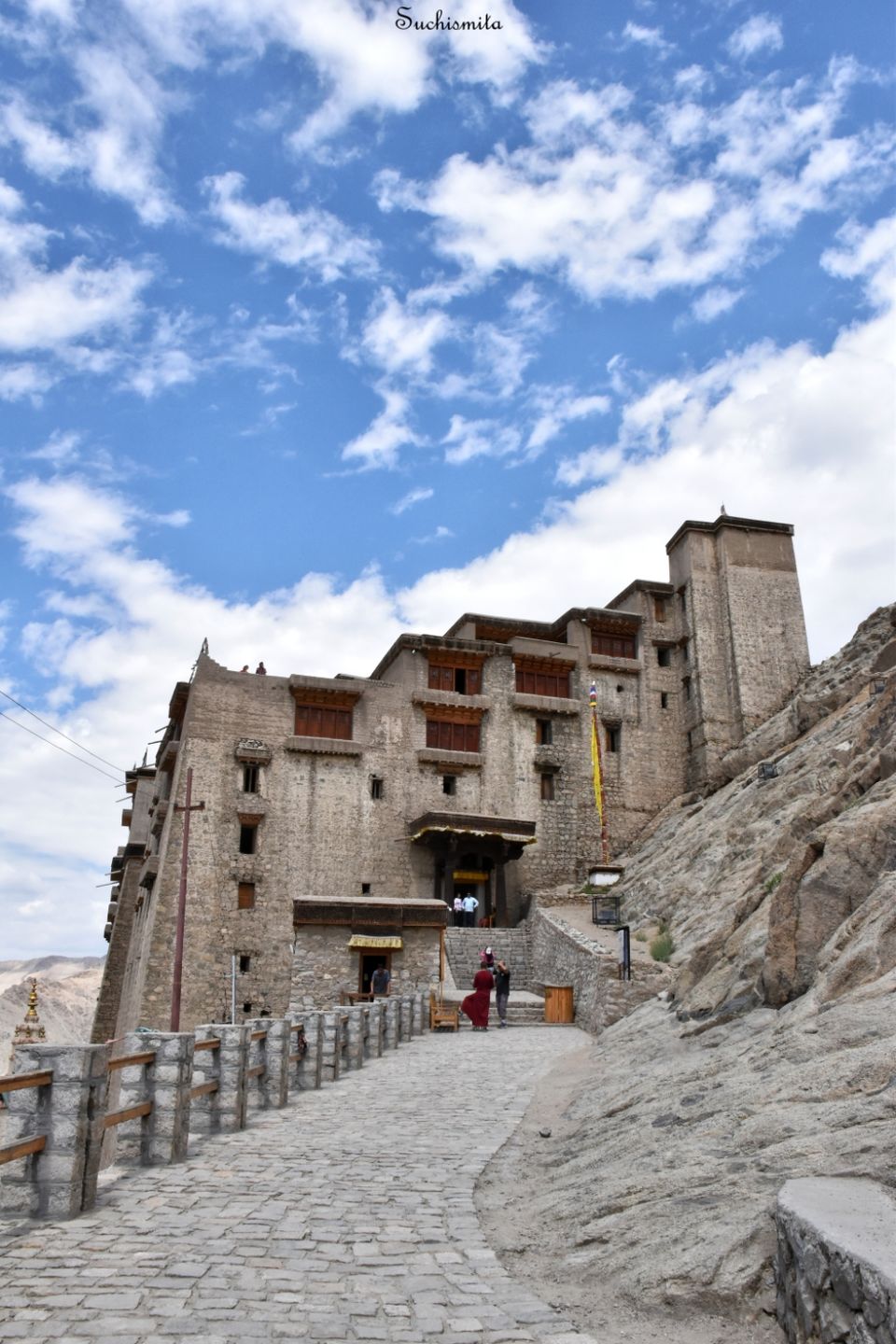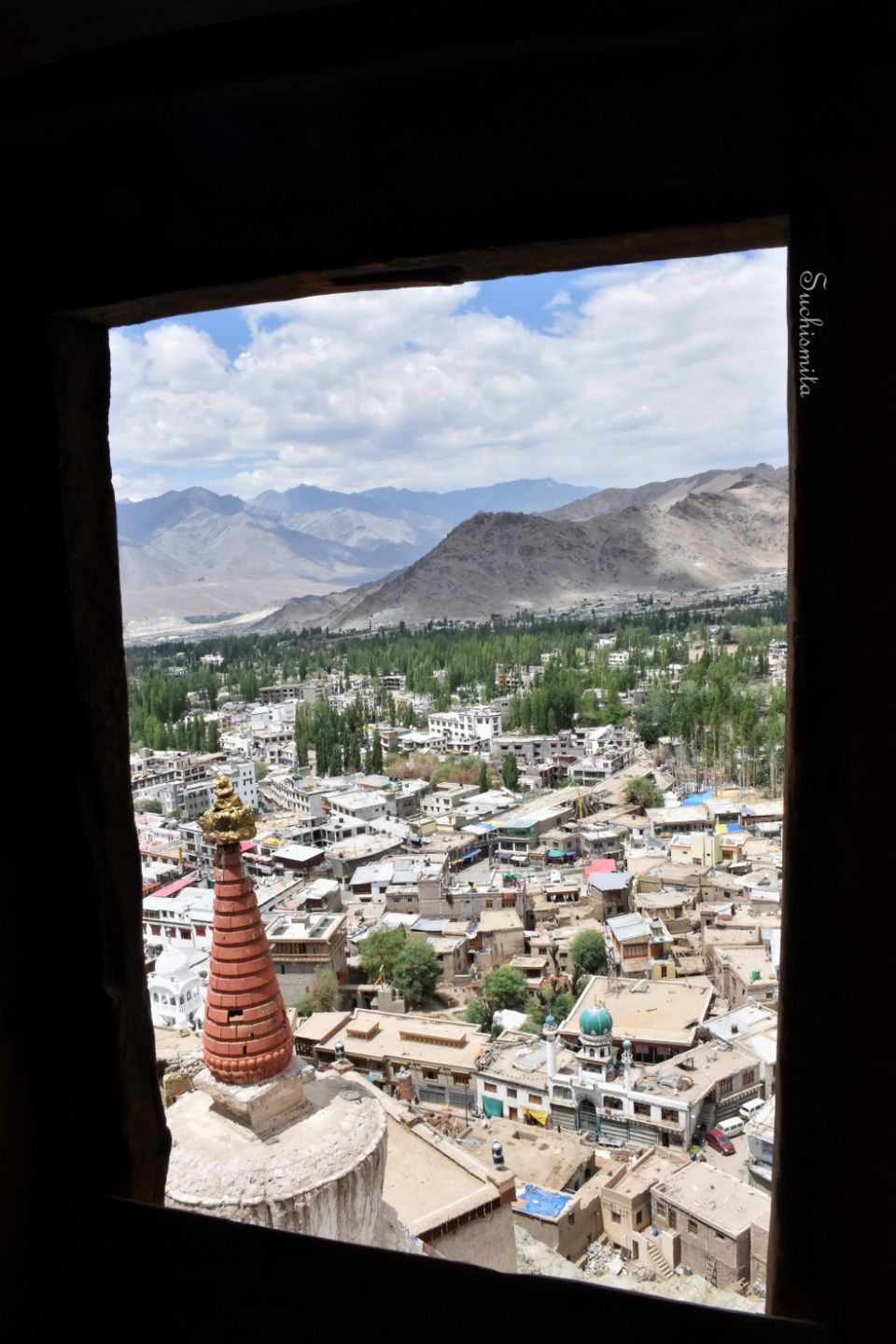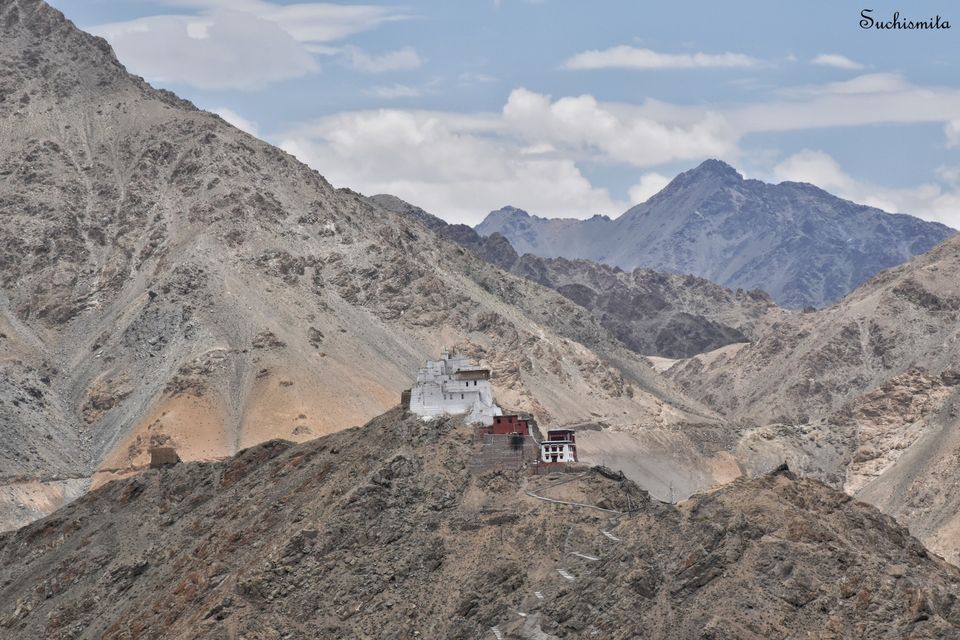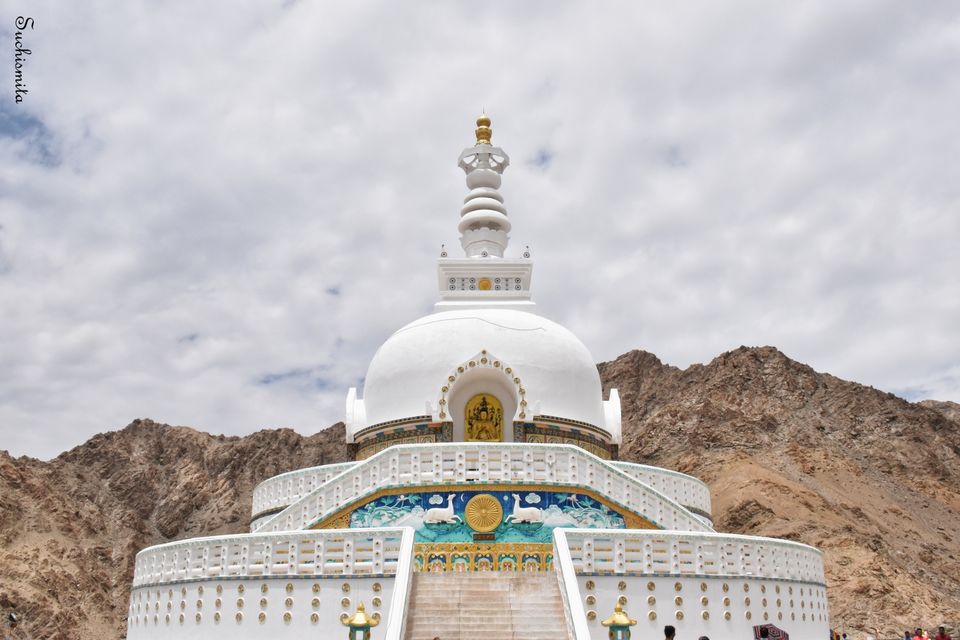 After Shanti Stupa we went for lunch at a local restaurant to try the Tibetian Ting momo. Something surprising happened at lunch. At the table right beside ours were 2 foreign interviewers with Mr. Sonam Wangchuk, the inventor of Students' Educatonal and Cultural Movement of Ladakh (SECMOL) and Ice Stupas. An Ice Stupa is an artificial glacier that stores the stream waters that are of no use during the winters in the form of giant ice cones (stupas), and releases the water during late spring as they start melting, which is the perfect time for farmers for their cultivation. SECMOL is the initiative which made him reach the Government of Jammu & Kashmir to enable the starting of a new schooling system. According to Mr. Wangchuk's TED Talk, if a student is failing in our generic schooling system, it isn't always the student's fault; sometimes it's the system that's to blame. He has a school under SECMOL in Ladakh, which is a very different concept from our regular classroom system, the school in itself is a small township with students themselves looking after the economy, culture, literacy, agriculture, innovations and everything needed for a basic human civilization. This school is the inspiration behind entire Ladakh using solar power as it's form of energy for electricity. Mr. Wangchuk is now on his way of creating a University with a similar objective for students who fail in the common education system. He is the person who justified Albert Einstein's quote, "Everybody is a genius. But if you judge a fish by its ability to climb a tree, it will live its whole life believing that it is stupid." We went up to him to ask for a photo, and he was the kindest human. He greeted everyone with a genuine smile, no sign of impatience for interrupting his interview. I believe that a person who is at peace with her /his own work of giving back to this planet, has immense patience and genuine peaceful happiness in them, and this was the exact vibe I got from this wonderful human. He is the kind of person who didn't let the crew of "3 Idiots" shoot inside his school because of all the plastic waste they were bringing. I have always respected his way of getting nature and humanity to work hand in hand and the fact that I got to meet one of the few creators that are absolute inspirations to me, is something very dear to my heart. I remember explaining about an Ice Stupa to my father exactly the day before this encounter, and I can't explain how I stuffed all the Ting momo into my mouth so that I wouldn't miss getting the photo! The rest of the day till 8 in the evening, was spent at Leh's main market, trying the awesome local ice cream flavours, popcorns and coffee and buying souvenirs.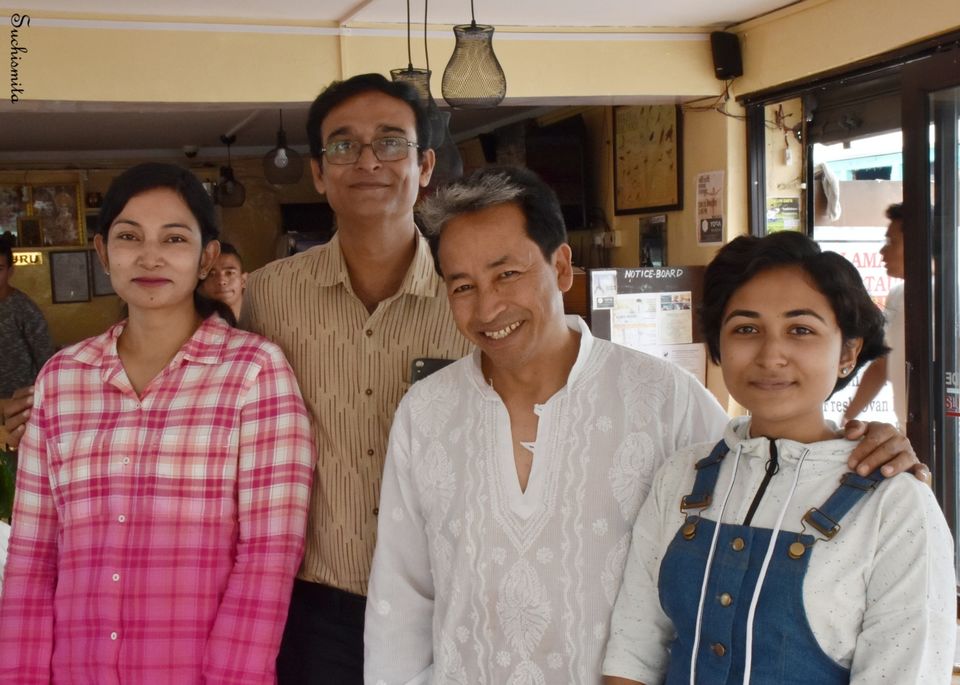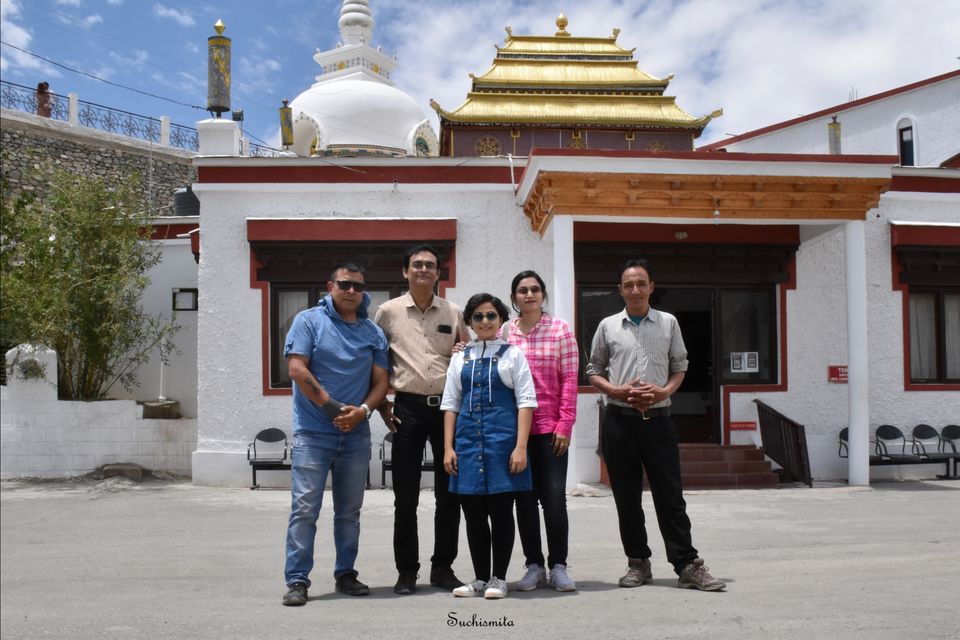 On 10th, my Ladakh trip was officially at an end. I was returning to Kolkata, but my mind and soul were left behind. Whenever I closed my eyes I could see Ladakh.
P.S.: all these photos are solely by me.
I'll soon upload detailed blogs on my
experience at Nubra, Pangong & Tso
Moriri.
~Suchismita.