'Oh bloody hell, what was I thinking? I am not prepared for this, not prepared at all!' were the thoughts running in my head, while I was traversing the mountain ranges of Zanskar in the blizzard that started four hours ago. We were supposed to arrive a kilometre close to the base camp in a vehicle before lunchtime, but a landslide had blocked the road about fifteen kilometres ahead (I came to know the distance later). As we unloaded and started crossing the landslide area on foot, the blizzard began.
There was no one in my line of sight both in front of and behind me. I had started walking with my group, but as I was sluggish and too tired to keep a conversation going, they gradually left me behind. Occasionally, porters and trekkers belonging to other groups while crossing me said a few words of encouragement.
On Wednesday, we went to the airport that was packed with stranded passengers. The airport had been closed for the past few days because of the snowfall and the slippery runway, and luckily, it reopened on the very day of our scheduled departure. On Thursday, I was in my office planning my next adventure.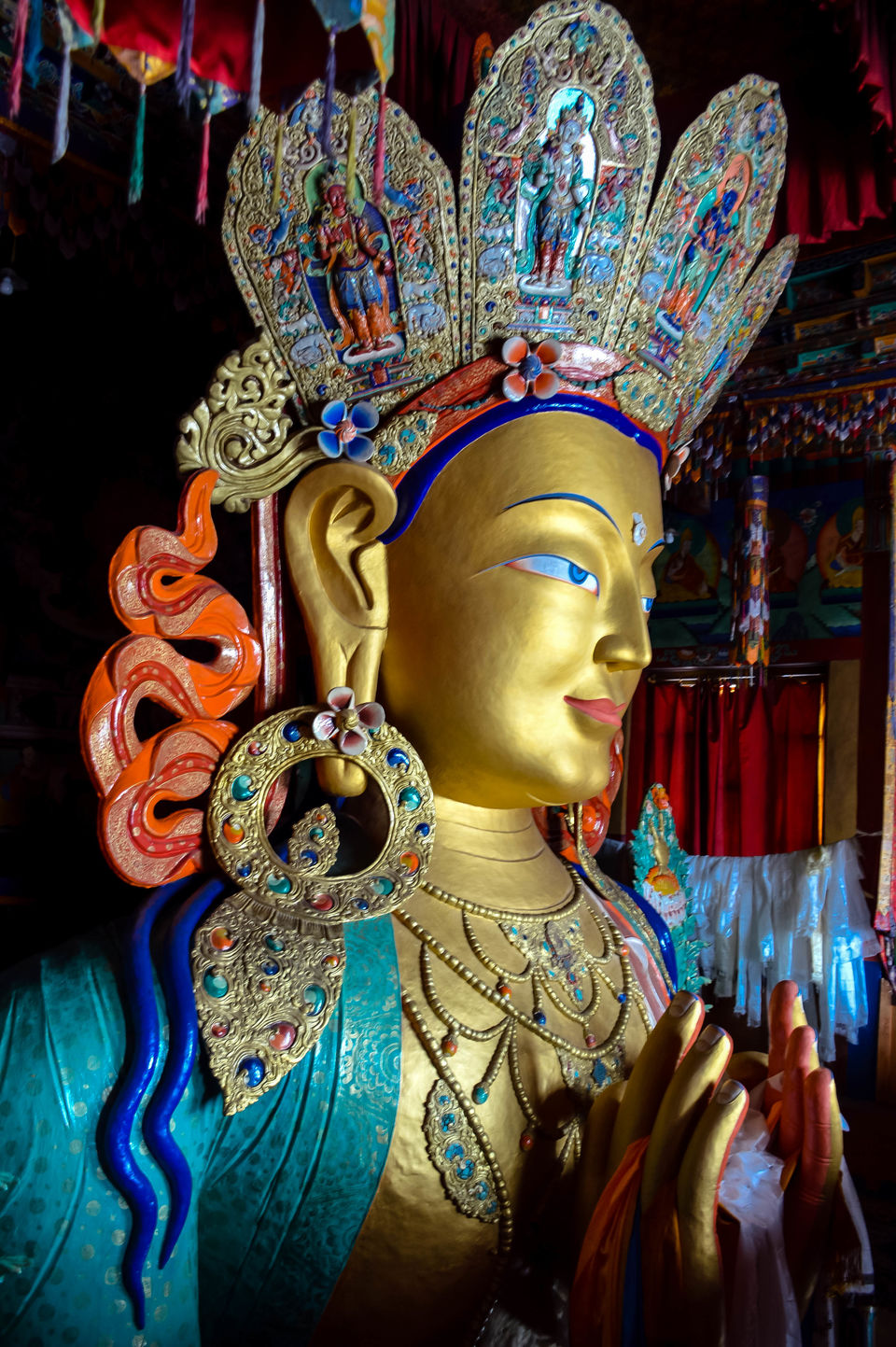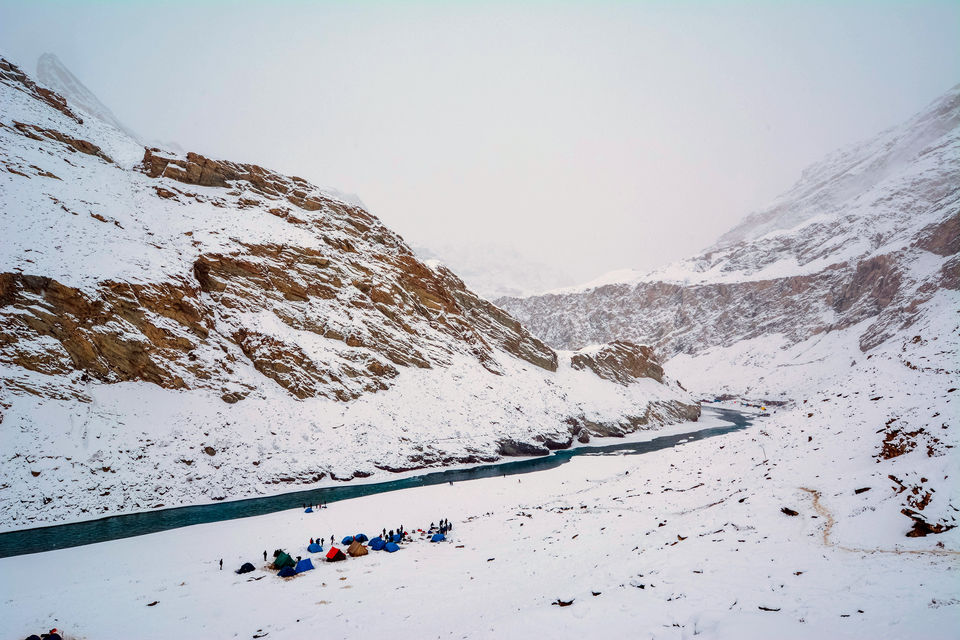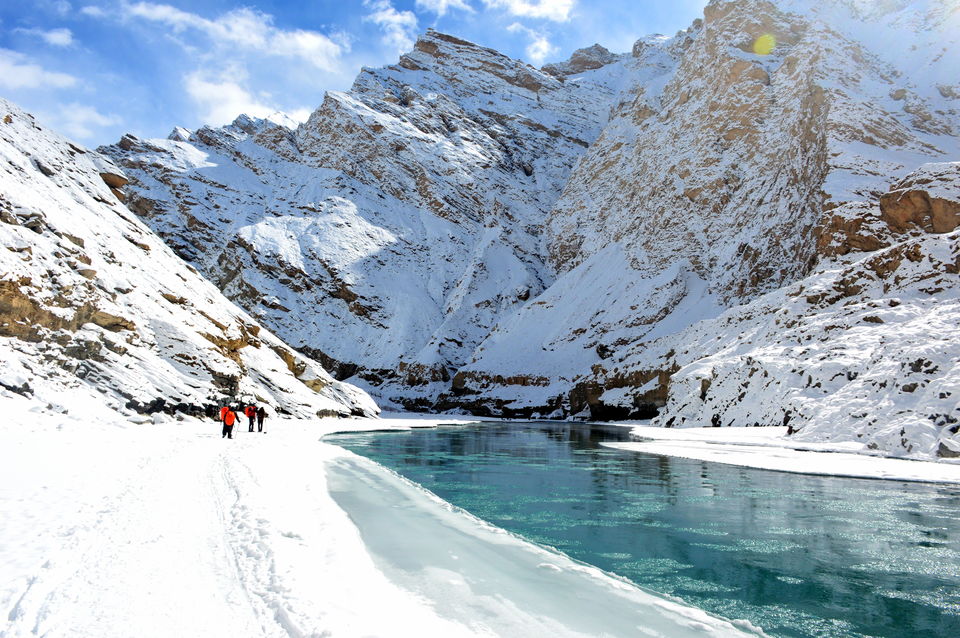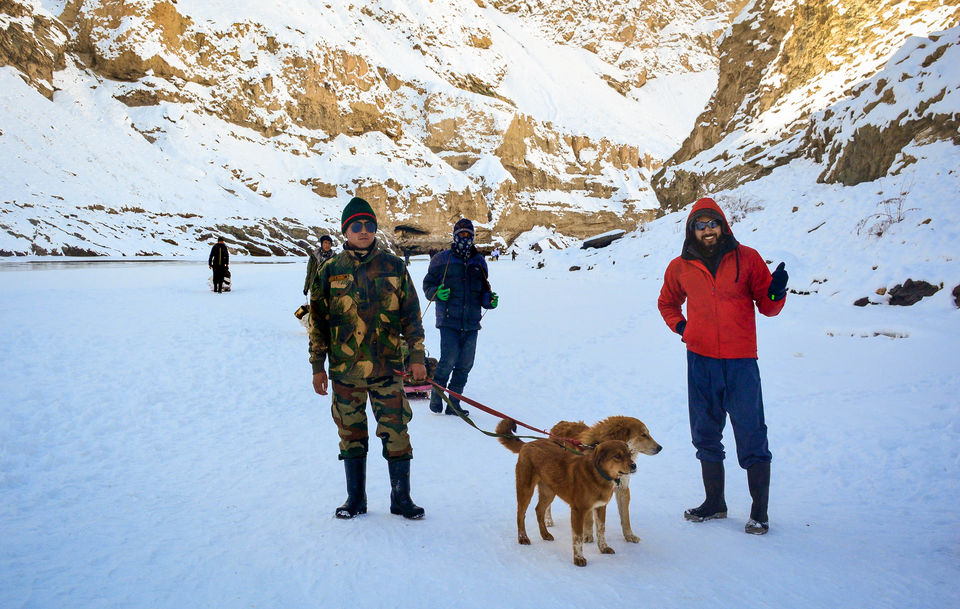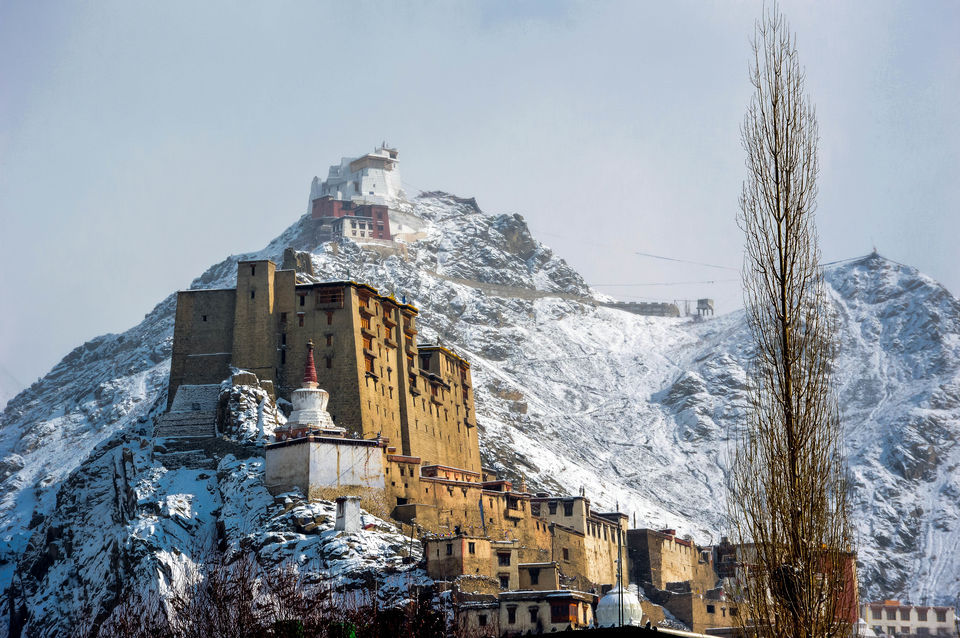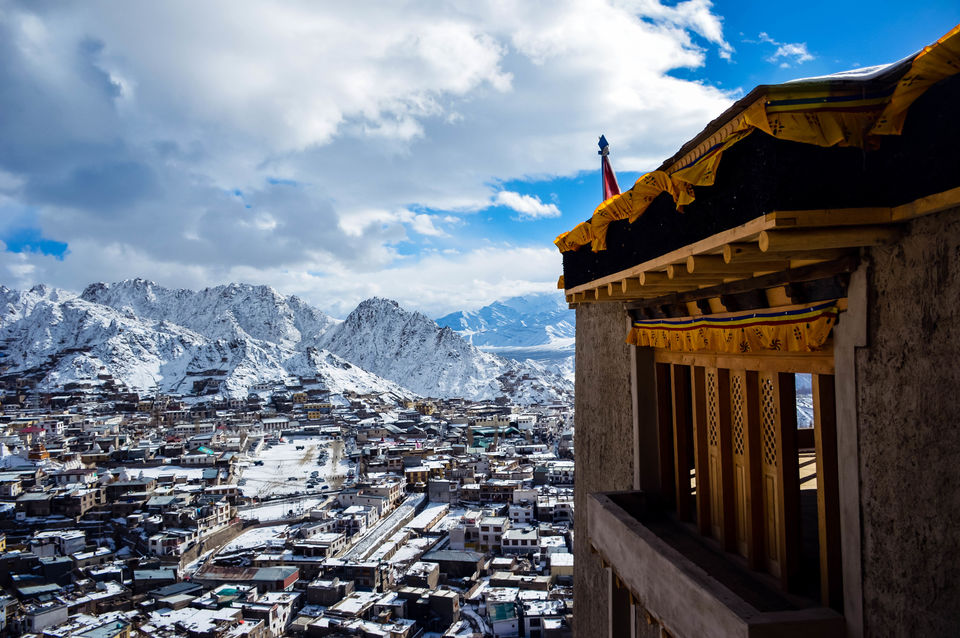 'How much further?' I had asked one of the porters while chatting with him.
'Almost there. We'll reach in the next half-hour.' It was the fourth time I had heard that in the last couple of hours.
Nobody walked alongside me for more than ten minutes, because of my rather slow pace. At 5.30 PM, it was almost completely dark; darker with the sunglasses that I still kept on as it prevented the snowflakes from hitting my eyes. As I crossed a bend in the road, I was glad to find my friends sitting under a rock that provided some shelter from the snowstorm. One of them threw a candy bar to me as I approached. I was famished as we didn't have lunch. I dropped my rucksack on the ground and sat down, listening to a guy complain that his waterproof jacket wasn't waterproof after all. I felt sorry for him, more than I did for myself. The last thing I'd have wanted was trekking in subzero temperatures wearing wet clothes.
'How long have you guys been here?' I asked another friend.
'About ten minutes, waiting for you.'
'Do you know how much longer to the base camp?'
'Another half-hour.'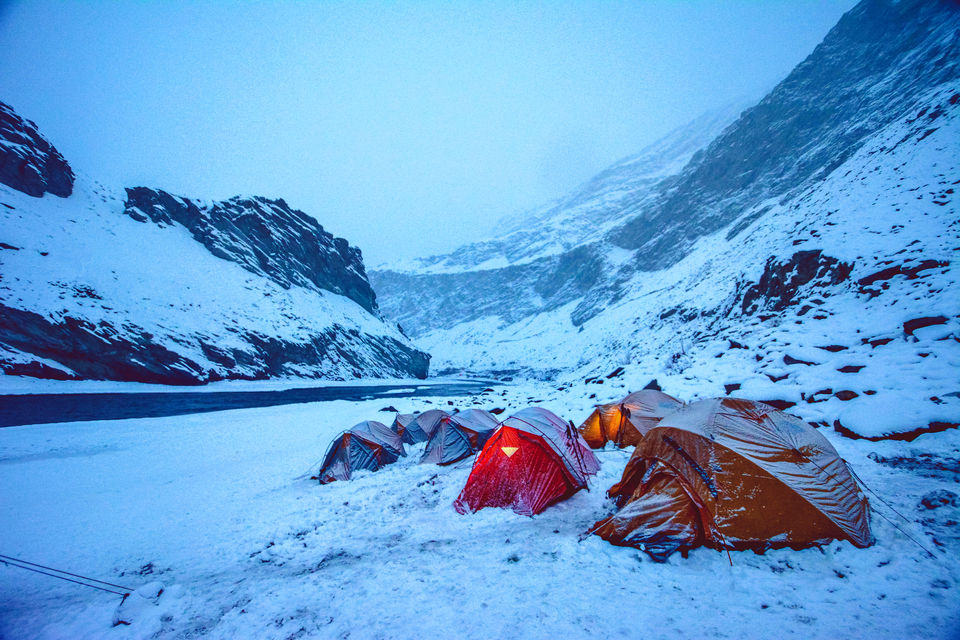 The previous night in Leh was chilly too, but I had a comfortable bed and two thick blankets to snuggle down in. That night however, all I had were two sleeping bags, the outer one damp from being exposed to the blizzard and hence left unused. I was wearing three layers clothing, two woollen hats, two pairs of gloves and socks, and yet shivering all night long. I managed to sleep only when I figured that pulling the sleeping bag all the way over the head, not letting in the chilly air, retained the body warmth inside my little enclosure. I'm not sure if it was a healthy thing to do, considering how I had to put my head out every once in a while for oxygen.
When I opened my tent the next morning, I found one of the most mesmerising sights before me. Rising high above the tents covered in thick snow were the majestic Himalayan mountains. Since we'd arrived after dark the previous day, I hadn't noticed what a beautiful campsite Tilad Do was. We had descended from the road and were right on the banks of Zanskar River, with nearly half its surface frozen and perfect to walk on. However, it was a gloomy day with an overcast sky that continuously showered us with snow. I already felt that I had seen enough snow to keep me contented for a lifetime.
My day started, like most good days do, with an urge to poo. So off I went, with a roll of toilet paper in one hand and a hiking pole in the other, to one of the toilet tents that was set up fifty yards above our tents on the hill. Well, they were pretty basic toilets with nothing but a shallow pit in the ground surrounded by a tiny tent. Believe me when I say that these toilet tents are the best-suited only for the first user, which unfortunately I wasn't. As I neared them, the stench made me gag and turn back almost instantly. Capitulating to the human needs and disregarding all shame, I hiked further uphill until I found a spot that overlooked the entire campsite, the nearby hills and the river snaking through the valley, and yet remained concealed from below. I set about stomping my own pit in the snow and went about my business, with one hell of a view in front of me.
Owing to the bad weather and the broken ice on our path creating the need for a detour on the cliff side to continue the trek, our guide suggested that we sit it out that day. From wandering around in untouched, knee-deep snow to riding a sledge on the frozen river, it was a fun-filled day, complete with building an ugly snowman. For the first time ever, I saw people playing snow volleyball (wonder who carried a volleyball on a trek!), during which a guy fell hard on the ice and twisted his ankle, ouch.
I had never been happier to see the sun shining so brightly than I was that morning. We were finally beginning our trek after two days of being put at the base camp. Alas, how could I have travelled in a group without disappointment and drama! Rumour was that there had been another landslide that blocked the road further ahead of where we were dropped off. It meant that the one day required for the return journey from Tilad Do suddenly became two, and we had already spent two days at the base camp.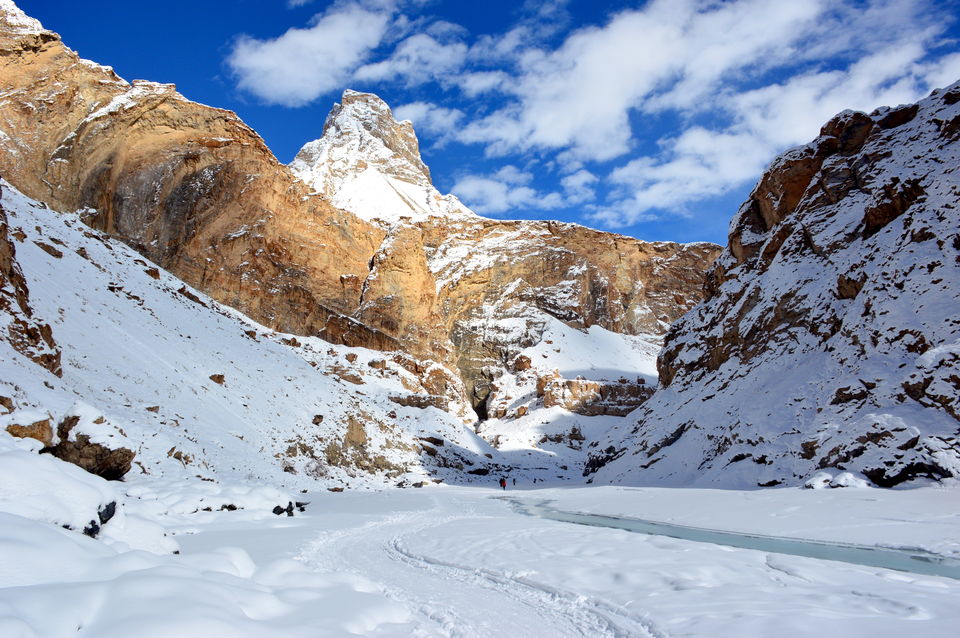 There were 16 trekkers, 9 porters and 2 guides in our group. It was a given that our final destination, Naerak, and the magnificent frozen waterfalls on the way were completely out of reach, but we had the time to go till the second campsite. Nearly half the group had had enough of the insufferable weather and wanted to turn back. Some of us didn't. So, we took a vote. Eight of us wanted to move forward, while eight others wanted to go back, including the guy who twisted his ankle while playing snow volleyball. The ones who wanted to leave seemed to have the better arguments, perhaps because they seemed less prepared.
I got exactly what I had expected out of Chadar Trek – extreme weather and abundance of snow. Since the group couldn't come to a consensus, we had to split. With four porters who volunteered and one guide who had no choice, six of us braved the detour on the cliff, which was rather dangerous, and pushed on till Shingra Koma. The other two who wanted to go with us were part of a larger group, and had to return with them.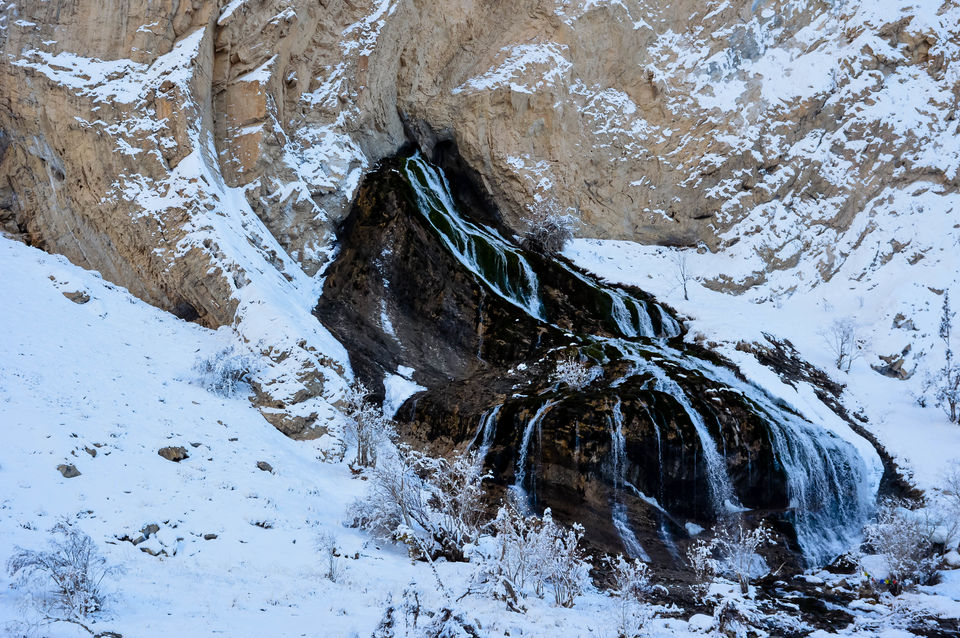 On the way to Gyalpo, we found some caves, a small frozen waterfall and another twin waterfalls. Legend goes that the villagers ran out of water and headed to Tibet for it. They were given a pot and were told not to open it until they reached their village. However, curiosity got the better of them and they opened the pot on the way, and two streams of water sprang out of it. They managed to block one stream with their boots, while the other one never stopped flowing till day and never froze during winter.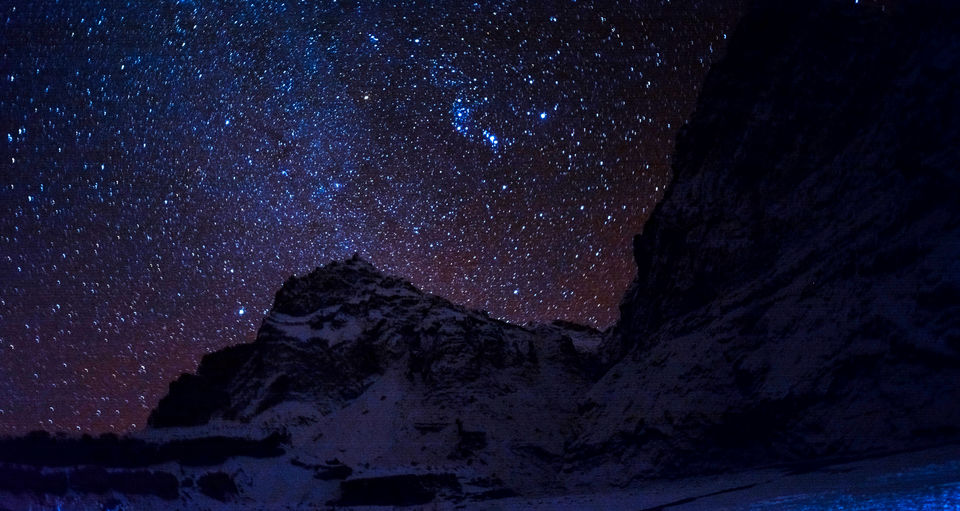 We were back in Shingra Koma by dusk, as the clear sky slowly started filling itself with stars. From beyond the peaks, Venus rose, as the first of many. In just one hour, I was gazing at not less than a gazillion stars! I thoroughly relished the starry night in the Himalayas, so far away from the polluted cities, so far away from the civilizations that I have often strived to please. It was such a blissful sight, and at that moment, I felt the most alive despite my body being so cold.
Early the next day, we packed our bags and headed back towards Leh. We hiked over 20 kilometres, only to realise that the rumour about the second landslide hadn't been true. However, as our departure wasn't scheduled for that day, there was no van waiting to pick us up. We reached an army campsite, and the amicable officers so generously allowed civilians to cuddle around a heater in one of their massive tents. We sat there for hours, sipping tea and chatting with others. There was a group of trekkers with the youngest one being 42 years old and the oldest 70! They were lucky enough to have made it all the way to Naerak and back. Apparently, they were forced to cut through the freezing cold river at a point where it was waist deep. And I had been dreading to wash my face!
We camped on the road that night and had a bonfire going as well. It was the chilliest night of all, with crazy winds and yet another overcast sky – so no starry night.
The next morning, our rescue van came and we were back in Leh by afternoon. I took a much-needed shower as soon as we checked in at the hotel. After having spent four winter nights in tents, I did not mind the bed at all.
The next two days went by exploring the city and its multiple monasteries and palaces.