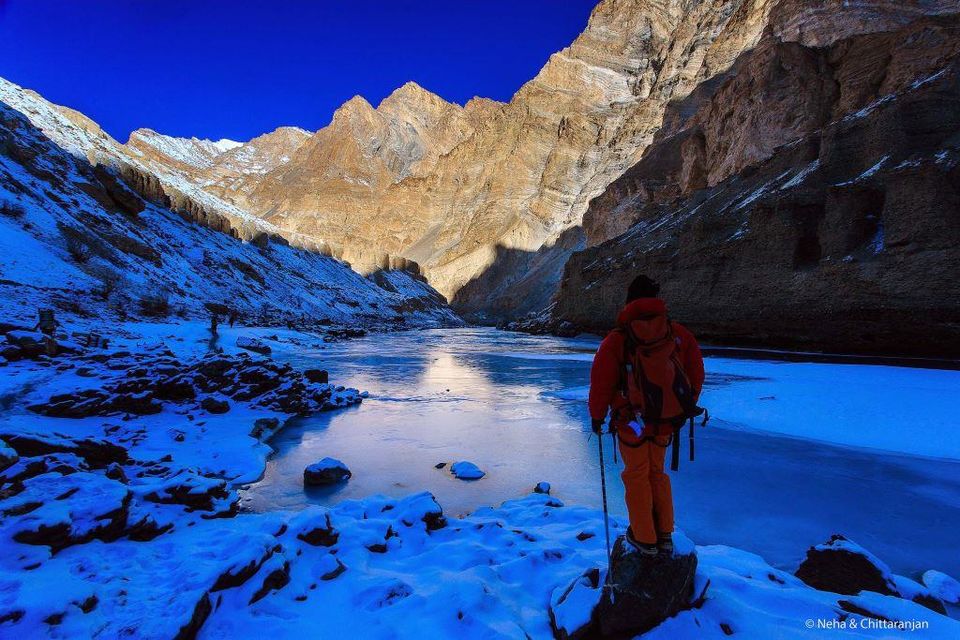 As raw winter sets in, the sinuous Zanskar river that meanders through deep gorges of Zanskar valley, turns into a frozen sheet of ice. The Zanskaris have, since antiquity, trekked on the frozen river to connect with the outside world that otherwise remains cut off during the winter months.
With having to endure through sub- zero temperatures and extreme climatic conditions, Chadar- as the frozen river is locally called, is one of the most thrilling and interesting winter treks of Northeastern Kashmir.
If you are yet to venture into this ruthless terrain, I give you reasons to set out for that one life changing experience, after which, there would be no looking back.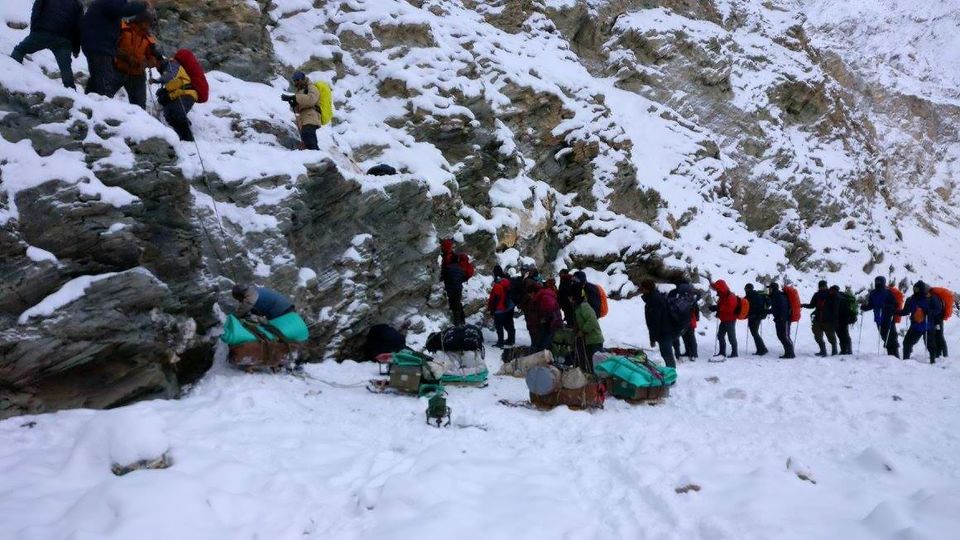 Picture Credit- Digvijay Singh Rathore # Surviving through the mean and harsh
The most inhospitable conditions and extreme sub-zero temperatures (-10 during the day and -35 as night settles in) are reasons you should certainly go for this trek 'cz, when you trek on the frozen river, survival becomes the top most priority, leave alone numerous nonsensical issues that otherwise keep cropping up and seek attention while you laze on your cozy couch back home.
Apart from physical adaptability, another vital secret to survive through chills of Chadar is to perfect the know how of covering yourself with multiple layers of clothing based on fabric type.
# A beguiling experience
A 6 day trek through the frozen gorge surrounded by frozen waterfalls, the changing colors of landscape every now and then, the crackling sound of the shallow ice sheet, camping in unique sites, the Zanskar range of mountains - what more could you ask for to be bewitched with?
You might have browsed through the gorgeous pictures of monks strolling on the ice sheet and colorful jackets strutting across with sledges behind. Its time you experience the entirety of those glossy pictures on your own.
# Difficult is deceptive
Chadar trek is not as difficult as it sounds. With multiple layers of clothing and proper guidance, anyone can complete the trek with great ease. However; you need to be at your highest when it comes to stamina and endurance while traversing through the Chadar at an altitude of 13,000 ft ASL. Follow the rules of mountains and you can get through triumphantly.
# It is to be rendered obsolete soon
The construction of a road from Chilling to Padum, a long pending pursuit, seems nearing completion in couple of years' time. Post this, the Chadar trek will cease to exist (at least that's the current buzz).
Well, if this turns out to be true, you would not want to suffer from FOMO. So, gear up you guys and go for this life changing experience before it becomes a history.
When to be at Chadar?
The best time for Chadar trek is mid January through February, when the ice sheet is at its best condition.
How to get there?
Leh is the starting point for Chadar trek and is connected to all major cities of India by both air and road. You can either fly into Leh or drive from either Delhi, Srinagar or Chandigarh.
Carry sufficient and appropriate warm clothes
Keep friends or family informed about your itinerary
Carry requisite medicines along with basic first- aid kit
Do prefer wearing proper trekking shoes (ankle length preferable)
No skipping meals since you would require to conserve your energy for the entire trek
Refrain from carrying plastic bottles. Avoid littering to keep the valley clean, as it is the core responsibility of every trekker
Avoid wearing denim or jeans
**All pictures for this post have been sourced from Digvijay Singh Rathore
I would love to read your thoughts. Please leave your comments and share. Sharing is caring.
This blog was originality posted on 'Dipanwita'