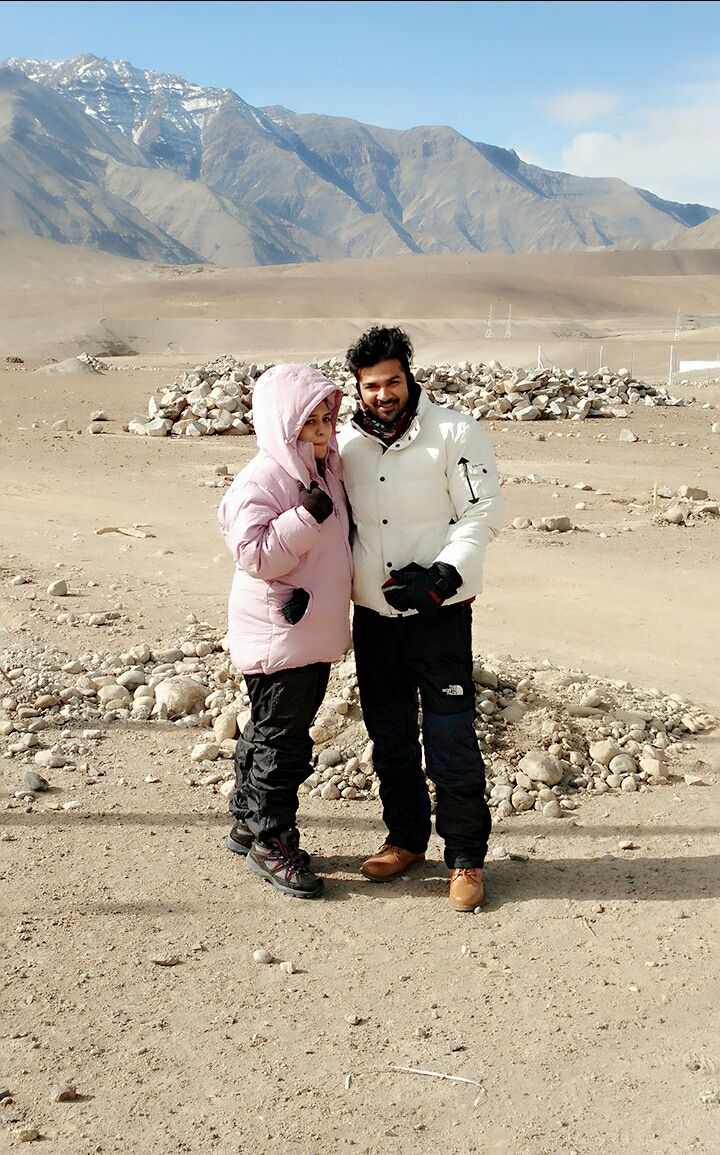 The journey to the most avid and unexplored region of India - ladakh was planned months before the D day -12th Jan 2017. Tipped off from Mumbai to Delhi via train n after lot of last minute shopping for survival on dreadful chadar trek flew to leh on 14th Jan 2017.
You never realise the surreal beauty of Kashmir until you visit cold barren,spine chilling region of leh.
Day one was full of apprehensions cause of uncanny weather and terrain of ladakh. My wife apurva and me still determined to complete the once in a lifetime trek. It was 2nd time for me however felt the excitement of the first timer with my beloved. We booked our trek with adventure nation - a company based at gurgaon (gurugram????). The arrival at Leh Kushok Bakula Rimpochee Airport was an awakening of what's coming our way. A chilling temperature bite of -18℃ welcomed or group with breathtaking view of one-of-its-kind India's highest airport - Rimpochee airport, leh. We were then supposed to grab a taxi and arrive at a prebooked guesthouse, Dolma. It was a cosy guesthouse not very comfortable though. The 1st day was to rest and acclimatize because of the elevation gained. We met or group mates who were 'supposed' to trek with us according to itinerary however it was all mix up sort of remix groups were set.
My wife and I took a stroll in the local market instead of taking some rest to acclimatize which showed up as a reaction at night and had to visit hospital as she was feeling very drowsy and fatigued. On the verge of cancelling our trek we discussed for the final time and decided to go for the kill.
Weather update ☺ Only if zanskar river is frozen you can trek ON or else you take a steepy rocky path to make your way through. The actual battle that you fight with is the extreme sub zero temperatures which swings between -10℃ to -35℃ 【you heard it right -35℃】for 7 days. The only advantage in chadar trek is the elevation. Unlike other treks where you keep gaining height along your hike, chadar is to walk, well.. Walk on very slippery, glossy ice sheets right next to gushing turquoise blue waters of zanskar. With the view in our insight and lot of questions unanswered, we slept.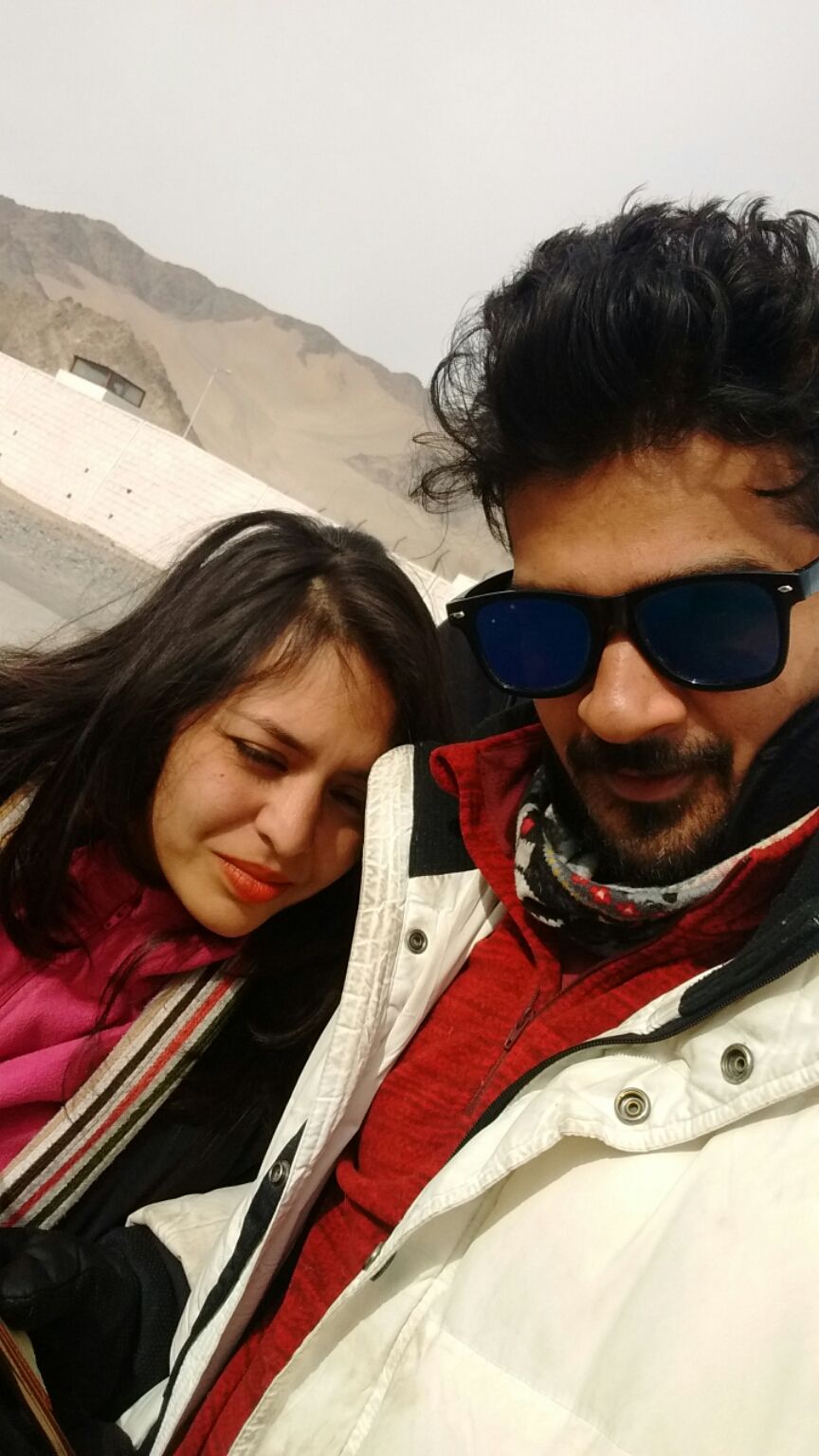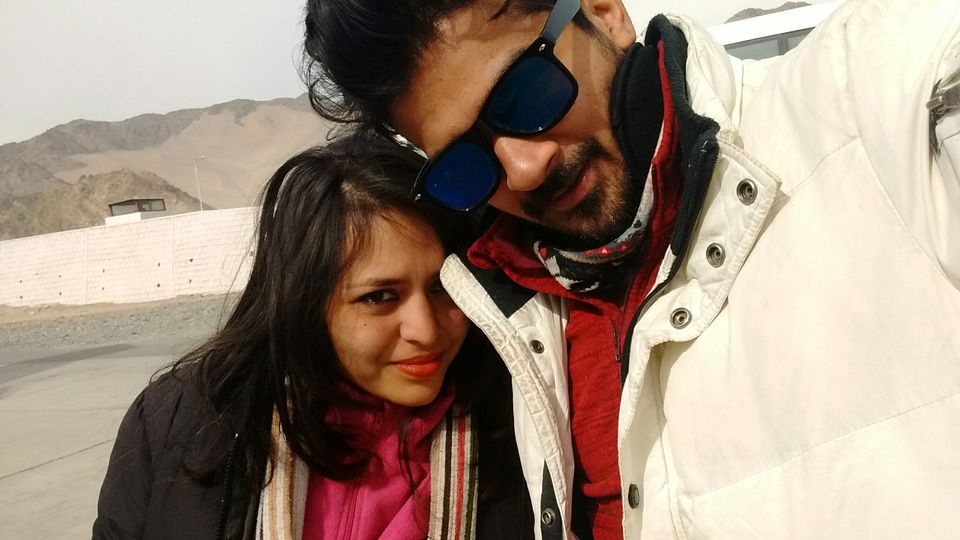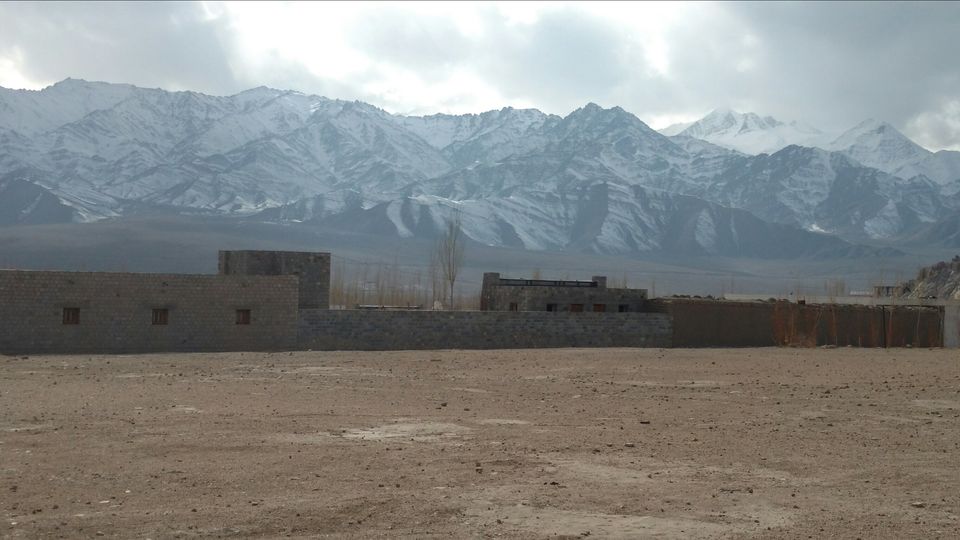 Situated at 111351ft and serving as commercial and military airbase with stringent security check.
Tilat Sumdo via Chilling
While we got used to the subzero temperatures and higher altitude, we also got in touch with the other team members who had registered for the trek through adventure nation. Next morning, a Tempo Traveler came and picked 23 of us from Leh and transported us to the starting point of our trek called Tilat Sumdo via chillimg.It was an amazingly scary yet exciting journey of almost 4 hours from Leh to Tilat Sumdo that descends into the Zanskar valley and reaches where Zanskar meets river Indus at a place called Nimmu. Well we made our own gang on the ride itself which lasted for the rest of the trek. A fun filled group of over-the-top-expressive-abusive-energetic bunch of chaps and the list goes like vidhaan aman and shantanu. The bus driver was more of a dirt rally driver than of an actual. One WRONG TURN and it could be dead end deep into beautiful valley. Couple of site seeing spots enchanted us with the serene beauty and silence around. We clicked few pictures at shantistupa and at the confluence of Indus and Zanskar (Point Nimmu ;) enslaving the memoirs forever. Camping spot is on an elevated level field at the junction of the confluence and thus began our much awaited journey on Chadar- the frozen Zanskar river.
We made almost 45 degree steep descent into the valley to lay our first steps on the frozen Zanskar and started walking like penguins. For my wife it was the first sight of ice in any form apart from refrigerator and whisky glass ☺ We started taking small walks near the camp site and were excited to see different forms of chadar. The first few steps were scary but in a short while we got a hang of it and started skating like pros! Not much before I knew what was coming, established in our camp 1 tents we were ready to watch a game of footy on the ice sheet right next to our camp. I couldn't resist but to skate with my wife for some time and participated in a so called footy with the group mates and had flat fall on ice while trying to save a stupid goal????. Baammm was the sound and next I saw was my head bleeding and the blood drops falling on the white ice sheet was making me crazy, nonetheless I just managed to save my eye,got away with a big scar (making it a memoir later) just above right eye. Quick action taken by my personal paramedics (my wife☺) helped me Dodge further damage.
It was a spectacular sight to behold of milky way right above our tents and some of us started spotting constellations in the night sky.
We went back into our tent and slowly slipped in to our two good sleeping bags provided to protect ourselves from dying cold. Alas! Useless they were to protect us from cold, somehow we managed to hit the sack out of sheer tiredness oozing of literally every part of our body.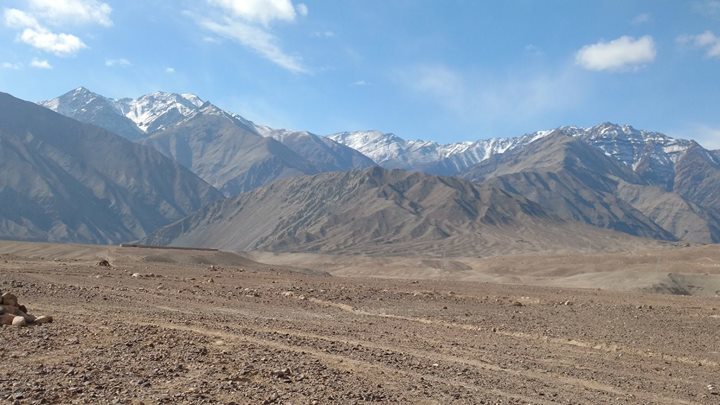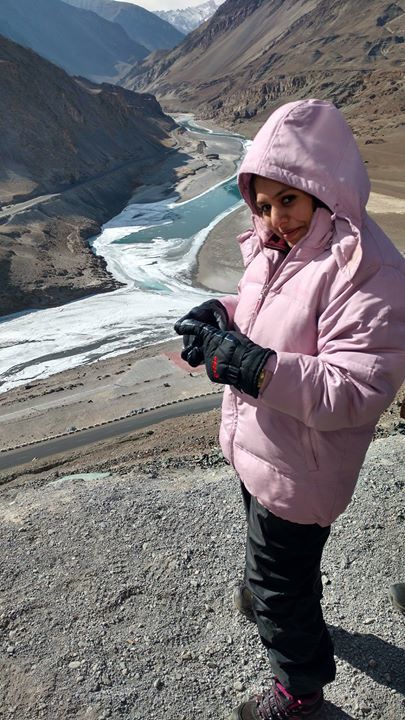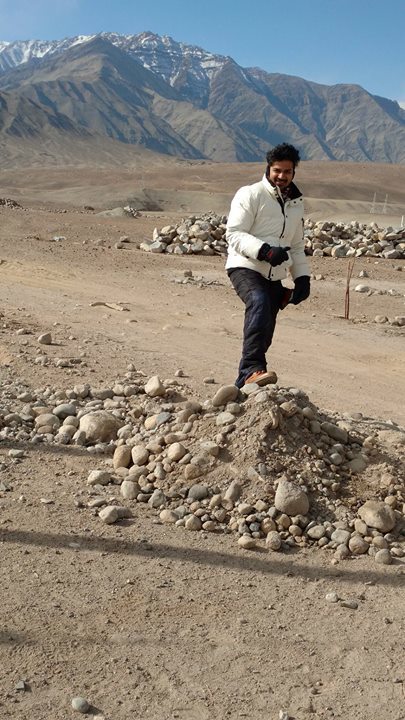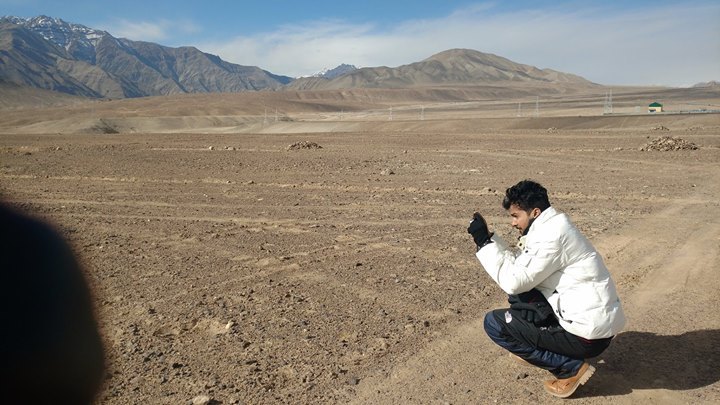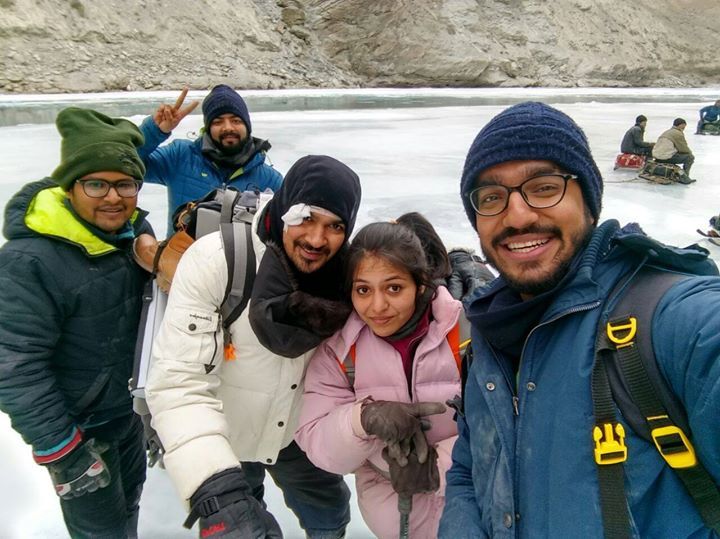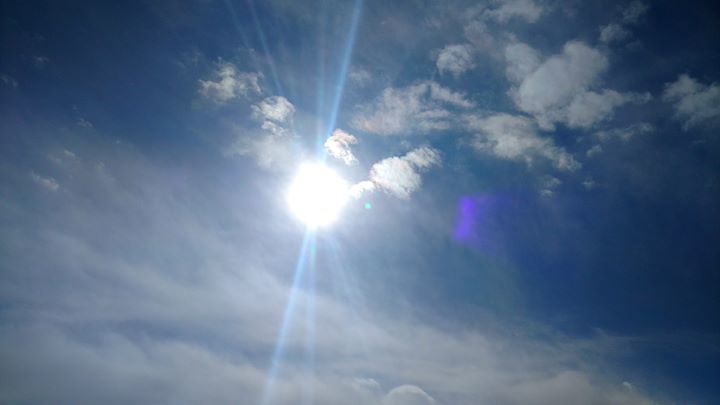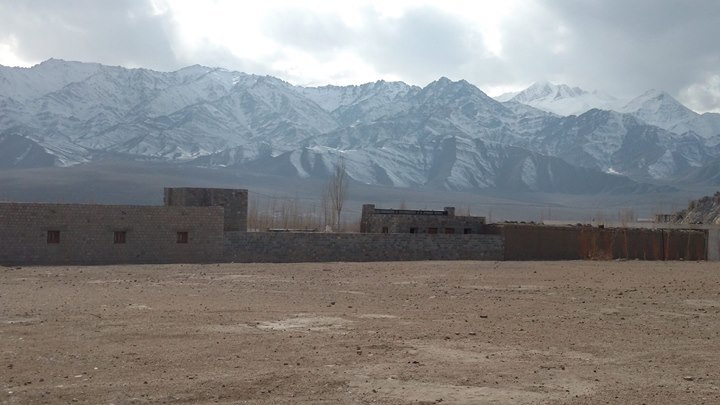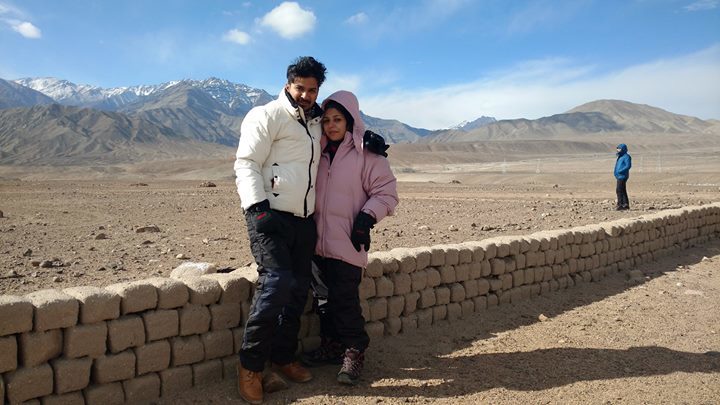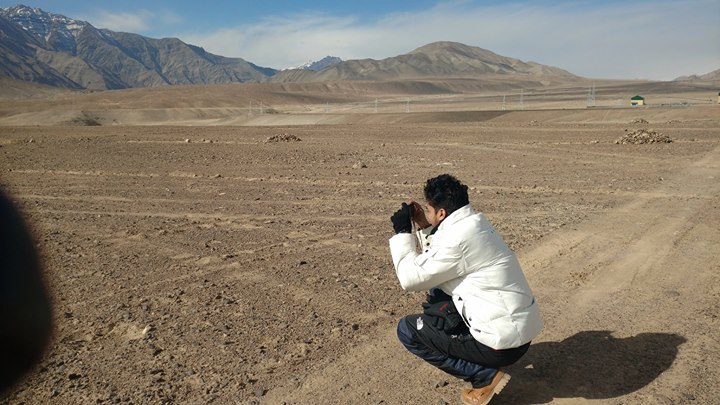 Next morning was also a pool of excitement and challenges. It was no less than a BSF fresh recruit training starting with never-say-die attitude porters vociferating for bed tea【read tent tea】The task was to come out of the sleeping bags and shred ice frozen on your sleeping bags, water bottles, chocolates, cigarette packs, biscuit packs, shoes, trekking pole etc etc etc... The list guess on. The Kashmiri kawa served as bed tea is no less than "Jameson on the rocks" in Irish cafe. It is super refreshing and fills your body with a much requisite warmth and stamina to step outside of your tent. Followed by high on protein and carbs rich snacks we were asked to wind up pack our bags up to get ready for a 10km long trek to Shingra koma.
It was a very tricky walk for all of us because the chadar was not formed well at some places. We had to take detours on the rocky walls and manage to find better chadar. Our trek guide Sandy was at his best to guide all of us. We were flabbergasted to see many frozen waterfalls and were all super excited to see pug marks of snow leopard too. I am more of a jogger than a walker however my wife n me, we had a different plan. Decided to not participate in a Drag Race but to have fun along the way, walk slow and inhaling every fragment of beauteousness the region had to offer, hence we walked the "Path less travelled". Along the way the mighty chadar showed us many of her colours from a coating of fresh powder snow, hard and shiny ice, a freshly formed chadar, chadar that is weak and breaking or another new texture. New surprise at every turnstile.
When in Rome, do the Romans - and yes if you ever watched discovery's Explore Alaska than you know what Penguins walk is which is a savior in Chadar. The first hiccup was the 75° climb which was an onset of further apprehensions for my wife meaning cursing,crying, fighting but still doing it. It was a straight steep rock climbing as chadar for that part wasn't formed properly. We saw lot of people standing n staring for hours to arrive to the decision of finally doing it as there was no other alternative. I went up first and there was no scope of waiting to see my wife climbing up or NOT coz of space constrain..I waited for almost 15 minutes in fret to finally see wifie making it to the top with tears of fear and success rolling down well almost rolling down her cheeks. While we learned to walk on the thick slippery sheet of ice, most of us kept falling while walking. It was funny but it was ineluctable. On the way we saw a cave Bakula bawo which was used by first Rimpochee of ladakh to meditate and hence considered holy. We spent lot of time in photographing and this achieved the title of sloth for being really slow however to our surprise our guide sandy picked the best of the lot and named him 'Kachua' (tortoise) - vidhaan ;) a fun loving guy from our group for being the slowest.
We managed to reach Shingra Koma campsite in about 8 hours from Tilat Sumdo. The campsite was set up theatrically under the huge stone walls where Zanskar makes a near U turn. The site believed to have got its name Shingra Koma from a plant called 'Shingra' which is abundantly present in that particular valley. I may not have sighted the gorgeous camouflaged creature, but we knew, we were in its territory and I am sure it would've spotted us from its den and laughing at us slipping and sliding on the ice.
Having slipped in our respective cosy tents, the energy from our body was plenary flushed to be able to come out for dinner, we decided to survive by hogging on biscuit, chips and kawa served by porters. One thing for sure, the porters and cooks have energy out of nowhere and seems like the way they walk,talk,cook and set up the campsites is entirely magically derived from the aura of the valley.
We spent some time chatting with our instamade trek groupmate and post that we listened to few romantic numbers on my JBL portable speaker with much required smokes followed by the excitement and nervousness of the next day's trek to Tibb which was going to be staggering 17 Kms.