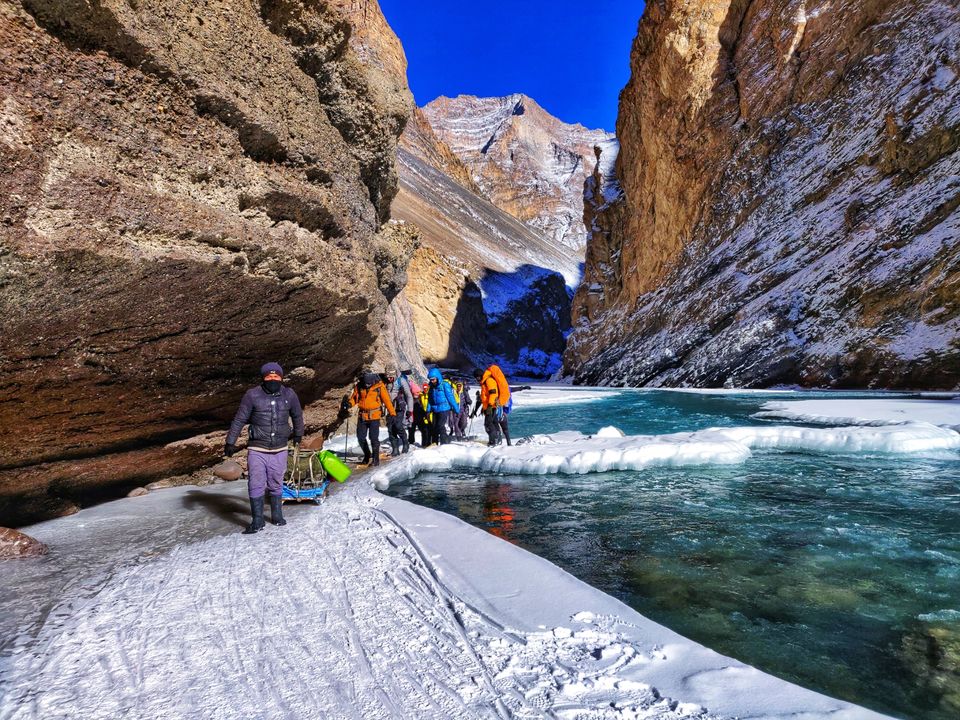 Local people say it is not just a trek, it is an experience. I must say it is a lifetime experience. Yes I am talking about Chadar Trek -every adventure junkie's dream trek. Chadar Trek is walking on frozen Zanskar river, sometimes walking on hard rock glass type ice through which you can see flowing Zanskar, sometimes fragile ice sheet, sometimes you have to cross knee deep sub zero water of mighty Zanskar, sometimes you have to do climb the rocks if Chadar doesn't form well to walk on. Formation of Chadar changes everyday. You will spend your nights inside the sleeping bag in a tent and the temperature is freezing cold like anything, ranging -25°C to -30°C. But trekking with 12 unknown people from different parts of India who made the coolest group ever, is really a lifetime memory for me. Being completely cutoff from everything, those 9 days with my "crazy Chadar family" and the local guide and porters, the real 'Heroes' of Chadar were simply awesome. So come let's celebrate Chadar with "Juley(Hello in Ladakhi)- Kabhi na Bhuley!!"
Where it is?
Leh, Jammu & Kashmir, India
Time: January-February.
Here I would like to mention one thing. Please try to choose your dates at the starting. Because the formation of Chadar changes almost every day.. Later the Chadar may got broken or melted and you may be missing out to reach upto frozen waterfall at Nerak.
How the trek happened to me?
I am not an avid trekker. Before doing Chadar, I did only Sandakphu Trek in West Bengal and that too in Winter. Yes I have experiences of some small treks. Chadar was always on top of my Bucket List. During November 2018, I got to see the advertisement of Chadar trek from Thrillophilia while surfing the net and I just casually asked some of my friends, one of them said 'Yes'. Then we started to plan. After a brief research on Google, we zeroed out one trek organiser - Trek The Himalayas(TTH). Then after managing the leaves, we finally booked the trek. And then with the rising excitement we started gearing up for experiencing the wildest.
Itinerary with experience:
Day 1:
Reached Leh from Delhi in the morning enjoying the majestic view of the almighty Himalayas from flight and was welcomed at Leh Airport by the chilly breeze. Our joyride took us on a ride from 20°C to -10°C in one hour!! When we landed in the beautiful Leh airport, though it was cold like anything but we can feel the heat of excitement of many Chadar trekkers who were onboard with me. We already met three of our trek members at Delhi airport and came together in the same flight. So we took a cab together and headed towards our hotel-The Auspicious Hotel. The cab cost Rs. 400. It was a rest day specially to acclimatise with the sudden rise of height(approx 11000 ft) and sudden drop of temperature(20°C to - 10°C). We met our other group members at the hotel. After lunch we were supposed to be briefed by TTH members. Since they didn't show up, we enjoyed a brief UNO session with some of the group members. In the evening we were briefed by TTH members along with some formalities and met our trek leader (TL) Dilip.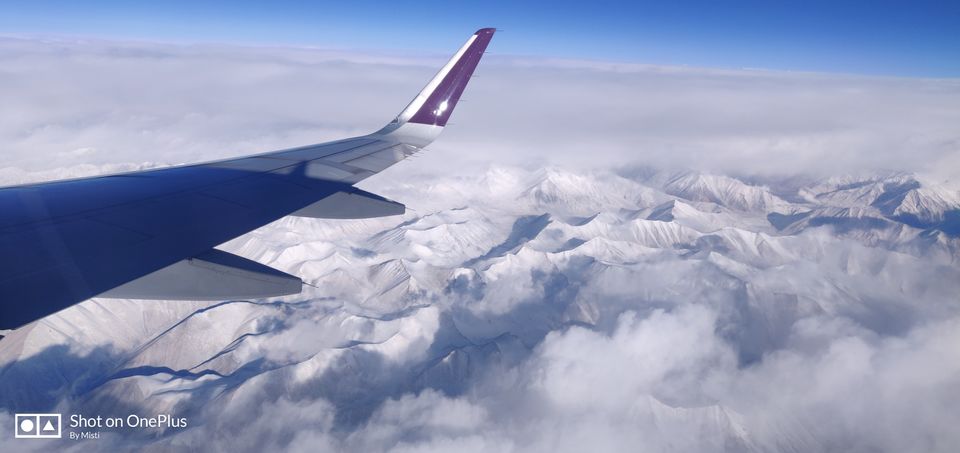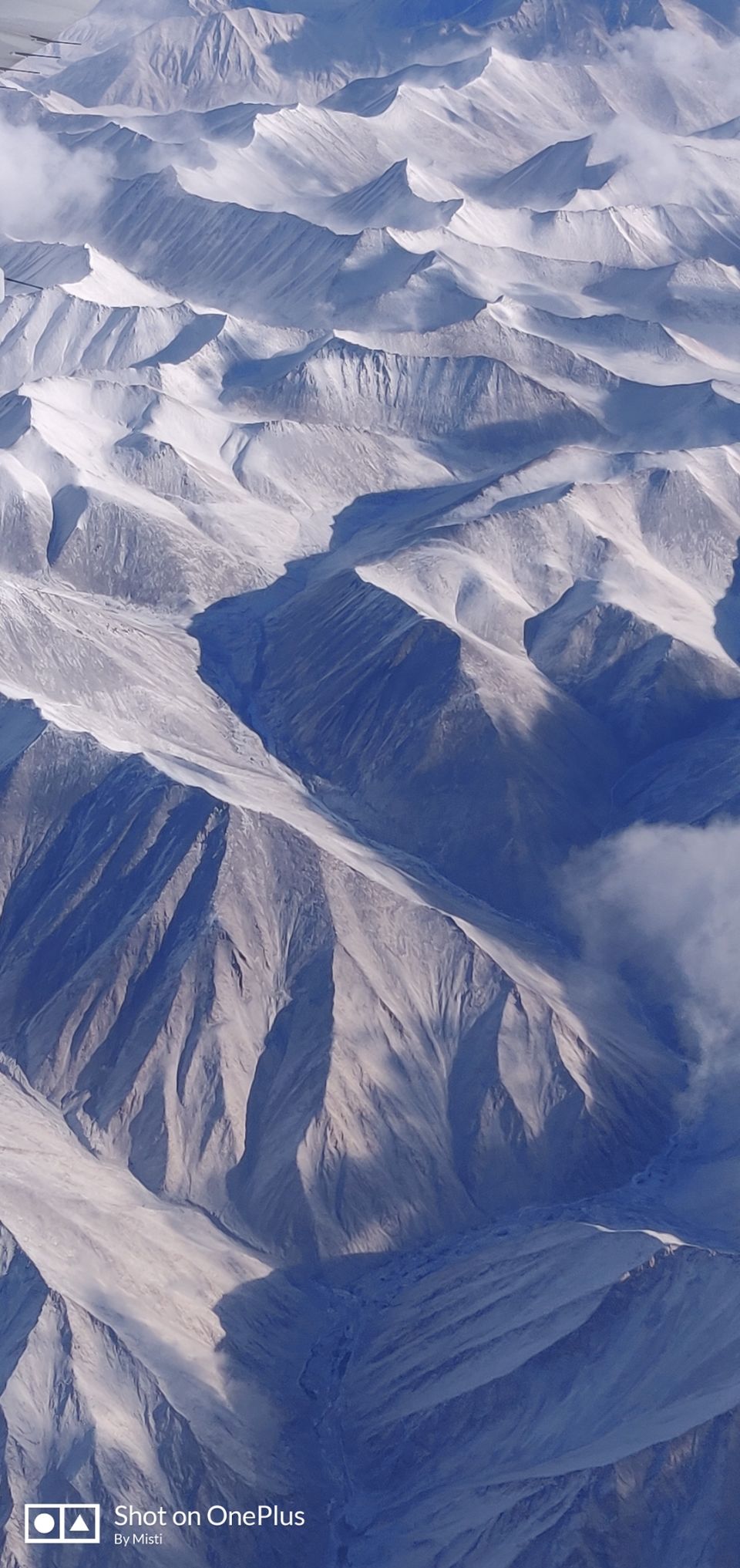 Day 2:
A day trip in Leh organised by TTH. We were provided with a tempo traveller. We visited Shey Palace, Thikse Monastery, did some small hiking, first stepping on ice on a frozen lake in front of Shey Palace, roaming in and around the market followed by group lunch and also some last minute shopping. Our group already got along with eachother pretty well.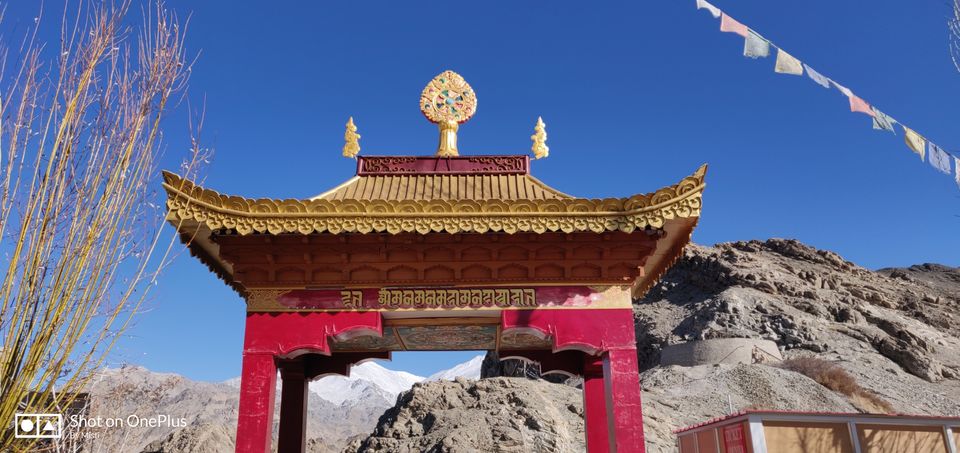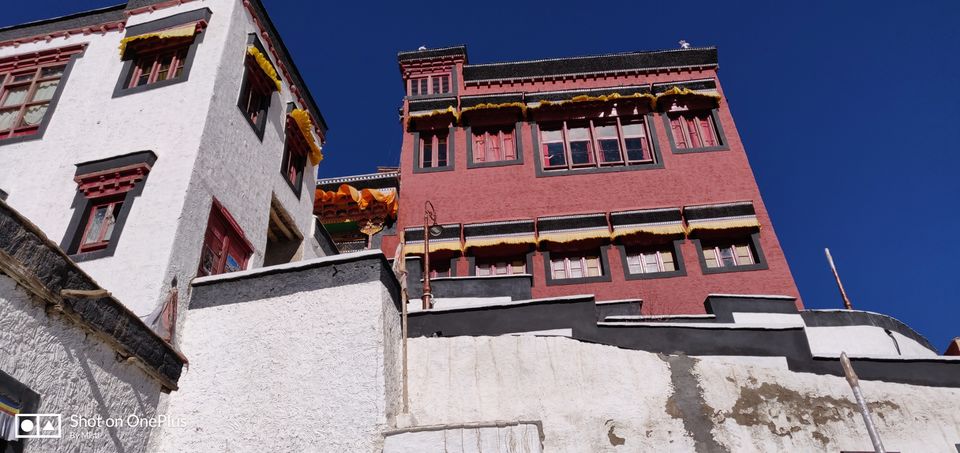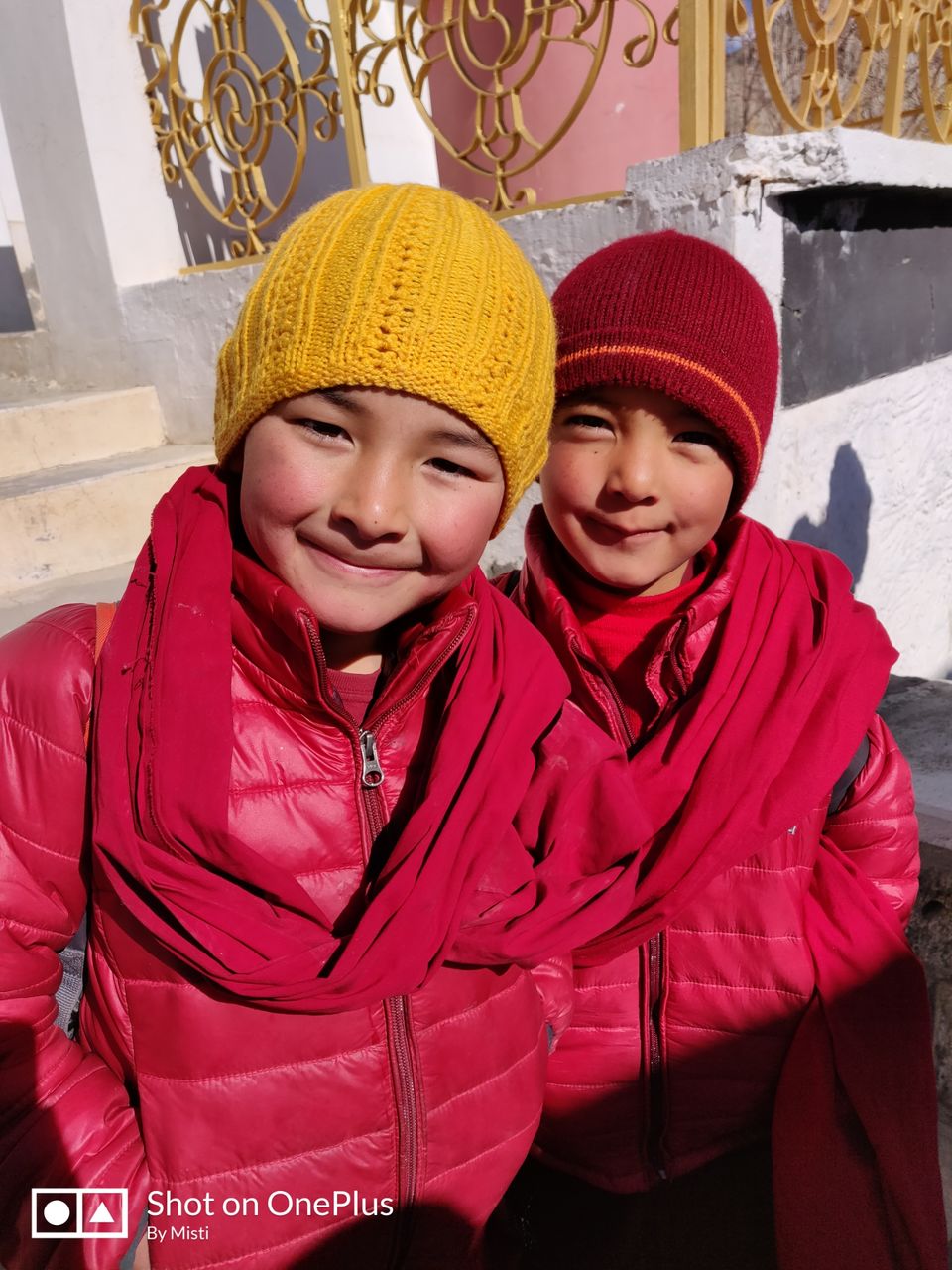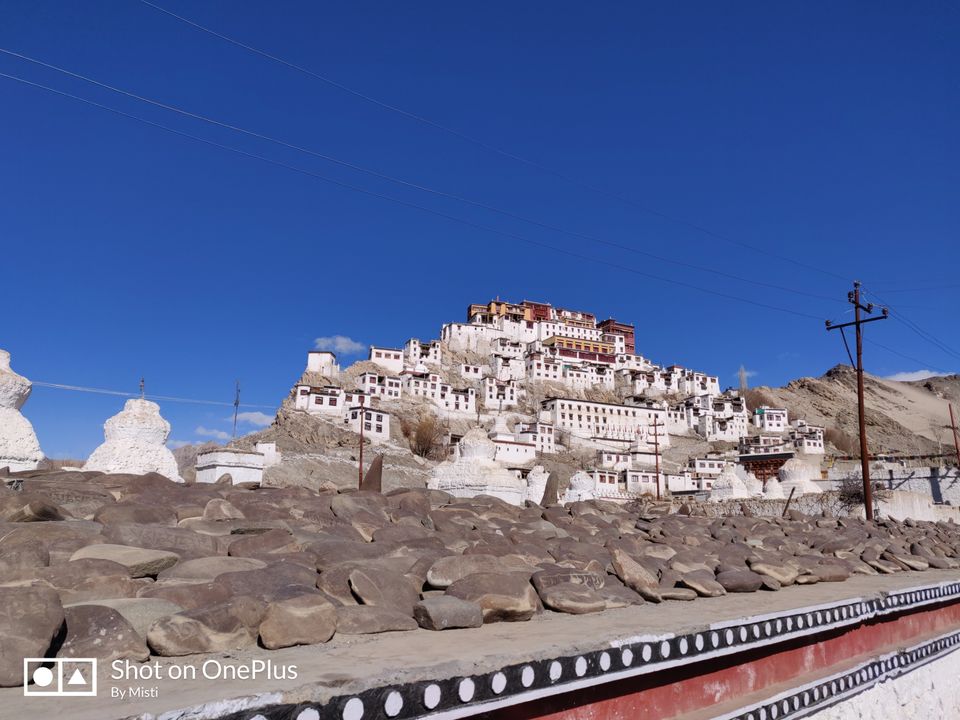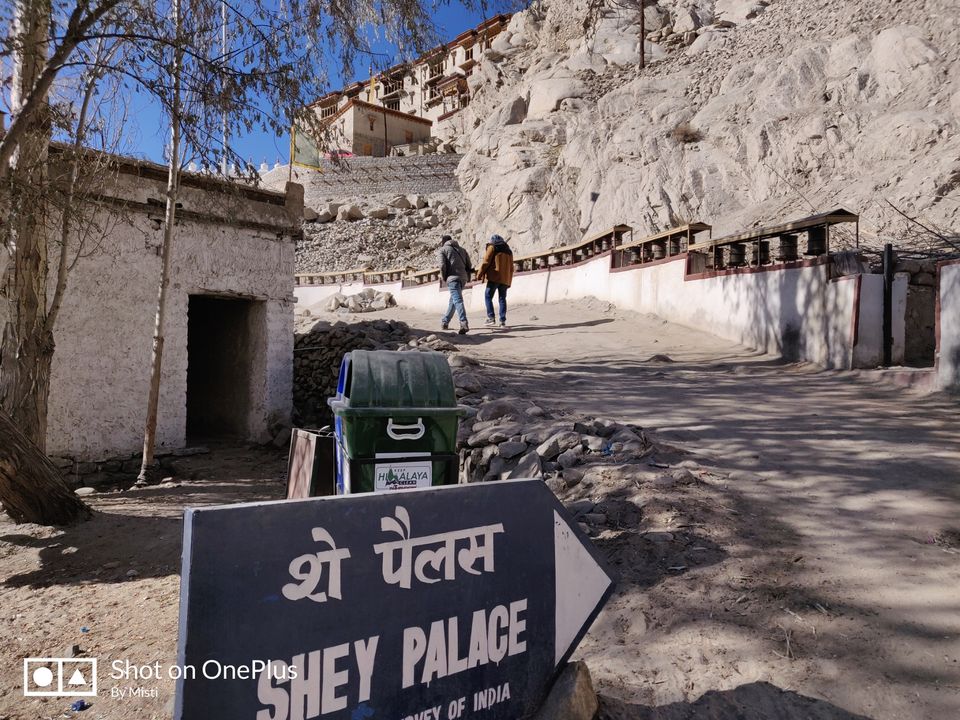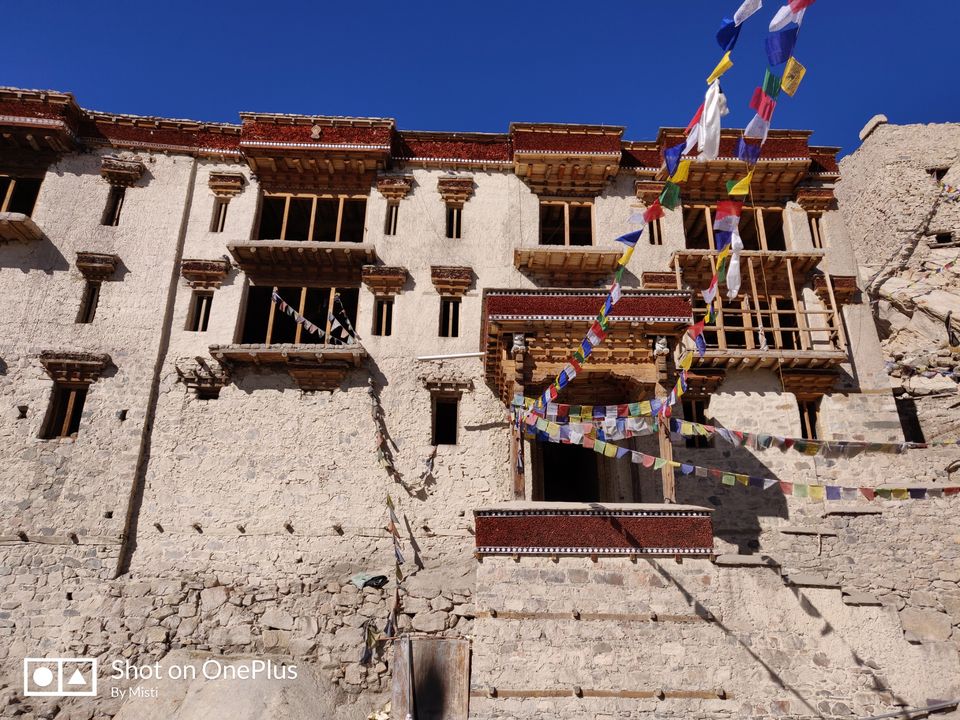 Day 3:
Mandatory medical check up by LAHDC. So we were taken to the Medical Check-up centre. Many trekkers from different organisers were there. That means all of us would be starting on the same day. All of our team members were found fit for Chadar. So now finally we are "ON" for Chadar. Team lunch and dinner sponsored by TTH.
Day 4:
Finally we will start for Chadar. In the morning after having breakfast, we were all geared up and assembled at the hotel reception. But our pick up vehicle didn't show up on time. So we started warming up by dancing crazily in the dining hall. Luckily I got the coolest group. Then finally our journey started. It was an approx. 3 hours drive from Leh to Bakula from where we finally started for the trek. When we reached, it was snowing and the weather is super chilly. We finally stepped on Chadar. Our porter team welcomed us with a cup of hot tea followed by "Chadarwali Maggi". Within a few minutes, the first fall on Chadar happened in our team. And finally we started our walk on Chadar. Initially it was a bit tough but gradually we got used to. But falling was going on time to time except me. We were saved as because of the snowfalls it was less slippery. The "Mantra" for walking on Chadar is Baby Steps or Penguin step" along with full concentration, otherwise "Nazar hatee toh durghatana ghatee!!" So be very careful.
After a walk of 4 hours we finally reached at Singra Goma, our first camp site. We were welcomed by hot tea. After a brief settling down, we roamed around, clicked photos, then came to the dining tent. Because outside it was freezing cold. Then we chit chatted, played games, had snacks and hot soup. Then after having dinner around 7, we went to our respective tents. Now the real challenge began!!! Fighting with the freezing cold. We were provided with very good quality sleeping bags. Fitting yourself inside the sleeping bag was simply very tiring. I literally used to fight with the sleeping bag and become tired to fit me inside the sleeping bag!! Then it took a bit to get warm. But it's not possible to get sound sleep though you are tired. In between you will wake up. But I didn't find that the cold during the night is unbearable if you have good quality warm clothes and sleeping bag.
Day 5:
Since it was not easy to get sound sleep, I used to wait for the morning. When I woke up in the morning around 5.30am, I found that even inside the tent there were droplets of ice. The vapours inside the tent due to our respiration also turned into ice!!! After coming out from the sleeping bag, first we used to take some time to adjust with the outside temperature and then used to do the challenging thing - coming out of the tent. But our porter team was always ready to keep us warm by serving us ourur good morning tea "Chadar wali Chai". After freshening up, we used to gear up for the day. After having breakfast, we started for our next destination - Tibb Cave. It was a long walk. We started around 8.45 am and walked approx. 15 kms to reach Tibb Cave. It was not just a simple walk. Though most of the time we walked on frozen Chadar, but sometimes we were rerouted by climbing, sometimes we had to cross through ice filled water. It was simply an adventure walk. We stopped for our lunch in between. We reached our camp site around 3pm. After settling ourselves down, we all sat inside the dining tent and started chit chatting, played dumb charade and enjoyed like anything. As we forgot to tell our porters to arrange a campfire, so on that day too we didn't have a campfire. So we went inside the caves to make ourselves a bit warm sitting beside the fire set by the porters of different teams who took shelter inside the cave and they set fire for themselves.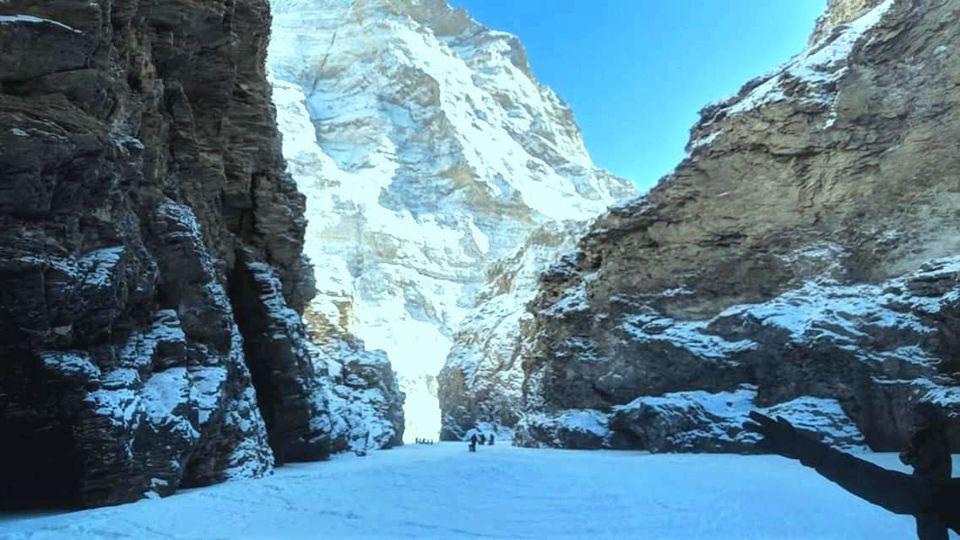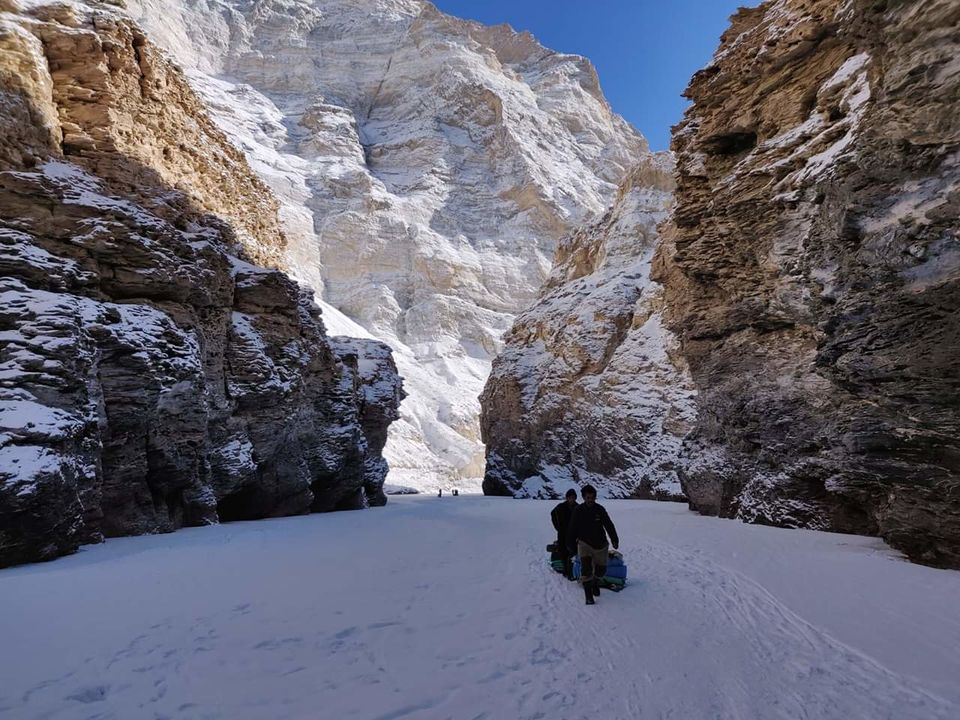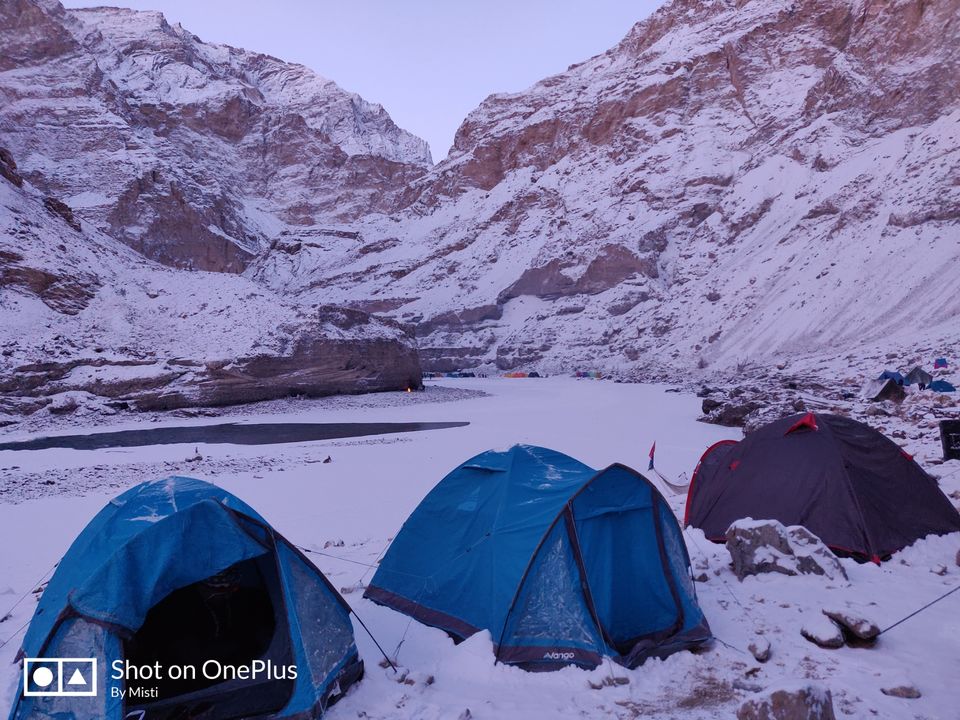 Day 6:
The summit day. Today we would walk approx. 10km upto Nerak to get a view of the mesmerising frozen waterfall. The waterfall got frozen as it is. Our TL told us to be ready by 7.30 after having the breakfast as he wanted us to start early so that we can avoid the crowds. Because every day there used to be almost 150+ trekkers. Finally we started around 8.30 am. It was also decided to set our tents 3-4 km before the falls so that next day we can easily cover the distance till campsite 1 i.e. Shingra Goma. So after reaching our camp site, we had tea and lunch. After that we started for Nerak. After around 1 hour of walking, we got the first glimpse of the frozen waterfall and it is simply awesome. Then we reached and found one co - trekker taking photos with an Indian flag. We also wanted some epic pics with our national flag. So we asked him for the flag and took photos, videos. I felt like finally I have achieved something so special. So it was an awesome feelings. Then we had so much fun there like photos, videos, playing and dancing on ice.. then we came back to the camp. That night after dinner we had our campfire night with songs, dance. Now it's time to trek back. Suddenly I felt like this beautiful Trek is going to be over now. It was a sad feeling.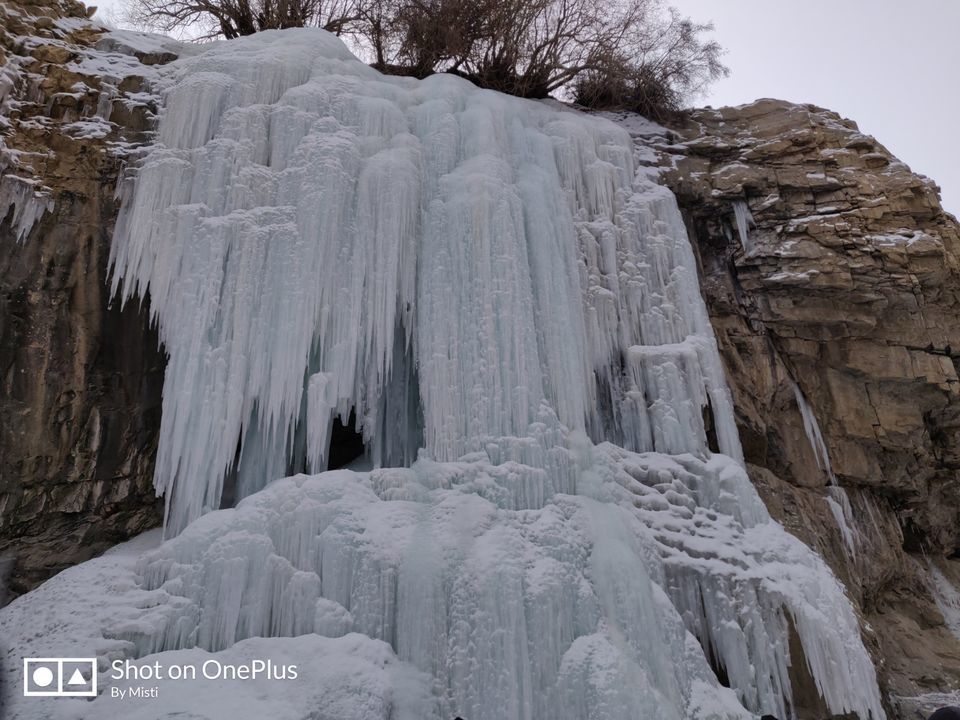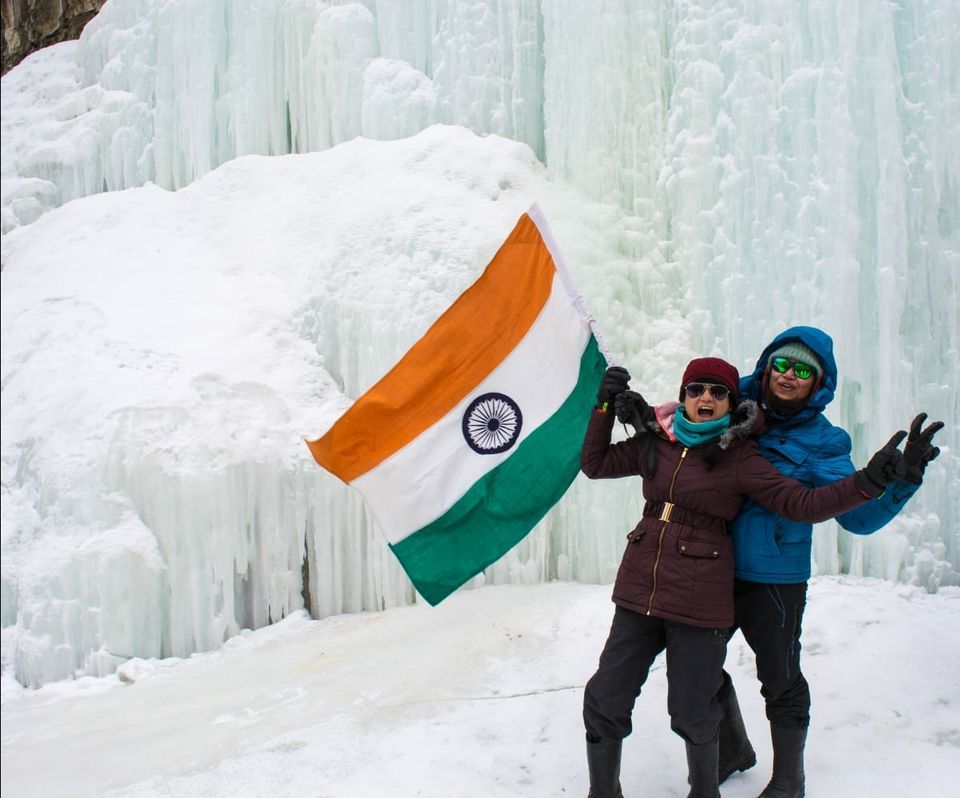 Day 7:
Today we have the longest walk. From Nerak to our first campsite at Shingra Goma i.e. almost 25 km. So it was going to be a long and tiring day. As we needed to start early, we had our breakfast and then got ready. Finally we started by 9am, a bit late though. After walking for sometime, we reached at a place where the Chadar was not formed well to be walked on it. First we thought to detour by climbing the rock to cross that fragile patch. But it was not that much easy to climb for everyone. After a brief dilemma, we decided to retreat and went to the other side of the river by crossing it where the Chadar was wellformed enough to walk on. By that time other groups were also piling up there. They were informed about the situation and they too followed us. So we crossed the river and started walking along the other shore of the river. Here also at some places the Chadar was broken/melted. So we had to climb. On our way back we had to detour so many times and the route through the rocks was damn challenging but fun. Sometimes we had to climb, sometimes we had to crawl, sometimes we had to slide- all types of adventure were there to experience. Then all of us finally reached upto Tibb cave camp site. And there we came to know that the Chadar got melted and didn't form well. And all the trekkers from the previous day were stuck there. And the situation was same for us too. Almost 300 trekkers got stuck. All were in tension. Locals were trying there best to find a solution. If the situation lasted for 2-3 days more, every team would be short of foods. A night full of tension. Everyone went to sleep with a hope that when we woke up in the morning, we could find the frozen Chadar.
"Has the Chadar formed?" Next morning everyone was eager to know the answer. But.. No we didn't get a positive answer. So the real challenge came. Here I would like to mention one thing. When I completed upto Nerak without much challenge and also without a fall, I was thinking that I was going to complete the trek without facing any real challenging situation. But no, finally we were going to do some adventure. So after having breakfast, we got ready for the day. A crowd of 300+ trekkers and porters were waiting in a queue. The scenario was that either we had to cross a patch of thigh-deep freezing cold water with a high current or we had to climb a steep rock which was so damn tough and risky. So it was decided to cross the water. The locals with the help of rope were helping us to cross the water standing inside that freezing cold water. When for the first time we got wet, we felt like almost numb. But hats off to the locals, the "real heroes of Chadar", whereas we were becoming almost numb to cross the freezing cold water, they were standing there endlessly to help the trekkers to cross it safely. They were helping us to dry ourselves first without thinking about themselves. After coming out of the water, we dried ourselves as fast as possible and as much as possible and then started walking. We can't stop as the water inside our gumboots will turn into ice since it was not possible to change the wet clothes. As we were walking, all of a sudden my friend who was walking ahead of me went down into the water by breaking the ice sheet. She as well as I got puzzled with this sudden incident. I was the one behind her, but I couldn't understand how to pull her out as the Chadar was fragile there, I could also go into the water. A local helped her to get out of the water. Now it was my turn to cross that patch. Yes I was scared that I might go into the water. Though the the local porter told me how to cross that patch but I too went into the water breaking the ice sheet!! He pulled me out of the water. Then we started moving forward again. There were one or two more patches where we had to cross knee deep water and at some places we had to divert our routes through the rocks which was damn challenging. On our way at one place we stopped for a break. Until now I didn't fall while walking but here I was standing and finally slipped and fell down on Chadar. All my team members were happy like anything as they used to wish for my fall!! My TL rushed towards me. I thought that he was coming to help me getting up. But no!! He came to congratulate me saying "Welcome to the Club"!!!! That day we had to reach upto Bakula. It was becoming tiring. It was almost a 20km walk. So we walked and walked. We stopped at Shingra Goma, our first campsite, for lunch. Then we started for Bakula- the final walk. After walking for almost 2 hours finally we got to see the road where many tempo travellers were waiting. I was happy that I completed Chadar trek, my dream Trek but at the same time I felt very sad that the trek got ended. We were not going to walk on Chadar anymore. Before reaching the road head we were taking some photos, having fun by doing a 1 minute plank challenge on Chadar. And finally our most awaited Chadar trek ended. We took our group photos and were all happy that we successfully completed our Chadar trek. Now it's time to say bye to Chadar as well as our local friends who made our journey to be remembered always. Then we got inside our pickup vehicle and started for The Auspicious Hotel at Leh. Though everyone was very much tired, but when it comes to have a celebration party, everyone is full of energy!! So on our way back to hotel, all the arrangements were done. After reaching the hotel, we badly needed to take bath. So we all got freshen up, then we assembled in one room where our TL along with TTH team came for a debriefing and certificate distribution. After they left, the party started - "Let's rock the dance floor'. Thus the longest day of the trip ended.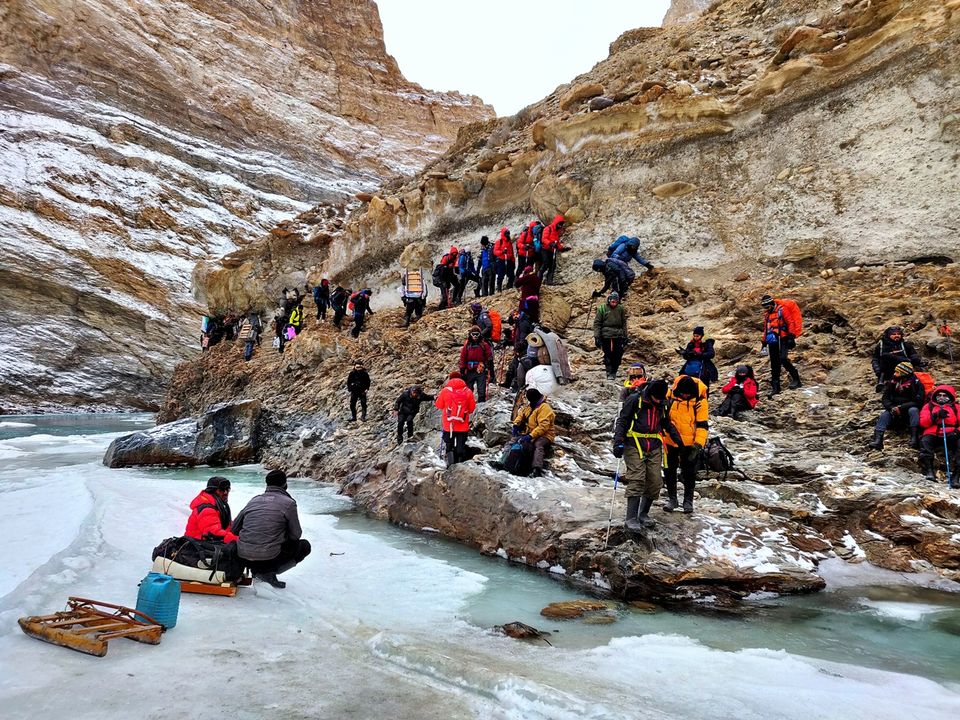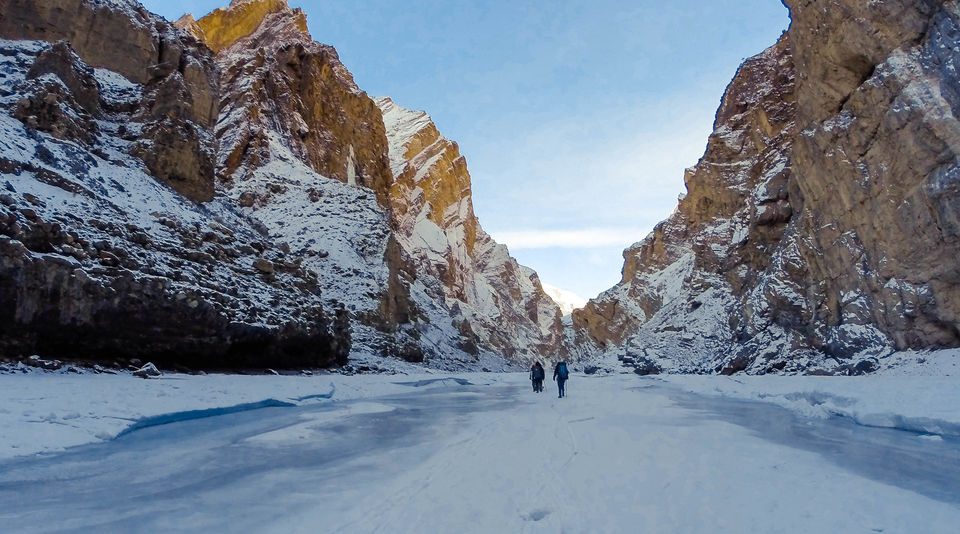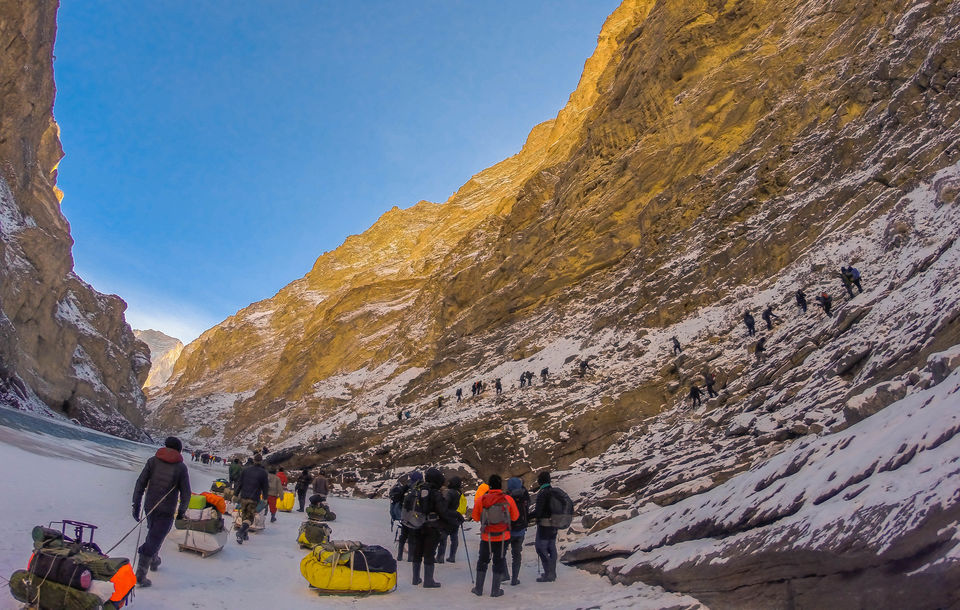 Now it's time for going back to our daily life again and say bye to beautiful Leh. We had our flight in the morning. So having breakfast in the hotel, we got ready to leave for the airport. Some of us had the same flight. So we went together after saying bye to other members. And I boarded the Delhi bound flight with my heart full of some of my best memories of my life that I am going to cherish always. Chadar trek- a walk to remember...