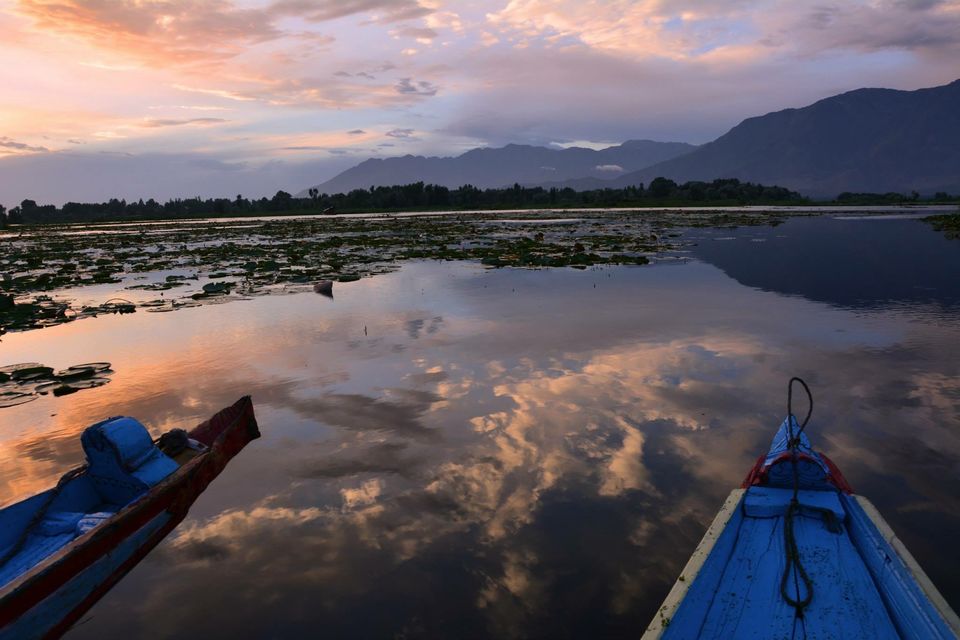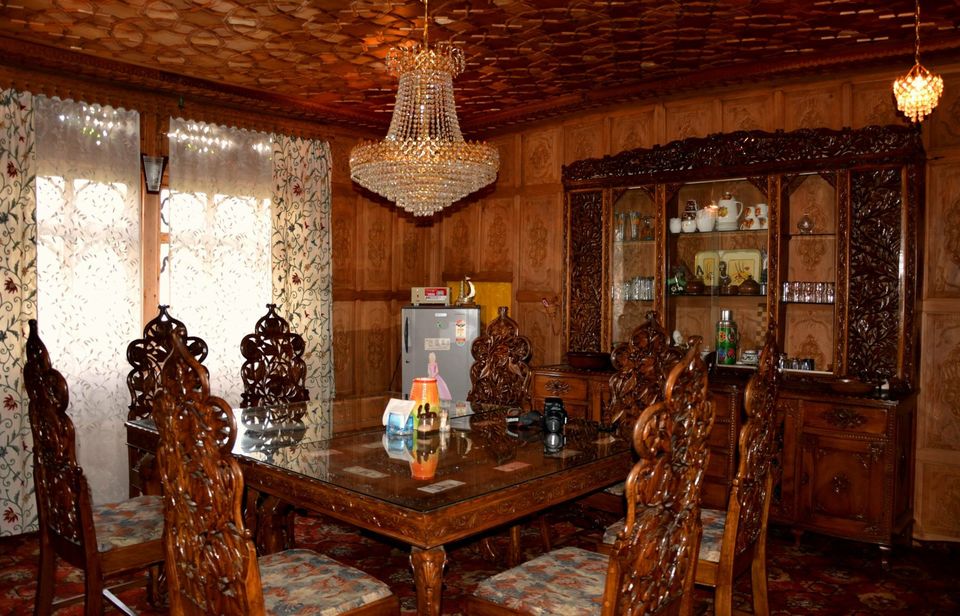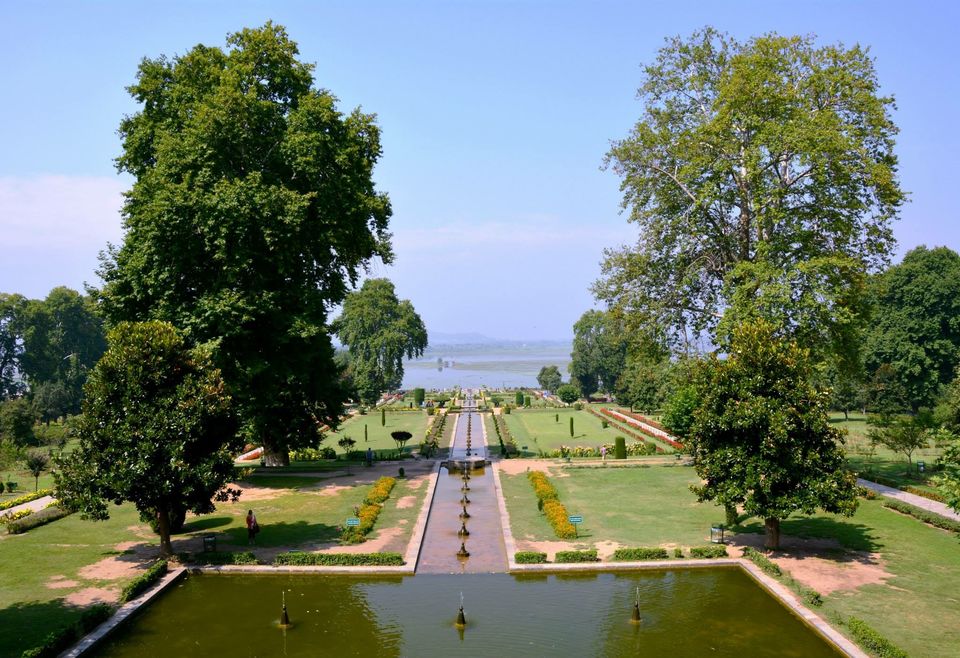 The unattainable always seems attractive. Throughout my growing years I have only seen TV footages and pictures of riot, burning houses and military vans in reference to Kashmir. I had heard tales from few acquaintances of their opportune visit to the valley and they always spoke with such nostalgia in their eyes and happiness in their voices that you could not help but feel jealous. Never imagined there will be a peaceful time for safe travel to the Switzerland of the East.
Day 1
But on some days God indeed is merciful. So on Aug 21st 2014 we boarded our flight to Srinagar. The Srinagar airport is one of the highest security airports in the country so after about 3 hours (flight+luggage clearing) we booked a taxi and entered the city. There seemed to be a different vibe to the city as compared to other Indian cities. A quiet veil of tension surrounded everything around and the military postings in about every 100 yards enhanced that feeling. We had already booked a boathouse and a short ride on Sikara took us there. The picture of the boathouse above would give you a fair idea about how good it was. It had intricately designed furniture and rugs which I definitely wanted to get for my house.Also the food served was awesome......especially the generous serving of Kashmiri Kawa whenever our hearts felt like having a cuppa. The owner of our boathouse 'Floating Heaven' was very hospitable and was instrumental in helping us deciding the itinerary. At about 5 pm we decided to go for the customary Sikara ride on the Dal lake. When we were leaving the boathouse we could see glimpses of dark cloud on the horizon but encouraged by the boatmen we started the journey. Ten minutes into our journey it started to drizzle and by the time we were halfway, there was torrential rain with a steady wind blowing from all directions. There seemed a serious danger of the boat being overturned and when we heard the boatmen saying their prayers we knew it could be the last day of our lives. Five of us did not even know how to swim. One of the boatmen suggested that his daughter's house was nearby and if we want he can take us there for shelter. It seemed God was on our side after all. In about 10 minutes we reached the house and was welcomed with open arms. Not sure what is the general perception about people of Kashmir but that day the kind of reception we received in that unknown house from people for whom 7 of us could be a major inconvenience, was really heart warming. The boatman's daughter was a great fan of Sourabh Ganguly and on knowing that I stay near his house gave me a cucumber from her tree as a gift for him, I was to be the courier girl.

Day 2
The day started with a cup of kawa in hand, sitting on the steps of the boathouse with the view of the immense expanse of the Dal lake. Moments like this give you the unrealistic hope that you too could be a poet if only you had a pen and paper in hand. We were approached with attractive wares by various vendors selling fresh flowers, jewellery, wooden handicrafts and before long it was 10 a.m. So we quickly had our breakfast and packed our belongings for Pahalgam. In Pahalgam we stayed at JKTDC cottages. The quaint, secluded cottages on both sides of winding lanes and with the mountain as backdrop was extremely picturesque. We spent the rest of the day shopping in the Pahalgam market, taking a stroll along the Lidder river and making arrangements for our trek the next day to Tuliyan lake

Day 3
Some days have a dichotomous effect on you. In the short term it seems to be the worst day of your life but in retrospect it fills you with such memories , joy and sense of relief that you seem to hold it close to your heart. This was one such day. The trek from Pahalgam to Tuliyan lake was of 13 kms. The plan was to start by 8 a.m for the trek with our guides. Once we met our guides they clearly told us that it would be impossible for us to come back the same day if we went on foot instead of taking horses. Many of us thought that it was a ploy to hire horses as they were charging Rs 3000 for each horse. So the faint hearted amongst us took a horse and the rest started on foot. The road till the valley of Baisaran was completely broken and seemed to be made only for horses to walk. By the time we reached Baisaran, the prophecy of the guides seemed to be true to all of us. So after mandatory photo shoot at Baisaran which looks exactly like Scotland (if not better), all of us proceeded on horses. The road was a nightmare, at places it went up in almost 180 degrees angle and we had to get down from the horse and climb on foot. The horses too had a magical tendency of taking the path less traveled so by the time we reached a clearing where we could rest for sometime, our energy level was already hitting rock bottom. After traveling for another 45 mins from that spot we reached another valley and the view there was breath taking. It was so beautiful that it seemed unreal. But our happiness was ephemeral as our guides announced that we have to walk from that point onwards to the lake. Walking there meant climbing up and then down a mountain to reach the lake. Two of us had their share of adventure and decided to wait on that spot for us to return. The rest of us with an attempt to be courageous went ahead. Finally only 2 brave hearts amongst the 4 of us could reach the lake. By the time they reached the lake they were so tired that they slept for 10 minutes beside the lake. To rejuvenate ourselves for the return journey, the guides advised us to have some tea in a Gujjar tent nearby. That tea made with goat milk seemed to be the best drink we ever have had in life. We had an interesting conversation with the Gujjar family too and the hardships in their life seemed to make the pain of the journey almost bearable. Then started our journey back. The return journey was so scary that the onward journey at that point in time seemed to be a cakewalk. It started drizzling and got so dark that we had no idea where we were headed. When finally we could recognize the meadows of Baisaran we shouted so loud that our voices croaked for two full days. I have always heard that people living in the mountains are tough but our guides that day took our assumptions to a whole new level. They had just returned from Amarnath journey the night before, traveled with us to Tuliyan on foot the entire day and then drove us to Aru that night in a jeep with minimum sign of fatigue. When we reached Aru that night, our mind was still in a haze but we all must have said a silent prayer that night thanking God for the gift of life.

Day 4

I loved Aru. My dream is to have a cottage there, sit on the courtyard with a book and a cup of tea everyday of my life. The view that greeted us in the morning was unbelievably beautiful. There was lush green meadows all around our JKTDC guesthouse and we could see flocks of ponies running around. It just looked like a picture which has been photo shoped to get the perfect view. After breakfast we had a leisurely outing on the banks of the Aru river. The beauty of this place and the calm was like a balm to our aching limbs from the trek to Tuliyan. That evening we came back to Srinagar to the same boathouse 'Floating Heaven'
We left Srinangar the next day for Delhi. This trip was the most eventful journey of my life. I call it a journey and not a trip consciously because those 5 days actually made us wiser and a bit more carefree about life. It made us realize that life is but a short journey so hold on to your seats and enjoy the roller-coaster ride as nobody has seen tomorrow. As someone has said "Life is a one-time offer, so use it well"

Frequent Searches Leading To This Page:
4days srinagar tour package from delhi, kashmir budget package for friends, places to visit near jammu, best time to travel kashmir, most visited places in jammu and kashmir, srinagar honeymoon packages for couple, solo trip kashmir packages from delhi, family trip packages to jammu and kashmir , srinagar tour packages for honeymoon , top kashmir tour packages for honeymoon, kashmir group trek packages, top activities in kashmir , best local site seeing in kashmir