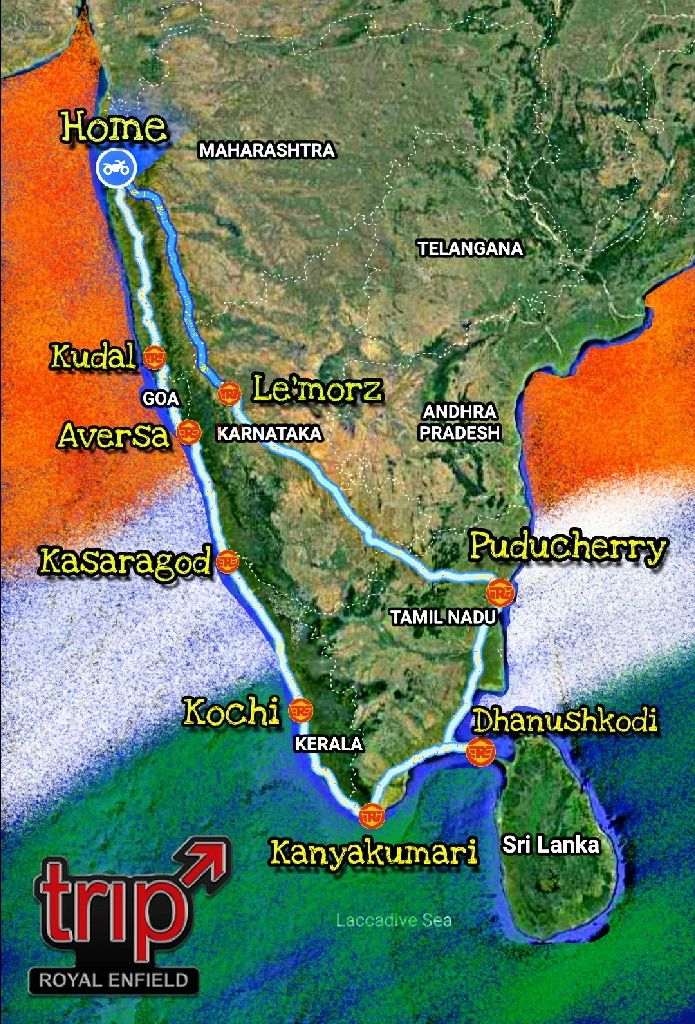 Day 2 started with a different type of activity. Hahaha. As informed to the receptionist i got up early as planned and was feeling very enthusiastic to reach Pondicherry and went down to the reception and asked him to send some helper to help me to bring my heavy bags downstairs. But as I went down I saw him standing on the couch and he said me 10min sir I will send somebody. I said ok and again cane to my room for doing the remaining packing 15mins passed so I again went to him as I was getting late for my next destination. I saw him still standing on the same couch and the helper standing on the reception desk. I didn't understand what they were doing. I thought generally hotel staff gets up early and start cleaning the hotel so they also might be cleaning fans and tubelights I asked what happened. He said there is a snake near the counter as I love catching snakes I asked him where is it. He just pointed his finger t the reception table so like a discovery channel snake catcher I also directly went and he and his helper came with me from behind and showed it. It was a Rat snake as it was cold out side he must have come inside the hotel and as they like to go and sit where there is warm so he was moving on the receptionist legs so he just kicked it at night and got up and switch on the lights and then hustle and bustle started. So I quickly grabbed a stick and picked it up and let him go in the gutter near by. And then mounted my bags on my bike and left to reach next destination feeling happy that I saved the snake from getting killed but I was not aware what was going to happen with me in the journey. It was a tiring journey for me as it didn't go as planned. I had planned the ride from Dharwad to Pondicherry which was 744km but after some kms my bike started facing strange issues. It started giving jerks above 80kmph speed and also started emitting black smoke from it's exhaust which I thought was the sign of danger. It might be the big issue as only for covering 64km I had to refill the full tank twice. I was getting very frustrated with the bike. I even felt of selling the bike on the spot and continue to travel by bus or go back home. So I quickly called my friend in Bangalore who had helped me in planning this complete ride with the cheaper but Nice accommodation's. He asked me to enter the Banglore City and that day being Sunday he was at home as a weekly off. He started asking my current locations and doing lot of R&D of the mechanics on my route and their skills. At last. He asked me to search Srinivas Service Center somewhere in Bangalore. Now please don't ask me where in Bangalore as all the places looks and sounds almost the same. He said that mechanic is very good in his work but a bit rude in talking and I was like I just want to get my bike repaired properly. That's it. Then I went to that mechanic. And explained him the issue. I was surprised when he asked me to take the screwdriver and my self check and clean air filter and it's paniel. He said if I want he will do it but as I'm traveling from Mumbai Solo, small things I also should know what to do. When I started opening the box. He started inspecting the bike if there is any other issues. Till then I opened the box and took it the air filter. Then he started asking me when and where did I installed the filter as it was duplicate as compared to original one. I told him that's it was my regular bullet mechanic who installed it and I only opened the packet. He said it was duplicate. I said fine then please install the original one and done the issue. He asked me some more questions and at last my bike issues were solved. I was feeling very happy. But also I was tired. So I decided to stay in Bangalore for that day as riding at night was not safe as in the morning itself I was having so much issues with my bike and if I ride at night and I face the same be issue then what will I do. So I called my Mom who is currently who is currently staying with my brother. That I'm coming there for one night but I was by to give surprise to my brother so don't tell him. But as soon as I reached his building gate. I said I'm Omkar Banawalikar's brother to that security guy was about to call my brother and inform him about my arrival. But I requested him not to do that and keep my surprise as a secret he said yes but I will have to fill a form online. I said that's fine. So I filled the form in his tab and a SMS went to my brother's and his wife's mobile. I asked him whether he has informed him. He said both of them must have got a message. He just nooded. I told him I asked you to keep secret on that frustrated security guy said hamara policy hai waisa. Apke surprise k chakkar me hamari Job jayegi I said ok with a sad sound. I just went parked my bike at that time omkar only came downstairs to assist me in parking my bike. So in short mere surprise ki pungi baj gayi thi and dimag ka faluda ho gaya tha. Before coming to my brother's house I went to my friends house in Bangalore. His mom and dad were taking to me very politely. And offered me something to eat. So my stomach was full but then my mom asked me if I want to have chicken nuggets I quickly said yes and my younger brother offered Bira blonde beer to me. My first question to him was does our Mom knows about it. He said yes it was lying in his fridge for many days and mom also asked him about it. So no worries. As he was not getting anybody's company so he didn't have it. I was like why should u need a company to have only one tin of beer. Just open it and have it as I do many times 😉🤫 then we had it together recollecting old memories when Dad had bought a beer tin for himself I and omkar had it secretly and nobody asked us where it had disappeared. We were just laughing. Ok. Let me tell you amhi beer pyaycha agodhar hasat hoto it means that we were not drunk.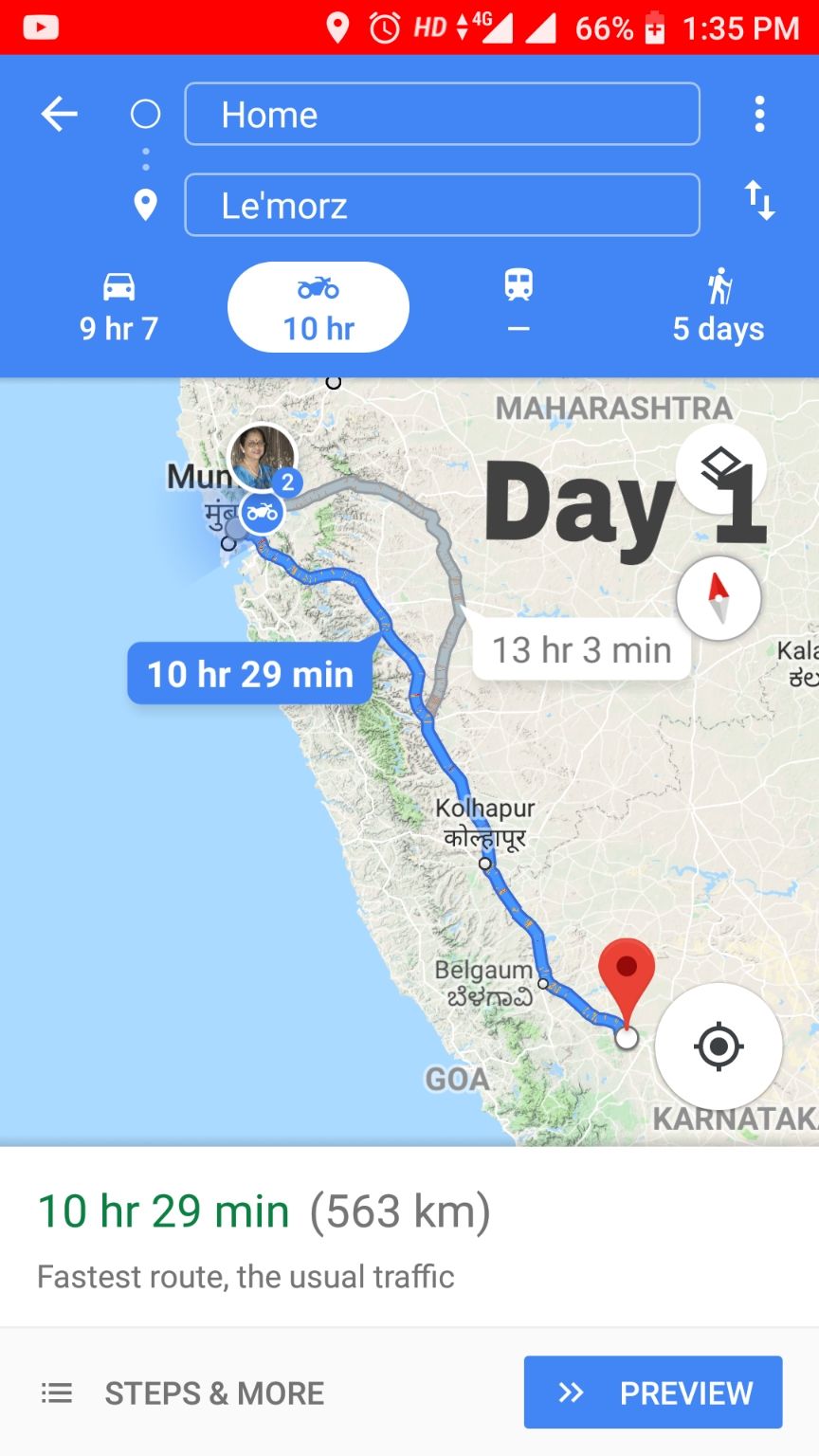 As because of Day 2 I had to stay at Banglore so I decided to start Day 3 a bit early till 5oclock as the climate was cool and also main thing was there will be less traffic as it was a Monday. I got up as decided and off course as a habit I asked my mom to wake me up she woke me up well on Time I just took a cold water bath in that chilled climate, took my luggage downstairs accompanied with Mom and mounted it quickly on my bike and left for Pondicherry. I had booked a Hostel there. Named as Droid Hostel's, Puducherry. Rooms and bed were Nice. Oh yes back to the topic so where was I . Yes I was mounting my luggage on my bike. So I mounted my luggage quickly and left for Pondicherry. As there was very less traffic I was reaching my bike to 90-100kmph and when I crossed Hosur highway, road started becoming bumpy. I went ahead as all the people in the villages were sleeping I for at that time. 😁 Just kidding. Village people get up early everyday for going to their farms. Yesterday was a horrible day for me so now while riding my darling bike was also quickly responding to the accelerator. From inside I got a bit emotional. I know it sounds stupid but seriously I love my bike my Royal Enfield Thunderbird 350. All of you must have seen my profile name on FB. It is RE Alok Banawalikar. RE means Royal Enfielder. I got emotional because yesterday I had a thought of selling my bike even my wife and my son loves it. My son loves it because he gets to sleep on it while I'm riding. Don't worry I and my wife take care of it very well. So in that cold weather I went through those bumpy road how romantic na. Hahaha. When I went ahead depth of the potholes started increasing and I was unaware what was going to happen with me ahead. After some 50-100km again my bike started shaking. Frankly speaking sorry God but I started thinking surely that arrogant mechanic must not have done his work properly still I took a chance and showed my bike at Tiruvanamallai, Tamil Nadu but this time I was wrong. The issue was different. Issue was with my bike's rear wheel bearing. While that mechanic was checking my bike I quickly took out mobile and searched for the nearest Royal Enfield service center. It was hardly 3kms so I put the location on GPS and went with my shaky bike to the service center. I explained what was not the issue and told them to fix it ASAP as I'm traveling from Mumbai and going to Pondicherry. The customer executive you went running inside and told all the customers about me and took their permission if he can postpone their work by some time as I need to go and I'm travelling solo from Mumbai all the customers came outside the waiting room to see me. As if koi celebraty aya. Maine bhi footage khaya and started removing my helmet gloves and jacket like sharukh Khan from bazigar. Kkkkkiran nahi bola bas. And handed over the keys to him. Actually that customer executive's name was Sharukh which I came to know later on. Funny na. I asked him tumhare mummy daddy itne bade fan hai sharukh k??? Later on I thought what am I asking. So I directly came to the point and asked him about my bike. He said my bike's rear wheel bearing are broken totally into 2 pieces. It needs to be replaced and I was like hey bhagwaan tujhe mujhe aur Kya Kaise din dikhana Baki hai and I Said replace kar daal aur aage Wala bhi nahi to aage jaake wo tutega and he went inform the mechanic to replace it and I asked him is there any hotel nearby. He said yes and do galli chod k hai. And said u can take test ride wala Continental gt there I said no even though I wanted to. So he asked other mechanic to drop me at the hotel. So I went there and quickly took a parcel of Tamarind Rice which is the speciality of South India as they make variety of rice like curd rice, tomato rice, tamarind rice. Mujhe itna hi pata hai. Aur kisiko Bata hai to bol do. And came back to service center. And now my bike was ready. I felt happy but also was thinking abhi aage kuch naya natak nahi degi na and natak karegi to kya mujhe kaunsa hotel pohoch Kar card swipe karke attendance lagana. Yahi to adventure hai. So I left from there and after going some kms I was waiting below a tree and a man came on a bicycle and asked in South Indian language something andugundu belgava. I understood that he is asking me something about belgaum. But I was confused about whether he is asking me that I'm from belgaum or how to go to belgaum and any other question. I said only Hindi or English. Marathi was no chance. He said OK and went and I was about to laugh at him but I forgot that I have to reach Pondicherry ASAP. So I left from there and reached Pondicherry after searching so much as it was not a Hotel where I had booked for accommodation but it was a hostel. So nobody was knowing it and they were making faces as if I'm asking some general knowledge question to them. I was just asking address of a place in the same location where they are staying. Next time I will surely have to learn some of Tamil at least and tell them that I don't know Tamil talk in Hindi or English. Hahaha. But when I reached Pondicherry room was like a railway upper and lower berths. Bunk beds which we all know. There I just got freshen up and went down to visit places but as still God was angry on me I guess. It started raining heavily so wo bhi plan cancel as I had leave for dhanushkodi next early morning so had a Berger at Subway and went to my hotel there a foreigner was there already staying Henry Jacobsen. He is a Journalist and also speaks on Radio. We became friends and were talking he said he was a Royal Enfield fan he rode from Delhi to Kochi and now now he is planning to import one Royal Enfield Classic 500 to Denmark oh yes he was from Denmark. I felt so happy as if mere kumbh k melee me khoya hua bhai mil Gaya. But he was 68 so dadaji the wo. Hahaha so kumbh k melee khoye hue dadaji doesn't sound good na? Because he was a Royal Enfield fan. We were just talking about Royal Enfield and rides which he had done and I have done. He was telling that even his daughter is a royal Enfield fan. Then he started talking about his daughter and I quickly interrupted my wife don't like my bike. Because it gives lot of maintenance work. Actually I just wanted to tell him that Bhai Meri Shaadi ho chuki hai tu Tere beti k liye abhi koi aur dhund. I'm happy with my wife and also having a cute Rockstar and my junior rider Rudra and showed his photos to him. And left saying that sorry I have to leave early tomorrow so need to go to sleep. We just exchanged contact number and I added him into my FB friend list and took a leave from there. As I was very tired I slept quickly in 3-4mins.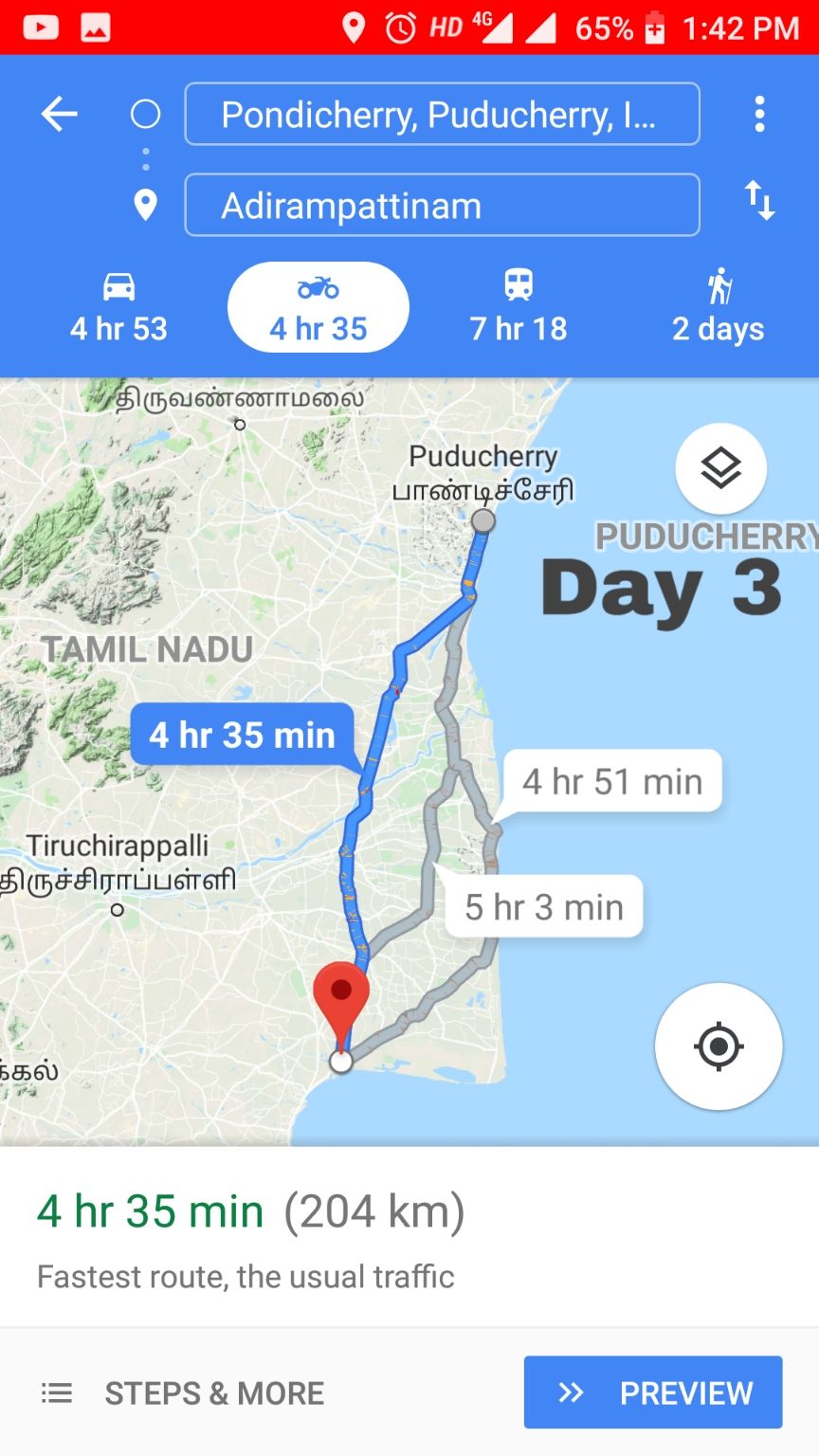 Day 1 of my Mumbai to Kanyakumari Solo Bike ride.
Today's day was tiring but due to excitement still i felt energetic. Started my Ride Sharp at 3:15am with my friends cum rider's. Planned with them yesterday itself and they agreed to cross some distance with me. As they wanted to ride I just asked them why don't you join with me till wherever you want and from there you can go back and I will move ahead. Kyun ki piche Jana kabhi Maine sikha hi nahi. I was more dicy about them they were about themselves because I didn't want to get late for my ride as I had to travel for 550 kms. But they came on time and I breath a sigh of relief and we began the journey. they are good in their riding skills and all were riding in a line by maintaining proper and safe distance. Since they were to attend office today they joined me till lonavala . We stopped at the junction of lonavala and said Adios. Along the way I met many other riders. Felt great. Finally reached the hotel which my friend had suggested but after reaching here I came to know that it has transformed itself into bar and restaurant. I felt 550 km mujhe isne daaru pine bulaya. Mere Mulund me nahi milti Kya. Then I called him and gave him the great news of the magical transformation. He suggested some more places to rest but upon inquiring all the rooms were full. At one hotel the manager said rooms hai lekin hamara service barabar nahi hai. I thought he was joking then I said why are you sitting here then. Funny isn't it. He said there is a one nice hotel a but ahead. I quickly asked wo kiska he said mere Bhai ka. I started laughing I front of him. Idhar se ye salary kama Raha hai aur yaha k customer Bhai k hotel me bhej Raha hai double income. Solid business minded people live here. I thought to myself. Then havi no other option I went there and quickly booked the room. And this is how I m feeling relaxed now. This is the end of Day 1. See u tomorrow for more excitement as tomorrow's distance is more than today's pondicherry more than 700km from Dharwad. See you take care good night.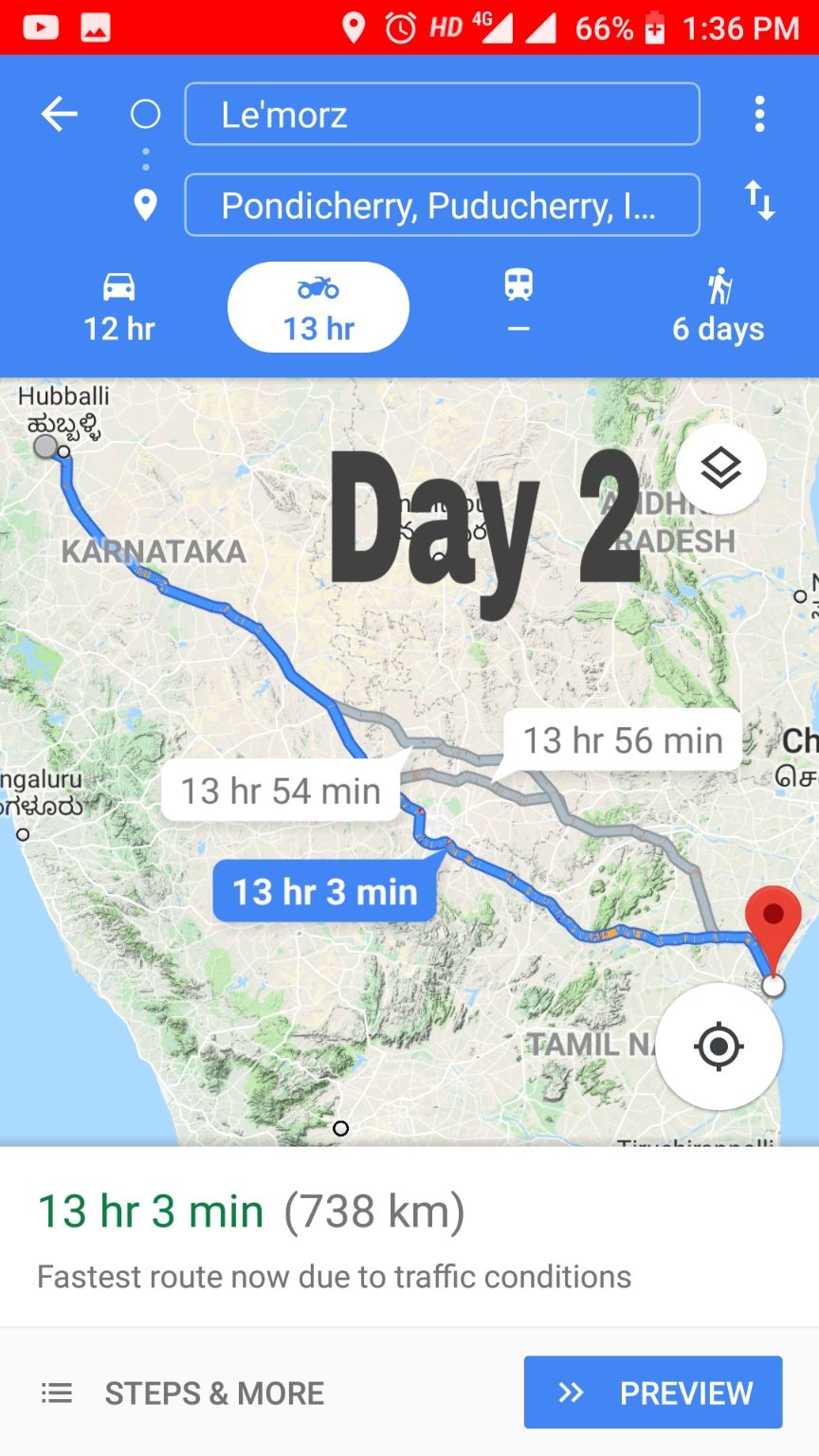 Day 4: Solo Ride to Kanyakumari. Destination: Dhanushkodi, Rameshwaram, Tamil Nadu
As continuously 3 days I was reaching a bit late you my Destination so this time I decided to leave early and reach early. Because leaving early and reaching early is the only Moto of a traveler. So as always I packed my bags at the night itself and left early praying to God to please pause the rain for some time till I reach my destination. And this time he did listen to me. Climate was cool as one night prior itself he had washed away all the heat and made a pleasant weather for me to enjoy the ride but I only saw what was there in front of me okay u will come to know about it later on. So as I had already informed at the reception that I will be leaving early but unfortunately my cell went on silent mode don't know how and I again became late. I was supposed to leave at 5-5:30 am but I got up at 6:15 so I quickly took a shower, changed my clothes, asked the helper to bring my bags down and mount it on my bike. It's one of the tedious and boring job which I don't like. That is mounting my bags and remaining fixing it with bungy cod's which take lot of time but till now I had coped up the pace of packing and mounting it on my back first day it took me approximately 30min now I hardly take 10mins to do all this exercise. So I quickly did that exercise and set my route on my GPS and left for my next journey to Dhanushkodi. I had done this booking through booking.com. I had booked a single room for me as I'm not habituated for staying in dormitories. And again I will get some time to spend with me and write my post's. While on the way the route from Pondicherry to Dhanushkodi is awesomely awesome. Plain dark Black road just by seeing at the road I was feeling as if diamonds are placed on it as it was sparkling like diamonds. But riding a long road with no adventure is not a my kind of job. And we all know even if we miss some turn still GPS does the re-routing wala kaam and shows us a alternate route to reach the same destination. I did the same. Knowingly I just went straight instead of taking a right turn. Google aunty was screaming Abe right le right le. Maine bola chup karo auntyji. And went ahead same type of road conditions were there and I was able to see water logging on the roads but hum Mumbai wale hai hame aise Pani se darr nahi lagta. Hamne aise Kai barishein jheli hai. So I did a Small type of muddy river crossing Matlab raste me Pani jama tha usmese Gaya. Hahaha. English me samjhaunga to lagega bahut bada adventure Kar Raha tha lekin ye to sirf trailer tha re. I was challenging mother nature then she also challenged me and the I took the alternate turn which my GPS showed me. Later on I came to know that it was my mistake as soon as I took a turn. First I was not able to identify whether it is a correct turn or again I have missed it but I still gave it a chance and went inside so slowly the water level had started touching my silencer of my bike which I didn't notice then my silencer went half inside the water and started spitting water and smoke from it and I was like agar abhi bike band padi na to no vaat lag jayegi so I kept increasing the throttle till then the water level had increased and started touching my saddle bags which I had mounted on my rear seat. I just remembered my condition in the last year's rain when I was using the GPS maps when it was raining heavily and Google aunty took me to a traffic less but flooded road in some parts near the Sion Hospital that time the condition was more worse just imagine I'm riding in the water level of my bike seat height full of my engine was in the water. This type of situation I was facing while reaching Pondicherry. Then I saw a Subway I thought the water level there will be less but I was wrong only one heavy rain caused so much problem that from the same Subway a man came who's height was approximately close to me and he came only withbhis head above the water and rest all below it. I he said piche jao. Simon go back. Aisa maine meaning nikala lekin mujhe me adventure Karne ka bhoot savar tha. But uski condition dekh k I straight away took a u turn by giving full throttle and came out of that Muddy area. After that I waited out for that man to come out and asked him why are u taking such risk to come here he Said I was going to my shop. Guests had come to his house so he went to greet them and this is the only way or else I have to travel 15kms and come back. So there nothing to be discussed abut his problems as he knows his own problems and only he can solve it. Same applies to us. We all know it own problems in our life and only we can solve it by our own means. Others are there just to guide but final decisions are in our hands. So I left from there came back on the same route which I had knowingly missed it and continued my Journey again. Now I was already late. So accelerated a bit to reach before it gets dark. As still I was and I'm in the tension of my bike. But now she is perfectly well and responding very well to me. And I reached there just before getting dark as half of the sun had already went behind the horizon. I quickly asked what is the timings to see that Ram Setu bridge. He said you just late by 5min. It will take almost 15mins to reach that spot from there again they will take you to the spot. So you can go in the morning. But again I was leaving early in morning. So may be next time when no will come with my family at that time I will go and see. Kuch to suspense rehna chahiye na. So did my Check in formalities and took a bath and went out to do shopping for my darling wife after all abhi kuch leke jaunga tabhi aage k ride pe jaane ka permission milega😉. Came back from the shopping and straight off to bed as next day I had to reach Kanyakumari the Final Destination.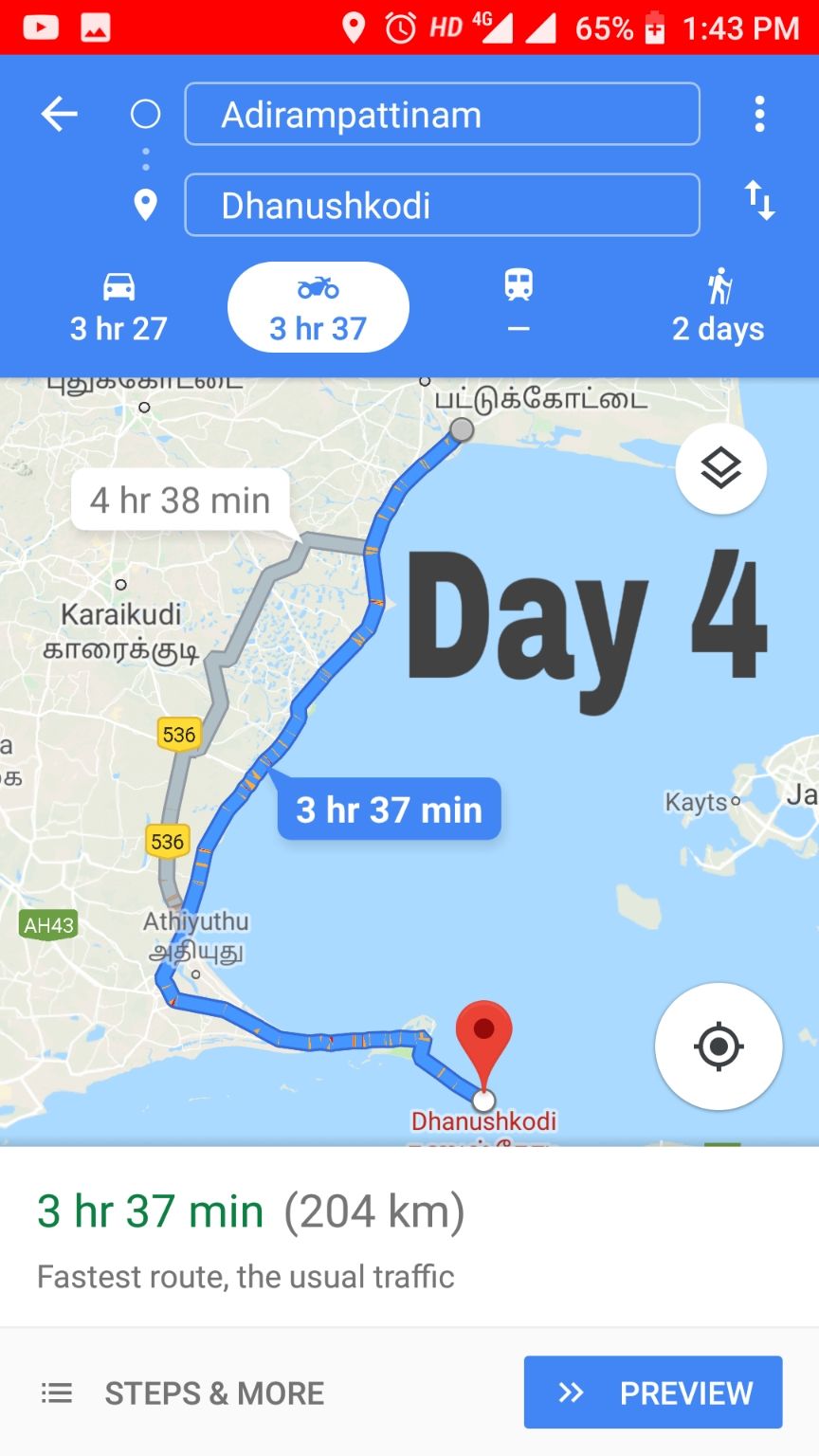 My ride had to start on Time as I had to reach Kanyakumari so visiting the historical Swami Vivekananda Rock Memorial through a ferry boat who's last timing is till 6oclock. So I planned to get up early but again for to hectic schedule I missed the alarm and got up at 6oclock just one hour later of my alarm timing. If it was office then I would definitely would have got up at 7oclock after setting the alarm timing of 5:30am which I always do. I only like to get up early for when I am going on bike ride for that only one alarm is fine but for going to office I set 8 alarm's by the duration of 5min Gap. Because of which only I don't get rest of my family gets up and silent the alarm Bell. Oh God I'm again going off the topic. What an I'm tell you just forget everything which I told earlier. Let's start our journey from #Dhanushkodi to #Kanyakumari. Ok ?? Though it was only 293kms but riding on a plane highway means like Mumbai-Pune Express way type of high it was and very scenic. The distance between 2vehicle will be more than 1km I just wanted to say that it was very less crowded. Which I Don't like on that Sunsaan type of highway even though I was riding in the day. Now hotels and even no houses on both the side of it. But for driving a car on that it will be like a plus point for it. I just met a couple riding from Karnataka on their #BMWGS310R #Motorcycle which is newly launched they were enjoying the Ride as that bike is fast. Don't take me in wrong way. 😉 When I reached on the highway I saw many windmills I guess that electricity is enough for consumption for a small City like Kanyakumari. There were thousands of windmills in the diameter of 47kms. Now you will say how do I exactly know that it was diameter 47km, well there was board fixed on the gate of the entrance of that project. So I waited there for some time and clicked some pictures as again I won't be travelling by the same route on my Day 6. At last after so many kms of riding I saw a small hotel I just diverted my bike towards it and asked for a cold drink but then I thought why to drink those carbureted drinks do I choose pulpy orange which I love a lot. And I can't great. Then I just left for my ride as I had to reach there on time after getting freshen up. So I accelerated my bike to 90-100kmph and reached the #HotelSunView. It was on the main road itself so I didn't had to search it and after all Google aunty was there with me to show the way. Sometimes we can trust her. Hahahaha. Last time it was my fault. #Sorry #Google aunty. She took exactly too the gate of the #hotel. That reception wala uncle was very polite though I was not sure earlier day when I called home to confirm my booking as I did it one day earlier by #booking.com website. We did the check-in formalities and he gave me the keys of 2nd floor room. I still requested him to give 1st floor as I was having heavy luggage so he agreed to it and replaced the keys. All the rooms had a common balcony which normally is there in the chawl type of houses. And the hotel and it's all the rooms were newly painted I was able to smell the paint. And from that balcony I was and to see the Sea and feel the cool breeze flowing. Climate was quite cold. As it was very close to the Sea Shore. So I just accelerated my speed of freshen up and left to visit the the Rock Memorial. It was hardly at the walkable distance of 5min from my hotel and after reaching there i booked the my ticket of the ferry boat. At the counter there was very less crowd so I was happy but when I went inside there were many people standing in the queue for getting in the ferry boat. As there were only 4 ferry boat's and crowd was more. In the boat every body is given with Life Jacket which is actually of now use. It has no safety belt it is torn from all the sides. And the distance between the two of island is hardly 500mts. Still as per their process they were providing. I was feeling very hungry as I didn't eat my breakfast and my lunch so I wanted to eat. But till then we just reached below that temple where Swami Vivekananda's idol I kept seriously I felt at peace when I saw the idol what a great person he was. My wife has read many books about him. Hahaha yes you heard me right. She has read as her hobby is reading different books and my hobby now is hearing stories from her what she has read. 😉 Because I used read my school textbooks one when my dad used to come from office to home at 7oclock till then I used to enjoy the full day. Hahaha just getting nostalgic. Baap re kitna bhaari word feka Maine bouncer nahi Gaya na. 🤣🤣 After coming from there I just directly went to hotel whichever I saw first on the way and ordered 2dishes one I saw Mirchi bhaji which I like the most when it is made out side in a stall and other was Chinese chicken fried rice. While eating I heard that waiter was talking on phone with somebody in Marathi which is my mother tongue. Whenever we go out to different place where the people speak different languages and suddenly you hear somebody speaking you mother tongue you feel that somebody is there with you as you already know him or her you directly go to talk to them. I asked the manager to call him and asked that waiter where are you from he said I with here but Born and bought up at goregaon, Mumbai. I said I heard you talking in Marathi so I called you. Then we just had a small chat and he asked me about the ride. He was amazed to listen that I'm riding solo from Mumbai to Kanyakumari. Then he saw on my table and directly asked me subah see kuch nahi khaya Kya?? Then I again saw on my table while eating and then again saw at him smiled and said yes and again have him a big smile and then continued to eat then he said Araamaat Jeva (Eat slowly). I said ok and again got busy in eating as I was damn hungry and was least bothered what others will think about me. That's called freedom when you are alone just imagine you I was with my family then just by saying eat slowly my hunger would have gone. I know I'm never ever going to meet him again. So who cares. I'm going to pay him to forget it. Kaunsa fukat ka kha Raha hoon. Then I finished my food want straight to hotel, packed my bags for the next day ride and went to sleep directly.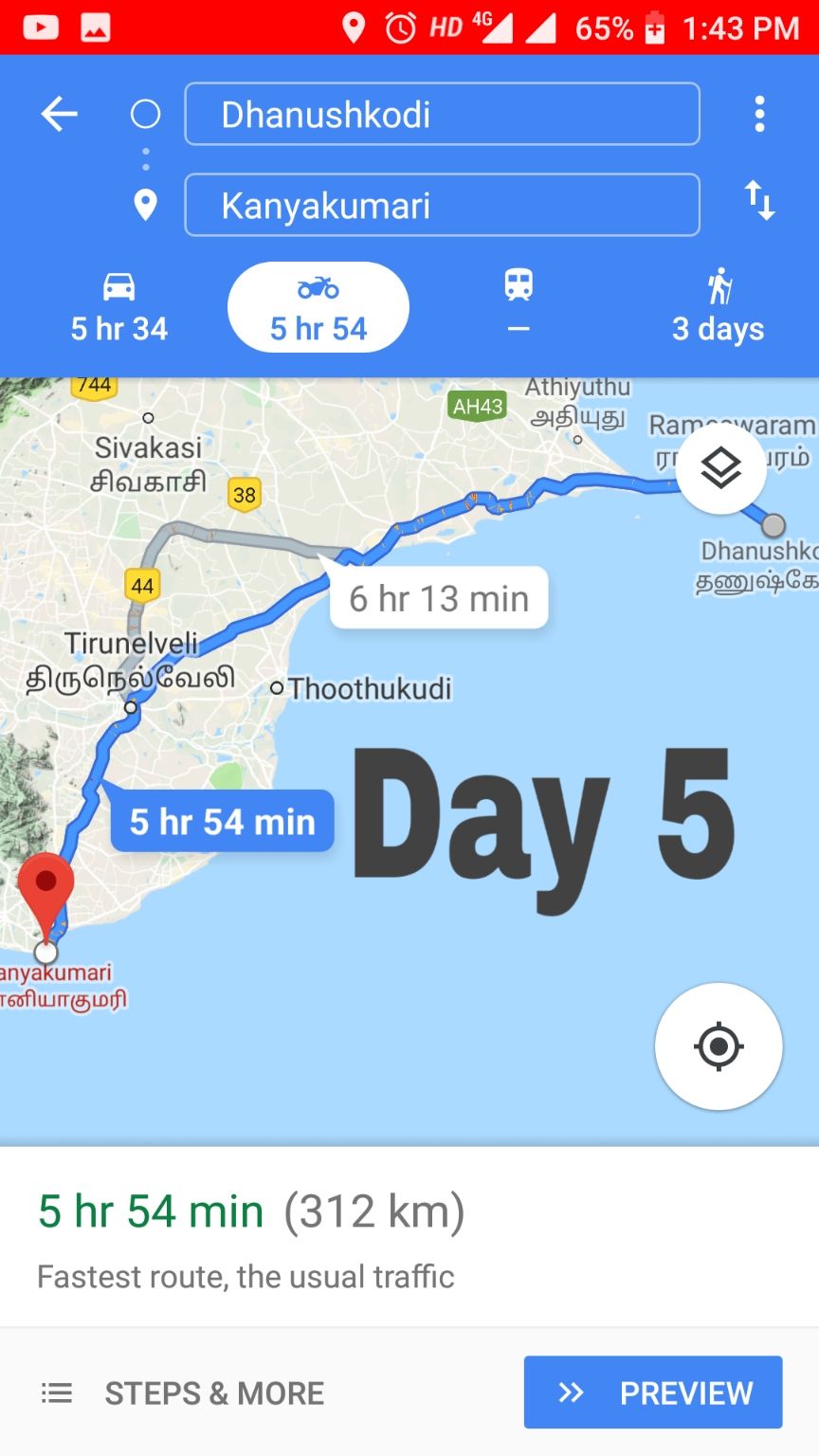 Day 6: Solo Ride to Kanyakumari. Destination: Kochin, Kerala
Though officially my bike ride wala funda ends here and this is my last post on my riding experience as tomorrow onwards I will riding but only for leisure and in a hurry for reaching some destination. If I feel that a specific incidence needs to be shared with you all then i will definitely share it u. Or else tum log bore ho jaoge. Kya paka Raha hai. Suspense hoga tabhi to thrill ka Maja ayega na.😉 Now lets start about this post. I was travelling from Kanyakumari to Kochin again a new destination so again I will be meeting new people and get more experiences oops more memories. Now that's correct. Experiences are nothing but good memories na?? I started though it was only 307km. Hahaha now after travelling 2900kms totally 307km sounds very less for me. I started a bit early as my friends had already informed me that if I start early then only I can reach early as always there is lot of traffic in Kerala. So I was a bit tensed. You know guys even though my bike is working completely fine now. But I'm still under pressure what will happen next. So anyways. As usual I mounted my luggage on my bike as I had parked it in separate parking thanks to the manager of #hotelsunviewkanyakumari in the morning when I went to bring my Bike near the entrance of the hotel I found out that there are lot cars parked near the entrance so I parked my bike right in the middle of 2 cars but exactly in front of the entrance. And there was a local chai Wala who was staring at the number plate of my bike. He asked me whether I'm from Maharashtra. I also saw my number plate a d said yes I'm from Mumbai, Maharashtra. Then I asked him what I wanted. I just wanted nothing but HELP to mount my saddle bags on my bike so he came and helped me to mount them and he started pulling the bags because of that my bike got down from the main stand and fell down on the car parked next to my bike and as it a heavy bike the handle of the car teared the metal sheet near the bumper and got stuck inside it. Thank God at that time the owner of the car was not there so. I was worried if he comes and sees the dent then I will have to pay huge amount as the car was #Mahindraandmahindra 's #xuv500 so I quickly mounted my luggage and Wear my riding gears and was about to leave at the same time the driver of the car came to wash the car but it was my luck that he didn't see it. Till then I had already left from the hotel. Thanking God that he didn't see it. But I one rule is always fixed if u do bad to others God will surely give you punishment for it by some or other means. And I went ahead as my friends had asked to cross #kovalam #ASAP because from there the actual #traffic #starts so I #accelerated #mybike and crossed kovalam city and I was of the view that now I won't get any traffic but I was wrong as the roads in Kerala passes through cities and village's so we need to maintain the bike at low speed. Which I did but slowly I started getting feeling that I'm already riding behind schedule and need to cover more distance. Still keeping my head Cool I was maintaining slow and steady pace. Not in a hurry to reach the destination. Wherever I find road whose condition were good and not at all crowded I used speed up and was reaching a bit closer to my destination. So as soon as I saw on that a patch of ghat section has started which I like the most during riding my bike I started leaning my bike at a steady speed which everybody does and I had completely forgotten the morning Wala incident. But I was not knowing that who is waiting for me at the end of the ghat. Some one stopped me so naturally I was tiring it in a flow so couldn't stop it on the stop. I just stopped a bit away from that person. I generally don't stop my bike even if anybody waves me to stop but this time there was no chance as that person was wearing a #KHAKI #UNIFORM yes you all have guessed it right. He was a police officer from #keralapolice. But I was having all the documents of my bike. So I was not stressed at all. I parked my bike on the left side of the road and went to ask what was the problem. He just two words and then I started feeling stressed. #OVER #SPEED. According to them I was riding #abovethespeedlimit which #Keralatrafficpolice has decided. I asked what was my speed they did at #89kmph I asked them 89kmph is high speed then why don't you go in the city and check how all the bus drivers and truck drivers #overtakes from the wrong Lane at high speeds. They said nothing on that. I asked ok how much fine I have to pay he said Rs400/- I know I have made a mistake to rather than just #debating on the same point I took out the money and started giving him. He said on the front seat our Madam is sitting give it to her she will give you the receipt. I went to her and said madam need to pay fine. She was a nice lady she said for what then the other officer who was sitting in the car at the rear side with the speed camera shouted over speed. I just said madam 89kmph is not over speed it's a ghat section where we can't keep on applying brakes as the bike can skid anytime. She asked me what was my speed I said 60kmph then in the middle of talk the officer shouted 89kmph was there mam. I asked her to show me my pic. I saw it. It was looking awesome. He said just clicked at the right moment when I was leaning my bike and I was also looking nice in it. I said mam are you a maharashtrian she said still I will have to pay the fine. I said from your accent I guessed it. She said she was a maharashtrian then married a keralaite and after that she became a police officer. I told her I will surely pay the fine. But can she please send me that picture of mine. 🤣🤣🤣 And she started laughing. She felt as if I had passed a joke then I said no madam I'm serious I liked the photo which you have clicked so I wanted it for my DP. She said ok I can come to the control room and get. I said ok but where an I'm going to go to there control room and after going there if they saw my other CCTV camera footage by mistake then again they will ask me for fine. So it's better for me to leave that photo with them and leave got continuing my Journey ahead. Sala Mumbai me reh k idhar kabhi fine nahi pada aur Kerala me fine pada. I guess Mumbai police must be knowing that in Mumbai I don't carry much cash with me. Gaye 400/- ka fatka. She gave me the receipt I kept it in my wallet and left from there in a tension that now anywhere I'm police can see me riding fast but I had reach the Destination so went ahead and at last at 5:30pm I reached kochin. Hostel was very nice in a old house style. All rooms were having airconditions Because only foreigners were staying with me now don't ask me their names. Though I know it but can't pronunce it well. In my room there total 3 bunk beds. It means 6beds. It of which 2 were already occupied by guys from #germany , 1 was a #NRI from #UK ie. #UNITEDKINGDOM and 2 were from #USA . I met only 3 of them. All the 3 were talking nicely and politely with me as if I was there in their country as a foreigner. Hahahaha. Chachu apne bhi din ayenge jab hum foreign ghumne jayenge. I spoke to them clicked selfie's and I went to visit Kochi fort. Places here in Kochin are worth to visit. They are almost similar like #Southgoa. So I enjoyed walking there. Till then dinner time came. So again I got freshen up and went down for dinner but as I ate my lunch late at 4oclock was not feeling hungry so just had a beer and prawns fry. And came back to my room and apologized well in advance that guys I'm going to leave early morning for if I disturb u in the morning then I'm sorry. They said it's not a problem anyways as we all are staying in dormitory everyone has the habit of it. But I was not having the habit na I said they started laughing then they got busy in doing there work like reading, surfing on laptop some were on their tablet phone I went straight to sleep. Thinking this is life once we meet and not sure whether we will meet again. So gave a small and sweet Good Bye speech for which they cheered me. I just said. Hello everyone. We are Traveller I hope we will definitely meet somewhere someday. Or else we even wont meet again. But just keep it in your mind that always follow where your passion takes you. Don't stop following your passion because our passion is the only which will keep you alive and awake. And then we said goodbye and I slept for next day ride.