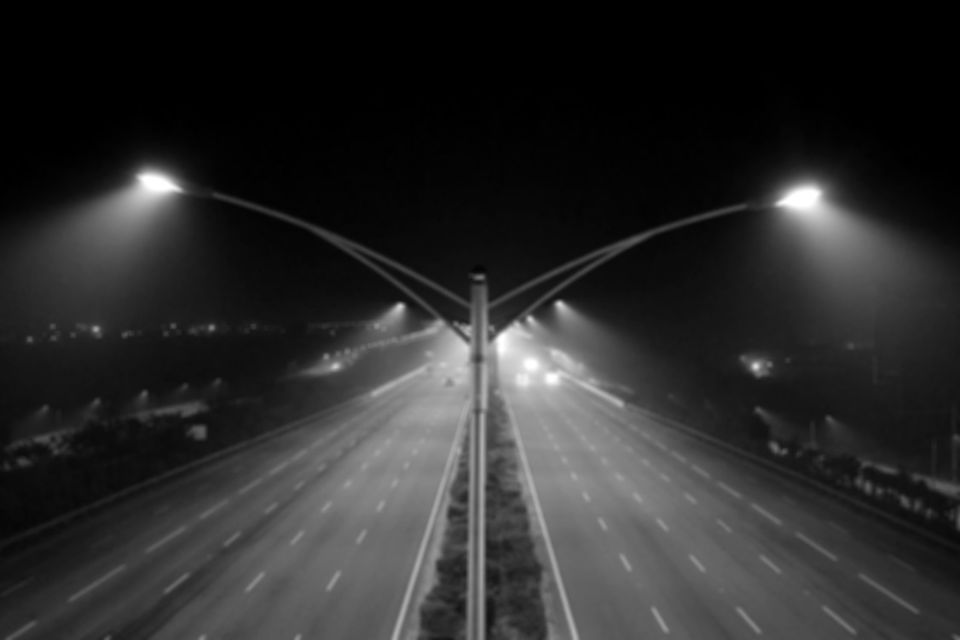 (In Ted Mosby's voice:)
Hey kids, let me tell you how i met harley!!
What the actual Fuck! I don't have a license, the number of times I've driven a bike can be counted on fingers and I'm on 2nd gear, crossing 100 kmph already!
She was not built for showoff, She won't give you those loud thumps your average Royal Enfield gives, but mannnn was she a beast. She pushes you to go ahead, further, farther, harder (what you're a bestie does!). She was a proper machine, she was metal to the core, She was the Harley Davidson we rented for our New year get away. Now let's get to it from the start.
SCRATCH DISK, REWIND, PLAY MUSIC!!!
It was 7 in the evening of 31st dec, already all of my plans for that night failed, So a colleague of mine invited me to her place to celebrate (but I was unsure tho!). I was in a shared auto sitting beside the driver, was depressed, about to fall of the auto and depressed af. Tinggg goes my phone, it was Praneeth (a good friend I met 4months ago in a trek).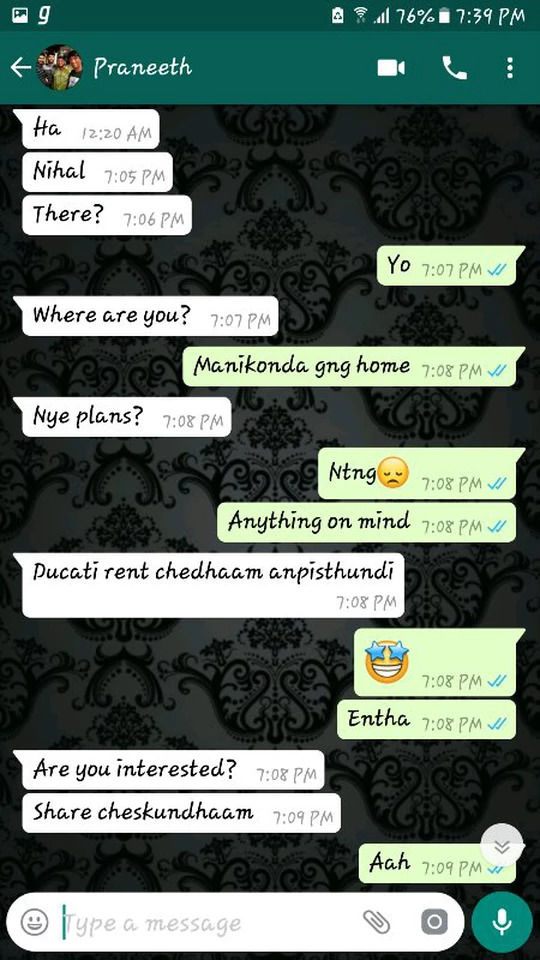 I was immediately onboard, I knew it was going to be a costly affair (who am i kidding, it's frikin Ducati!). Then he said it'll cost 10 thousand for a night (mind blown, fuse short circuit). Immediately I was grounded to my feet, Usually i take a longer route to my home so that I can walk for 30 mins or so. All that time i was thinking of making up excuses and also convincing my inner-self that it was best if I didn't empty my just given paycheck. It was a long arduous task and a hard decision to make. I finally made up my mind and was about to message him when a text popped up saying " broo, Ducati's taken anta. We're left with harley and triumph but I've already driven triumph so let's go with harley, it'll cost half of Ducati". Woaah someone didn't want me spending the night bitching to myself for not going. It still being a wallet breaker accounting the time you spent with it. I decided what the hell, I'm going.
So we went to Driven cafe in 800jubilee, Jubilee hills and picked it up and started riding. At first sight I was really unsure if the money I'm spending was worth the bike as the looks didn't sync with my taste. Then i sat on it and at that moment all my doubts vanished. It's power was unmatched. It was as if it was starved of road for ages and was suddenly unleashed after being chained for years. So we went and stopped near hitex for a break. Had a smoke and Praneeth wanted to do a Vlog for new year, so i started recording him. Everything's going smoothly until the bike won't start????. It wouldn't start until it was in neutral and we didn't know when neutral was on. There was no indicator of any sorts. People were laughing, women were looking at us as if we were two doofuses (one holding a cam and another trying to start the bike). A traffic cop dropped by tried to help, No use of any sorts. The lender won't return our calls. another person was also joining us for the drive and was calling. It was almost 11.30 in night. That was the moment i snapped and decided to pull the ultimate move. I GOOGLED "How to put Harley Davidson to neutral!!!"????‍♂️. Answer received, Bike started, Manhood came back, Escapppeee. We went to gachibowli met Prapul (Awesome photographer btw), went until ORR, stopped to wish our loved ones a Happy New year, took some snaps and decided singur dam was full of drunkards now and not to go that side and just follow where the roads take us.
We reached until Narsingi junction when the bike gave us a look. That was the "Dude petrol bhara kya" wala look. It was almost 1 and we knew that we were fucked. We went looking for Gas stations nearby using google maps. Narsingi nop, military camp nop, police checking, langer houz nop, mehdipatnam nop, police checking, attapur nop and as we were to lose our hopes one bunk was open(but if only life were that easy), no cards accepted!!. Again find atm draw cash, fill tank, phewww relax. To my surprise it was full by 800 rs of petrol. I was pessimistic on how far that would last. It's almost 2 we come upto narsingi again after our 20km detour and hungry. To our fortune THE GREAT PENTAIH HOTEL (since 1987????) was selling biryani inside with shutter closed outside. We parked our bikes at the backside of the restaurant and had a biryani (it was good actually and served smoking hot). So yeah finally a win. Then we knew the ride was officially started but before that a smoke break!
Now it was my turn to drive and both of us were proficient at starting the bike by now????. Even for a newbie like me the bike was very agile and hard at the same time. A touch at the accelerator would send the speedo crossing 100. We had no plans on stopping or going anywhere, so i drove where the road took us. It was very cold and even after having two jackets, helmet and gloves on I was shivering like hell, not me all of us were shivering. We were on chilkur road and going on and on, there was no stopping us. We drove for an hour or so until Prapul decided to stop on the side. Apparently he found an ideal site for a campfire (YAY!!). We start unpacking and gathering sticks and wood for our fire????. It was first time for me but he already knew what to do. So we start our fire and trust me after all that cold, shivering, getting hands frozen that warmth was some shit. We put up some music in speaker, danced around, talked, shared our stories. That's when I looked up, my eyes lit up instantly I was on my foot, jumping, laughing, There were stars ???? ???? ????, loads of em. It has been years since i saw so many stars at once. It was a sight to behold.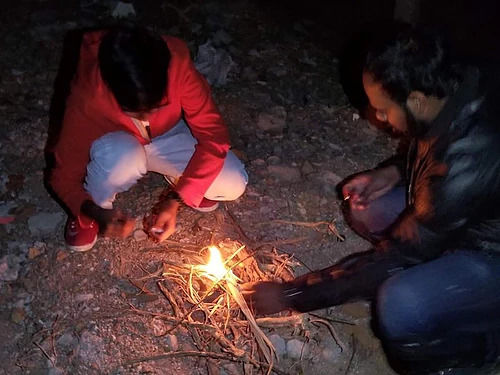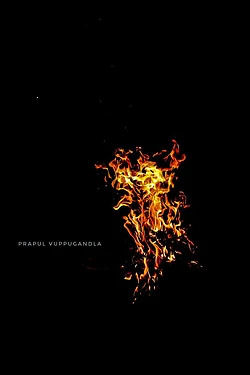 "Bablu come here look" my mother was calling me from balcony. She sounded excited, immediately a 5foot 2 in me ran to her (I was in my 6th then). She was calling me to show a planet visible to naked eye. It was just below the moon. I was trying to capture it on our VGA cam back then. This memory immediately popped into my head when i saw the same sight again. Nostalgia crept up on, flashbacks, the good, the bad amd the ugly were going in my head. I hadn't noticed some guy working in Walmart stopped to get some warmth. He was working late and returning home. The fire was about to die so we went and picked up some more sticks for fire. We stayed there until 4.30 and decided to start back. This time I asked prapul if i could drive his bike. It was a royal Enfield Thunderbird. Gotta say a revving start for my year tho.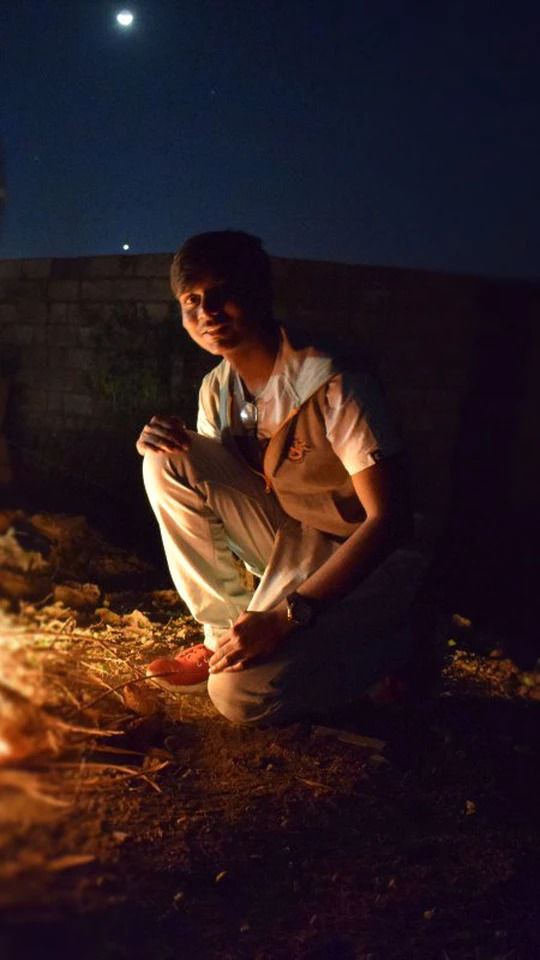 We started back and all the way back only one thing was on my mind. I should have driven this one first, I should have driven this one first, why didn't I do it. It was an awesome bike but not after driving harley(Duh!). It had some similar feel to it but I could only see the backlight of harley getting smaller. After a while We stopped to have some tea and it was almost 5. Prapul wanted to go home. But Me and Praneeth still wanted to roam around. So we took the bike and started for Himayat sagar. Reached there exactly by sunrise. Spent some time there and decided to return by 7. He dropped me at my place and went. Funny thing was even after all of that freezing and suffocating I still was hungry (emotionally and physically). I didn't want to go home. I had ofc that day from the afternoon, i had to freshen up but awaara dil wasn't listening to me. If I was a year younger, I seriously would've rented it for another day to take it for a spin. But a lot of things can happen in a year and so happened to me also, i was more responsible, mature (i may look all kiddish and irresponsible but trust me when i say this, you haven't seen 1 year before wala me????). So I decided to go to a cafe and not Driven cafe to satiate my hunger, The physical one!! (Better solve one problem rather than suffering for both????).
(In Ted Mosby's voice:)
And That kids is how i met harley!!