How I got Leh'd suddenly
Prologue
"The man who goes alone can start today; but he who travels with another must wait till that other is ready." - Henry David Thoreau
"Traveling - it leaves you speechless, then turns you into a storyteller." - Ibn Battuta
"Job fills your pocket, travel fills your soul""A journey is best measured in friends, rather than miles." - Tim Cahill
"No place is ever as bad as they tell you it's going to be." - Chuck Thompson
A dream that was far-fetched since 2013 due to the poor-pocket college days, appeared to be coming true on June 4th; when I was speaking to my dad that evening and said that I'll be leaving to Leh-Ladakh in June end and he says "No, if you want to go, go now itself.. the later you leave, the more work you'll be stalling in office". We have a business and I work there too.
I couldn't start right then, as I was totally unprepared so geared up my mind first - because after all its your mind that plays a greater role than your body in these expeditions.
June 5th morning 10am I went to Orion Motors Koramangala and bought my first riding gears - jacket, pant, and a very good gloves. Upon returning home, I decided June 11th as my starting day from Bangalore.
I told my friend Kusumakar Dwivedi (KD bhai) and he was in a shock as few days back I had just told him I'll ride to Ladakh this year and was asking him the best time.
I'm a fan of solo rides, as you get a lot of freedom and you are your own boss as well as your own slave. My idea matches with the above listed saying of Henry David Thoreau. From June 5th until June 9th, I appreciate KD's patience towards slow learners like me, for having been repeating the same things every night (until late night) - the routes, places, difficulties etc. I realized I have no camera to capture memories of the lifetime ride, so without thinking much I ordered a GoPro Hero 4 Adventure on Amazon.
June 7th, I went to Decathlon with two of my friends Anil & Jaykeerthi; Anil - who has already done Leh on his Duke 200 in 2015. Bought shoes and goggles from there.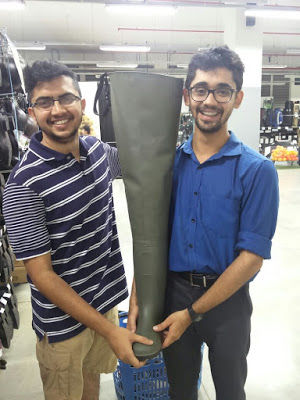 The next day I bought few basic spares, tire tubes and bungee cords.
I was sleep deprived for the whole week and on June 9th and 10th, I started reading blogs about Ladakh, just to gain some more knowledge.
I pestered KD Bhai to even do a graphics for me of my route, and he took all the pain without a single complaint even though he was riding to Spiti Valley during the same time.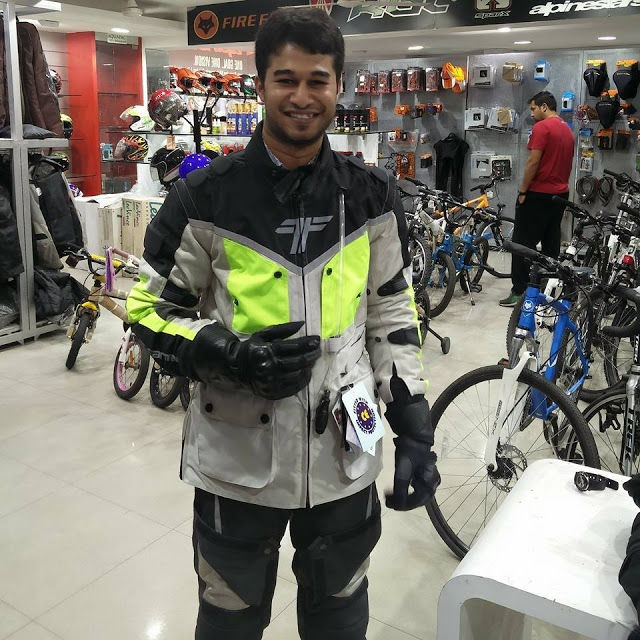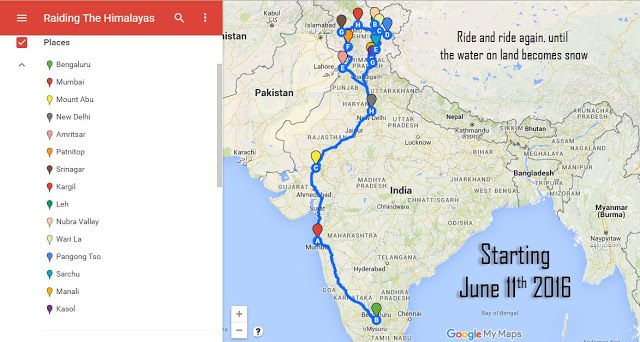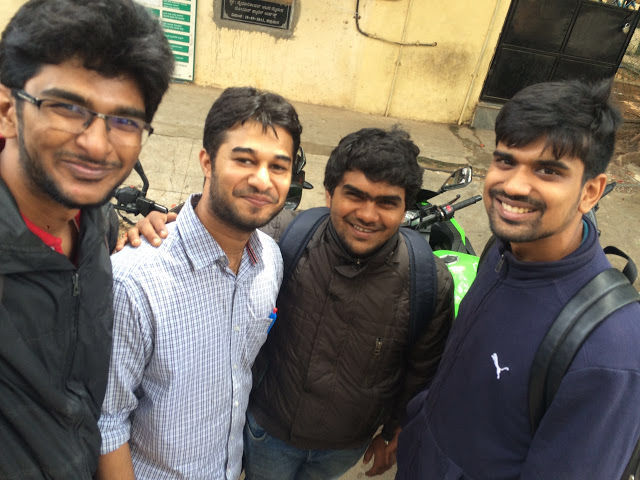 I met 3 other friends too for dinner - Anthony, Mukund, Manoj, but we laughed so much that day that we forgot to click any pictures.
Having ODO read at nearly 65000 and getting bike from service on June 10th evening, I started packing things spread on my room floor in polythene covers and labeling them.
The total ride was 8,513 Kms from June 11th - July 1st and total cost (food, fuel, stay) came upto around INR 32k (Yea, I have answered the major question people ask me).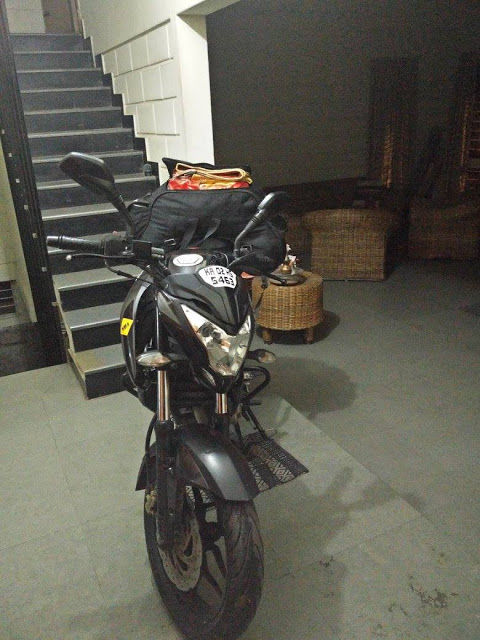 Day 1 - June 11th. (Bangalore - Mumbai) - 1000 km
Wokeup at 4am that day and had to call and wake up Anil too as he had to give me the cover for my Claw.
Parents were all excited and happy, but with anxiety too, which is common for any Indian parent.
I started at 5.30 am after getting ready.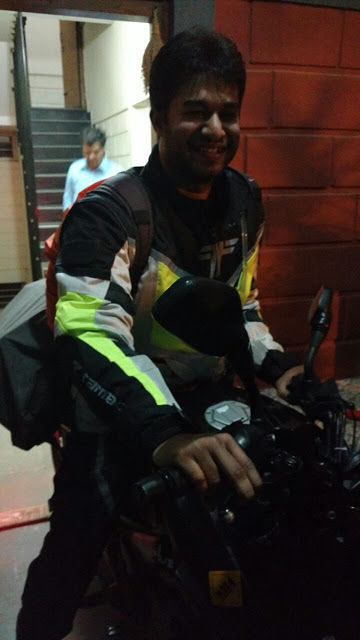 Around 7.30 am, I thought I'll stop for breakfast and slowed down near toll. I started hearing a humming sound from the engine along with the throttle only until 5000 RPM!!!
I had breakfast, pulled out tools, started checking for the root cause of sound and that was from nowhere else but from the engine compartment.
I started to lose my mind, and still tried figuring out things and the cause of the sound until 9 am and exactly at 9, my mechanic Mr. Bali switches on his phone and it connected.
He told peacefully, "Balaji, there cannot be any problem with your engine, I can assure you that". He told me to get it checked in a Bajaj outlet.
30 Kms far was Chitradurga and I went there to Bajaj Outlet to hear the dumb mechanic say "Crankshaft bearing is gone" !! I got psyched and called Bali.
Bali told him there's no possibility at all.
This ride wasn't a small / short ride, nor was it going to be on plain highways, nor is the bike any new., so to not take any further risk, I told Bali "I'll come back to your garage sir.." with a depressing tone and rode all the way back 200 km to Bangalore, and reached his garage at 2pm.
He was sitting anxiously, and upon hearing my bike he came out of shop, took a ride, came and checked again; suddenly started yelling "Go and screw that person who told your bike has crankshaft problem.. what experience has he got, how many bikes has he repaired in life? There's no problem at all and this sound is common as the bike ages".I told him to calm down and that what has happened can't be changed. He got me lunch, and there were few more of my friends Shubham, Shrehan, Muneesh. We were chit-chatting until 4pm.
I re-started again at 4, all the way from scratch it was, and I kept thinking where I could've been, if I had just ridden further from morning after breakfast to until 4pm!!!!
Was so sleepy all the way as the whole week I didn't sleep well, thought I'll crash in Chitradurga, but thanks to rains, I lost sleep and reached Hubli at 11pm and slept there.
Yes, It became Hubli, instead of Mumbai and Day 1 itself started with a delay in my schedule!! Pff...
Day 2 - June 12th. (Hubli - Mumbai) - 600 km
Wokeup in the morning with those hazy eyes. I was so tired from the previous few days that I wanted to sleep more!! Started from Hubli by 9.30am and was riding further on the beautiful NH-4. Stopped at Kolhapur for lunch. By evening one of my friends in Powai had told me I can crash at his place, but Mumbai is such a horrible place that at 9.30pm when I checked google maps near Panvel, it showed 1.5 hrs and I was all tired!
There were couples who had parked their cars by the side and enjoying! Even such huge traffic jam doesn't affect their inner-peace! Mumbaikars must be Yogi's.
The hills (maybe khandala) where express way and the NH-4 joins, was fully jammed as it was Sunday evening. I kept my feet down after braking and my shoes were slipping. Tried this over and again to gauge the problem and then applied front brake normally to stop my bike and it skidded a bit. It just flashed to me that there's an oil spill. The spill continued for whole of the downhill and it was too bad for 2 wheelers. For once I even thought Decathlon has cheated me by giving a cheap quality shoes. Continued all the way down, and witnessed police cars / jeeps coming up with siren to clear the jam.
Thanks to my friend Ralph, who stays in Panvel and just over a call, he came and picked me at 10.30pm and then his mom cooked for me and we had dinner by 12.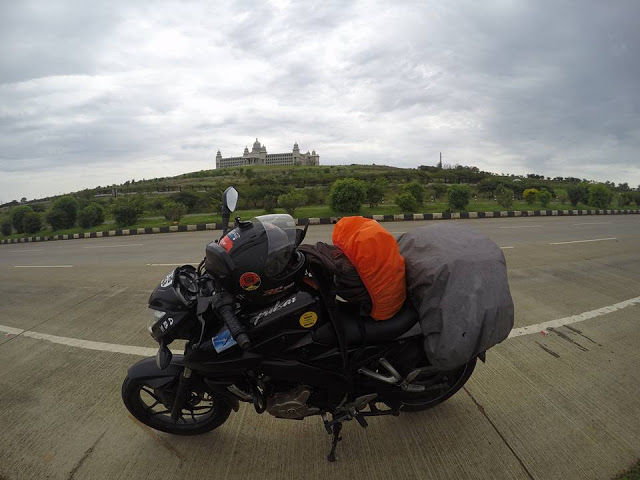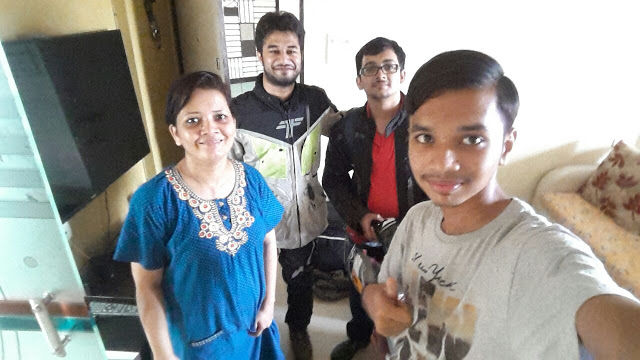 Day 3 - June 13th. (Mumbai - Udaipur) - 800km
Started from Ralphe's place at around 9am, and Mumbai was hot like an oven. I just couldn't ride as the sweat from my forehead was going inside my eyes. Somewhere at or after Airoli I saw a Mc.D and a petrol station and stopped for breakfast. I was thinking let me go back to Ralphe's house and leave tonight so that there won't be any heat.
After 20-30km of the ride, weather got nice with some good winds. Since it was a Monday, the family traffic and the cargo traffic was almost nil! Roads were superb, 3-lane all along until Udaipur.
Actual plan was to visit Mt. Abu and halt there, but due to KD bhai's words - "Why do you want to travel more kms, if your goal is Ladakh" I let go of the plan.
Upon entering Gujarat, I drank this nimbu pani (lemon juice), which was just awesome. Had 2 more glasses of it.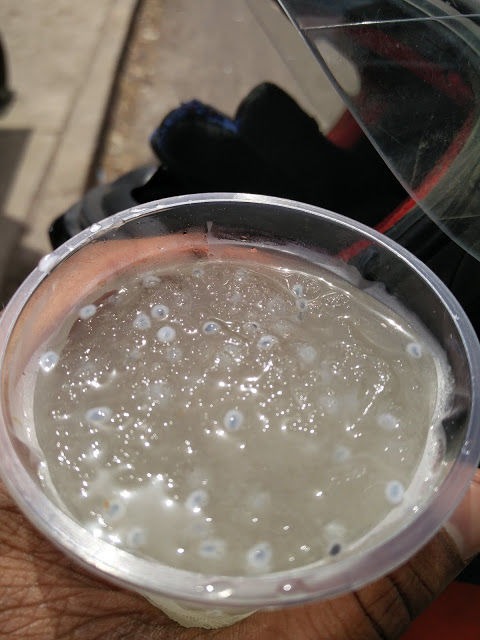 Entered Rajasthan at night around 9pm and I still had to reach Udaipur. Reached Udaipur around 11.30pm, took a hotel and crashed.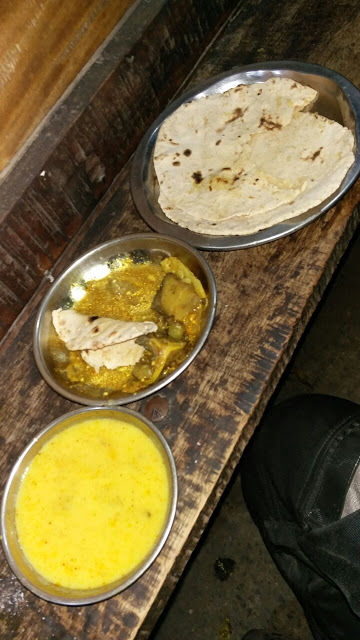 Day 4 - June 14th. (Udaipur - Delhi) - 700km
I didn't visit the local beauties of Udaipur - the Lake Palaces. Reason being time, and I had been there in 2009 with parents. Also, when you have a bigger goal ahead, you don't want yourselves to get satisfied with the smaller goals. (Yeah, this is a different ball game).
Weather on Day 4 was hotter than Day 3, but nearing Jaipur the heat subsided a bit. I entered Gurgaon around 8pm and there was a huge traffic piled up on the Delhi highway (typical Gurgaon evenings).
Shot a time lapse on my Gopro, but didn't come out well. Didn't try again as I just wanted to reach my friend Arni's place in Rajouri Garden.
Reached by 10pm and all thanks to Arni for getting me mouth watering dinner - Shahi panneer and Roti's.
Your riding speed reduces in rains, due to surface and visibility issues and I had a timeline target of 4.30 pm to reach Wagah Border, which is 30km from Amritsar.
Day 5 - June 15th. (Delhi - Amritsar - Wagah) - 500km
As usual, started by 8 am, though I used to say to myself every night before sleeping, that I'll start latest by 6.30 am. Haha.
Thankfully it was a gloomy day in Delhi and it started raining around 50 km away from Delhi (I believe after Murthal).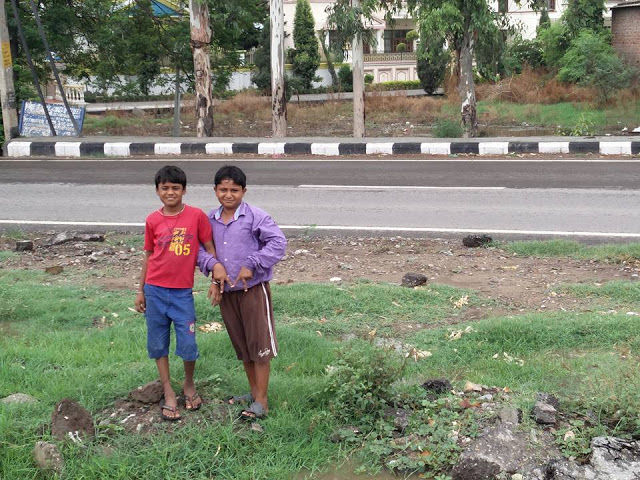 After few kms, I thought "OK, I'm gonna skip Wagah border because of rains, as there's no point in hurrying". Didn't choose to quit, but continued riding forgoing lunch. Somehow managed to reach Amritsar by 3.30pm. Went to the first hotel I could find there and wasted time in negotiating with the Lady owner. She told me that I may try Wagah border but it would be difficult as the gates would get closed.
The roads from Amrtisar to Wagah is screwed up, that I kept on remembering gully's of Bangalore. I didn't know that bike parking was a km behind the stadium and then I had to walk towards the gate. I took around 10 min to walk and it was 4.35 pm by the time I reached the gate.
As usual, Indians creating chaos, but here it was much more amplified, as it is about Patriotism. Few people shouting slogans (in hindi) "you won't let me watch my mother against our enemy?" and those BSF personnel used to screw them very badly.
I waited until 5.15 pm and thought if even by 5.30 there's no luck, I'll go back (or watch at the mega screen displayed outside, which is as good as watching on youtube).
There was a woman just beside me (possibly a Kaur) who literally started crying in front of a sardar of BSF, who was controlling the mob "I've left my whole family behind and come for this from Delhi, I'm crazy about these things plz let me go inside".
The sardar's heart melted I believe, I could see on his face and was thinking 'kya bollywood movie jaise lag rha hai!!'.
He came out and silently took her out of the mob. I could sense that she'll get lucky in few seconds and I followed them like a cat.
Crowd on Indian side was 4 times more than the Pak side. That shows our population.
He told her "in few minutes, when the crowd reduces, you can go inside from the side gate". I was getting happier that I got a hack to enter, but I went to him and told that I'm coming from Bangalore and I'm alone too. He denied my request, but within 2 minutes, he let her in, and she was giving flying kisses to him. Maybe he was drowned in deep thoughts, and I just walked inside smiling at his face, putting him in a fix. Attari (Wagah) Border closing ceremony: The start is all very boring from 5.30 pm until 6 pm. At 6, the real ceremony starts, until then it is all patriotic and bollywood songs.Feminists will get happy here, as only females are allowed to dance in the space available. Children are made to run to and fro with Indian flags in their hands.
Crowd entertaining, MC'ing, is all taken care by the big 7 ft BSF personnel with a great moustache in white T shirt and white trousers (PT uniform).
The program goes on very well, with a great time co-ordination between the personnel and between the personnel's of both the countries who perform!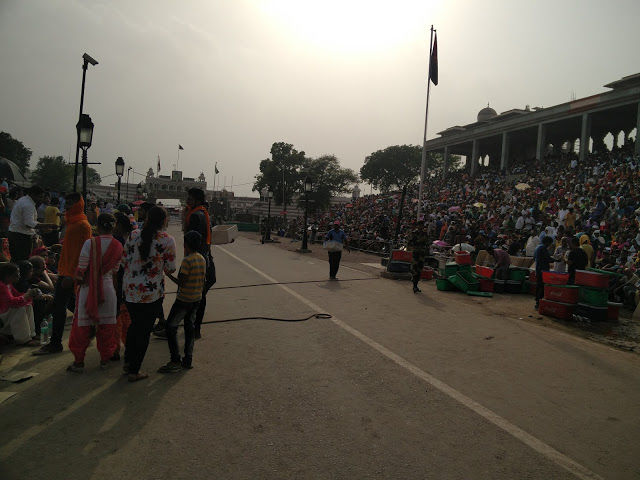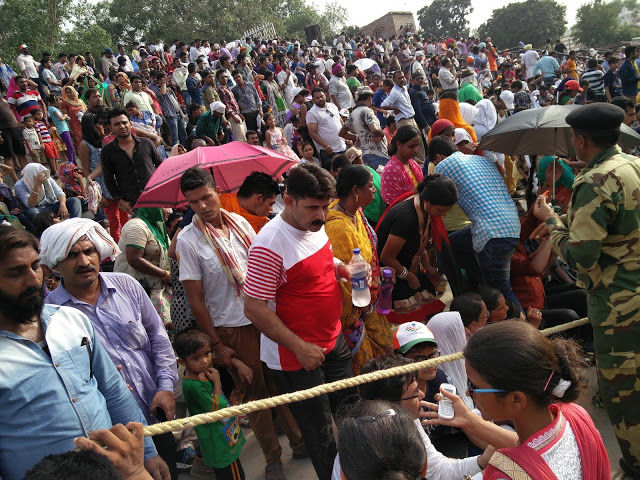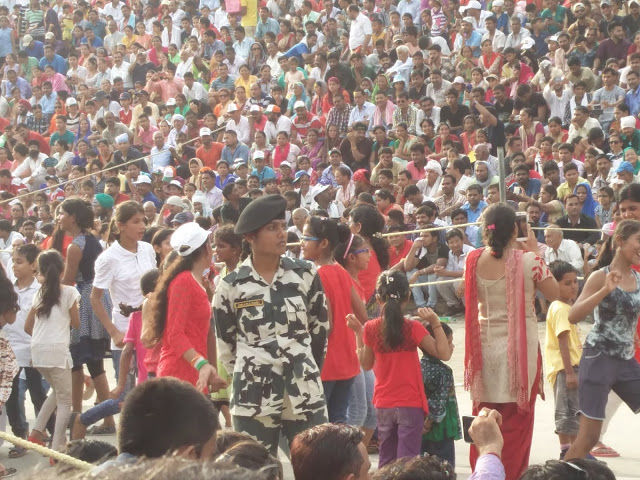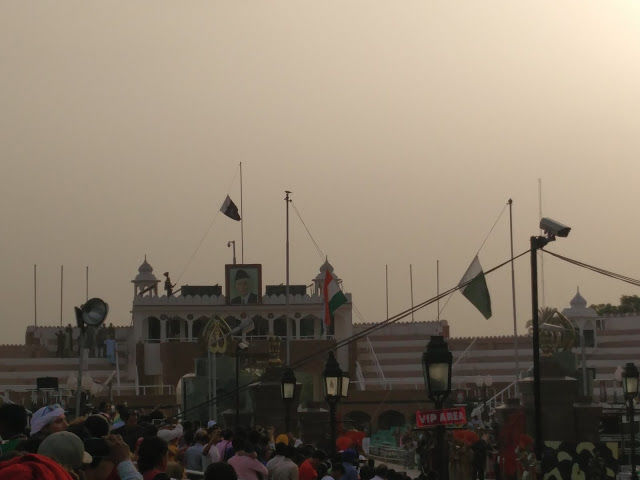 Crowd on Indian side was 4 times more than the Pak side. That shows our population.
I went back to room around 7.30 pm and had a shower, found out that I have got heat bubbles on my back (due to heat & sweat). Went out in search of Dermicool powder and then to Golden temple and dinner. Sleep was driving me crazy every other second, and after seeing the Q at golden temple I chose not to go inside.

Had burger, ice cream and chats which is sold on streets outside Golden temple. Later had a light meal and lassi. By 10.30 pm I was in deep sleep.
Day 6 - June 16th. (Amritsar - Patnitop) - 300km
The day that was Coincidental...
Woke up very relaxed as from this day, my per day ride distance was actually less (About, an average of 200km / day).
I started by 9.30 am or so and before I realized, I had taken the wrong route. I kept going and I never saw a sign board towards Pathankot.
I asked an auto driver. He told I am going towards Delhi and I've come 8 km far from the junction that leads to Pathankot.
I was thinking in my mind, why the hell is she even riding on an Access.
I took a U-turn and realized that I'm still sleeping in my mind. Stopped near a dhaba, had some paratha's for breakfast very peacefully and after 45 min I left the place. Only because I had all the time.
Got back on saddle, beautiful roads to drive on and around 11.30 am I was in Gurdaspur, where I asked a policeman, and he directed me towards Pathankot.
Few mts away from there I stopped to click the scenic beauty. I was still sleepy and I didn't want to get out of bike and click, so was turning to the left and clicking while I hear someone saying "Hey, where you going?" I turn in shock and say Ladakh. Was surprized to see a lady on Suzuki Access exclaiming "Wow, I'm going there too.. I have been trying to stop you both the times you passed by me, but you are so fast" I just smiled and she asked "would you mind if we ride together and share a room?"
I thought for a second and told "but your bike doesn't go fast", she said "it goes max 90, but I guess if you can manage 70, we can be on par". I shook hands with her and asked "What's your name? Where do you come from?". "Leela, that's my Indian name and I'm from Germany". I was like "What? I can't relate your face and Leela, what's your real name?" She said "Anne" and I told her I'll call Anne henceforth!
I let her ride in the front, so that I don't need to keep looking at my RVM!
After few kms we stopped at a dhaba in Pathankot and after a bit of intro-talking and some tea, we started again.
We were exiting Pathankot and I filled fuel, just then saw ahead of us on the road -it was full of trucks one behind another. I enquired at the petrol station and the person said trucks will be stacked until next 5km, until border, but 2 wheelers have a fair chance of passing through.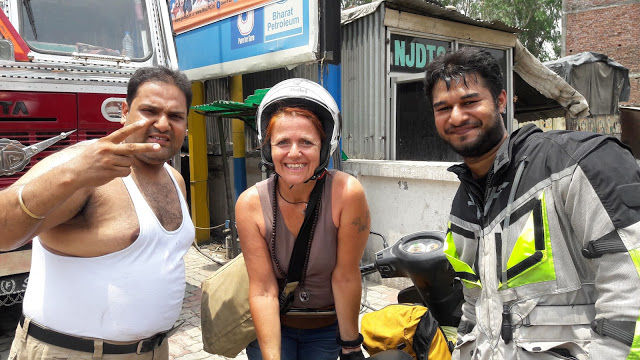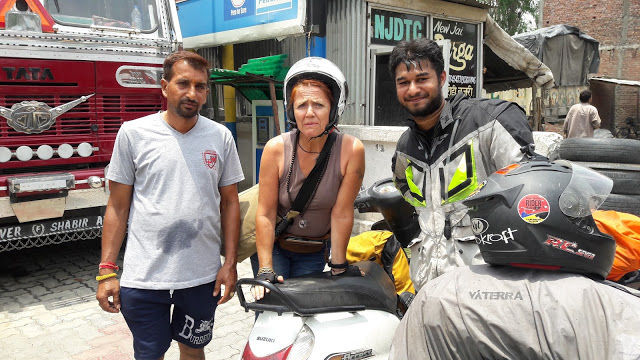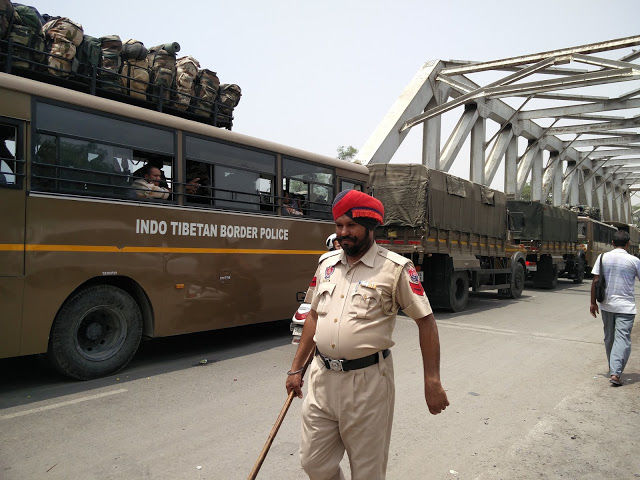 We exited the border with difficulty, sneaking between trucks, going offroad etc and entered Jammu & Kashmir. I was excited as it was the first time I was entering Northern most state of India, and also because I was one step closer to Ladakh.I had started talking to myself, that tomorrow, by so-so time I'll be in so-so place in Ladakh.
I just try to switch on my mobile data and it shows 2g and after few seconds, even the 2g wasn't available. I asked a passer-by and he said "Due to riots in Jammu, they have barred all net connections for 2 days, if we are lucky, we might get by tonight". And we weren't lucky ever after. Pfff..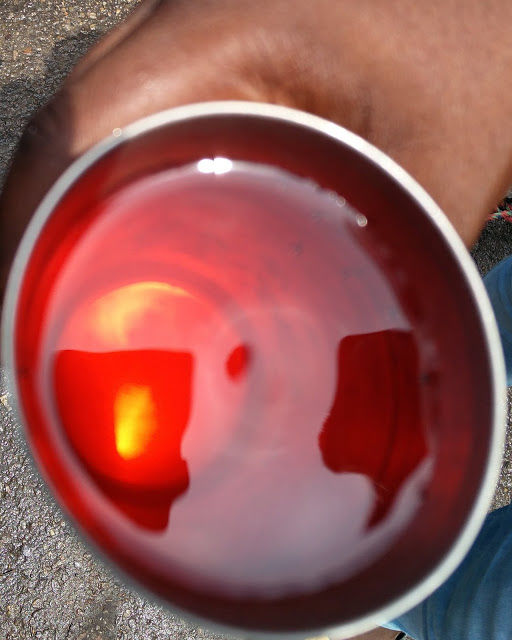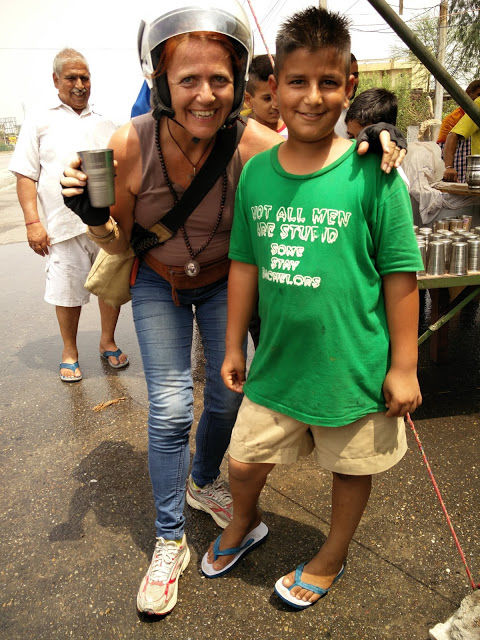 To reach Patnitop, there are 2 routes, one is National Highway and other is the scenic off-road which has a deviation at Samba.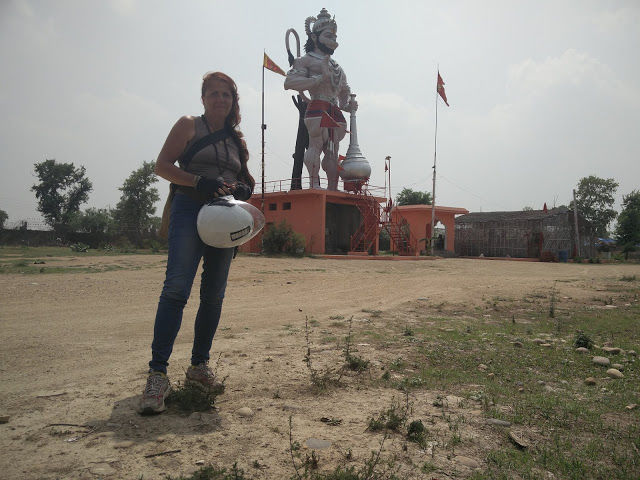 In my mind, it was like, no one will start to Ladakh without having such basic issues addressed.. so I chose to ignore.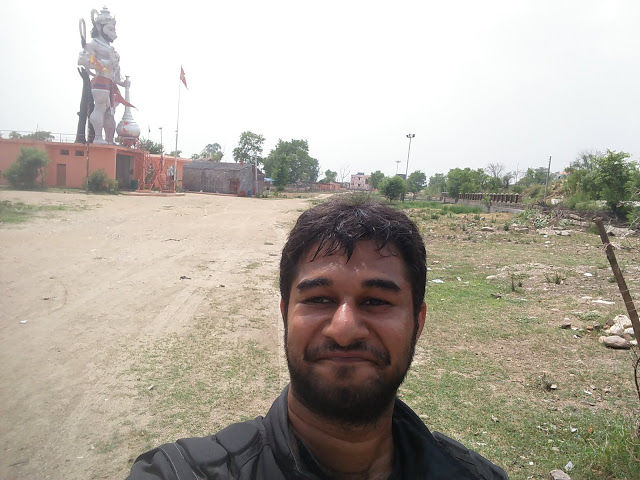 We had sped away 7 km further from the Samba deviation and after asking others, we returned 7 km back and started riding the curves. Not much of traffic too, a good place to ride/drive.
We stopped on the way to have some fruits that Anne was carrying. Apparently that was our lunch and then we continued. I was observing white smoke from her bike's exhaust right from the time when we started riding. She was taking the curves so well that I forgot to think much about the smoke.
As and when we started climbing altitudes her bike was getting stressed due to the terrain, the smoke got thicker and fatter and I was inhaling all of them. I started maintaining distance and still smoke continued. Her bike was switching off quite often and I could sense something fishy!!Maybe I asked her a minimum of 10-15 times if her oil level was checked.. she kept on telling that every morning she got it checked and it was all perfect.
Finally, after a few kms when I couldn't sustain, told her to stop near a garage in Udhampur and the mechanic who checked the oil level told there's no oil at all.I just smiled, by then it was already 4pm! If it was just me, I would've checked-in to some hotel at Patnitop by then!
I called Bali again, and told him this is the problem.. he told Bore kit would've to be replaced, and it takes 3-4 hrs for a good mechanic to replace. He also advised to carry oil from then onwards.
Finally after all the scene, we reached Patnitop that was 40 km ahead by 7.30 pm and got a room there. Both of us tired.
I was searching for one of my chargers (gopro / mobile) and I was pulling out all my stuff from bag in a hurry talking to myself, while she asks "are you a Capricorn"?
I said Yes and started digging further. After a while I asked again "Why is it?" she said she is a Capricorn too. I asked what's her DOB and then those unexpected words "4th of Jan" came out..
I was astonished!! I stopped digging the bag and started exclaiming "Are u serious?" "Are you lying?" She said No, and we laughed crazy for around 10 min when we got to know we share the same birthday!
I was tired on this day too as I didn't have proper lunch, so we went out for dinner and later slept off early!
Day 7 - June 17th. (Patnitop - Batote - Pahalgam) - 200km
This is the day.. When those 2 words fate and destiny started playing with me, I knew I was being tested - in terms of patience and helpfulness!
Morning view at Patnitop was beautiful. We were ready by 7.30 am and tried starting her bike. Even after a million kicks, it wasn't even cranking. One by one all the hotel employees came and checked, nothing happened. All of them tried to show their talents, which was very irritating at that moment. One of them was so bad with his knowledge that he used the self start continuously and the battery died after a few times. Another told her to go down the slope and try self starting it'll start. I hope they atleast knew that Access is a gearless bike! She got fully pissed and she felt bad because they were operating without any knowledge. We had a light breakfast, and I requested one of them to help us push the bike through the steep.
The nearest service garage was 14km far, of which initial 2km was uphill. Being irritated by those people, Anne started to push herself, while I was co-ordinating with a truck driver to give some rope so that I can tow her for 2 km.
Just when I was taking the rope from the truck, an Enfield guy had stopped seeing Anne push and was making preparations to tow with his rope.
I went and gave him the rope I had just got, as that was thicker and stronger.
He had finished getting Leh'd for the 4th time and was heading back home. He happened to be a Police sub-inspector in Jabalpur, Madhya Pradesh.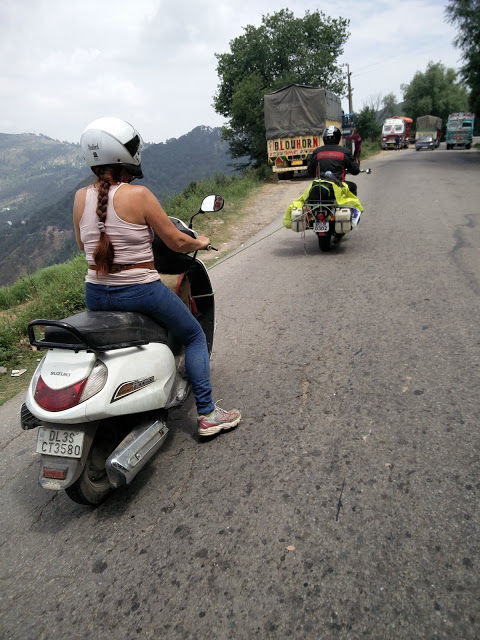 We covered the rest 12km on downhill in around 25 minutes. We entered Batote, a town there and saw loads of Army men guarding around.
I pondered upon a bit, and then realized that I was in J&K!
We got happy, but never ever did it strike us that he is trying to cheat us! I knew reboring is 1 day's job, but I accepted his words as I believed "Sardar's never cheat".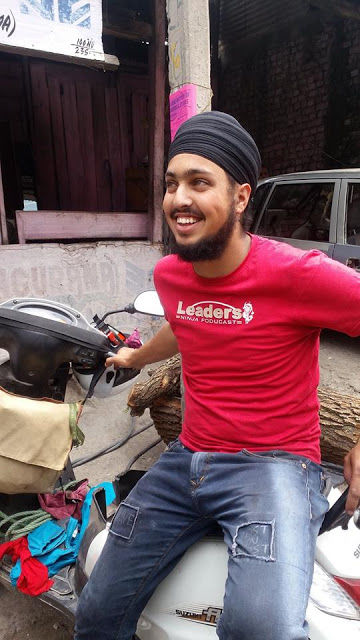 There is only one garage in Batote and many from the nearby places like Patnitop come there to get their vehicles repaired. The garage is run by a Sikh family.
But this was the worst decision made!
Vikram Singh checked the Access and tried starting, but in vain. He put a new spark plug and checked, still the same. He told that the pressure is not being created inside, so it is not cranking. He told we need to rebore and for that the cylinders need to be sent to Jammu. Delivery within 2 days.
Just those 10 km took us nearly an hour not just because of the roads, but all the trucks had crossed Jammu border now and were in a hurry to reach Srinagar.
We weren't ready for the 2 day timeline as we had a schedule. He enquired with few others and in half an hours time he told that he'll give the vehicle by the next afternoon! We told him to keep our big luggages, and just carried what we needed.
We paid him a token advance and after a bit of discussion, started towards Pahalgam around 1.30pm. Just because we had ample time, and we didn't want to stay in Batote.
All the above described incidents took much of our energy, we didn't even recollect the previous days incident of traffic jam at Punjab-Jammu border. We started towards Pahalgam and initial 10 km itself was real bad terrain with huge potholes. Riding individual is different than riding with a pillion. I had to be so slow and safe!
I started telling Anne "Shall we go back? I don't think we'll be able to reach before sunset." To overtake a single truck I had to wait for more than 5 minutes due to oncoming traffic, and never was there just one truck, I had to overtake a pile of them at once. It was really disgusting as we rode by. Until we entered Kashmir around 6pm it was all terrible. We had already stopped couple of times for tea break.
One thing in the Jammu - Kashmir National Highway is the last part just before entering Kashmir which leads to a huge dark tunnel of around 2.5 km. A different experience!
That night while sleeping, I was thinking that I've already fallen 2 days behind my schedule. I thought Why did I even accept to ride with her! I was a bit skeptical about her vehicle getting fully fit by the next day, for the rest of the trip. Me and my 3 other classmates, borrowed a bike (Bajaj Avenger) from one of our friends and left to Valparai from Bangalore (My bike & Avenger). This memory kept on hitting my mind very badly that night and started telling me, "Don't leave Anne half way. REMEMBER! you have to go all the way back to Bangalore, ALL ALONE!!".
All these thoughts, just taught me that you can plan as much as you want for a trip. But you can never plan your fate and destiny.
We stopped near Erode for a coffee break. When we started to get back on the road by 11.30 am and the bike just stepped onto the Highway from Service road, we heard a blasting sound. Me being behind the Avenger could see the Avenger back seat sink on to the tyre. We stopped and saw that the right side suspension got cut and broken. We went near the toll, tried to stop around 40 cars for help. (all those cars were Karnataka - Bangalore registered).Just 2 out of 40 cars 'stopped' and when we explained the problem, they replied - 'Sorry, we have to go'. 'Sorry, we don't know how to help you'.Finally we reached Coimbatore with very great difficulty (2 went by bus, me on Avenger and another on my bike) and it was sorted by 5 pm.Those curves seemed challenging to ride. You see huge valley just beside you when you are cornering the oncoming traffic, and that sparks a thought in you.
We were all really sad that day. When your own people can't be of help to you, you feel so awful!
Just while I was thinking these, my thoughts went back to May 2013.
Agree or not, A ride or drive is all about the vehicle. Anything critical happening with your vehicle is just sufficient to put your mind into deep contemplation, thus your hormones causing more trouble within you, than what your physical body would've faced in case of physical breakdown.I get very anxious and tend to lose the excitement when situations like these arise. Reasons being I had prepared my bike to not undergo all these. Over and above, I wouldn't want to waste days out of my critically scheduled itinerary. Foreigners need to register while entering / exiting Kashmir. They have a separate 'Tourist Police' for that.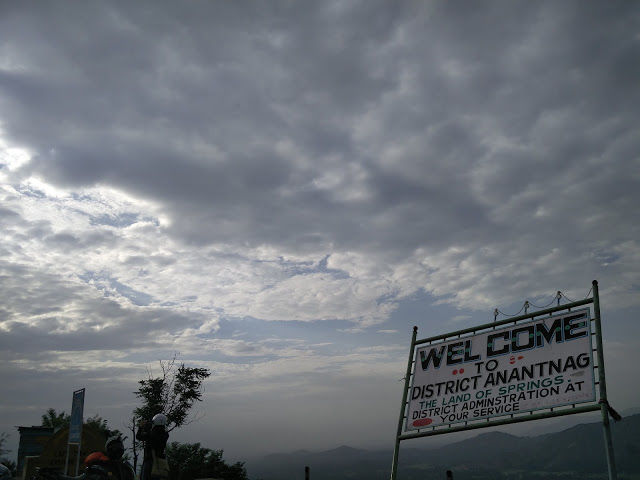 By the time we reached base of Pahalgam, it was 6.30 pm and I checked google and it said the sunset is around 7.30 pm.
There was no way that we could've reached the top by 7.30. We decided to not move further, and literally our energies were low due the continuous inhaling of bad smoke from the exhausts of trucks and being tired by traveling on bad roads on a sunny day.
It was really late when I slept that night.
One thing in the Jammu - Kashmir National Highway is the last part just before entering Kashmir which leads to a huge dark tunnel of around 2.5 km. A different experience!
That night while sleeping, I was thinking that I've already fallen 2 days behind my schedule. I thought Why did I even accept to ride with her! I was a bit skeptical about her vehicle getting fully fit by the next day, for the rest of the trip.
Just while I was thinking these, my thoughts went back to May 2013.
Me and my 3 other classmates, borrowed a bike (Bajaj Avenger) from one of our friends and left to Valparai from Bangalore (My bike & Avenger).
We stopped near Erode for a coffee break. When we started to get back on the road by 11.30 am and the bike just stepped onto the Highway from Service road, we heard a blasting sound. Me being behind the Avenger could see the Avenger back seat sink on to the tyre. We stopped and saw that the right side suspension got cut and broken.
We went near the toll, tried to stop around 40 cars for help. (all those cars were Karnataka - Bangalore registered).
Just 2 out of 40 cars 'stopped' and when we explained the problem, they replied - 'Sorry, we have to go'. 'Sorry, we don't know how to help you'.
Finally we reached Coimbatore with very great difficulty (2 went by bus, me on Avenger and another on my bike) and it was sorted by 5 pm.
We were all really sad that day. When your own people can't be of help to you, you feel so awful!
This memory kept on hitting my mind very badly that night and started telling me, "Don't leave Anne half way. REMEMBER! you have to go all the way back to Bangalore, ALL ALONE!!".
All these thoughts, just taught me that you can plan as much as you want for a trip. But you can never plan your fate and destiny.
It was really late when I slept that night.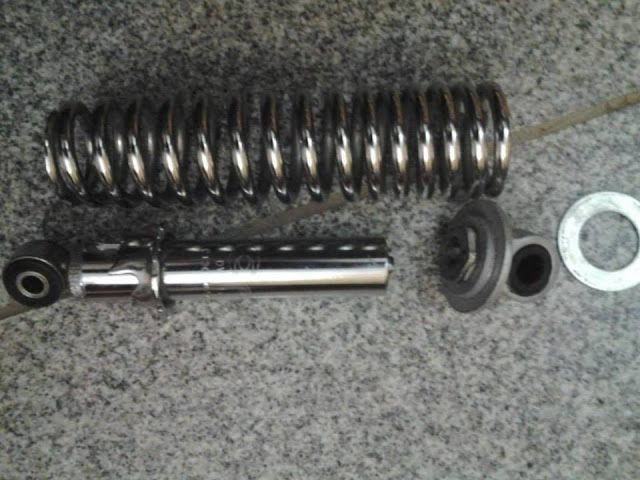 Day 8 - June 18th. (Pahalgam - Batote - Srinagar) - 300km
Morning, We started by 7.30, back on the same route as the previous day. Since it was morning, the traffic was almost non existent. Anne started riding my bike and I rode pillion. She told 'Don't ride now and get tired, as you have to ride again on the same route until Srinagar'. It was cold too.
The road from Anantnag to Jammu was guarded with fully armed Army personnel. Every 100 meters, there were personnel with rifles, facing different directions and few other personnel with sniffer dogs checking whole of the road throughout the length and breadth.
It didn't switch on again even after a 100 kick trials. Lucky that we reached Srinagar atleast.
By the time we reached Batote it was 11am. He checked the vehicle and showed us that it was working. We were optimistic and blindly trusted him (just because our goal was to get going). We started towards Srinagar.
My Claw was leaning on one side on the way back. I stopped once to tighten it. Again the problem recurred and I told Anne to just keep going ahead and I shall catch her up once I have fixed it.
I started after setting the claw in around 5 min, and after few minutes of ride, she was still not to be seen. I thought she has sped away pretty far and increased my riding speed. She wasn't found to be anywhere at all.
Meanwhile when I was talking to the taxi drivers there, one man with army hair cut and in a civilian dress asked me where I was coming from and etc. I told him everything and after 2 minutes he sees my helmet and he exclaimed 'Were you the one who came from Jammu and you were recording through your helmet mounted camera?' I said 'Yes sir'. He then asked 'I noted down your vehicle number and where is the lady on the scooter?' 'sitting inside sir, and why did you note down my number?' He says 'I thought something will happen to you because of the way you were riding in curves, and if something goes wrong and enquiry comes to us, I wanted to be on safe side'.I was stunned at that moment. He then said he is from Army and he was the transporter; the whole troop inside the bus was going towards border and had to reach there by morning 4 am.
I didn't know what to do, so kept on riding and riding.
The weather was almost about to rain so after 1.5 hr I stopped near the tunnel, just before entering Kashmir. With nothing else to do, I checked my mobile and I had 5 missed calls from the mechanic before few 10 minutes. I called him back and found that Anne had gone back all the way 40 km to the mechanic and told him to call me to find out where I was and I didn't answer her call!
Her phone wasn't connecting, as in Kashmir only postpaid works.
It was almost 3 pm then. I got to know I'll have to wait a long time of atleast 2 hrs, for her to come near the tunnel.
While planning for Ladakh, we keep some buffer days as a part of Contingency plan. I had kept 2 days for buffer and friends had told '2 days might just suffice'.
Around 3.30 pm, got a call from an unknown number and it was her, calling from someone's phone. I had got on my nerves for she going back on the route, which I had told her not to do. I started yelling on top of my voice "Who the hell told you to go back and search for me? Didn't I tell you to keep going further and I would catch up?"........
She told "Whatever it is, wait for me wherever you are and I'll meet you there".
I told all the roadside sellers, that if they spot a lady in a white scooter around 5 pm, stop her and tell her I'm here (just in case if I fell asleep in the small restaurant there).
It was very difficult to pass time then. Around 5 pm, I saw her passing by without seeing my bike parked, I just got on bike and stopped before she could enter the tunnel and got her back.
She had no energy left as she had ridden for 2 hrs straight in those bad roads and she was drenched completely for about 20 km. She was shivering. We ate something that was made hot and fresh there and started in about half an hour.
It started becoming slightly dark by 6.30 pm and we were around 60 km behind from Srinagar. Anne was tired and since she didn't have a full face helmet, her average speed was reduced to 20 kmph!! I started getting frustrated as just for those 60 km we needed minimum 3 hrs in that speed.
Too many trucks on that road and all the way it was dusty due to the truck movement. It became dark and we couldn't ride at all. Both our headlights weren't working due to battery problem (and this is the reason I yelled at her on phone, as reaching before dusk was the safest option).
I told her to follow me behind but a bit to the left side (so that she can use my headlight) and I will ride with my passlight on. It got too difficult then. She first denied telling its dangerous but then after few arguments she understood that there's no other option left.
Finally by 9.30 pm we reached Srinagar check post where her vehicle switched off. The sound it made while it switched off itself was so different and I got skeptical about it getting swtiched on again.
I went to the forest check post and requested them we'll park her bike in front of the checkpost for that night and next morning we'll get a mechanic to sort things out. The police in the checkpost asked me if I carried any arms in my bag, in the vehicle etc and told he is not responsible if something happens to the bike, but we can park it there. He doubted me as I was wearing an armoured jacket and then I showed him photos of past 2-3 days and convinced him that I am a traveling around and wearing jacket for my own safety!
I asked him to share the nearest hotel contact and some one else (maybe taxi drivers) heard this, and started wasting my time by telling they'll arrange a hotel. It was just that they wanted to make some money in the form of commission. It was already 10.30 pm then and I was frustrated by all the events that had happened since morning.
I scolded the driver for wasting my time and talking to me for his personal benefit.
I told Anne to be seated in the checkpost and I started towards the city. Barged in the first hotel I could see, asked for room price, bargained to 500 bucks. Gave him my luggage and told him I'll get her too in few minutes.
That road belonged to Cantonment and both the sides building colors were same - fort red. In all this hurry-burry I didn't see the name of the hotel, just knew that board was in red colour.
I picked Anne from the checkpost and I kept going on the same road as I had forgotten the exact location of the hotel. I told her almost after 2 km that I've lost the route towards the hotel and took a U-turn, went back to see that the hotel guys had switched off lights on the board and that's why I missed it.
Funny thing was I had even kept my luggage there and forgotten the location of the hotel. Seeing me so tensed, Anne told me to relax first and that in the worst case she'll ship her bike back to Delhi.
I was hungry as I hadn't had proper meal since morning. It was 11.30 pm when I asked the hotel guy to get something. He got dhal and roti.
Before sleeping, I apologized to her saying I scolded her without thinking about her age and that she is older than my mom.. she replied 'That's OK, age is just a number'. Although I was thinking if I really needed all these problems, I was somehow convinced that we can't really run away from problems, so better face it and execute them than hiding / running away from them.
However my 2 days had been used up already and I knew that my 1 more day is going to be used up, i.e. the coming day.
Day 9 - June 19th. (Srinagar)
Morning around 10 am we went in search of a Suzuki Showroom by asking local people and it happened to be Alfa Suzuki. The showroom and service center were closed, but an opposite shop - spare parts seller told me to go inside the gate and check.
We went inside and Mr. Suhail, owner of the Alfa showroom was there as his house was adjacent to the showroom. We told him the problem and he was left in a shock for 2 things - for riding an Access from Delhi, and another buying a pre-owned Access from Delhi.
He called the mechanic Karamveer Singh and told him to somehow get the vehicle to their service center. We both went and in half an hours time, got the Access back with Karamveer's skills. He opened the engine and told that no work has been done and we are cheated by Batote people. He scolded and abused the sardar ji on phone for cheating Anne, but seldom did he think that the money lost is lost forever!
They replaced almost every part of engine and by evening 6 pm the vehicle was ready to hit the roads again.
Anne bowed down and thanked Suhail and his father for servicing her bike on a Sunday and also that they charged only for parts and not on labour.
Suhail's only advise to Anne was that 'Stop after every 40-50 km for about 10 min to give rest to your bike's engine'.
Nearing dusk, we went to Dal lake and market as Anne had to buy some socks and gloves.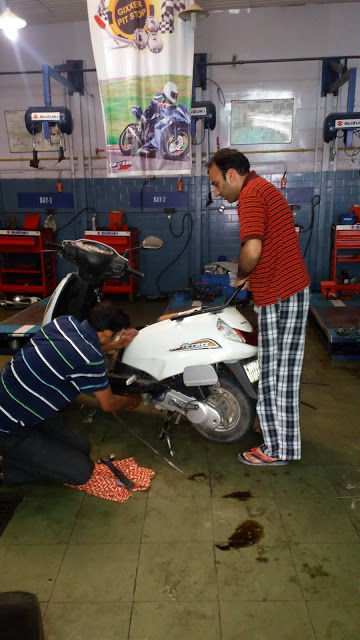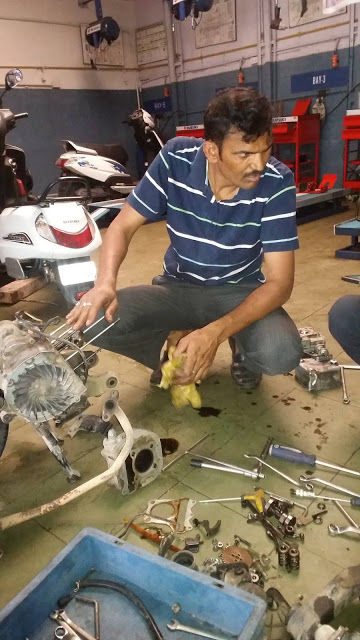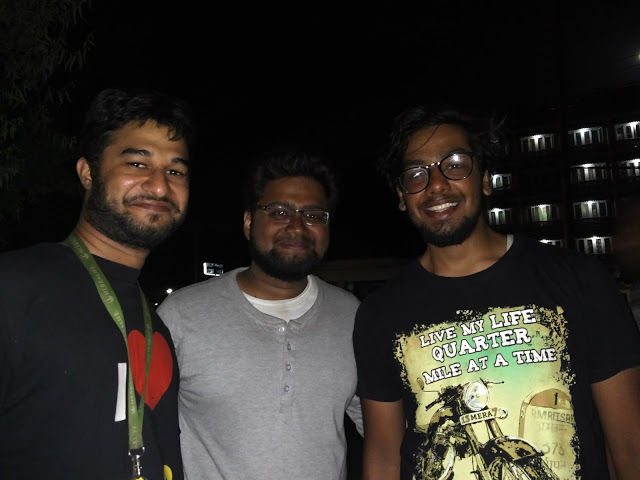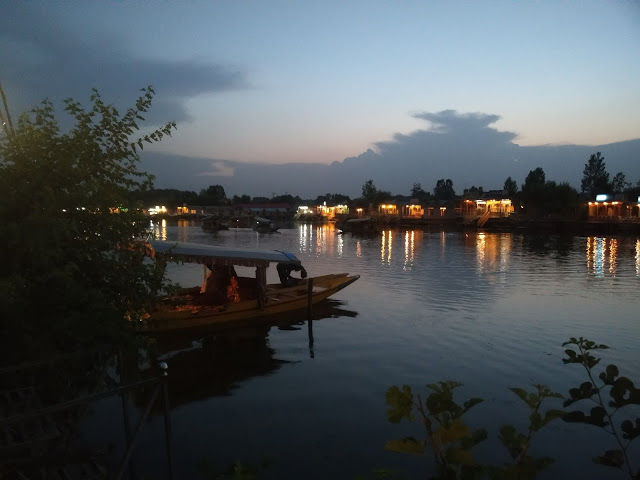 Day 10 - June 20th. (Srinagar - Kargil) - 200km
Srinagar - Sonamarg - Zozila Pass - Zero Point - Dras - Kargil
The day when the reality of entering Ladakh came true.
Started by 7am to keep up with the schedule. The road from Srinagar to Sonamarg is very scenic. Stopped at Sindh River view Dhaba around 30 km far from Srinagar. Everyone stops there because of the magnificent view the dhaba provides.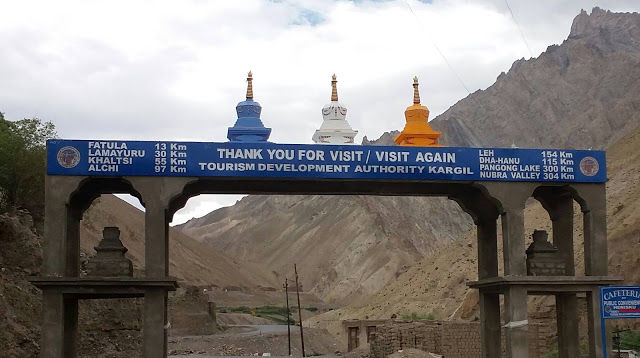 If only people maintained peace there, the dhaba would've been a great place.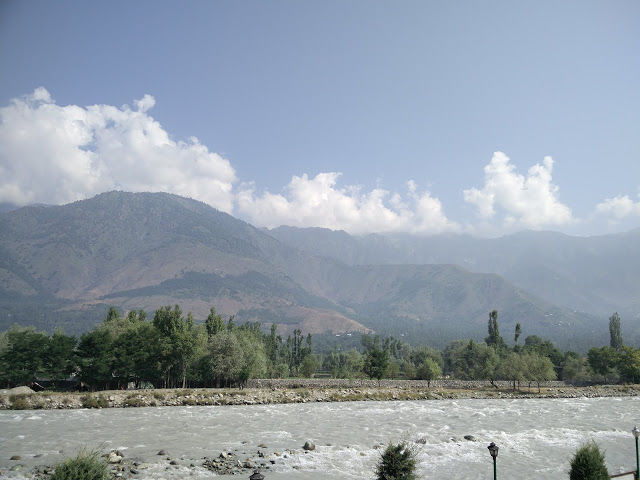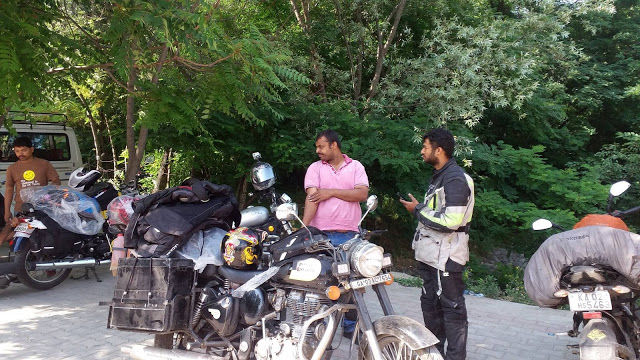 We reached Sonamarg and stopped at the last restaurant for tea.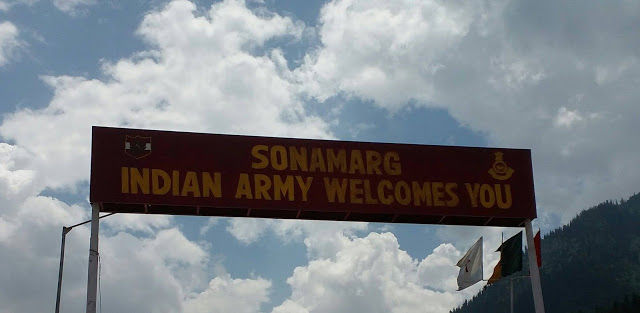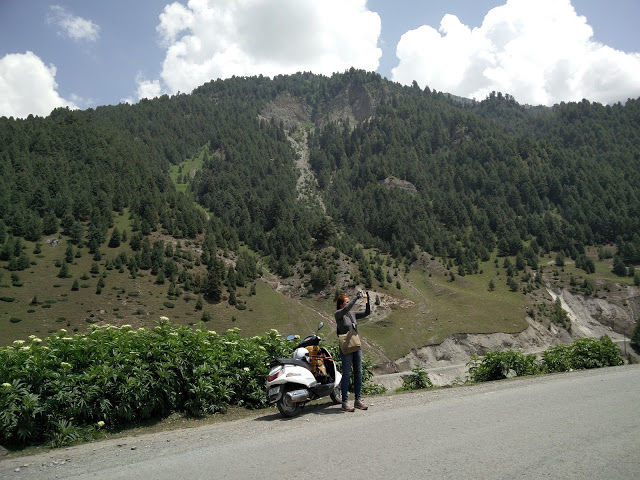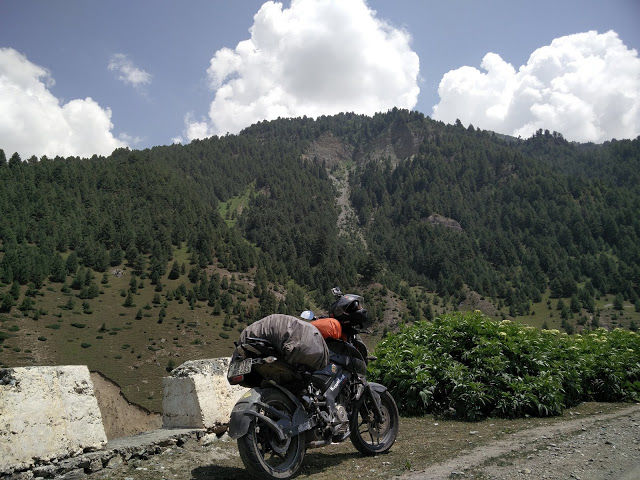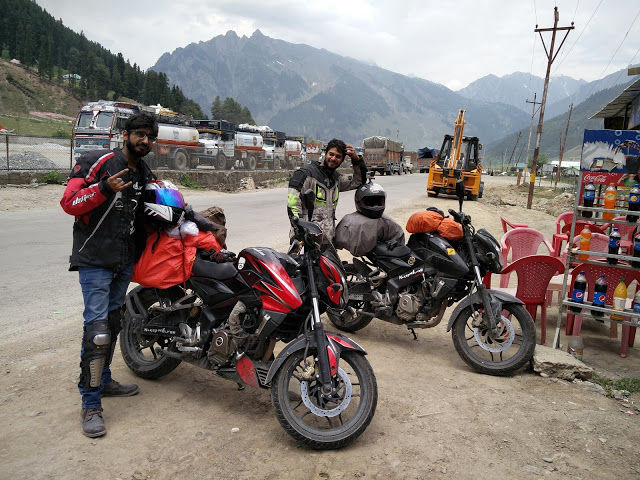 We came out and started on our exciting journey that was waiting for us.
Zozila pass : The entrance to Ladakh region (from Srinagar).
In few kms, we entered Zozila pass, and saw huge altitude climbs. My carburetor's response had already started changing. It was very nice to just witness the first view of such high altitude mountains.
I was so excited that my next few days will be in the Valley.
There were many cars / taxi's traveling, so Zozila was mostly dusty. We reached the Zero Point and stopped there for tea again. It was very cold at zero point and suddenly it started raining. The temperature went down to 0 degrees! Every biker started wearing rain covers / coats and all the chai-wala's started becoming busy in supplying chai. Meanwhile, people selling shawls / socks / gloves started appearing out of nowhere!!!! I commend their business model.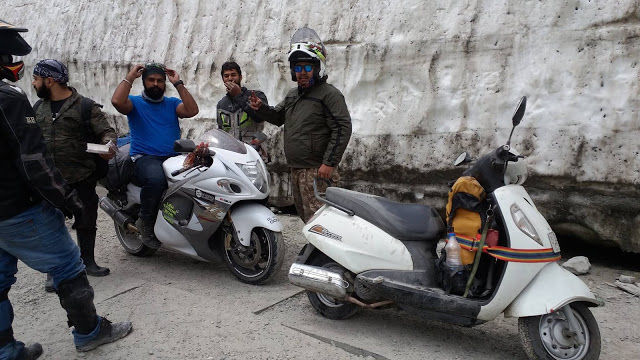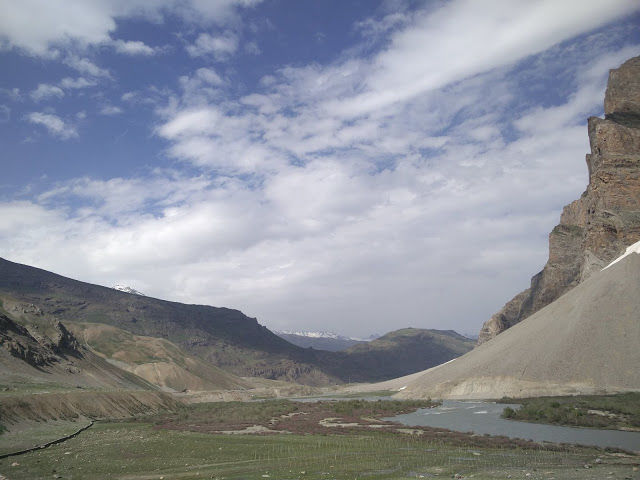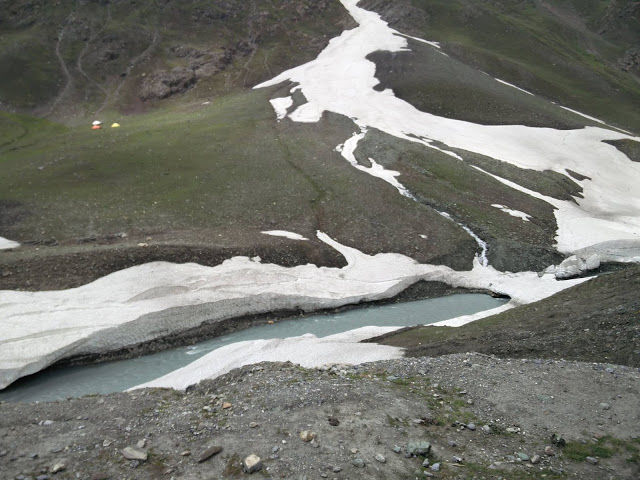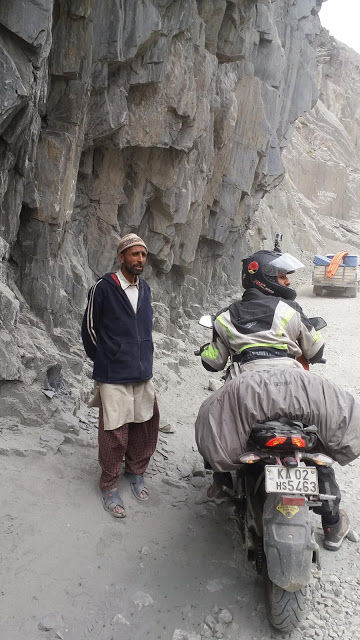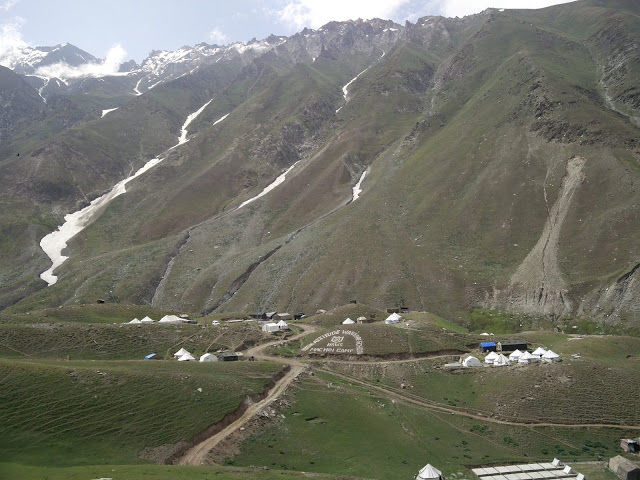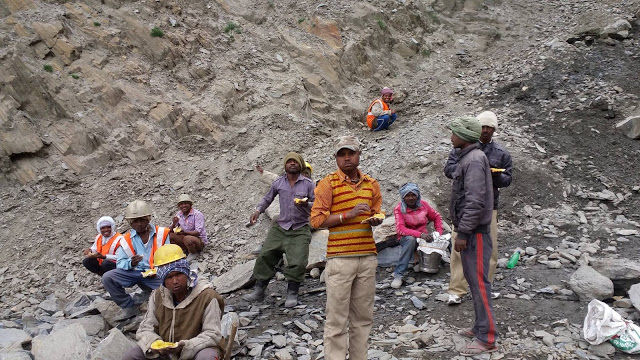 We further went ahead to Dras and had Lunch there.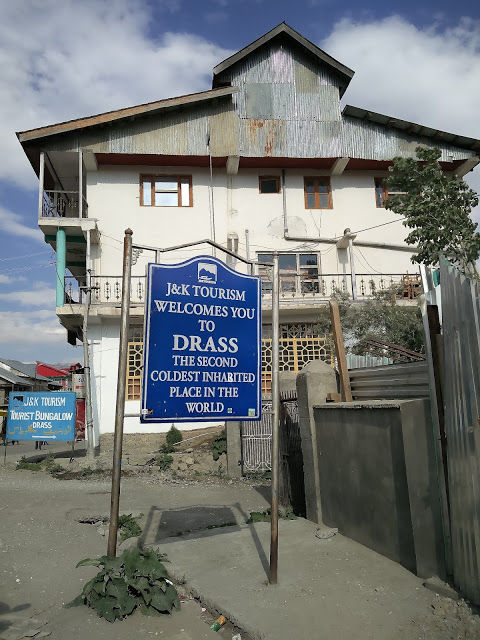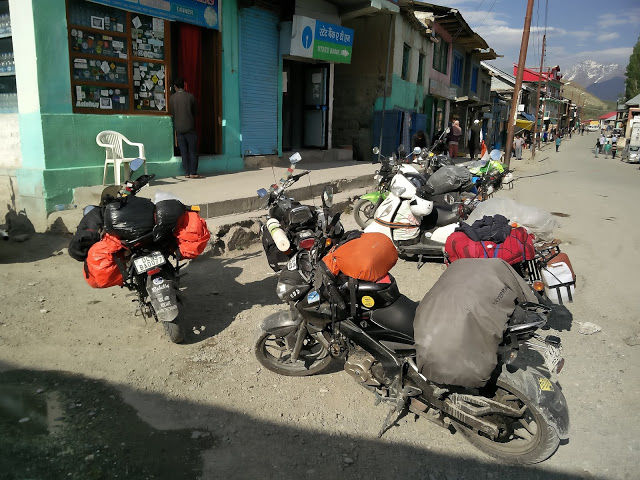 We started continuing towards Kargil after lunch and on the way I visited the Kargil War Memorial which is about 6 km after Dras.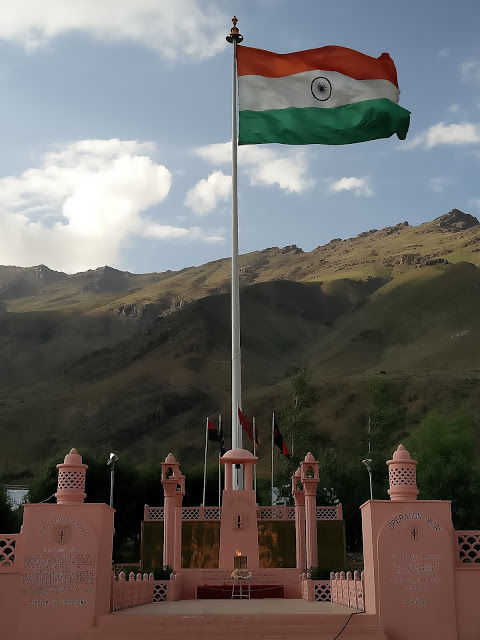 You pretty much are in Bliss once you enter Ladakh. As in most places (except Leh) you won't get any network other than BSNL. At such a state, even if you get network, you won't feel like making use of it, as you are anyway bound to get network in abundance and be connected all the time once you finish the trip.
But, the peace in collaboration with chill winds and stars I experienced in Alchi can't just be explained in words!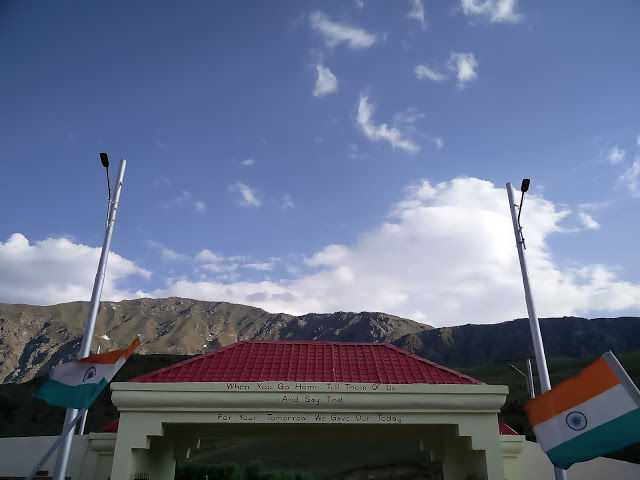 Kargil was not far from there. We reached by 6pm, filled fuel and checked into a guest house.
Thus, we had entered Ladakh, and the first day went all well!
Day 11 - June 21st. (Kargil - Alchi) - 150km
Kargil - Mulbekh - Nimmu - Alchi
Started around 9 am. Mulbekh Monastery is on the way, 40km from Kargil.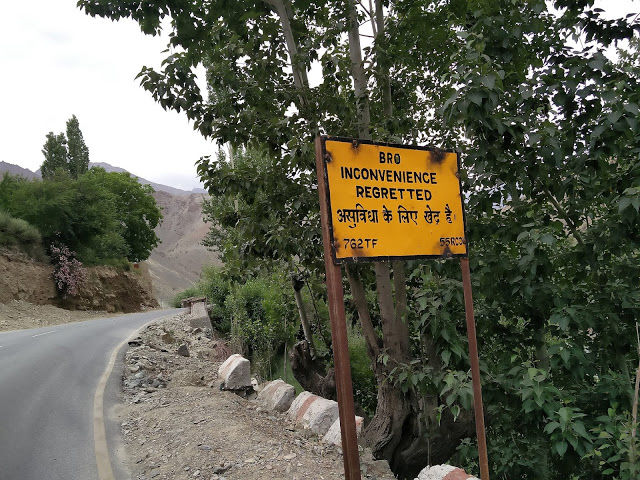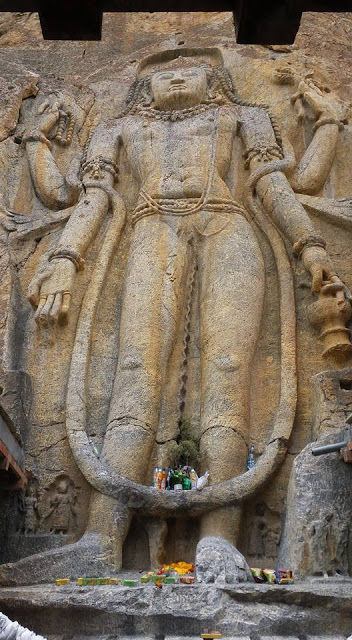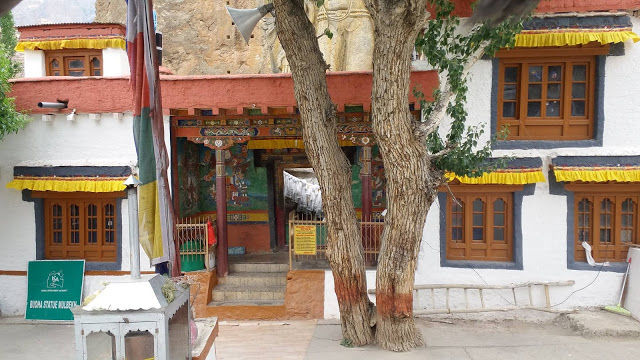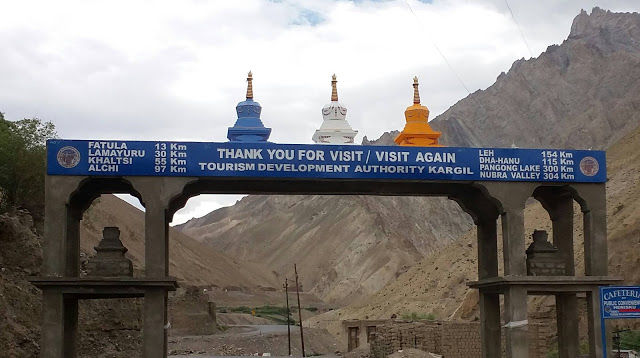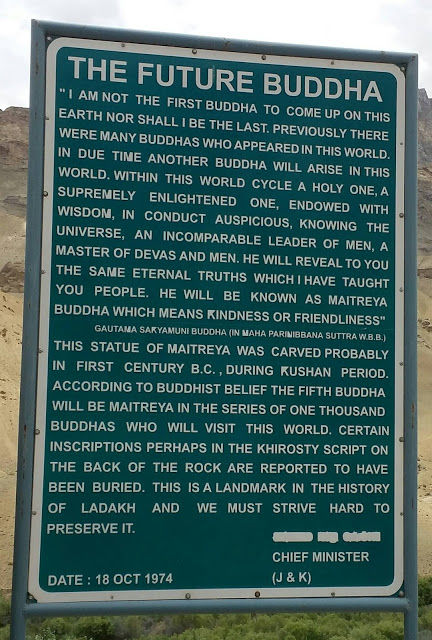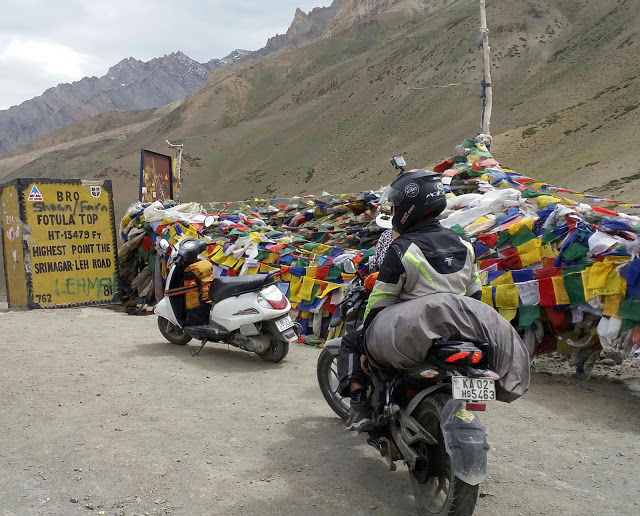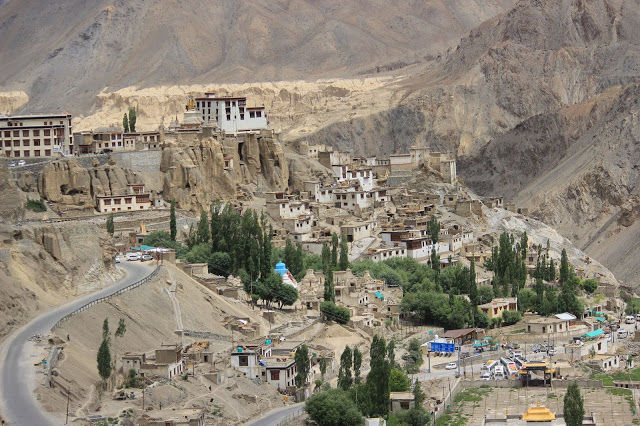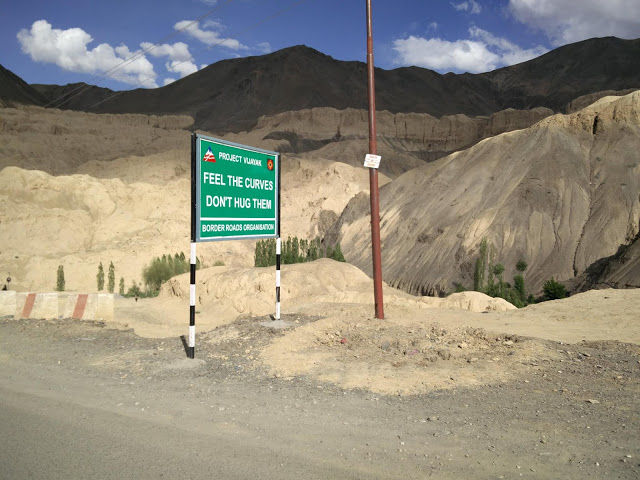 Had lunch at Lamayuru and later moved on towards Leh, where we find the Futula point - Highest point in Leh - Srinagar road. The view from Futula is awesome.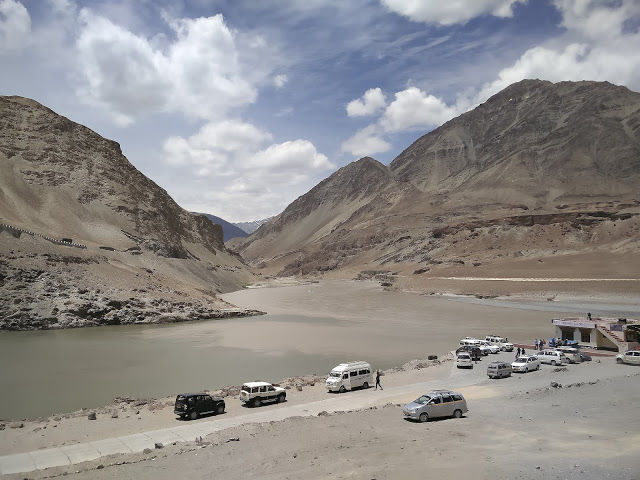 Anne had a friend Ashwin, who works as a Chef in the German Bakery at Alchi. We visited there and I found the place to be very peaceful. So I decided to stay there that day.Initial plan was to go to Leh and stay, but this was better than going to Leh!
Alchi is a small village where there are not more than 50 people staying. There are very few houses. Maybe more shops than houses as I saw. We need to take deviation towards Alchi from main road, and after 2 kms of riding between the hills, we reach there. This place is known to all Buddhists. Its a place of high importance for them as the Monastery dates back to 11th Century.
We reached there around 5.30 pm. We stayed in a guest house, which was maintained by localities. The room was above their house and they treated us very well, with utmost respect. Great hospitality I must say.
It was so quiet as the sun went down and shops were closed. There was absolute silence. All I could hear was the chirping of birds, sounds of different animals.
I kept watching the stars through the huge windows that were in the room for sometime and then started reading a book that I was carrying with me (as I had so much time that day and peace too).
I just wished that such a peaceful place should be accessible to all cities and not just in Himalayas. Even if you wished for some sound, there wasn't (unless you make some sounds).
No internet, no phone, and that was Bliss.
You pretty much are in Bliss once you enter Ladakh. As in most places (except Leh) you won't get any network other than BSNL. At such a state, even if you get network, you won't feel like making use of it, as you are anyway bound to get network in abundance and be connected all the time once you finish the trip.
But, the peace in collaboration with chill winds and stars I experienced in Alchi can't just be explained in words!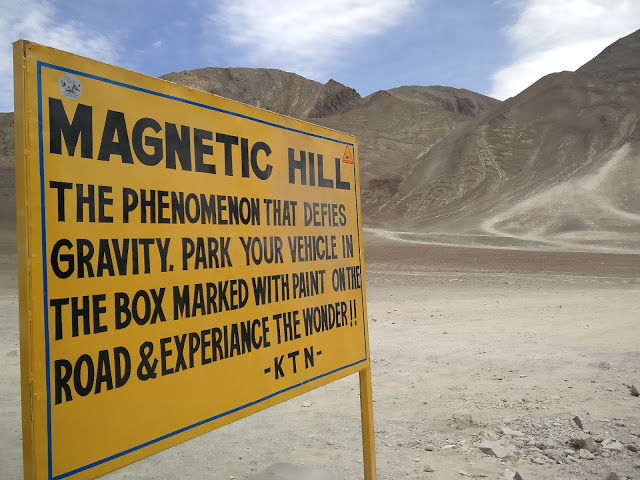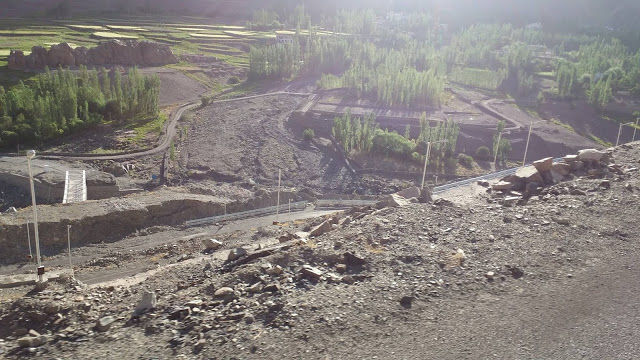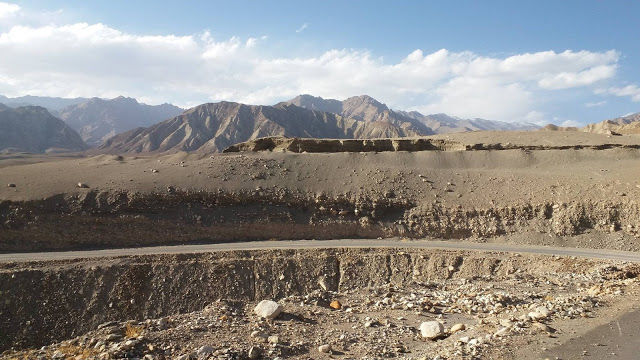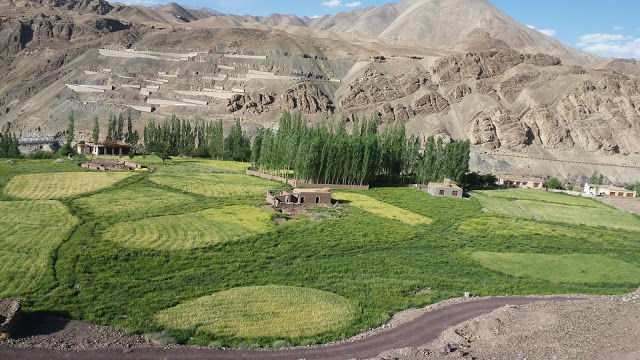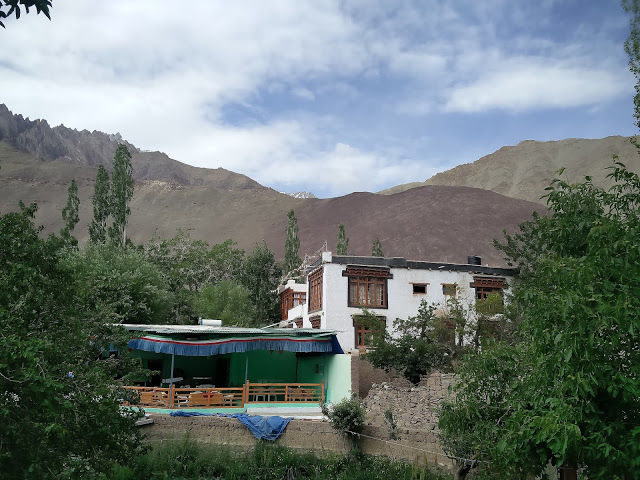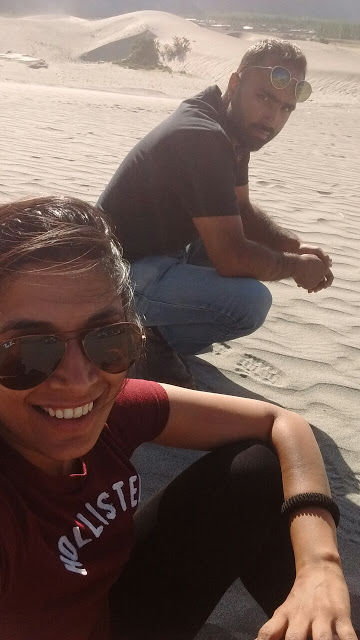 Day 12 - June 22nd. (Alchi - Leh) - 60km
Next morning we started towards Leh, while Anne told she'll come back and stay at Alchi for few more days.
She didn't want to torture her bike at Khardung La and such places, also that she wanted to be in the peaceful Alchi.
Reached Leh, gave my bike for carburetor tuning (where in they put a wire inside the jet to restrict fuel flow in order to maintain the AFR). Found out a guest house, dumped my backpack there and we went to a tourist center. The executive's name at the tourist center was Tashi Tsering. As we entered, he greeted us 'Welcome! Ask anything you want and we won't charge you for that'. I laughed and showed him my plan. As KD bhai had planned for me, I had to visit Wari La. If I had to go to Wari La, I had to carry fuel (for which I didn't have space) and the next day after Wari La I should again travel on the same route through Leh, to go to Pangong. But since I had already used up my buffer days and also Surojit Sadhu (a master tourer/rider from Mumbai) had told me Wari La is secluded, I chose to skip it.
I thanked him for giving me detailed information. When he got to know I'm from Bangalore, he started exclaining 'Wow, we both are from same state'. He started sharing his memories when he stayed in Bylakuppe, Karnataka (near Coorg) for 26 years. Bylakuppe is the 2nd largest Tibetian settlement in the world outside Tibet. He could even speak a bit of Kannada and told his children and wife can speak fluently.
This was the first day in the trip that I wore Thermal liners, Full gauntlet gloves and Balaclava. Until then I didn't need any of these due to the temperatures.
Few places when the altitude gets high and speed goes down, the ignition used to give up. I had to keep revving the engine every now and then, just to keep my bike active.
During the whole of Khardung La ride from Leh, my bike was switched off only once, i.e. at the check post. I was so adamant that, I didn't let it switch off until I reached the top.After some distance my fingers and wrist started paining, just because of the cold winds, still I kept going.Finally came a right curve, where I could see few cars parked and the huge flags all over. I just couldn't control my happiness! Yes, I had reached the Khardung La Top - 'World's Highest Motorable Road in the World - 18380 ft'.
Me and Anne decided that we meet at Karu on 25th again, as she wanted to continue the trip after much contemplation. She would be coming from Leh and I would be coming from Pangong.
Her dream was to ride through Rohtang pass. The previous time she tried, permission was not available for a period of 4 days in Manali and so she started coming through Srinagar. By evening, I took my bike from service and Anne returned to Alchi. Leh was getting colder by evening. I was in no mood to go back to guest house, wear a jacket and go to Thiksey Monastery. It was 20 km away and I just started riding to capture the beautiful view of Sunset from there.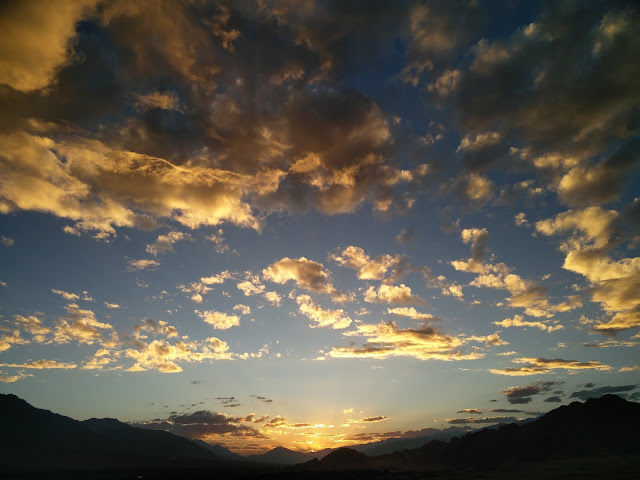 I returned by 8 pm to Leh and there was a huge traffic jam. For once it felt like Bangalore.
Khardung La is Khardung La not because of the name and fame, but because of the thrill it gives you throughout the climb! Even though I was wearing a thick gloves, the experience of cold chills running down your finger bones and hands continuously is something unique. For us bikers, climbing Khardung La is an achievement and we feel happy about it once we are there on top. But the families and the tourists who came in cars and taxis were more happier than any biker there!! That is about Khardung La!
I drank a lot of water before sleeping that day.The biggest mantra to crack Leh-Ladakh without facing any high altitude sickness is to keep drinking water. Drinking water at regular intervals and some good quantity as soon as you wake up helps you the best. I used to drink atleast 1.5 litres of water after waking up and used to keep sipping from my Camel Pack all the way.
The coming day was the big day, for which many bikers dream all their life. It was Khardung La day. That very excitement really rushes a lot of Adrenalin in you.
Day 13 - June 23rd. (Leh - Nubra Valley) - 130km
Leh - Khardung La - (Nubra Valley) Diskit - Hunder
I used to think before why do people talk so much about Khardung La, what is there in Khardung La that it is so mighty, famous and also is a lifetime goal for men and machines! After all its a pass and we think passes are all the same.Yes, if I just kept thinking that and hadn't gone there, I would've never understood its importance and value. Below says 'What is Khardung La? and Why Khardung La is Khardung La?!!'
I woke up around 5.30 am. I had no charging point in room, luckily there was a charging point in the hall. I went there and put all my devices (Gopro, Mobile and Laptop) for charge. Around 6.30 I woke up again as I was hearing people talking. It was a bunch of Japanese people who had graduated from University and had come to tour India.
Due to no Airtel network everywhere in Ladakh, I had forgotten which day it was, what date it was etc. I had to keep checking my phone to get the hang of it.
I had some green tea with them and talked to them for sometime. It was really cold in Leh that day so I attached the thermal liners in my riding jacket and pant and also decided to wear my full gauntlet gloves.
I asked the guest house care taker about Khardung La and he told I have to leave early as traffic is controlled at the top and the later I leave, more might be the delay to reach Khardung La top.
Upon hearing these words, I immediately packed and got going. It was 7.30 am then. At that time, in that cold place, there was only one dhaba open. I was coming out after breakfast and happened to meet Sankalp Rajpurkar, Shreyas Rajpurkar and Vishal Phadke from Mumbai who were on Duke 390. I had met them 2 days back too, at Zozila.
Due to the movie 3 idiots, 3 million idiots are visiting this place every year and spoiling its sanctity.
Initial few kms we have to go inside the city and the roads are so small that you can't believe there's a road ahead. I used to ask people if there's a road and move ahead. Once we start going up the hill, we see the whole of Leh city.The road towards Khardung La is very narrow, and the depth you see to your left while climbing is real scary!I used to signal and give way to the taxi's / trucks to go by the left side and I used to be safe on the right! Haha.
The bikes response gets amazing! Throttle response gets lower and lower. That is the real fun with carburetors.If I needed to stop, I used to pull the choke and then get down the bike!
I had forgotten to fill the Self-Declaration form the previous day, which I had printed and carried from Bangalore itself. At the check post I was just passing by and the Army personnel blew his whistle. I parked the bike, pulled the choke and went to confirm if that is the form. I hadn't even spent a minute there and by the time I returned bike had switched off. This is the power of altitude!
The more our proximity got closer to the Lake, the more did the cold air hit our chests. It was a lake, but still the waves were there.It was difficult to even sit on the stones by the lake bed, due to their degree of coldness.
The checkpost was the place where I met Vishal Lalchandani and Parnit Kalra, but I hadn't paid much heed to talk to them as I was worried about my bike being switched off even after pulling the choke.
Bike started again with no issues and I continued ahead. I believe I still had to ride around 15 km (out of 40 km) to reach the top.
By the time I reached checkpost itself, there were super cold winds, and I could feel the cold getting colder every degree I climb. Thanks to my balaclava, cold winds weren't going inside my ears.
The terrain had everything. Initial was a bit of good road. Then came no roads. Upon climbing the altitudes, there were water (melting from ice), lose gravel and slippery stones etc and this continued until the top. It was drizzling at some places too, but very light drizzle. I LOVED THE TERRAIN!
I saw the big board only few seconds later as a bike was parked under it. I went there and parked my bike in full excitement. I got down the bike, removed my balaclava, kept it on my seat and turned around. I turn back to see that my balaclava wasn't there!! I searched everywhere, all around, but couldn't find it. I happily let it go as I thought in my mind 'You gain something, You lose something else'. And for what I had gained, the loss was comparatively too less.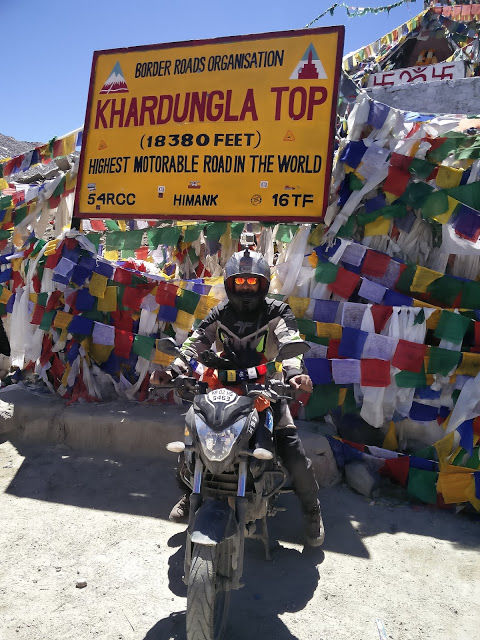 Effect of High Altitude - Once I got down my bike, and I turned my head to see around. I slowly realized that my head has turned but my mind is still turning!!!! I hadn't taken any tablets (in my entire trip) and didn't feel anything after this incident too. Just that one feel, was heavenly and put me in a different world!
There were few people (mostly families) and I kept clicking their pictures upon their requests. After a while I told one of them to click mine too.
I could hear Hanuman Chalisa from the time I parked my bike. I went to that small Hanuman temple. I didn't want to remove shoes, so just saw it from outside.
There is a tower in Khardung La. I guess you do get BSNL network there. But when satisfaction plays a bigger role, networks doesn't matter! Army people are really helpful there and of course all throughout Ladakh.
Initially we thought we can reach Sarchu by night but by the time we reached Pang it was 7 pm and thus all of us decided to stay there.
After staying for 15-20 mins, I started my descent towards Nubra Valley; fully contended and I liked to be in that peaceful state for more time!
Started on the descent and took and when I was reaching Diskit Monastery, I found these 2 guys on Enfield and we rode along. Started talking to them once I reached the Buddha Statue at Diskit Monastery. They introduced themselves as MBBS students (about to become doctors) and later during our talks I got to know that I had met them in the morning near Khardung La checkpost - Vishal & Parnit; we decided to share a room. We went down to Hunder, and were looking out for a room when I found Satwant and Harpreet again!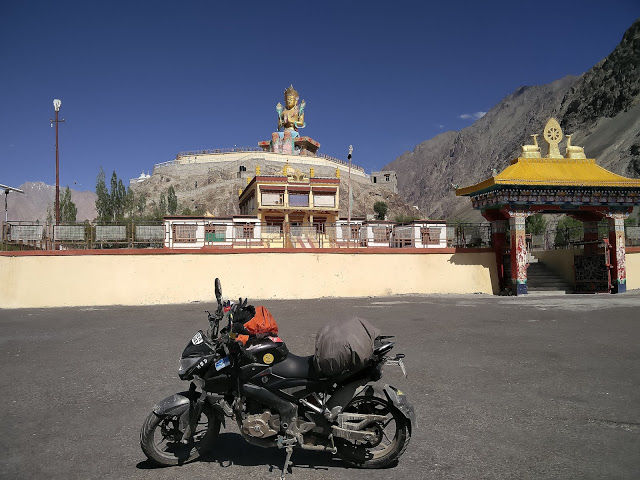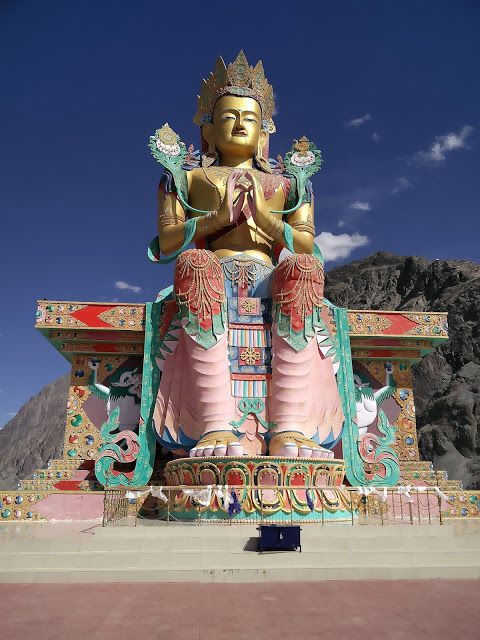 Once we enter Ladakh, we keep bumping intto the same set of people over and again. We are all on the same purpose of getting Leh'd, and thus we become good friends in a short time!
We all stayed at the same guest house that day. We had a lot of spare time that day.
Guest houses in Nubra Valley have a nice business model. They charge Rs. 250 per head per dinner, while we were paying 250 / head for the room itself! We 3 of us thought we'll go out and find a better place to eat, but there was no restaurant in the whole town. We then went to the Army canteen, and had idli's and samosa's.Typical talk that happens at Nubra Valley: You meet someone, and you share your experiences of Khardung La. Then either of you asks the other your next plan and the moment you say Pangong Lake, you should be prepared to hear these words:'Make sure you start at 6 am, later the roads at Agham and Shyok will be covered by water and you wont be able to pass through the water. Carry lots of food items and fuel, for 40 kms you won't get anything, it is fully deserted and no roads are there'. One of the persons I met repeatedly kept on stressing that there are no roads from Nubra to Pangong for first 40km, it is very bad to even imagine etc. The very next moment I told him, 'If I wanted good tarmac why would I come all the way from Bangalore to Ladakh? I would've rather ridden on NH7 to Hyderabad or Kanyakumari'.
That night we 5 of us sat in our room and talked until late night and were discussing about the next day.. We decided to leave at 6 am and Satwant took the responsibility to come and wake us all! The next fuel station after Diskit was only after 280 km, at Karu.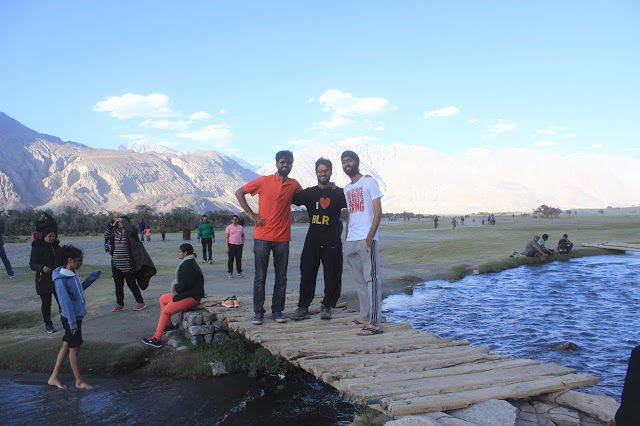 Day 14 - June 24th. (Nubra Valley - Pangong Tso) - 180km
Hunder - Agham - Dubruk - Pangong Tso (Sparmik)
At 5.30 am Satwant starts knocking on the door. None of us wokeup to open the door. He then came near our window, through backyard and shouted our names.
A few kms after Zingzing Bar there was a guy standing by the road with his Duke 390 waving his hands towards me. I stopped to hear that he had an empty fuel tank and needed fuel. After 15 min, this MH-01 Duke guy comes to me and says "Thank you so much bro, they didn't even ask for money!"I told to myself 'Wow, this is Ladakh!'
Anne had some fuel and she had filled all of them just before 2 kms. There was no one around to even ask anything and I told him to just wait there and I shall send him help if I find any bikers ahead.A restaurant was there nearby and I went inside to tell the group that there's a guy in need!
Started by 6.30 am and enjoyed the calm route. There were absolutely no roads. It was all quiet, calm and beautiful.Until this day all the rides were in hills. So had to climb up and down the hills everyday. But this day it was amidst the mountains, in the valleys. The ride was scenic throughout. This was indeed the best day of my ride.
Correlating to the Chuck Thompson's saying stated in Prologue - the place that was termed out to be bad, turned out to be the best for me.
On the way we got so many places where water (melted ice) was flowing across. We could feel the coldness by just going near the water, let alone keeping our feet in there, and still we did have fun riding on water, getting water splashed all over etc.
We took pit stops at couple of places, sat calmly and let our socks and feet dry for sometime as they were completely wet and was cold inside.
We reached Pangong by evening 4 pm and the first view itself was breathtaking. Accommodation was not so good in the starting. So we asked people around and rode 7 km ahead, to Sparmik.
Except me, all 4 of us went in 4 different directions to search for rooms while I was guarding the bikes. They came out with funny data - room costs Rs. 500 / night and tent costs Rs. 5000-7000 / night. We finally settled for 2 rooms after nearly 1 hr of searching and analysis.
We took some rest and went out to see that there was an STD booth from where we could call. Vishal and Parnit used the facility while I chose to stay in peace.
While Vishal and Parnit made their calls, I was speaking to the telephone operator in the STD, he was telling that they have business for maximum 6 months there in a year. And the STD booth is taken care by 6 families for 1 month each. The profit after paying the fee to the govt is into their pockets. It seems that, even to buy basic groceries, they need to go all the way to Leh and do their shopping!
Later we 5 of us went near the Lake and had some fun.
That night again we all sat for quite a long time at night in room and were discussing various things. Harpreet and Satwant bid goodbye to us before they left our rooms (they were starting very early in the morning the next day) and we all went to sleep.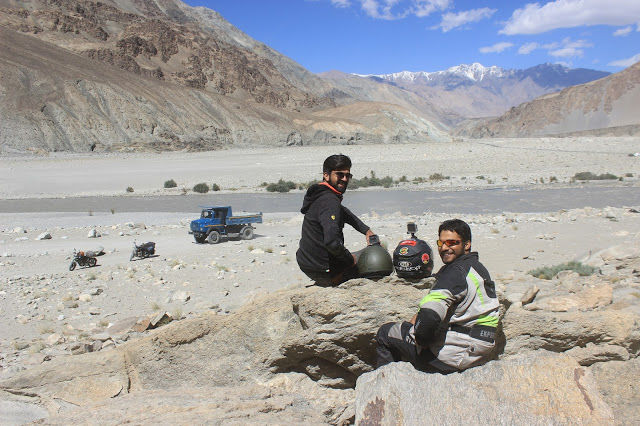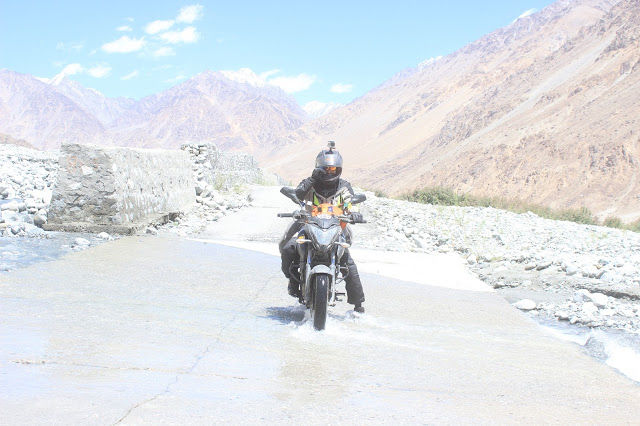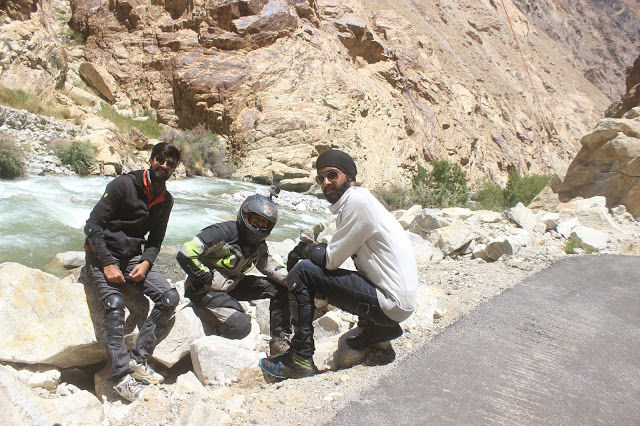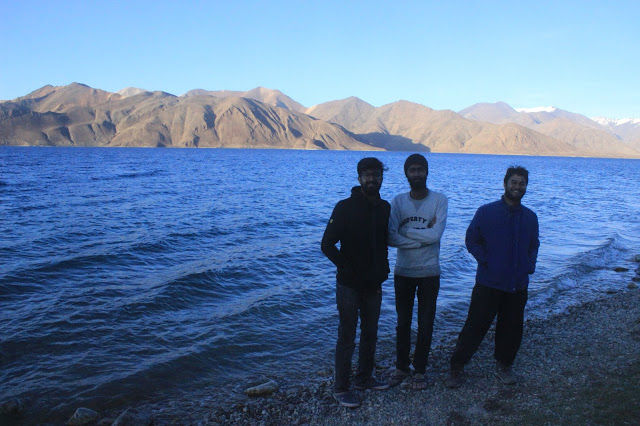 Day 15 - June 25th. (Pangong Tso - Pang) - 230km
Pangong Tso (Sparmik) - Chang La - Karu - Tanglang La - Pang
Morning we wake up, to see a 100 cars and around 30 bikes in our vicinity. Inflow of people had increased as the dusk faded!!
I checked my phone before leaving, just to confirm that it was 25th June, the day that I had to meet Anne again at Karu.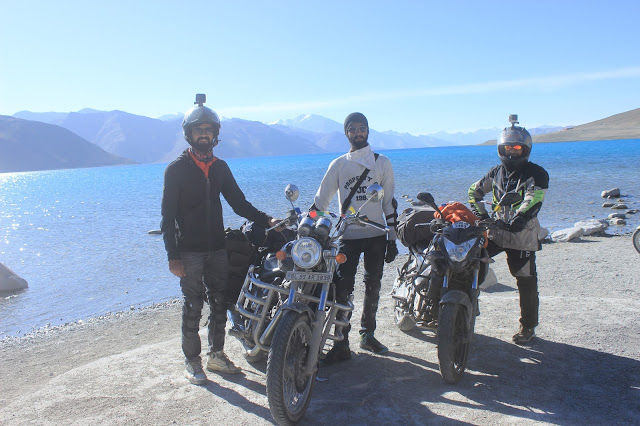 We headed towards Chang La pass (3rd Highest motorable road in the world) in the morning, after clicking few pictures in the Pangong Lake. It was very breezy and very cold all the way long. Going above 50 kmph meant wind gush in ears and thus every biker was slow.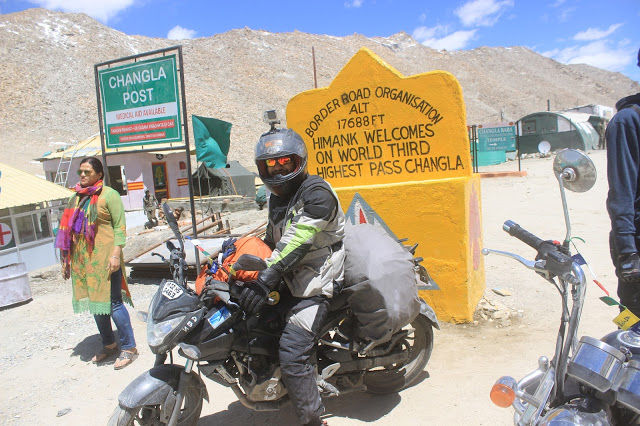 I liked the terrain towards Chang La. It was offroad with stones that were stuck in the ground. The bike skids on and stone and slides into other, or it gets stuck between two stones in an uphill and getting the bike out was a thrill. The difference observed in Khardung La was that Khardung La had lot of ice melted water flowing across and thus the experience there was different. Coming down Chang La, we saw 2 or 3 off-road trails which were just to by pass the long hill roads. They were more of a shortcut! Great trails and a greater experience it was!
We reached Karu by 1 pm and I saw Anne's bike at the hotel and went inside!! She had reached there 1.5 hrs earlier and she said she was too bored sitting all alone!
After having lunch, we started towards Pang. We again met the Goa gang and all of us were riding together in sometime.
We then climbed Tanglang La - 2nd highest motorable road in the world. This had very good roads so it hardly took us 20 minutes to reach the top.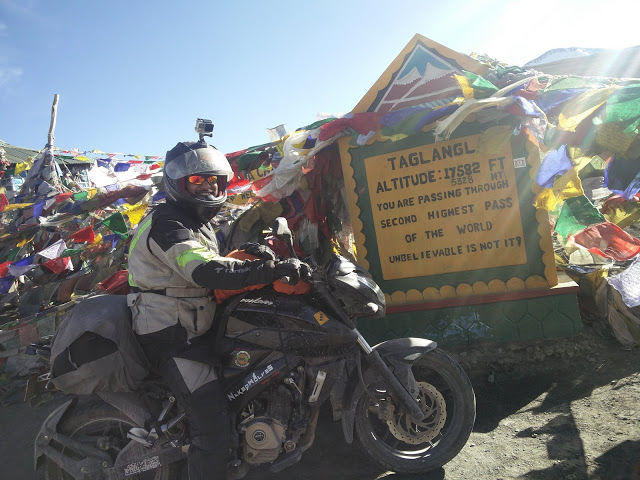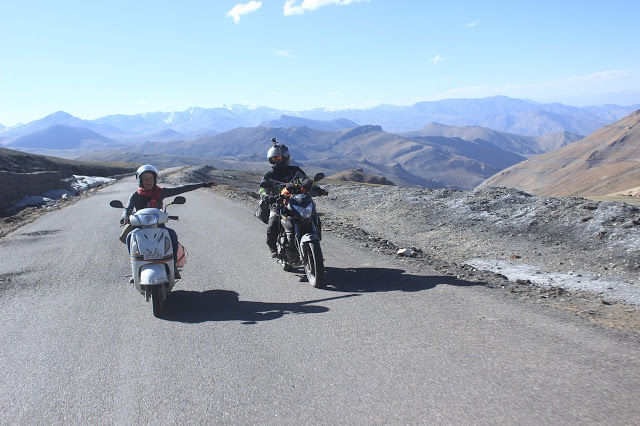 Up ahead the mountains, Anne's bike made a sound like something fell off; walked back a bit on the road, found out her bike's side stand spring lying on the road. This delayed our ride time by 30 min or so!!
The problem with Mumbai route is, although the route is good all throughout, still I'll have to cover a 1000 km on the last day i.e. from Mumbai to Bangalore and that's stressful and you can't reach home peacefully and during early hours!
Riding in Ladakh after 6 pm is a pretty much difficult due to the cold breeze. Accommodation in Pang was amazing. All beds stacked across in a room and 3 thick blankets per person! 2 guys from France were there and they were on a very tight schedule and had to reach Manali by the end of next day.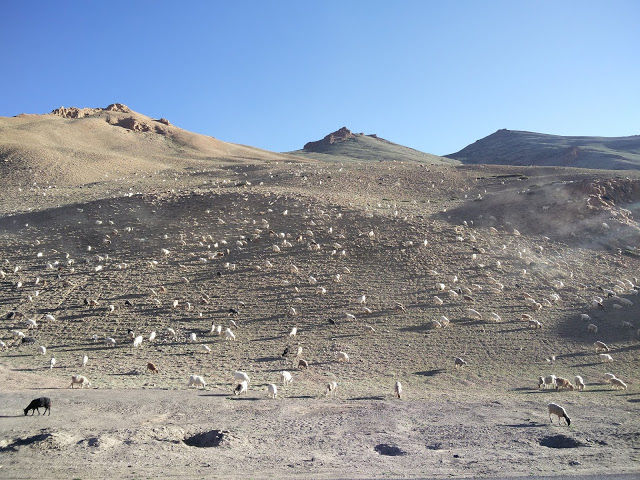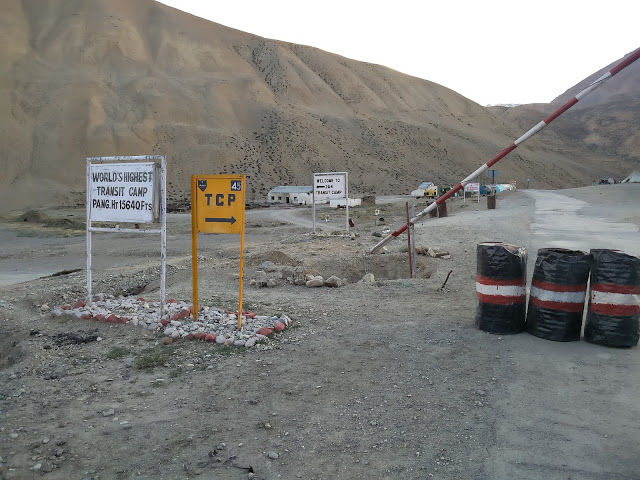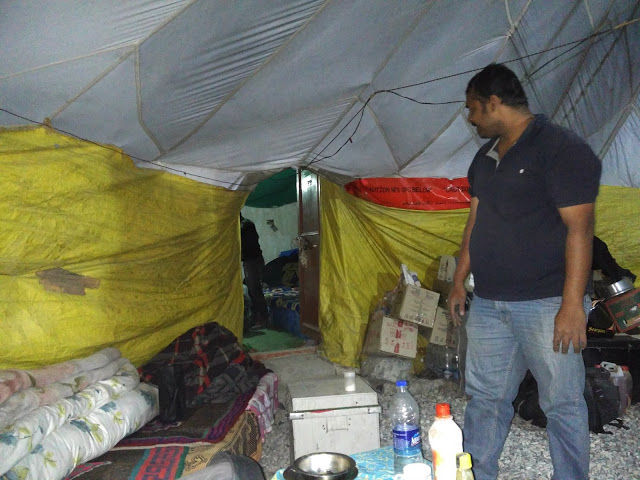 Day 16 - June 26th. (Pang - Keylong) - 180km
Not stressing about YEW (Yamuna Expressway) as I'm from Bangalore and maybe Bangalore's city roads aren't great, but the Airport Expressway and the NICE road are way too out of the standards for India!!YEW is just a mixture of both Bangalore's Airport Expressway and NICE road, but for the length of 180 km.
Pang - Sarchu - Jispa - Keylong
Morning 3.30 am I wakeup with suffocation and a light headache. I don't know what's happening.. I try going out of room, but the door is locked. Its cold too so you can't do anything out of your blanket. I drank good amount of water and slept again. Headache wasn't disturbing, but was unusual. I never experienced such a headache in my life. 4.30 am, the big huge Ashwendra wakes up and bangs the door continuously and the owners sleeping outside finally opens the lock and the door opens and I breathe in ease!! Pff.. Finally some Oxygen into the room after nearly 6 hrs! The owner had locked the room just to keep our things safe.
5.30 am, my headache was gone and the owner was struggling to light the kerosene stove. It took more than 30 min to just boil the water.
All 9 of us in the accommodation started together at 6.30 am. Many other bikers from other tents were starting at the same time too.
We then started on our course towards the last but 1 day's stay in the Himalayas. Crossed Sarchu and it marked end of Ladakh - Kashmir and entrance to the Himachal Pradesh.
The difference between Ladakh and Himachal can be seen so vividly. In Ladakh, we can't see any vegetation / cultivation on the hills, but in Himachal we do! Anne's bike had some problems again with starting (after every break) that day! And it mostly took all my energy to get it started again. Worst part was that it never even cranked until I kicked around a 50 times and then it slowly used to!! Near Sarchu, the accelerator cable had a problem I guess. Just if we switch on her bike, It sounded like as if it was running at 50 kmph! Somehow, a car mechanic could set the cable by his hands and it seemed proper. Apart from all this, Anne was suffering from a headache and she used to just lie down whenever we stopped.
Had lunch at Zingzing bar (Yes, that's the name of a place!) and met Ketan, Pranav and Pratik of Mumbai Wolfepack (on their Royal Enfield's). They were riding going towards Leh!
Initially we thought we'll stay at Jispa, but those 30 kms to Keylong would again be an overhead the next day. So me and Anne rode the 30 km and reached Keylong by 5.30 pm.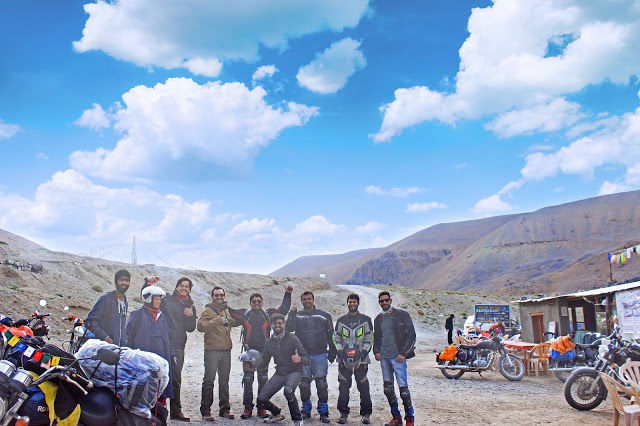 Day 17 - June 27th. (Keylong - Manali) - 180km
Keylong - Manali (Vasisht)
Drizzling in the morning, started riding towards Manali. A stretch with huge patches in between filled with light sand. Due to the drizzle, bike used to get stuck in it at times and it was fun!
People had told us that 20 km after Khoksar is really bad and such talks! Before I could remember and realize that I had heard people say so, we had covered 19 kms, just because I was loving the terrain. Then I started seeing huge pile of cars parked up ahead the mountains. I couldn't recollect anything then! The moment, I entered the final curve and got stuck in a traffic jam, I was 100% sure that it was Rohtang pass.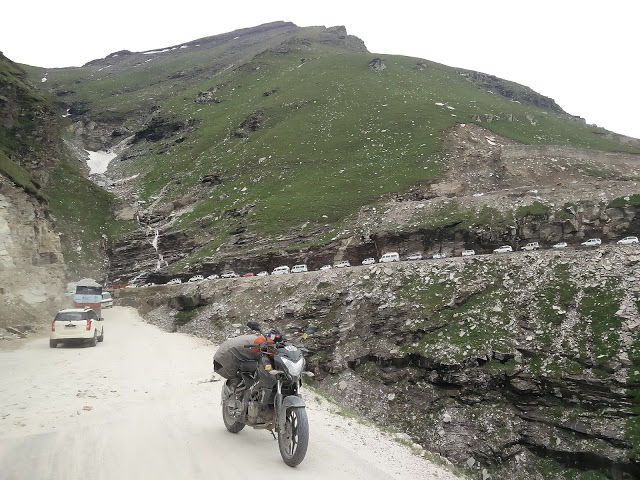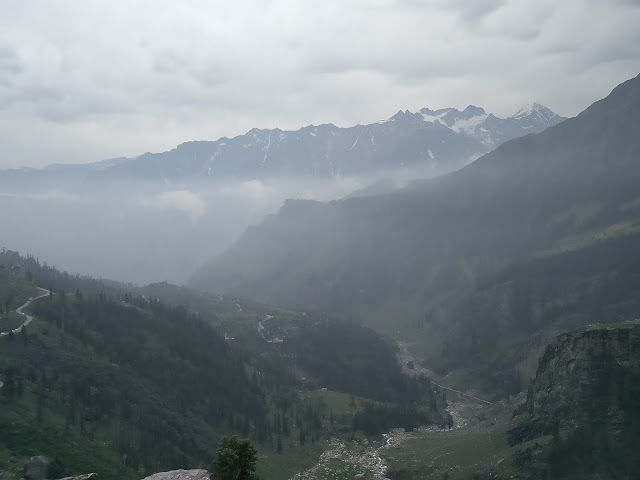 Those taxi drivers have great skills. The way they park cars - just 1 inch from the edge of the cliff! Maybe a gusty wind can even push those cars down!
It took nearly 15 mintues to pass by and start my descent from Rohtang.
This is the beauty of Biking brotherhood.
We reached the base - Palchan and had something to eat.
I was so excited that the trip had officially come to an end!
I got mobile network there. I could've called / whatsapp etc. But I knew that, it would not be the same environment and the same mind state in another 20 odd hours or so, so I chose not to use phone then!
We got a room in Vasisht for 300 bucks! It was a steal for the price. Awesome view through the Balcony!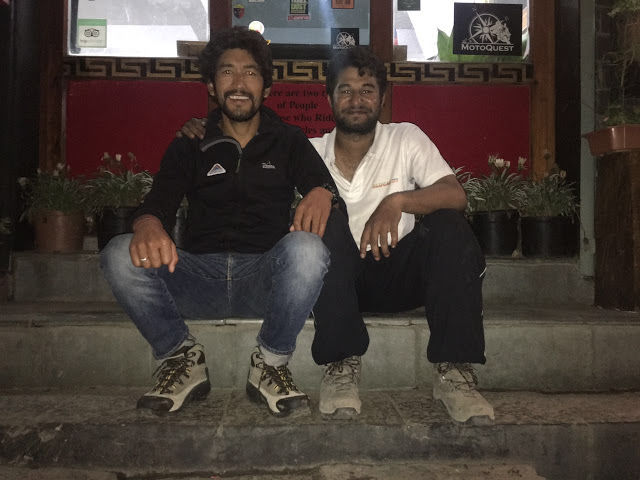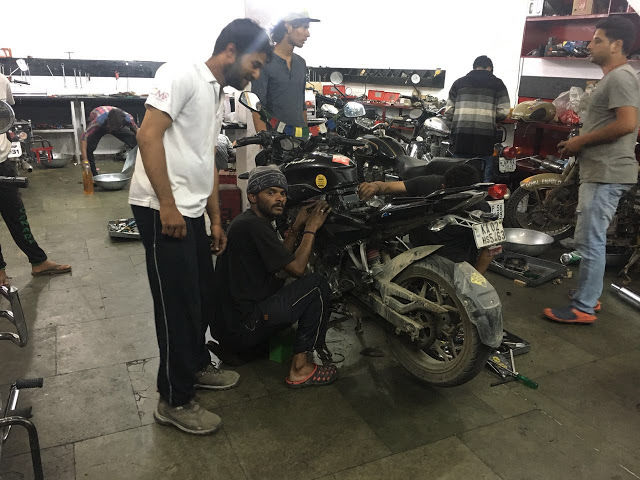 Day 18 - June 28th. (Manali - Chandigarh) - 300km
The mechanic-owner Anu had invited us for having tea with him in the morning and thus we ended up leaving at 11.30 am. My actual plan that day was ti reach Delhi by night but I could just make it to Chandigarh.
Also, it was drizzling in the morning and I was in no mood to leave due to the extremely gloomy weather, added up by fog which resulted in Zero visibility!
Afterall, home is where your WiFi connects.. and that feeling is inexplainable!! Hahaha!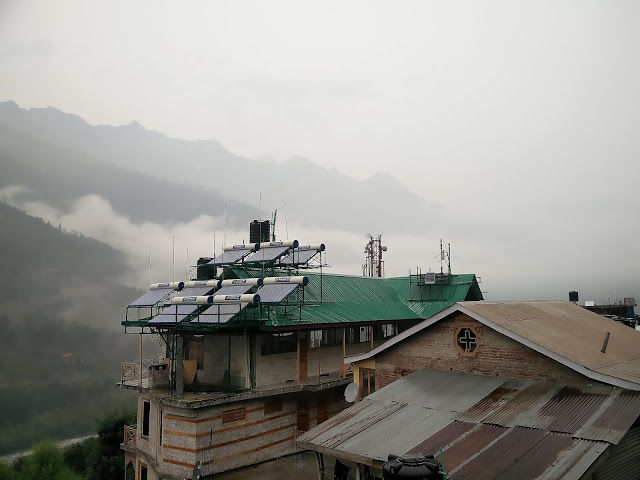 After that me and Anne bid a final goodbye and started along. She went ahead of me as I had to fill my tyres with air. Even after nearly 20 min of riding, I couldn't spot her! I doubted if there was any other route towards Chandigarh / Delhi!!!
The moment I spotted her after nearly half an hour (around 20 km ahead), she was parking her bike to the left and I just stopped to ask why she stopped and she says 'Yet another problem'. I just thought 'God Save me!'
The same problem had relapsed - Accelerator (throttle) cable problem!
It was a Tuesday, and whichever mechanic we asked on the way was telling 'Today is Tuesday, no spare parts shop will be open'. Anne nearly rode the bike in that 'uncontrollable state' on those small roads for around 25 km and all we had as an option was to go to Suzuki service in Kulu.
But I had to believe that life is Real and not an Imaginary and to live, is to be in the Real world.. and thus I had to move on!
She somehow made it till there and it was already 2 pm. I was thinking about my plan to reach Delhi (with my headlights not working) and laughing to myself!!
I told the mechanic the necessary details, gave him my number and told him to call me in case he needs to convey / consult anything! (he could speak good English though).
Then I started speeding across, with no mercy, until 5.30 pm I rode and stopped near Bilaspur to fill my stomach with something - Rajma Chawal.
By then I had contacted my friend - Satwant Singh and told him that I can't make it to Delhi and stay with Vishal, instead I'll be staying at his place in Chandigarh and he happily welcomed me.
Half the way until Chandigarh is all hill station and after nearly 250km I could get the National Highway. I somehow made it to Chandigarh by 8 pm and I'm really grateful to Satwant and Harpreet for their hospitality!
We talked until late night again, and slept late that night too, although I was sleepy like a bear.
Day 19 - June 29th. (Chandigarh - Sagar) - 900km
Chandigarh - Delhi - Agra - Gwalior - Sagar
Morning by 6.30 I was on road, on the way back to Bangalore. I was feeling bad as I didn't know when might be the next I would be visiting the Himalayas!
I didn't know which route to take as Siddharth Bala had told me that I would be doing good and fast through Mumbai.. and I had already ridden through the Mumbai route! Other options were through Agra-Gwalior-Nagpur-Hyderabad and one more through MP and Andhra. But Bala had strictly told me not to take the Gwalior-Nagpur route so I was in a dilemma!
I wanted to visit Yamuna Expressway and Hyderabad (as that is where I studied my 11th and 12th, and I have friends too there). Now the only option I had after discussion with my friends in Hyderabad and my Nakedwolves riders was through the route Siddharth Bala told me NOT TO TAKE!!!! All this discussion and decision happened when I was having breakfast at 9.30 am.
I reached Delhi around 11 am and without entering the city, took the route towards Noida and thus Yamuna Expressway. Around 1 pm I was in Agra.
I wanted to reach Narsinghpur that day but I knew I couldn't make it.
Until 7 pm everything was fine, as the Sun hadn't set! After 7 pm in those lonely, secluded area of Madhya Pradesh where you won't even find crows or dogs, I was riding alone, without my headlight working. I was all alone with just some cows sleeping here and there.
Until dusk, my speeds were on an average atleast 90 kmph, but then it deteriorated to 30 kmph. I kept the pass light On and rode for sometime. After half an hour or so, bike started jumping, like in jump start. I could hear some sound from the starter coil area. I knew there was a stress on battery so I switched on indicators and rode in just the indicator light. For many kms, there were cows sleeping all along the road side near the divider and I have been lucky enough to not have hit them.
A police Bolero car was passing by me all the way. Somewhere far ahead, I told him I'll follow him as I need some light to see the road. He told he'll go only for certain further kms and not the whole way. I obliged and followed him. Then after 30 kms when he left, I tried waving few cars and no one stopped and I continued (I could not find any truck in those roads - hardly 1 or 2 per hour!) !
Saw in maps and learnt that Sagar is a town and I knew I could find accommodation there. I went there and with the help of a person whom I met in the railway crossing, I could locate a accomodation for 300 bucks and some decent food for that night.
I recollected Bala's words - 'Do not take that route as you are riding solo' and slept that night!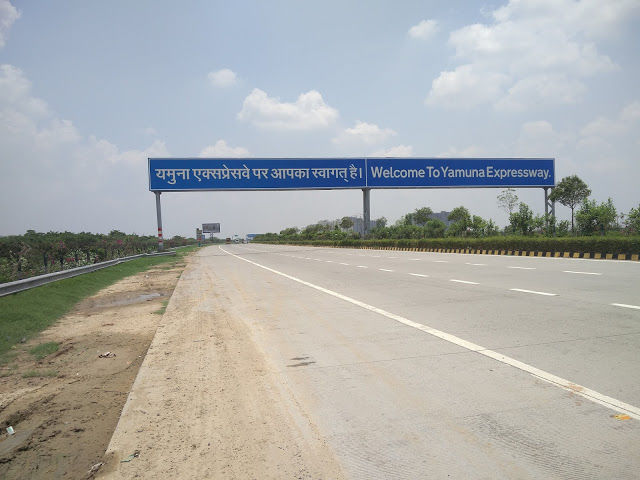 Day 20 - June 30th. (Sagar - Hyderabad) - 900km
Sagar - Nagpur - Hyderabad
I checked out of the lodge at 5.30 am, only to not repeat the same thing that had happened the previous day!
Roads were too good, and no traffic too. I reached Nagpur by 1 pm had lunch and I was texting Ramesh Venkat of Wolfepack Hyderabad asking about the status of the road! He told I can reach in 6-7 hrs on an average speed of 90 kmph. I had my confidence increased then.
Nagpur - Hyderabad was on NH-7 and my average speed increased even more. I remember riding at more than 130 kmph for more than 150 kms! All the way from Nagpur to Hyderabad I took breaks only when I had to fill fuel.
I reached hyderabad at 6 pm easily and started calling my friends!
My friend - Aditya of Naked wolves Hyderabad had told me he'll lend me a couch at his place for that night and he came and escorted me to his house! As soon as I reached his house, I got a call from my old friend Nabil telling he'll be reaching near Aditya's place in 15 mins.
We then went out and had lot of fun. Aditya took me around Hyderabad and made my visit and I could relive those Hyderabad memories again, which had lasted in 2011!!
Such a lively city Hyderabad is I must say!! It was Ramadan, and it was all the more colorful then!
I again thank Aditya for that wonderful hospitality. Atleast me and Satwant had stayed together for 2-3 days, but me and Aditya never knew each other, nor had talked or texted each other.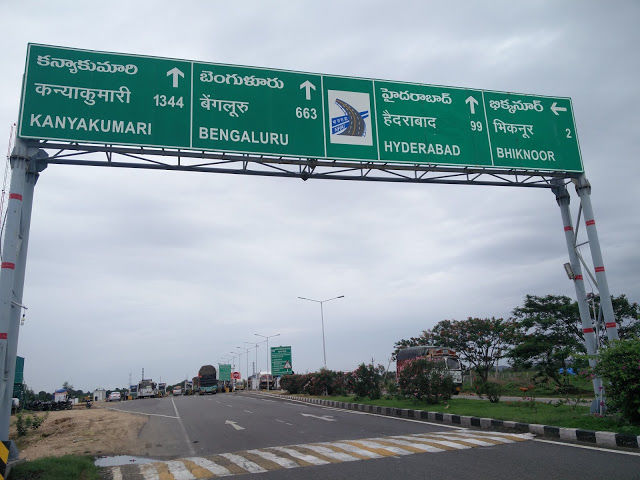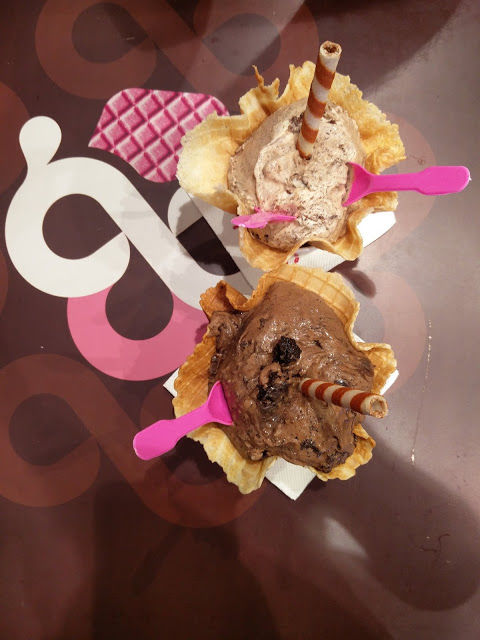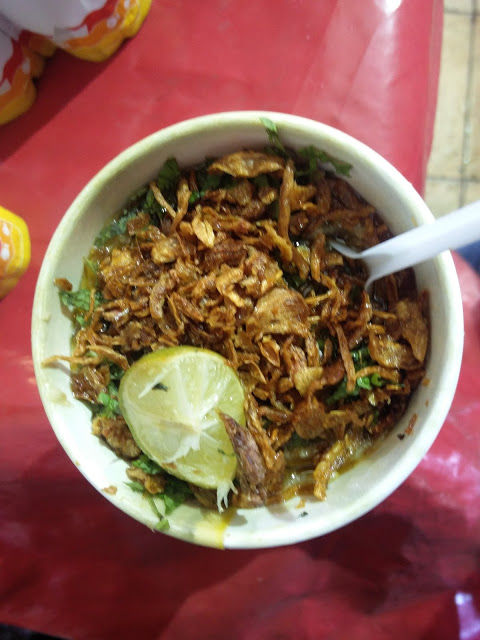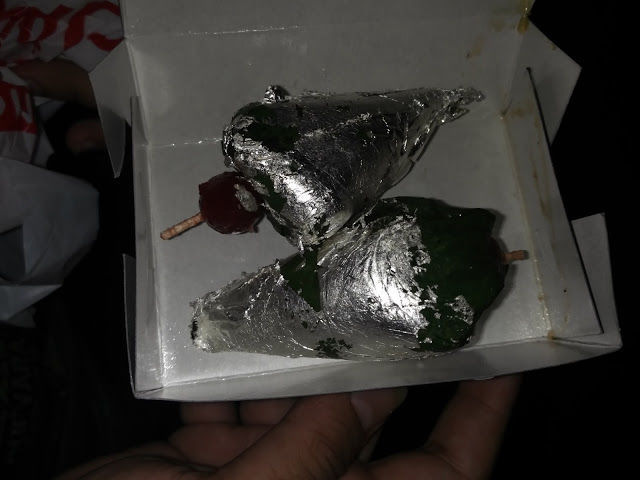 Day 21 - July 1st. (Hyderabad - Bangalore) - 600km
Morning was exciting, although my trip was exciting, I was getting happier that I would be returning back home after a long 3 weeks!
Started around 9 am after going around for breakfast with Aditya. He got me Panneer Dosa at Koti. I couldn't take picture but they were amazing. I had idli too and then he took me to Neelufer (famous resutarant in Hyderabad) and got me Irani Chai.sdsds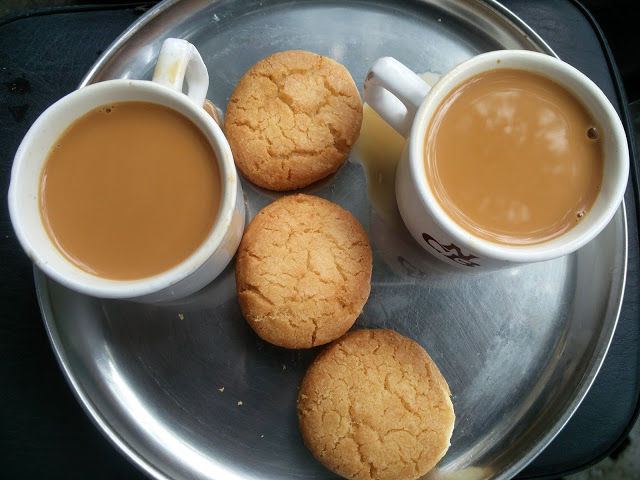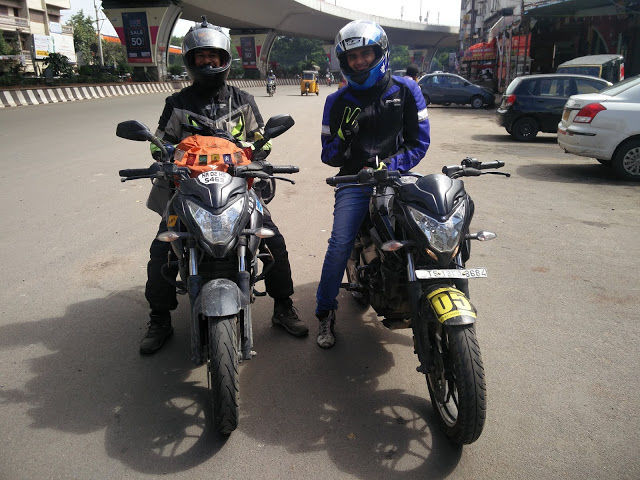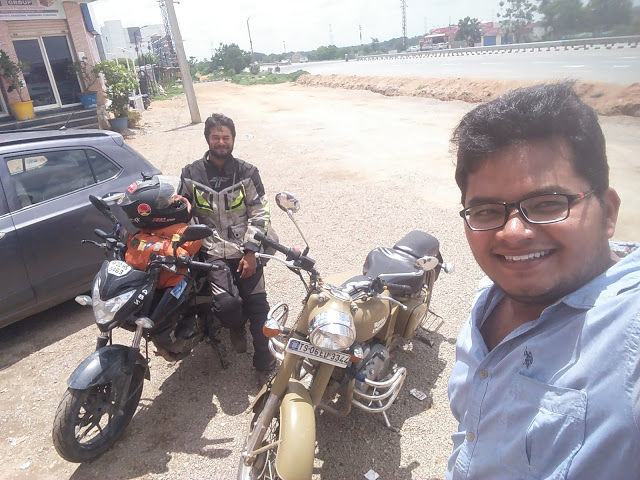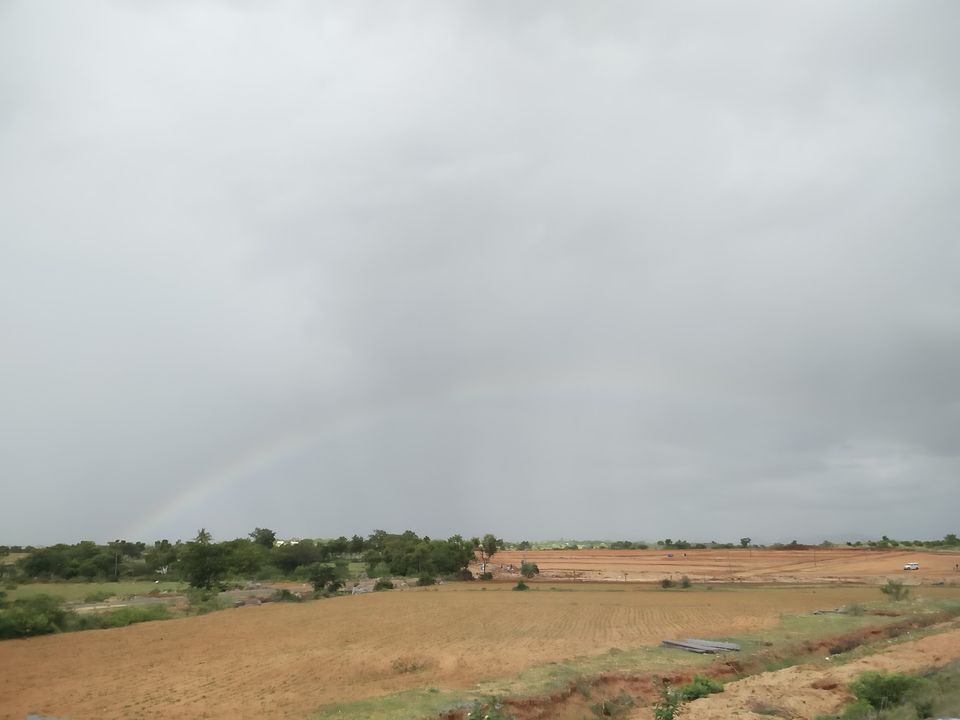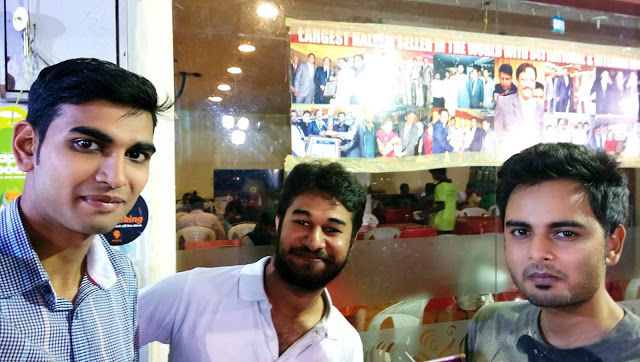 I entered Bangalore and immediately after the Bangalore Airpoirt trumpet, there started heavy rains with no mercy! Bike started swaying, zero visibility. All this was just until the next 15 km!!!
Nearing Hebbal, everything was dry nad sun was still up there. I said to myself 'Welcome to Bangalore!'At Mekhri circle signal and I was so happy as no one was staring at me, because I was in my hometown, Karnataka!! and didn't have an other state number plate anymore!
I called Bali sir and reached his Garage by 6.30 pm, talked to him a bit, had some coffee and left for home. I had just escaped heavy rains and I felt happy for it.
My Mom jumped in joy seeing me and he started calling and telling my relatives!
I informed my friends and family members and took a shower for a really long time, to wave off the 20-day old dust and dirt!
I relaxed in peace that night, and the coming night.. as Monday I had to be back in office!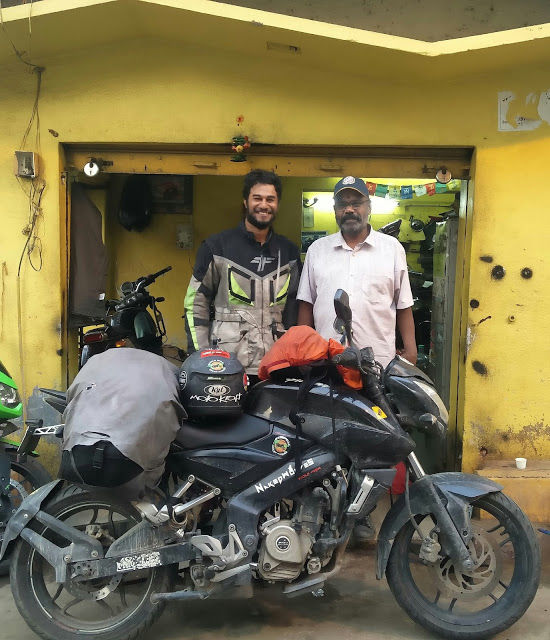 The Aftermath:
I go to office on 4th July.. still sleepy and just sleepy for 2 days. All that I was remembering and getting in my mind was my ride, the places and the people I met! I just didn't want to get out of that feeling / that state of mind.
It took me a while to get accustomed and get back on track. And now, being back to normal life, I still cherish those memories and will cherish the same for the times to come and will share my experiences across and over.
With this, I close my Ladakh chapter.
---------------------------------------------------------------------------------------------------------------------------------If you have read until here, I respect you and Thank you for your patience, for having read a detailed blog that was more about an experience, than a detailed description of the places.'Experiences cannot be Explained' - and I have just tried my best to explain it in the best possible coloquial language!
This blog was originally published on 'Me, my bike, and my rides' .