It was a long impending wait, this long drive. At last the dream came true. Avenger, you beauty, thank you very much for staying steady and steadfast all along. Oh! How I loved all those longing glances trying to look who's behind the helmet that is cruising past them.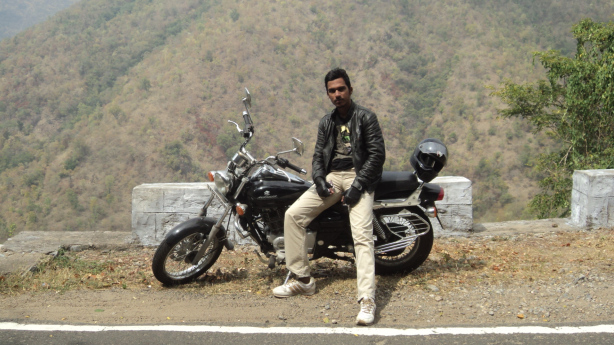 The preparation
First things first. The preparation. This 400 km drive itself is a preparation for something big which I'm trying to attempt later but for this first drive as usual there were lot of hiccups. I luckily got a 3 day holiday and my hometown is luckily a drivable distance for a first timer and even more luckily there is a hill station nearby. Everything got together very well. But the placement of holidays was what a bother, at least for the outer world. I'm supposed to be tired after a two week trip to Delhi-Himalayas. I'm dead tired and add to it as usual office pressure. The first week of this New Year was the worst since I joined this job. But let's leave aside the gloomy things and look at the brighter side of life.I don't know whether I'd have attempted this if I had been happy with my work. My frustration is what is pushing me to do 'something different.' So here I am.
Chennai (Chengalpatu) to Madurai
After a lot of cajoling I finally set off to Madurai. The day started with me riding for the first time to office. A 50km stretch from my home. At morning 6.30 with pleasant weather (chilly by Chennai standards) I started off. The ride was average, nothing extraordinary. I wasn't very interested as the destination is a dungeon. I went to office by around 7.45. An hours drive. Was constantly checking the petrol. I didn't want to fill it before reaching office as I had a BP bunk near my office. After 4 hours of bench warming I started off to Madurai telling a lot of lies. I'll just tell the major one. I'm supposed to get the best trekker award by YHAI at 2'o clock. So I started from office at 1'o clock. With a single major lie a lot of lies evolves. So when my TL asked what's the criterion of this award I again instantly lied that it is given to the one who reaches the base camp first on all days. So that's how I got this award. I'm quite like Thillu Mullu Rajnikanth in office. They never let me talk truth.
I escaped from my office at 1PM. To my shock I didn't have Speed Petrol in the BP bunk near my office. I've fed my baby only with Speed till then. I had to compromise as I didn't have a drop of petrol left. After noting down the kilometers and liters of petrol I started from the bunk. I cruised, literally, with my cruiser. I'd have driven at 90Km/hr on an average with a maximum of 115km/hr. Boy o boy speed does thrill and my beauty made me realize that she was a beast too. My first stop was to have a cone ice from a young passerby. He charged me 20 bucks. Too much for that silly piece of shit. Nevertheless I didn't mind. A road trip is not complete without a lick of an ice cream. I had driven around 150 Km by then. I didn't feel even a bit tired.
As and when I started from there I decided that my next stop will be Trichy. It was about 120 Km from there. I drove fast and steady. The roads being a four way lane was pleasing to drive but I would not say it was an all in all smooth affair. I had my heart in my mouth for a couple of situations. The scariest one was when a share auto in spite of knowing me coming at around a 100 km/hr turned suddenly. It was purely intentional. That son of a bitch!
Apart from that there were a lot of stray dogs and cows trying to creep to the middle. I carefully overcame all those hindrance thanks to my friend Pandi who already had the experience of hitting a cow with a 100km/hr Avenger. His bad was my benefit otherwise surely I would have gone through that situation.
I stopped about 10km after Trichy for a break. It was a compulsory break. I didn't feel like taking one but I did. The sensible part in me took advantage of my heart there. Then I started off for what was supposed to be the last lap. Trichy to Madurai. 110km flat.
The weather after reaching Trichy was awesome, twilight, cold breeze, mountain back drop. The setting was just perfect. I felt like driving in Lonavala again but with a better bike. Just when everything seemed to be working in favor of me, my bike stopped all of a sudden. I parked my vehicle in one corner and looked at with starry eyes. I don't have any idea of what is what when it comes to engine. I tried to switch off and on a couple of times but the starter didn't work. Being an IT guy switching on and off was the best solution I could think of. But my machine was as averse to computer as me.
Without knowing what to do I called a trespasser and asked whether there is any mechanic shop nearby. Being a nice fellow that guy suggested he'd go tell the mechanic that my bike is down. It's so good to see people with heart. When you get down to south people give you a lot of respect. After some time I tried honking and then starting. A trick which generally works with Scooty. But sadly mine is not a Scooty. I then tried starting the bike after applying the clutch. The bike started. I don't want to exaggerate by saying that I was jumping with joy. I was happy but, yes. I wasn't terrified at first place when the bike stopped midway. I knew I could manage. I'm someone who is confident on all aspects of life other than work.
The bike started to play tricks with me from then. After a few minutes it again stopped. And another gentleman, this time a lorry driver came to my rescue. It started of immediately but I gathered knowledge of some few quick fix tips. He asked me whether petrol is flowing in the tube. I stared at him like I do during Reverse KT. He kept his mouth in the petrol tank and blew. He said that if petrol is not flowing through the tube this remedy will help. He wished me all the best for my journey to Madurai. It was still 60 Km more. Then as soon as I saw petrol bunk, this time a HP, again a first time HP petrol for my bike. I filled it till brim and drove.
Initially I thought that engine was getting switched off during high speeds so drove only till 80 Km/hr after filling the petrol. This time engine was smooth. I gradually picked up speed. Finally came to know that the petrol had totally dried off. My fuel indicator was disturbed due to the heat I guess for it didn't show that the tank was empty. Anyways I'm not complaining.
As the lights started to dim I switched on my head lights. This attracted a lot of insects. One getting into my gloves, one in my left ear and one in my right eye. I had to constantly wipe the glass of my helmet which made it dirty and severely spoilt the visibility. For the last fifty Kilometer I had to drive with utmost concentration. After a long drive through a straight road I took right to get into Madurai city. Liked the way a restaurant had used the nick name 'Temple City' to open its highway branch.
Madurai to Kodaikanal to Madurai
It was the second day. Everything was pre planned. It's a pleasurable feel when things go according to your plan. It was one such day. Got up at 5.30 sharp, my regular getting up time nowadays. But for a change it was not irritating to get up at that time. Travelers thirst I guess. After a regular round of yoga and exercise for 15 minutes I freshened up and started in half an hour. At about 6.30 I and my cousin started in my bike. As we went through market the area was crowded. Thanks to the upcoming Pongal. It was irritating because I was wearing a leather jacket and it was sweating like hell. Once we crossed that point it was smooth sailing. We cruised in about 90 km/hr. Great road till a left we had to take to go to Bathalakundu.
Once I took the left and crossed the railway crossing we had breakfast in a local restaurant. Nothing to boast about. And filled the petrol to the brim as usual. Once again we started to cruise. But as there was construction work going on we had quite a few road blocks. Add to the horror we crossed the point where we had to take a right to climb the hills. There was no signboard there whatsoever. As we saw the signboard that Theni is only 30 Km away we asked an elderly person about the route to Kodaikanal. He annoyed us through his reply, "Athu intha pakam illiyae thambi antha pakkam oru 17 Km ponum." (It's not this way; you should go the other way, about 17 km.)
I failed to mention that the trip from railway gate to Bathalakundu was similar to the road we took during Nagala trek. Just while I was recollecting those moments what happened there happened here too. We missed the route. The annoyance with which Balaji took a U-turn and applied his gear, with the same annoyance even I turned my bike. How irritating a feel that is!
I cruised even faster then and reached the base point of the mountain. A couple of police officials stopped us and asked for papers. I showed my license and they let me off noting my bike number and name. The initial road to the start of the climb was amazing, as if mountains were coming closer to me. Then it was a regular hill station ride with my left hand writhing in pain by applying clutch. We stopped at a couple of points for photography and stopped quite a few monkeys. Nothing much interesting. Bike trip from Pune to Lonavala was better. In fact it was amazing, the scenery. This time the bike was amazing and the rest wasn't.
Once we reached the top by paying a fee of rupees 10 for bike we strolled around The Lake, had pizza in Dominos and started from there in an hour. I was there just six months before and nothing had changed since then so I wasn't interested to look around things. I wasn't interested about the place at first place it was only about the ride. While returning it was fun to switch off the engine and proceed. We covered almost half the distance with this technique. While I was thinking that I was clever almost everyone were following the same technique. After all humans are humans.
Once we got to the bottom of the hill where the police checked my papers. I hit the gas. From there we literally flew to Madurai. It'd have been an average 100 km/hr ride. My cousin lost his earphones, cap etc thanks to my riding. Though the trip wasn't as much exciting as I thought eventually it gave me a satisfying feel.
Madurai to Chennai
After a terrible night's sleep, thanks to the mozzies playing spoilsport I got up had nice juicy pongal. For the first time sweet pongal was really sweet. Just after few gulps my eyelids started to get heavy. Even alcohol comes second to pongal when it comes to sleep inducing ingredients. I packed a couple of apples for my journey and few snacks to be brought home. My relatives can't suppress their love so always add weight to our luggage with the available in Madurai only stuff. Duh!
The return journey as expected wasn't as exciting as the first because it's the same path I had to take. Things are interesting only when you don't know and explore. On a well trodden path I came at a constant 100 km/hr taking a couple of intentional brakes to have apple and water. The first rest place was an amazing one. Shadow beneath the tree with corns field in the background. For a moment it felt like Australia. There were no passerby's. Only vehicles zipping past. I took a nice 10 minute break there and updated my family and relatives about my whereabouts.
I filled petrol twice. For the first time rode my vehicle in reserve as petrol got over. Ever since I turned to reserve my eyes were eagerly searching for petrol bunk. Two naïve kids were touching my bike and exclaiming how smooth it was. I felt as if I'm SRK riding through the village in Swades. Lol.
Once the apples got over and there was still 160 km left I started off my bike and thought I'd stop only when I go home. But after 90 Km I had to stop as my neck was paining rather badly because of the helmet I was wearing. Since heavy winds gushed past me I had to crane my neck forward to keep helmet intact which made my neck sear with pain. Good that I had snacks. I took a kuchi mitai (stick chocolate, sorry I know only the literal translation) and ate it. After 20 km I crossed by my office and the last 50 km was the most boring as it's the daily route that I take and switching from highway to city mode was tough. I had to apply brake suddenly and came very close to a couple of vehicles.
I was given a hero's welcome once a reached home, a regular ritual by my dad, my mom was teasing him that he was blabbering all the time about me and once I returned he became super enthusiastic. Dads are dads.
On the whole it was one hell of a journey. One thing in my list that I could strike off first up. I and my bike stayed super strong all the while. The purpose of buying a bike got resolved. And as I'm typing this I still feel the reverberation in my ass.
Once in the city I had to bring down my speed. The most critical and tough thing to do. I inquired a share auto driver as to how to go to my destination. First him, then a youngster, then a kid helped me in finding the destination address. Absolutely no hassles. I reached my destination with élan. Loved the innocence of these fellows and the way they called me 'annae' instead of the regular 'na' heard in Chennai.
There were a couple of bright moments during the journey which made me smile. The first one was when 3 or 4 vehicles with the name CAPTAIN written in nameplate came in the opposite direction. The second was when I was in Anna Nagar junction in Madurai and asked a fellow commuter in Signal as to how to reach Mel Annupanadi. His reply was, "athu romba thoorumachungalae, oru nalanchi kilometer ponum.' (It's far off sir, might be around 4 to 5 kilometres) My reply to him through my mind voice was, "Dei naan 400 km thandi vanthurukaen da..."(Dude I've just driven 400 Km) in "naan 4 varusama suthiturukaen da" (I've been following her for 4 years, a Tamil comedy) tone from Polladhavan.
Frequent Searches Leading To This Page:-
tamilnadu temple tour packages from chennai, visit chennai, best places for weekend trips, things to in chennai, rain tree chennai