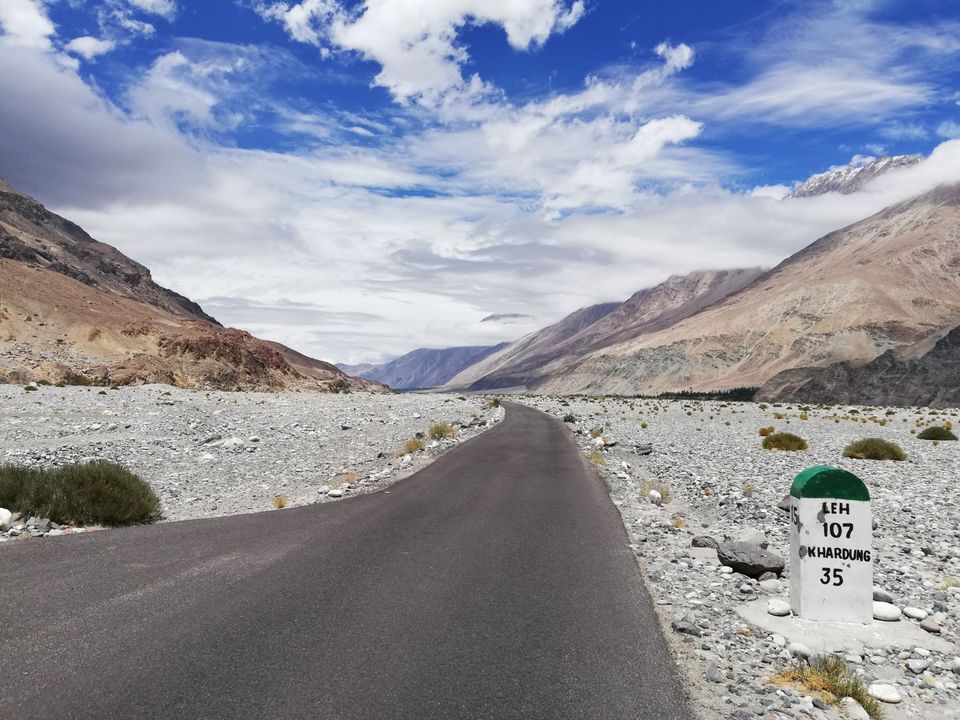 Price: - INR 18,500 per head exclusive of flights: - 8N/9D
Blog: http://after1990s.blogspot.com/2018/07/LehLadakh.html

Places visited:- Srinagar, Pahalgam, Kargil, Leh, Nubra, Pangong
Group- Below pic (Right to left in order)
Kartik Sharma (Came from Delhi), Sushant Sharma (Amritsar), Lalit Kultham (Phagwara), Rahat Sareen (Myself, Bangalore)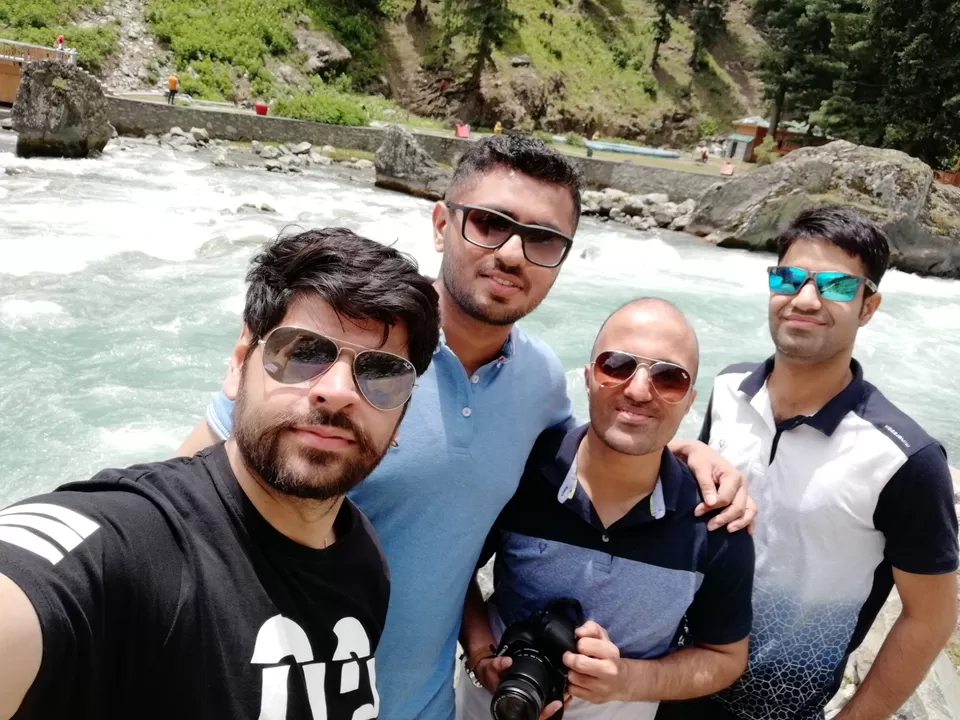 Few pointers to keep in mind before I start:
1. Book your flights to and fro Leh well in advance. It gets quite costly, can be more than INR 10,000 from Leh to Delhi
2. Take your raincoats with you, weather can be very harsh.
3. Keep warmers; both upper and lower. Carry gloves that can protect you from cold as well as rain (we didn't have ????)
4. Ask for bikes with carriage, petrol pumps are quite far away, carry extra petrol.
5. Do check weather before embarking on to Nubra valley and/ or Pangong
6. Keep yourself hydrated throughout the trip. Oxygen levels keep changing and you will realize only when you get totally exhausted. So keep drinking water.
7. Don't sleep, whether on bike or in car, you might miss some beautiful shaded mountains or your childhood scenery. ????
Day 1: 23rd June, 2018, Landed in Srinagar @ 2:30 PM
Weather: Clear Sunny
Mode of Transport: - Flight, Taxi
I came from Bangalore, had the flight with a stopover at Amritsar. Other 3 joined me on the same flight and we all landed together in Srinagar at 14:30 hours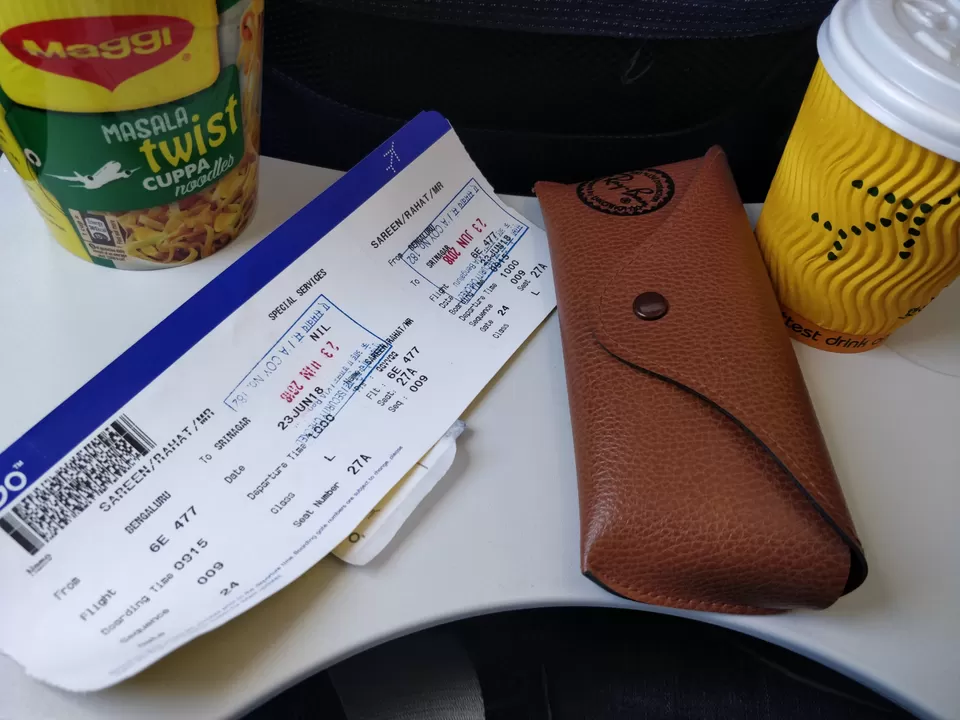 We had no clue what next 8 days were going to be for us. The weather was unpredictable; we tried pre-booking bikes so that we can go from Srinagar to leh on bikes, but in vain. Bikes with other numbers rented from Srinagar are not allowed into Leh and vice-versa, this is what we were told.
However there is a way out of this:- If you have rented bikes from Srinagar or any other place, you have to bypass the check posts before 6 AM in Leh, otherwise you will have to pay little money to the agents standing there.
We decided to go by taxi from Srinagar to Leh and rent out bikes from Leh itself. We didn't want our trip to get spoiled for any reason.
Coming back to Srinagar airport @ 14:30 hours. There is a kiosk for hotel and taxi booking at the airport. We negotiated with him for hotel stay in Srinagar and for taxi fare (INR 14,500) from Srinagar to Leh with 1 day stay @ Kargil.(will elaborate about this trip later) From airport then we went to Dal lake area. You can either get a personal taxi for INR 730 or shared taxi with INR 150 per head. We bargained here and paid INR 450 for 4 people. We reached Dal lake. There are hotels on one side and house boats on the other. Many options available. Do Bargain!! You can get rooms at reasonable prices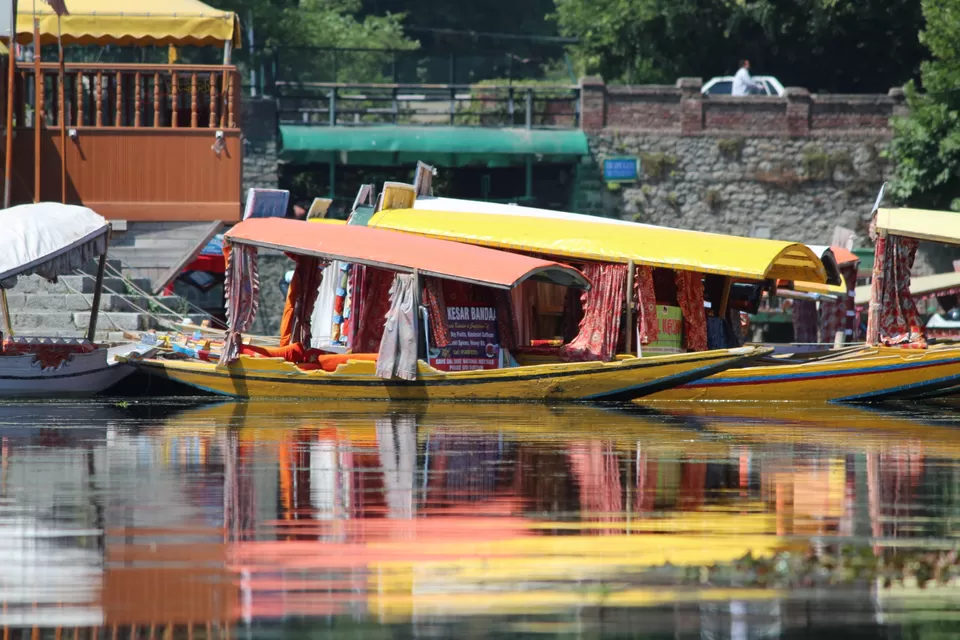 One of the shikara owner came to us and offered to show us houseboats for stay. After negotiating at 2-3 houseboats, we finalized a 2 bedroom with attached washroom house boat for INR 1600 per day. House Boat Meeraj (It was not market facing). The ones facing market might charge you more.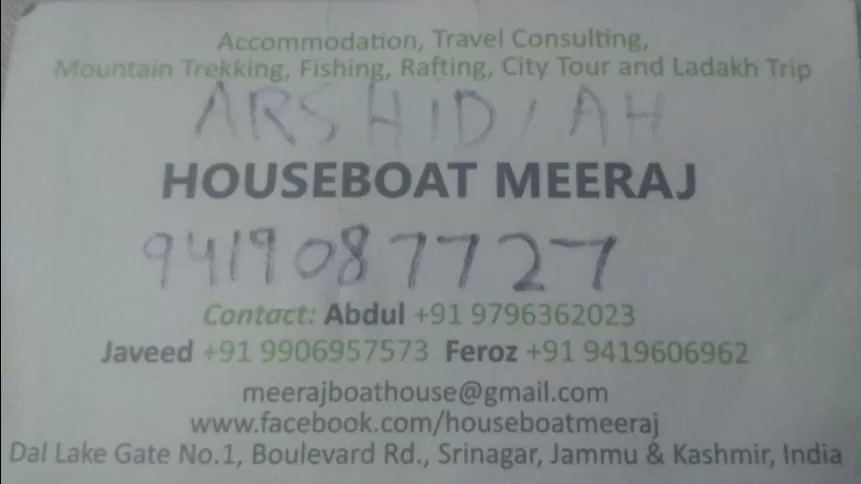 After freshening up, we then went out to eat something. We had heard a lot about Mughal Darbar, so we went there.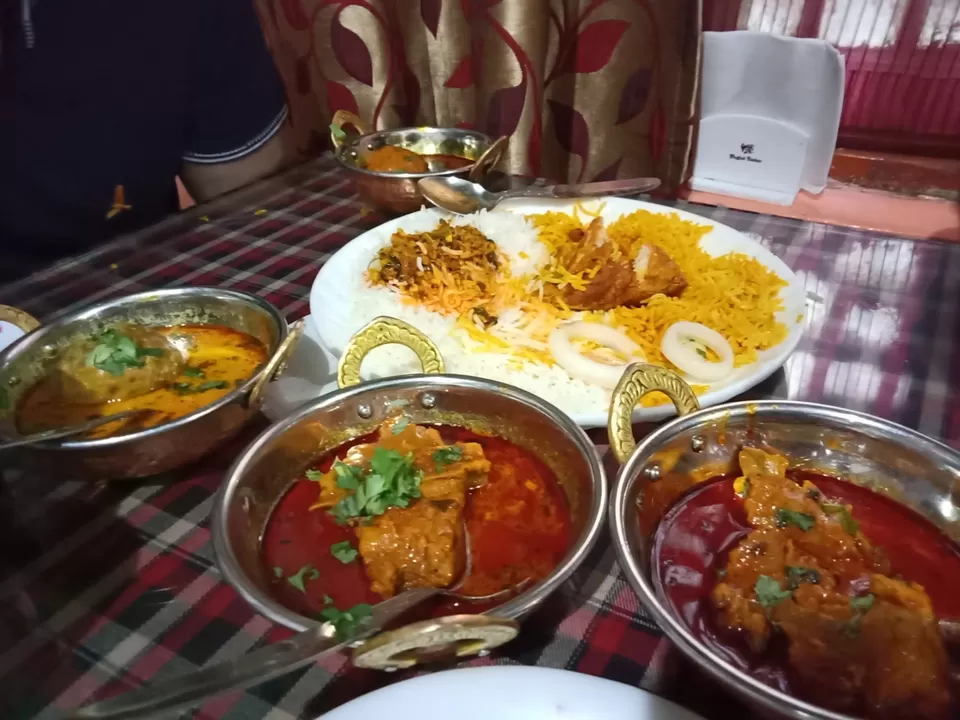 We ordered Kashmiri Waz-Wan (traditional Kashmiri dish; not everyone will like the taste, so order one portion first) and Kawa chai (without milk). We also tried Kashmiri veg pulao. We liked it much more than anything else we ordered. ???? After having food, later that evening we went out to search for rental bikes. We were planning to go to Pahalgam the next day. Here you have three options now to visit Pahalgam:- 1. Rent a bike (which we did) @ INR 1200-1500 depending on the season and availability of bikes. We rented royal enfield classic 350 from KashmirMOJO, Opp. DIG Office, Govt. Building Municipality Road, Srinagar- 190010 (Kashmir)- The owner is Imran Wali. Very friendly person and he himself is a biker, he has travelled to Leh Ladakh several times. And if you want to add or delete anything from your itinerary, he is the right man. Contact no. 9070200200, Email: kashmirmojo@gmail.com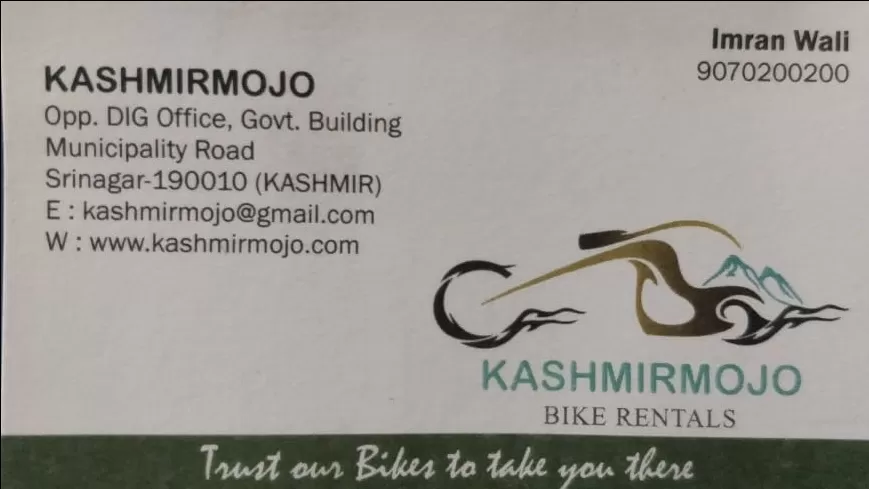 2. Hire a taxi: Approximately INR 5000 for up down 3. You can go by bus, the prices of which are very low.
But how much will this be convenient and time saving is left to you to decide. So we had bikes with us and next morning we would head out to Pahalgam. Now, since we were staying in houseboat, where should we park the bikes? ???? There are many parking places opposite the ghaats (lake side). There is one parking opposite Ghaat no. 3. They will charge INR 100 per bike per day.???? The day ended with some roadside food on Dal Lake Street, lots of talks, and plans for coming days.
Weather: Clear Sunny
Mode of Transport: - Royal Enfield Classic 350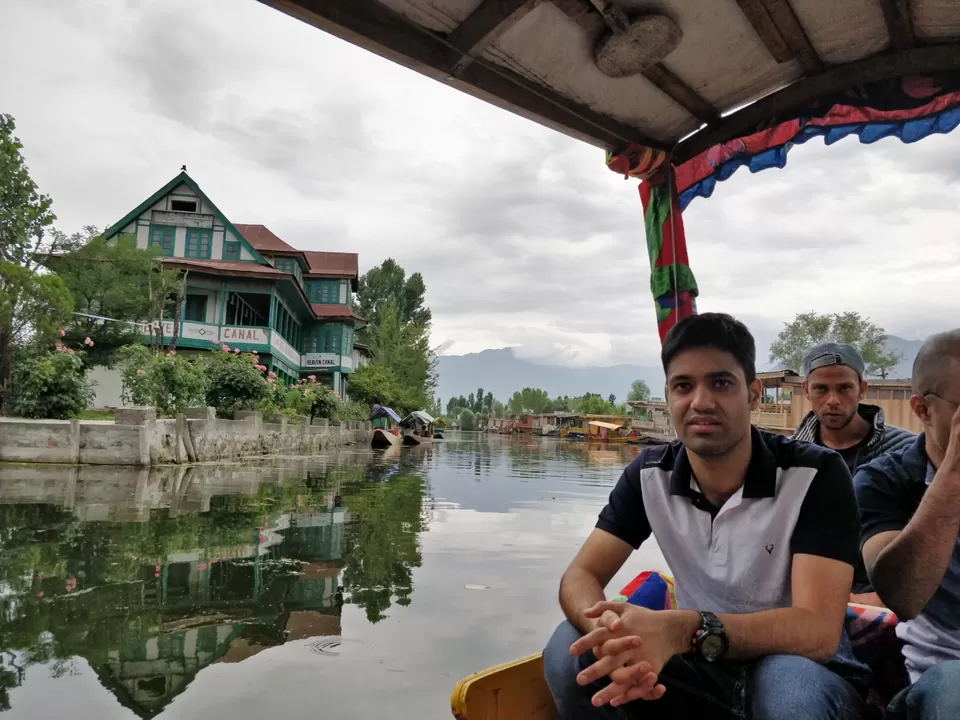 We got ready and had a breakfast from the roadside dhaba. Distance to Pahalgam from Srinagar is around- 95 Km. It will take around 2.5-3 hours to reach Pahalgam.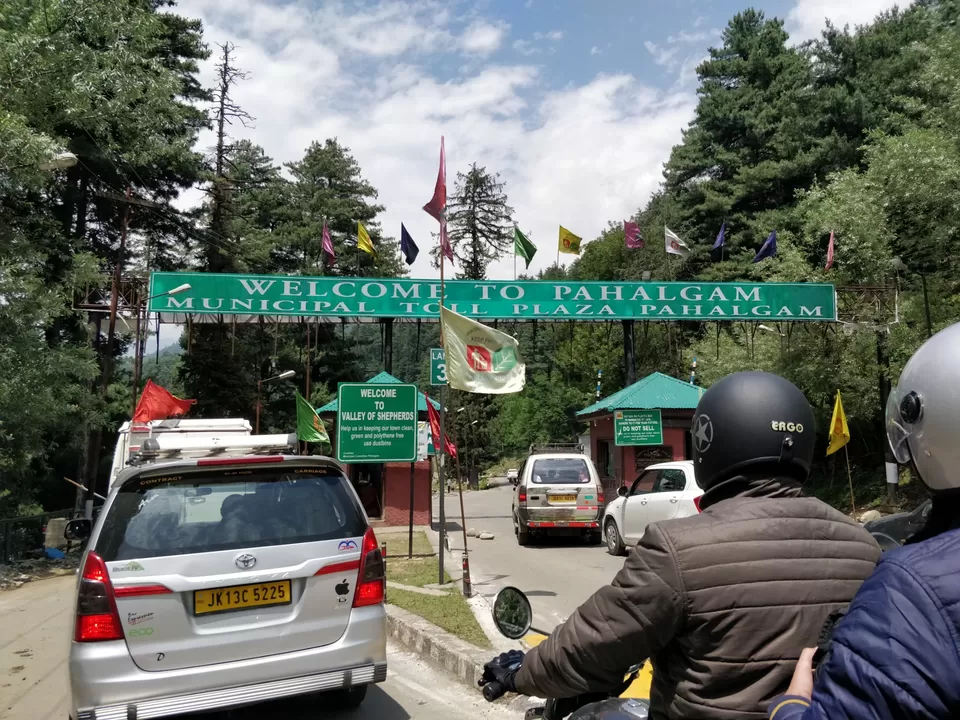 From Pahalgam the distance to Aru Valley is about 13 Km while distance to Betaab Valley is 7 Km. We reached Pahalgam by 2 PM. We went towards Aru Valley. Great ride along with the Lidder river flow and excellent scenery !! ????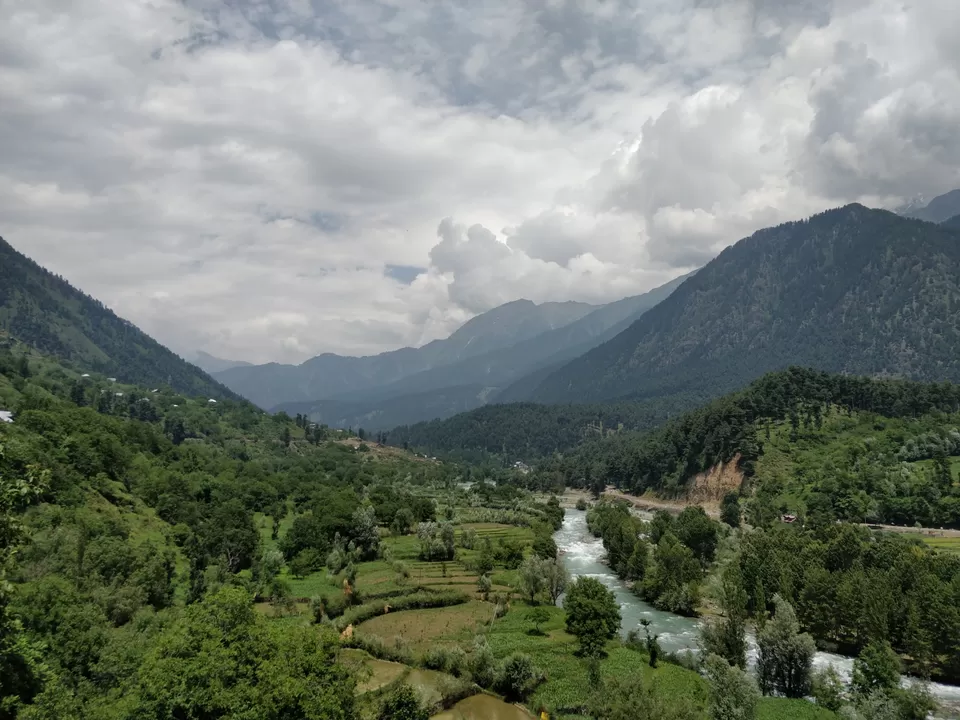 Later, we went towards Betaab valley, but the roads were jammed and we decided to head back to Srinagar. We reached Srinagar by 7 PM, and headed to Lal chowk. The market is quite big with many eateries and shopping points. It is safe to go to the area. We had our dinner at Ahdoos restaurant; another famous place with good ambiance. It is not very far from Lal chowk. Quality of food was great. Must try. We then went to our house boat. And we packed our bags for next day.
Srinagar to kargil, distance: 200 km
Weather: Clear Sunny, Cold winds in Dras
Mode of Transport: - Mahindra Xylo (Taxi)
We started at 10:30 AM from Srinagar in a hired taxi- Xylo (great condition and driver was very friendly). We booked this taxi for INR 14,500
Driver's name was Sharif (Contact: +917051641413) and he belonged to Kargil.
Through our journey, main spots where we stopped:-
1. Sonamarg: - Snow covered hills, pristine beauty (We were totally into the beauty that we forgot to click here????)
2. Baltal: Amarnath Yatra base camp: - You can see the camp from above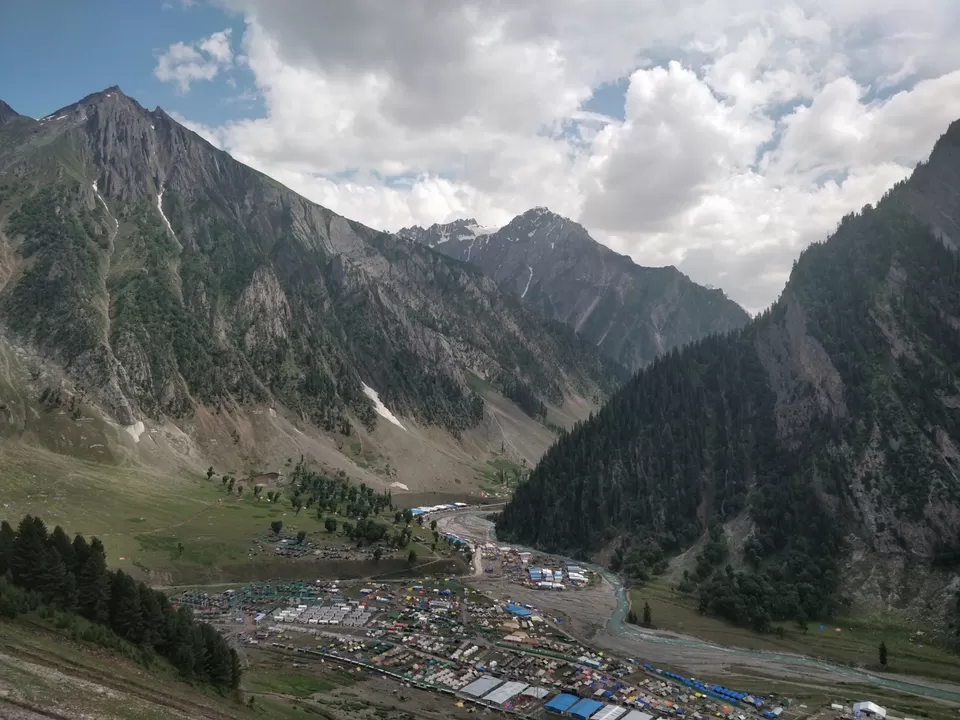 3. Zojila Pass: - Height 11,575 ft. or 3,528m. One of the high mountain pass on Srinagar-Leh highway. This is the same place where tunnel project was recently inaugurated by PM of India; Narendra Modi. This will reduce time to cross Zojila from more than 3 hours to only 15 minutes ????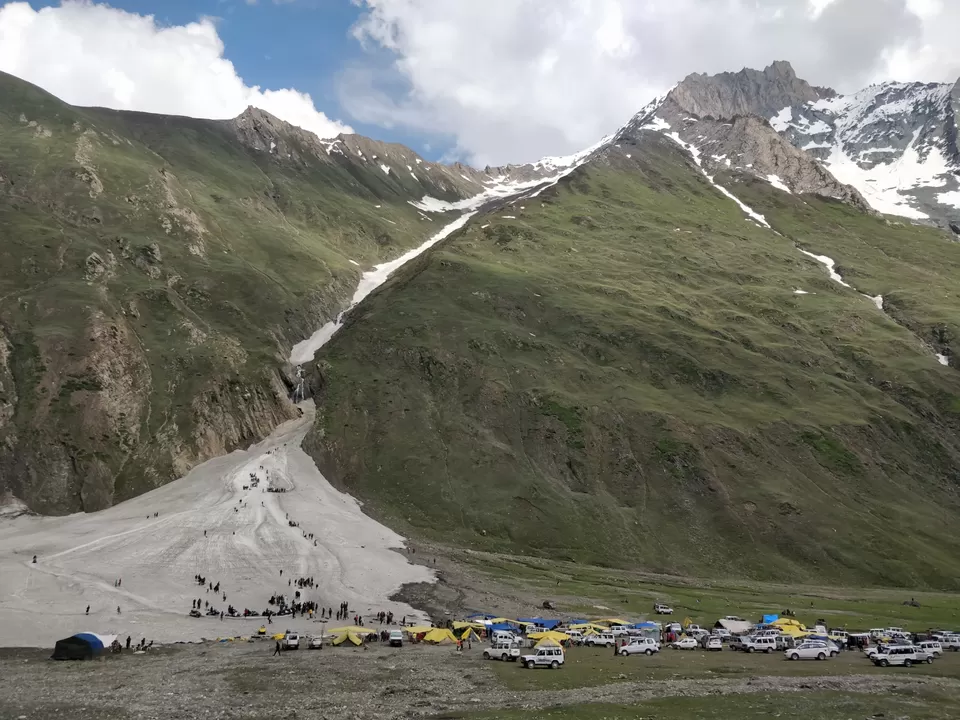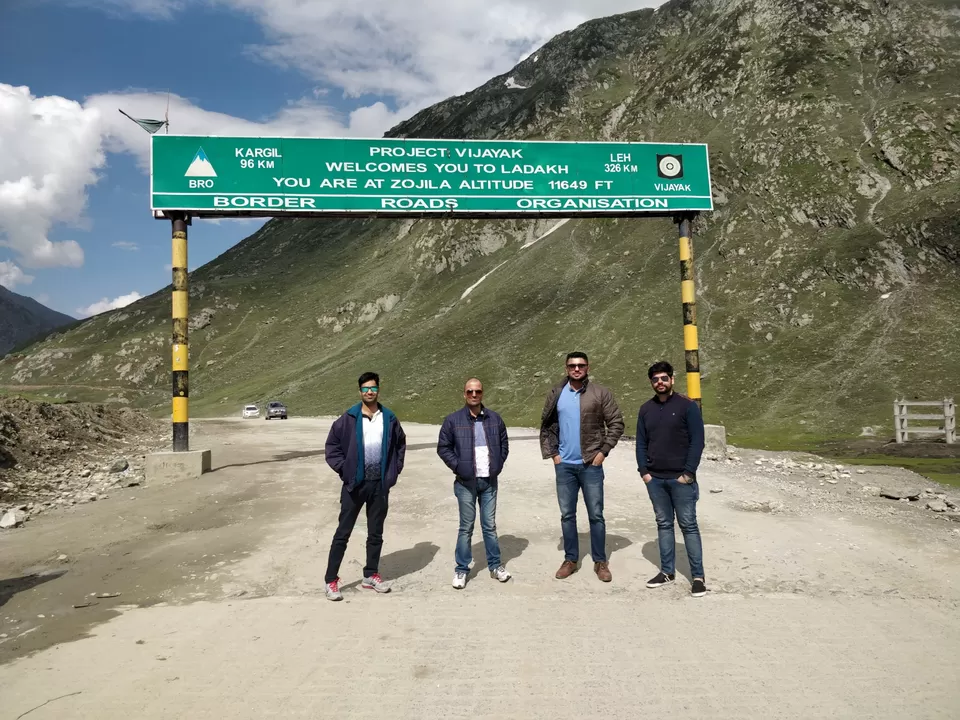 4. Dras:- Kargil War Memorial – We reached Dras valley, this happens to be second coldest place on earth after Siberia, Russia. Free entry, You will be given briefing by Army man about the Kargil war (Between India & Pakistan in 1999). Visit the Manoj Pandey Gallery within the memorial. All details about the war and the soldiers who lost lives defending their Nation are displayed here. Tiger Hill can be seen from this place. Must visit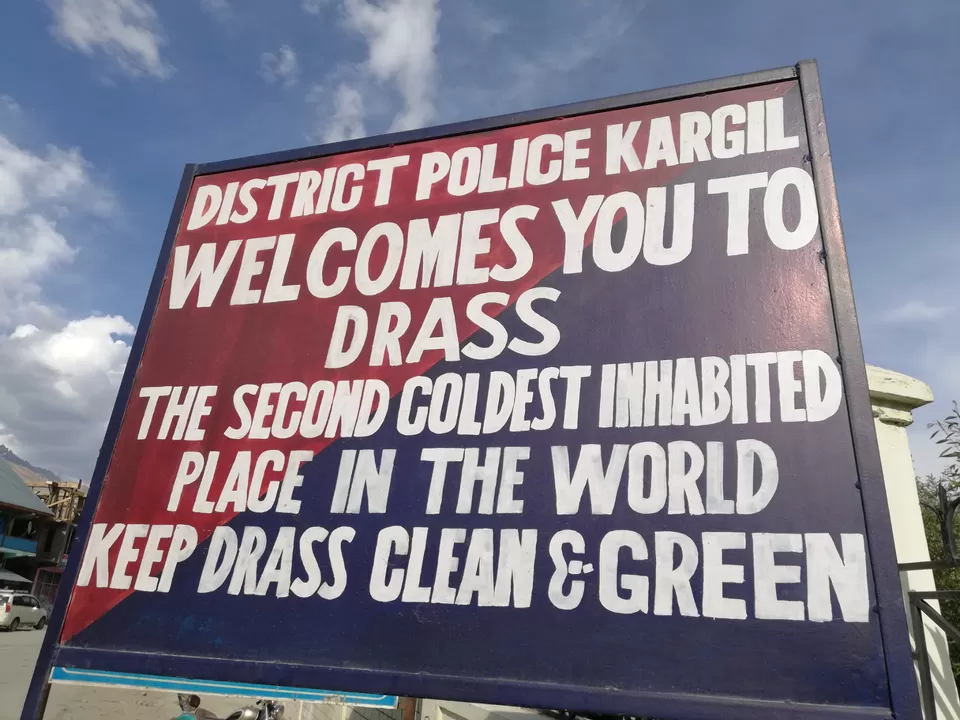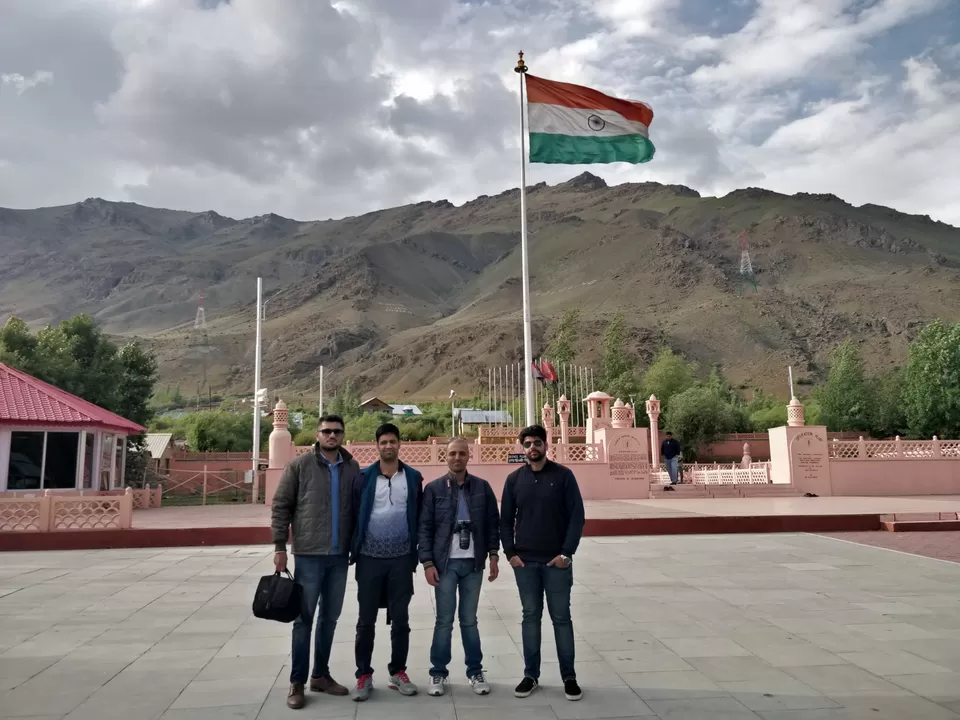 5. Kargil- Very peaceful area. Suru River runs through it. Overnight stay. Got a decent room with attached washroom for INR 900 (If you happen to take same taxi, ask Sharif, he will take you to this home stay; stay here only if you want to just sleep, your shouting, laughing loudly can disturb your neighbors)????. It's a small town, you will not find many options for eating here. We had simple dinner and slept off.
Kargil to Leh, distance: 220 km
Weather: Clear Sunny, Cold in evening
Mode of Transport: - Mahindra Xylo (Taxi)
We started at 10 AM. Had quick breakfast. (Pranthe and omelette)
Places on the way:-
1. Namik La:- 12,139 ft. or 3700 m. We experienced high speed winds here. Stop and take photos. It is advised not to stop for more than 10-15 min, you might experience acute mountain sickness.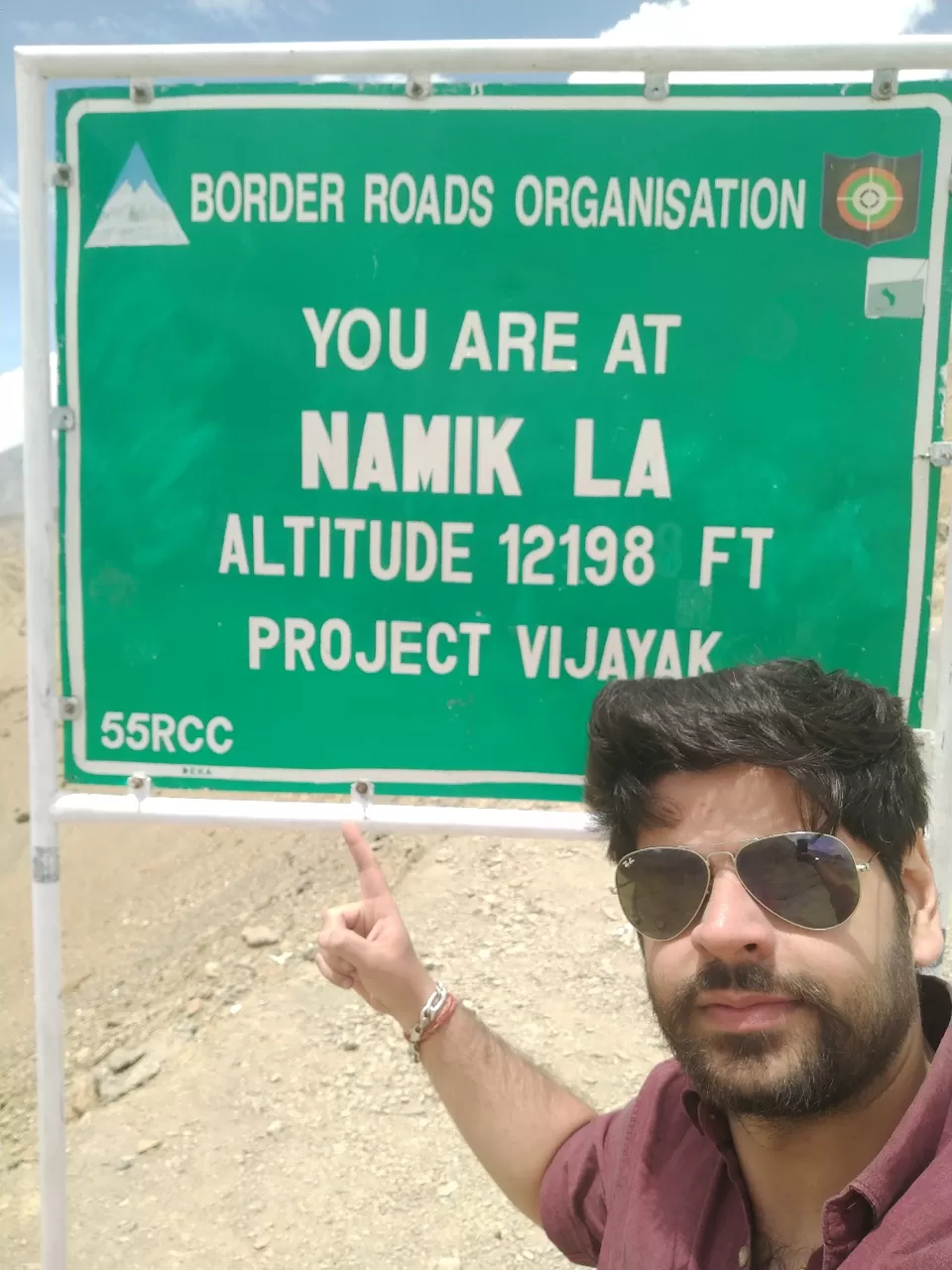 2. Fatu La:- This is the highest pass between Kargil and Leh. 13,478 ft. or 4,108 m. Again high speed winds. Stop and take a photo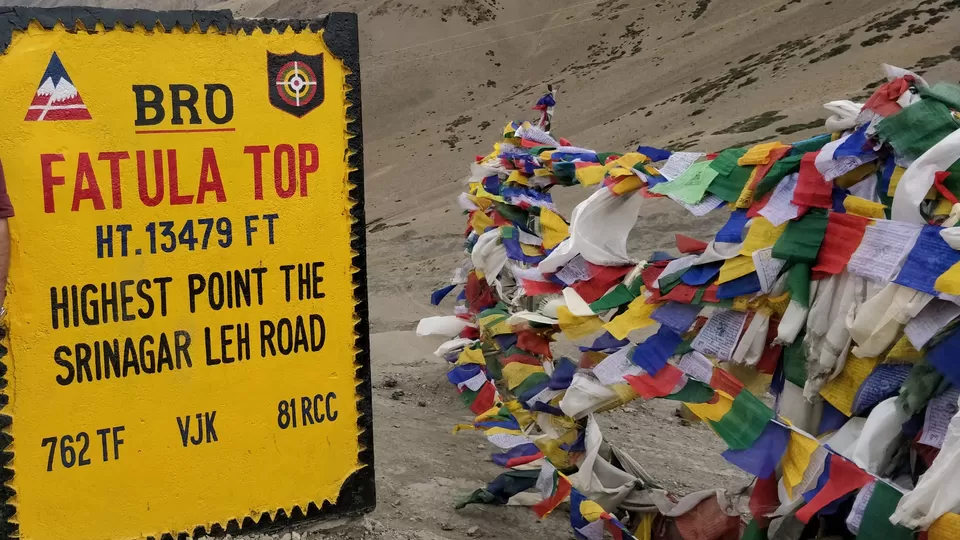 Next we reached moonland topography of Lamayuru !! Look at the beauty here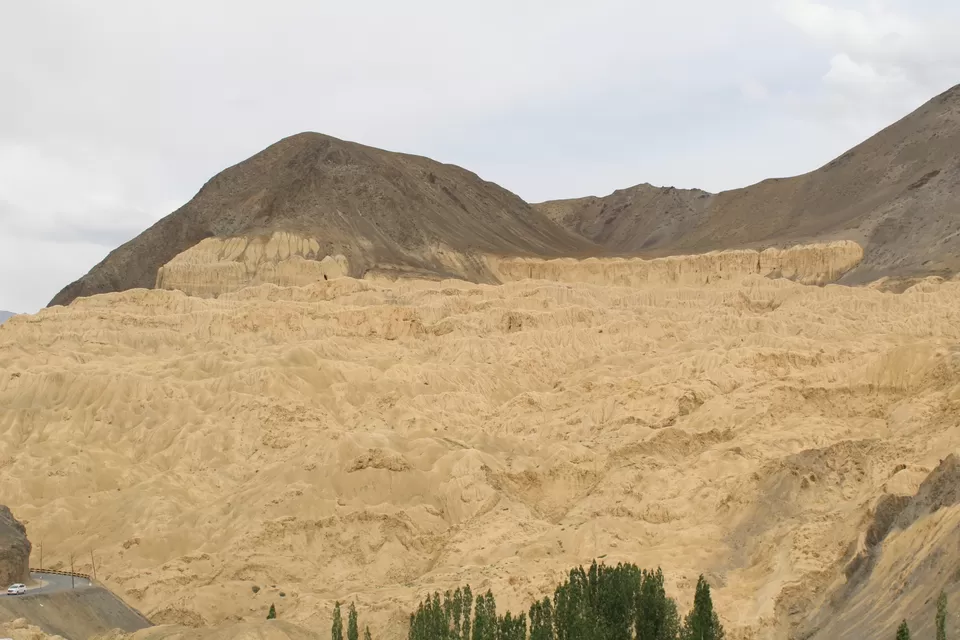 3. Zanskar-Indus river Sangam:- We reached sangam point. Very beautiful and clear distinction of two rivers coming from different directions and forming single river. The greenish colored is Indus while the silted colored is Zanskar river.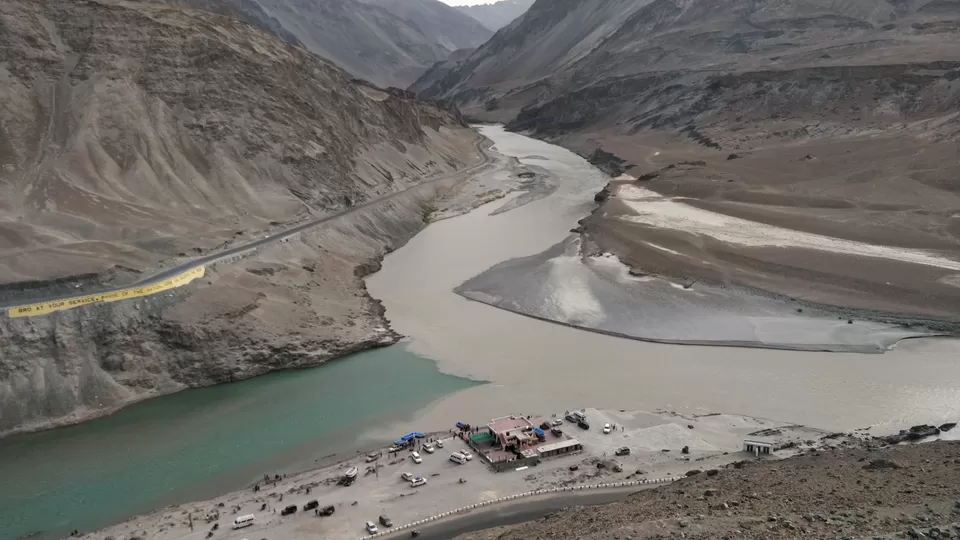 4. Hall of Fame:- This is memorial constructed in memory of our soldiers who laid their lives in various wars. You will be charged fees of INR 100 for adults and additional for using your DSLR and even clicking photos with your mobile camera. It's 4 km before Leh city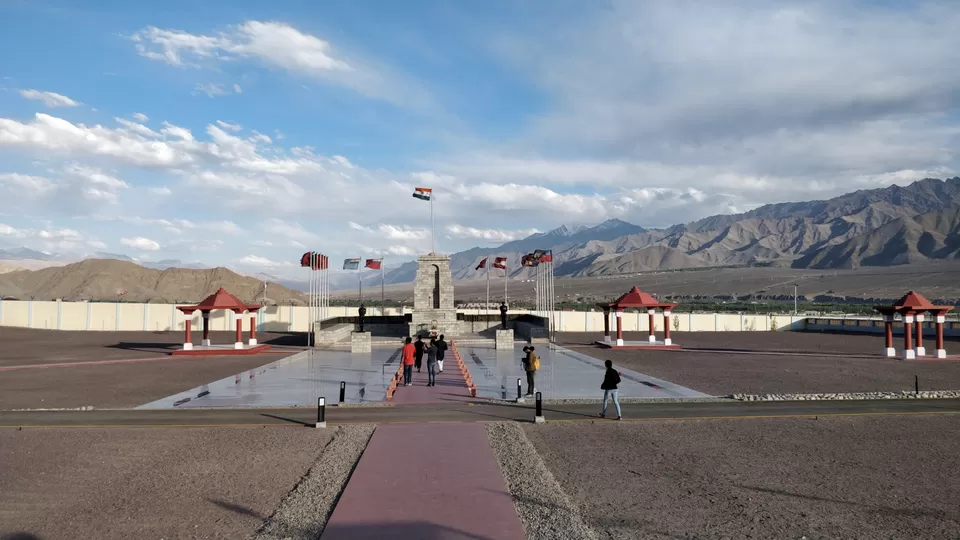 A pic that is one of our best en route ????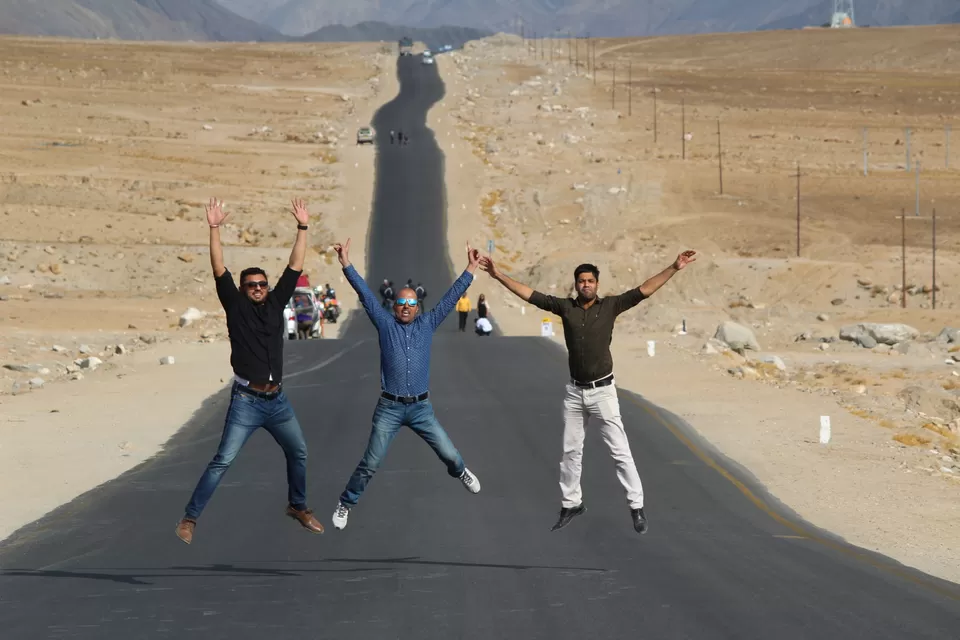 We reached Leh by 7 PM and we took a place to stay. Max Alexandra guest house. About 500 meters from Leh main market, Fort Road and Changspa road. We took 2 rooms for INR 700 each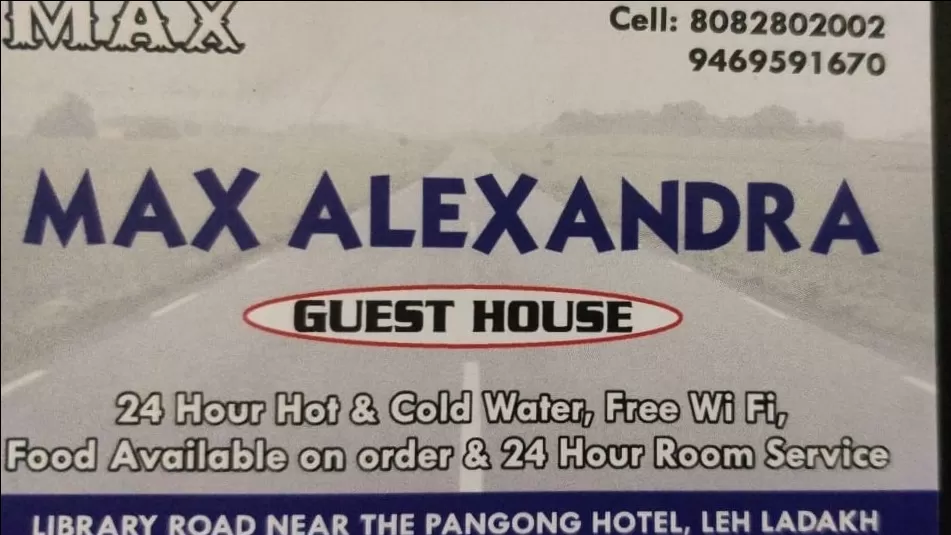 We asked the care takers at the guest house to arrange bikes for us. We bargained in that too. And finally we got 3 Enfield 350 latest models for INR 1100 each. He only kept an id proof. (Driving licence is must) Also you need permits to go to Nubra and Pangong. Only aadhar card photocopy is required for same.
The care takers can also get permits for you. We paid INR 525 per person per permit to them. (1. Khardungla- Khalsar- Diskit- Hunder- Panamik- Turtuk; 2. Karu- Shakti- Chang La- Durbuk- Tangste- Lukung- Spangmik- Man- Merak)
If you want to get it done yourself, you will have to stand in line and it might take time. Better ask some agent or staff in your hotel to get it done for you, you can save time to visit other places in meantime. After getting all things sorted for next 3 days and resting for some time, we went to Leh market and had dinner in Dream Land restaurant (there are lot of cafes and good eating spots in markets)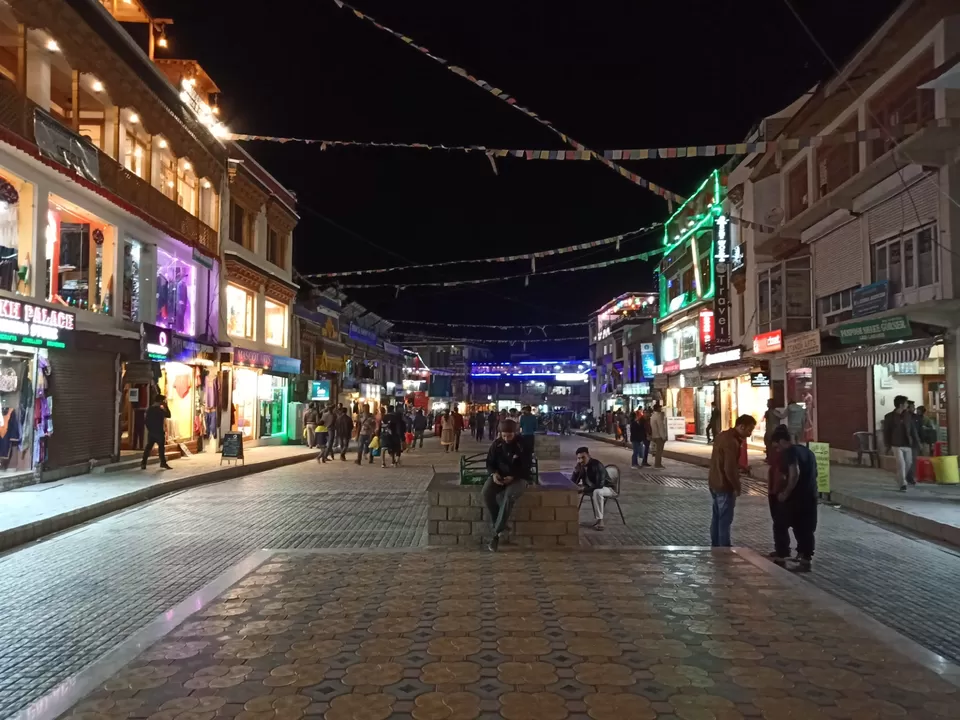 Leh: Local sightseeing
Weather: Cloudy, Little downpour, high speed winds in Stok village, cold air
Mode of Transport: - Royal Enfield Classic 350
We started our day at 10:30 AM.
Breakfast @ Gesmo German Café: Excellent food, great variety, decent cost, Must try: Apple juice is fresh.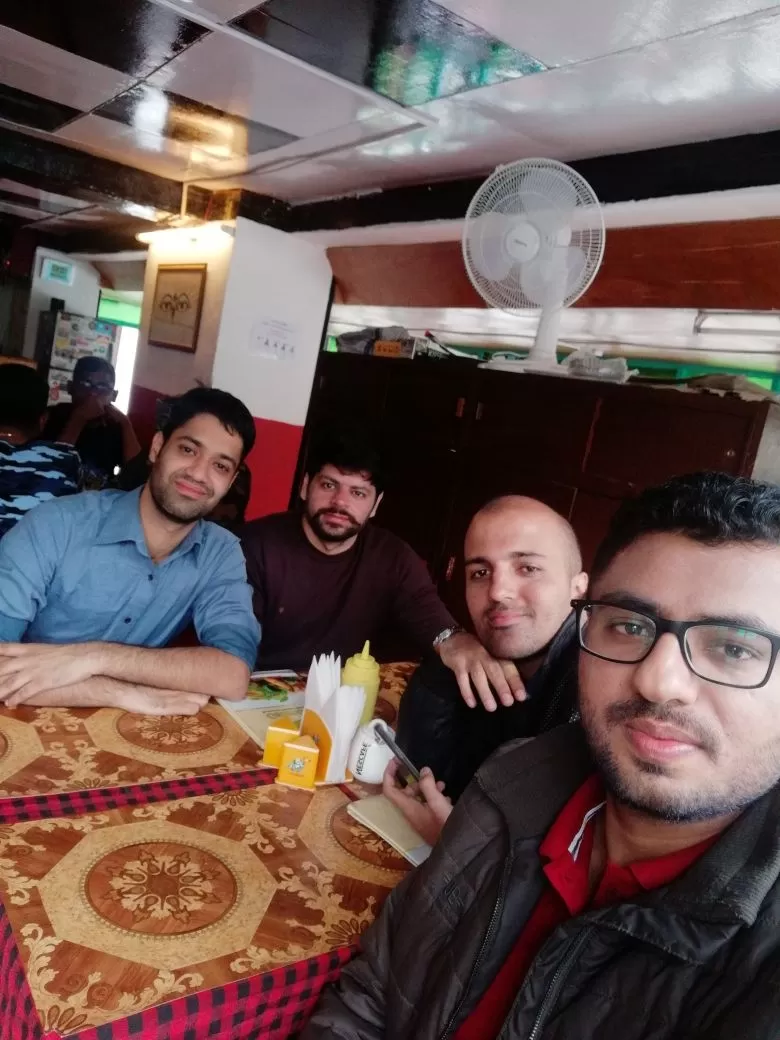 It was drizzling. We had our raincoats with us just in case!! Places visited:
1. Stakna Gompa:- This was the farthest monastery on our planned route and we decided to visit this first and then come back towards Leh. Although you can also visit Hemis Monastery which we decided to visit on our return from pangong lake (but at that time you will be too tired to stop anywhere but guesthouse????). View from the monastery is awesome. ( Note:- all monasteries will be same from inside, but views that you will get from top of these will be different)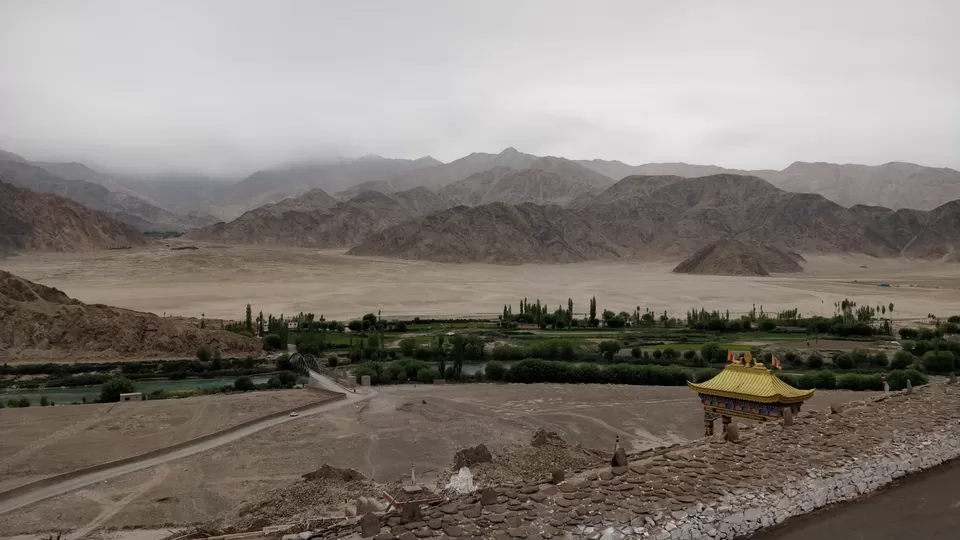 2. Thiksey Gompa:- On our way back then was thiksey monastery. Another wonderful view from its top. More famous monastery than Stakna.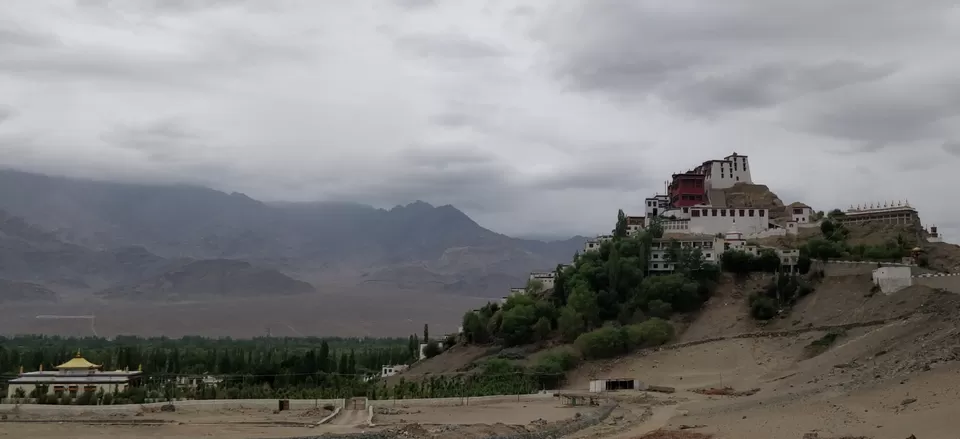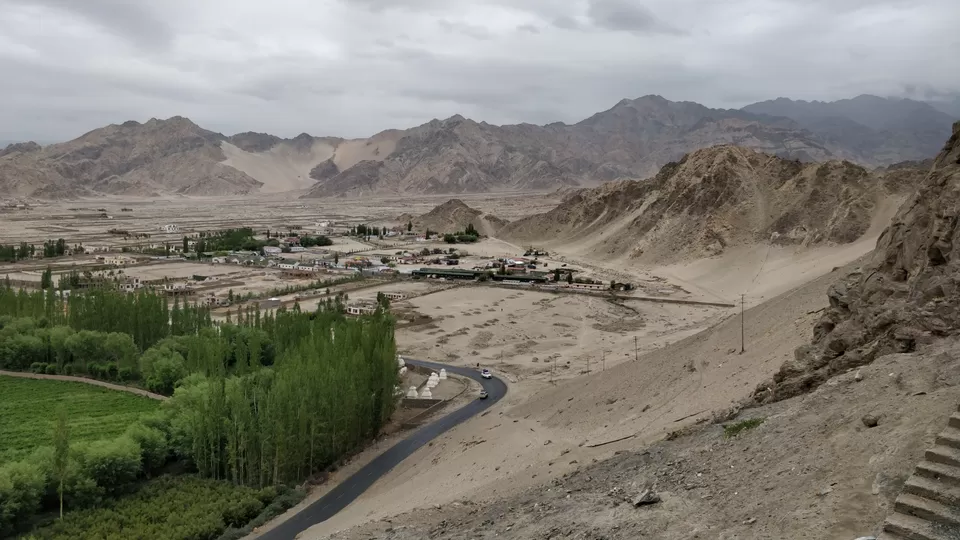 3. Stok Village:- From Thiksey we got free by 2 PM, we decided to visit Stok village, little out of way, around 20 KM from Leh. We skipped Shey Palace, on the way from Thiksey towards Leh. It was all cloudy and drizzling. Lonely roads and no one can be seen till far. What a weather and scenery!! We were living our day. We reached Stok monastery. You can see Lord Budha Statue in golden color. When we reached there, it had started raining heavily and had become quite cold. We sat inside the only shop present there that serves maggie, tea, coffee. Rain subsided and we started back to Leh city by 6 PM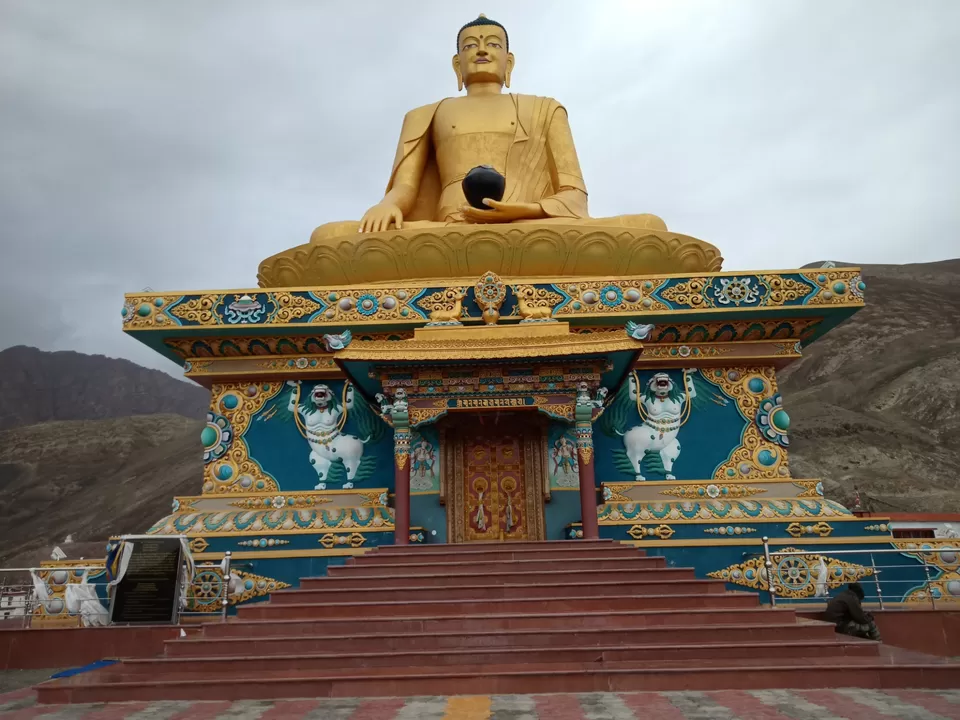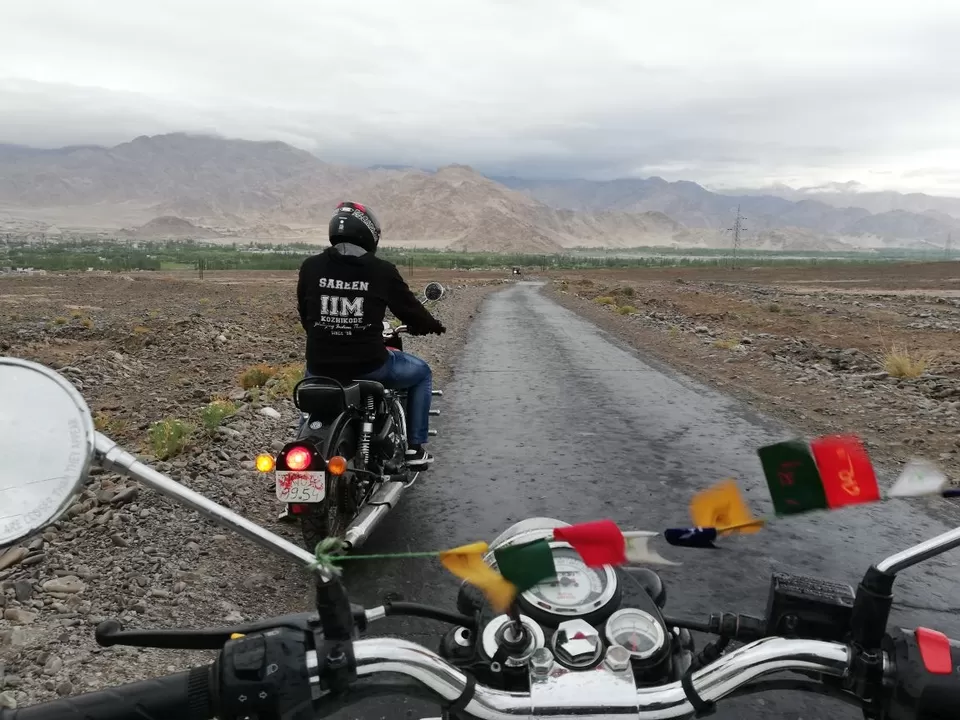 4. Shanti Stupa:- We still had time; (days in Leh are usually longer, you can see day light till 8 PM), so we decided to visit Shanti Stupa, which is within Leh city. What we had experienced in Stok, we could not enjoy in Shanti Stupa much then. Clicked few photos, sat in meditation hall and came back to our guest house.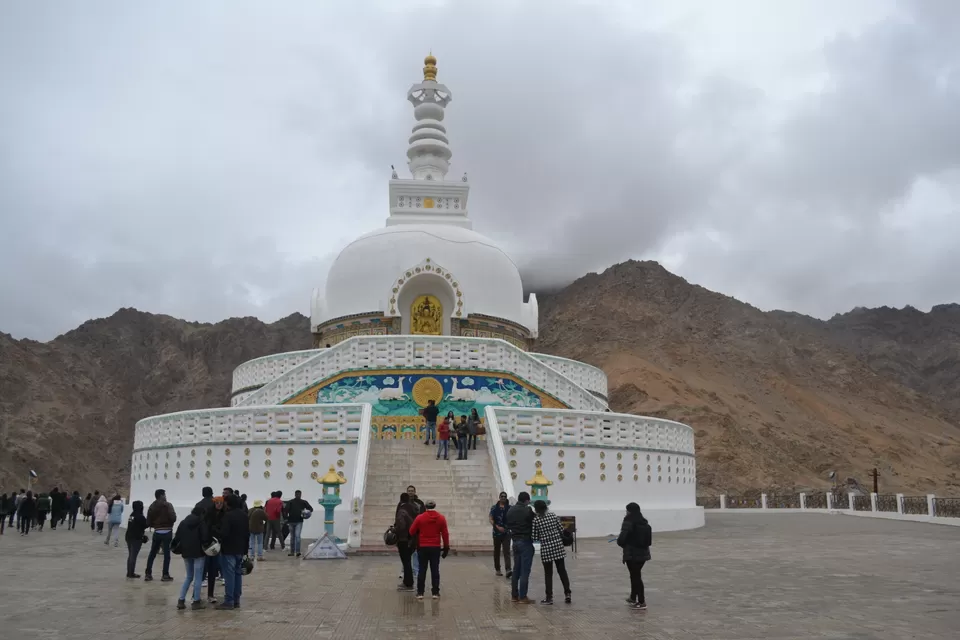 We then changed, got fresh and headed to Leh market. We enjoyed our dinner at Lamayuru café: Ate proper Indian food, quality was good. And we went back to our rooms.
It was time to pack our bags to carry to Nubra and Pangong. We 4 had got backpacks each. We decided to carry only 2 backpacks with us as we had to tie these on bikes. (2 backpacks on 2 bikes and 2 people on the 3rd bike, you will be charged extra for bungee ropes, we had bought our own with us). We kept 2 backpacks in the guesthouse itself. The staff was quite cooperative and we also booked room for our return back to Leh after 3 days. Slept off peacefully.
Leh to Diskit (nubra valley), distance: 117km
Weather: Cloudy, Fog, Rainfall, Snowfall
Mode of Transport: - Royal Enfield Classic 350
We started our day @ 10: AM, had breakfast again at Gesmo German bakery. We left by 11 AM. It was raining. I had put on my raincoat.
The first stop was to show yellow slips for bikes you rented. This slip is supposed to be given by the person you rent your bike from. We were not given????. But then the lady herself had these, and made it for us. It's merely INR 20 for each bike.
We then moved ahead. It was cloudy, rainy and foggy and we could already feel the chills.????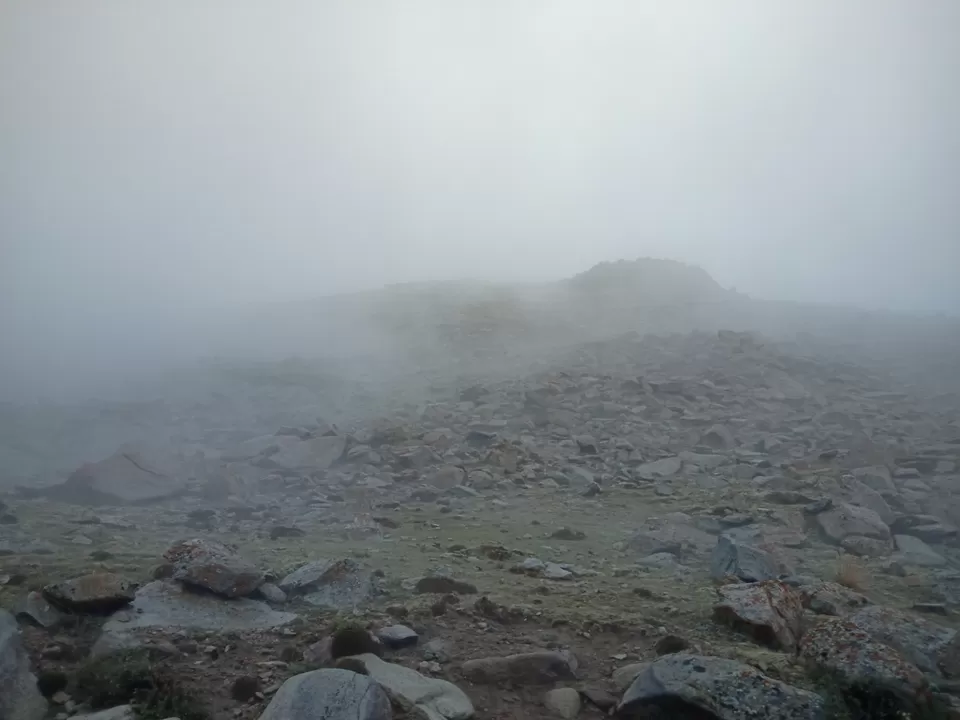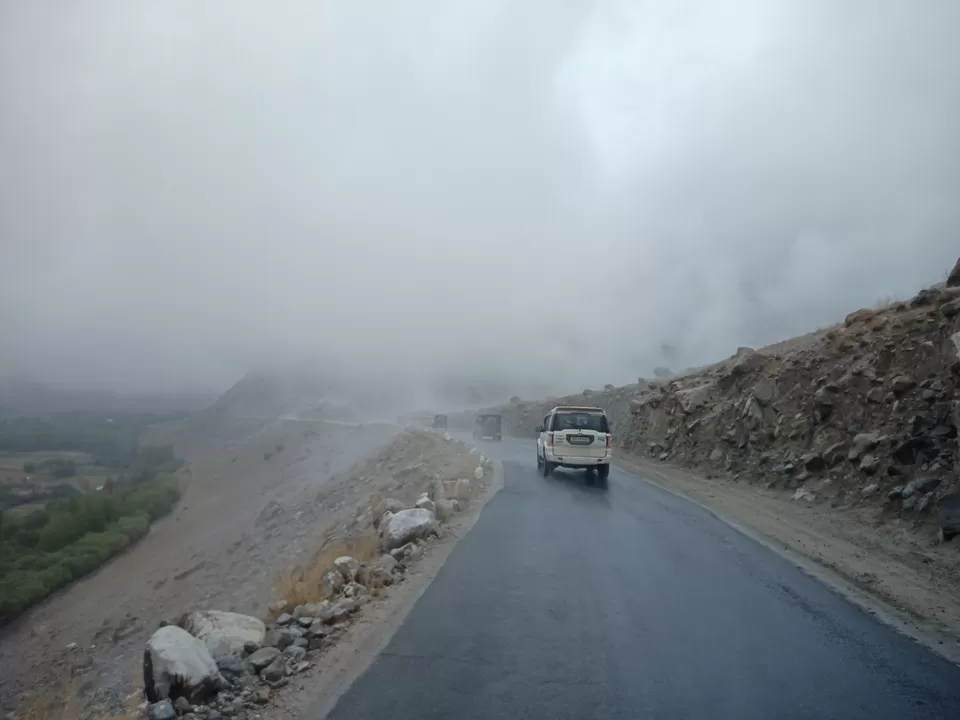 The checking of permits will take place at South Pullu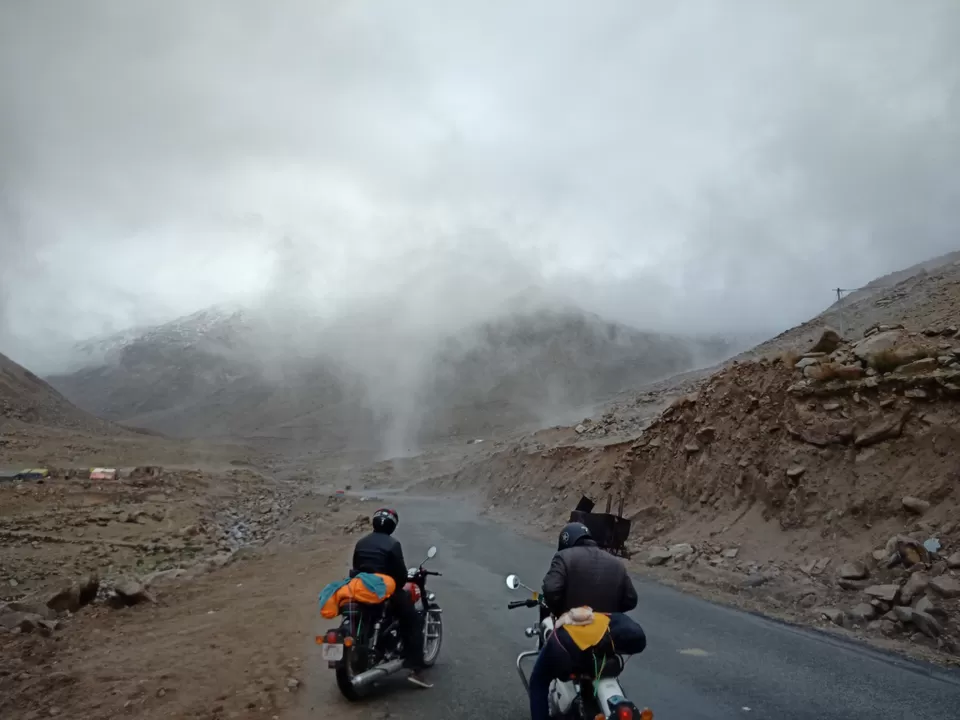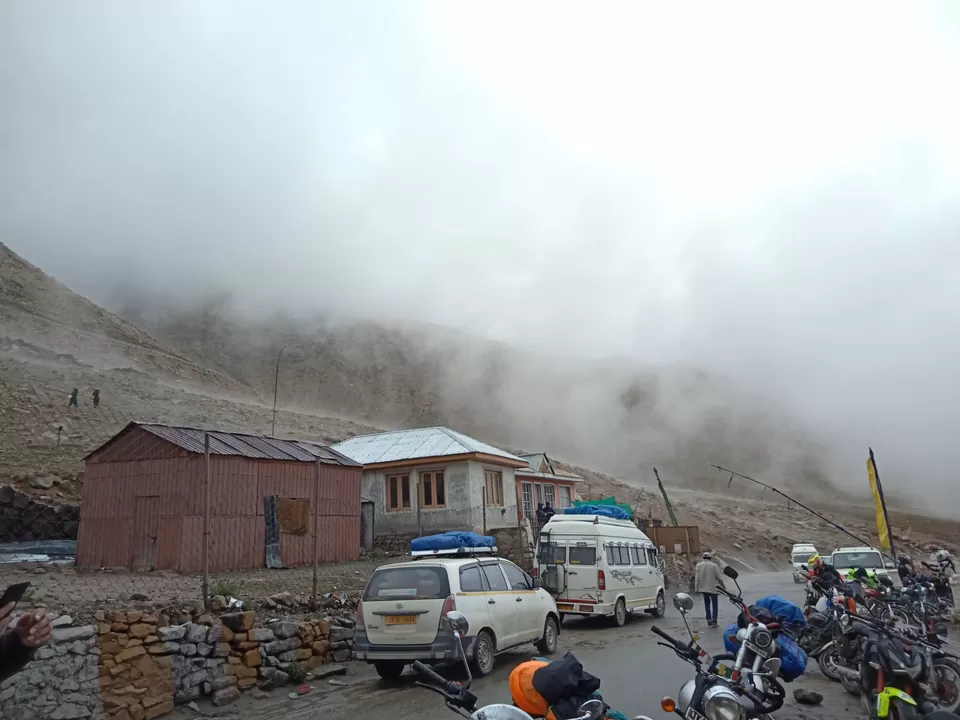 We then reached Khardungla Pass: 17,982 ft. or ~5,400 meters From Leh to Khardungla; which is only 40 KM, it took us around 4+ hours.????
The roads are built well; thanks to BRO (Border Road Organization), but as you go towards Khardungla the roads are quite steep. To add to it, the weather was not at all on our side. We were fully packed, warmers, gloves, but fully drenched. Our hands and feet were numb. At times we could not feel them and had to take breaks after every 30-45 minutes, just to warm them and move them in some way so that blood circulation is continuous. We reached Khardungla and felt relieved. The way next was downwards and the weather would get less cold.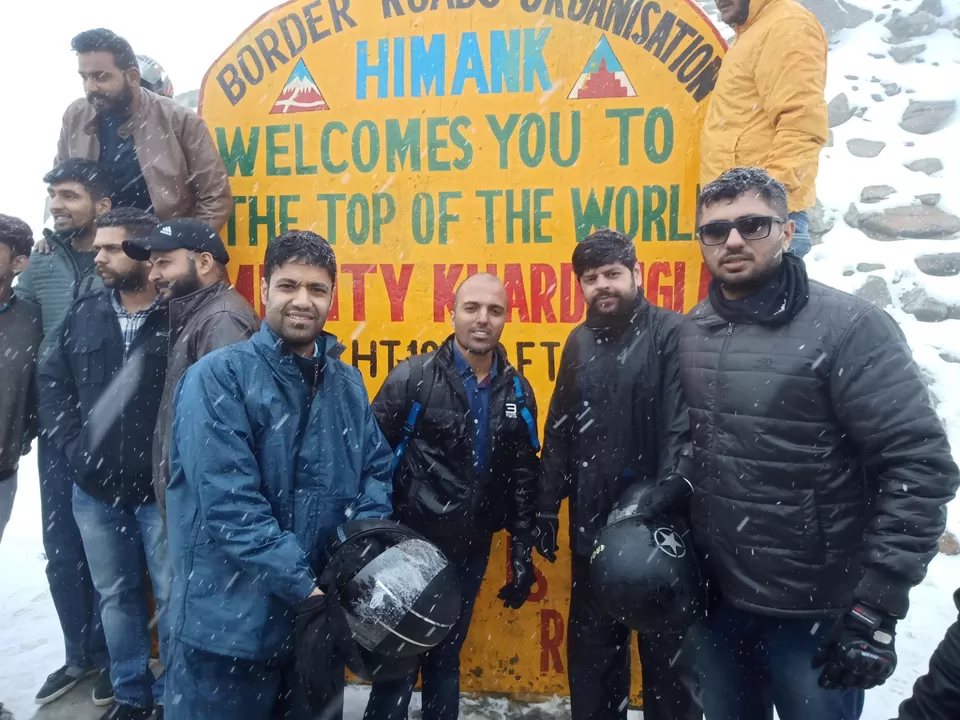 But while we were at Khardungla, we realized that one of us had developed signs of Peripheral Cyanosis (blue hands).????, we knew it was not good and consulted the army immediately. Army people have a café called wanderers managed and run by them there. Full care was taken and we only moved when we could see his hands back to normal.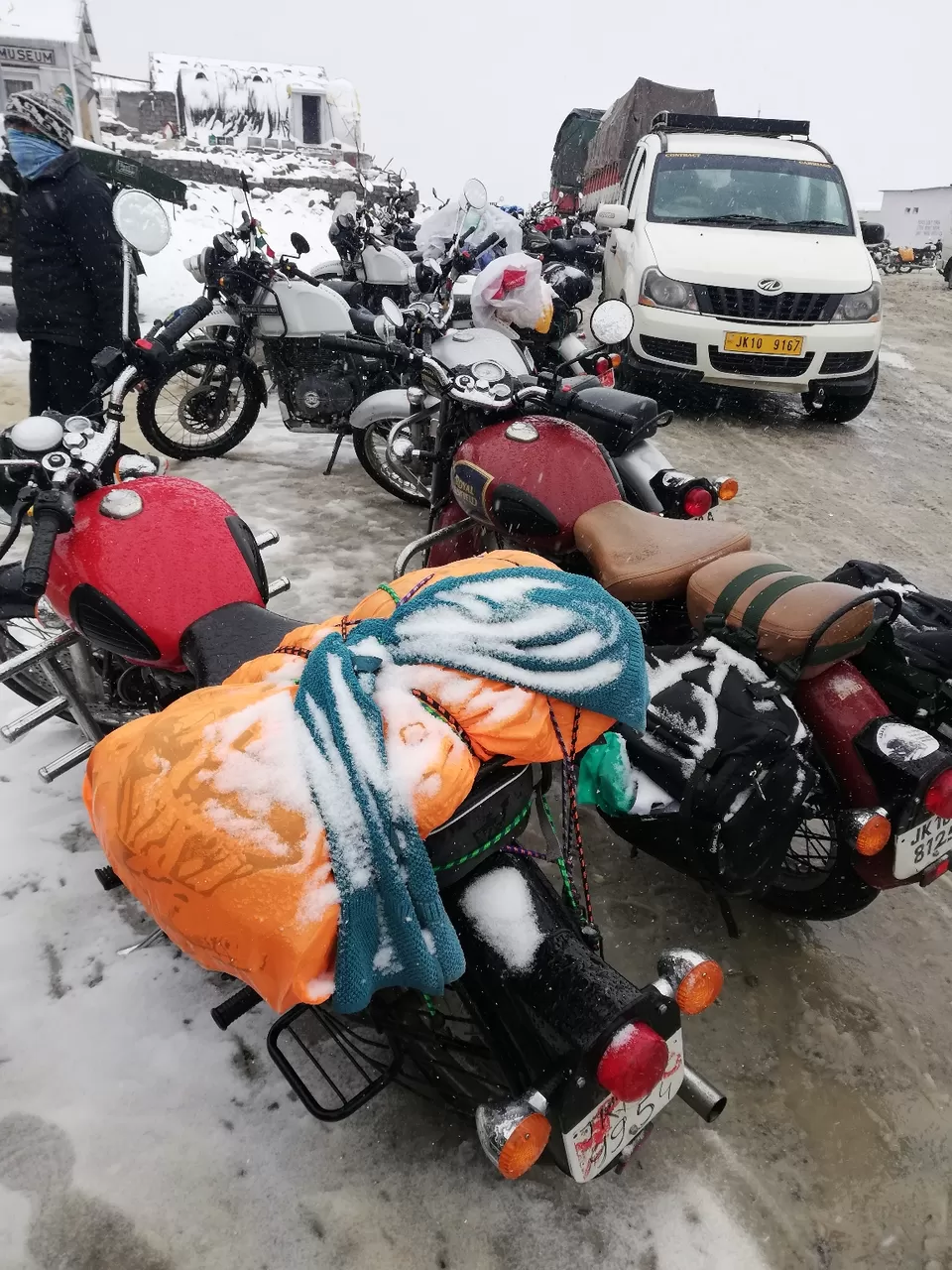 We left after staying there for an hour. Although at such a height, oxygen levels are low and you are not advised to stay for long. Luckily we four didn't feel that and also our attention was more towards getting rid of bluish color. We then started our journey ahead.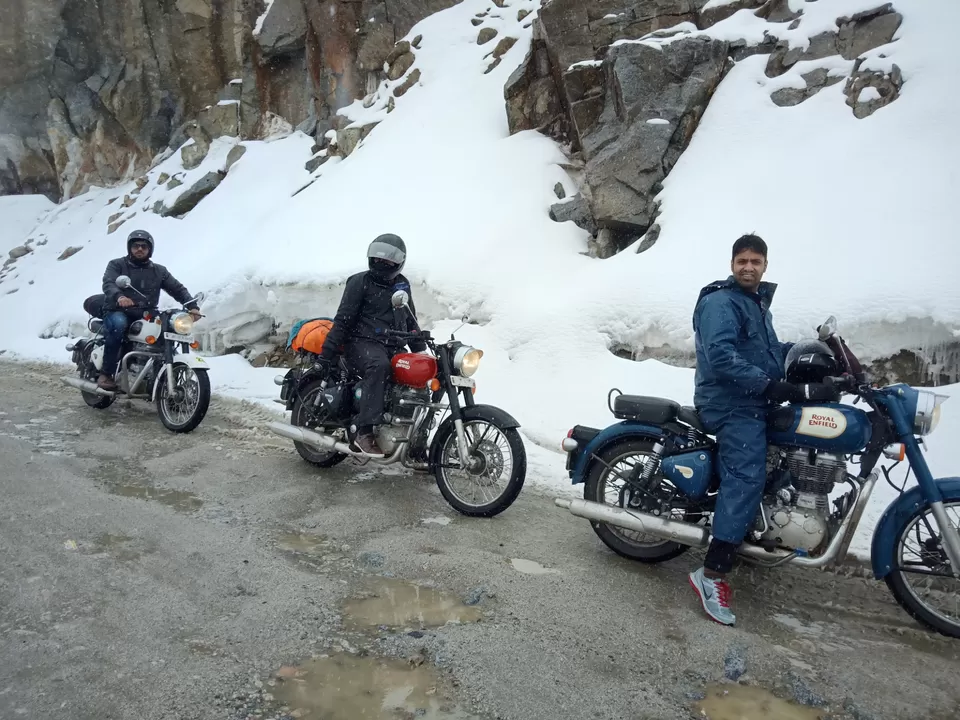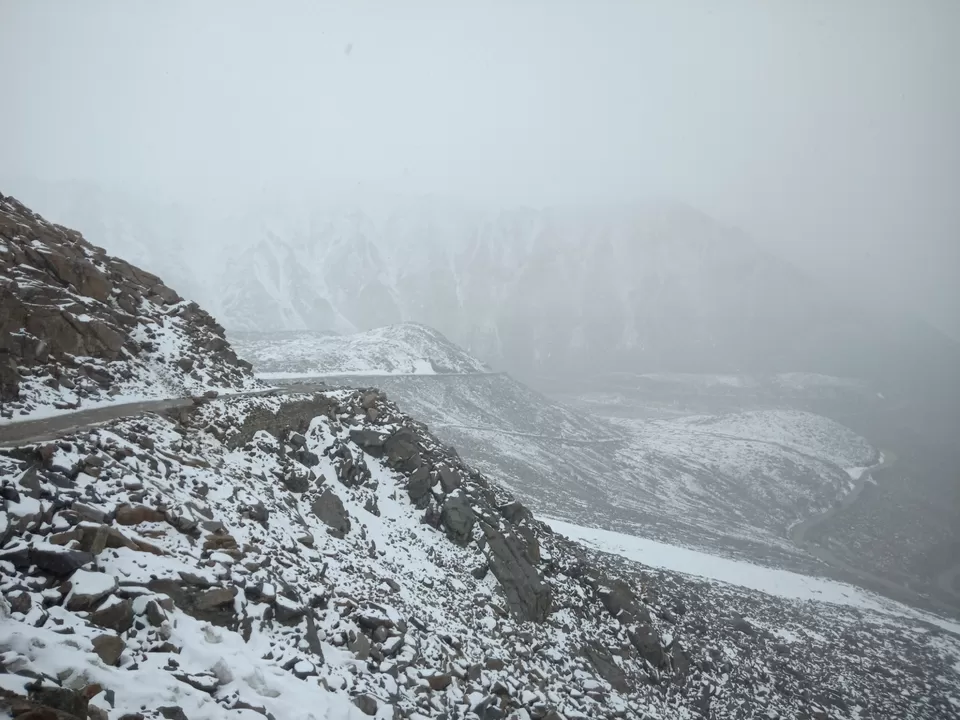 We then moved and on the way again had to stop. The rain was continuous and we were all drenched. The cold was not leaving us, we were riding very slow and taking breaks frequently. Also on the way, there were so many landslides. So just heads up for people travelling, it was our lucky day (that we survived????). Kindly check weather and plan accordingly. There is no network on the way. God forbid anything happens, all you have is yourself and your peers. It will take time for help to reach. On the way down then comes North Pullu, you can stop and eat something here.
After resting for an hour, we then started again. We reached Diskit (which is capital of Nubra valley, we take left turn near Khalsar and travel around 24 Km to reach) around 8 PM. Took a room in hotel called Sunrise Guest house @ INR 1000 (contact not available)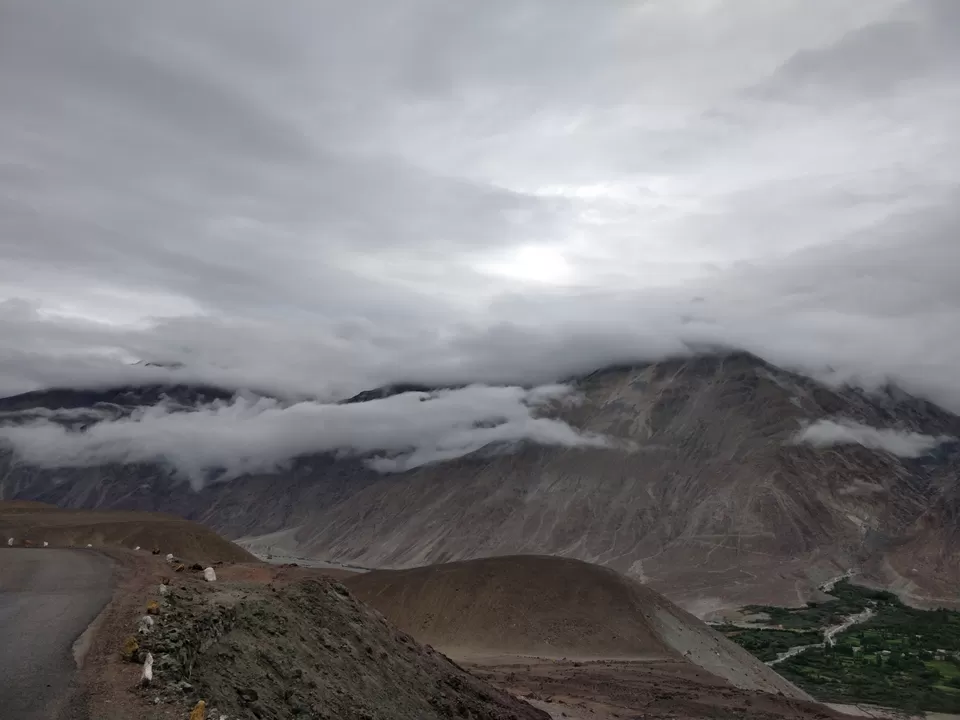 Had dinner in the guest house only and slept off early. There is no light in Diskit after 11 PM.
Diskiy to Pangong Lake(spangmik), distance: 165 km
Weather: Clear Sunny
Mode of Transport: - Royal Enfield Classic 350
Next day we woke up without any hope of seeing a sunny weather again since the weather was too bad the previous day. But to our surprise the weather was totally clear. And we were all smiles????. We finished our breakfast, got our bike tanks full as Diskit petrol pump is the only petrol pump that you would find for next 300 KM (there is no petrol pump from diskit to pangong and then pangong to Karu:- Total distance approximately: 288Km) . The road to Pangong Lake is heaven. You have to cross through river beds, other off roads and beautifully laid roads by BRO. You are going to completely cherish the ride. For few moments you will find yourself alone for long stretch of roads and you will love the isolation.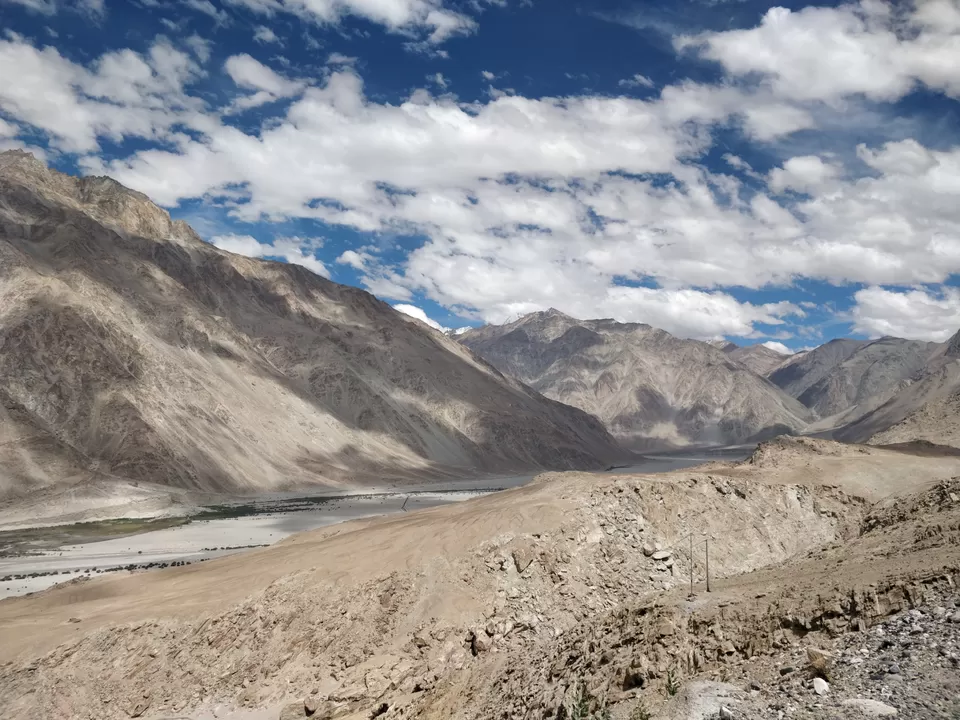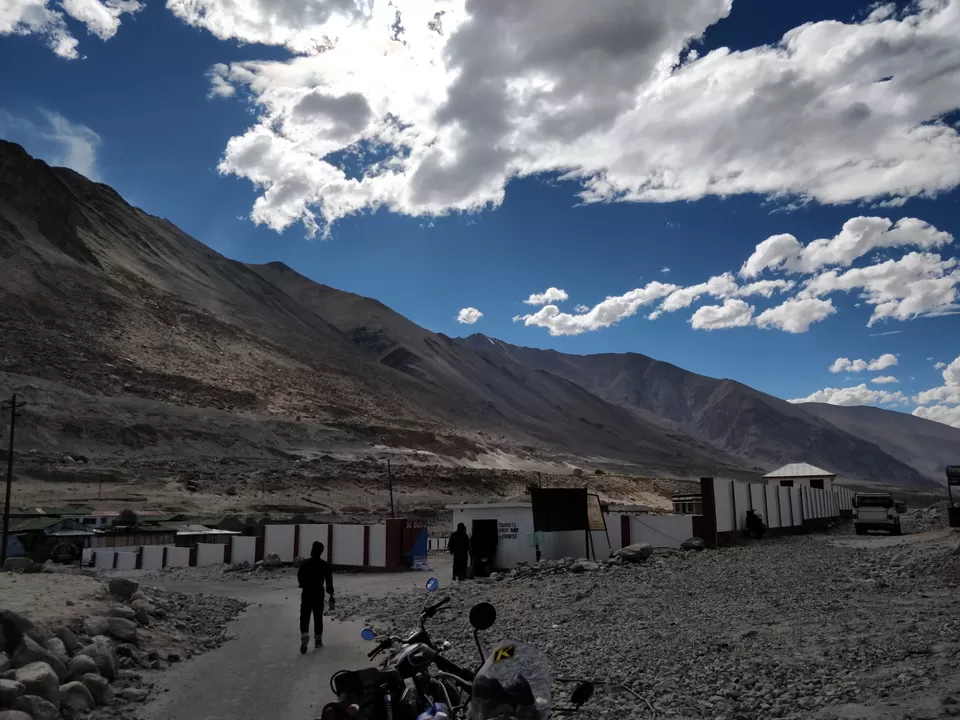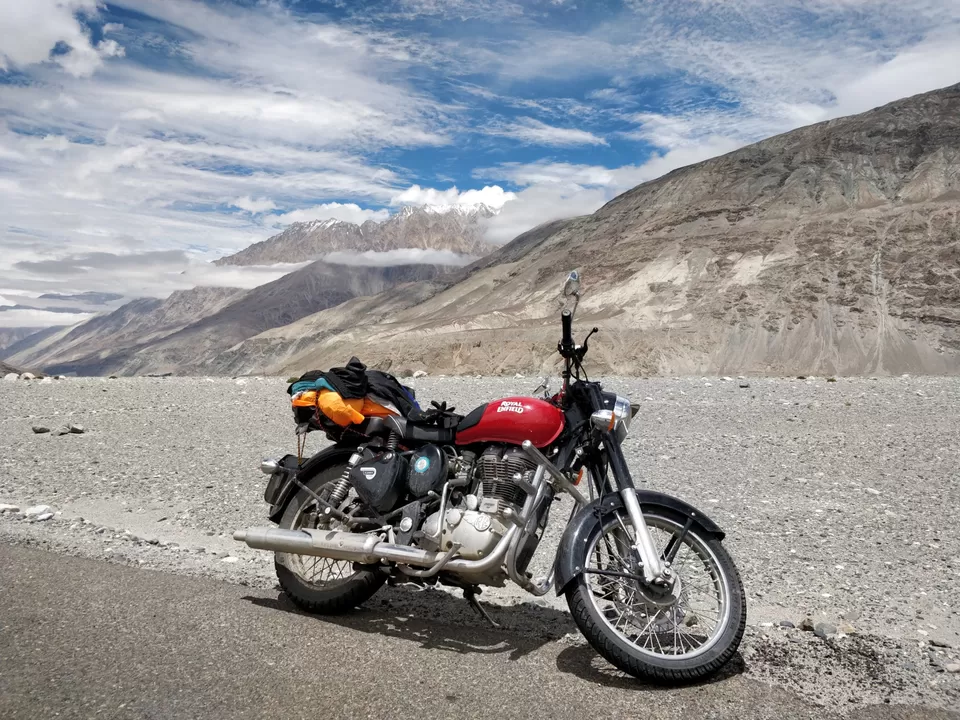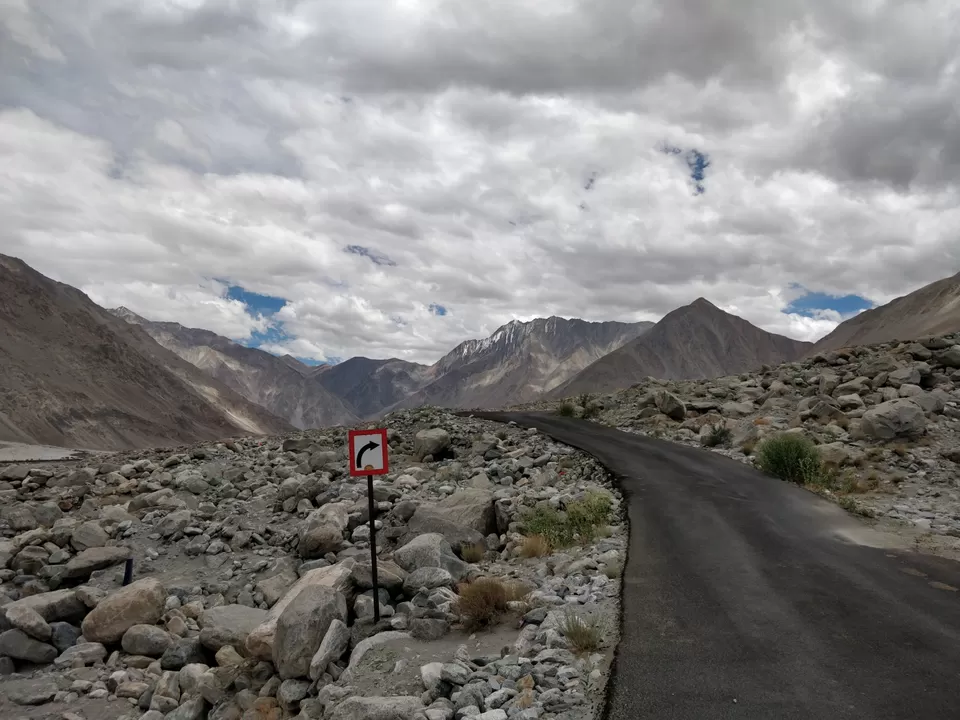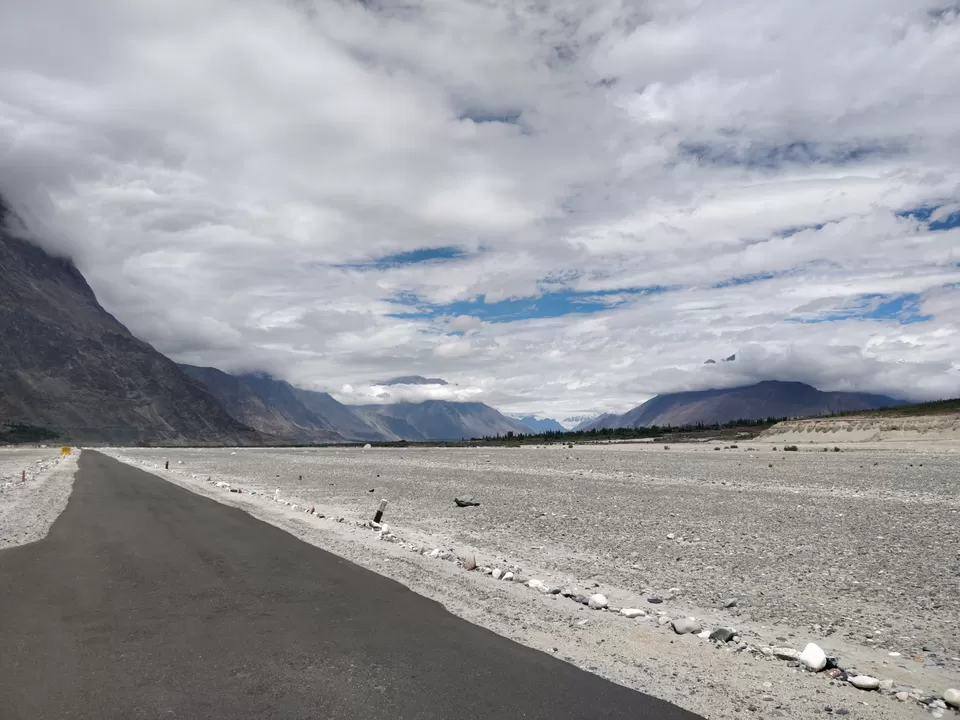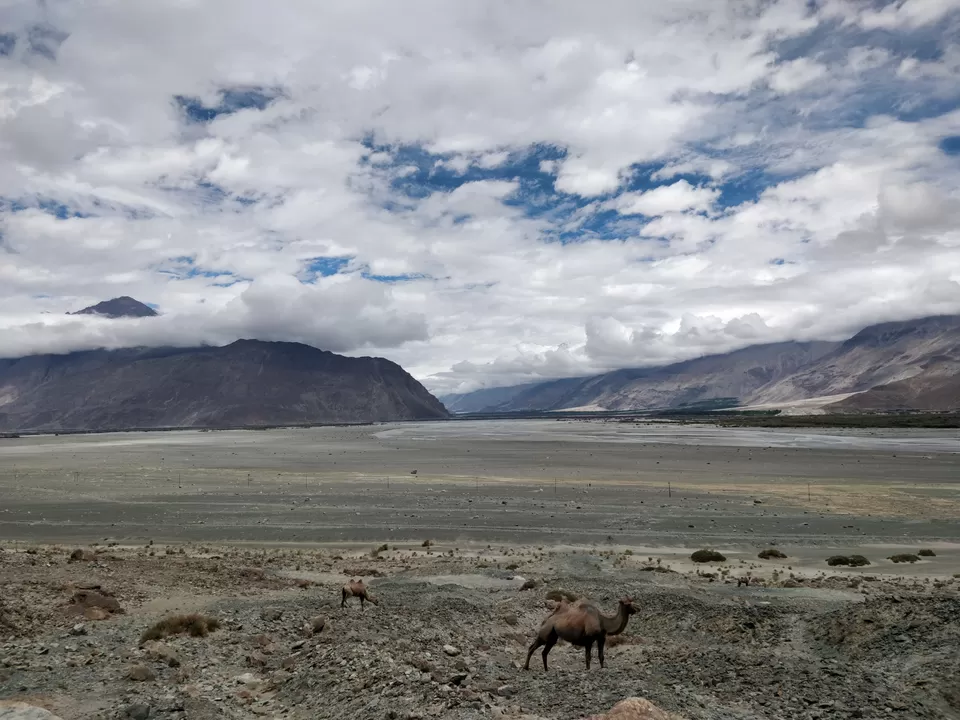 Feel yourself, live the moment. We stopped at Durbuk for lunch. Prefer Maggi over anything else. All other options are just an experiment. Keep yourself hydrated all the time. Oxygen levels are low and you will feel exhausted if you do not drink enough water. You will then stop at Changthang Wildlife Sanctuary for entry permit. We reached Pangong lake around 6 PM and what a view. Truly a heaven. The lake is so beautiful, the sunlight on it adds to its beauty.????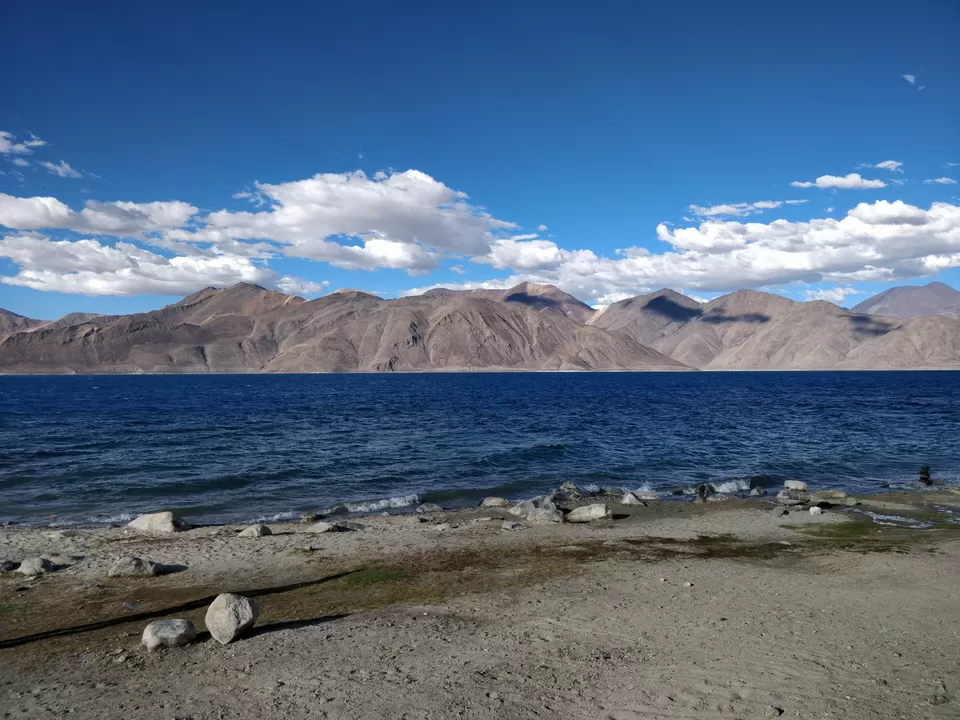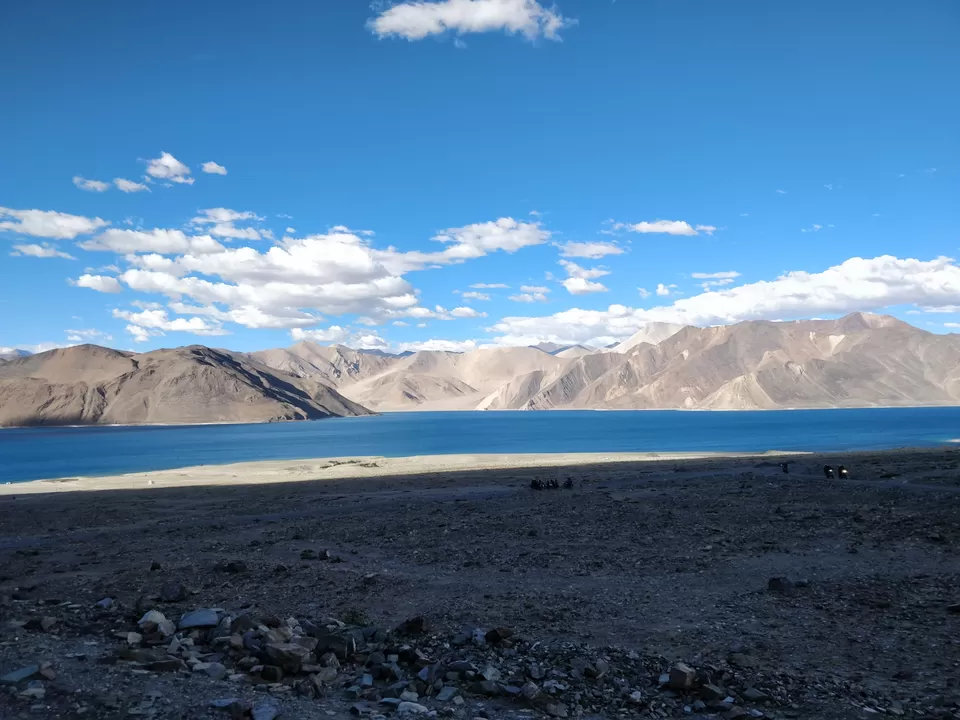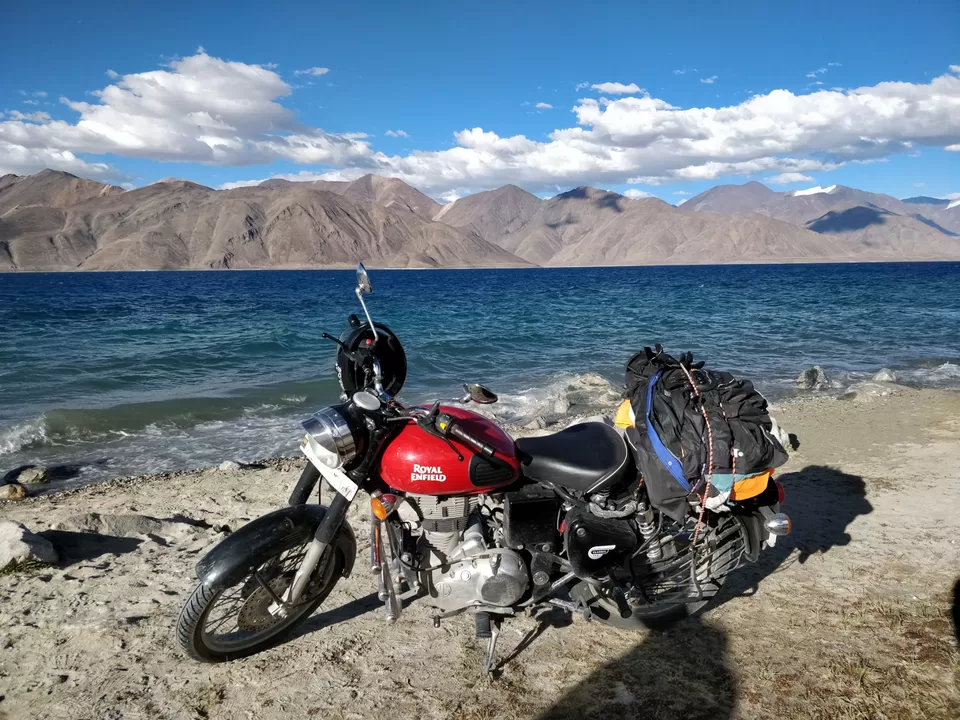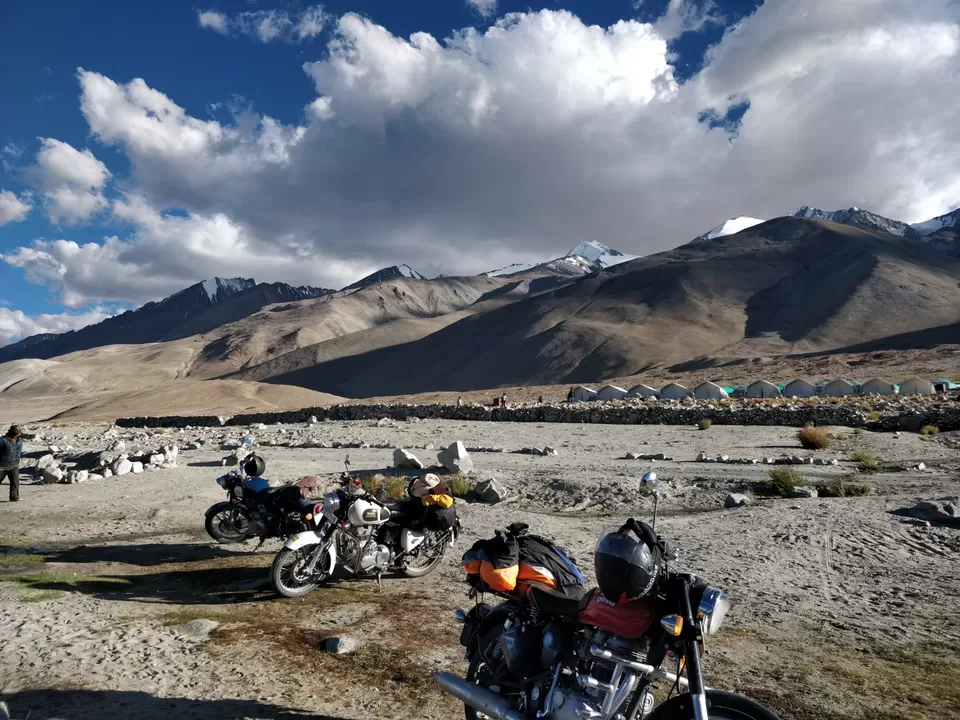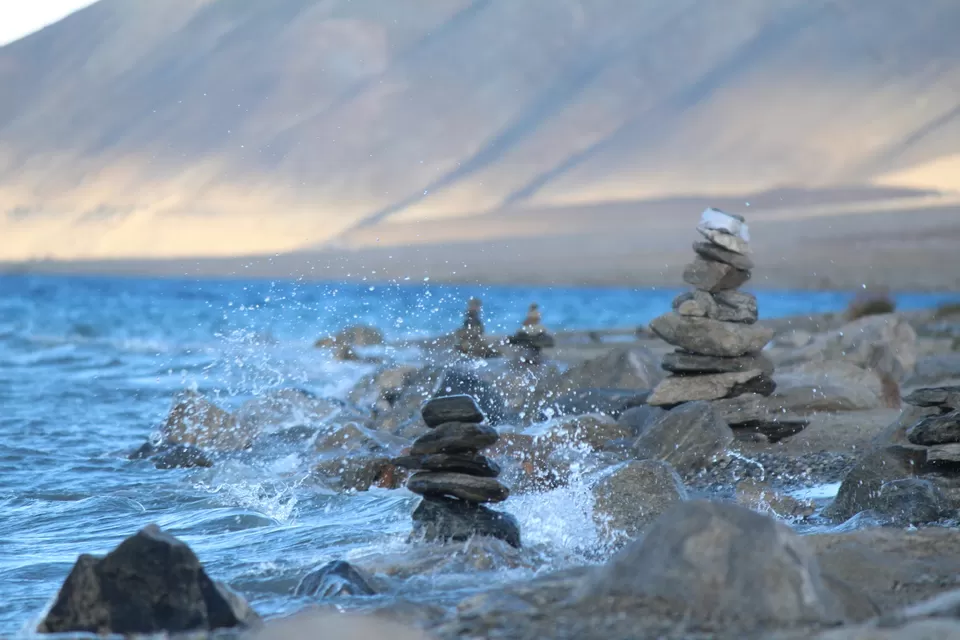 You can see all smiles here. The day before we were struggling to reach alive to our destination. We had faced extreme conditions on one day and today, in this moment we were on the most beautiful lake side. We had seen it all, lived it all. the laughs show it all. ????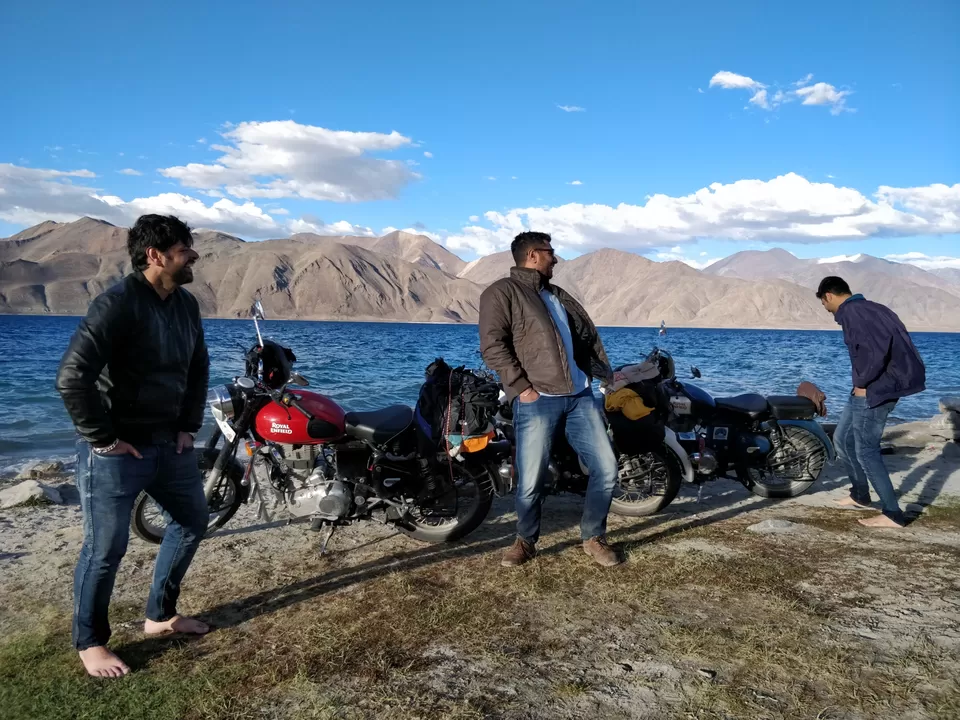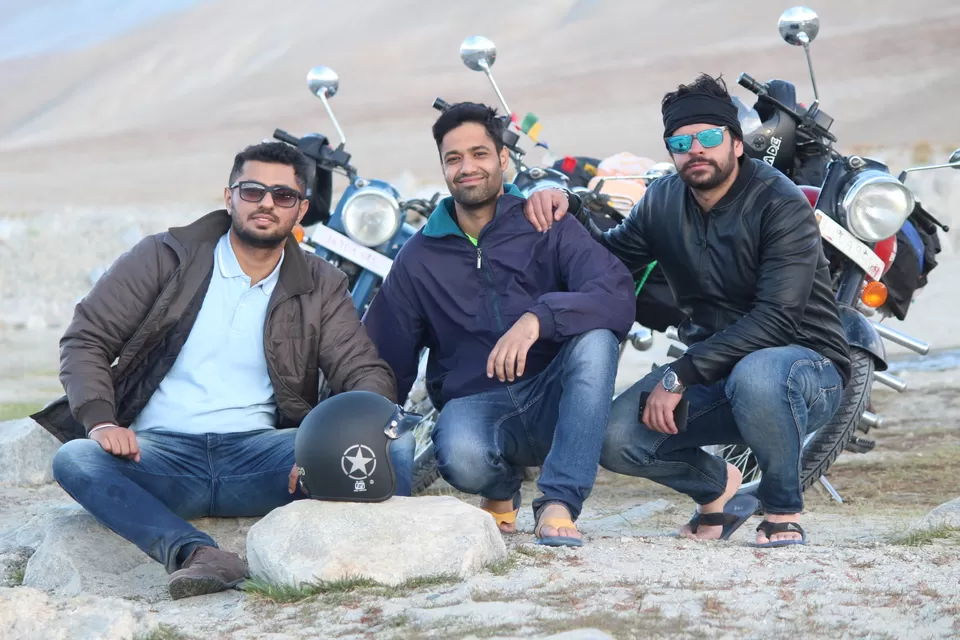 After clicking photos for 2 hours, we then headed to look for a place to stay. We stayed in Spangmik (one of the village in Pangong), there are many other places close by. The lake is spread along a large distance. We bargained and got a place to stay for INR 2000 only. It was a room with attached washroom and lake facing.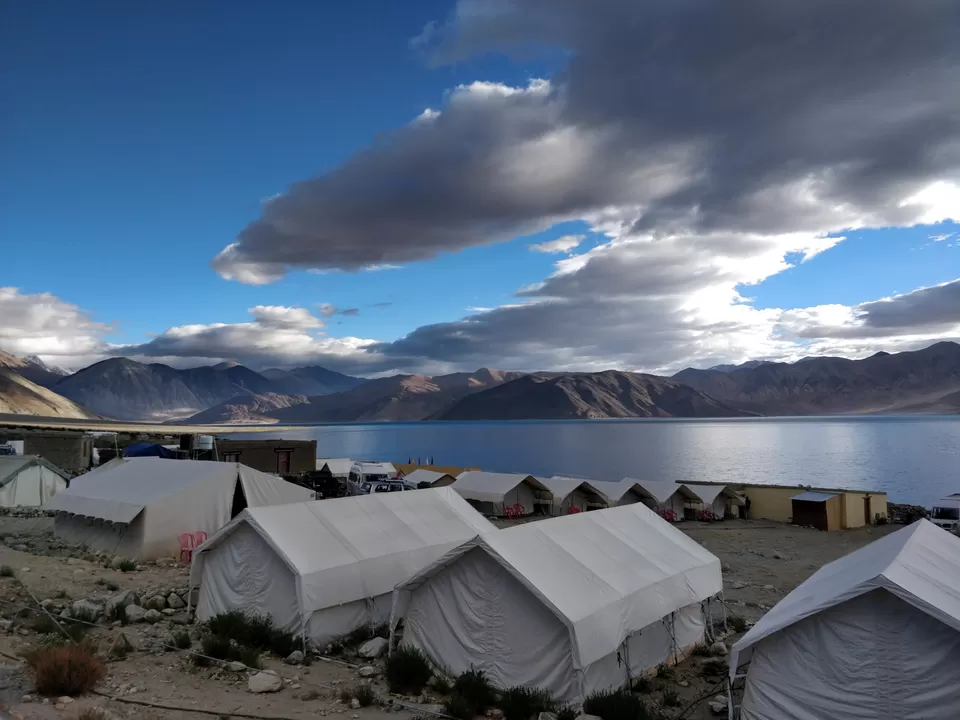 After getting fresh, we got down to the lake again. This time with a JBL speaker????. This was the second last day of our trip and we have had a wonderful one. We had faced all sorts of conditions, heights, views, touched another level of friendship. You had heard about sunrise, but here we witnessed moon rise on the lake. Look at the photo attached.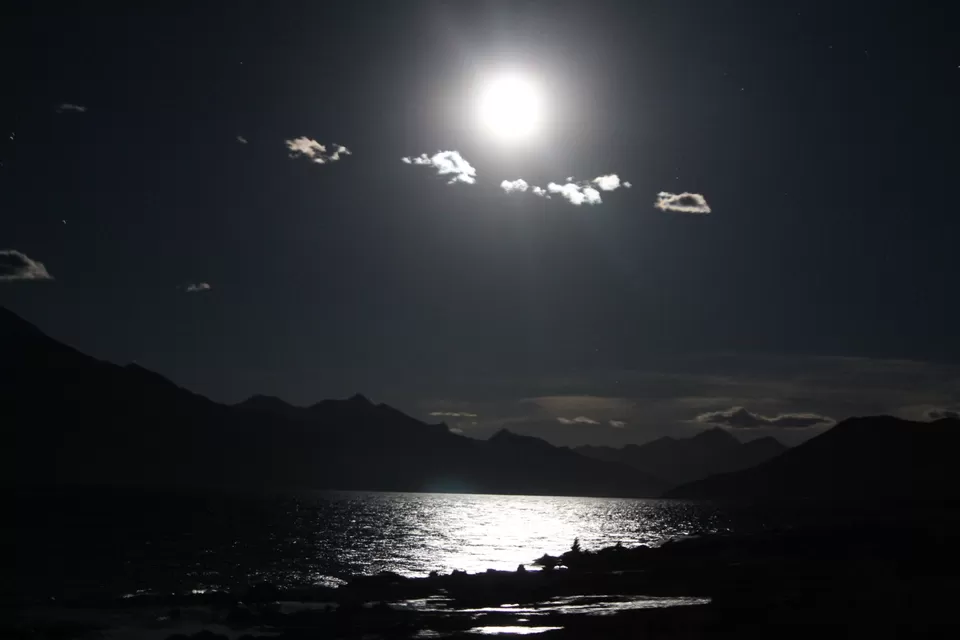 We then went for dinner. Everything closes by 11 PM. There is no light in the area after 10:30 PM. After having dinner, we went to room and crashed off.
Spangmik to Leh, distance: 156km
Weather: Clear Sunny
Mode of Transport: - Royal Enfield Classic 350
We started early today. We wanted to enjoy an evening in Leh before we go our ways the next morning.
The route is same till Durbak from where then you have to take left.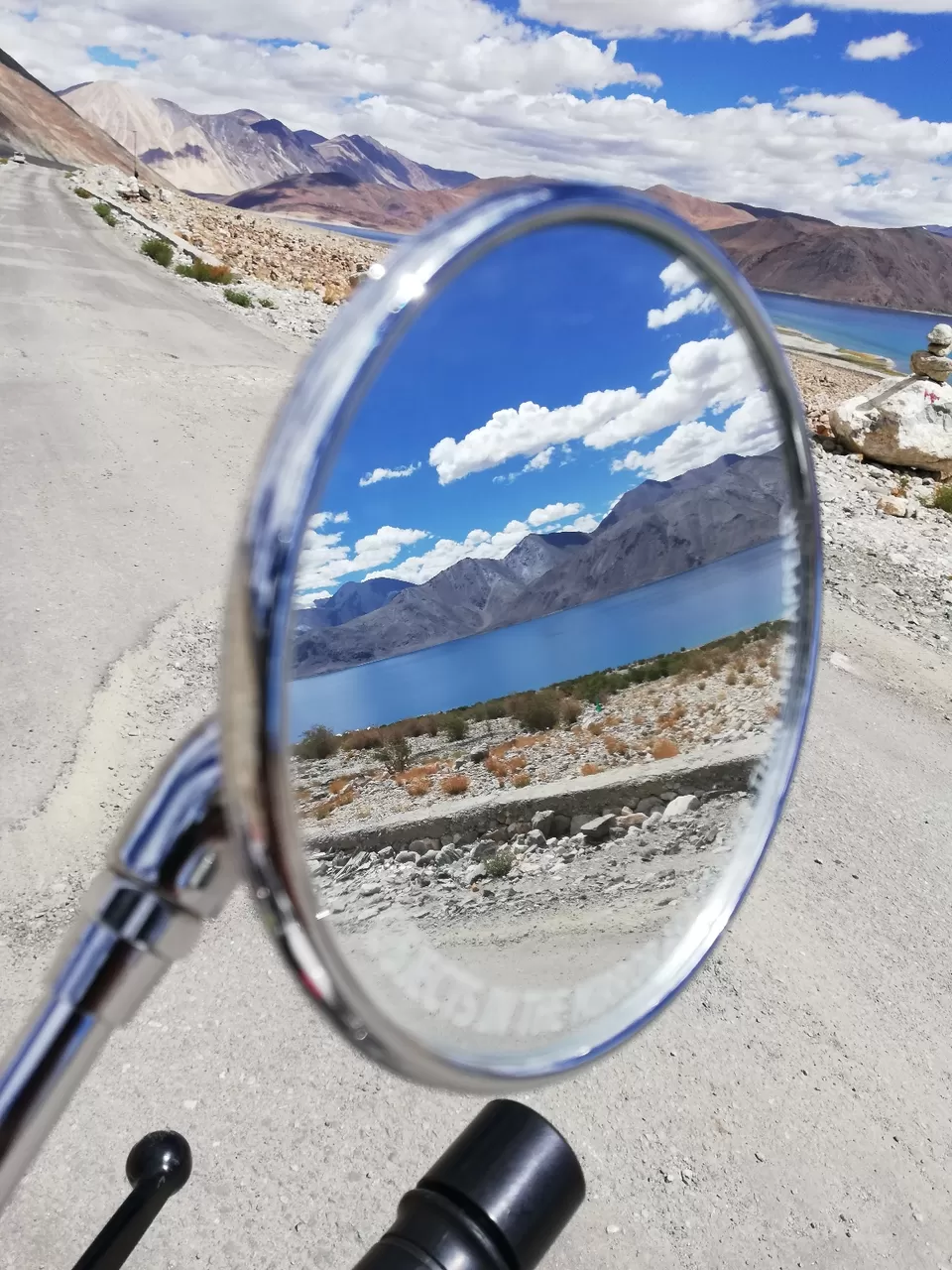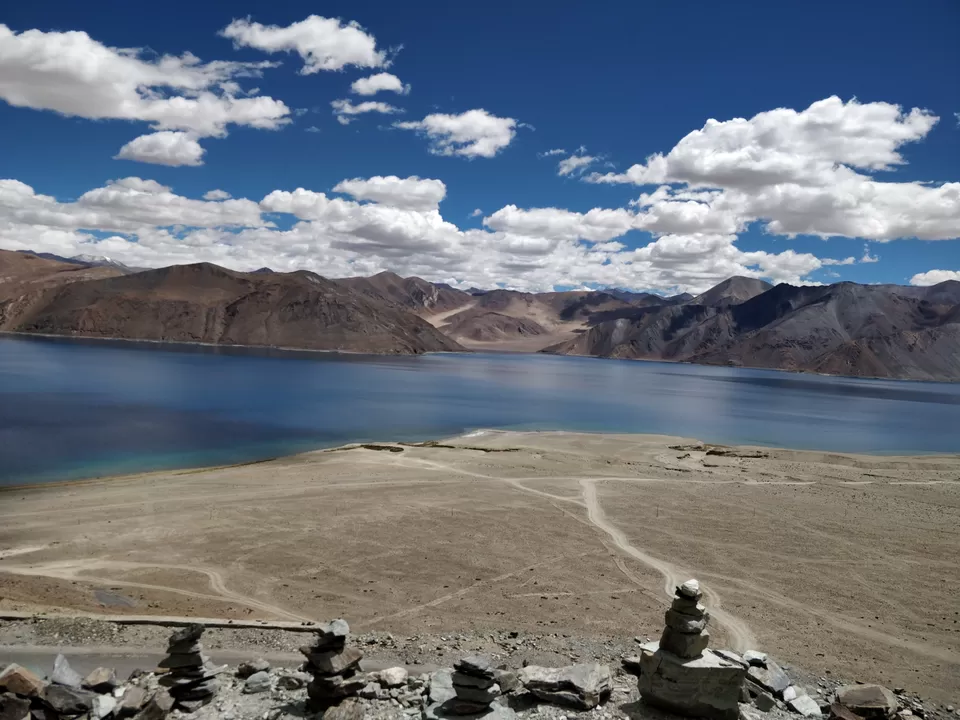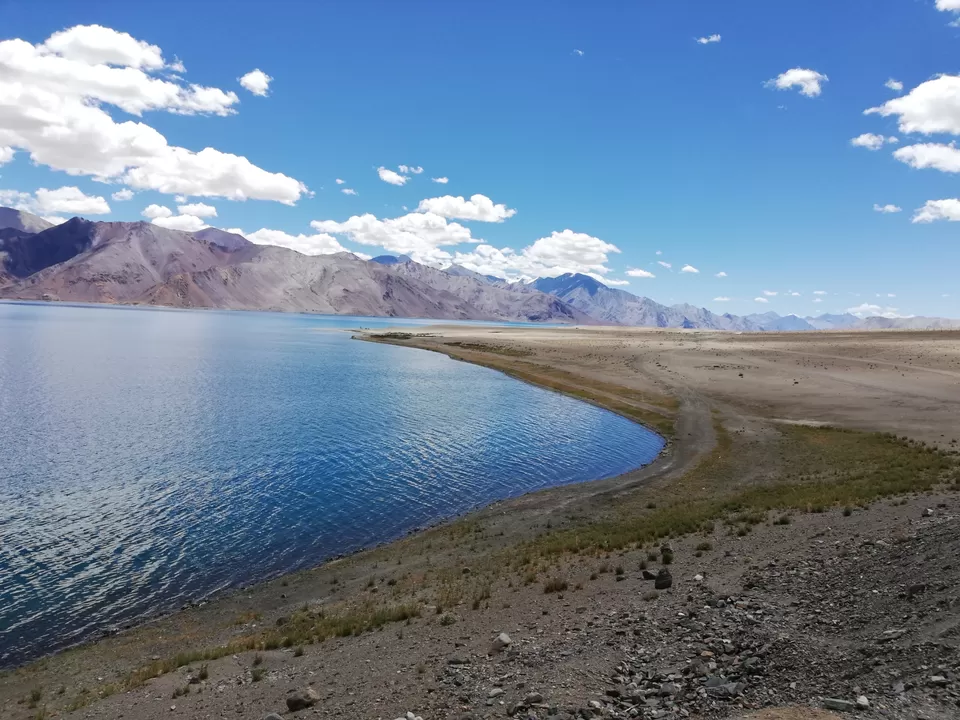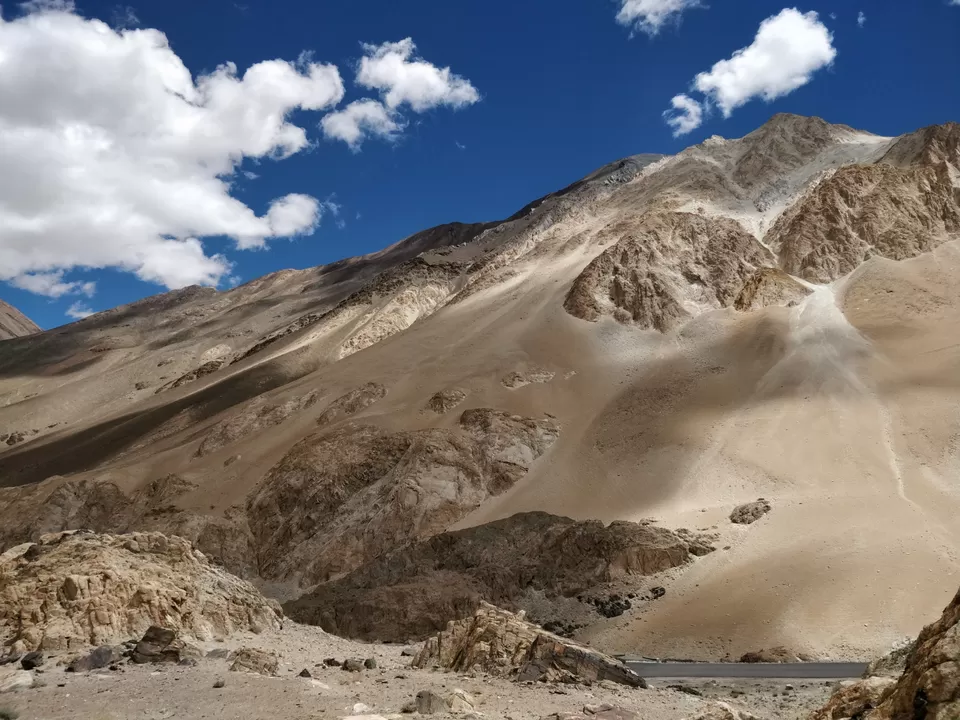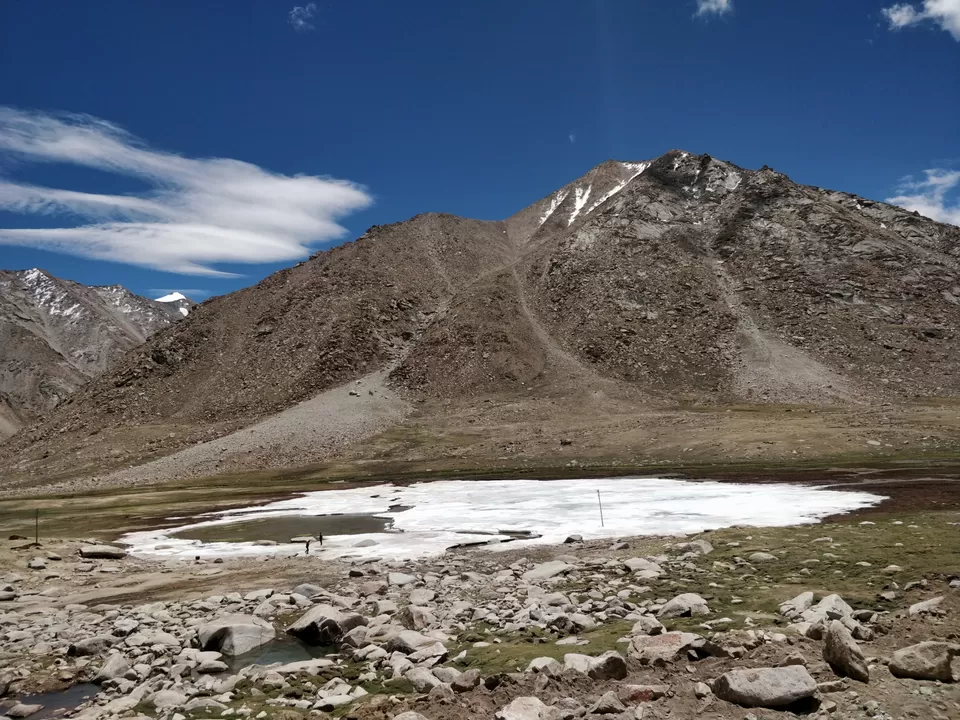 We then reached Changla pass- The height of the pass is almost same as Khardungla. Height: 17,590 ft. or 5360 m. Since the weather was sunny, we did not feel as much cold as we had experienced in Khardungla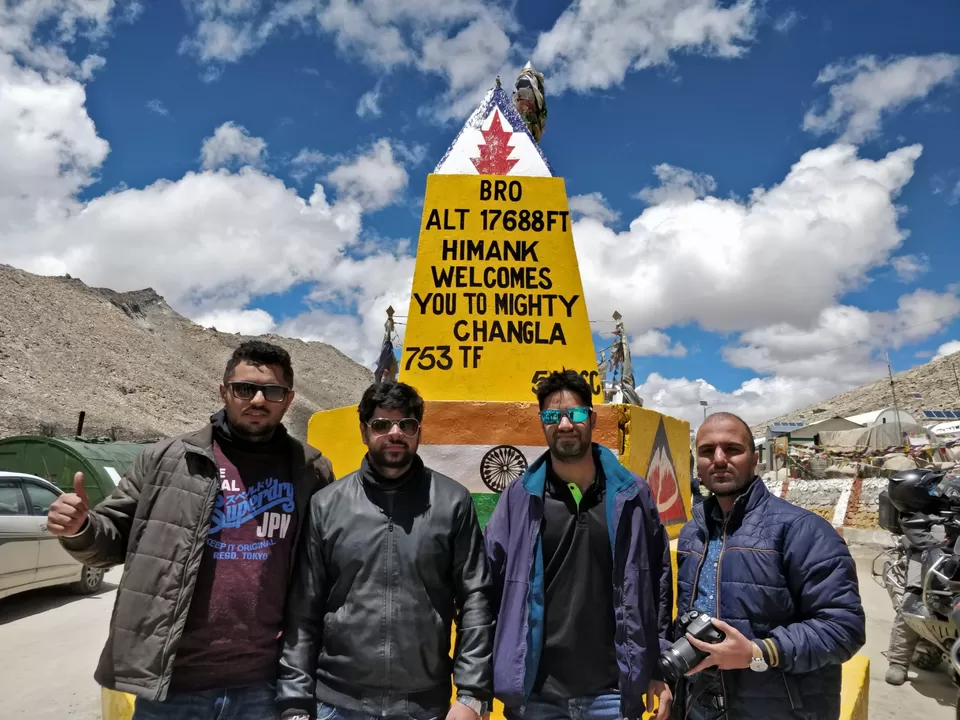 Changla pass- The height of the pass is almost same as Khardungla. Height: 17,590 ft. or 5360 m. Since the weather was sunny, we did not feel as much cold as we had experienced in Khardungla
The roads are beautiful, and we reached Leh by 5 PM. Some views below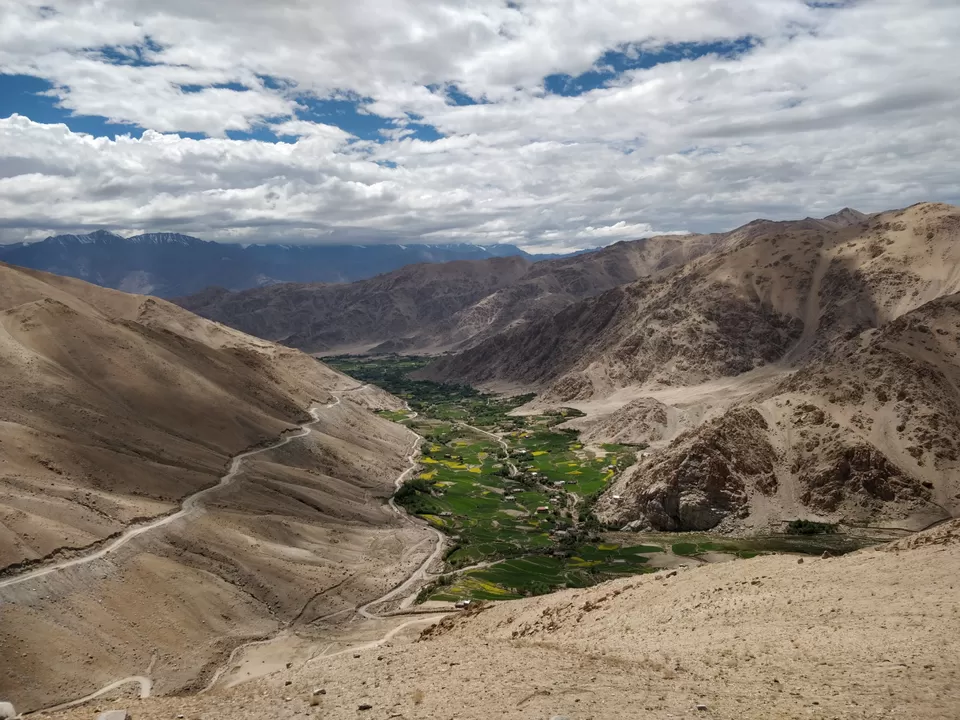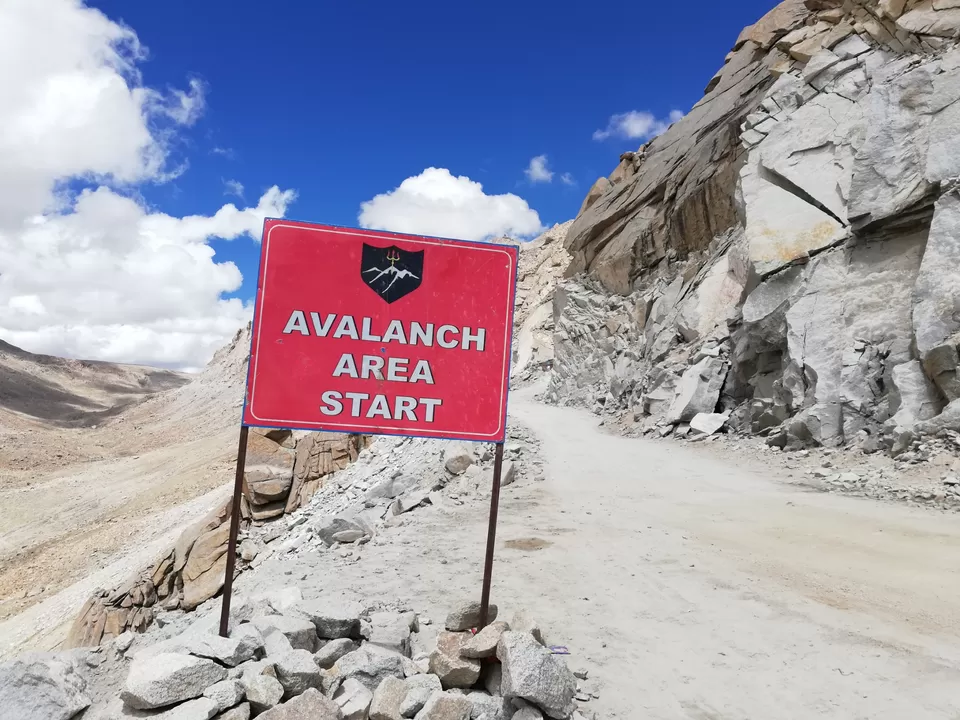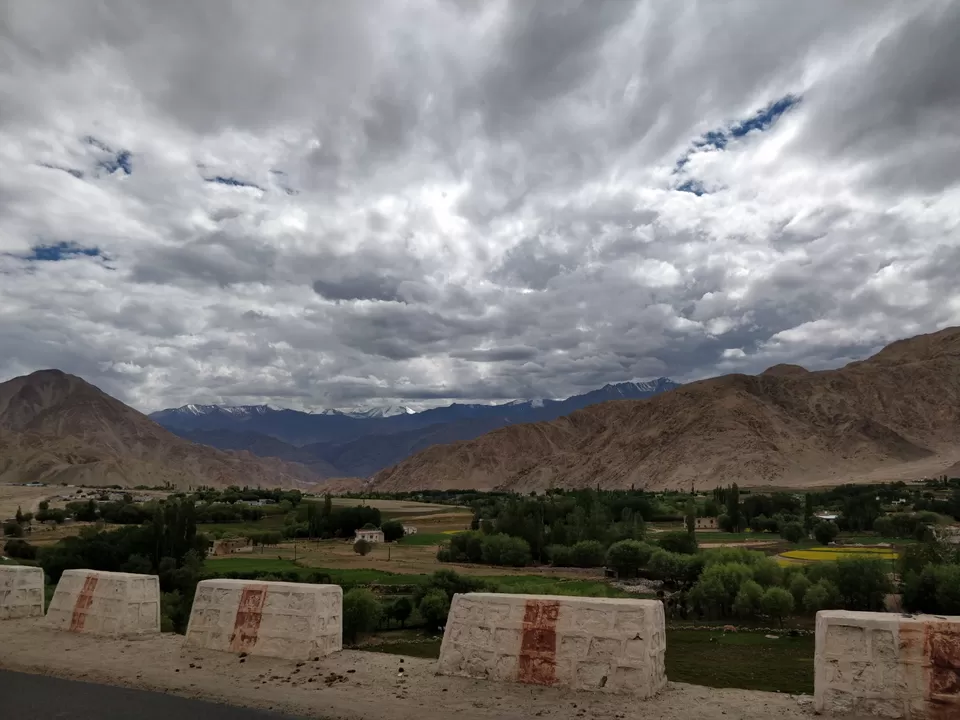 We went to the guest house: - Max Alexandra. Freshened up and headed out in an hour. Did some shopping (some souvenir, t-shirts, etc.) Again bargain here. Enjoyed the evening in IL Forno rooftop restaurant and later in Leh Chen restaurant. With mixed emotions of wonderful trip coming to an end, we made a pact to make next trip very soon????. For next day, the staff at guesthouse arranged taxi for dropping us to the airport. Though the airport is only 15-20 minutes from the guesthouse, they will charge you between INR 400-500
Off from Leh
Weather: Clear Sunny
Mode of Transport: - Flight
Flights are during early morning hours only from Leh. Mine was Spicejet while other 3 were on Vistara.
Everyone went their way, back to the lives we were living but this time with more memories than ever. Below is a click from flight: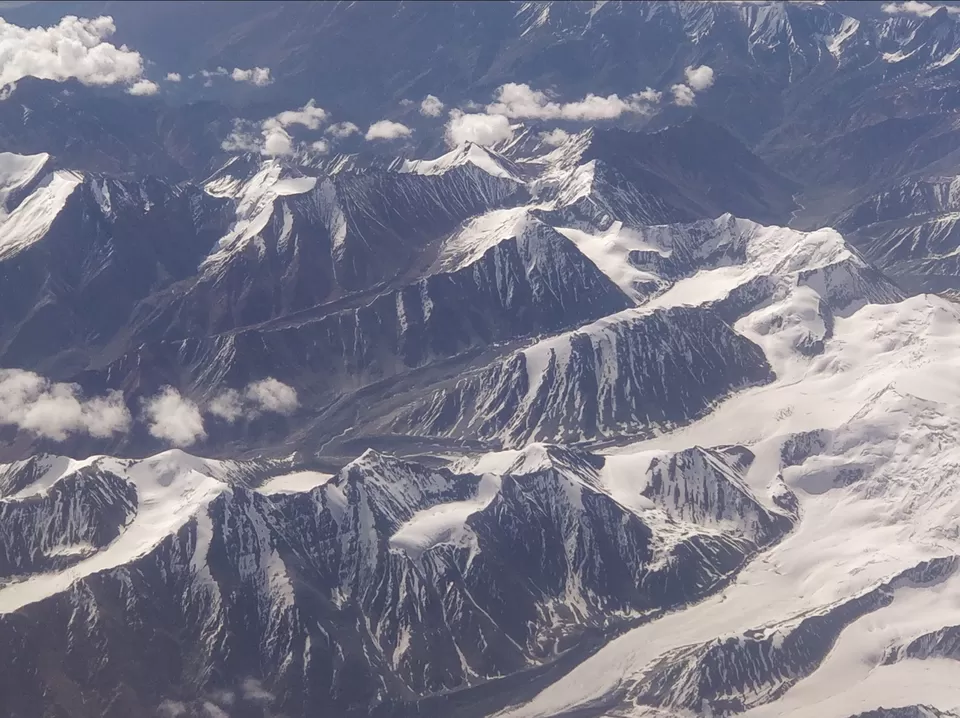 The days we have lived are going to stay with us forever. Value your friends!! Visit Leh ladakh and stay safe. Thank you everyone who helped us in the way to plan and to us all for such a successful trip. At the end we would like to thank Border Road Organization (BRO) for wonderfully laid roads and for their humorous yellow sign boards that will keep you always activated and curious to know whats next????????. Adding few here (PS: some of the below photos are clicked by us, some are taken from google; while all above attached photos are taken by me using OnePlus 5)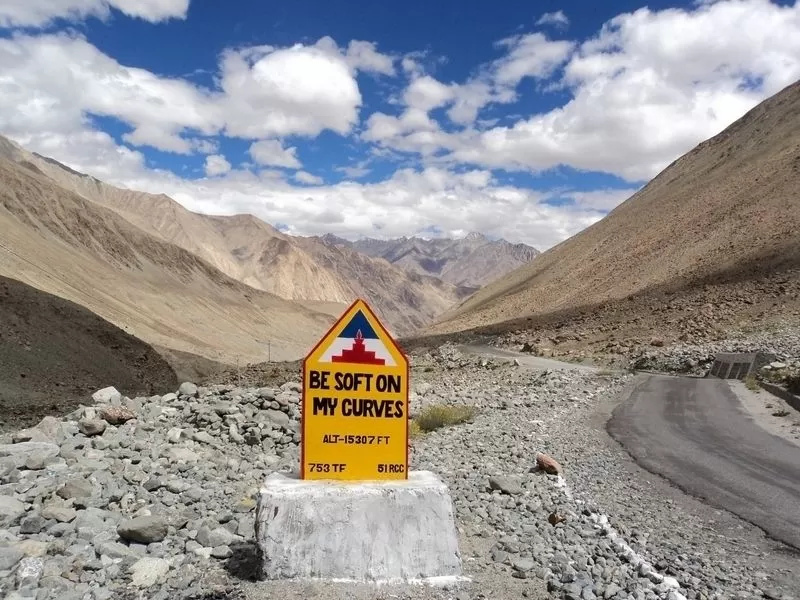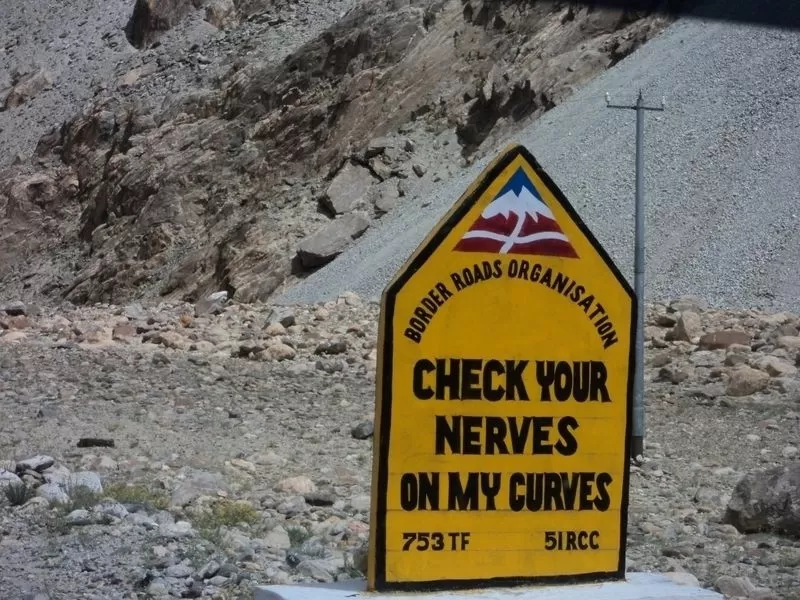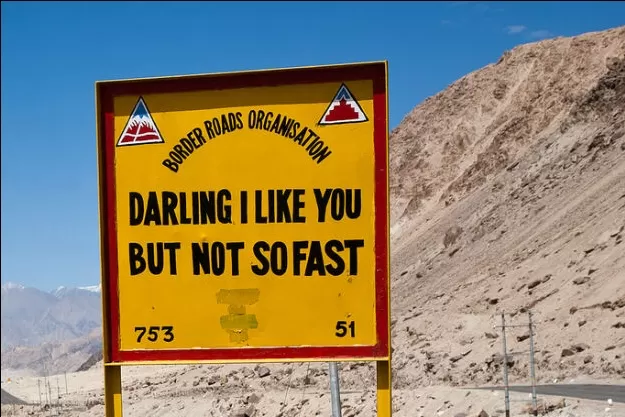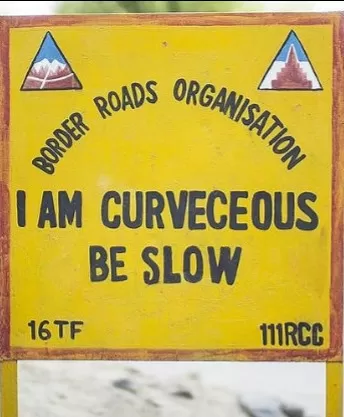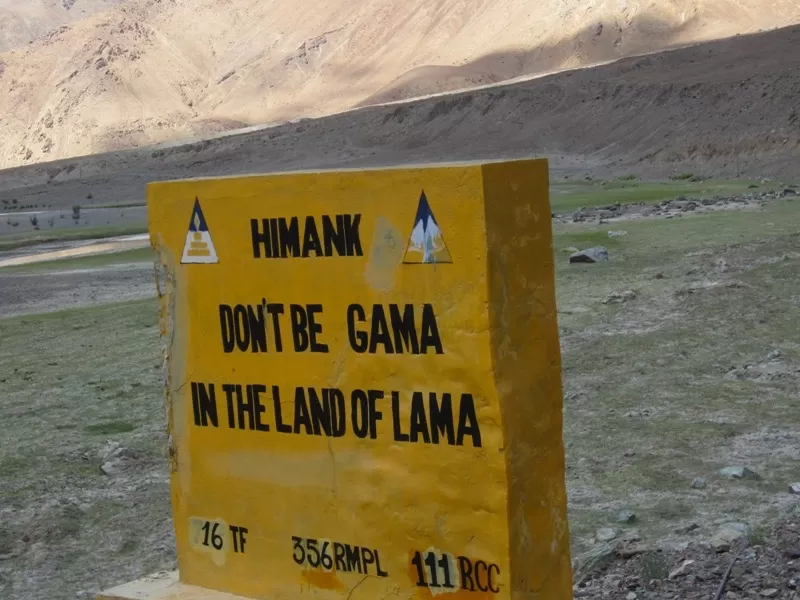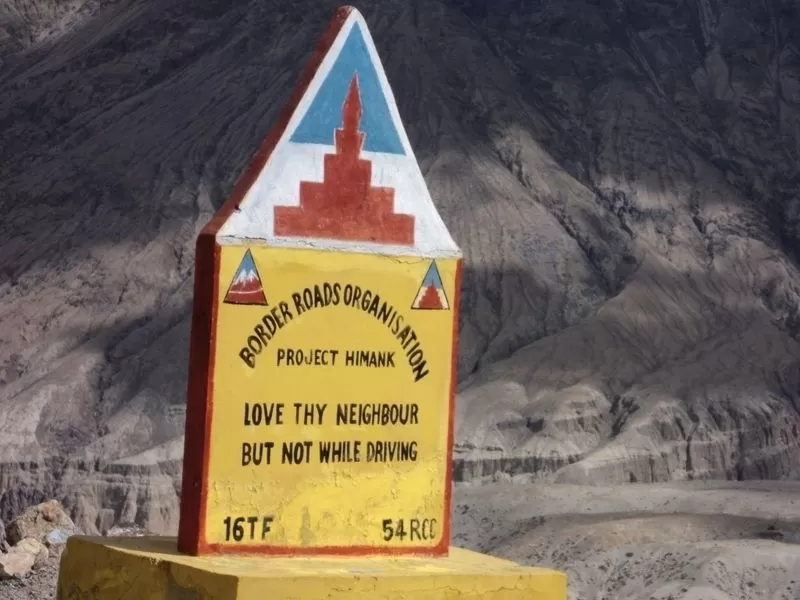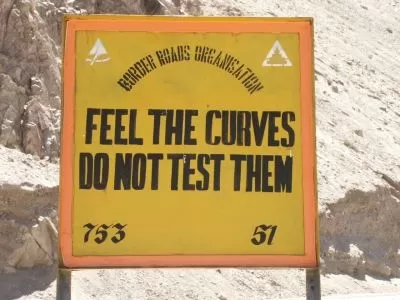 Hope this blog will help you prepare perfect itinerary within your budget. We enjoyed fully without compromising on stay and food. If you have any doubts or queries or need any help to plan your itinerary, you can contact on following number anytime or send a mail.
Mobile # / WhatsApp: - +919780169109
Email: - rahatsareen@gmail.com
Our Instagram Handles, Do follow????
Rahat Sareen- @rahatsareen
Lalit Kultham- @lalitkultham
Sushant Sharma- @sushantsx
Kartik Sharma- @kartik5sharma5