It had been in my mind for a long time; a trip to the famous Leh-Ladakh. It claims to be the best place for biking in India and rightfully so. I had quit my job in May. I realized that before returning to the hassle again, I ought to make it happen. Taking 12 days for the entire journey, the plan kind of looked like this –
Day 1 – Flight from Bangalore to Srinagar.
Day 1 – Shared Cab from Srinagar to Kargil
Day 2 – Explore Kargil
Day 3 – Cab from Kargil to Leh.
Day 4 – Explore Leh town, rest.
Day 5 to Day 9 – Explore all the places around Leh and Laddakh on Bike.
Day 10 – Return to Manali.
(Day 1)Flight form Bengaluru to Srinagar and then Srinagar to Kargil by Taxi.
If you are planning to go to Leh from Srinagar by a shared cab, reaching Srinagar earlier in the day is very important. As our flights got delayed, we were in Srinagar TRC ( 30 minutes' drive from the airport) at around 2PM. With no plans or intentions to stay in Srinagar even a bit longer and finding no shared taxi to Leh or Kargill; I was disappointed. However, luckily for me a taxi offered to drop me off at Kargil that day for a few extra bucks. It was a reasonable deal.
As we started from Srinagar, meandering through the beautiful Kashmir valley, the temperature started soothing down. Travelling for around 80 kms from Srinagar, we reached Sonmarg valley where we had our lunch and headed straight towards Kargil. On the way, we crossed the mighty Zozi la where I could contemplate the reason for it being closed during the winter. Treacherous terrain!!
Travelling another 70 kilometers or so, we stopped at Dras to have snacks and coffee. It was in the town of Dras where the infamous Kargil war started when Pakistani troops directed artillery fire from Tiger Hill and Tololing in 1999 .It was almost 7 PM the time we reached Dras and it was getting even colder. The (Dras)Kargil war memorial is here which we could not see as it was too late.
Kargil town is 50 kms. from Dras and by the time I reached the hotel, it was 9-30 PM. We stayed at Silk route Inn which was located just a mile away from the main market place.A beautiful river gorges by this hotel.The cost was around 1400 per night for a double bed room.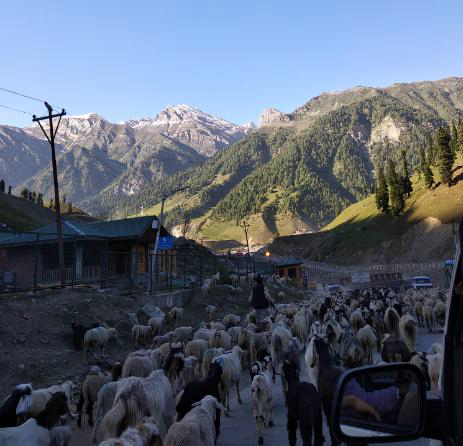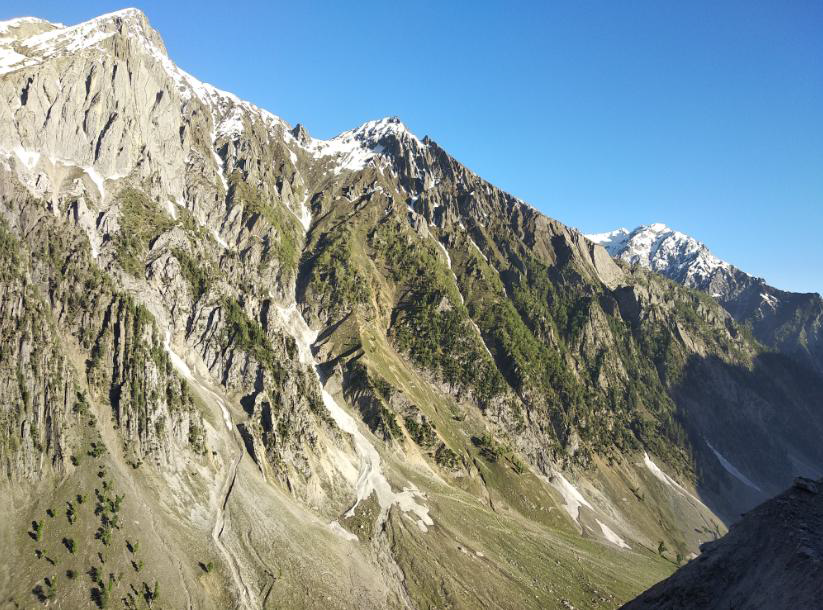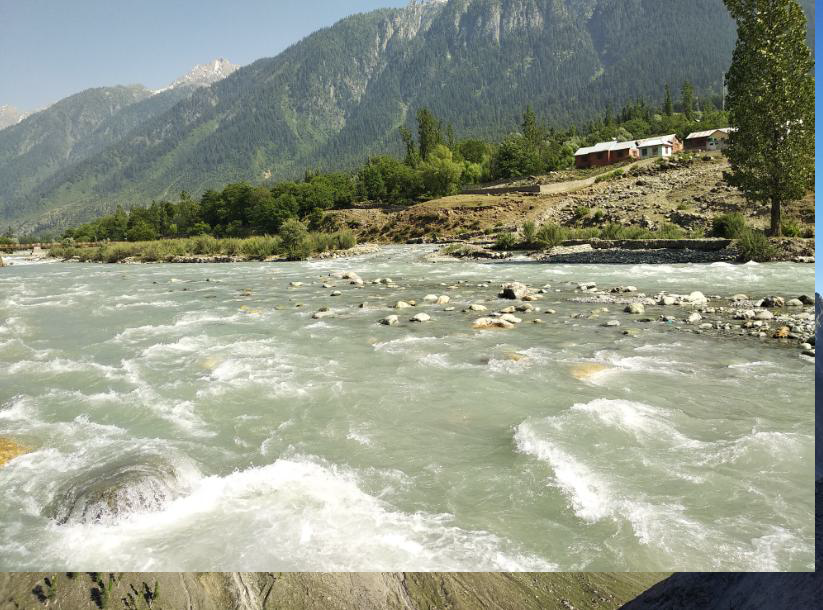 (Day 2.)Exploring Kargil.
The next morning, after having breakfast I got a bike(you can find many shops at the market place) and set out on the road that leads to a small village called Tangol, about 80 kms from Kargil.The famous Nun – Kun glacier expeditions start from here. There are week long hiking programs that people take to reach the glaciers from Tangol which of course I had no plans for. So, this trip was only for the sheer pleasure of riding along the beautiful Suru valley, getting acclimatised with the air and also get a feel of riding which you ought to do a lot during the remaining part of the trip.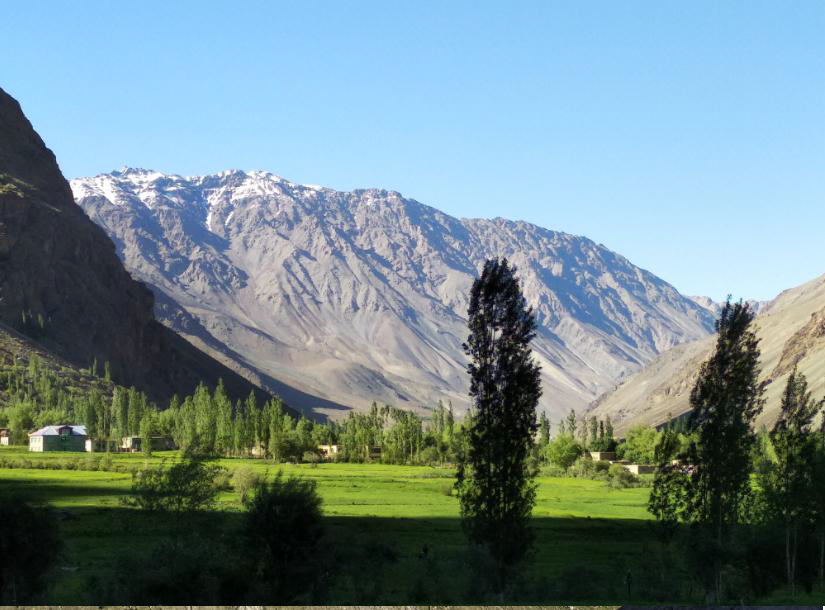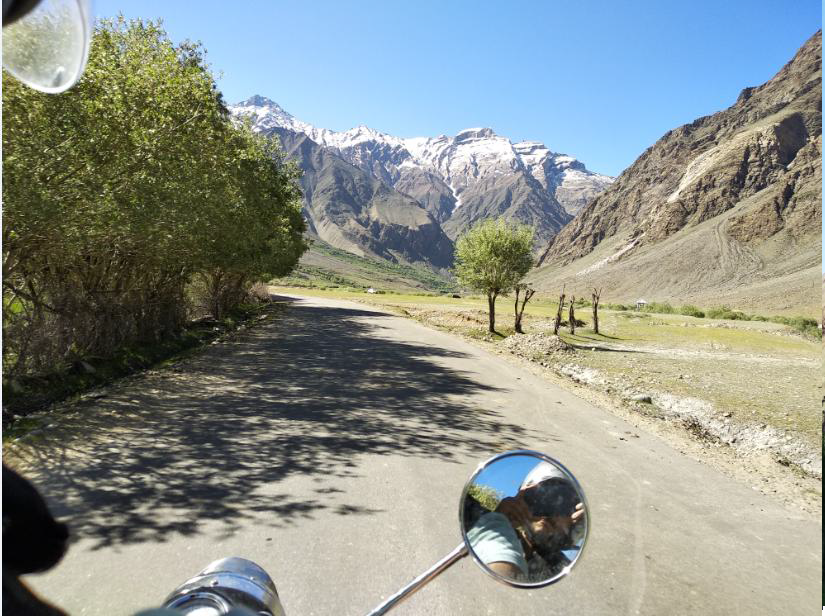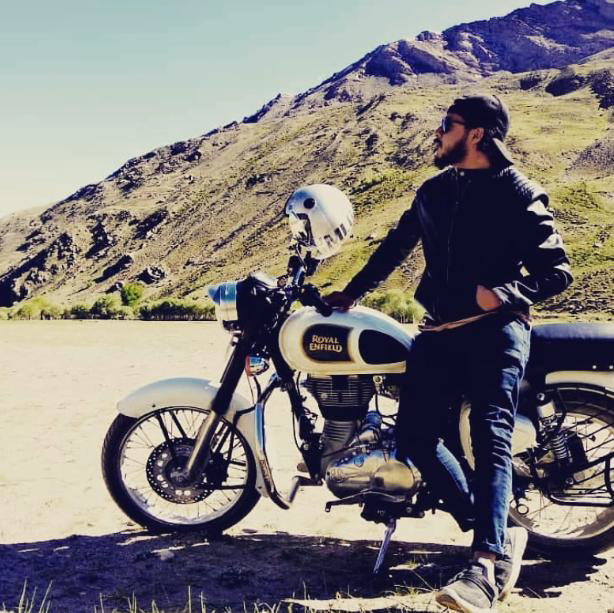 (Day 3/4. )Kargil to Leh, Explore Leh town and take good rest .
The same driver who dropped us at Kargil agreed to take us to Ladakh. We started at around 10 the next day. Almost the entire road from Kargil to Leh is accompanied by barren,multihued mountains on both sides of the serpentine roads. Few places like the famous Lama Yuru, Sangam of Jhanskar and Indus and the Magnetic hills fall on this route. We reached Leh before dark. We looked for a decent and cheap hotel there and stayed in one in the fort road. That evening was about relaxing and exploring the town and the market place. There is a fine little place called the Leh-Chen bar and restaurant where we had a couple of beers and our dinner.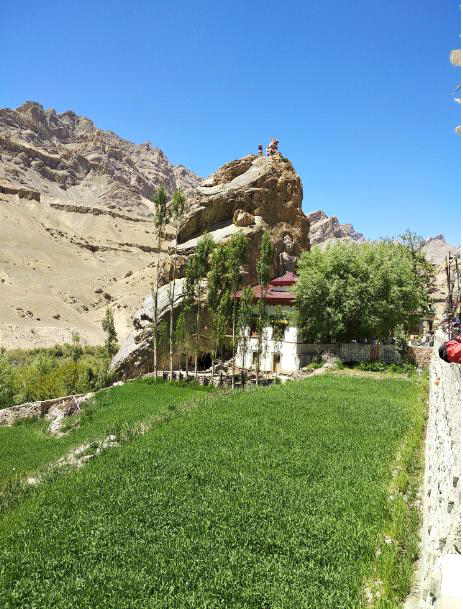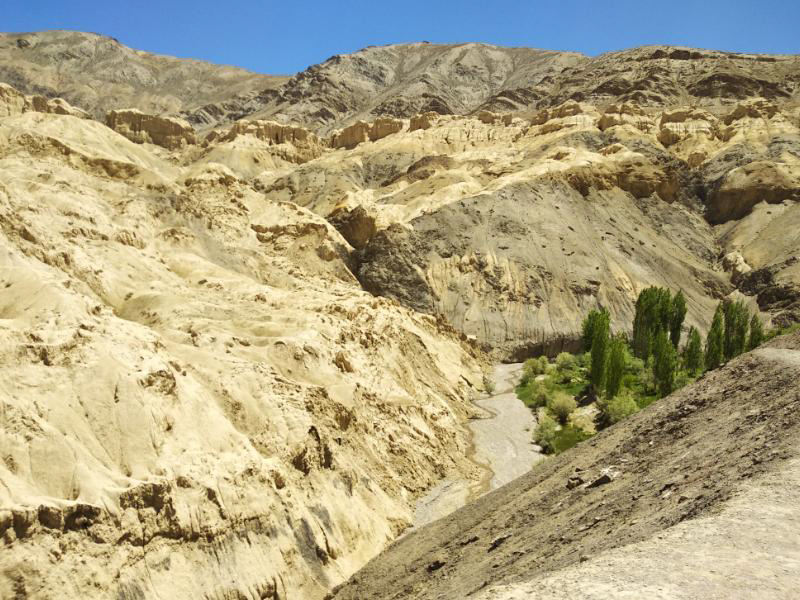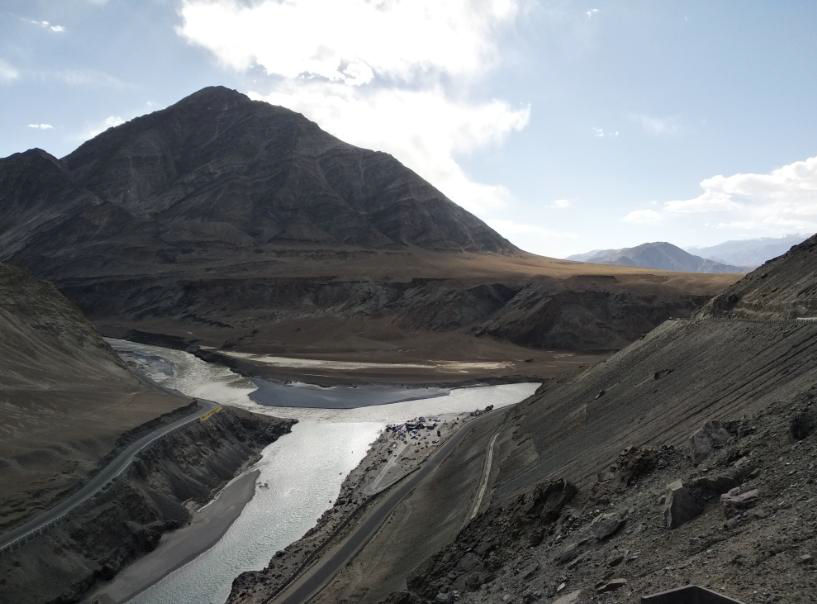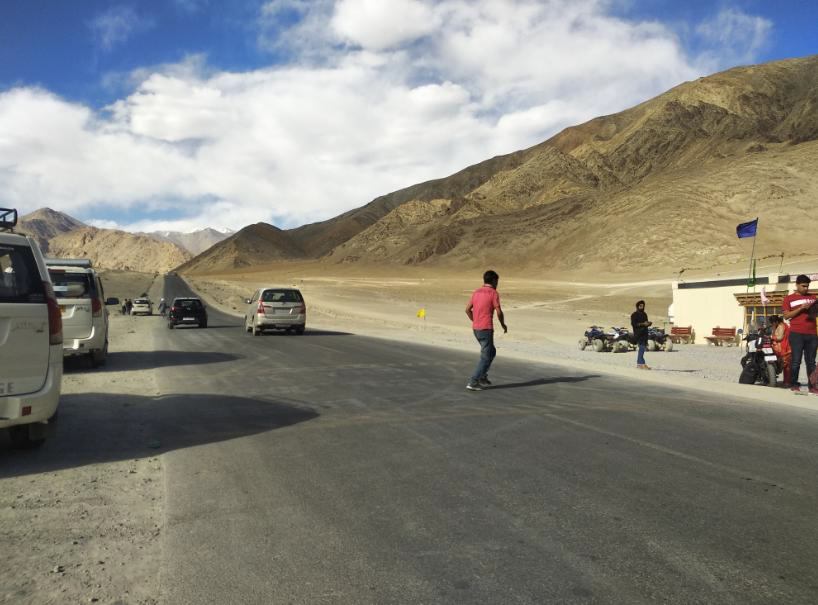 Khardungla and Nubra, (Day 5/6).
It was on this day that we started the real expedition (if you say so). We got our bikes (Avenger 220 CC) for 1200 bucks each per day. Bear in mind that you ought to negotiate with these people. Everything is cheaper if you bargain. One more point; we did a mistake not starting for Khardung la early. It was 2 PM, the time we started which lead us to face a few otherwise avoidable problems. The road to Khardung la is quite tricky. A good chunk is pebbled, studded with pot holes, slippery sand, puddles and what not. Riding will not be a piece of cake and basic expertise is required. Reaching Khardung la, at 18000+ ft. above sea level, we had a cup of tea and started descending to Nubra valley almost immediately (it is recommended no to stay up there for a longer period, the air being light and low O2 levels). Again, a big stretch of road downhill is not in its best condition. Being careful, alert, well hydrated and well covered(scarfs/jackets etc.) are the keys to a safe bike ride in Leh. The sun was going down and it was getting even colder. We were to descend swiftly to make it to Diskit (in Nubra wher we planned our next stay)before dark.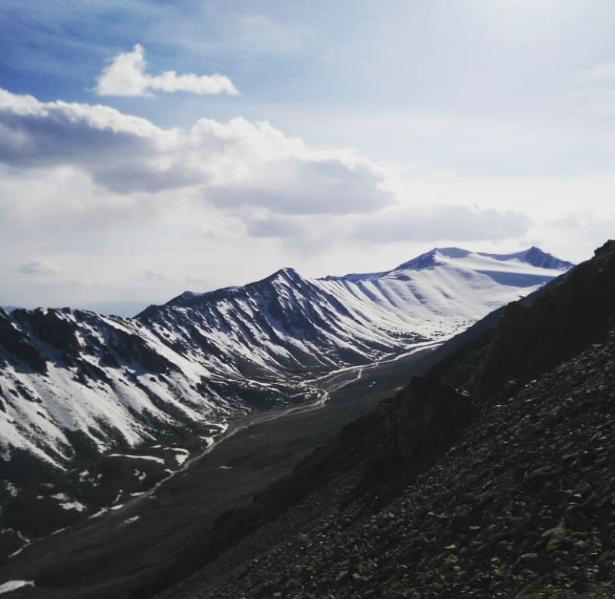 As we were coming down from Khardung la, it was late in the evening and the road was almost deserted. I was kind of scared and tired as well. The thought of my bike breaking down there and me dying in the middle of nowhere from cold and starvation was invading my mind for no reason. But, as I realized that the surrounding was way too beautiful to not give myself the chance to savour it; I started appreciating the ride. I saw the sky that was lit with a bright shade of saffronish yellow. The snow that capped the mountains turned golden. Birds were flocking from somewhere to nowhere. The charcoal grey road that often disappeared into the curves was playing hide and seek as I cruised along . With these thoughts, I reached Khalasar (a small town 20 kms before Diskit) where there was a beautiful camping site beside a river. It was almost dark by then and I thought it was a good idea to camp for the night there. As it turned out, it was indeed a good idea.The tents were available for 800 bucks only. The guys there served us a variety of dishes and alcohol too(to our surprise).With temperature freezing,far away in the middle of a valley, the hot food and warm tents were a luxury.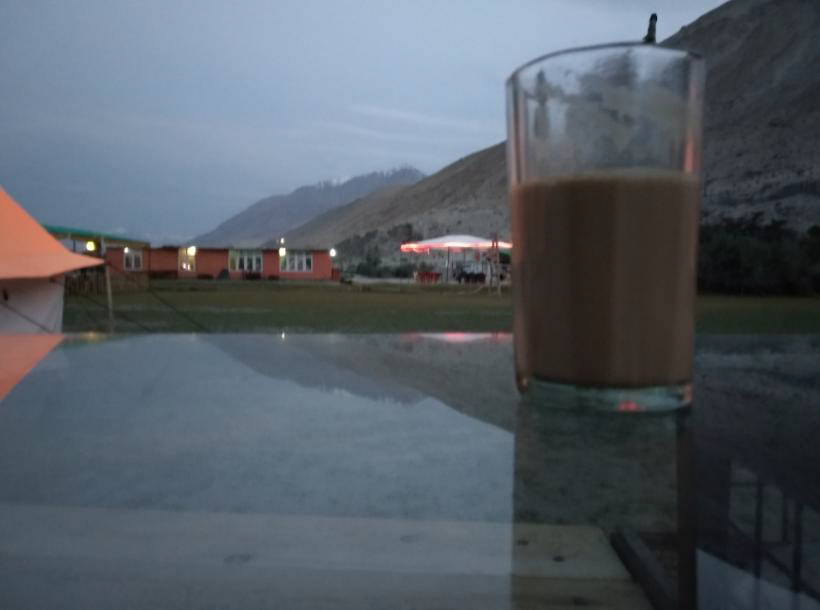 (Day 7/8/9)Nubra to Pangong lake and stay:
The next morning , we started our journey to Pangong. But first, we were to visit Diskit( ~20kms from Khalasar on the opposite way) to fill our fuel tanks and further into Hunder(7Kms from Diskit). We had not spent much time in Diskit or Hunder(famous for double hump camels) although that is the regular thing that almost all tourists do(People generally stay in Diskit and not in Khalasar). Nevertheless, I must say that the ride to Diskit from Khalasar is again an awesome one and a must do. We had some food and were back on the road, this time a long one (of almost 160 kms and more) to Pangong. The road to Pangong, is a typical mountain road to the kind of which you will be used by now. The universal tip of course is to start early, be well covered and stay hydrated. This is again one of the best roads for biking(you must be hearing this phrase a lot !). As you approach Pangong, there is a high spot on the road from where you will see the lake from a distance. This alone is enough (at least for me it was) to make you forget the sheer exhaustion of the long ride you just had. The water of the Pangong lake is deep blue and among the grey hills, it looked majestic. We booked a camp near the lake for the night(Camps here are little costly .You can stay in a guest house or a look more for a cheaper tent). It was almost freezing in Pangong; especially during night time. As you might have heard, the night sky there is mesmerizing. Pangong, I feel is a place to lay back and chill before going back to Leh. I stayed there for 2 days doing basically nothing.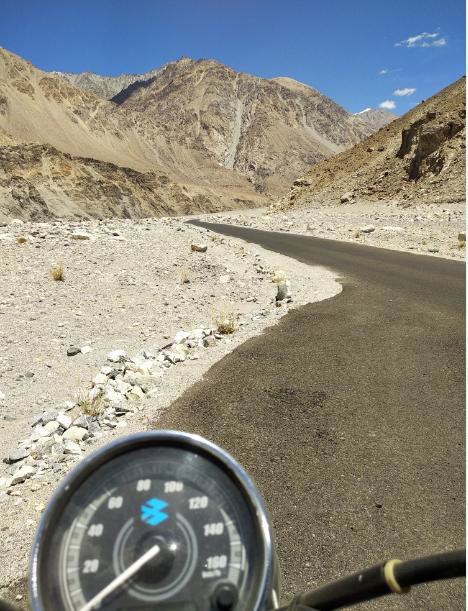 (Day 10/11/12)Pangong to Leh and back to Manali
We headed back to Leh after two days of staying in Pangong. We started at around 9-30 AM and reached Leh via Karu before evening. Reaching Leh, I returned the bike and strolled the town streets hoping to shop few things.
We booked a shared Taxi (middle seat @3000 rupees for each seat) for the next evening.As we said good bye to Leh and started on the famous Leh-Manali highway by 5 in the evening, it started snowing heavily and incessantly for more than an hour. Our cab was battling through it and so was the other vehicles on the road. Everything around us appeared absolutely whitewashed. It was again, quite the view.
The shared cabs drop you to Manali in about 18 hours with only one or two breaks. So, considering the condition of the road and traffic as you approach Rhotang La, the journey can be a little painful. If in a group, you book an entire cab and can halt in Sarchu, Jispa, Darcha or Kelong on the way while also travelling during the day so as to enjoy the view around.
We reached Manali the next day (around 1 PM due to traffic) from where we had booked a bus to Delhi the next evening. I was very exhausted from the tiring cab ride ad had to rest a day in Manali.
Take-away :
Every time you travel, one thing you do above everything is that you learn. Leh and Laddakh (or Kargil) is no exception. This place is so rich in culture and history that it is nothing short to amazing. Since 1974, when the Indian government opened the valley for tourists, people have visited this magical place, studied about it, wrote books or have made documentaries. The beauty of the place is of no match. With the mighty Himalayan range, the gorging rivers of Indus, Jhanskar and Suru, the beautiful valleys, monumental monasteries and above all roads and terrain that gives you the adrenaline high, the kind of roads that you dream to ride on , Leh and Laddakh is richly packaged with adventure and serenity. On a separate note, as you visit places like this and get a taste of what the army of our country endures every day, respect for them surely makes room in you.
Lastly, there are many more places to visit in Leh-Laddakh including the famous Tso Moriri and the Jhanskar valley (or the Chadar Trek) or the Nun Tun Trek. As it is obvious that all of them cannot be covered in a single trip, especially when you are working.
An old monk from Leh had once said "Our land is so barren and the passes so high, that only the best of friends and the fiercest of enemy come to visit us". So, plan your itinerary, get stronger, be the 'dearest friend' and head off to this amazing place.
Frequent Searches Leading To This Page:-
delhi to leh ladakh tour packages, 10 places to visit in ladakh, things to do in ladakh in december, hotels in nubra ladakh, leh ladakh tourism places