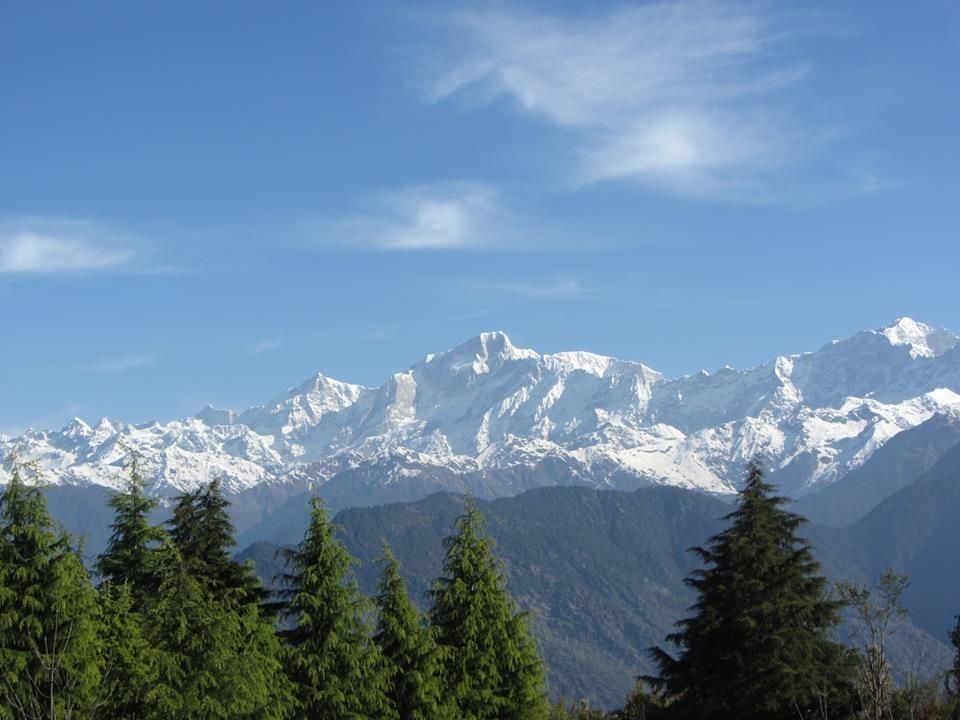 The year was 2013. At a family get-together at some fancy restaurant in Gurgaon, everything from politics to property was being discussed and debated. Me and my cousin, several years elder to me, were discussing our new found cycling and traveling hobbies. Somehow we got into a deal to go for a weekend trek together in near future. Decathlon was a new phenomenon then and my cousin had a friend who bought almost everything you could imagine from there, so we were sorted out :)
We finally decided on doing the Deoriatal trek. A few weeks later, on a Friday evening, instead of taking the office cab home, I got in the metro, took a riksha, and was at my cousin's place for dinner. Google search had revealed that the lake is some 3 hours trek from Sari village, and there are no food or stay facilities up there, so we carried our own tents, sleeping bags, some canned beans and tons of "puri" (a homemade Indian bread that can last 2 days in cold weather). The bags were heavy, but our excitement had enough buyont force to keep us going :)
Super excited, we were ready to leave for the railway station, when my brother's son, who was little back then, started crying as he saw dad leave with a big bag. Oh man, he won't stop. We had use all kinds of tactics to ease him. Finally we were out. Needless to say, it was a sleepless night, however our bodies could relax on the flat beds, for now ;)
At 6 AM, the Haridwar railway station had a very welcoming aura around itself. Unaware of what lay ahead of us, we sipped on a cup of hot tea. There is no direct bus to Sari village, we took a bus to I can't remember where, then a shared cab further, and finally a bus once again. It was a long journey. It was around 5 PM when our conductor told us our stop had come. The trek starts just a little before the Sari village bus stop. Bang opposite to where the trail starts was a little restaurant, where we unloaded our backpacks, re organised our stuff and ordered some light meals. The owner asked us if we needed tents and dinner at Lake side. Damn, the internet blogs were behind time (like this one :P), there was a small dhaba near the lake and you can rent camping gear/hire porters at the village. This was 5 years ago, so I guess now there would be even more facilities.
But me and my bro decided this was going to be a DIY trip. It was already late evening and we had to trek 3 hours with the heaviest backpacks I have ever carried. It got darker, sooner than we had expected. No moonlight to aid us. We didn't even know the way, just a vague memory of a spiral path seen on Google maps. There weren't any fellow trekkers. So we just kept going on the wide trail ahead of us.
We reached a point where the trail was not so wide, there seemed to have been some kind of landslide or something, and a very narrow path was left. Thankfully it wasn't too long. It was pitch dark, turning back was not an option. So here is the strategy, one person holds the torch while the other crosses, turns around and holds his torch for the other person to cross.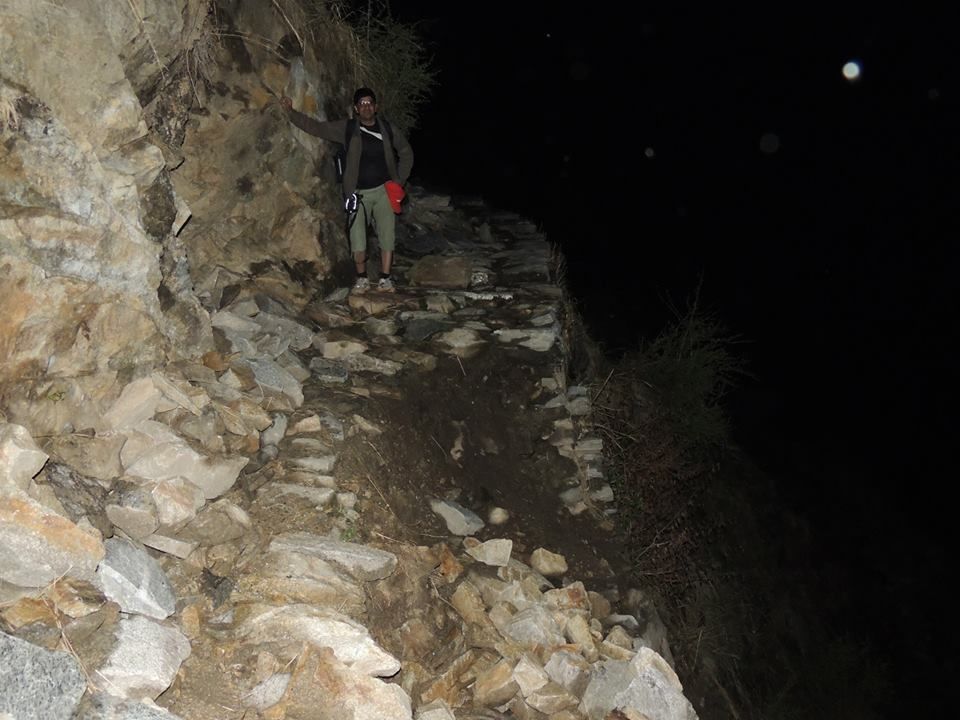 It was scarier than it may look in the picture. I chuked the Victory pose, lost in thoughts of what may be waiting ahead. There were no sign boards to guide us in the way, thankfully there weren't too many trails cutting of way so we didn't have to make too many guesses. There were sounds, other than the sound of the blowing winds, that were not so comforting. Our eyes started searching for big sticks, just in case. We could see some distant lights somewhere indicating small inhabitation but that was not going to be our way tonight, up we went. After much ado, we finally heard some human voice and saw a small lamp with its lights filtering out of leaves giving mild hints of its presence. The trail turned into a narrow path between two huge rocks, the incline was now flatter, and there it was, a small dhaba with a one man army at service. He told us we could camp on the ground just a few metres ahead. As we crossed that narrow path, it soon opened up into a ground. We saw 3 tents set up, crossed them, found a little plane area and drooped our bags. This is it. The tent was out of the bag, with no instruction booklet, it took a couple of iterations before we could set it up :) It was dinner time now, a well earned one. We took our canned beans to the dhaba and asked the guy to heat up in a pan with some butter, spices and vegetables. Puri and Rajma at its best. Back into the tent and off to sleep.
I always love waking up in the mountains :)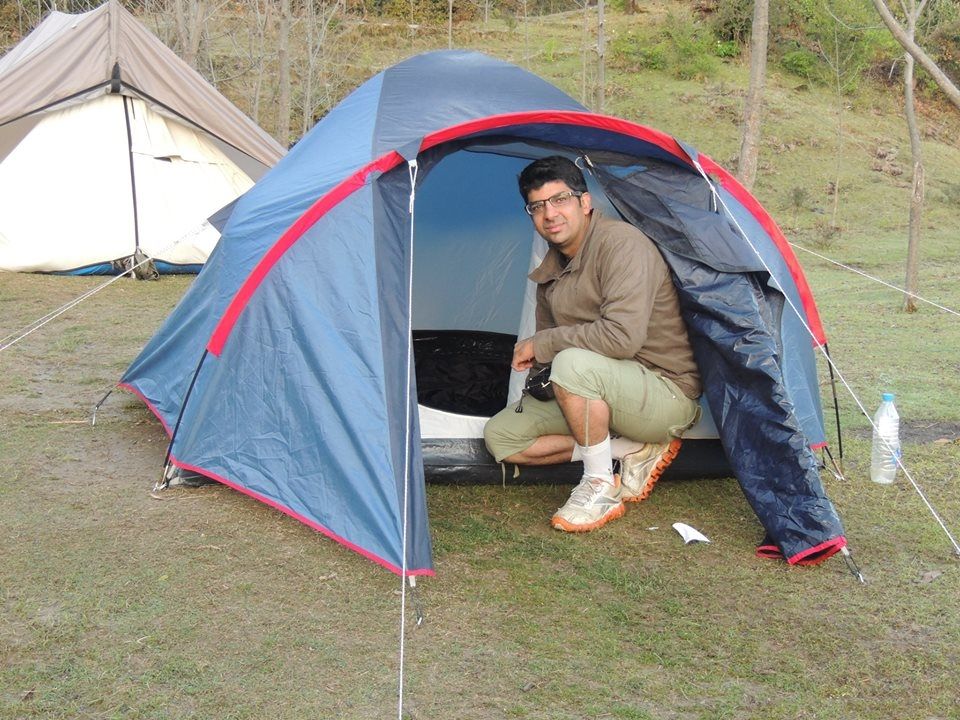 I thought I would get out and see our craftsmanship with the tent in sunlight, however I was dwarfed by nature's craftsmanship as soon as I stepped out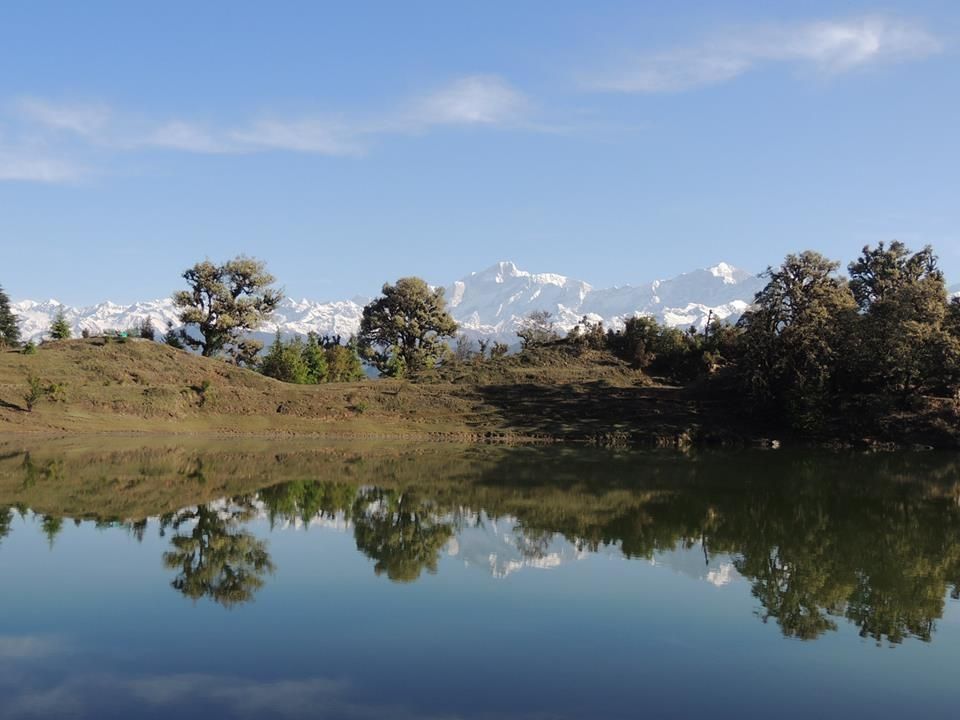 We had camped just a few feets from the Lake without realising it. The reflection of snow capped mountains in the lake was beyond imagination. There is a nice trail amongst the woods all around the lake to keep you amazed for the next couple of hours. Or if you want to rest, you have the best bed ever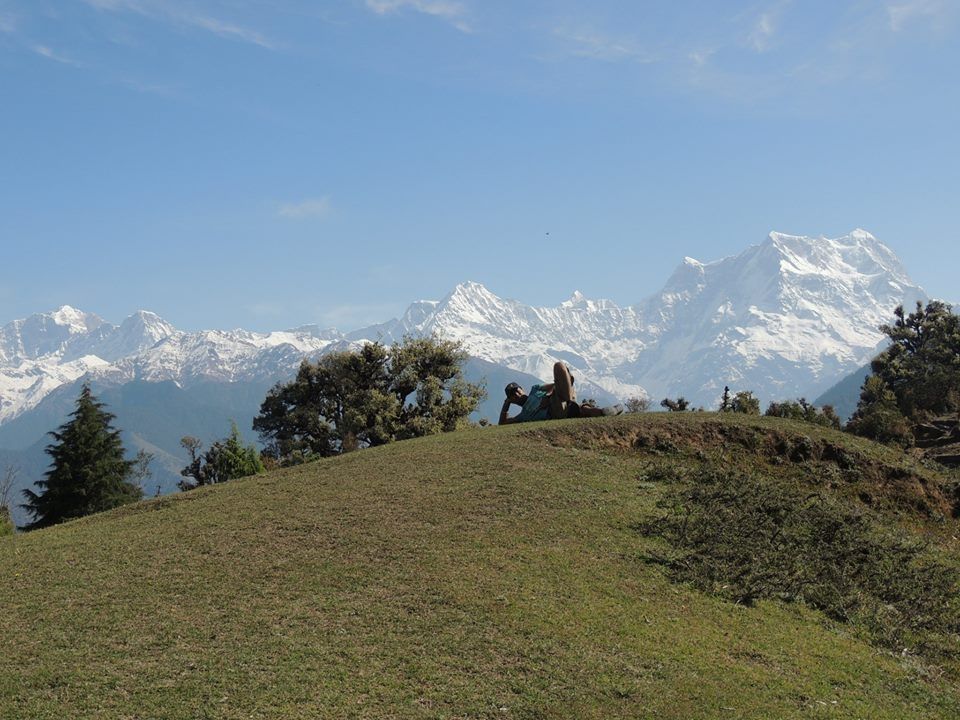 We were in a bliss. How a casual conversation had lead to this amazing opportunity. By noon we started our descend, this time through a different route that cut through beautiful villages and farms on the hill side. Reached the main road and had a rather long wait for a bus moving in our direction. Again after 3 rides and a few long hours, we reached Rishikesh. Delhi was just an overnight journey away now...