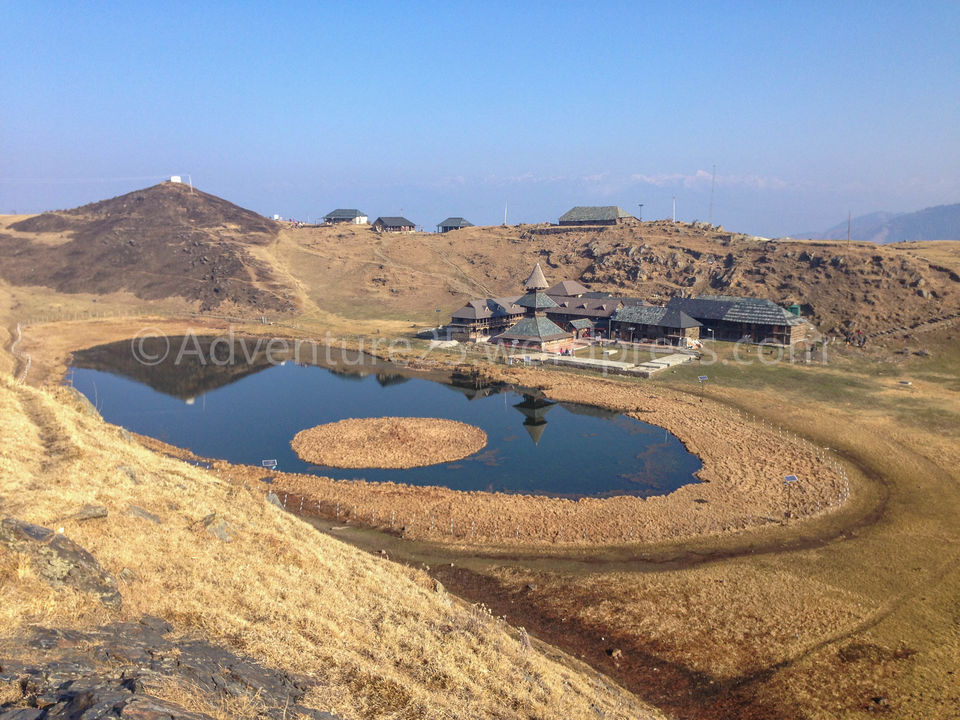 "Prashar Lake"lake is located at a height of 2730 mts above sea level. It is believed that this was the place of worship and meditation of Maharishi Parashara- an ancient Indian sage accredited as an author of many ancient Indian texts. The lake has a floating island and its depth is unknown. There is a three storied pagoda temple by the side of the lake that is dedicated to sage Parashara. The temple was built in the thirteenth century. So here goes our trip.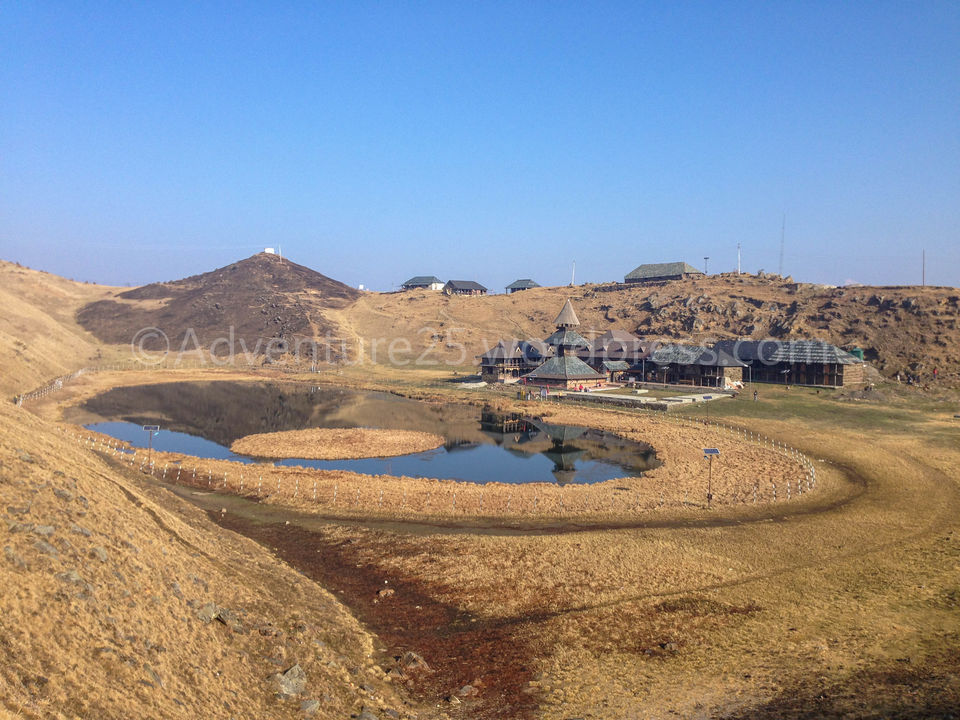 Day 1 (26/02/2016) – We (I and my husband ) boarded bus from Delhi ISBT (9:15 PM) and reached Mandi at 8:30 AM. It's a 10 to 12 hrs. overnight Journey.
Day 2 (27/02/2016) – Reached Mandi bus stand at around 8:30 AM. From Mandi bus stand we took a bus to Baggi. Ticket cost 50 INR/person. U can also hire private taxi as well. Baggi is the place from where the trek starts. The bus will drop you at the exact place from where the trek begins. Here you will find few kiosks where you can have boiled egg, Maggi, tea, omelet etc. We had our breakfast and then we "Get Set Go" to our trek.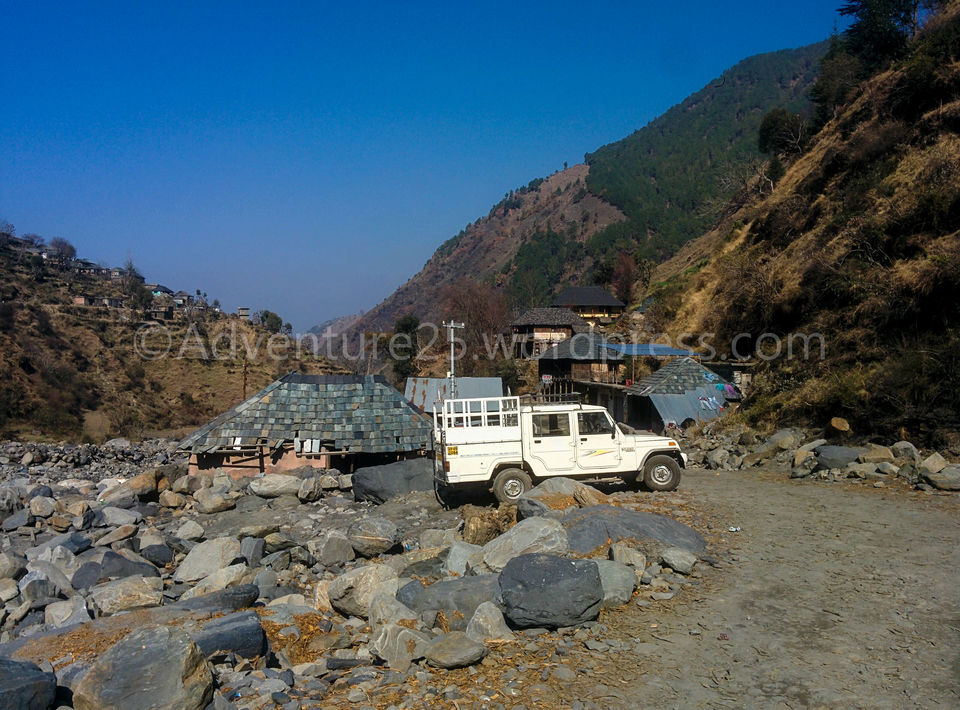 Day 3 (28/02/2016) – We woke up early morning 4am to freshen up ourselves. As we moved out of our room, I saw a poetic view; the sky was full of stars and its reflection on the lake…something that can't be explained in words. We again went to sleep and woke up at 7am. We went straight towards the lake, and started climbing the adjacent hills. You will get 180 degree view of Dhauladhar and Pir Panjal ranges. Just climb all the hills that have cordoned off this lake from rest of the world and feel enthralled.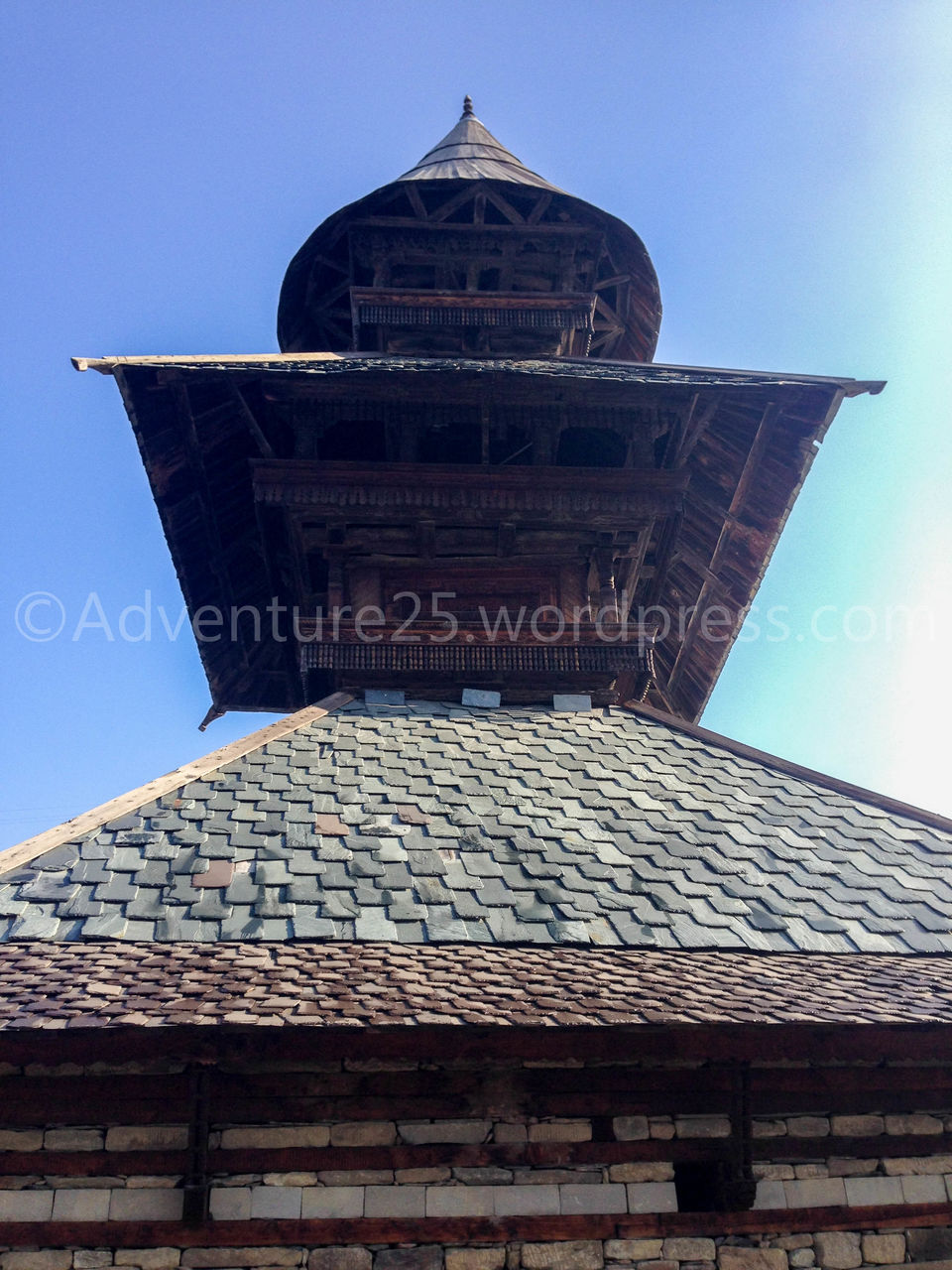 Day 4 (29/02/2016) Reached Delhi at 6 AM. In this way our trip came to an end and preparation started for the NEXT one.
The journey started with a rocky trail with a stream flowing over it. Walking through this rocky trail is not difficult but it tests your acumen. You have to make some intelligent decision how you should move ahead. Please mind your steps, if you fall, you can hurt yourself.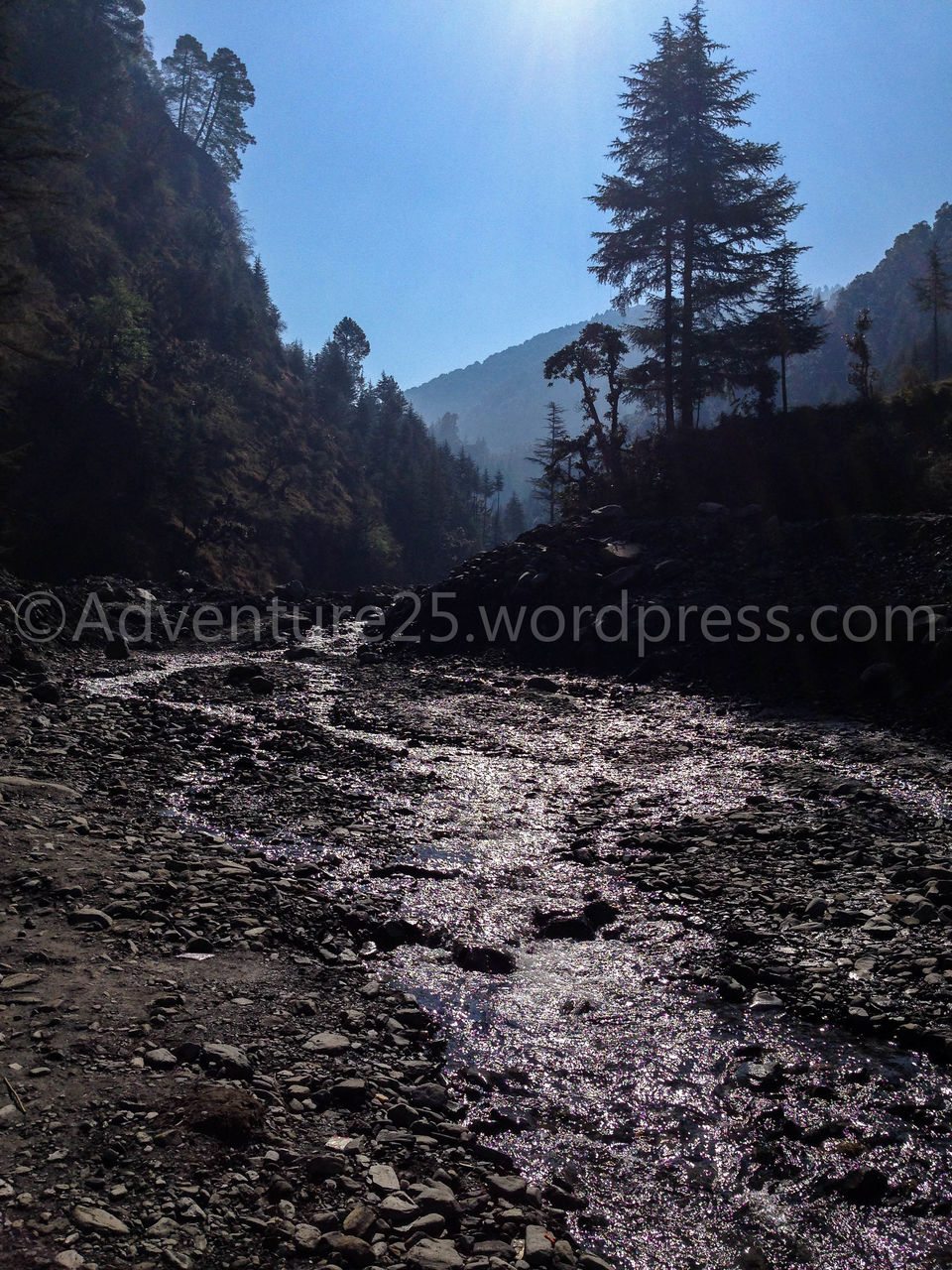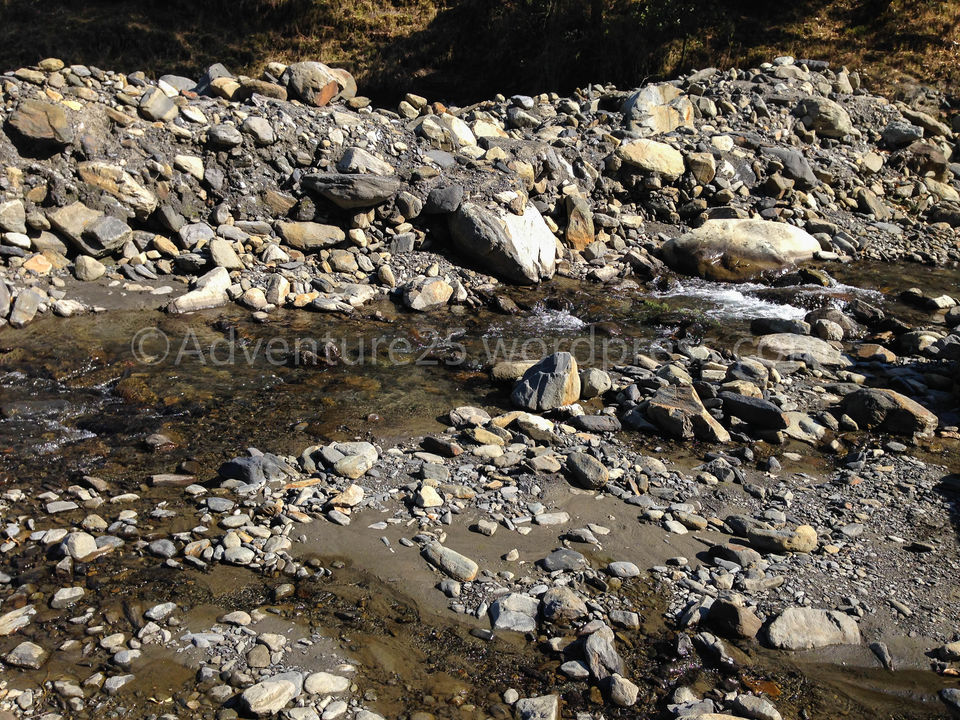 While moving ahead through this rocky trail, we came across some villagers' homes (around 500 m), from here we took a right turn and walked straight. There was a well-defined muddy path. Please ask these villagers, way to the Prashar Lake and they will guide you towards the right direction.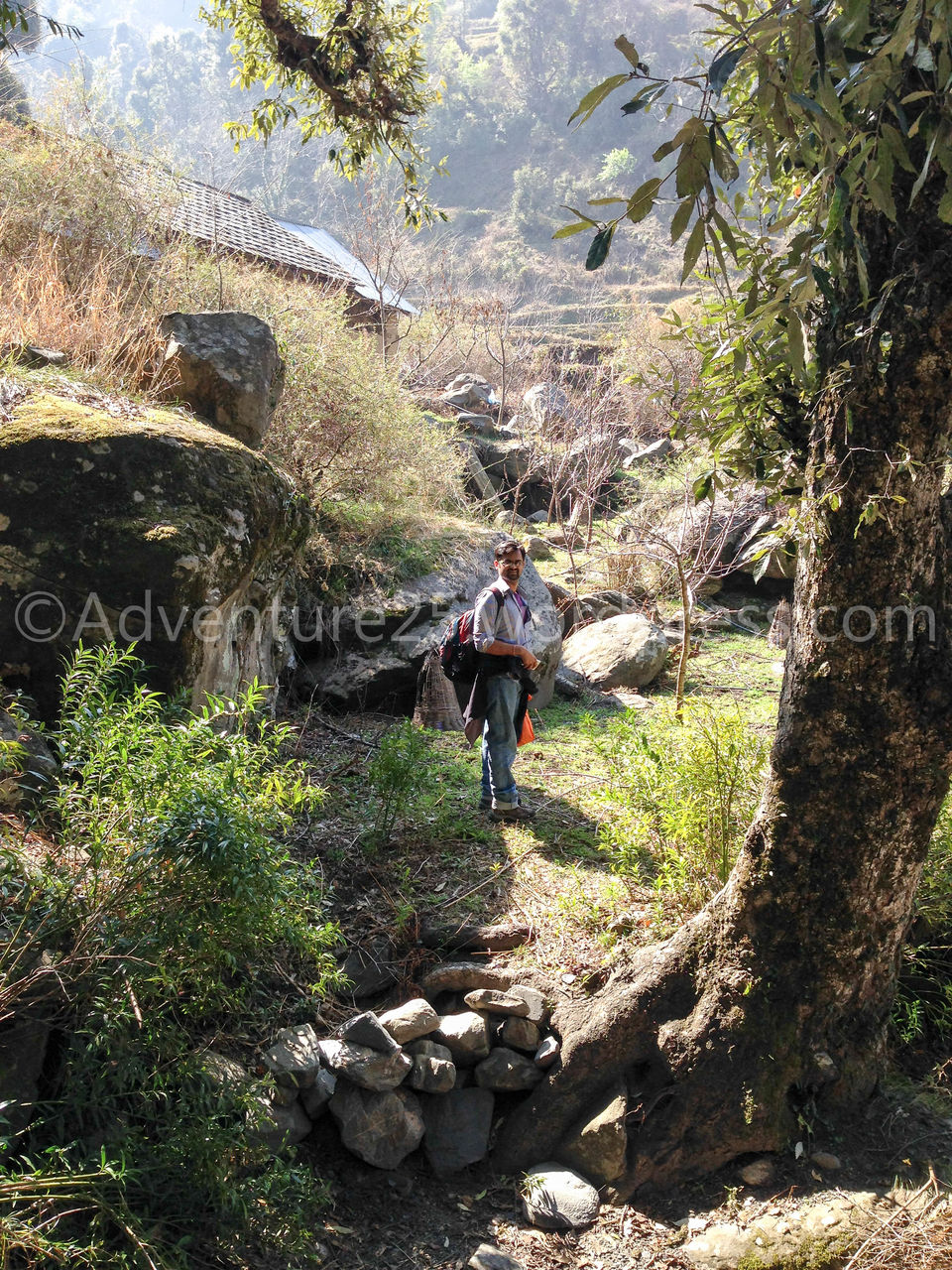 While walking on this muddy path, we came across a trekker group and they guided us a short cut, which went straight through the dense forest. This trail was very steep, almost like a vertical climb. Now we kept walking through this forest straight ahead. On our way we came across some shepherds and other local people. We asked them which way to go as it was very confusing which path to take.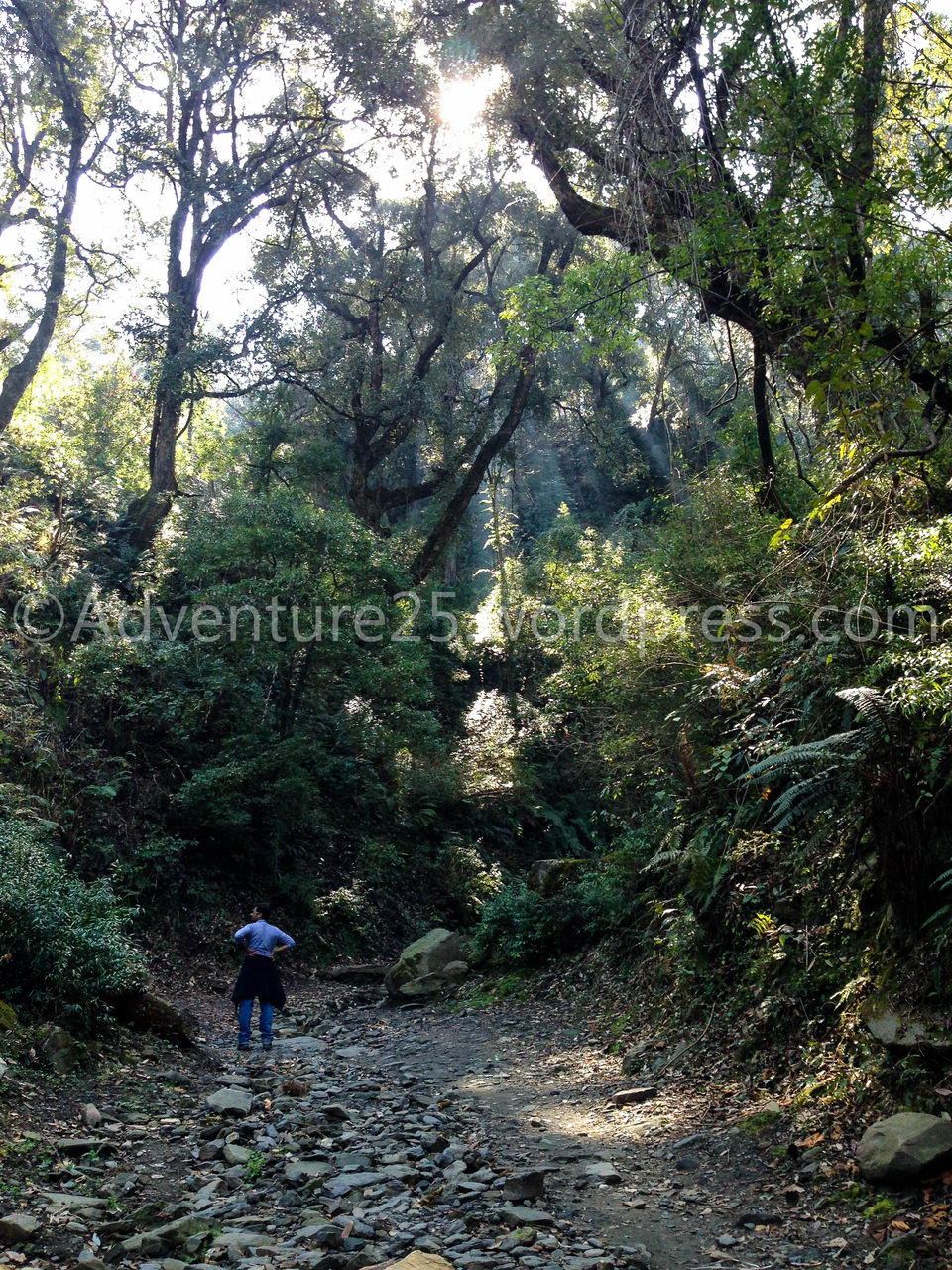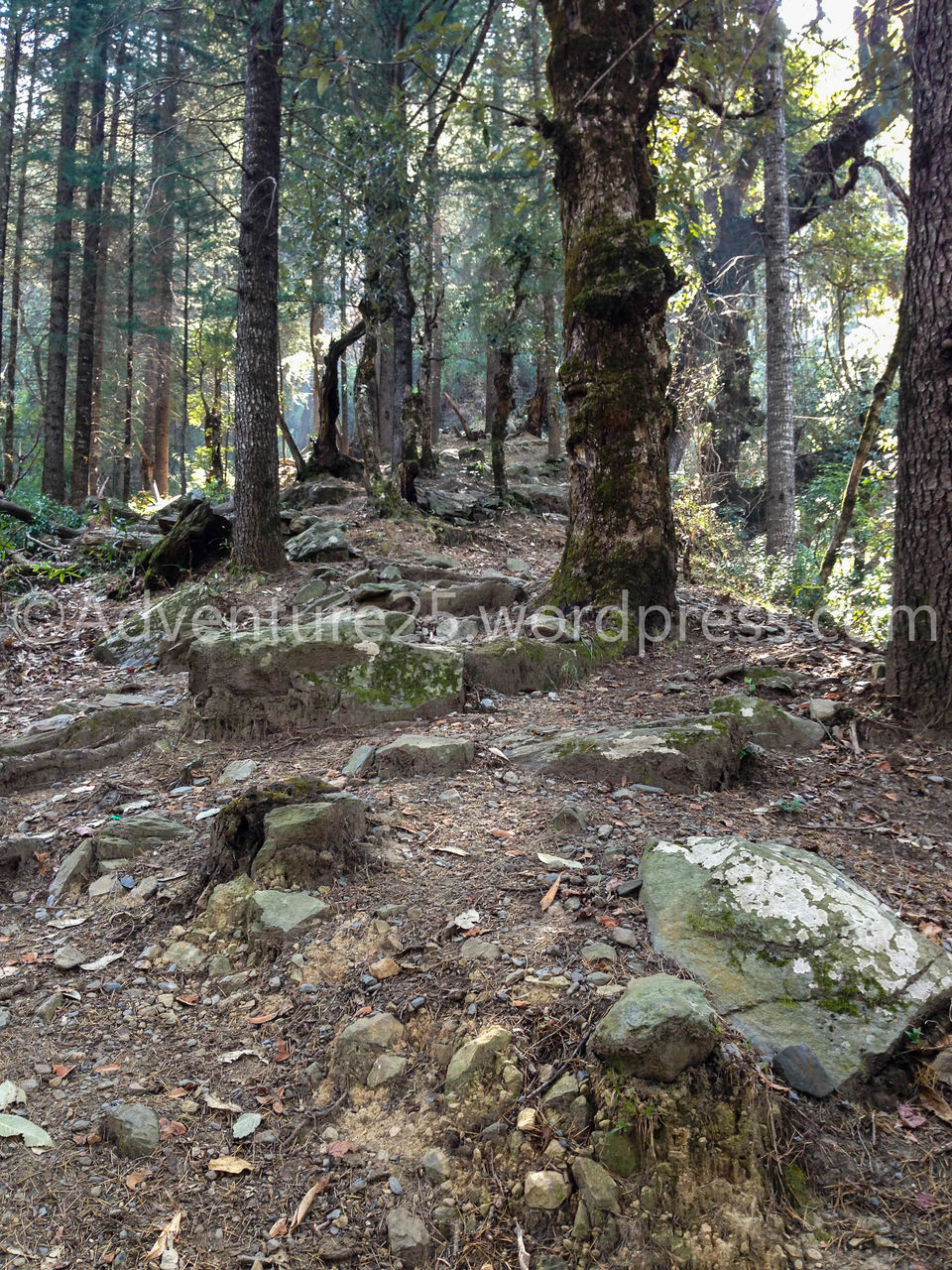 Please conserve water and drink sip by sip, because you will find nothing in this forest before you reach your final destination.
We were on our way and after 2 hrs. we found a nice plane area where we decided to take some rest. After 15 mins of relaxation we started our journey and hiked for 2 hrs. more.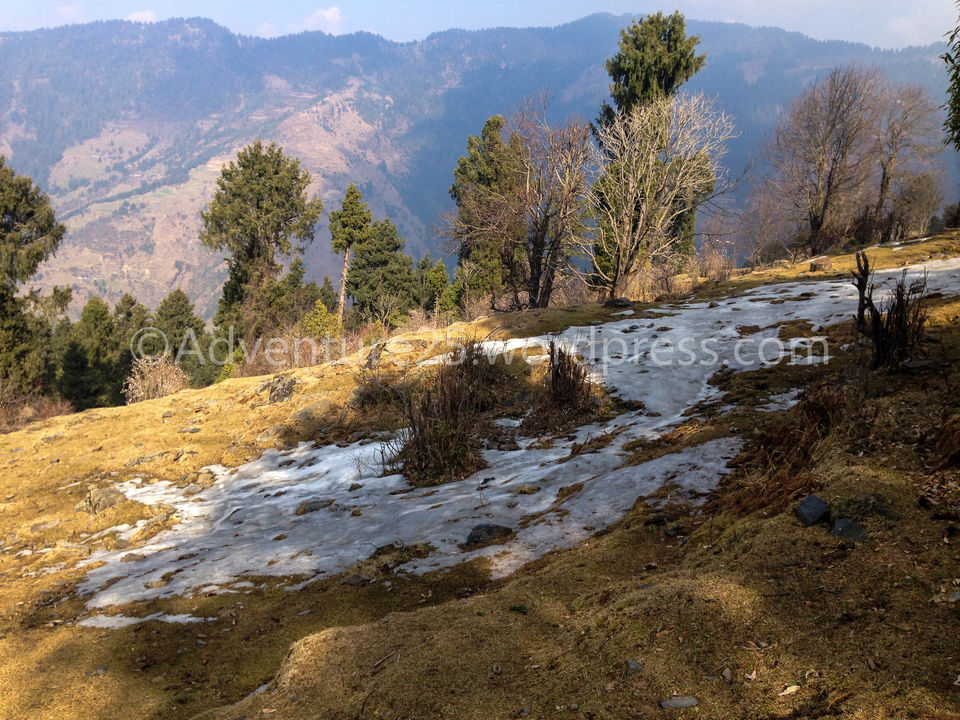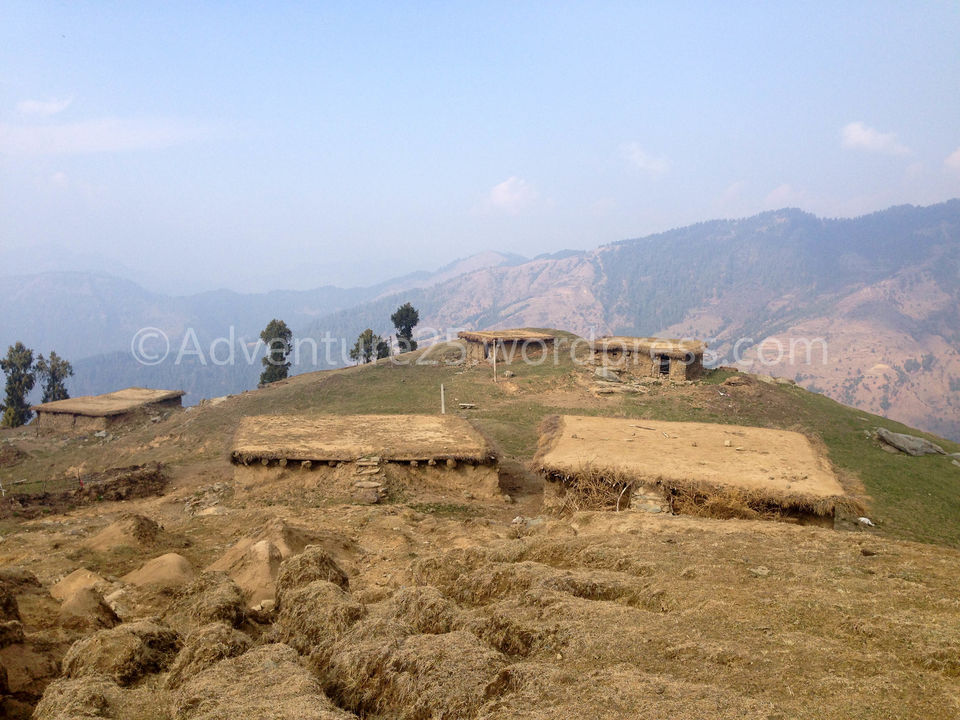 This entire trek takes about 3-4 hrs. or can be even more, depending on your physical and mental strength.
As the final destination arrives, you find a PWD rest house and after that a Forest rest house. These rest houses are 300-400 meters before the lake. Bookings for these rest houses can be done in advance.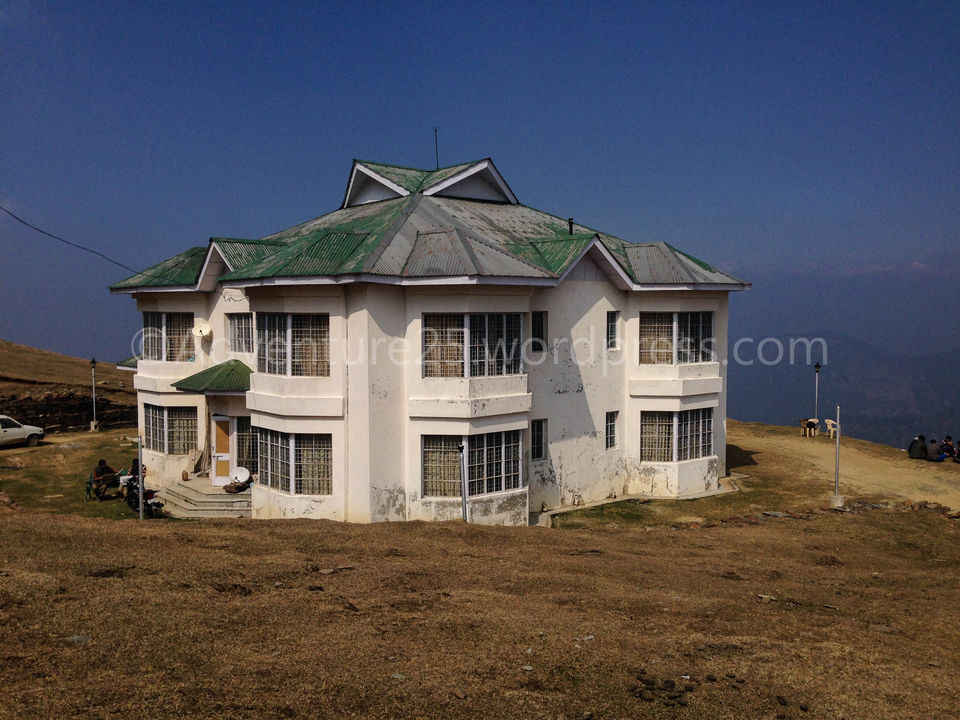 We walked ahead towards the lake. There are two Dhabas near by the lake, where you can get basic food. As we were very hungry and tired, we stopped at the first dhaba and had tea and a local dish "SIDDU".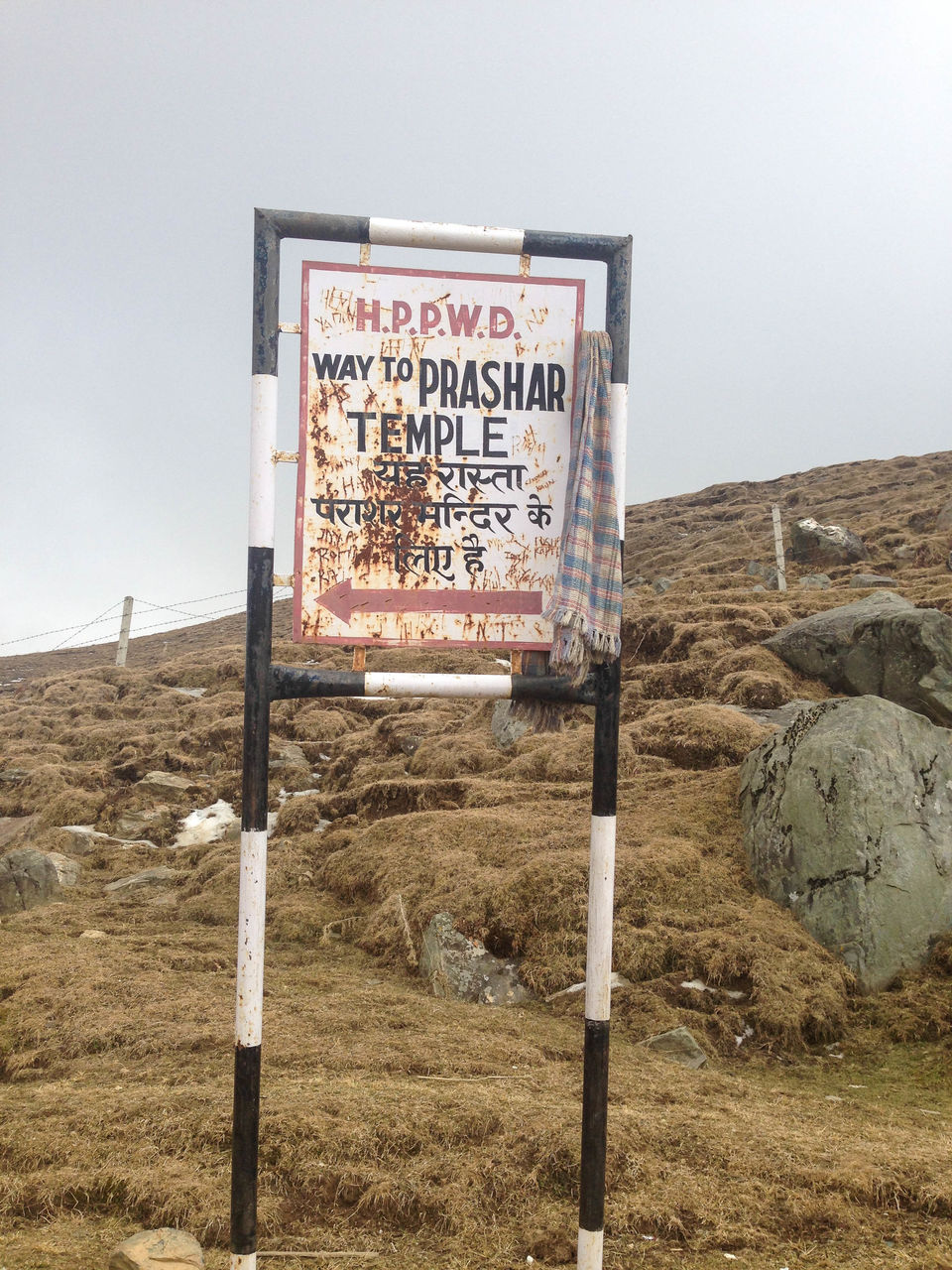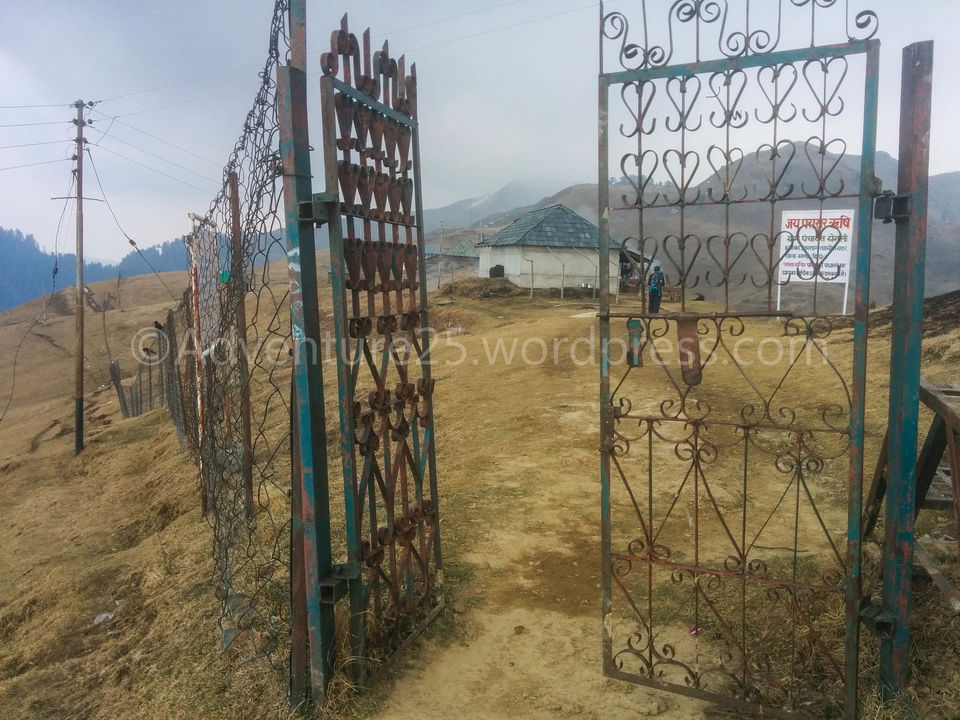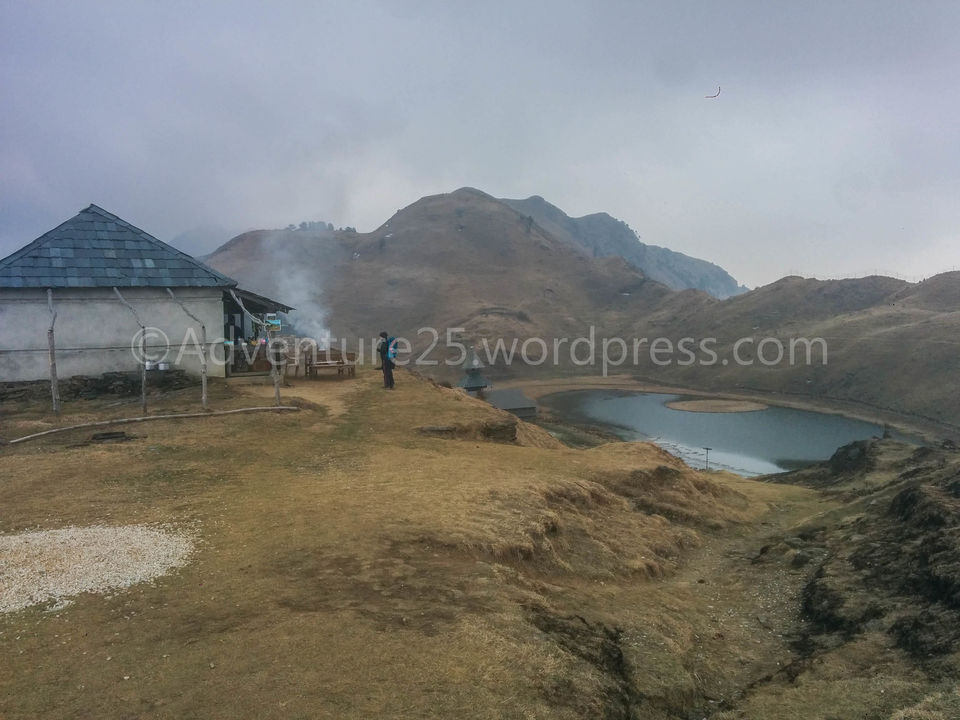 After that we went towards this mesmerising and spell bounding lake. You can also get room in the temple complex as well. We spoke with the Pujari for room. The room cost is 50 INR/day and one set of bed and blanket 150 INR. Due to winter all the pipe lines were frozen and there was no water supply. Lake water it the only source for drinking and other needs. Packaged water can be purchased from the Dhabas
At night we had dinner at the dhaba- Rajma Chawal for 60 INR/plate and after dinner we were off to sleep.
Just sit at the top of the hill and meditate for a while. U will find deep inner peace and tranquillity.
There is bus service also from Mandi to Prashar Lake. In winter due to heavy snow, bus service can be stopped. The bus reaches Prashar Lake at around 11AM and leaves by 1PM.
We had our breakfast at one of the dhaba and took this bus for our return journey. This bus journey is also very thrilling. Roads are in bad shape and very narrow. We reached Mandi by evening. From Mandi we boarded our Volvo for Delhi.