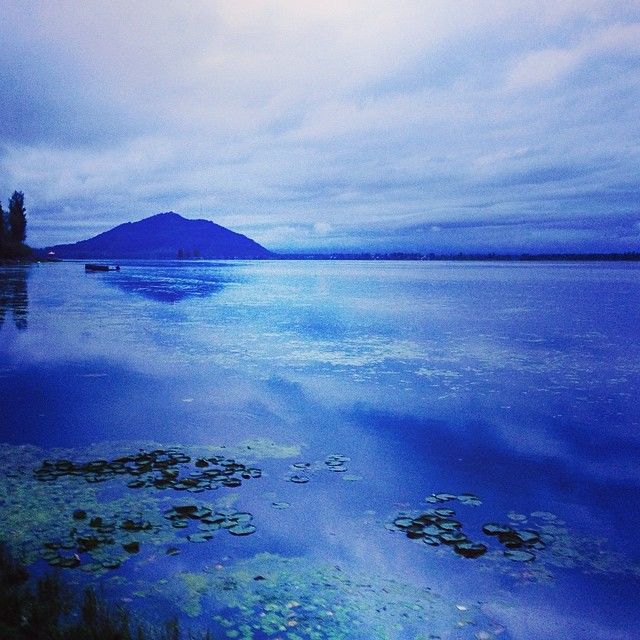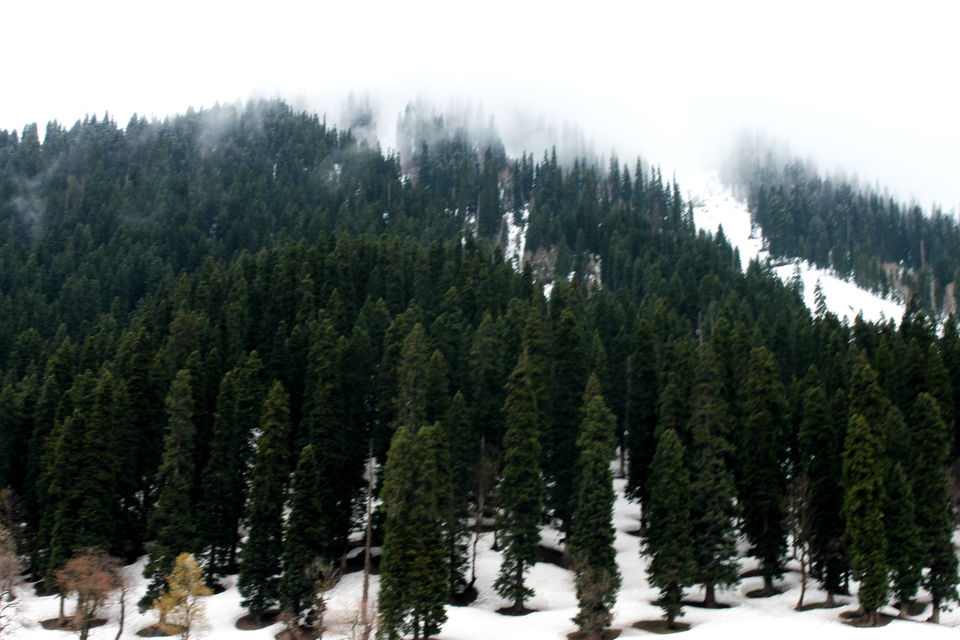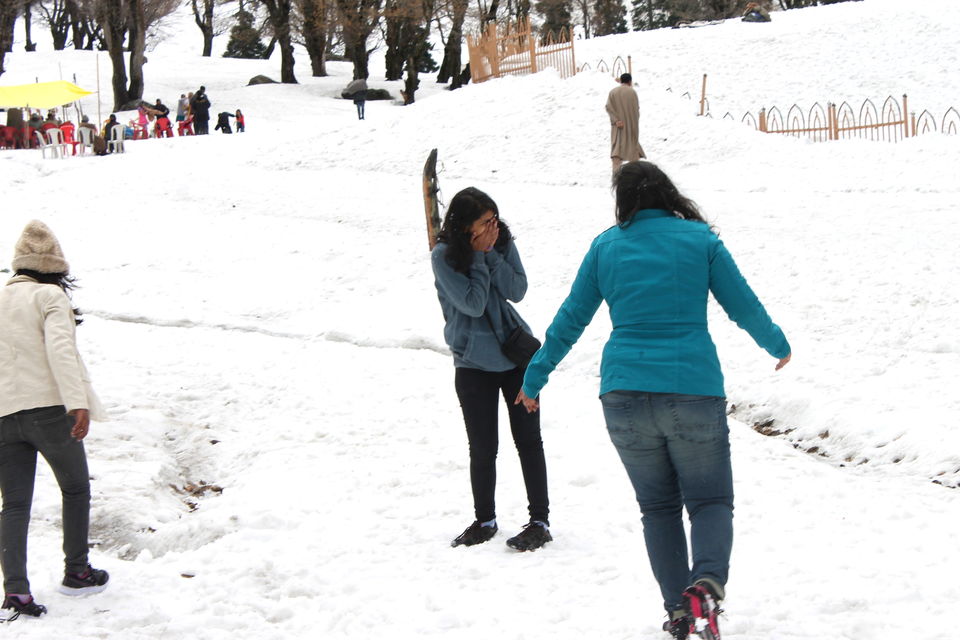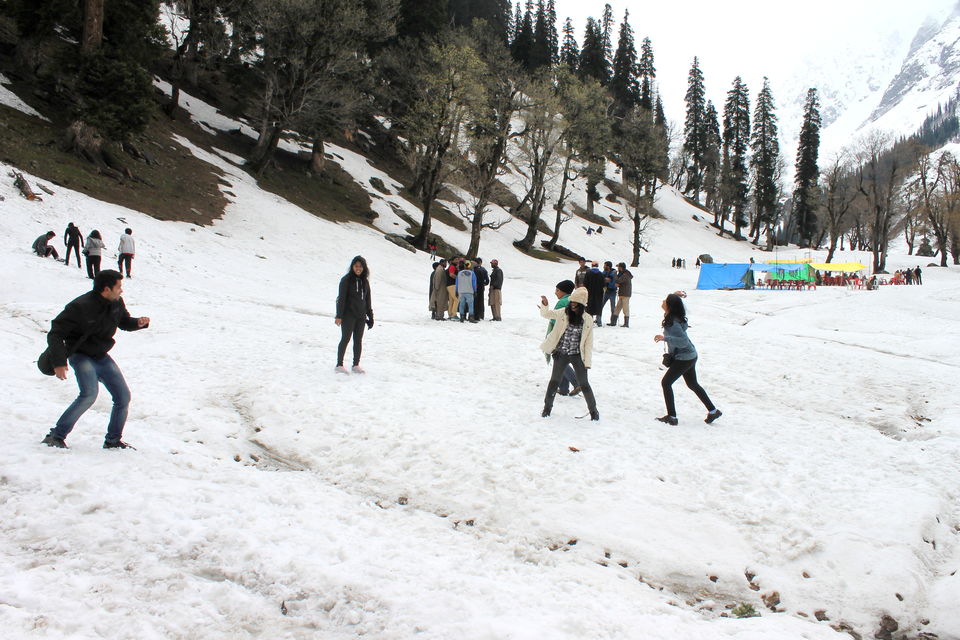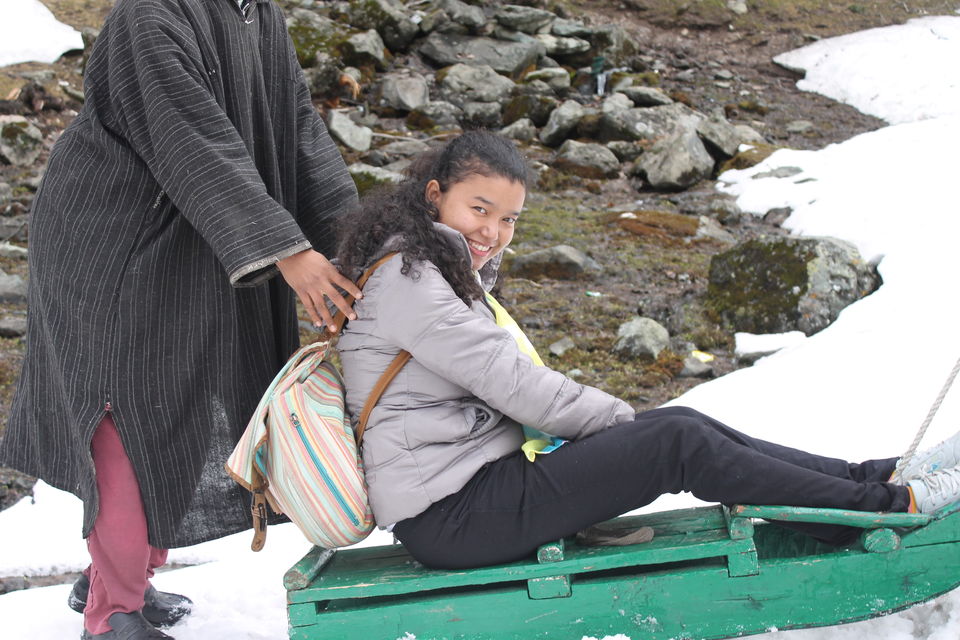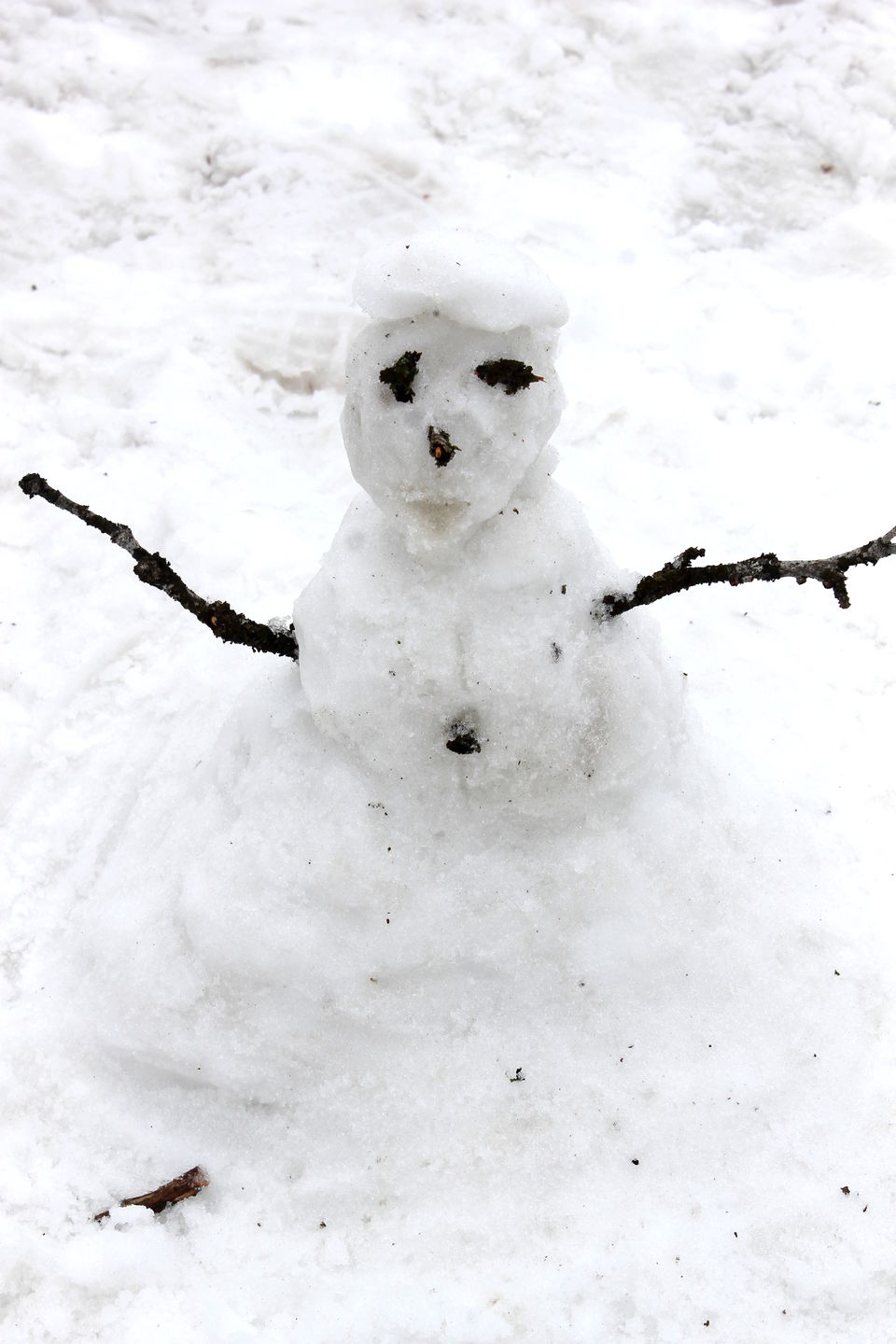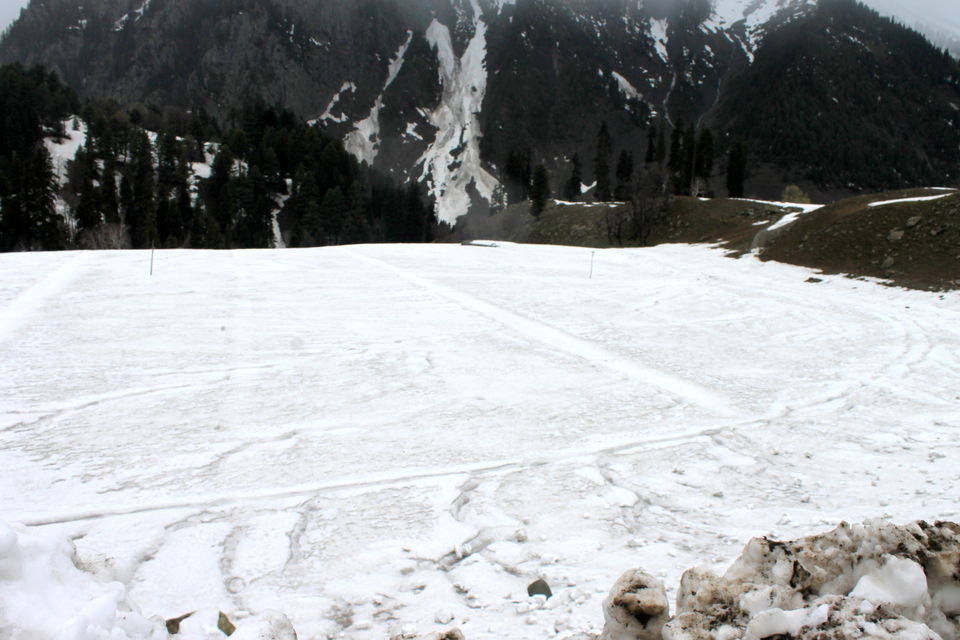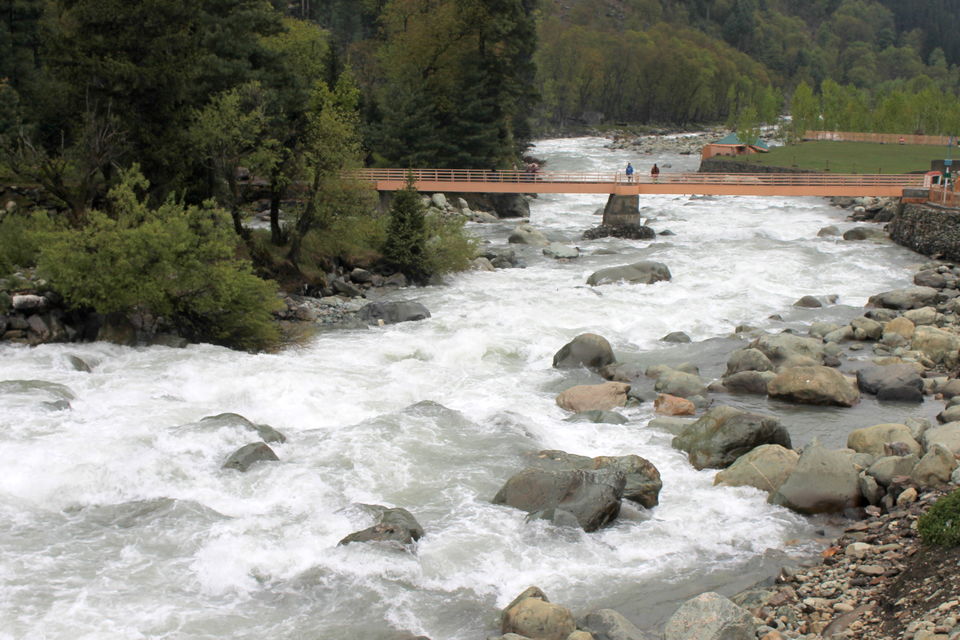 We were supposed to reach Srinagar by 12 am, but, as we slept in all possible positions we could find comfortable, we got up to find out it had struck 4 am and we hadn't reached yet. As soon as we reached, we got to know that we could rest just for another 2 hours and continue our travel to Ladakh by 6 am. We needed to bathe. But, as unfortunate as we were, we weren't allowed to remove our bags out of the bus as it was raining heavily and it would take time to unload the bus and reload it again.
We bathed with cold water. The view from our room was a pleasurable one. The Dal lake was just infront of our hotel. The calm water, clouds and trees, early mornings with just one small boat sailing. It was a picturesque view.
Kashmir is one pretty place. The small brick houses with wooden detailed carved windows. They seemed so warm and homely.
There was a bridge that we were supposed to cross, but, it was under renovation. That place was beautiful. It had the sky, mountains and water (gushing white waters) with rocks, all together. The mountain and the waters are very beautiful individually, but, the best landscape is created only when the two meet.
We had to halt before the Zojila pass (the pass we needed to cross to go to Ladakh). Everyone wanted to pee. After searching for a loo we found one abandoned one. The area before the pass was immensely beautiful. Trees and snow like a sheet over the mountains. Mountain- lovers would have loved such a sight! I did not love it less.
After waiting for about 5 hours, we faced disappointment. We could not get through the pass because large vehicles were not allowed. A truck was stuck in the middle blocking the way. It seemed like they were testing our patience/will power to reach Ladakh.
The landscape on the way back, driving through the town of Sonamarg, just before the pass, was amazing. I wish I could see such a view every morning. We searched for a hotel to spend the day, as it did not make sense driving for 5 hours back to Srinagar. What if the pass had to open suddenly and we had to rush? We settled in and soon went for a walk in the forest opposite our hotel. That walk was worth it. Mountains, trees, birds, mist and the breeze. Sometimes nature can amaze you in varied ways.
We returned after spending some time in the forest and packed, because we were unsure when we would leave to Ladakh. We were extremely tired and just dozed off. We needed sleep after so much travelling. Before sleeping, I wished we would reach Ladakh the next day almost being uncertain about the whole idea, yet I hoped.
The alarm rang at 6 am, but our eyes did not open. It was too cosy under the warm blanket, so much that it absolutely pulled us back as we tried to wake up. There was no warm water again. Freezing cold water bath. Our body was already getting used to the temperature.
We went for a walk, yet again to the same forest opposite our hotel, but, this time, to a different side. The water gushed down the unusual terrain (unusual for us, Mumbaikars); we listened to the birds that whistled while they flew over the waters, listened to the sound of the waters itself that gushed down and to the breeze that swooped across our faces at irregular intervals. I loved the colour of the rocks by the river; they were smooth and white. There were similar rocks at Manali too; I yearned for a photograph with the rock back then too. There exists a different kind of love for the waters within me, it cannot be explained in words.
The rivers, the waters are unpredictable, but, they do not mean to cause harm, neither do they intend to. Every person changes his/her reactions, their spaces, their way of being according to the situation they are in; the waters are the same. The flow of the water depends on the terrain over which it flows, its depth, its ferociousness depends upon the terrain that it flows through. What we can do is keep moving on, we cannot stop at one place, pause one moment, although we would wish to; it never happens. Mountains are stable, they are stuck to one place, they do not change their position, but, they do change their colours, every season. There is change in everything, we just need to observe it; we choose to observe change in all those things that aren't close to us and ignore change in all those that are close. We have always heard about change being good, but, it creates an uncomfortable void, which most of us may not accept willingly. We want to be stable and see stability in all the things we love.
So…. Waters change, they surely do, but, they do it because it is needed, needed to move on. Outbursts are a result of intense build up of suppressed emotions. Waters, too, have a violent side. That's how Tsunamis look terrible and disastrous too. Mountains, stay; they look beautiful, but they stay in one place without much exposure to the world. Exposure create experiences and these experiences are necessary for your growth. These experiences need changes to occur which also needs us to accept uncomfortable voids and deal with them. After having arrived at such a beautiful place, my love for mountains has surely bloomed, but, my love for the waters still remained eternal.
We loved that forest, so much silence and serenity! We wanted to experience it, yet again. We climbed trees, met three boys who took sheep to graze on the mountain. They told us about the trees that were safe to climb, the leaves we should avoid contact with. We climbed a big rock, clicked a lot of pictures and headed back to the hotel for some local sight-seeing, as the pass would not open today as well; the vehicles from the opposite side were allowed to pass.We went to some fishing pond. It was a peaceful place. Just wanted to sit there and write, but, did not have much time.
Next, we had to visit a glacier. And when we arrived… Oh my Holy Lord! That place was out of this world. Snow covered almost every part of the mountains that stood in front of us. There was snow down on the roads; we could hardly walk, slipping, trying not to put ourselves into shame by falling on our backsides. We had snow fights, smashed those snowballs on each others faces. Our smiles could define how happy we were acting like kids back again. We climbed high, with much difficulty, to sledge down the slope. Some kind of sport in the snow, yeah? While you came zooming down the slope on the sledge, the snow kept hitting your face, and of course, by the end of it, I was wet. Snow all over me, on my bag, camera, but, I did not care. We walked, fell, laughed, panted, but, it was all worth it. We all had the time of our lives. We came down to see Kashmiri tea waiting for us. It kept us warm for a while, until we sat down to build our snowman.
We returned to the hotel for lunch. Staying at the hotel, renting those small cars (as heavy vehicles were not allowed to cross the pass) was all extra expenditure, so we had to cut down costs on food (no non vegetarian food). But, the vegetarian food was tasty enough! We were told to rest for 3 hours; we planned to go to the forest again, but, we fell asleep, all of us.
While we sat for dinner, we heard that we wouldn't be allowed to cross the pass tomorrow as well, but yet we planned to pack our bags and keep them ready in case of an emergency. Disappointment glowed on everyone's faces.
Frequent Searches Leading To This Page:-
kashmir- sonmarg 5 days tours package, kashmir-srinagar group package for friends, places to visit near jammu, best time to travel kashmir, most visited places in jammu and kashmir, srinagar package for family, solo trip kashmir package from delhi, family trip package to gulmarg, srinagar honeymoon luxury package, top kashmir tour package for honeymoon, kashmir group trek package, top activities in kashmir, best local site seeing in kashmir