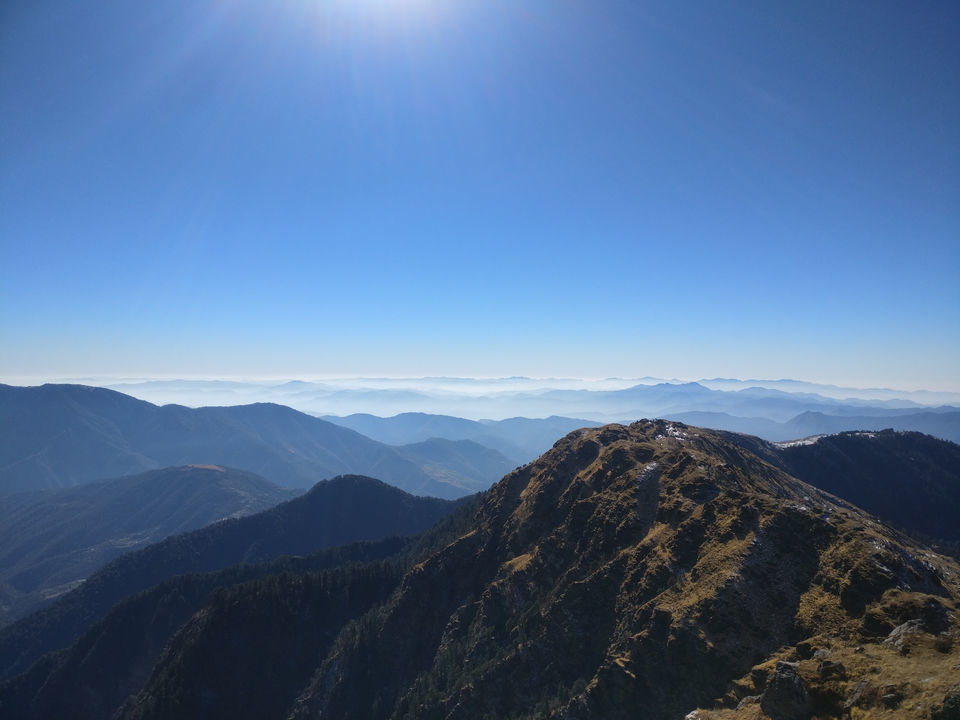 Snow capped mountains, breathtaking views and a sense of achievement after reaching the top, were some of the factors that motivated me for my first ever high-altitude trek. After plenty of research and talking around, I finally set my sights on Brahmatal, which is a moderate 4-day trek to a glacial lake of the same name in Chamoli district of Uttrakhand. And so began my journey from the polluted plains of Delhi to the small town of Lohajung in Uttrakhand (base camp for the trek).
Reaching Lohajung
Although the car journey started in Delhi, most of it which goes via Uttar Pradesh pretty much sucked. But things got much better once we crossed Haldwani (which is where the plains end and you start gaining altitude). The entire mountainous stretch is beautiful and takes about 8 hours to complete. Anyhow I spent most of it snoring and getting ready for the trek ahead but not without enjoying a few good meals along the way in Almora and Gwaldam. We reached Lohajung late in the evening and after finishing a few formalities and having a light dinner (organised by IndiaHikes), we headed to our dorm rooms for a good night's sleep.
Day 1: Lohajung to Bekaltal
I was accompanied by two of my cousins on the trek and since all of us were kind of excited about the start, we woke up many times during the night and finally got out of the bed just before sunrise. Morning routine included a short briefing session, getting our pulse and oxygen levels measured by the trek leader and breakfast. Post which we chanted a few slogans, clicked a few pictures and began our ascend to Bekaltal (our first camp site). The entire trail was full of scenic moments and picture-worthy spots and took about 7 hours to complete. Our trek leader was fun and kept cracking PJs along the way and since me and my cousins were in front of the pack, we had his company all throughout.
The only challenge or should I say comical situation I faced during the day was carrying two backpacks instead of one. After weathering the first couple of hours, you can't imagine how much I wanted to offload my bags. What's more I was cautioned against it by my trek leader in the beginning but wanting to prove my toughness in front of other trekkers, I decided against it. However as soon as we reached the first campsite, signing my name for offloading was the first thing I did, drawing a slight grin from Arun (the trek leader). I could clearly see him thinking, "see, I told you so".
Objective of the day was to reach the Bekaltal lake (10 min walk from the campsite), and so we did. Surrounded by the forest, this small glacial lake has a very peaceful and tranquil setting. If you are the kind who likes to enjoy a little 'me' time, this is the place to be. The evening time was spread between dinner (which everyone hogged on) and few get-to-know-each-other games. But before calling it a night me and my cousin (Saransh) went out for a small walk, which I'm glad we did cause the kind of night sky you get to see at such places is incomparable to any other.
Day 2: Bekaltal to Brahmatal
The second day began with similar enthusiasm (despite having woken up at 3 in the night) and a few desperate prayers for sunshine as the morning there was quite cold. So after going about the usual business of briefing, breakfast, health checkups and warmup we set out for the second leg of our journey, the Brahmatal campsite, expecting a more scenic trail and better views along the way. And it was after the initial steep climb through the forest that we entered the meadows, which offered spectacular and uninterrupted views of Mt Trishul and Mt Nanda Ghunti and their associated ranges. Even the ascend became gradual after that and we found some ice patches along the way, even though proper snow fall had not yet started.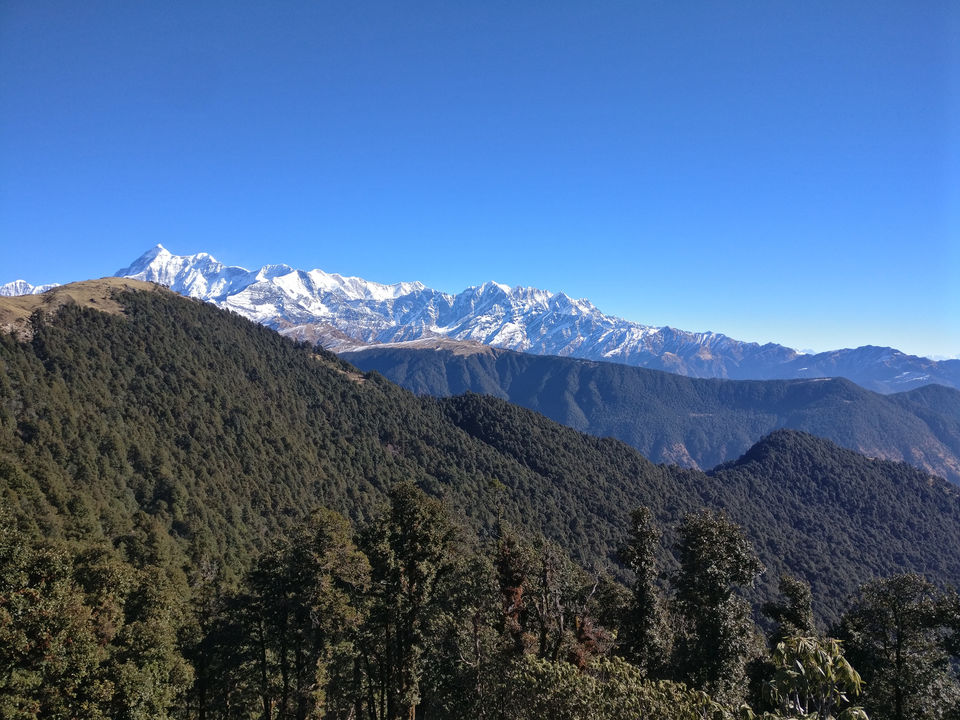 Thankfully this time we had offloaded our backpacks and without the additional strain the entire journey was more enjoyable than the previous day. It was around 4pm by the time we arrived at the second camp site and due to impending sunset, our visit to the Bhramatal lake (15 mins from the second campsite) was postponed to the next day. So instead we focussed on enjoying the sunset from a nearby hill, which offered great views and prepping for tomorrow's summit climb.
Day 3 and 4: Summit climb and the descend back to base camp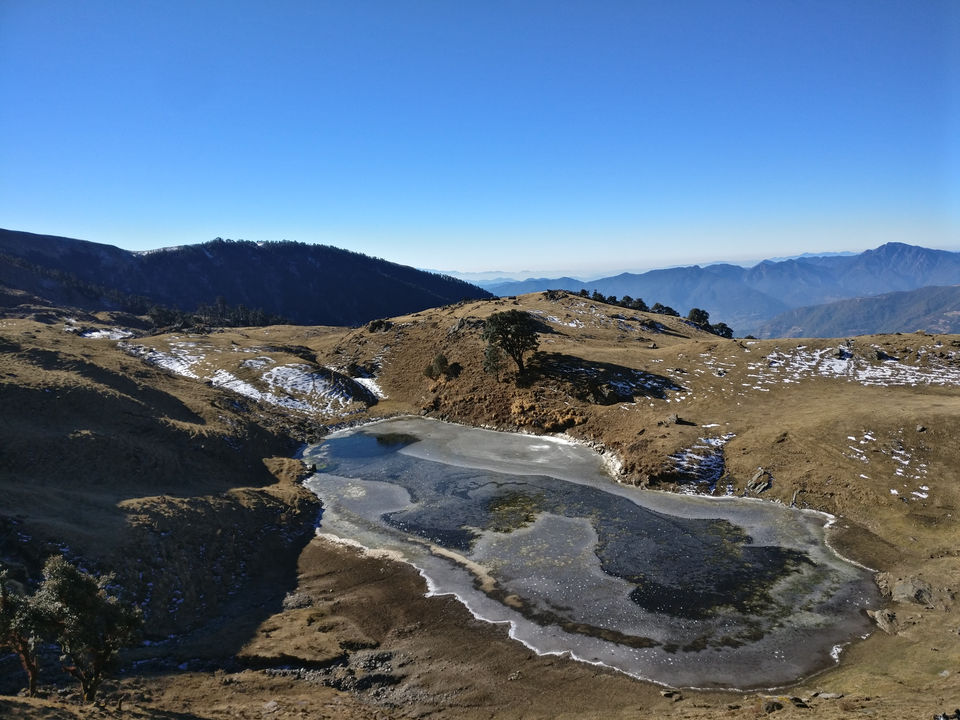 The final two days involved our visit to the Bhramtal lake, the summit climb and the return to Lohajung. Starting with the Bhramtal lake, there's an interesting bit of folklore regarding how it came into existence. The local people believe that the lake crater was formed by Lord Bhrama's (a hindu god) foot when he descended on earth. And believe it or not, its shape does resemble a foot when seen form top. The final hooray moment of our mountain run was reaching the Bhramtal summit, which I must say was worth the three days of hard work.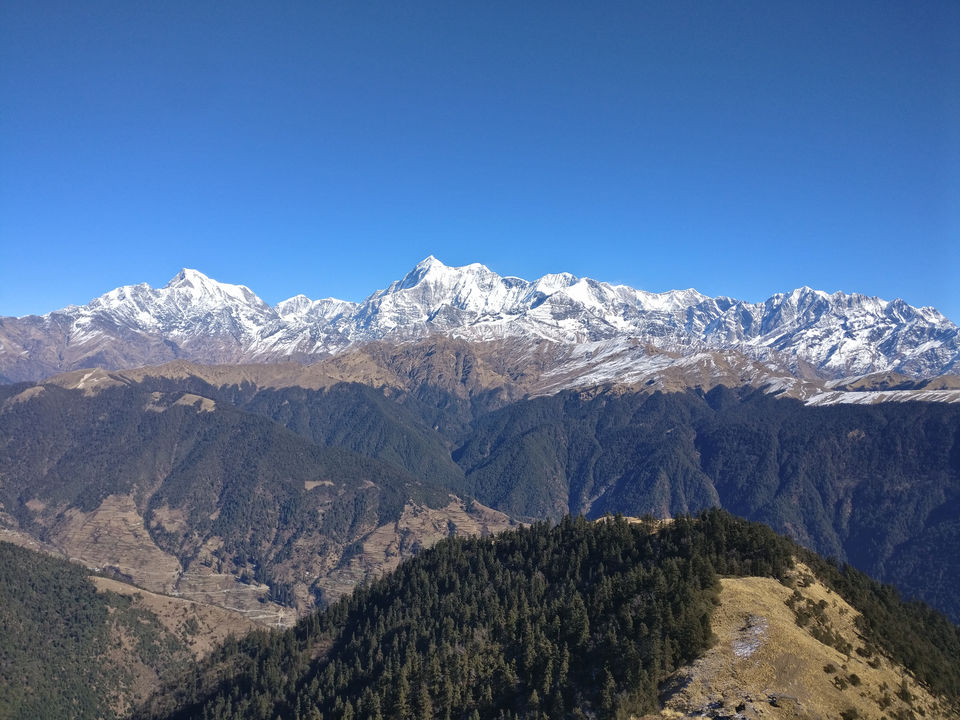 But as they say "good things don't last forever" and so began our descend towards the base camp. It lasted a couple of days and we finally made it to Lohajung at noon of the fourth day. IndiaHikes had arranged an amazing lunch which included rajama, salad, rice and even some sweet. So after filling our bellies to the brim and shaking hands with other members of the trek, we kissed the mountains goodbye.