If thought about in a different perspective, your life can be summed up as a collection of extraordinary moments. They can be either good or bad, but extraordinary nonetheless. You live for the extraordinarily good moments; you wait for them for prolonged periods of time and you prepare earnestly to earn them at the end of gestation. You try to avoid extraordinarily bad moments; again, you prepare even more earnestly to evade them. Both of them impact us and a handful of them alter us for life. Personally, I turned a new leaf in my life very recently by earning such an extraordinarily good moment, which definitely changed me beyond repair; and I experienced it an altitude of 12,000+ feet on the summit of the Brahmatal trek (also spelled Brahma Tal trek) in Uttarakhand.
The Inception of Brahmatal Trek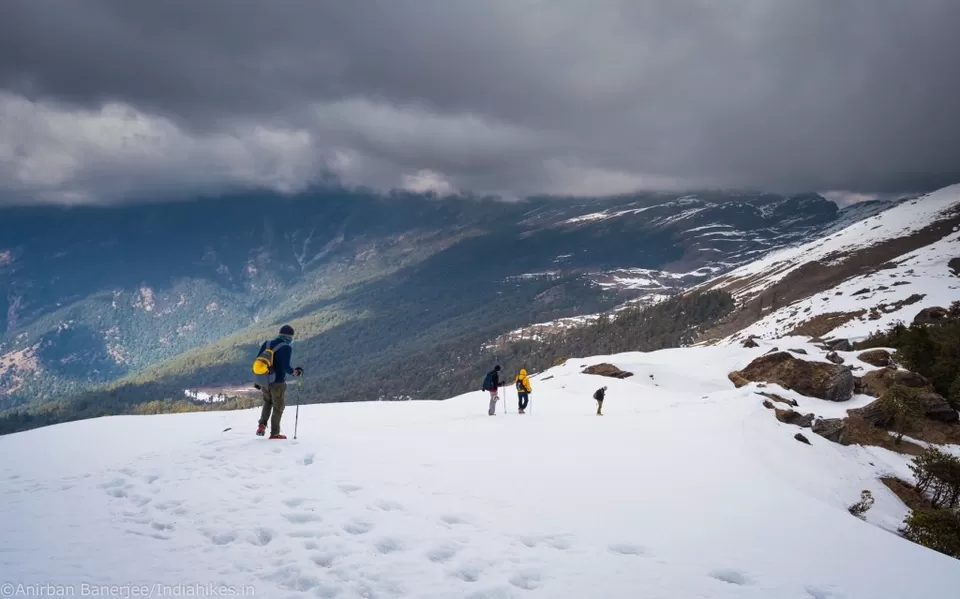 "Do you wanna go on a mountain trek," asked my friend while we were looking for usual getaways for the Republic Day weekend in 2017. I didn't respond and kept on with my digital hunting. "I'm not joking," he jolted me. I finally cared to look at him askance. "Are you really serious," I asked, to which he said, "Yes, I am. I've always wanted to go on a trek, and I feel that the time is right."
His excitement took the better of my obvious apprehensions, and an hour later two of my friends and I had already booked a Brahmatal trek. We had put our trust into Indiahikes – India's largest trekking organisation – for our very first Himalayan trek. This booking was done back in Oct 2016, when I'd thought I have would ample time to prepare for it. "It's going to tough," I whispered to myself, "but I should manage it."
The Days Leading Up To It

Indiahikes ensures that their messages are delivered to future trekkers. Starting from the day I registered, they barraged my mailbox at least thrice a week ensuring that I paid heed to what was to be done in order to prepare for Brahmatal trek – from completely rudimentary things such as bringing along a personal plate and spoon to the trek to how to build stamina for the trek. In the early days I obviously ignored their mails and "starred" all of them to be read when my date was closer.
Indiahikes meant business.
For a guy like me who's not as physically invested in his body as one should be, waking up in the morning and going for a half an hour's jog (not running, not cycling, not walking) was a lot to ask. I was obviously erratic and kept on delaying my exercises, and so there came a time when I knew it wasn't remotely possible for mere jogs to get me ready. Indiahikes was understanding and was always available on call. I remember making panicked calls to them on Sundays and talking for half an hour seeking help on how to physically prepare myself in the remaining short period. They were always helpful and gave me practical (not impossible) ways to still be sufficiently ready. There were times when I seriously started getting jittery and had second thoughts about going altogether, but Indiahikes had insightful capabilities to handle people like me.
The Arrival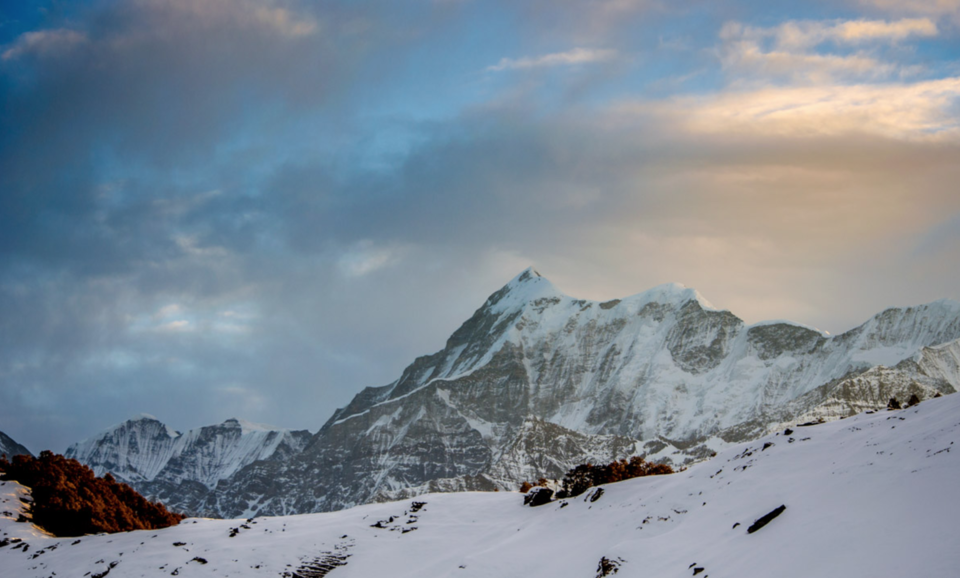 I am the sort of person who goes on solo trips to Himachal or Uttarakhand at least once every two months, hence there is no fear of getting out of my comfort zone. On the contrary, the biggest dread was to cope with an unknown land and being part of an unknown group. For a person who likes taking things at his own pace without a map in hand, going on his first high-altitude trek with a professional organisation was expectedly a recipe for disaster.
We reached the base camp in the evening where we were allotted rooms for the night. Because there were three of us, we were allotted one room just to ourselves. The collective travelling in bus + taxi had ensured that a comfortable bed was the best thing in the world to us, and that's exactly what we got. That evening, we met our trek leader who took all the time in the world to try to do away with our last minute nerves, briefed us on what to expect on the first day of Brahmatal trek (on the morning after), and most importantly how Indiahikes was capable of taking care of us in case of any mishap. On that night I ate too well and spent the night puking. Would I be ready for it, I questioned myself again.
Day 1: Lohajung to Bekaltal
I hardly slept thanks to my tummy, and hence ate only a little. The Indiahikes team gave us a packed lunch. The morning seemed ominous because I felt tired and my BP also shot up, but my TL (trek leader), Arvind, assured me that I'd be fine. He gave me a tablet to pop.
The trek started. It was all ascent through big rocks surrounded by rhododendron trees. It was extremely difficult for me to keep up right from the beginning, but there were always 4-5 guys from Indiahikes who kept inspiring us to push on. There was always one guy at the front of the group who ensured nobody got past him, and there was one guy always at the back who ensured nobody got left behind.
These two tried to limit the gap in the middle to not be more than half an hour. The fact that most trekkers around me were struggling gave me motivation to go on, but even that wasn't enough after a while. I just kept thinking that I'd give up some time or the other because it was taking a toll on me physically. Had we not been allowed to sit down to rest every once in a while, I would've definitely given up, but the Indiahikes team was extremely thoughtful towards everyone. They're experienced enough to understand the difficulties that first-time trekkers experience.
After trekking for approximately 10 hours we finally had the first sight of pristine white snow; it was sufficiently beautiful to keep me going for another hour that was left to the basecamp. I got so excited that I forgot about my tiredness completely, and was the first one to reach the Bekaltal Basecamp. I was exhausted, but I was ecstatic to have survived my very first day of trekking. Arvind gave me some medicine to completely cure my indigestion and that night I slept like a baby.
Day 2: Bekaltal to Brahmatal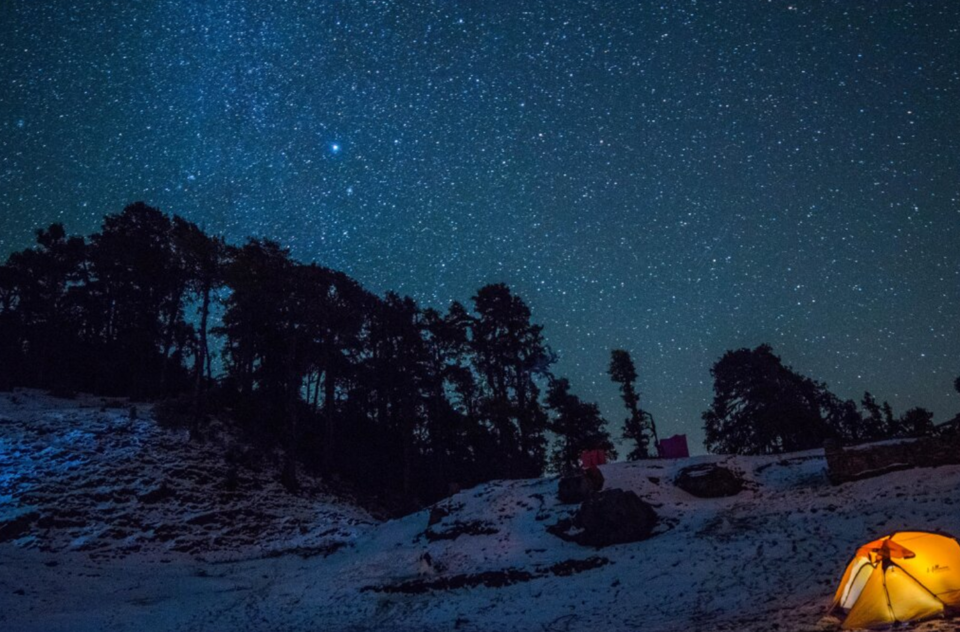 By the second morning, I had gained enough confidence was feeling ready for the day's trek. That day, we'd be trekking mostly in snow, and I liked what I saw. There was not a soul around and virginal streams of water welcomed us at many places. The surroundings were sublime and I started thinking that the trek was not really a bad idea after all. Since there was no mobile network at all, I'd started socialising with fellow trekkers and most had interesting stories to share. While there was a 60-year-old man slowly but surely moving ahead, there was also a professional trekker who had climbed even Mt. Kilimanjaro! I was in some elite company. Our trek leader and his associates kept us engaged by narrating inspiring but relevant anecdotes so as to keep us going without thinking about what lay ahead. Crossing the splendid views of mountains and valleys all immersed in snow, we finally managed to reach our stunning basecamp in Brahmatal. By this time, I was more genial with everyone around as well as with myself. I took a stroll around the campsite and played several games with the fellow trekkers. The atmosphere was wonderful.
Day 3: Brahmatal – Brahmatal Summit – Brahmatal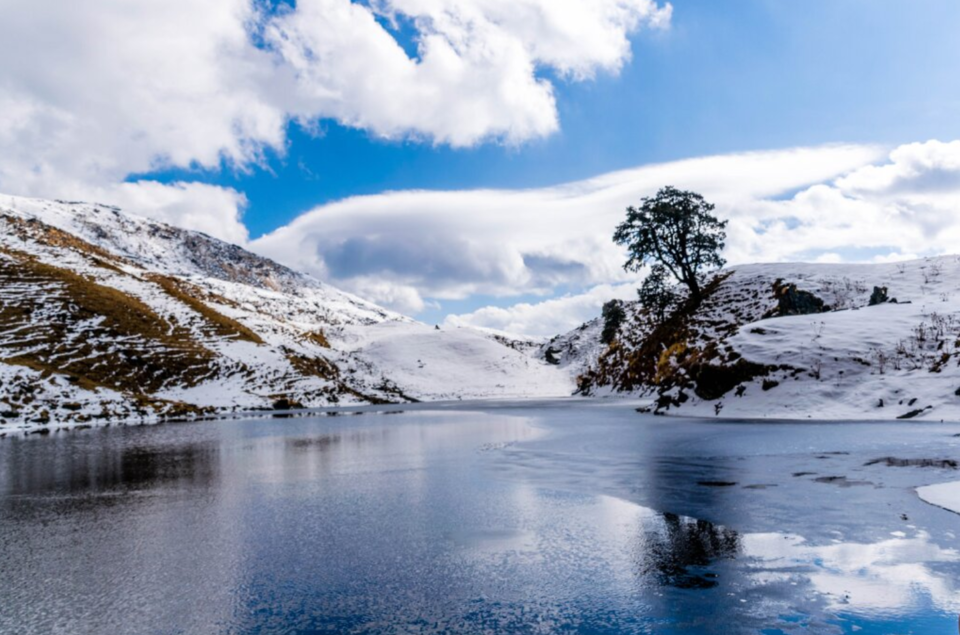 This was the day of the summit. There was excitement as well as pressure in my head, since I was still extra cautious so as not to pick up any injury along the way. This was going to be our last great ascent in the entire trekking itinerary and I really wanted to reach the summit now.
Embark on a thrilling trek to Brahma Tal, click here to book.
Fortunately on this day, the beauty of the route was enough to keep me going. Although the ascent was really tough some times, but I had realised that if I was mentally prepared for it, I wouldn't give up. And I didn't. We had started earlier on that day and hence by noon we had reached the summit. The sense of achievement had surpassed the feeling of happiness by a mile. Had anybody told on the first day of the trek that I will reach the summit, I would not have believed him at all. But here I was, clicking celebratory pictures with my group and making merry quietly in my heart. I took out my Polaroid camera and clicked an instant picture on the summit because this was one moment I wanted to cherish forever.
Day 4: Brahmatal to Lohajung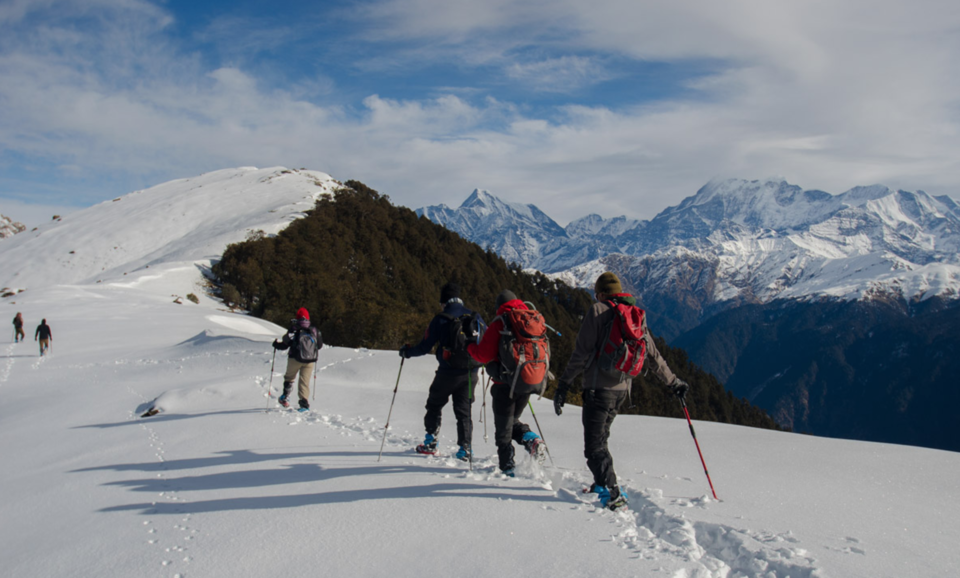 The mood at the camp on the fourth morning had become increasingly chirpy. People were throwing snowballs at each other and weren't even cribbing about waking up early in the morning in the punishing cold. The two reasons for it were – 1. It was the last day of the trek, 2. The trek was majorly descent only. The only issue was that we were scheduled to cover 8.5km in one go. That sort of a distance is massive on the mountains.
Since it was mostly downhill, the knees were punished. But the strange sights and stories of the yore were motivating enough. The Indiahikes guys kept us engrossed by telling us mythical tales of the creator – Brahma – and how the Brahmatal Trek was named. There was even a tiny temple of the god at around 11,000 feet, which we visited. Although I'm an agnostic, but even I was affected at such an altitude and circumstance. The places that we saw on our way back were of outworldly proportions and geography. There was a slippery stretch of melted ice where we were walking right on the edge of a mountain and beside it was a valley of no return. Everyone was more than helpful to everyone else and there was no envy, no pride involved. The concept of team building that I learned here, were never understood by me in my management classrooms or my workplace.
Finally, after continuously struggling with my limbs for half a day, I got a whiff of the basecamp from where we originally started the trek. Even though there was still over an hour to the destination, just a sight of it was comforting enough to bring a sigh of relief. My feet surprisingly started moving faster and I was at the basecamp in no time thence. I had never been happier at having achieved something in my uneventful life than I was at Lohajung that evening. I had come full circle; my first Himalayan trek was a success despite all the external and psychological adversities.
A Life-changing Experience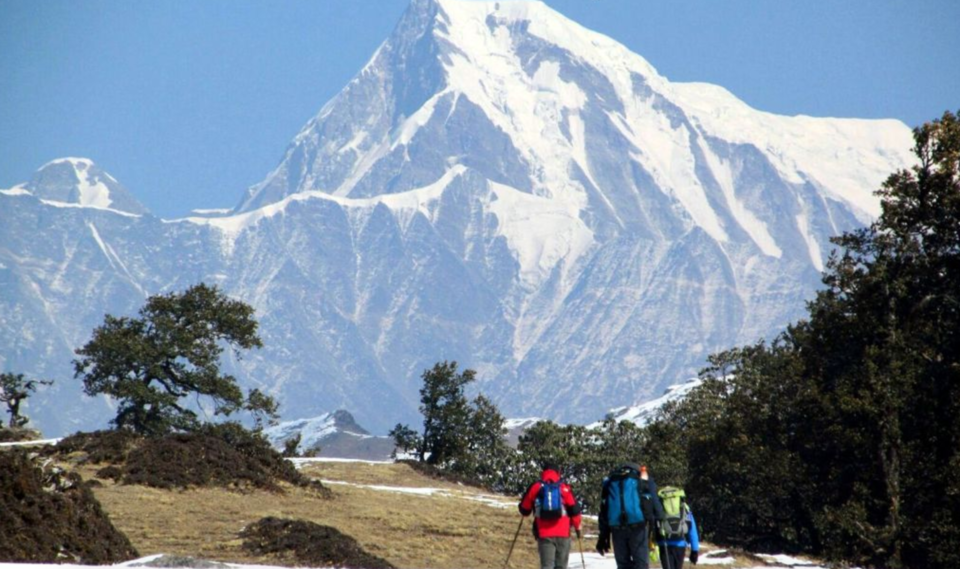 While on my way back from Kathgodam to Delhi, there were a thousand thoughts brimming in my mind. I had always made fun of people that claimed to have been altered forever after coming back from a Himalayan trek, but I'd never thought that I'd cross the fence to go to the other side someday. And am I glad that I did! For a person who can't walk in a straight line even to save his life, walking on the mountain edges for enormous lengths to really save his life was amazing. For a person whose general stamina can be equated with that of a sloth, having to climb mountains and walk across streams and valleys was a task unthinkable, but he achieved it. For a person who regularly questions the existence of god, hearing tales about a mythical battle between gods and demons was incredible, because all of it made sense up there. If somebody tells me that there was an invisible supreme power continuously motivating me to attain the summit, I wouldn't completely dismiss the fact anymore. A Himalayan trek changes everything. Mostly you and your perspective about how fortunate we are in our everyday lives. I profusely thank Indiahikes and their staff for never losing faith in me, even when I had none at all. I will go back for more.
Have you done the Brahmatal trek? Write about it here and share it with the travel community!
Frequent Searches Leading To This Page:-
top brahmatal trek package, brahmatal trek best time to visit, best time to do brahmatal trek, best time for brahmatal trek