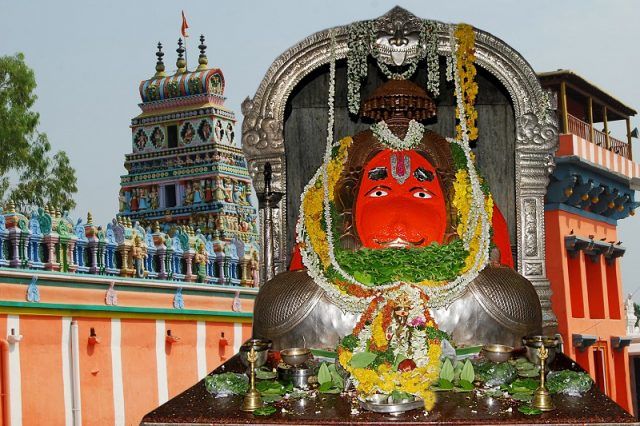 When you go beyond the heavily-trodden tourist paths of Hyderabad with Charminar, Golconda, Chowmahalla Palace, Qutub Shahi Tombs, and Hussain Sagar as landmarks, you'll discover several interesting places like Karmanghat Hanuman Temple, whose history is much older than that of the city itself.
More than 850 years old, Karmanghat Hanuman Temple is the oldest temple in Hyderabad. It is dedicated to Lord Hanuman, who is worshipped here as Dhyan Anjaneya Swamy owing to the rare posture of the idol in peaceful Dhyana Mudra. Hence, this temple is also known as Dhyana Anjaneya Swamy Temple. The temple also has idols of Lord Rama, Lord Shiva, Goddess Saraswathi, Goddess Durga, Goddess Santoshimata, Lord Venugopala Swamy, Lord Jagannath, and the Navagrahas.
Hordes of devotees visit Karmanghat Hanuman Temple to seek the powerful blessings of Lord Hanuman. They pray to be protected from the evil in the same way as the temple was protected from the mean motive of the Mughal emperor Aurangzeb who set on a mission to destroy Hindu temples to expand his territory.
Legend Behind the Name Karmanghat:
Almost 400 years after the temple was constructed, the troops sent all over the country by Aurangzeb arrived in Hyderabad to destroy this ancient Hindu temple. As per the orders of Aurangzeb, his men tried to demolish the temple but couldn't even enter it as every time they tried, they were pushed away by a powerful invisible force.
When they reported this to Aurangzeb, he arrived in a fit of mad rage carrying a crowbar and other implements to destroy the temple by himself. He too failed to step inside the temple even after multiple attempts. It is said that he heard a heavenly voice that commanded, " Hey Rajan, mandir todna hai to pehle, tum karo man ghat " (Oh King! You came to destroy the temple but before that, make your mind much stronger). His implements slipped from his hands, and he saw divine light encompassing the whole area.
He couldn't believe what had happened. But the truth is, Aurangzeb failed to knock this ancient temple down even though he did demolish several Hindu temples in India, including the most sacred Kashi Vishwanath Temple, Somnath Temple, Kesava Deo temple, and many other temples in Udaipur, Chittoor, Jodhpur, etc. From then, this indestructible temple came to be known as Karmanghat Temple.
History of Karmanghat Hanuman Temple:
Now, let's go back further in time to learn the interesting history of Karmanghat Hanuman Temple. It was the reign of the Kakatiya dynasty, and Raja Pratap Rudra once went on a hunting expedition in the forest. When the tired king was resting under a tree, he heard the chanting of Lord Rama's name. The king started walking into the heart of the jungle to trace the source of the sound and was utterly astonished to see a stone idol of Lord Hanuman uttering Prabhu Sri Rama's name.
He bowed to the idol and returned home. That night, Raja Pratap Rudra dreamt about Lord Rama instructing him to construct the Hanuman temple, and the very next day, he laid the foundation stone for the temple. Thus, the Dhyana Anjaneya Swamy temple was built in the 12th century (approximately 1143 AD) and the stone idol of Lord Hanuman meditating on Lord Sri Rama was enshrined.
Where is Karmanghat Temple located?
Karmanghat Hanuman Temple is located in a village by the same name (Karmanghat) near Sagar Ring Road in Saroornagar Mandal of the Ranga Reddy district. The temple is situated 9 kilometers from Mahatma Gandhi Bus Terminus, 16 kilometers from Secunderabad Railway station, and 21 km from Rajiv Gandhi International Airport.
Set in a serene locale, the east-facing temple spreads across 3 acres of land, and there's also a small koneru (pond) within the premises. Devotees take a dip in the koneru before proceeding to offer prayers. Karmanghat Hanuman Temple is also known for grand celebration of Indian festivals like Hanuman Jayanti, Sri Rama Navami, Maha Shivarathri, Ugadi, Sri Krishna Janmashtami, Deepavali, etc.
Karmanghat Hanuman Temple Timings:
Tuesdays and Saturdays: 5:30 AM to 1.00 PM and 4:30 PM to 9:00 PM
Other days of the week: 6:00 AM to 12:00 PM and 4:30 PM to 8:30 PM
Source:https://www.indianeagle.com/traveldiary/