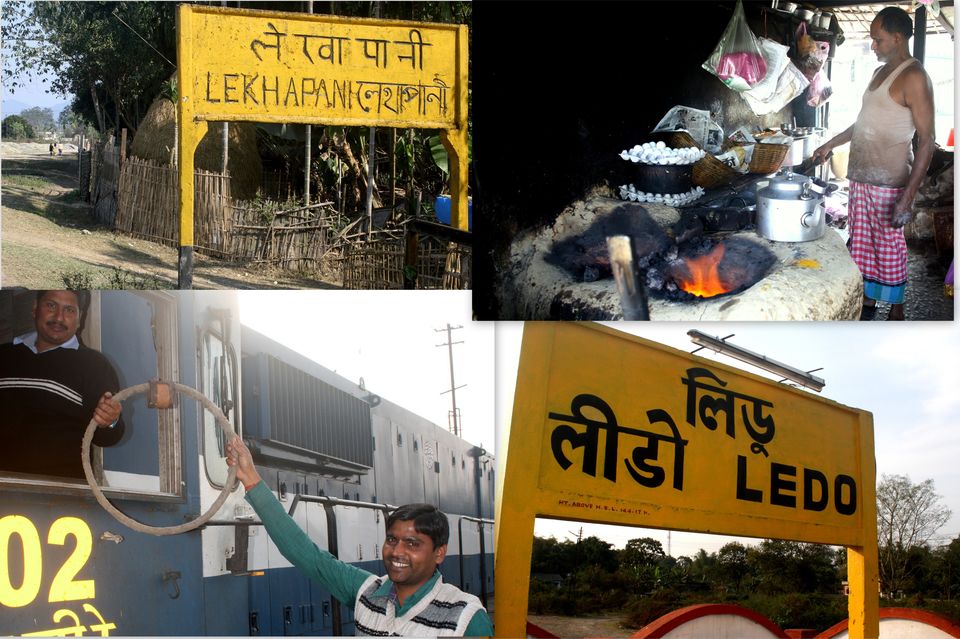 On an early February morning I was at the humongous & historic Mumbai CST railway station. I was waiting for the Mandovi Express. It would be the first among 25 trains I would take in 25 days.
Yes, you heard that right - 25 long distance trains inIndia in 25 days.
If you call me insane, I wouldn't blame you. I've worked hard to earn that tag.
Harder beds of second class compartments wouldbe my home. And the journey would take me to the last station in every major direction of the Indian rail network. No breaks, no AC, no comfort or comfort food for 25 days.
How did I manage to survive this trip? And what did I experience? Let's find out.
A grand total of three people came to see me off. You know, most people do not support suicide and my friends are no different.
10103 Mandovi Express
The first train was 10103 Mandovi Express from Mumbai to Madgaon in Goa. This train is famous for one reason and one reason alone. And that is not 'punctuality'.
My fifteen odd hours on the train were spent with good company. This good company is called great food. This train could well be crowned the best for foodies.
Sheera-Upma, tomato soup, fried rice, chicken manchurian, gulab jamuns and biriyani - I ate all of this like a man living on borrowed time.
But the highlight was meeting the hard working and proud catering staff of Ahuja & Care caterers.
Delay meant change of plans. The general compartment of 'Kerala Sampark Kranti express' took me from Madgaon to Udupi in Karnataka. This small coastal town is home to Lord Krishna's temple. It also happens to be my family's ancestral home.
However, my family is not related to Lord Krishna in anyway.
Train no 3: Netravati express, took me from Udupi to Kochi in Kerala. But not before the jitters-inducing wait at 3am at Udupi station.
Next afternoon I was in Kochi with a friend. This friend was Chandy Thomas. Yes, that sounds like a pretty girl's name. But in reality it is a hairy mallu man.
For the benefit of three non-Indians who follow me, mallu is what we Indians call people from the state of Kerala.
Kochi was about seafood and beef fry. And brandy. Lots of it, actually.
On a sober note, I also met the tea-stall owning couple. Why is that special? Because these superstars haven't let their meager resources stop them from traveling to 16 countries.
Train no 4: Island express to Kaniyakumari.
Beautiful fields and palm trees. And beautiful skies and palm trees. And brandy is not good for articulation.
My six hours in Kaniyakumari were spent getting worried.
Because...
The next train would be the beast of this journey. It was the longest train journey in India.
Train no 5: 15905 - 'Vivek Express' - it runs from Kaniyakumari, the southern tip of the Indian Peninsula to Dibrugarh in Assam, almost the eastern end of the railway.
The statistical magnitude of this train is mind boggling. Some numbers are 4 nights, 8 states, 57 stops, 4300kms and countless shocking moments. It is a great way to look at and understand India. But even better if you want to test the limits of your own patience.
If you skip the comforts of air conditioning and go second class, then only god can save you. Like he did save me. Well almost.
Only my phones and cameras were stolen on the last night. I managed to get off this battleground of a train with all my limbs intact.
Then it was time for train 6: Dibrugarh - Ledo passenger.
'Don't buy a ticket, you will miss the train. Buy it at the next station.' Yes, that's what I was told at Dibrugarh ticket counter.
A few slow hours through non-descript railway stations later, I was in Ledo.
It is the easternmost passenger railway station in India. Only in India can you see even the most distant of towns bustling with activity.
The original last railway station in the east is Lekhapani. The Brits had laid the railway line till there during the Second World War. After Independence, we managed to do the impossible.
We subtracted the line by a few kilometers.
The same train Dibrugarh-Ledo passenger brought me back. After a great Assamese meal with my host, it was time for train no 8 - Bhramputra mail to New Jalpaiguri.
New Jalpaiguri was the first time I had to take a long distance road ride. It was to Kurseong.
At seven in the morning I boarded retro and cute Kurseong-Darjeeling passenger. This was also my train no 9. It takes a frustrating three hours for a 30 kilometer journey. But it could not be avoided. It was a heritage ride with a lot of beautiful sights to offer. All my co-passengers were railway staff.
On some rare occasions even locals get on this ride.
New Jalpaiguri to New Delhi was a whirlwhind few days, with only a half a day break in Kolkata.
Padatik Express to Kolkata, then Bagh Express to Lucknow, Ruhelkhand express from Aishbagh to Izzatnagar and then finally Sitapur Delhi passenger. By the time I got off at Old Delhi railway station, I had started losing my sanity.
Journies had started blurring and my mind was almost impotent. I had started questioning this decision. May be 25Days25Trains was not doable after all. If it was, why hadn't anyone else done this before?
The only special journey was the meter gauge Ruhelkhand express from Aishbagh to Izzatnagar. Very soon these train rides will cease to exist.
Even the day break in Delhi could not rejuvenate me. But I did not have the luxury of time.
Train 14 was waiting for me at New Delhi railway station. It was Shri Shakti AC Express, the only air conditioned train in my entire project.
Next day, at 5 in the morning, I was staring at the shiny Katra railway station. My biological clock had stayed back on one of the trains. Even my orientation was disappearing steadily. One train journey at a time.
Train no 15: Katra- Jammu DMU. In less than an hour I was in Udhampur. I had now entered a crisis area. The military would be a common sight for the next days.
This was going to be the most testing time on the project. Because the trip was poorly planned, I possessed only a jacket and canvas shoes. And this was the coldest region in the country.
If my spirit was low at Udhampur, the six hour tempo ride to Banihal that followed completely destroyed it.
I would have preferred the comfort of a soft bed and some great food. But immediately after leaving the tempo, I had to make a dash for train no 16- Banihal-Baramulla passenger.
Weird Feeling:
It is a weird feeling to be stared at by a compartment full of eyes. Even more so, when you are in your own country. But that's Kashmir for you. Kashmiris are highly suspicious of people from the mainland.
If the train made me skeptical of this trip, a Kashmiri cop in Srinagar showed me what true hospitality meant.
He served me many cups of tea, mutton dal and hot fragrant rice. For a brief evening on this trip, I smiled and felt safe.
The next morning with wet shoes and wetter socks I left for Baramulla on train 17. Like things weren't difficult enough for me, it had started snowing in the valley.
For the first time, I had tears in my eyes. 'This was not possible. This wasn't within me' I sobbed looking out at the cold, grey dullness.
Then I spotted a man on the train. And I had no option but to stop crying.
He was wearing plain slippers, no shoes or socks. Neither did he have a jacket on. I told myself 'If he can brave this pain, so can you. Just hold on.'
I stayed at the snow covered Baramulla station only for a few minutes. Apparently there were no trains to get back after this one. Train 18 - was the same one traveling in the opposite direction.
By now, the valley looked furious. It rained like there was no tomorrow. I had to get to Jammu that day. The valley is notorious for flooding in a hurry and that could strand me for days, may be even weeks.
So, another cramped SUV at Banihal took me back to Jammu. But before that I had to endure a dangerous, landslide prone road. That I was not alone in that cigarette smoke filled SUV provided some consolation.
But miracles do happen and a friend named Bhawani Singh appeared in that form in Jammu. The comforts of his mansion like house brought me to tears again.
But this time they were tears of joy. I took a full day's break.
Train 19 to 25 consistently brought me southwards and I reached Udaipur.
By now, it was only the desire to finish the project that kept me going. And to be honest, even the sights ceased to matter. Greasy food, lack of sleep and almost no exercise had made me grumpy. So much so, that I stopped having conversations with co-passengers.
It was as if I was traveling alone with myself in a long & never ending railway tunnel. Only that this tunnel also meant some magnificent trains like the Kalka-Shimla motor car.
That afternoon I was devouring some delicious egg dishes near Chetak cinema in Udaipur. Good food had been impossible to find on the railway network. That I overate at the egg stall was proof.
'Just a few more trains to go.' I tried to pep myself.
Train 26 Udaipur-Ahmedabad express gave me a few pleasant hours. This meter gauge train on a moonlit route through the desert was special. And in some way, it felt like the end of a magical journey.
I had three more trains to go. But it was not to be.
This train which is known to be on time had a rare delay. For the first time in 24 days I had missed a train. It also meant I would miss reaching the last station in the western direction - Okha.
That morning at the busy Ahmedabad station I realized what I felt was not just fatigue. After 24 days, I had reached the end of my ability. A few phone calls and I called off the trip to Okha.
'Some other day' I convinced myself.
That evening on train 27 Gujarat mail, I was headed back home.
Though I had no idea back then, malaria had also traveled with me for a week or so. That was the reason behind my constant fatigue.
I started getting treated for malaria as soon as I got home. It was now that I could appreciate the many gifts of this insane journey.
I now knew a little more about this country and its people. Also about its greatest colonial legacy - the Great Indian Railway
Kindness was more powerful than any negative emotion. If there was one thing that kept me journey going, it was kindness of the many people who helped me when I was almost about to give up
Personally, the most important learning was the ability of a challenge. A challenge is not a hindrance or a difficulty. It is growth. It is pushing the boundary of your own ability.
Like 25Days25Trains had pushed my ability beyond my own imagination. That I could live on trains with malaria was just one of the proofs.
Would you want to take an odd trip some day?


Follow my journey on www.eccentrips.com as I travel to 12 different countries to take a challenge in each one of them. These odd experiences should end up in some learning for me and who knows, may be for you too.
Website: www.eccentrips.com
Facebook: Eccentrips
Twitter: @Eccentrips
Instagram: Eccentrips
Youtube: Eccentrips