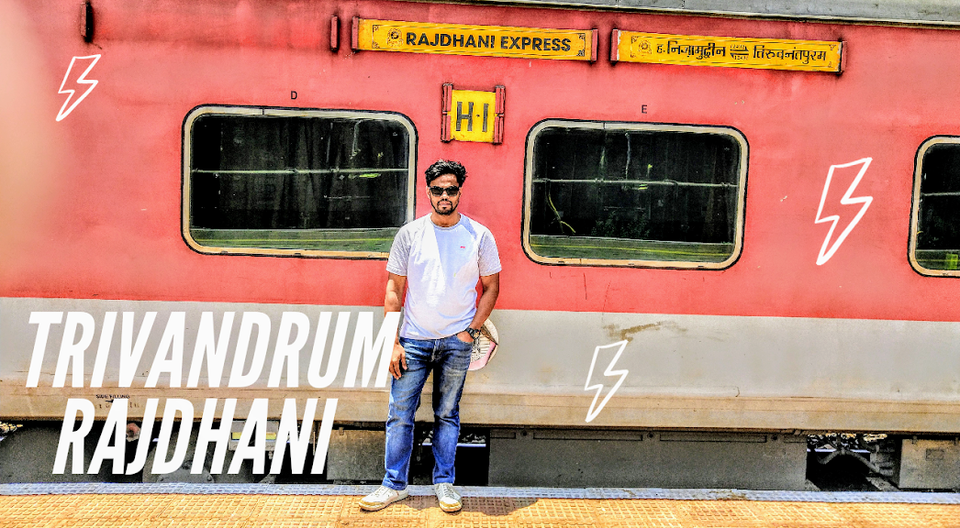 It is rightly said that "To Travel is to Live" because Travelling is something which cannot be described in words it can only be felt.
There's no need to fly within India if we have The Rajdhani Express'. Rajdhani Express does not need any introduction as it is one of the luxurious and the fastest running trains we have in our country.
It's surprisingly easy, quick and comfortable to travel by train from Trivandrum to Delhi to almost anywhere.

The Rajdhani Express is a series of express passenger train services in India operated by Indian Railways connecting the national capital New Delhi with the capital and/or largest cities of various states.
Hotel Saving Tip: If you are going for OYO Hotels anywhere in India do apply my coupon code "OYODOLESH2" you will get flat 45% off on each new online hotel booking.
The Trivandrum Rajdhani 12431 is a Rajdhani Express service in our country which connects the national capital New Delhi to Trivandrum, the capital of Kerala state.
It costs around 8000 bugs to travel by first class AC coach in the Rajdhani express from Trivandrum towards Hazrat Nizamuddin.
However, the difficult bit is finding out how to do it and where to buy tickets or you must be thinking that if the ticket costs 8000 bugs then why am I not travelling by flight.
The only reason I prefer travelling by the Rajdhani express rather than travelling by flight.
First I thought that I will share this journey with you by breaking the vlog into parts however it was not a good idea because it makes the thrill-less and breaks the connectivity with you all.
Suggested Blog: Places to visit in India in December
Today we will explore the Rajdhani express and will discuss how your journey by the Rajdhani can be one of the most memorable journeys in your life.
Day 1:
With a pinch of excitement and to experiment a new adventure I have boarded the Rajdhani Express and the train leaves Trivandrum towards its destination accurately at 7.15 pm.
It's raining heavily outside and I am on The Rajdhani express what more one can expect in life.
I have never traveled so long by train and this journey is going to be very special for me as it is going to be the longest train journey in my life which will cover about 3,149 km.
I also did: Ranchi Rajdhani Express Covid Special Journey
The Rajdhani was originated so that it can connect the capitals of various states with the capital of our country i.e. Delhi.
In our journey, we will be having 17 halts and will be crossing 9 states i.e. Kerala, Karnataka, Goa, Maharashtra, Gujarat, Madhya Pradesh, Rajasthan, Uttar Pradesh, Haryana and then finally will reach Delhi.
I always prefer travelling alone because the anonymity of a particular destination can be very welcoming and to me, it especially is when I travel by myself. When it comes to travelling I never mind my own company.
Let's go, till our next stop lets explore the 1 st class AC compartment and find out why the Rajdhani is different from the other trains. The interior of the train is designed in such a manner that when one enters the compartment it gives them a royal feel.
My love for trains might have begun when I was a small kid when my parents used to take me once or twice every year to long-distance train journeys.
Of course, the window seat was a treat for me, and if you saw the engine turn while looking out of it, the purpose of the entire trip was served at that moment.
Now it's raining outside and due to dark, I don't think we will be able to explore more but will try my best to capture almost everything so that you people can get a beautiful glimpse of this journey.
When I entered my coach everything was so beautifully placed and managed. The first thing I noticed after entering the compartment was a water bottle, a welcome drink and a napkin. Such a warm welcome!
After enjoying my welcome drink and seeing the mesmerizing views from the window we have now reached our very first halt i.e. Kolam Junction. It is known as the second largest railway station area vice in Kerala.
Extra Note: Airbnb is the best way to rent unique, local accommodations on any travel budget. Get ₹2,200 off your first trip of ₹5,000 or more. When you sign up using this link - https://www.airbnb.co.in/c/dolesha you get ₹2,200 in travel credit. Valid only for new Airbnb guests!
It has the largest platform and there are a total of 6 platforms where 130 trains halts and 17 trains originate from here. Right now due to rains the weather here is just amazing. As its raining outside, I'll get on the train and enjoy my hot soup till the next stop.
Being on a train somehow makes me get into long metaphysical conversations with myself and it gives me the time and mental space to think about where I am going.
Food is one of the reasons why I was attracted to this train. The service which the Indian Railways provide in Rajdhani is something which makes the passengers feel special by the royal treatment of the staff.
One of the staff members entered my compartment wearing a traditional suit with a Rajasthani Turban and a big smile on his face. The staff here is very helping in nature, Later I was served my dinner and what a delight it was.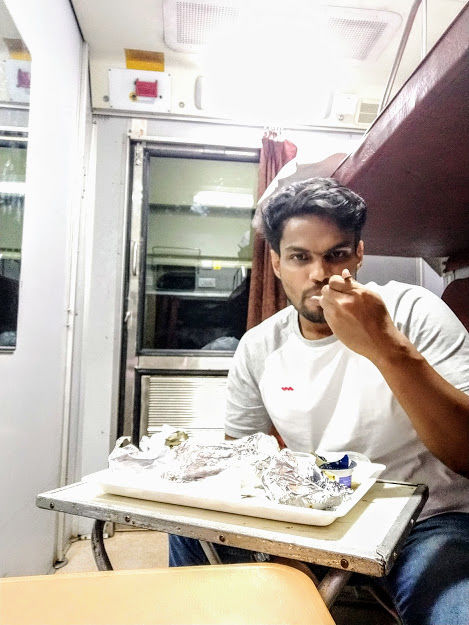 Here's my Thali prepared fresh in the Rajdhani's pantry which includes vegetables, rice, dal, chapati, curd a dessert. In lunch, you will get a thali or other kind of food of your choice and you can the menu on the application of the Indian Railway directly.
The food served inside the first class AC compartment, second class AC compartment and the third class AC compartment is totally different and for second and third it's limited wherein for the first class compartment its unlimited.
One of the best things of booking a ticket in the first class AC compartment is that not all the seats are reserved so that you can get enough space in the compartment and one can enjoy the journey without any disturbance.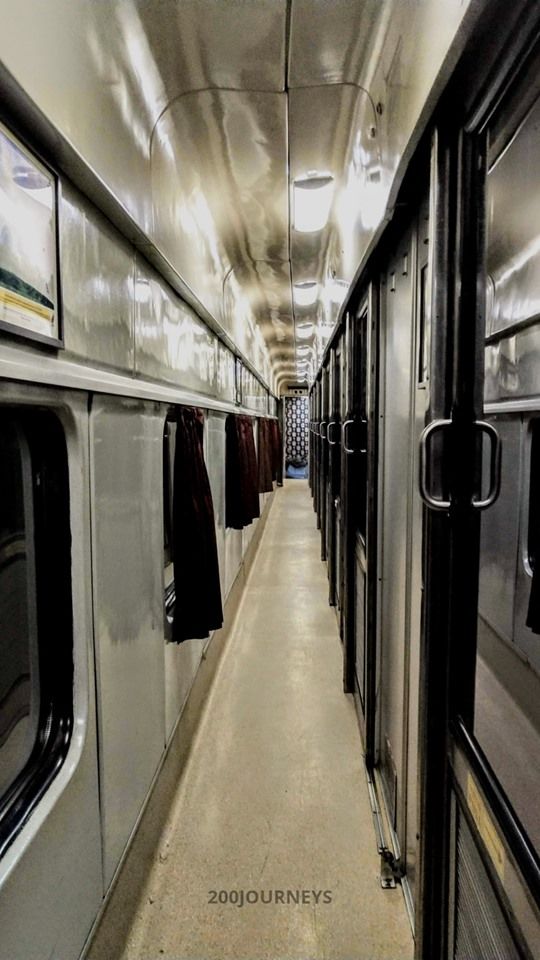 Outside the compartment there a lobby where you can roam freely which I think is the plus point of first class AC coach.
Here we are at our next stop Alleppey. The halt is of 2 minutes. Now we head towards our next stop i.e. Ernakulam Junction which is said to be the A1 category railway station of the Southern Railway Zone.
Related Vlog: Bhubaneswar Rajdhani Express Journey
Now its time to take some rest as I have been travelling by train for the last 5 nights. Unbelievable, Right? but this is the fact. Now I will skip 6 stations and tomorrow morning will explore the other stops until we reach Delhi.
Day 2:
It's raining lightly, my train is passing through the fields and I am standing at the door with the morning breeze on my face, watching the silhouettes of coconut trees lighten.
Waking up in the Rajdhani is giving me a royal feel and now I am all ready to do my breakfast. The smell of coffee with a plate full of flakes and biscuits is the best. What a morning ...
The Indian Railways has launched a feature in the Indian Railway Application where a passenger travelling in the second class compartment or is in the waiting list can upgrade their seating arrangement through the app which is free of cost.
Now we have reached Udipi, Karnataka which lies in the Konkan Railway. Udipi is also known as the temple city and is one of the most important tourist attractions of Karnataka.
If you want to explore the Konkan Railway the best time to travel is the monsoon surrounded by the green cover with beaches and rain pouring from the sky is a treat for the passengers who travel during this period.
I feel a strong connection with our country while I travel by train because of the people I meet during my journey, the glimpses of seemingly impenetrable acres of land.
As we go further we have reached Kumta station and our train is halted here but this not the official halt the only reason why the train is stopped here is that there is only one railway track and the train coming from the opposite direction needs to pass first so that the other train can move further towards its destination.
Also read: How to Increase YouTube Subscribers in India
We are at Karwar now and the most interesting fact is that Rabindranath Tagore and two other writers once visited this place to write their first drama and hence he addressed this place as 'Kashmir of Karnataka'.
Our next stop is Madgaon and the halt is of 10 minutes. Konkan Railway route is one of the best railway routes in India. Further, we will halt at Sawantwadi Road railway station.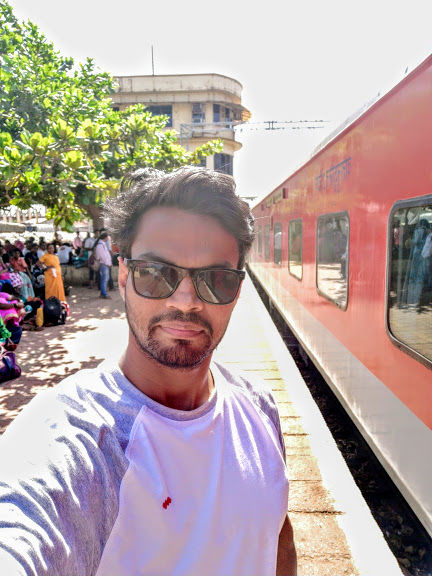 Now the train has reached the Ratnagiri station, the city of Alphonso mangoes. If a person visits here and does not taste the mangoes then the trip is wasted.
I have bought fresh and juicy Alphonso mangoes from the station and will now enjoy eating them on the train. We have crossed Panvel and have reached the Vasai Road Railway station which is the crossover point of Central line and Western line.
There is a bewildering variety of people on trains whom I keenly observe which also helps me to learn about the moods and nature of various kind of people.
Day 3:
We have now halted at Kota station and we have covered almost 3700 km journey.
In this journey, I have found a new friend who is my co-passenger and believes that you need the thrill to travel. Yes, this is true...
Kind strangers play an important role in train journeys, pestering you for some more personal information, and rewarding you with every type of food they are carrying. There is a comforting touch on a train journey.
Finally, we have reached Hazrat Nizamuddin Railway station and our journey ends here. I am glad that I have successfully completed India's longest train journey.
Helpful Post: Top Hill Stations in India for Honeymoon
Thanks to the Rajdhani express, it was an adventure to cherish for a lifetime. I feel more grounded when I travel by train. The Indian Railways definitely has a charm of its own, the one that I find irresistible. And I am going to keep going back.
This was my experience and with the help of this blog I tried my best to convey my travel story through words and if you want to enjoy the same journey through visuals of how you can travel by The Rajdhani Express First class journey in real time through a vlog on my YouTube channel - 200Journeys
If you have traveled in Rajdhani Express pls do share your experience with me on Instagram.

Happy Travelling !!!!