Morning was indeed beautiful in Sarchu.........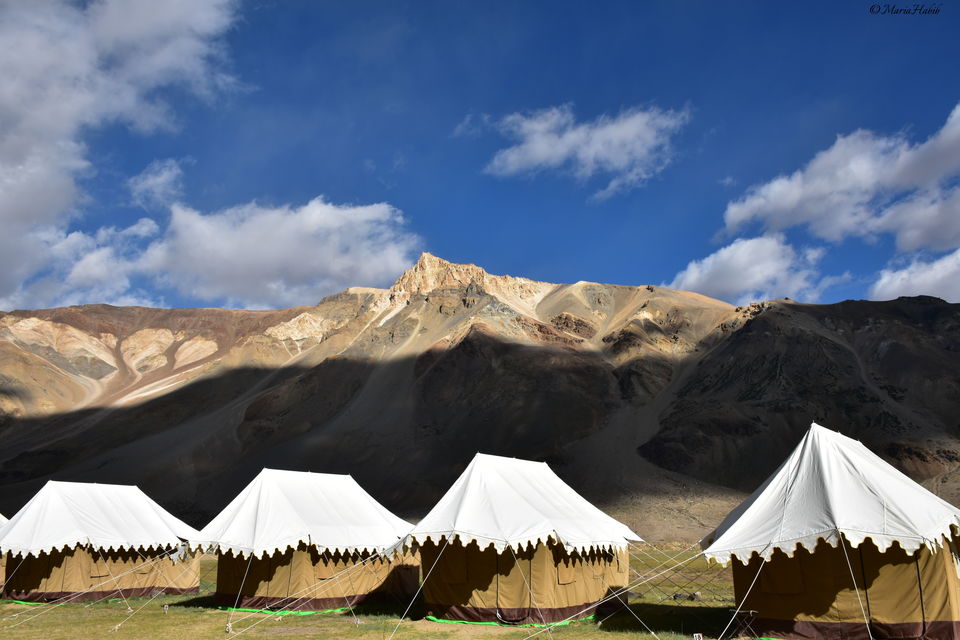 By afternoon we had descended 60 kms from Tanglang La and were entering the mesmerizing "Indus Valley". The colossal river Indus was flowing along the road and the first village we came across was the beautiful "Upshi". It was after 24 hours that we encountered a densely populated human settlement. A peaceful, beautiful and serene set up with some amazingly colorful rock creations ( the red and purple mountains) inhabited by agile and cautious "Blue Sheep". Our driver stopped near a spring for car wash and we enjoyed the crystal clear natural spring water having unparalleled taste and freshness. Nearly all the houses were accompanied by three to four "chortans" of different sizes. A humongous Buddhist prayer wheel situated in the center of village evidently gave an idea of the religious faith of the residents.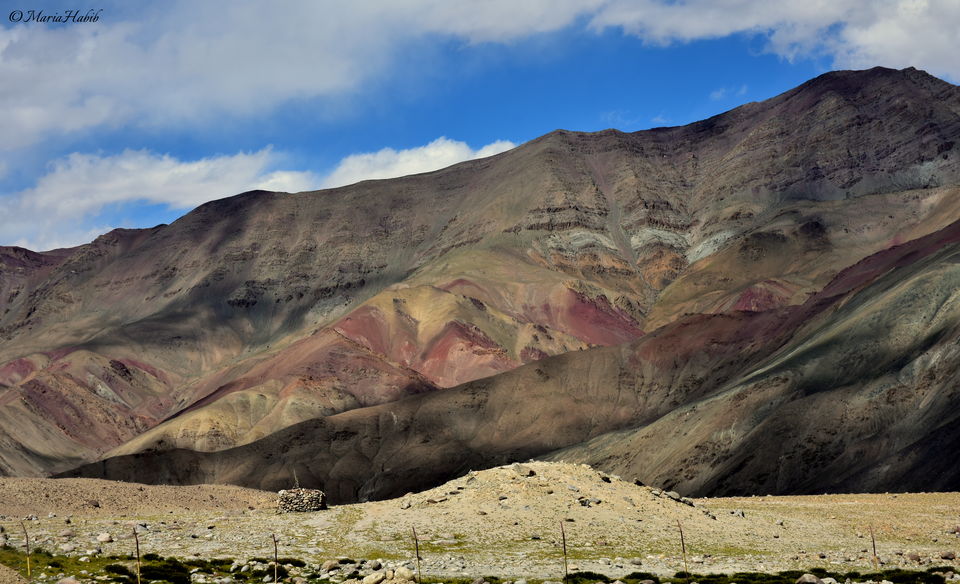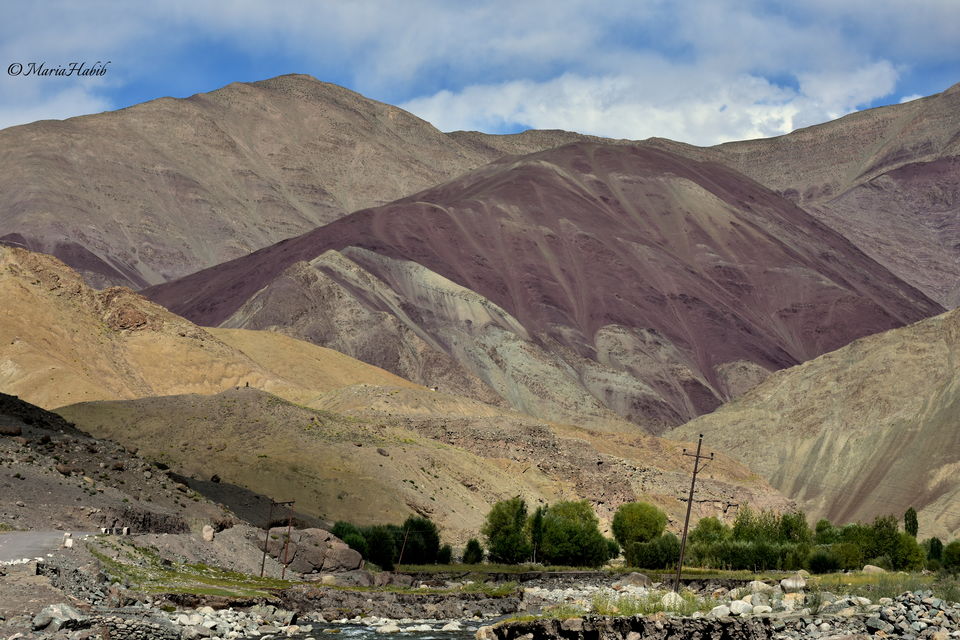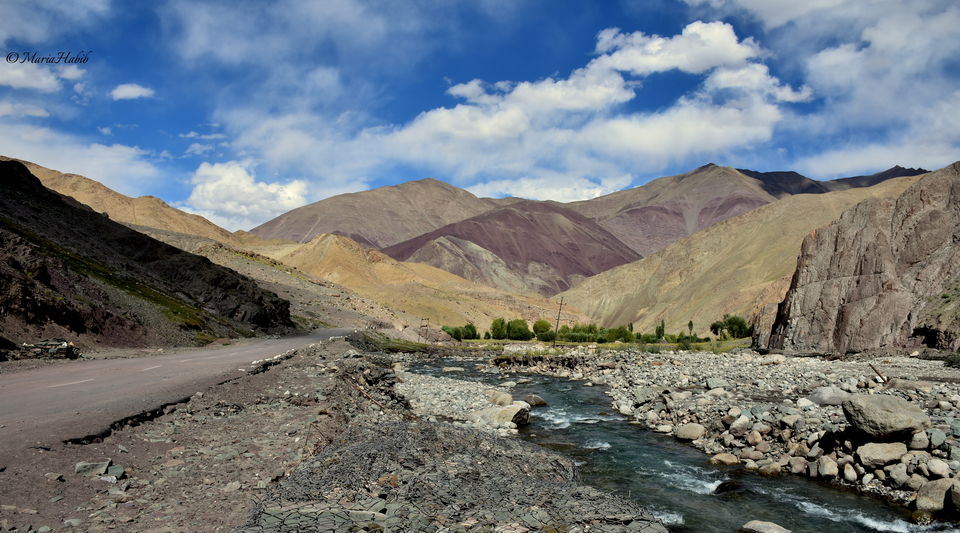 From Upshi, we proceeded towards the military station "Karu". Karu is predominantly inhabited by defense personals. Well maintained roads with intermittent road signs, regular check posts and a frequent convoy of army trucks constitutes this vast cantonment.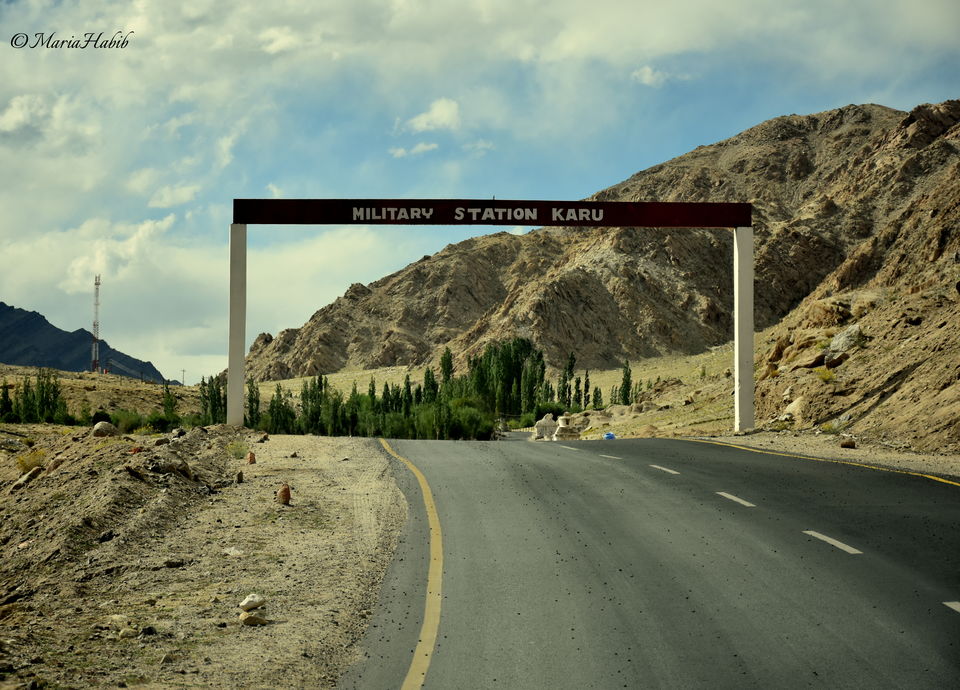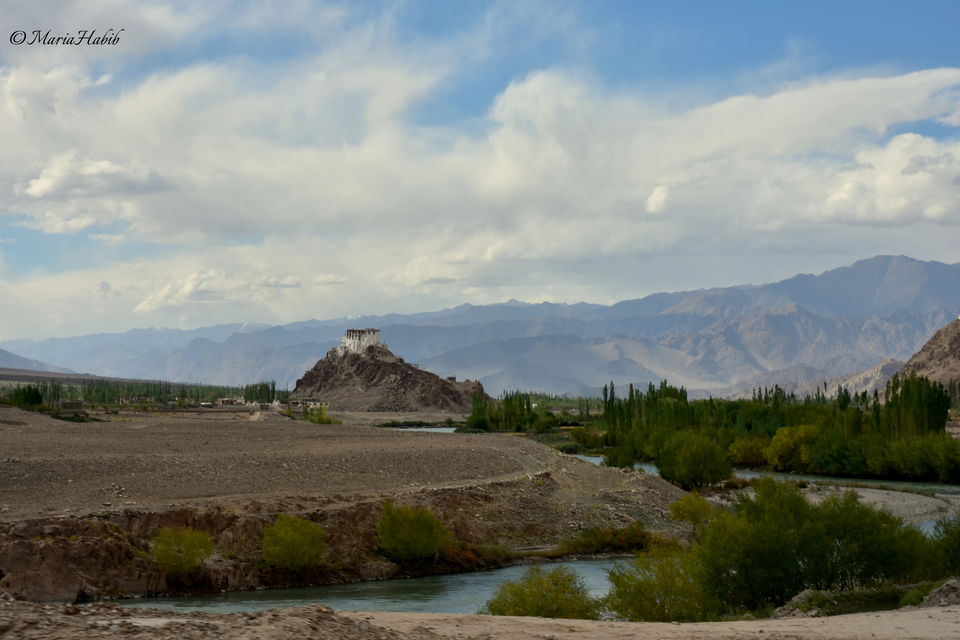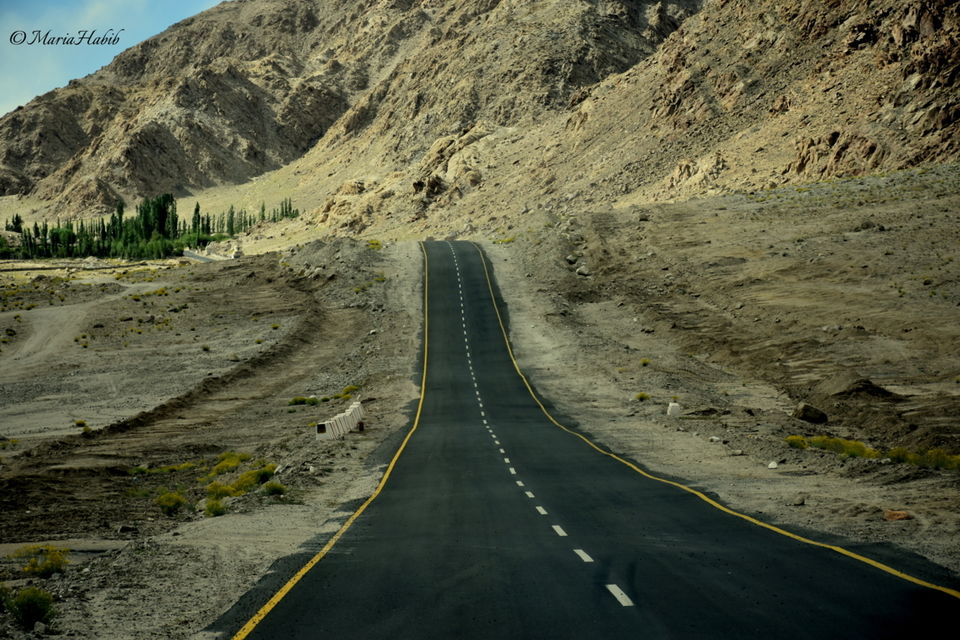 Around 5:00 p.m we finally reached Leh, dead tired, exhausted and completely out of our minds and checked in at Hotel Grand Dragon. The HAS havoc was now taken over by extreme lassitude. In spite of the fact that there are no star rated hotels in Leh, Grand Dragon offered all possible luxuries of a star category hotel. The grand entrance, lavishly designed lobby, hospitable staff and a warm refreshing welcome drink (…read "Qahwa") were adequate enough to revitalize our senses.
Before I could stabilize myself to think further we were at "GATA Loops" (13,750 ft.). These 21 hairpin loops form an ascending curvaceous road to Nakee La Pass (15,547 ft.), La Chung La Pass (16,616 ft.) and are disreputable for obvious reasons. There was no sign of civilization anywhere around and I was not keen to ascent further. However I breathed a sigh of relief when my better half started noticing the surroundings while making use of the camera. It was a sign that he is gaining back interest because he is feeling better. In order to keep him guarded against wind and temperature, I decided not to stop at Nakee La or Lachung La Pass. All this while, I tried hard to feed him but in vain.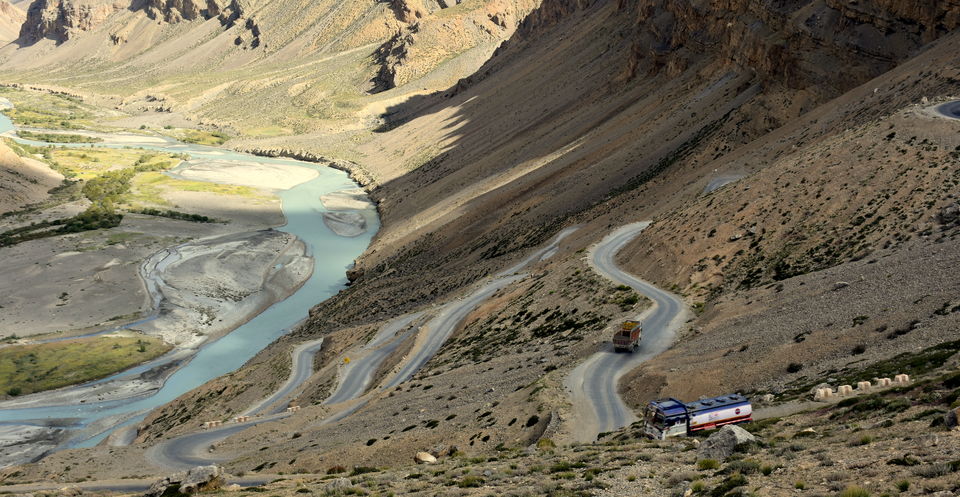 After an hour or so we moved ahead and reached Pang around noon. Sighting a tea stall, and not celebrating "my hubby's recovery", was out of question. And so there was another round of the lifesaving Lemon tea………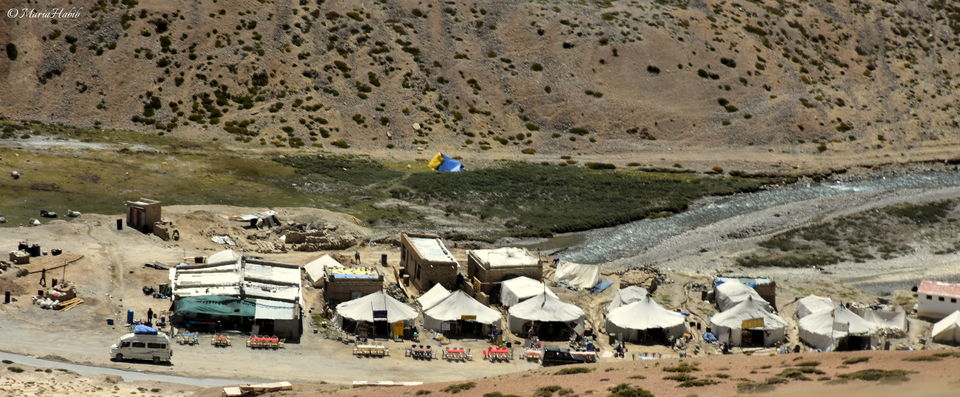 From Pang we cruised to Morey Plains (15, 748 ft.) This 40 km stretch of uninhabited plains, flanked by mountains on either side, exhibit some out of the world rock formations. It was a delight to see such a long and metalled tarmac at this altitude without any sharp, blind curves. A single straight road running through the center of these plains is a big respite for tired and exhausted passengers. However, extremely low temperature at night and hostile wind speed, make these plains unfit for human settlement. That is why in spite of being even and rolled out, no population inhabits Morey plains.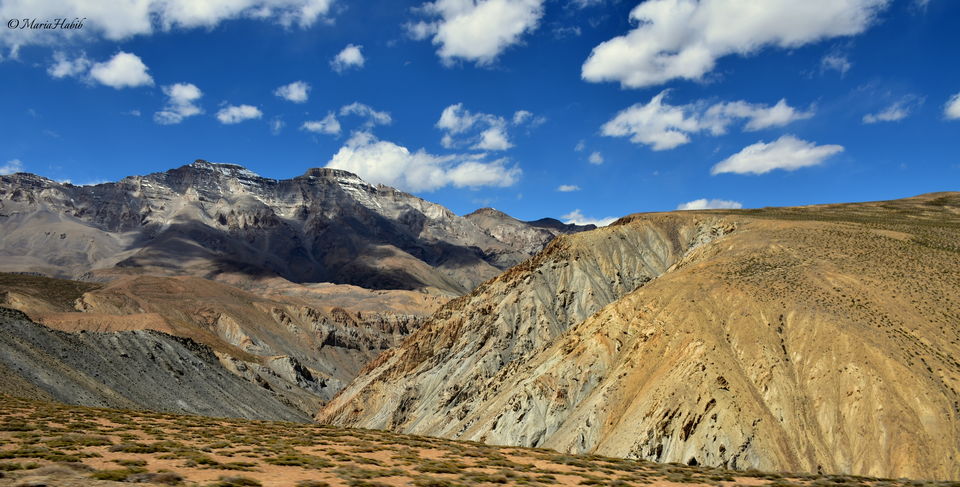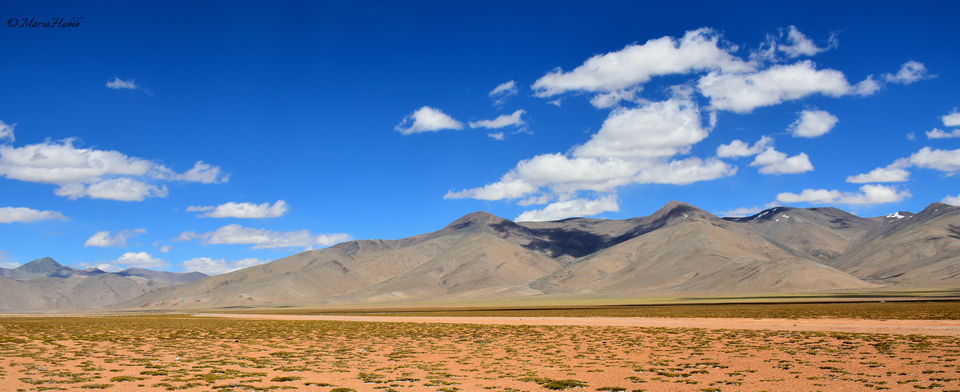 The next challenge was to sustain the steep ascent from Morey Plains to Tanglang La Pass (17,480 ft.) and cross Tanglang La unharmed. Road to Tanglang La was a smooth sail but as expected the temperature and wind speed were quite unfriendly. However, my biggest relief was my hero's speedy recovery and this time he was not willing to let go off the chance to get down and feel the chill at second highest motorable pass, in India at least (the claim of being second highest in world is often thwarted).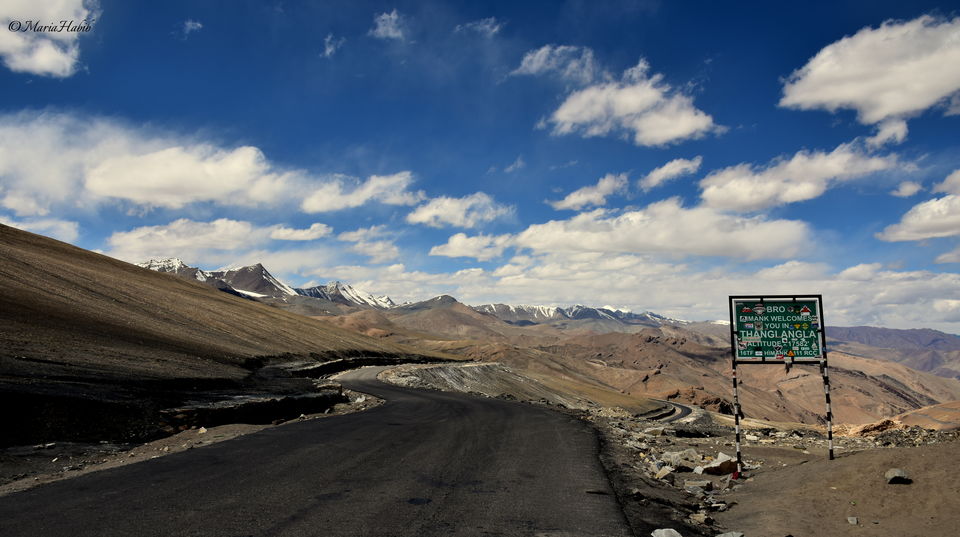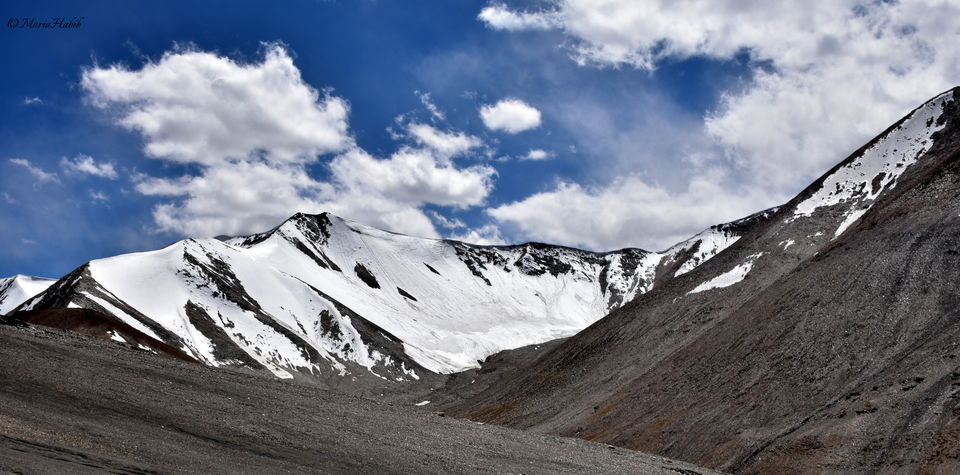 After a night of horror the sun kissed grasslands and peaks looked warm and welcoming. A cup of freshly brewed lemon tea was a perfect elixir for us. Few minutes of sunbathing made me feel better (but not awesome).The heaviness in my head was reduced but didn't vanish completely (even after 2 cups of Lemon tea). But the fact that I was recovering, was adequate to boost my morale for onward journey.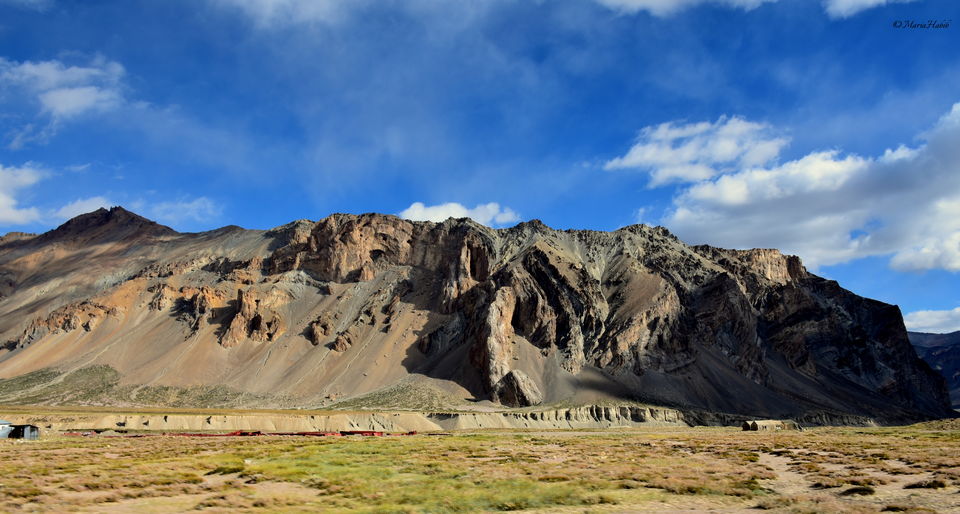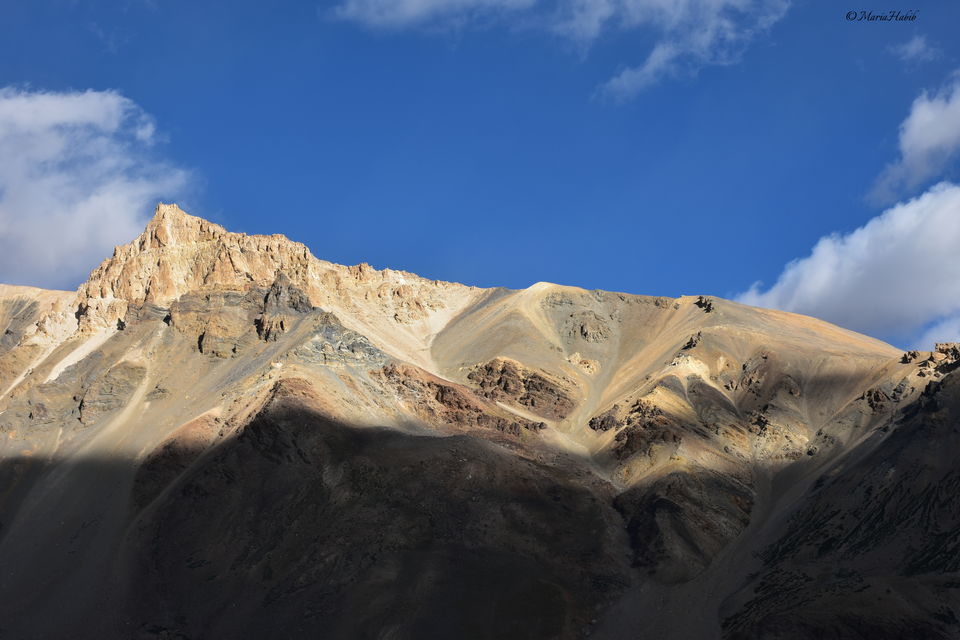 My husband on the other hand was unsure of his state. His mind was confused between HAS and Common cold. He did feel warm and cosy in sun, but his headache persisted. He was absolutely in no mood for breakfast. He had all possible symptoms of HAS but was in state of denial. And so, I finally decided to utilize our portable Oxygen stock. The canister was only viable for 20 mins or so with both of us using it in turns. Now the task that lay ahead of me was how to feed him at least something. I clearly remember reading this, in not one but many travelogues, that no matter how bad you feel you should never travel empty stomach at high altitudes. I convinced him for a no protein, low carbohydrate option and we headed for breakfast.
Alas…!!! All my efforts went into rut when just after one sip of milk and one bite of toast, he abandoned his breakfast, complaining severe nausea. I was dismayed, as this symptom, was not present earlier and I even thanked my stars for that (perhaps too soon).
I gulped down my cup of milk in a go, gathered our stuff from the tent, thanked the attendant and started our onward journey. I was busy making a mental note of all possible tricks (….which I might someday use on my toddler) to feed my tired, sleepy and HAS affected husband. I was also not supposed to let him sleep as that would have further aggravated his uneasiness. I was getting a feeling that he needs a dose of sugar, but he was not ready to even smell anything except gulping down water.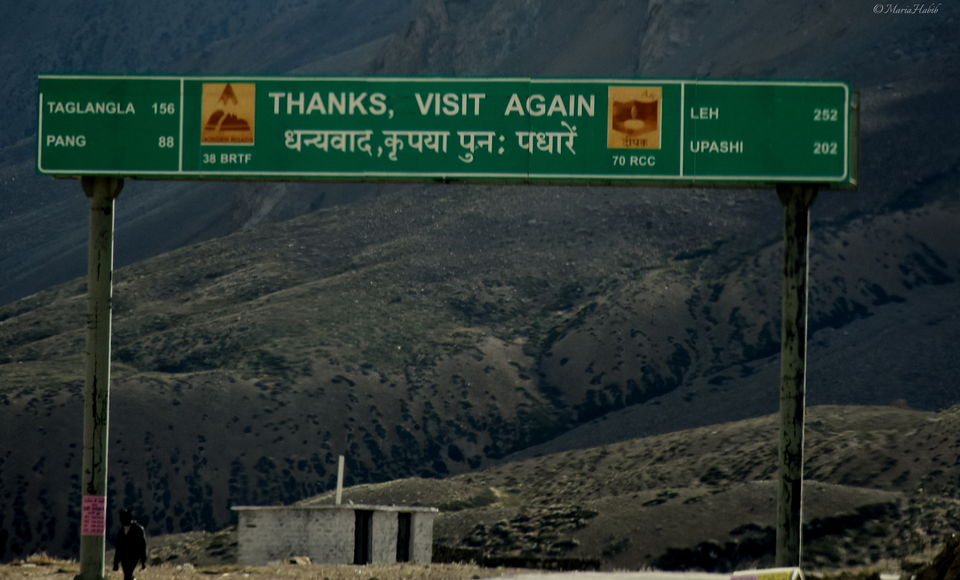 After registering at Sarchu check post we were heading towards Pang (15,100 ft.). This was Kashmir. The landscape had overall transformed since last morning and the mobile signals had vanished. There was a dominance of different shades of brown and copper all around with beautiful river Indus accompanying us along the side of road. From Sarchu on wards the drive was mostly uphill with gradual increase in altitude. Considering my hubby's discomfort, there were hundreds of concerns going on in my head as to how and where to seek help in case of any emergency? How to convince him that eating in small portions can make him feel better? Should we now take Diamox or should we take another drug (Dexamethasone) as treatment? And the worst case scenario……what if the symptoms lead to HAPE or HACE (God forbid)?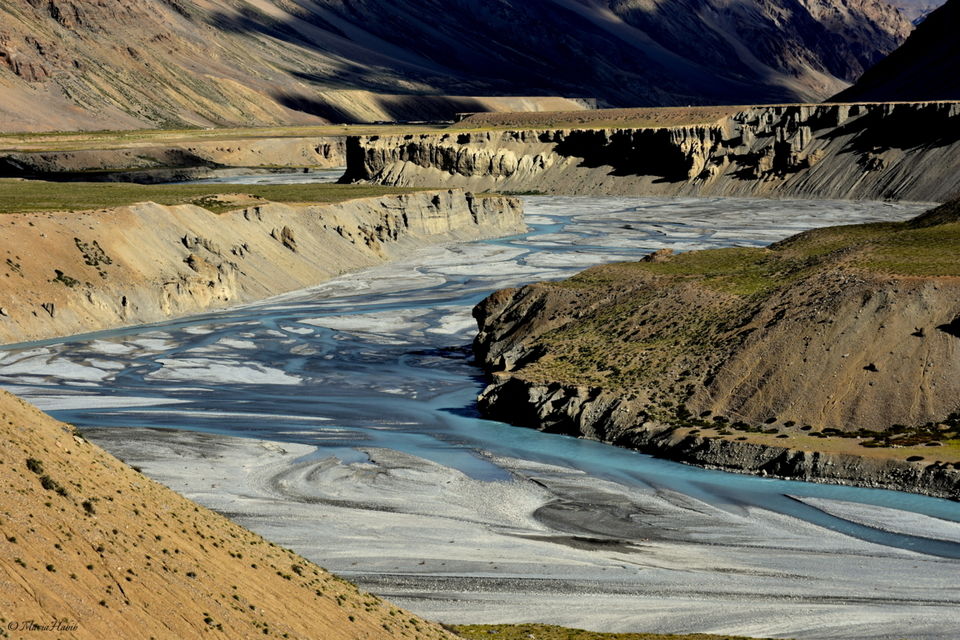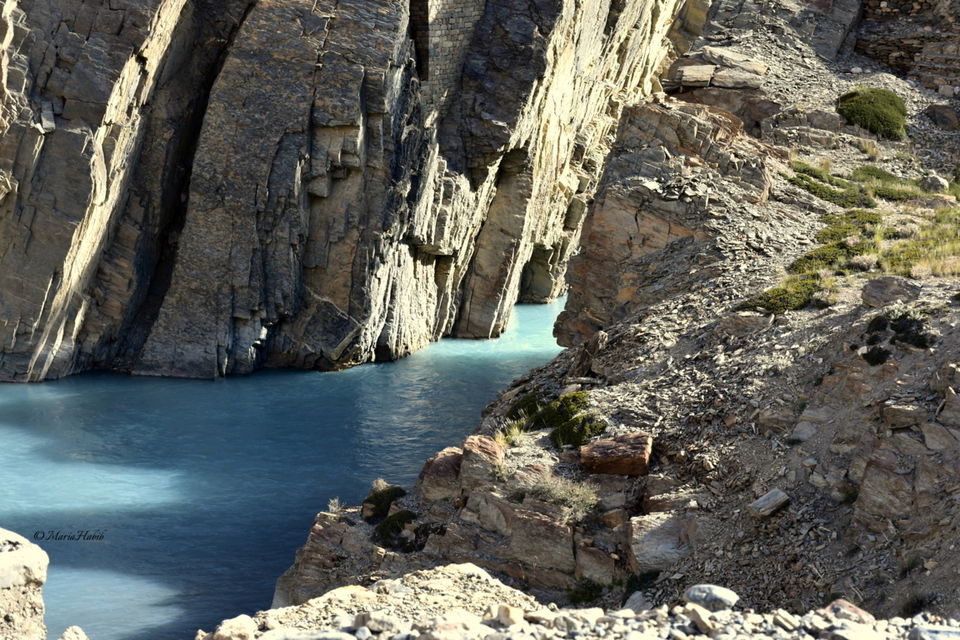 The God sent breather came when our vehicle came to halt, following a traffic jam for an hour at an extremely narrow and broken stretch of road, while descending from Lachung La. In order to clear the uphill traffic (which was a convoy of army trucks), BRO had stopped the downhill commuters. Once the movement of car ceased and we endorsed some fresh air, my hubby's reflexes started improving and he finally gave in to the temptation of Cadbury's Silk. As soon as the saccharides were ingested he was almost back to normalcy. A bar of chocolate, a handful of nuts, a few sips of water and my hero was raring to go….. (I never loved Traffic congestions before… but now I do).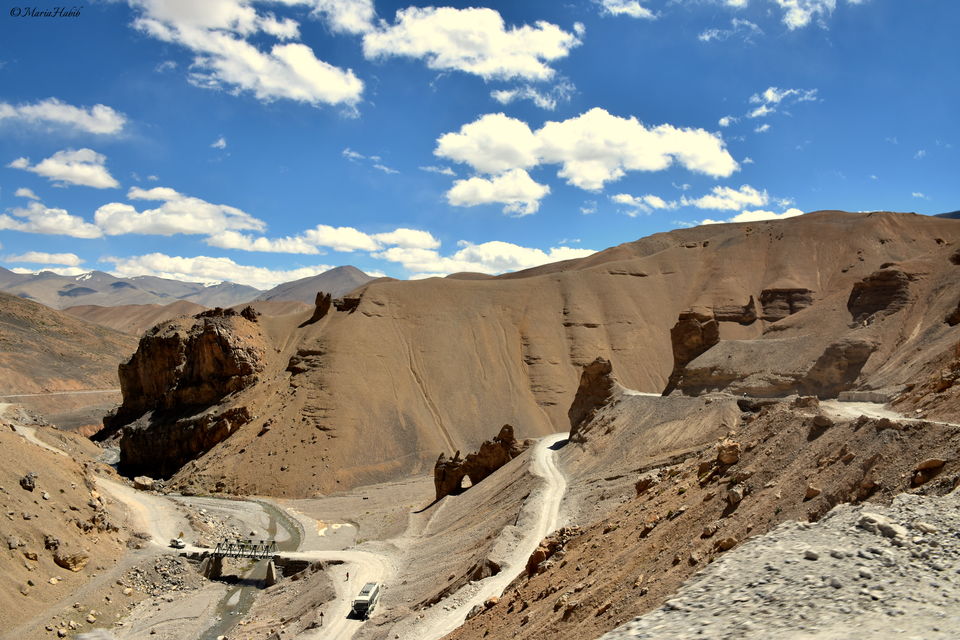 I was pretty confident that last dreadful night at Sarchu has acclimatized me for this terrain. I didn't feel an ounce of discomfort since morning and all my concern was how to make my husband comfortable. But, a 5 min stopover at Tanglang La, was harsh enough to make me fall prey to HAS. In just 5 minutes I ran short of breath, felt like throwing up and also experienced severe headache. For a couple of minutes my husband too looked confused as few hours ago it was he who felt sick while I looked hale and hearty and now its vice-versa. Without wasting any minute, I switched to my sugar and fluid treatment which worked again. Thankfully I didn't take as long as he took to recover. Since we were descending from Tanglang La top, the decrease in altitude also accelerated my recovery. I guess it was just a mild twinge of severe cold coupled with low oxygen which was detected just at the right moment.

A room with a view is always the best antidote for a strenuous journey. The long eventful day ended with a beautiful sunset, a warm shower, delicious dinner and finally …………sweet dreams.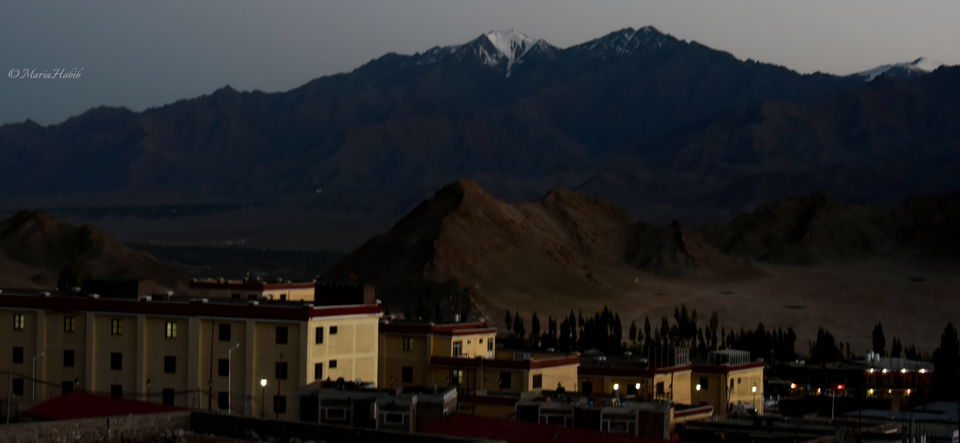 Frequent Searches Leading To This Page:-
Best Tour Packages for Leh, Best Travel Packages for Leh, Best Leh Trip Packages, Leh Holiday Tour Packages, Top Leh Tour Packages For Family, Leh Tour Package for Couple from Delhi