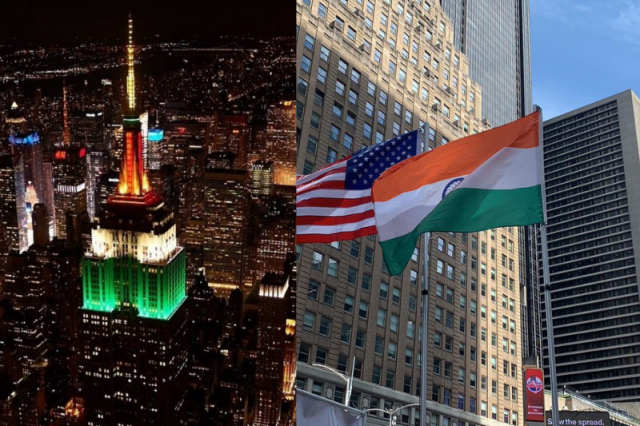 15th August 2021 marks 75 years of a significant milestone in the history of India, the hard-fought freedom from British Rule. While the Indian Government has initiated the 'Azadi ka Amrut Mahostav' campaign to celebrate 75 years of Indian Independence, an organization representing the Indian diaspora in the US is setting up the stage for a new tradition of hoisting the Indian flag at the iconic Times Square in New York.
The Federation of Indian Associations of the tri-state regions of New York, New Jersey and Connecticut will unfurl the biggest tricolor at NYC's Times Square this August 15 to commemorate the 75th anniversary of Indian Independence.
According to the Federation of Indian Association (FIA), the consul general of India in New York, Randhir Jaiswal, will unfurl the 60-square-foot Indian flag over a 25-foot-high pole. Celebrations will continue the whole day following the flag hoist at Times Square.
FIA Chairman Ankur Vaidya is quoted saying, "We want to continue this tradition. This year, we are hoisting the biggest tricolor unfurled at Times Square so far."
Furthermore, the first-ever India Day billboard at Times Square will be on for 24 hours and the Empire State Building will be magnificently lit up in tricolors of India's national flag as part of the grand-scale celebrations of India's 75th Independence Day in New York.
As per the reports by the news agency PTI, Indian-American sporting stars - 12-year-old Abhimanyu Mishra, the youngest Grandmaster in chess history and 17-year-old Samir Banerjee, winner of Wimbledon boys' singles final - will be honored during the event for their remarkable achievements.
Here in India, the Government has launched a website so that Indians all over the world can take part (virtually) in Independence Day celebrations. Besides providing updates about Independence Day events, the website also enables them to watch the live stream of the Independence Day celebrations that take place at Red Fort in a 360-degree format. One can use this virtual reality (VR) feature with or without a VR gadget.
Source:https://www.indianeagle.com/traveldiary/