This is one trip I owe to Instagram, Accuweather and American Express!
While Kashmir has been on the travel list for a very long time I wasn't looking to plan a trip now. And then a school senior's posts on Instagram – of beautiful landscapes, snow covered mountains & trees, snow fields and snowfall – made me crave to visit Kashmir. Things magically fell in place. Holi was a couple of weeks away, Accuweather predicted snowfall in Gulmarg on the Holi Weekend and I had enough reward points on Amex to fund my marginally expensive impromptu flight booking at such short notice!
We had three days at hand and planned a quick trip. Fly out of Delhi at 8:45 and reach Srinagar at 11 (it was a hopping flight via Jammu. There are plenty of direct flights also). Head directly to Gulmarg from the Airport. Break the journey at Tanmarg, rent boots and reach Gulmarg. Spend two days at Gulmarg, take a Gondola Ride. Checkout out on the third day in the morning, drive to Srinagar, take a Shikara ride in the Dal Lake. And then the first flight out next morning. A real quick one!
I wanted to stay at The Khyber in Gulmarg (it has views to die for) but was too expensive for I travel nearly every month. For anyone who can afford that luxury, please go for it! After some research, we finalized on Heevan Retreat (and it was a very wise decision!). We booked Jamal Resort at Srinagar.
The best and the most convenient way to travel from Srinagar to Gulmarg is by car. One can take a taxi from the Airport (there is a tourist taxi booth right outside) or you can book one in advance (your hotel can help). One way charge would be between 2200 and 2400. We had booked one in advance. One wouldn't need a car locally in Gulmarg. Short distance taxis are easily available. You can ask the driver to come and pick you up for the return journey. In Srinagar, you may or may not keep a cab for the entire day. Autos and taxis are easily available till sunset. Do make arrangements for Airport drop in case of an early flight.
With two weeks between when we have booked and when we travelled, I anxiously checked weather prediction every day, hoping to see snow fall from the skies! It happened and how! It was the most amazing experience! I don't think pictures and words can do it any justice but I would want to give it a try!
Our flight was a bumpy one and we were met with rains as we landed in Srinagar. We headed straight to Gumlarg. Just was we left the airport, the roads that were lined with trees on both sides, bare trees, made me fall in love with Kashmir! I didn't know what else I would see and experience, but then and there, I lost my heart to the paradise.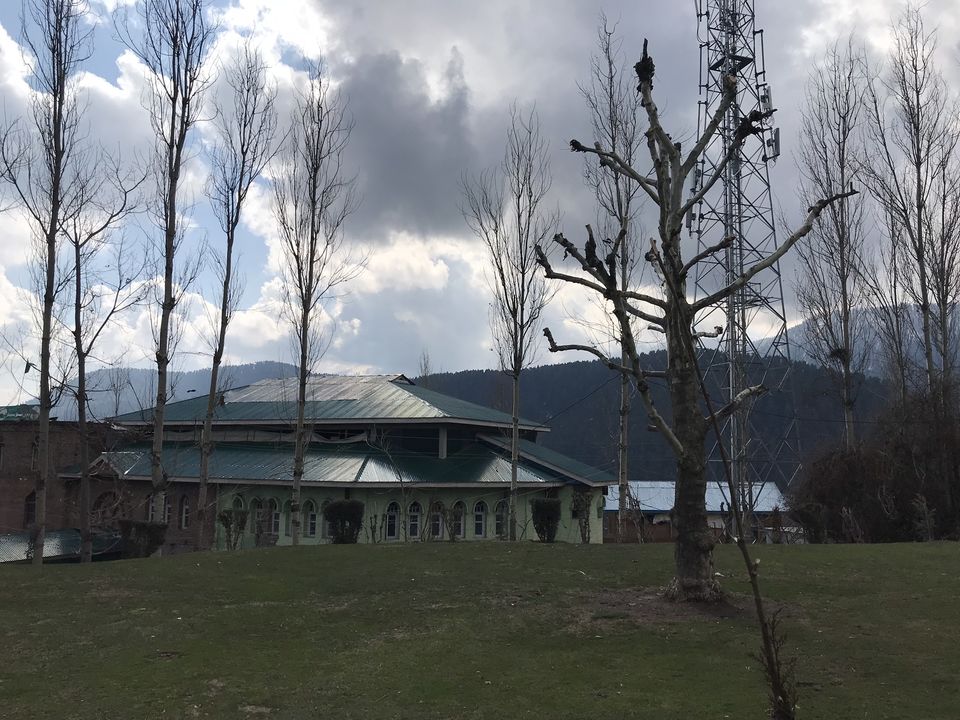 The drive to Gulmarg was a beautiful one. We stopped at a roadside dhabha for lunch. The parathas were so good, they reminded me of Giani Da Dhaba on the Chandigarh - Shimla Highway. After an hour and a half, we reached Tanmarg, rented boots (This is a must especially when it snows else you would find walking very difficult. Also, rent some jackets and buy gloves if you are not carrying waterproof ones and plan on having snow fights or dancing in the snow!). On our way our driver had mentioned that it had snowed in the morning and there was more expected as the day progressed. The traffic police was allowing only the likes of Tata Sumo go up the hill. We left our Innova and drove up the hill in a Sumo. It was to be a 30 minute drive to our hotel. We must have been driving for 5 minutes or so and we spotted patches of snow. And a few minutes later the entire landscape turned white. Only white! And it started to snow! The drive was magical.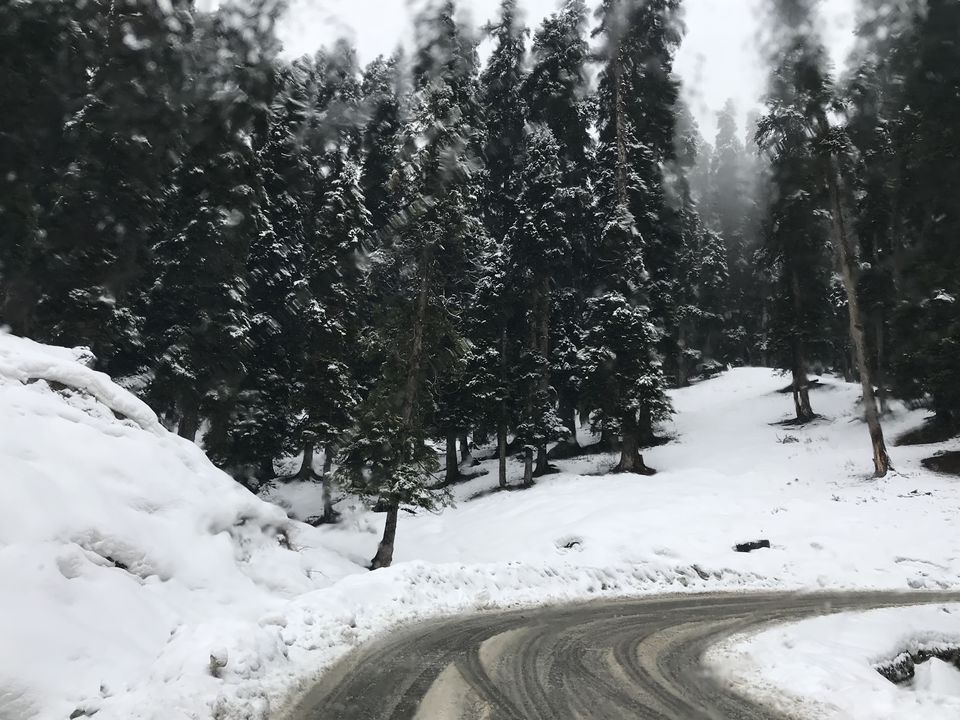 We checked in to Heevan Retreat. It opens to beautiful views, is walkable from the Gondola, is centrally heated, serves finger licking food and the best masala chai to give you company when it snows! We spent the entire day playing in snow!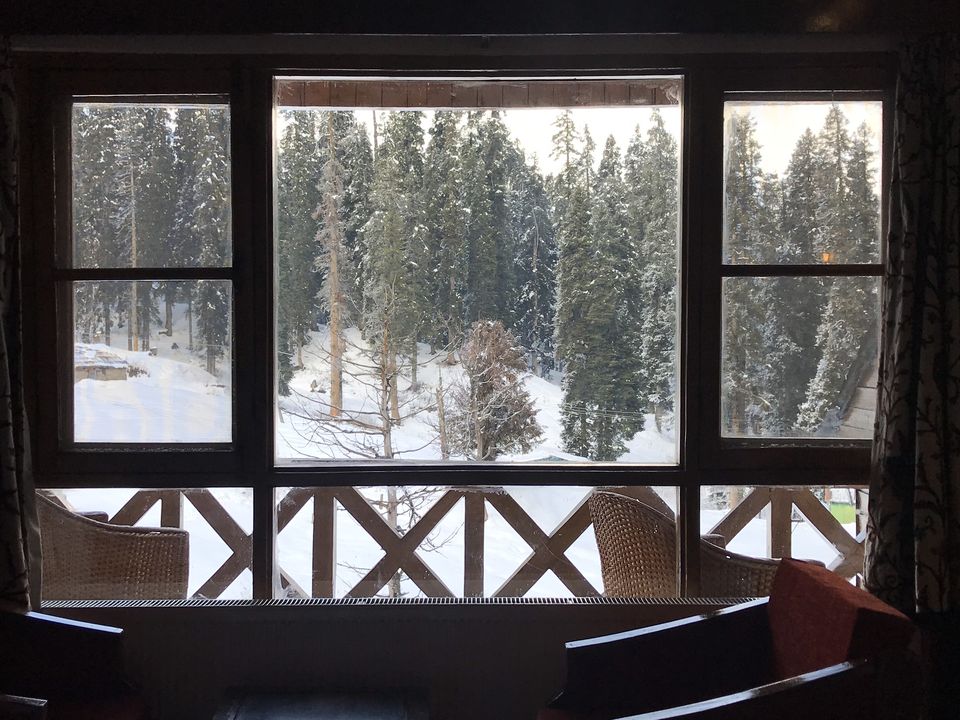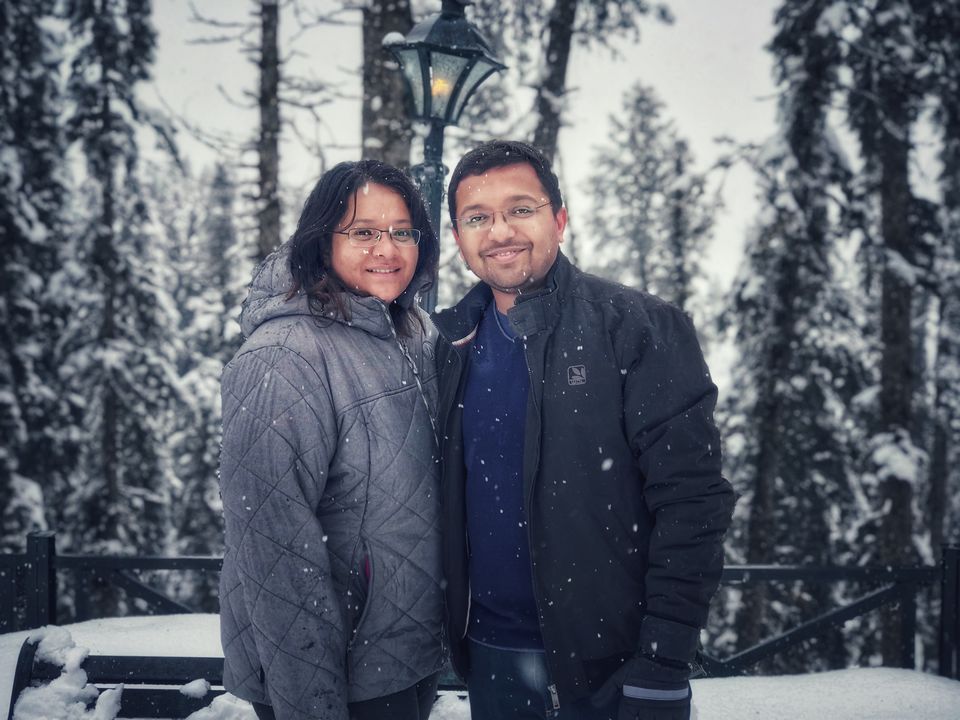 We woke up to a beautiful sunrise the next morning. The snow dazzles golden when the sun rays fall on it, like there are thousands of diamonds scattered all around. It was mesmerizing, watching the first rays of the sun fall on the tip of the trees and then slowly turn all of them from white to gold.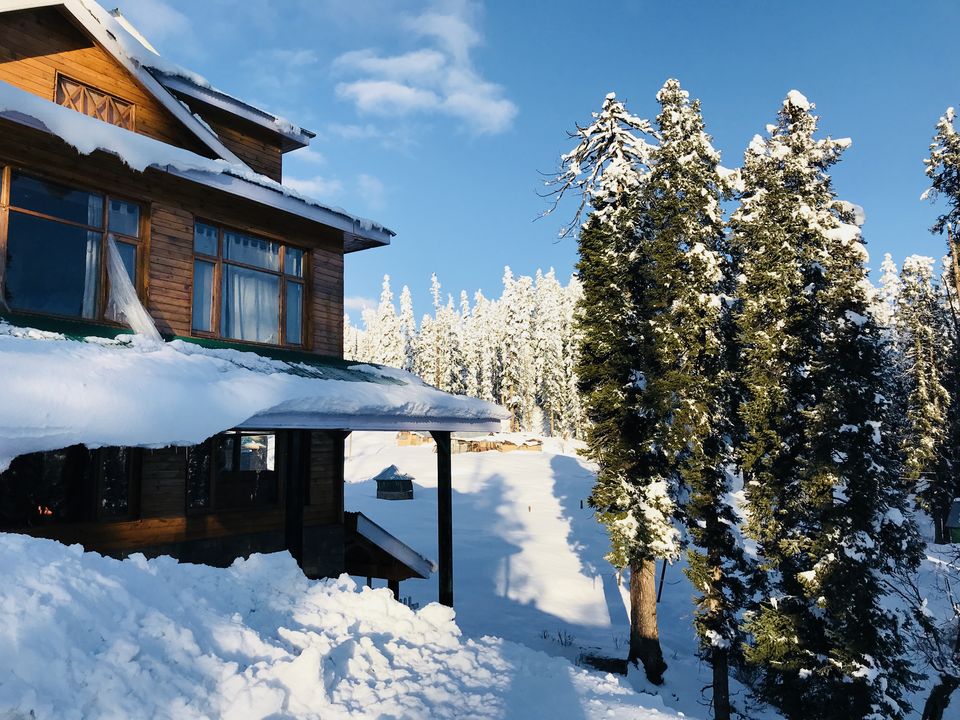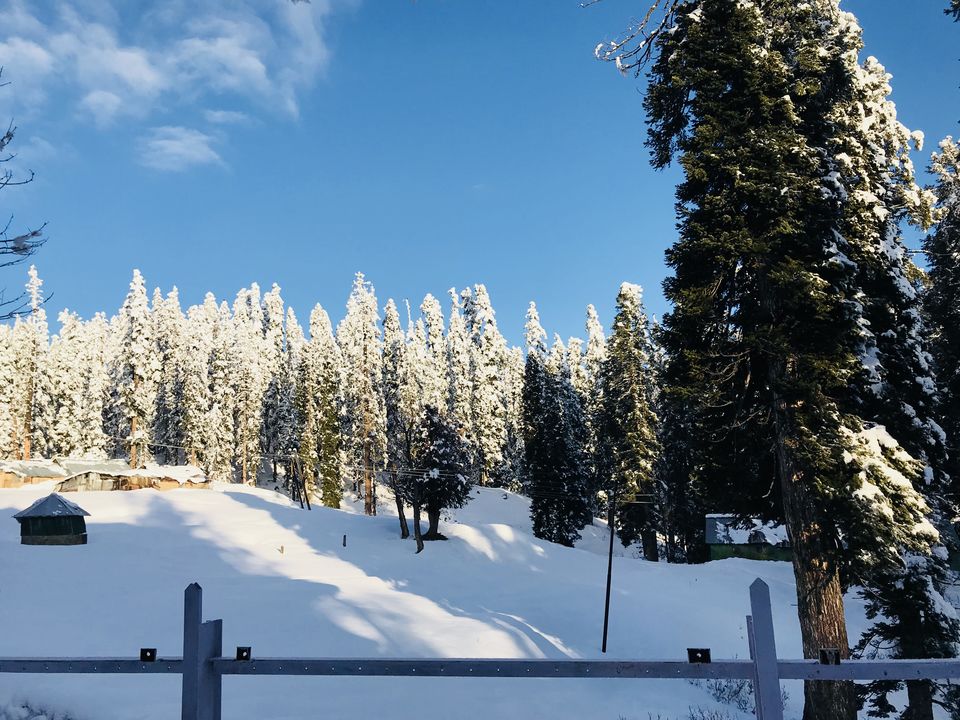 We spent the first half of the day at the Kongdoori Mountain. Take a gondola ride from Gulmarg that takes your upto 8500 Ft. Gulmarg Gondola is the world's second highest operational cable car. The ride gives you breathtakingly beautiful views and one can only be thankful to and amazed by nature. Up there we tried our hand (and legs) at skiing, falling here and there a few times and managing to cover up around 100m on our own at the end of half an hour. It was cloudy, but for those few moments when the clouds parted, they opened up to lofty snow covered mountain, hundreds of pine trees and many gondolas going up and down to the second phase. And one couldn't miss the skiers who deftly moved between those trees!
Having walked around for an hour or so, treating ourselves to chai and maggi, having clicked a LOT of pictures, we headed down. One can also try snow bikes up there and take a sledge ride down from the top to the base!
We chose to walk from the Gondola to our hotel. It was a short walk but with beautiful views all around. While I was satisfied that I had witnessed my first snow fall, par ye dil maange more. I was hoping it snows some more and I think that was my wishing moment! It snowed for the rest of the day. It snowed to my heart's content. It's amazing to feel fresh snow of your face! I could feel the kid within me dancing!
It was a full moon that night. Once it stopped snowing, the moon shone brightly through a clear sky! One misses such view in the hustle bustle and pollution of cities like Delhi and Gurgaon. Every once in a while, give yourself a chance to experience nature in its crudest form, and trust me, nature will catch you by surprise.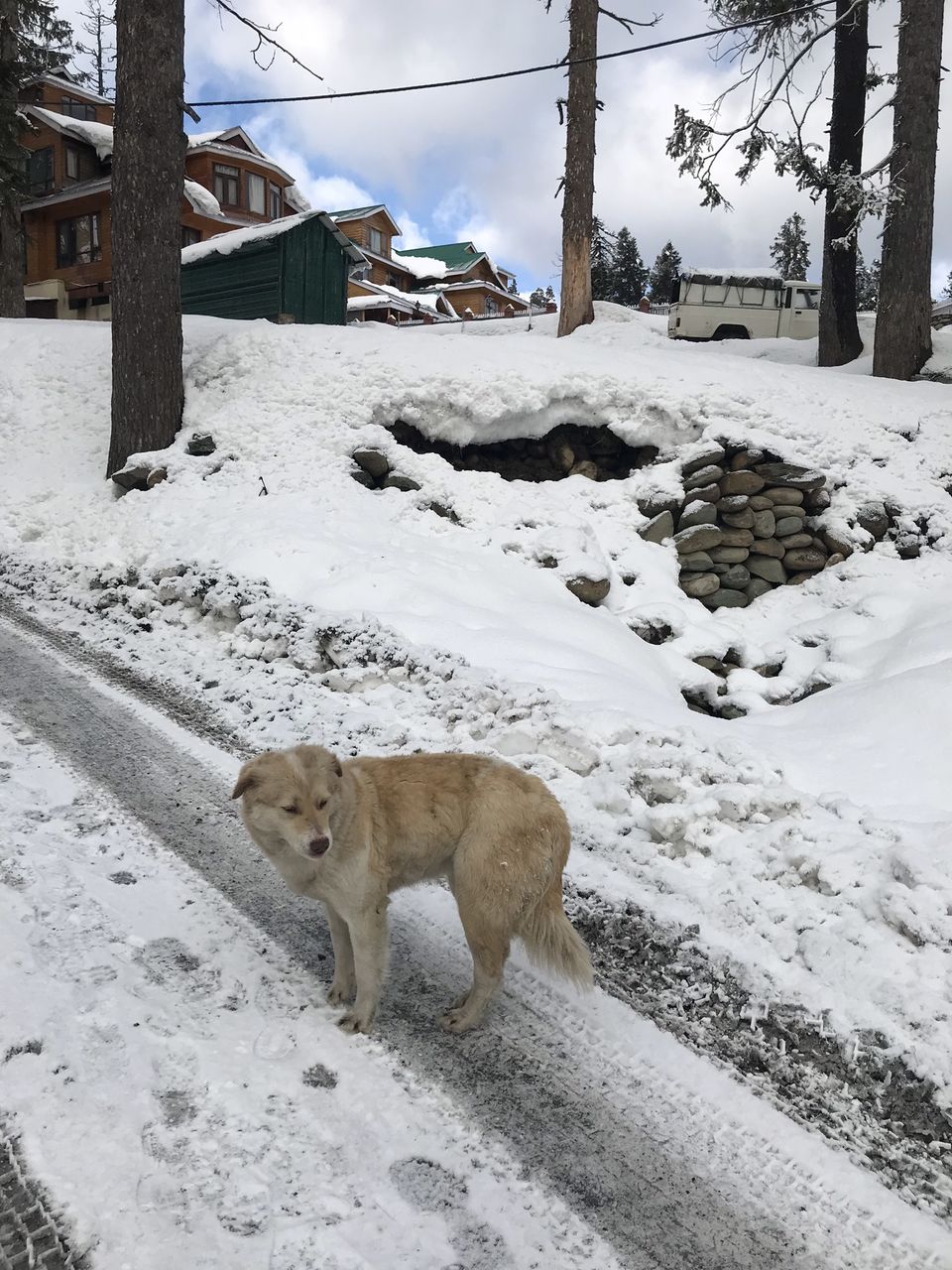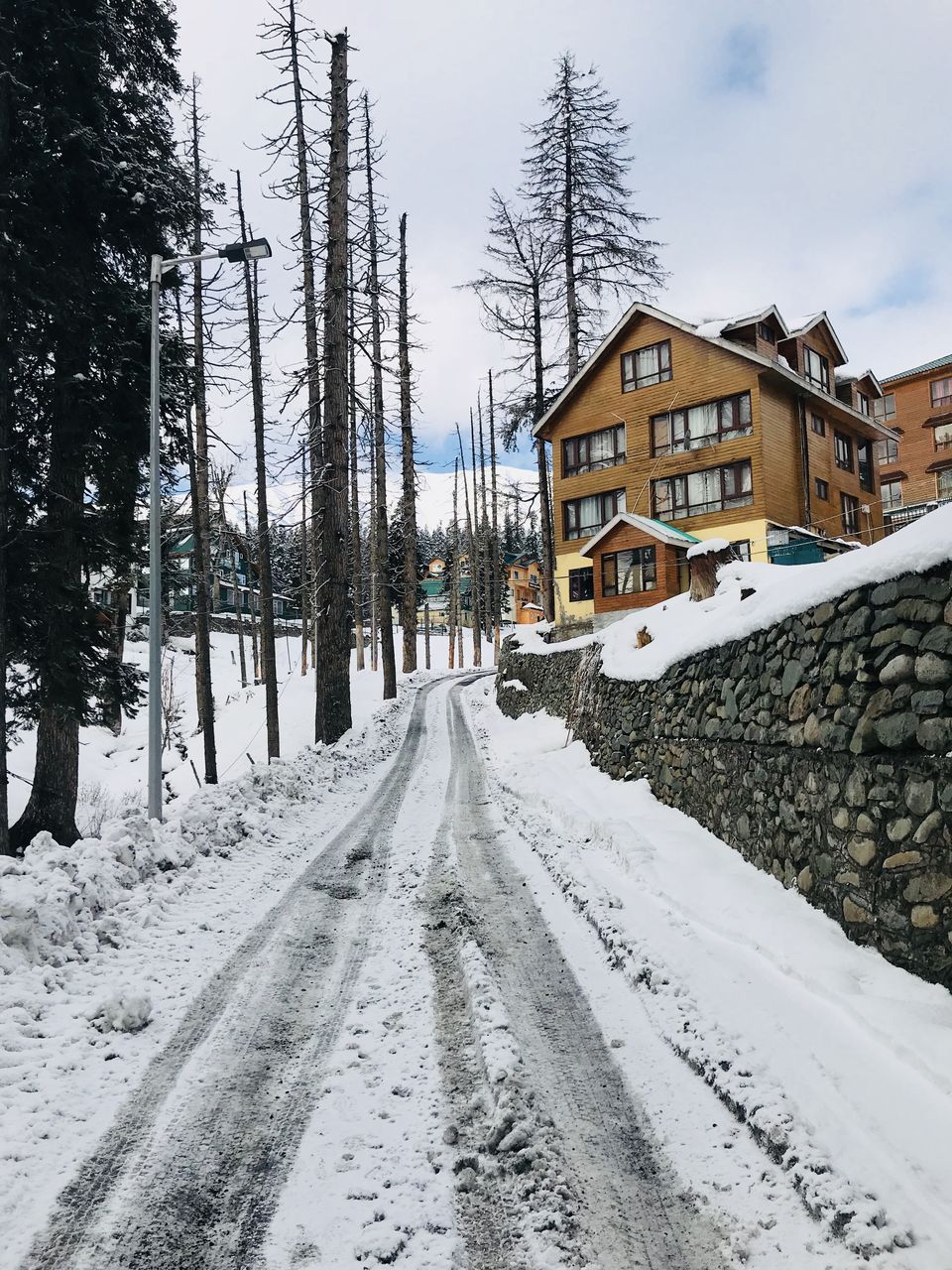 Our final morning in Gulmarg was a clear one. And it didn't snow that day. I took an early morning walk with a furry friend I made! We were also blessed with the company of a dozen monkeys. Thank god for my new friend, he led me home safely.
We reached Srinagar by 12:30 PM and headed straight to the fabled Dal Lake for a Shikara ride! I personally believed it to be over rated. I was so wrong. It's a beautiful lake set against a backdrop of the mighty Himalayas, with the mountain tops covered in snow. The lake is lined up with a variety of very tall trees, all of them bare. I can only imagine the landscape when the trees flower, in their prime. The Shikara ride (interrupted a couple of times by souvenir selling shikaras and shikara snack shops) relaxes you as you cruise past an unending line of house boats with amusing names and the serene, panoramic views transport you to your happy place!
We checked into the Jamal Resort, (A very bad choice. It is about 25 minutes from the Lake. Local transport is not easily available post 6 PM. The gardens are nearby, but they close by sun down. You wouldn't be able to go anywhere. And the pictures are misleading!) had lunch and headed to the Mughal Gardens. We visited Chashme Shashi (it has an active Spring) and the Shalimar Bagh. It has a beautiful layout, 4 arms radiating from a central water source, fountains lining these arms and trees lining walkways along these arms. It was a perfect picnic spot.
It was around 6 by then and we decided to head back to Dal Lake. We took a walk around the lake. There are 30+ Ghats from where you can take a shikara and you would be boggled by the boat riders to take a ride for as low as Rs 100 per person per hour. We chose to walk. It was around 6:15 PM when the sun began to set. I would let the picture describe it for me! We sat there along the edge of the lake, watching the sun go down behind the hills as shikaras floated around the lake. It was one of the most romantic sunsets I have witnessed!
We witnessed the sky turn from blue to yellow to orange and then to pink. With the sun the temperature went down too. We headed back to our hotel and called it a day!
The next morning, we had a 9:30 AM flight. As we left for the airport at 7 (the airport is about 50 minutes from the city and these are three security checks at the airport so budget time accordingly) we drove around Dal Lake. One could barely see the lake under a thick layer of Fog, against the back drop of snow covered mountains which the day before were hidden behind the clouds. As I lost sight of the lake, I promised myself to return, sooner than later, in spring time – to this land which indeed is Paradise on Earth!
Frequent Searches Leading To This Page:-
tourist places in jammu & kashmir ,kashmir budget package for friends, kashmir mountain trek package under budget, places to visit near jammu, best time to travel kashmir, most visited places in jammu and kashmir, srinagar honeymoon package for couple, solo trip kashmir package from delhi, family trip packages to jammu and kashmir , srinagar tour packages for honeymoon , top kashmir tour package for honeymoon, kashmir group trek package, top activities in kashmir , top valley to visit in srinagar , best local site seeing in kashmir