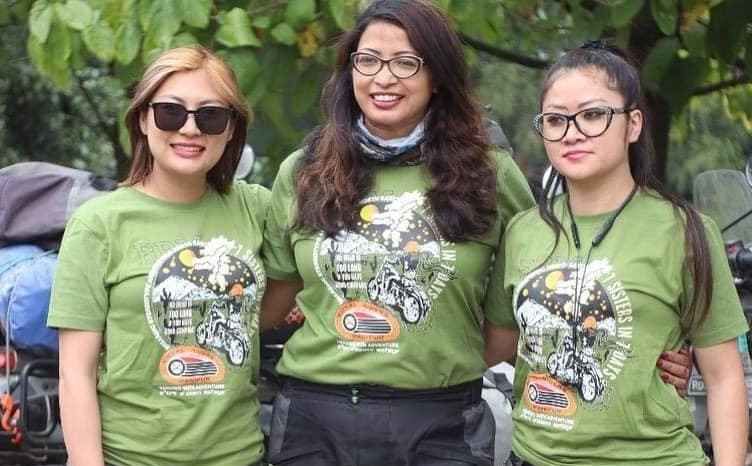 Three bikes with three riders, all clad in biking gear, speeding across the roads of North East. What would you immediately think who they are? Three men, right?
To break this stereotype, for the first time, female bikers Onen Nenty, Nirmali Nath and Rosalynn Lushai undertook a commendable journey by taking a tour around the entire seven sister states of Northeast in a span of just seven days!
What was the route followed?
As per media reports, the bikers travelled 300 to 400 kilometers daily. Their journey started off from Guwahati, Assam, on 3rd of April 2021. They travelled towards Shillong (Meghalaya) on the first day and they moved towards Silchar to halt for the night. On the next day, they headed towards Tripura's capital, Agartala. From Agartala, their next destination was the capital city of Mizoram, Aizwal and here they stayed for a day. From Mizoram, their next destination was Manipur's Jiribam and Imphal. After Manipur, they headed towards Nagaland. They travelled again towards Tezpur in Assam, before heading towards their final destination in Itanagar of Arunachal Pradesh.
Why should boys have all the fun?
The motive behind this epic tour was to break stereotypes while redefining Northeast. They wanted to show the women of the region that 'Kitchen' was not the only place where a woman belongs to and they wanted to break the shackles of their minds. Also, they wanted to tell stories of Northeast after the pandemic and thereby redefine this region.
Onen Nenty said, "We are making this tour happen not because we want to travel and have fun but we are doing it because we want to tell the stories of what our seven sister states look like after the pandemic, hence we are using the term redefining northeast. As women we wanted to see changes in society for the women folks across the world, the three of us are here to break the shackles in the minds of the women in our region and we want to tell them that the kitchen is not the only place where a woman belongs."
Nirmali Nath said, "I get goosebumps whenever we are being received- local people giving us water, fruits, food, we got so much love and support from everyone with people hosting us, feeding us and giving us shelter."
So, all women out there, let us get inspired by Nenty, Nirmali and Rosalynn. Let us redefine our own boundaries to show the world what women are actually capable of!
Ready to travel for free? Earn credits and redeem them on Tripoto's weekend getaways, hotel stays and vacation packages!
Explore the best of travel inspiration on Tripoto Instagram!