You can read my full blog here : Click here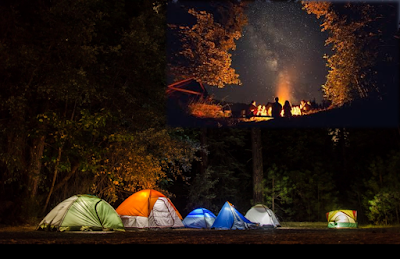 Friends as the season for Night Camping has started and most of you have already planned trips with either some professional groups or group of friends. There are some safety precautions you should take to make your trip successful and avoid any complications.
Moving ahead with the most important precaution is, " Always go with experienced and qualified professional tour agencies/guides". If you do this, most of the precautions will be taken care by them and you will be left with concern for your personal acts only. Mind it.
Before you go on Night Camping
Idea of Camping in forest that too in night is very fascinating. It is considered as the most favorite outdoor activity throughout the world, but before going on any of this trip, you should do the preparation as mentioned below:-
1. Selecting Tents (If not provided by organizer or you are on self organized trip)
Do not buy those cheap tents available on internet pricing below 2500/-. Believe me those are just fabric structure with fragile poles which are suitable for kids only and will break after 1-2 use. They claims to be waterproof but actually they are not.
Since the Tents are directly related to your personal safety and saves you from weather conditions, you should only buy branded tents like Quechua, Wildcraft and Coleman.
Do not buy those big tents with capacity above 3 person. Those tents are hard to setup, takes time to dismental and are heavy to transport. It is better to have multiple tents of 2 or 3 Person capacity. They are easy to setup, less in weight and occupy less space in your home.
Buy Tents which has detachable rain sheet, it will help you to use it in non raining condition with more scope for ventilation. Tent which you buy should have durable poles and the tent structure should tug with poles by the help of hook. Do not buy those tents which have openings in the structure and you need to slide the poles in side it, they are very pathetic to use.
For your conveyance, I am giving link of Quechua 3 Men Tent which I use regularly and its too good as compared to the price. It has outer rain cover, inner mosquito net and space for ventilation. Also it has 2 doors which are very convenient otherwise in other tents, person sleeping on the far corner finds it difficult to make his/her way out.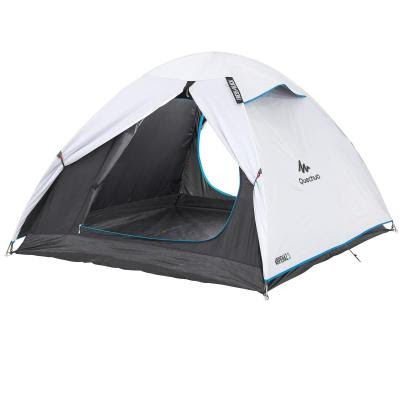 If you have extra budget, you can also try Coleman 3 person tent, it is more versatile, has fiberglass poles for better strength, super ventilation and good ground sheet.
Apart from these brands, do not get cheated with lucrative advertisements, you will only end-up frustrated with bad products.
2. Selecting Rucksack (Bag)
As a thumb rule, always go for brand. They put huge amount to research designs that are suitable to your body to save you from body ache and also they are meant to be used for long periods. Select Waterproof bags with waterproof cover.
Anything above 40L capacity is suitable for 2-3 day Camping trip. It should have multiple compartments so that your stuff will not get messed up and you will find them whenever you need it.
Bring a size which is suitable for your stuff and try to carry stuff as low as possible. Few companies are giving rucksack with solar panels which are useful for mobile charging, but I have not used it thus check before you buy.
As told earlier, you should only take branded stuffs so that it will not get teared apart during day long hiking and you are landed in soup.
Dedicate a compartment of the bag for safety kits i.e. thread, needle, safety pins, first Aid kit, Swiss Knife and other life saving stuff. Last but not least, the bag should have heavy zipper with strong puller and also it should have space to carry sleeping mat.
Quechua is best, you can choose to buy from this link: Backpacks
3. Camping Furniture(If not provided by organizer)
Suppose you are on Camping Trip, you have setup you tent, your bag is inside the Tent, you have lightup the camp fire but the surface is wet and there is no place to sit!!! Or you are sitting on a ground and you have threat of being bitten by insects and reptiles!!! Certainly not a good idea. Thus for a comfortable and safe Camping experience, always carry light and fold-able camping chairs or stools. It will not only make your trip comfortable but also you will be saved by unwanted and uninvited troubles.
In case you are not carrying camping furniture, inspect the place thoroughly before sitting and make the surface clean from any leafs or dry petals. If you are driving by car and not doing hiking, you can bring folding Tables as well. This will also create amazing camping experience and beautiful pictures. Here is link to buy some amazing camping furniture stuff : Awesome Camping Furnitures
4. Safety Equipments
Possibly India is the only country where we Indians invest so much on showcase but no investment on personal safety. If you are a frequent camper, it is worth to have following safety items with you.
Venom Extractor: First thing you should buy for camping is a Snake/Reptile bite venom extractor. Venom extractor is a device which will help you to save the life in case of Snake/Insect/Reptile bite. Link is provided and your life is way more expensive than just a few hundred bucks. Buy it Right Now
Remember!!! This is for first Aid only to minimize the damages of venom. You need to take the victim to Hospital as soon as possible.
UV Torch: Next you should buy a good UV Flashlight. Why? Many people will be amazed to know that Scorpions in night get illuminated if you put UV light on them and you can easily find them.
By using good quality UV Flashlight you will be able to spot SCORPIONS around the proposed camp site. With its help, you can check whether the proposed camping site is safe for camping or not.
Do not buy cheap flashlights, they will not work and it is matter of your safety. I personally recommend to buy 21 LED UV Torch due to its intensity and better results. Click here to know more
Fire Starter: I know people dream about using a fire starter flint and scratch it to lightup the fire. Believe me it is just a waste of money and consumes lot of energy and time. Better you carry a small lighter or few match box wrapped in plastic bag. That will be more convenient.
Stove: If you plan to make Maggie or some dish, you need utensils and stove. I personally do not buy stove as it has so many limitations and the weight is also a matter. Better is make Desi stove by arranging stones and put dry wood pieces collected from the forest as fuel.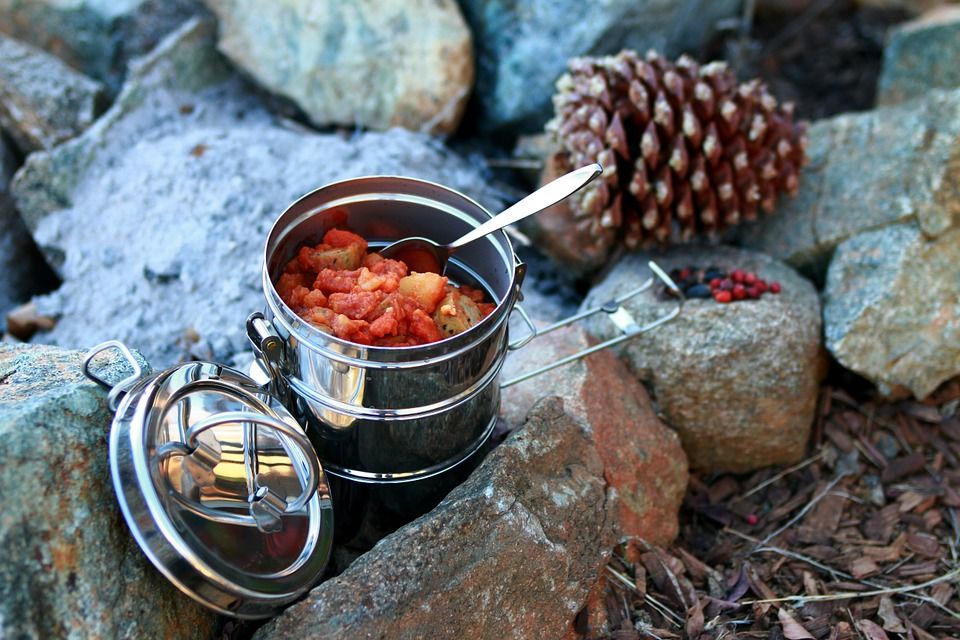 Utensils: For cooking, Portable Outdoor Cooking Set is best. I personally recommend to use CAMPSOR as it has Cooking and Serving both items and the price is very competitive.
Flash Light: Maybe you are more focused to buy a big and bright LED Torch but this is not what you really need in camping. You need a lightweight and reliable flashlight which illuminate your next step and do not consume much space in your backpack. My suggestion will be to buy a Torch which is handy, less weighted and have self charging Dynamo mechanism so that you are never caught with empty batteries. I am very much impressed with Hand Pressing Flashlight which costs only Rs. 130. You can buy it here.
There are lot of things related to spot selection, reptile and animal safety, animal attack safety, human safety etc are there which you can read in my complete blog at : http://nomadwithbackpack.blogspot.com/2019/10/tips-for-night-camping-do-let-me-know.html
Or you can click here to read the complete blog.
You can also reach me on my mobile number written in the end of my blog.