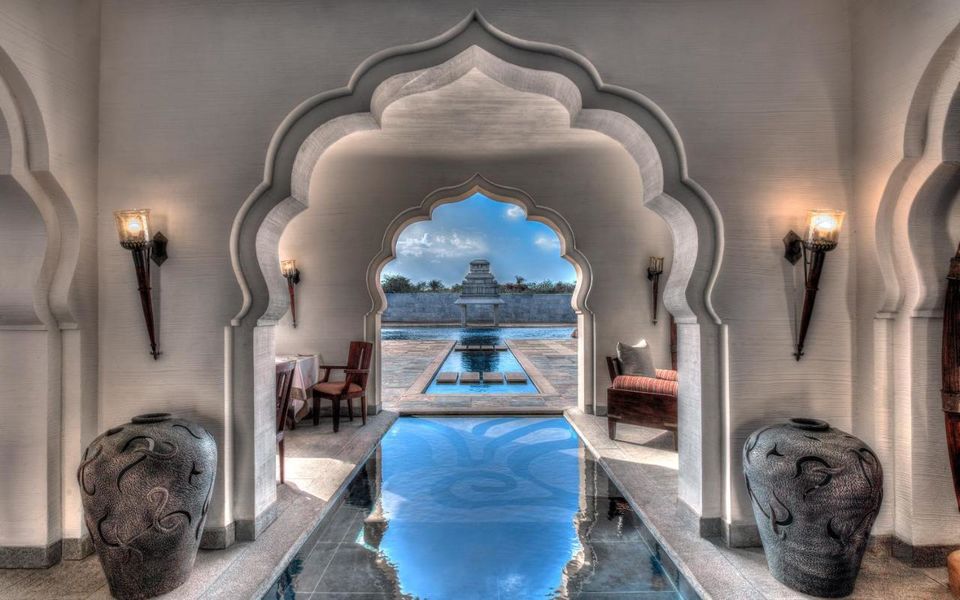 Nothing screams luxury like a boutique property that has a unique feel to it. And if you have been looking for one, you've come to the right place. I've combed through the internet to bring you 22 mesmerising properties that you can check out for 2023.
Celebrate culture and the history of Benaras, when you stay at the 'Brij Hotels'. A boutique hotel which is uniquely designed hotels that mirror these legends and historic tales.
Where: Varanasi
Price: Rs. 41,299
'Old Harbour Hotel' is in a prime location within a few steps of the town's famous Chinese fishing nets. Previously an English tea-broking firm, this property is and a hop away from the Ernakulum ferry and the spice market.
Where: Cochin, Kerala
Price: Rs. 15,340
'Six Senses Fort Barwara' hotel in Rajasthan is only a 30-minute drive from Ranthambore National Park. Stay in this tranquil hotel where you can set out on a short drive to go in search of the region's wild tigers!

Where: Barwara, Rajasthan
Price: Rs. 72,928 for a suite
Stay in 'Saratha Vilas', a 20th-century Chettinad mansion complemented by a fabulous modern French taste. Perfect for alI types of travellers, take walks around the property and explore the traditional Ayyanar-inspired decor or relax in the white-tiled pool, surrounded by tropical greenery.
Where: Kothamangalam, Tamil Nadu
Price: Rs. 14,160
This family mansion is tucked away from hectic street life, on a substantial tract of land shaded by a canopy of seasoned trees. 'Ratan Vilas Jodhpur' boasts neatly-manicured lawns and secluded courtyards accompanied by stories of Rajput nobility and tales of the bygone era.
Where: Jodhpur, Rajasthan
Price: Rs. 7,193
With only 11 rooms and luxury tents, 'Nimmu House' is an excellent place to get a dose of culture and history in the hills of Ladakh. Offering breathtaking views of the mountains stay in this heritage boutique hotel which was originally built for the cousin of the king of Ladakh.
Where: Ladakh
Price: Contact Property
'Palais de Mahe' is a signature hotel with a character of period style marked by its high ceilings, roof beams and arched doorways. Stay in Pondicherry in this French influenced hotel with majestic courtyard, deep verandahs, attractive pillars and period furniture.
Where: Pondicherry
Price: Rs. 25,900
Located in Jaipur, 'Rajmahal Palace' offers 13 rooms and suites and two spectacular Royal Apartments. When in pink city, stay in this heritage property, which was previously home of Maharaja Sawai Man 'Jai' Singh and Maharani Gayatri Devi.
Where: Jaipur, Rajasthan
Price: Rs. 33,040
The only boutique-style hotel in Mumbai, Abode is located in the heart of Colaba. Adorned with 20 rooms, vintage furniture and original artwork, this hotel oozes Mumbai's elegance and quirky lifestyle.
Where: Mumbai
Price: Rs. 6,944
Amidst the sweet essence of the apple orchards, and just a few sighs away from the clouds, lies the exquisitely curated 'La Ri Sa Manali.' Wake up to the mountains every morning, enjoy the food or indulge in the spa to rejuvenate on your holiday.

Where: Manali
Price: Rs. 12,744
'Glenburn Tea Estate and Boutique Hotel' is a century old colonial bungalow which has been restored on the family estate in Darjeeling. Perfect for a relaxing holiday, the breathtaking views of Mount Kanchenjunga added by a verdant private forest and miles of lush green tea-fields sound nothing less than a dream come true!

Where: Darjeeling, West Bengal
Price: Contact Property
'Ginger House Museum Hotel' is just as much a museum as it is a hotel. This quirky boutique property is filled with history and fascinating antiques, and believe it or not, everything you see is for sale!
Where: Cochin, Kerala
Price: Contact Property
Located in the forests of Binsar, 'Mary Budden Estate' is a space of awakening. Surrender to the wilderness in the Himalayas in a luxury space where you will forget the time and space as you connect with nature.
Where: Binsar, Uttarakhand
Price: Rs. 35,400
'Tree of Life Resort, Dehradun Foothills' is a collection of resorts and lodges tucked away in Dehradun. Away from the noise and crowds, stay here with your family for a peaceful holiday.
Where: Dehradun
Price: Rs. 9,558
'Svatma' is a holistic hotel made with a mindset to relax and destress. Stay here to experience the Tamil art, architecture, culinary heritage and culture. Located in the town of Thanjavur in Tamil Nadu, stay here to escape from your daily stress.
Where: Thanjavur, Tamil Nadu
Price: Contact Property
Stay at 'Alsisar Mahal', a luxurious family owned heritage property. Relax with your loved ones at the outdoor pool or the rooftop terrace with a view to behold!
Where: Jhunjhunu, Rajasthan
Price: Contact Property
'Maison Perumal' is a period bungalow that is now turned into a distinguished boutique hotel. Tucked away in the Tamil quarter of Pondicherry, this 18th century house reflects French colonial vibes.
Where: Pondicherry
Price: Rs. 14,600
Book this getaway in the Thar desert - 'Suryagarh' is a hidden oasis in Jaiselmer. Stay in the olden eras silk route, go on a temple trail or sit with your friends for a sundowner.
Where: Jaiselmer, Rajasthan
Price: Contact Property
Ramathra Fort is made for nature lovers! Thriving in close proximity from the worldwide popular wildlife sanctuaries - Ranthambore National Park in Sawai Madhopur and Keoladeo Bird Sanctuary in Bharatpur, you will find yourself lucky to wake up to the surreal landscapes!
Where: Karauli, Rajasthan
Price: Contact Property
'The Khyber Himalayan Resort and Spa' is a boutique property in the lap of Himalayas. Surrounded by enchanted meadows and forests, this resort is built in a true to the architectural heritage of Kashmir.
Where: Gulmarg
Price: Rs. 37,318
Travel back in time to the glorious days of the 14th century Vijayanagara Empire. Let the stone monuments at Hampi tell you the story of what was once described as "the best provided city in the world."

Where: Hampi
Price: Rs. 31,000
'Champakali' is a contemporary holiday home that is now converted into a boutique hotel, overlooking the Mandovi river in Goa. Avoid the touristy hotels in Goa and stay at this luxury boutique villa.
Where: Goa
Price: Contact Property
If you are in a search for a quiet place to go on a holiday, choose one of these boutique hotels and resorts, and I promise you won't be disappointed. Sometimes all we need is a little history, culture and lots of local experiences to enhance our holiday - after all the stories we share and learn from the strangers we meet will remain with us forever!
Ready to travel for free? Earn credits and redeem them on Tripoto's weekend getaways, hotel stays and vacation packages after the pandemic is over!
Think we missed out on something? Tell us about it in the comments below. Or write about it here on Tripoto and earn Tripoto Credits!