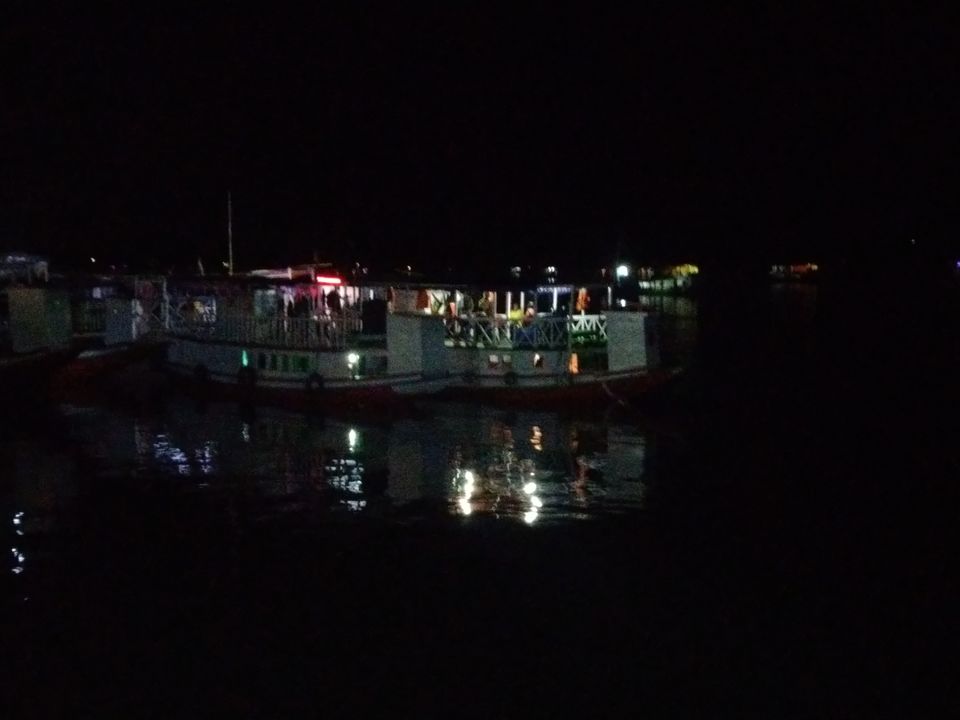 1. Parasailing: I wanted to go on an adventure trip so I decided to go to Sunderban but my sisters didn't agree with me and They decided Digha. First, I was upset because I didn't think there is anything adventurous. Then I searched every blog and vlog about Digha and got to know that there are many water sports like banana ride, parasailing etc. Then I got very excited and told my maa. no matter what I'm going to do it.
We went to the new Digha beach in the evening just for a walk. We were sitting and I saw someone is doing parasailing. And watching that it gave me goosebumps.
And the next day I experienced my very first parasailing. And I still remember I got goosebumps when I was coming back after doing parasailing.
2. Showering under the waterfall: we planned a trip to Ayodhya hill in Purulia with my 2 roommates. The fun becomes double when u r with friends. We can do a thing which we never gonna do with our family. So this time too we stop in random places to take pictures. I wanted to take a dip in the marble lake and almost drenched my jeans, but as we planned to shower under the waterfall so dipping in the marble lake wasn't possible.
The waterfall was almost 600 stairs hike down. And while hiking down we were witnessing the beautiful lower dam.
When we reach the waterfall we hike up a little in the waterfall. And we were the only one who hikes up that much and everybody from down was looking at us. The cold water was touching our back in the hot summer. The water was so fresh that it was hard to come back.
3. Seen a laughing club Laugh out loud: A place is incomplete if u don't witness the sunrise. In Purulia too I wake before the sun and went for a morning walk to the nearest park.
And I can still feel how I felt at that time. When I close my eyes. We were sitting on a bench in front of a lake where little fluffy duckling was swimming and that seems like a mini duck bath toy. And in the background, the laugh of a laughing club.
We too start laughing hearing the laughing music going on in the background. We just spent 2 hr just sitting on the bench.
4. Hike up a random hill in Jharkhand: I have my relatives house in a place called barharwa in Jharkhand. There was not much to see but random walk to a near crop field and trying litter were constant. We went to a near village called boriyo in bike with cousins. And there was a hill and a small mandir in top of that. I started running at the beginning in excitement so I have to suffer a little more when hiking up. And from the top the view was surreal. I realised how we just underestimate this state though it has its own beauty.
5. Went to a haunted rajbari: I had seen this rajbari in a few Bengali movies. So planned this with my school friends. I thought they won't agree but when I told them about the place they were equally thrilled as I was. It's a delipidated palace and believed to be haunted. And more than a ghost, what scares me the most was caterpillars and bats.
6. First-ever tram ride: It was 15th April, Bengali new year it was that day. I made a plan with a friend of mine to go to college street to buy some novels.
I took the metro to Mg Road. Then I walk here and there to get the novel which I wanted.
In this hot and humid weather, I got so tired to walk back to the metro station. I badly needed rickshaw to the metro but it was hard to find.
And the traffic was horrible.
Then suddenly I saw a tram and thought no matter what, wherever the tram is going, I'm riding it.
this is how I get into the first tram ride, unexpectedly.
7. Spoting a royal Bengal tiger in Sunderban: witnessing a tiger in Sunderban is no different than seeing God. In fact, I would say if you want to see tiger then look for deer. We spot some deer and when the boat took a turn to see that again. Someone in the boat spots a tiger and we all in excitement start screaming tiger. And in reflex tiger start running away and I just saw the leg for a second. And damn it's was such a blessed moment, and we were on cloud nine.
8. Visiting a national park for the first time: the most thrilling part of Sunderban was not the forest but the search for tiger in the jungle. And only a true nature lover can respect the beauty of this place. This place made me fall for wildlife safari which I wasn't.
9. I loved a museum for the first time: honestly I don't have much interest in history so as Museum. But mangrove interpretation centre in Sundarban was the reason to love a museum because I understand everything that showed in the museum. It was about the life of the people of sundarban.