Gulmarg Gondola Ride is a two stage Gondola lift that ferries people from Kongdoori Mountain to Aphrwat Peak. The first stage takes the tourists to the Kongdoori Station elevated at 8530 ft above sea level and the second stage takes the travellers to the Kongdoori Mountain perched at 12293 ft. This cable car ride is a perfect way to celebrate winters with your loved ones.
Take the Alpathar Lake Trek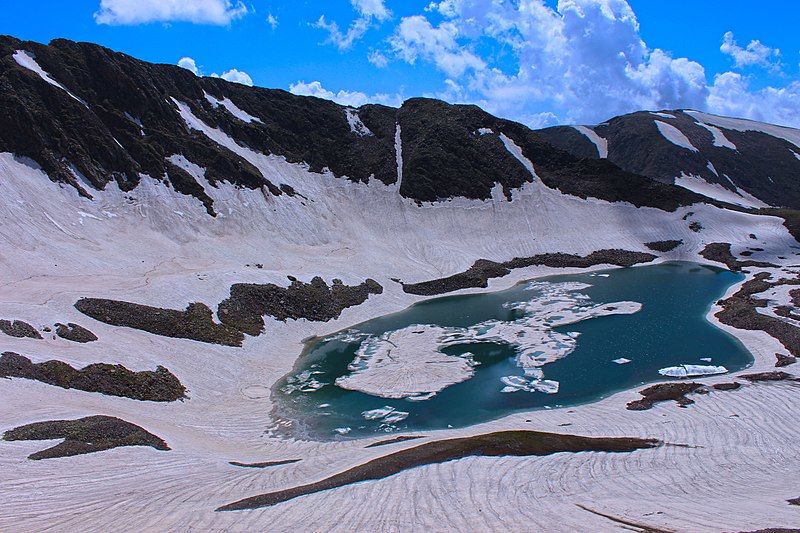 Have you ever experienced the magic of snowfall? The pristine valleys of Gulmarg give you a once in a lifetime experience to cherish its beauty. It is time to be out of the box and gaze at the snow falling subtly from the skies of Gulmarg. Embark on your journey to the divine town of Gulmarg - "Meadow of Flowers" enveloped in the snow-capped mountains and relish its beauty in the winter season.
This winter destination is perfect to live a fairy tale life when the shimmering white snow falls off from the thick grey skies of Gulmarg. At that time, the entire town of Gulmarg is covered in the blanket of snow which looks so beautiful that you won't be able to take your eyes off.
Also, read my travel poem that'll make you miss travelling more than ever.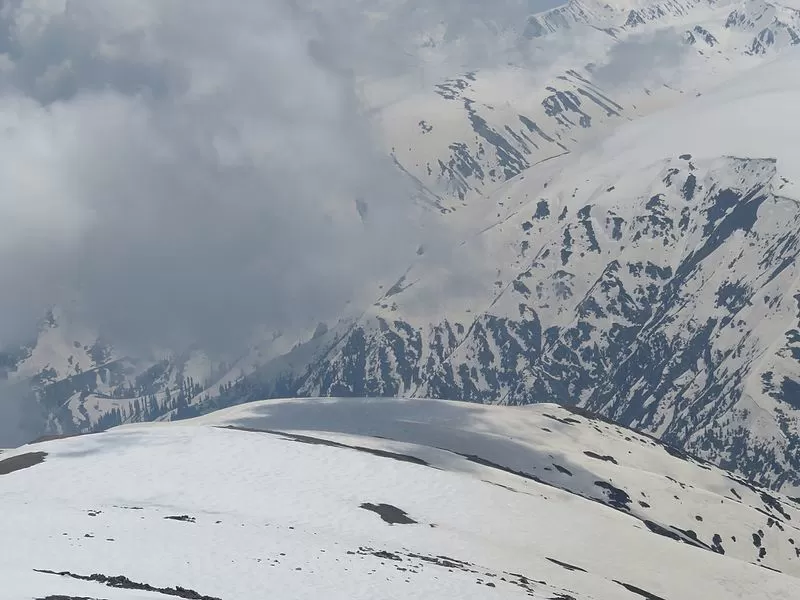 The frozen sheets of the Alpathar Lake in winters is a great way to connect with nature. A one-day trek to the surreal Alpathar Lake at the time of snowfall will give you memories for a lifetime. The snow laden mountain peaks look heavenly making us delve into the tranquil surroundings.
Check out how to nail a trip to Udaipur in Rs.3000/-.
What to Eat?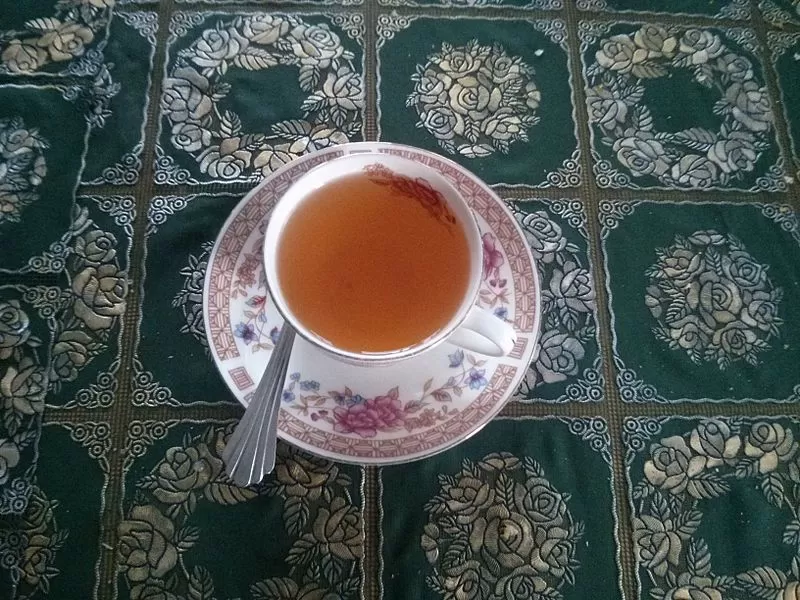 The milky white snow will be the only colour that you will be able to see when in Gulmarg. The roads are filled with snow and the entire sky looks like a grey sheet that pours snow to make this astonishing land more beautiful. Experiencing this magic is one of the best things you can do in your lifetime. You will be taking everlasting memories home with yourself just like we did.
Creating your personal snowman will be like a cherry on top of your cake. The best part is that Gulmarg has been proclaimed as "the heartland of winter sports in India" and is also best known as Asia's seventh best ski destination. This fairyland deserves to be witnessed by all, so let the magic of Gulmarg delve into your souls this winter.
Thinking about visiting Udaipur? If yes, check out Udaipur's off beat gem Badi Lake now!
The Winter Sports
When it snows, the winter sports are at their peak. So, when in Gulmarg, learning the art of skiing becomes a mandate. Enjoy winter sports like skiing, snowboarding and heli-skiing. If you are travelling with kids, then tobogganing (sliding down on snow covered slopes) is surely a sport that is going to set everything else apart. These adventure sports in Gulmarg will give you an adrenaline rush that you are looking for and we are sure you can tick off something from your bucket list.
Thinking of taking a solo trip? If yes, check out how you can take a solo trip to Kasol or a beachy solo trip to Pondicherry.
Gulmarg Gondola Ride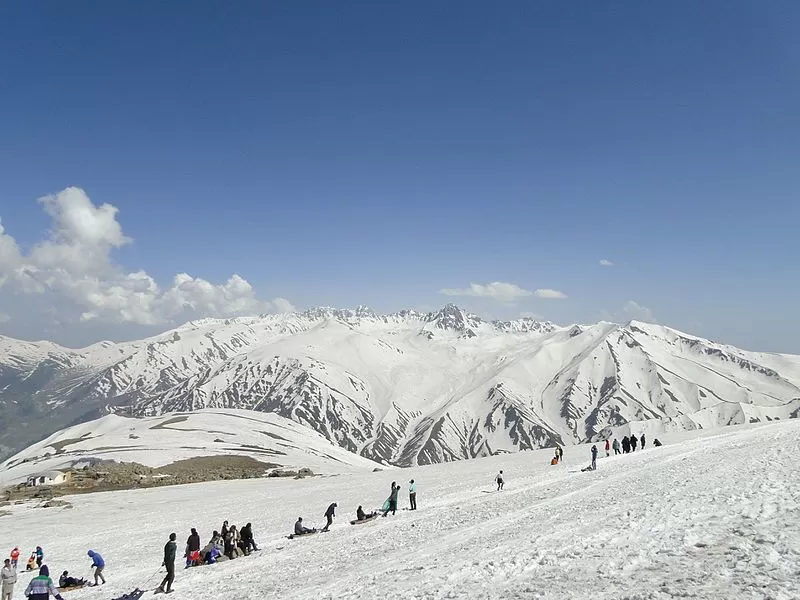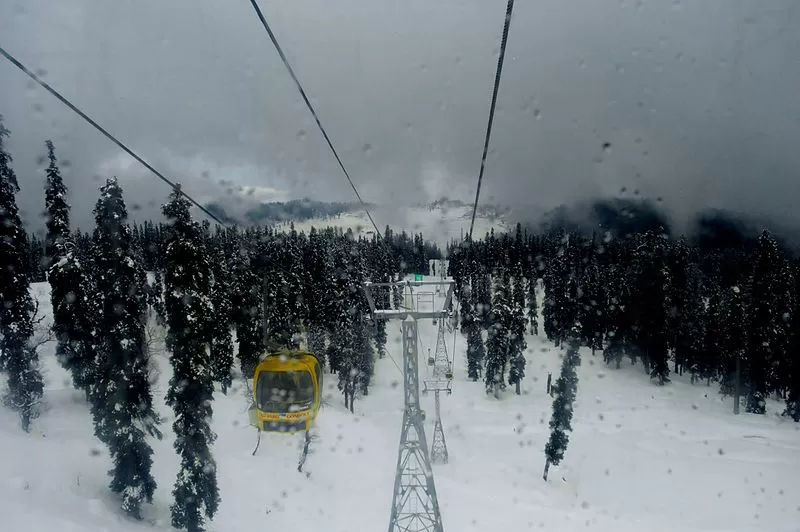 We are sure snow isn't the only thing that Gulmarg can offer. Trying the authentic Kashmiri cuisines are one of the best ways to cherish your trip even more. Try Rogan josh, dum aloo, gushtaba, Gadde monje, sheermalas and more. Gaze at the snow while sipping the soulful Noon tea that will amaze you with its pink colour and a little salty taste.
Also, check Kasol's famous Chalal trek trail.
Best Time to Visit
While Gulmarg is a destination you can travel throughout the year. However, to experience the magic of Snowfall, you must visit Gulmarg from Mid-November to February to witness the snow-clad peaks of Gulmarg. At that time Gulmarg becomes a heaven for the visitors because of the continuous snowfall in many areas of the region.
Pro Tip: While visiting Gulmarg in winters make sure to pack super warm clothes because the temperature drops less than -2 degrees.
How to Visit?
You can travel to Gulmarg by taking a flight from your nearest airport to Srinagar which is located 56 Km from Gulmarg. From there you can take local taxis to reach the beautiful town of Gulmarg. If you are thinking about travelling via train, then book your journey from your nearest railway station to Jammu Tawi railway station which is located at a distance of 318 Km from Gulmarg. If you want to be easy on your pockets, then take a roadways bus to Gulmarg which will just shed a few hundred from your pockets.
Also, check out the unconventional paradise of Bhedaghat in Jabalpur.
Taking a trip to Gulmarg will prove to be a wonderful escapade for all. So, start booking your tickets before everything gets sold out. #WinterIsComing