Yeah, you read it right.... Snow monsters. Big oddly figured snow structures which looks like monsters, some look like nuns wearing a big flowy white robe, some even holding a baby, at some place a serious discussion is going on between few monsters and rest is upto your imagination. Combination of few conditions like wind, temperature, geography, kind of snow particles results in this unique phenomenon of snow monsters. Zao is also famous for ski resorts and onsen. What a better way to spend weekend skiing during day and then taking a dip in onsen in the evening.
We started from Koriyama around 9:30am on Saturday morning. We had rented a car and I was driving. This was my first experience as driving in the snow. It had snow heavily on previous night in Koriyama but by the time we left, there wasn't much snow on the road. As we moved ahead, outside the city, the scenery was magnificent. All we could see were mountains covered in snow, big white fur blankets covering fields and houses with white cream on the roof. While reading it might not feel interesting to see just white everywhere but when you see it yourselves, you will know it. The last 5-6 kilometers patch was the epic one. Zigzag turns, tall trees with snow accumulated on their branches, occasionally some houses and road also covered in snow at some places. When we reached Zao onsen, what we could see was snow everywhere and literally everywhere. Layers on the roofs were 2 feet thick and hanging at edges as if they will fall at anytime now. Roads were covered 2-3 cm layer and on the sides were 2-3 feet tall walls formed.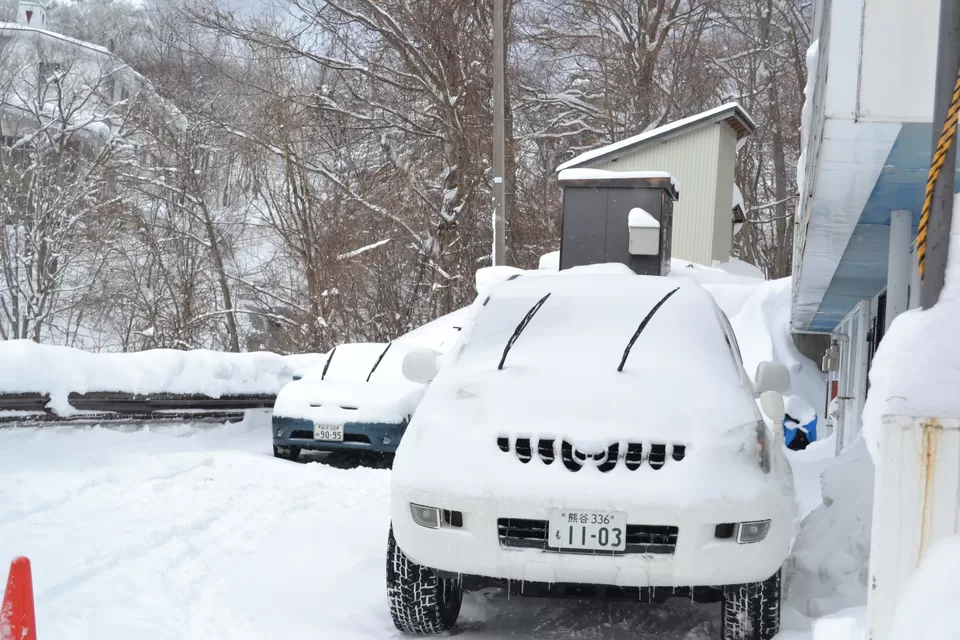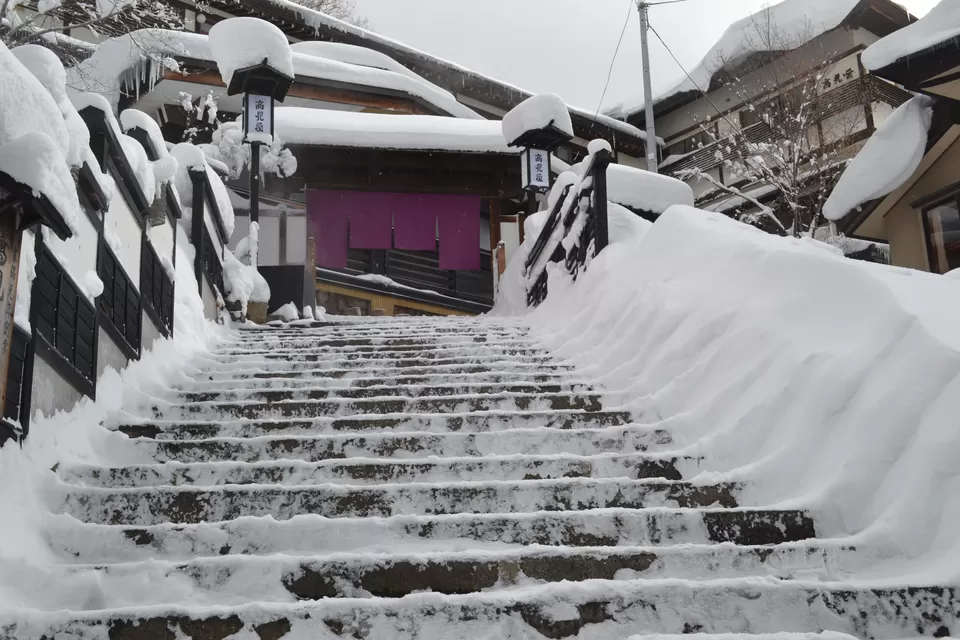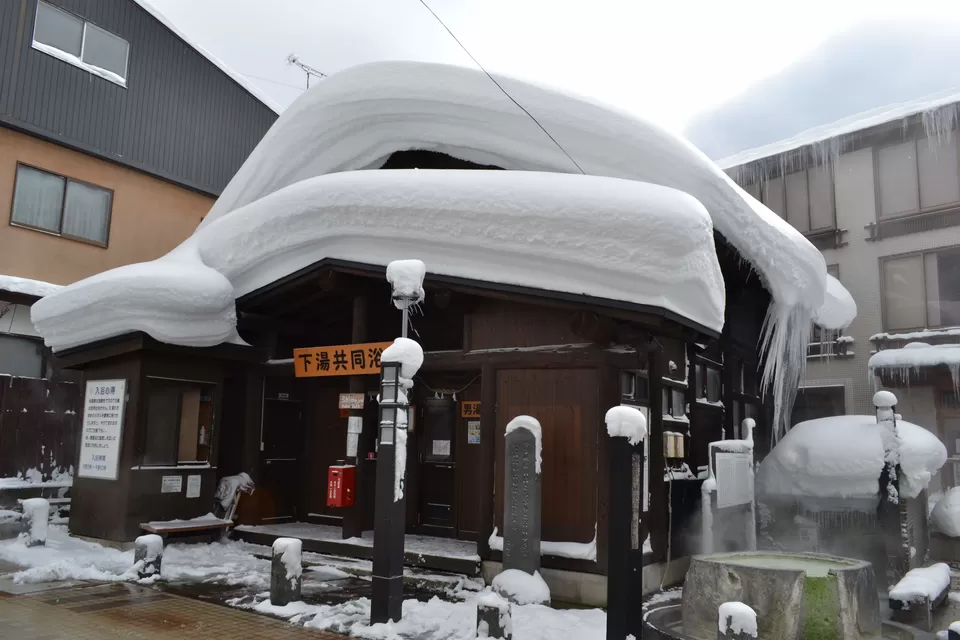 We went to our hotel, checked in and left for lunch. Thank god, we could easily find vegetarian food there. Otherwise, at remote places in Japan, it's difficult to find veg food. I forgot the name of the dish, but it was soup with lots of vegetables and mochi (rice cakes). In freezing cold temperature, it was a quite relief to drink hot soup. Zao is famous onsen town in Japan. Onsen means hot spring in Japanese. Along a paved path water channels were made to let flow the hot water. It was quite hot as one could see steams coming out. Local residents were throwing the accumulated snow in those channels to clear the roads and parking areas.
Without wasting much time we went to onsen. I had been to some others onsens before but this was amazing. Water was sulphuric said to cure skin diseases. The indoor pool was quite hot. When we warmed our bodies enough in there, we went to outdoor pool. And that was the most amazing part. There were two covered pools and 3 big buckets to take a dip. All other area was covered in snow and it was snowing little bit at that time. (Just imagine, standing naked with all snow around you, outside temperature around 0 degrees). As I couldn't stand for long, I quickly went to one of the pools. Resting alternately in pools and buckets, I finally came out of the onsen after one hour and it was quite refreshing. While others were getting ready, I went to get camera from the car and then we went to ropeway.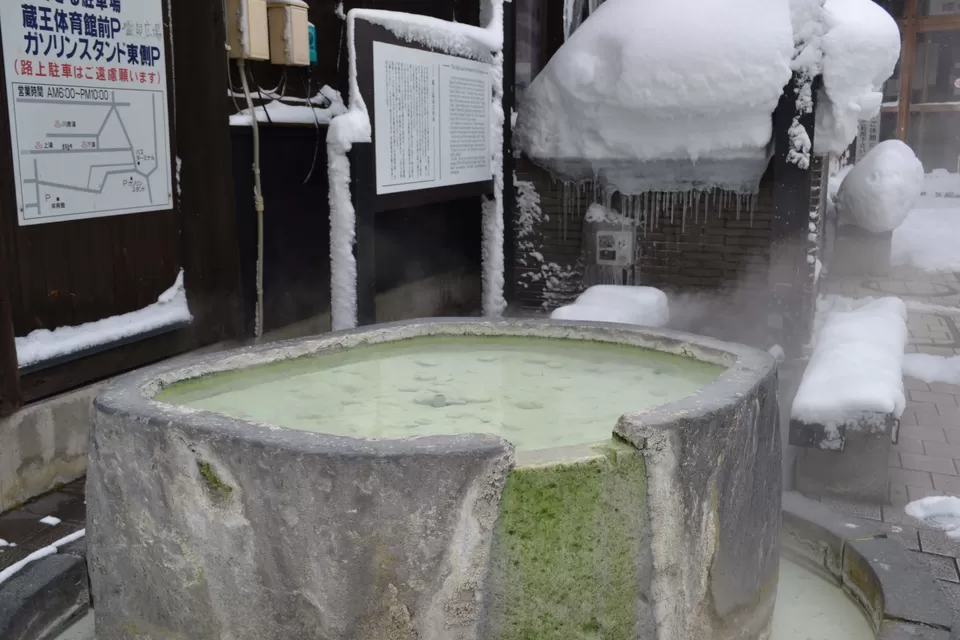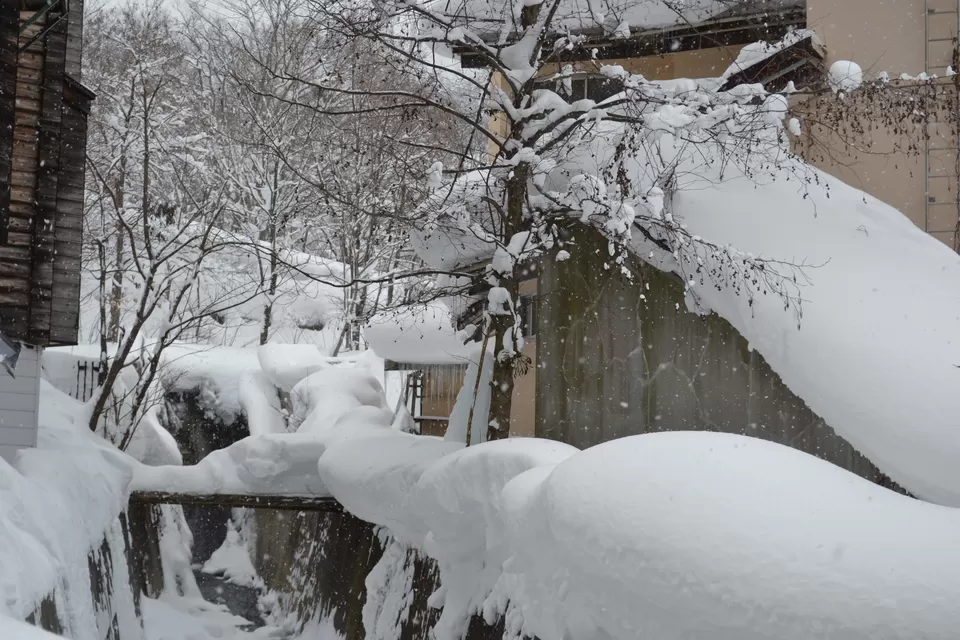 Most unique thing of Zao, is the snow monsters. Combination of wind, geography, snow quality results in the accumulation of snow on trees on mountain slopes. As more and more snow gets accumulated, it covers an entire tree and looks like a big, tall odd shape - hence the name monsters. We need to take two ropeways to get to highest point where these monsters are illuminated. As we were moving up in the ropeway, we could see skiers or snow boarders testing their skills at night. One can ski at night also as some slopes had flood lights. At transfer point (1331 meter), temperature was around -6 to -8 degrees and we were thinking whether we should go further or just return to base. At this point, there were no much monsters formed. They had done some illuminations in the snow. It was beautiful to see. Finally, after sometime we got into the next ropeway and this time we could see the monsters as we moved further up. It was as spectacular view. Random shaped snow statues arranged perfectly on the slope. When we got out of the car, we went straight outside to see. It was very very cold, around -15 degrees. Somehow we managed to click few photos and we ran inside a restaurant as we could stand the cold. My fingers got numb when I removed hand gloves to take photos and I couldn't even fold them. We had some frech fries and coffee there. We again went outside to take some more photos and then we returned back to base. It took around one and half hour to go up and come back. As fast as we could, we went to a restaurant for dinner and to warm ourselves. After dinner we went to room, had little chitchat and went to sleep. Though we didn't walk that much we were still very tired because of the cold.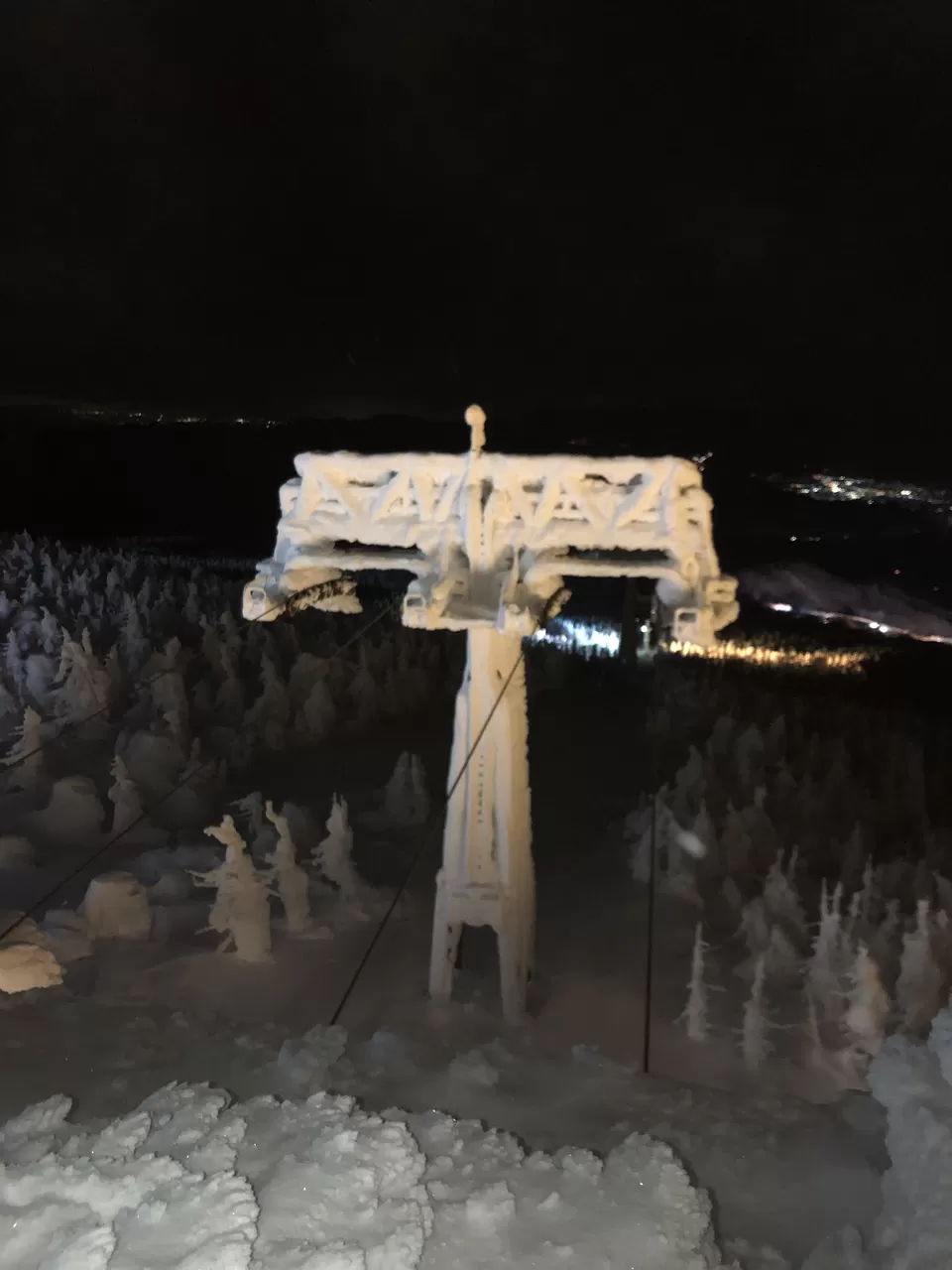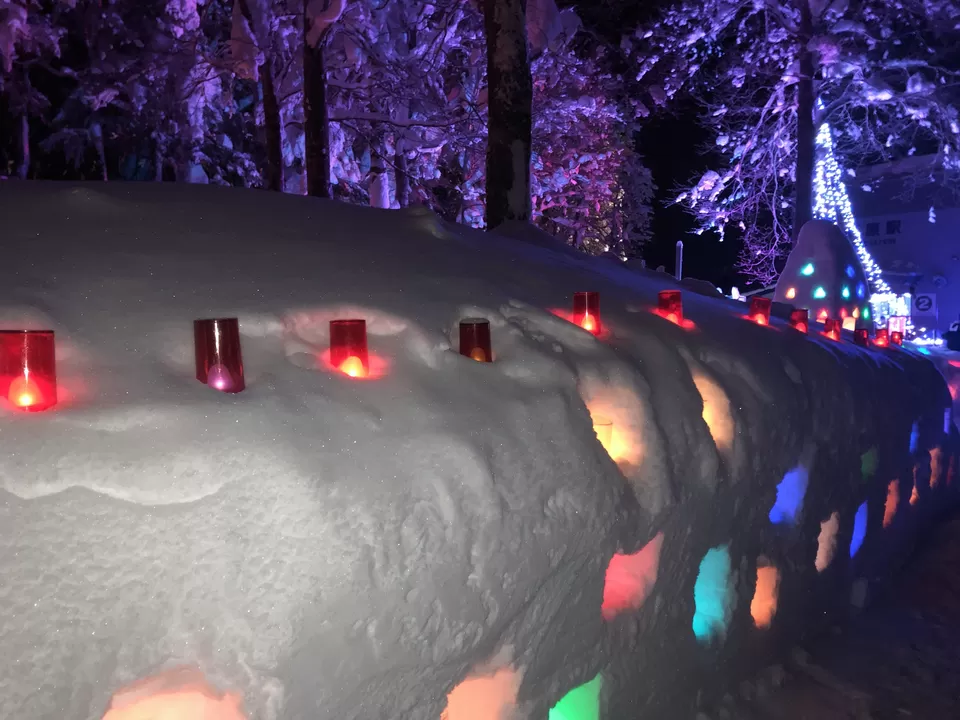 On Sunday, we got up around 8 o'clock and others went for skiing. I wasn't much interested in skiing this time. I slept for sometime more and then left the room around 10 o'clock. I just roamed around the town clicking photos. Went to a restaurant and watched skiers from there while eating. Some aunty was distributing Amazake freely there. Amazake is kind of hot, sweet soup made from rice. We had lunch around 12:30 and then I took a nap there and tried to write this blog also. But couldn't complete much.
We had decided to leave Zao at 3:00 and we left exactly at 3:00. We are getting used to Japanese punctuality :-p . While returning back, we just tried to enjoy the scenery as much as possible, as it be long again till we could see such a scenery. At hilly part between Yonezawa and Fukushima, we were almost alone. No one following us and no one ahead of us. Occasionally some vehicles passed in the opposite direction. It was snowing also, with wind gusts flowing sporadically blocking the view at times. I had to drive slow s there was a thin layer of snow on the road. At steady space we reached Koriyama in time and returned the vehicle before 8 pm as required.
This was the second time to experience so much of snow after Sapporo last year. But outdoor onsen and driving in the snow was first time and it was a wonderful experience. It took lot of efforts to get a Japanese driving license but it felt worth of effort after this trip......
Note: All photos are shoot either by me or my friends.