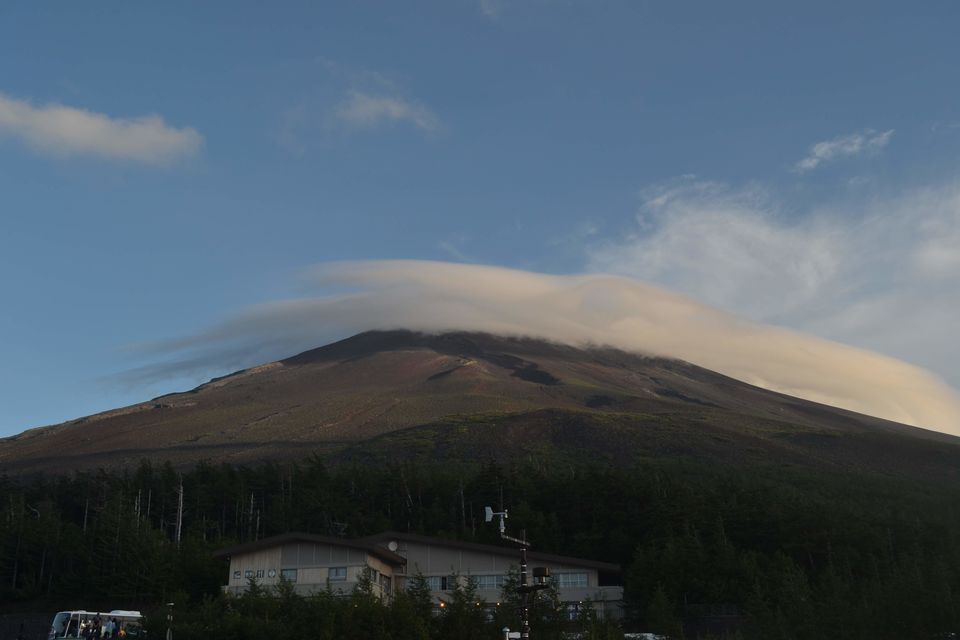 On recent long weekend (14-16 July), I finally went to Mt.Fuji for trekking. Trek to Fuji usually takes 2 days (leaving from my home to return back). So, I had one at my hand. While looking for places to visit around Fuji, Aokigahara forest was one of them and mostly on top. Aokigahara is a dense forest formed on lava erected from Fuji and it's mainly famous (or infamous) as Suicide forest, as many Japanese people come here to do suicide. Reading more about it increased my interest, so I thought of visiting it. Here goes my experience about the forest but before you will need to read about Fuji trek too.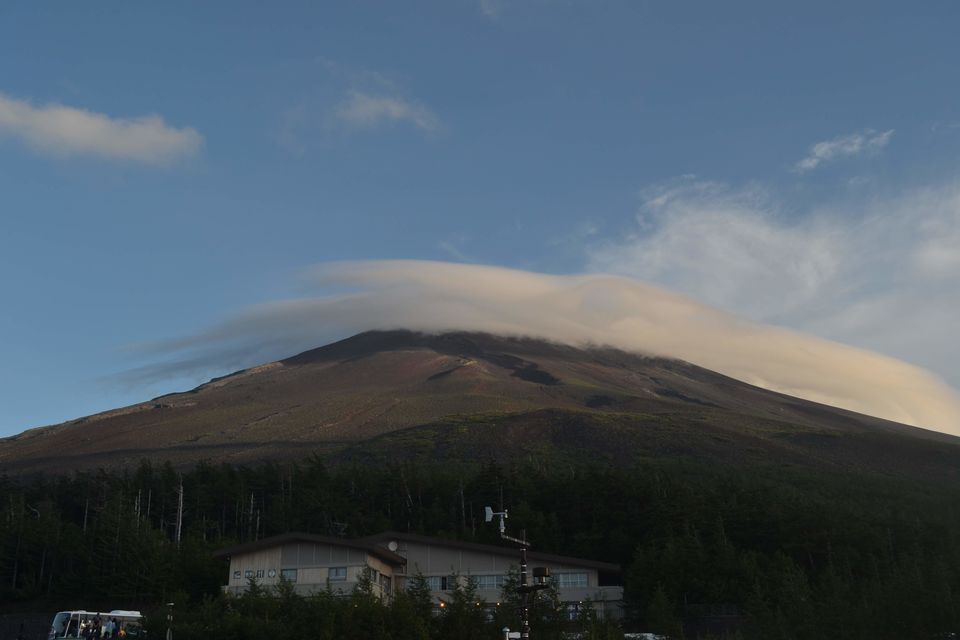 We left from Koriyama to Shinjuku (place near Tokyo) by 9:35 bus and catching next bus for Fuji-Subaru line 5th station, we reached destination on time at 18:20. As Japanese being famous for time following, we didn't had any trouble during journey. Fuji Subaru 5th station is one of the starting point for hiking Fuji and most famous. It is at around 2000 meters from sea level. We changed into clothes for hike and ate something. Then started climbing around 19:45. The initial part was very easy. Gentle ascend, cool breeze, soil but with tiny stones and night view of near by towns. The path was actually crowded as it was weekend. As we climbed, it was more sand and with bigger stones and walking was little difficult. Some distance before 7th station, there is a steep climb. But because of support chains, it is quite possible to climb that part. Around 7th station, there are some stalls, selling drinks, fruits, instant noodles. These also offer a place to sleep if booked in advance. Many people who start climbing in day light around 4 o'clock in the evening cover maximum distance possible till 8th station and take rest in these huts/stations. Then start climbing again early morning around 2:30 or 3 to see the sunrise. Me and my friend, both have good stamina, so we didn't had to take much rest. We took total rest for 15-20 minutes but kept going at steady pace. The part after 8th station was the most difficult. As you are at height more than 3000 meters, oxygen is less; slope is moderate but it's all stony. So you can't walk normally and feet slip every now and then. This path is very narrow. So long queue was formed and you have to walk one by one. Last 500 meters were a test for my patience. I was tired by that time but still summit wasn't yet near. I was just telling myself 'one step at a time' every now and then to keep me motivated.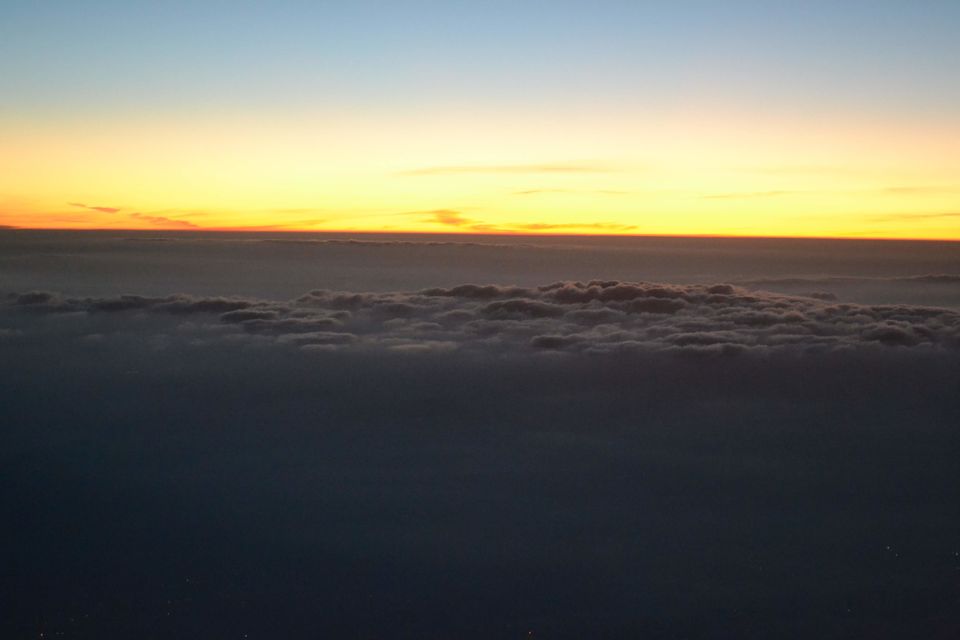 Finally I saw the Torii gate, entrance of the summit. It was around 1:45 am. It took around 6 hours to reach summit. I bought a hot coffee from vending machine to warm myself. It was chilly at summit. But I was prepared for that, thanks to friends who had warned me about it. Found a place to sit on bench. There are some benches kept facing east to see the sunrise. If you reach early ( by 3:00 o'clock. Sunrise time is around 4-4:30) you can get a good place. That day sunrise was at 4:30. More than 2 hours had to be spent in cold. I tried to sleep for some time but couldn't sleep at all becomes of the cold. We kept talking for sometime. Those 2 hours seemed to take ages and we kept waiting for the sun. Normally, we hate when Sun rises early disturbing our sleep, but that day we were praying for it to rise early. Around 3:45, sky in the east started to change colour. It was just a orange dot in the beginning. Then it became sky blue around it. After sometime, whole horizon was light sky blue and orange dot was a bigger now. Then some white rays were streaming through the clouds and finally the entire Sun was visible. The whole process was mesmerizing and made me to forget about all the efforts I took to reach at summit. For sometime, I forgot about all the pain in the body, the cold weather, my appetite (I hadn't eaten much to avoid trouble during climb). When the Sun was all up, Japanese people greeted it with some gesture and I came back to my senses. First thing I did, was to stand in queue in front of ramen shop. Yes, there is ramen shop at summit serving hot noodles and other Japanese foods. When a bowl of hot miso soup along ramen noodles went into my stomach, I was satisfied and refreshed. We then went to see the crater. No surprise there. Just like surrounding area, it is filled with rocks. After taking some photos at summit, we started climbing down.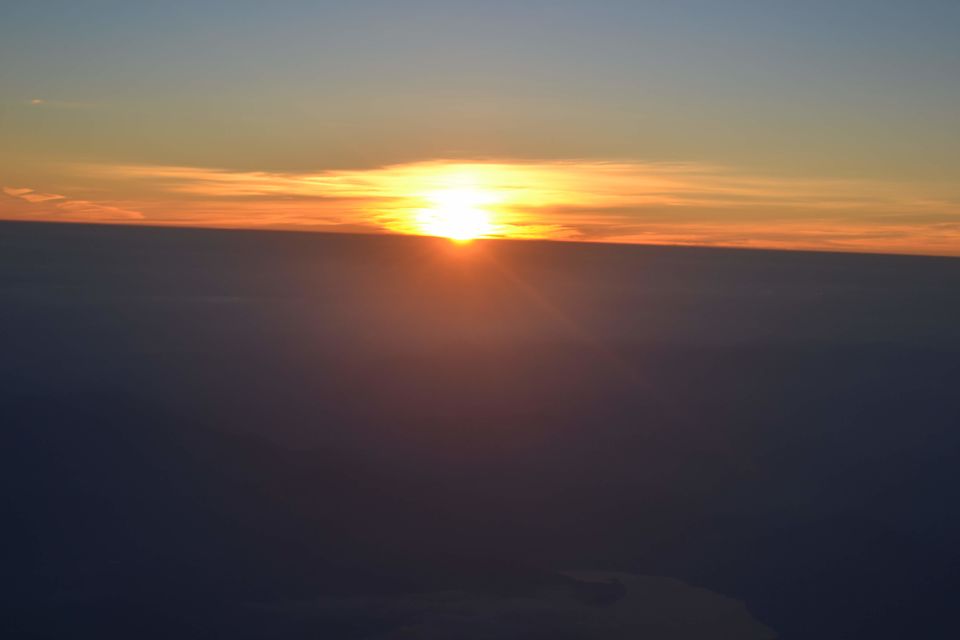 We started around 6 am and reached 5th station at 8:45 am. That was the most boring part of the trip. It is a zig-zag way, all rocky, decent slope and the sunny weather. You just keep turning every now and then. We almost kept running through that part. We got freshed at 5th station and I caught bus for Kawaguchiko at 9:30. Trek to Mt. Fuji was definitely tiring. I would advice to carry as much less weight as possible with you. You can buy drinks and supplements at intermediate stations, though they are costly but it will reduce the weight. Be well prepared for cold at the summit. At sometimes winds also flow heavily, so bring ear plugs/caps. Also, carry a walking stick, helps to reduce strain on knees. At 5th station some wooden sticks are available on sale and on intermediate stations, you can collect stamps on those sticks and bring them home as souvenirs. While climbing down, it's better to use some mask and eye protection. Also, make sure you have ankle length shoes. otherwise, just like me, you will need to keep taking out stones/sand at regular intervals from shoes or you can use duct tape to seal of the shoes entrance. There is no any scenery to enjoy during climbing. The only good thing about trek is the Sunrise and feeling of reaching to such a height ( 3770 meter). Otherwise there is nothing else than stone, rocks, sand and soil.
I reached Kawaguchiko around 10:30. It's a small town, with tourism as main occupation. You can see ads by different agencies, lots of hotels, restaurants etc. My hostel - K's hostel Mt.Fuji - was 15-20 mins walking from station. I reached there by 11 o'clock and checking time was 3 o'clock. They were kind enough to let me check in at that time and rest in lounge. But I couldn't get room as cleaning was going on. She showed me a nearby Onsen on map and I thought of relaxing there for sometime. Onsens are the hot springs all over Japan, some are artificial but mostly are natural. It is said that taking a dip in onsen for sometime heals all the body pains. I hadn't have the experience so far. So I thought what could be better day to test it than today. If it really helps, will cure my body pains from trekking and if doesn't, it will prove that it doesn't work. So, I went to onsen. I spent around an hour in it and it really cured my tiredness and body pain. I returned to hostel, but rooms were not yet ready. I took rest in lounge till 15:00 and then shifted to room. I slept for around 5 hours but that was a very sound and peaceful. I woke up around 8 o'clock. Looked for any Indian restaurant nearby. There was one, 10 mins walking. I went there, ate up to full bream, returned to hostel and slept again.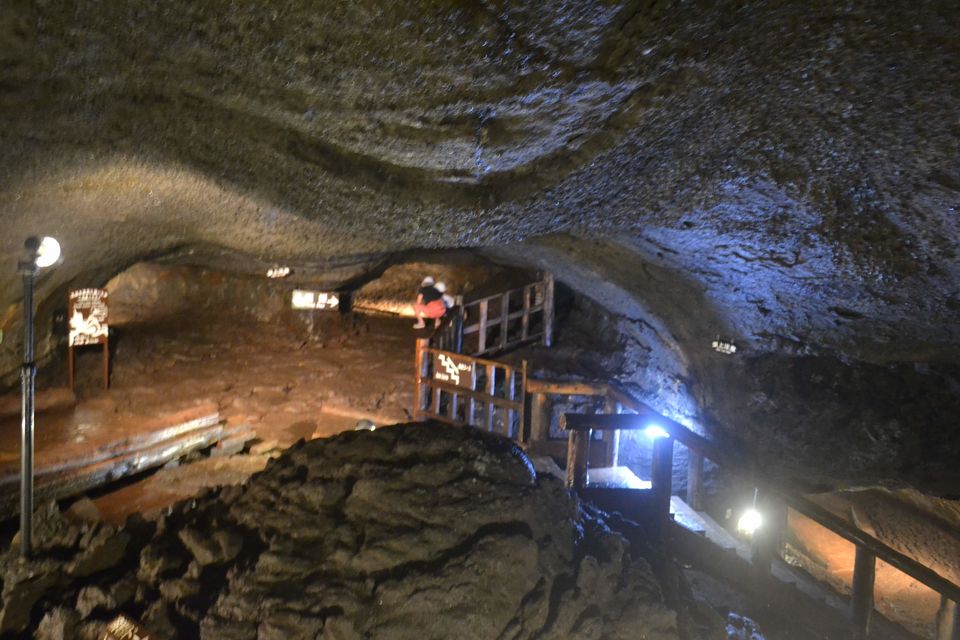 On Monday, I started at around 8:45 from hostel. After a good sleep, I was feeling quite fresh and active. Bus was at 9:15. Kawaguchiko has good bus service connecting all tourist places in and around the city. Three routes - Red, Green and blue - cover all the places. If you are spending a whole day visiting these places, I would suggest to buy the 2-day pass at ¥1500. With this pass you can board any bus, any no of times for two days. Even if you are in the city for just one day, buying this pass will be beneficial instead of paying every now and then. Route map for these buses is available on Fujikyukou's website. It is available at Kawaguchiko station also. All announcements in the bus are done in English also. So, no worry of missing your stop if you don't understand Japanese. My first destination was the Bat Cave. After lava eruption, there are many caves formed around Mt. Fuji as the gases escaped. Though the name suggests that there will be bats inside of the cave, during day time they are not visible. It is not that big cave. It takes just 10 minutes to traverse accessible area. What is different inside this cave than other caves is the texture of floor and walls. It's very rough and somewhat porous. This cave is also at the start of trail through Aokigahara forest - my next destination.
Aokigahara is formed on lava base and very dense. It is also called as 'Sea of Trees'. As lava is porous, it absorbs surrounding sounds making it very quite. Being dense, it is difficult to find a way back, if you are lost. That is the reason why many Japanese people come here to suicide. Some of them tie a thread to tree before venturing in the jungle. In case they change their mind, they can trace back that thread to get back on main trail. Reading stories about the forest who explored it before, I found it completely opposite, or at least the part I ventured. It wasn't that quite, there were birds chirping, occasional sounds of airplane flying above. I started walking on jungle trail around 10:30 and reached opposite end of the trail by 11:20. It was around 2 km, I took a detour to see Saiko lakefront but it was in vain. In case you are not interested in forest, there is a walking trail along Saiko lake. Exploring all trails in jungle would take 3-4 hours easily but I didn't have that much time. There are sign boards all along trail to guide you. At intersections, they have displayed the maps also. I had very good signal reception inside jungle. Also, I saw another hiking group too. I would suggest going in that area to visit at least some part of the forest. It felt very calm here. You can see all different kinds of trees interconnected in complex patterns. As roots can't penetrate lava easily, you can see net of these roots spread on the ground.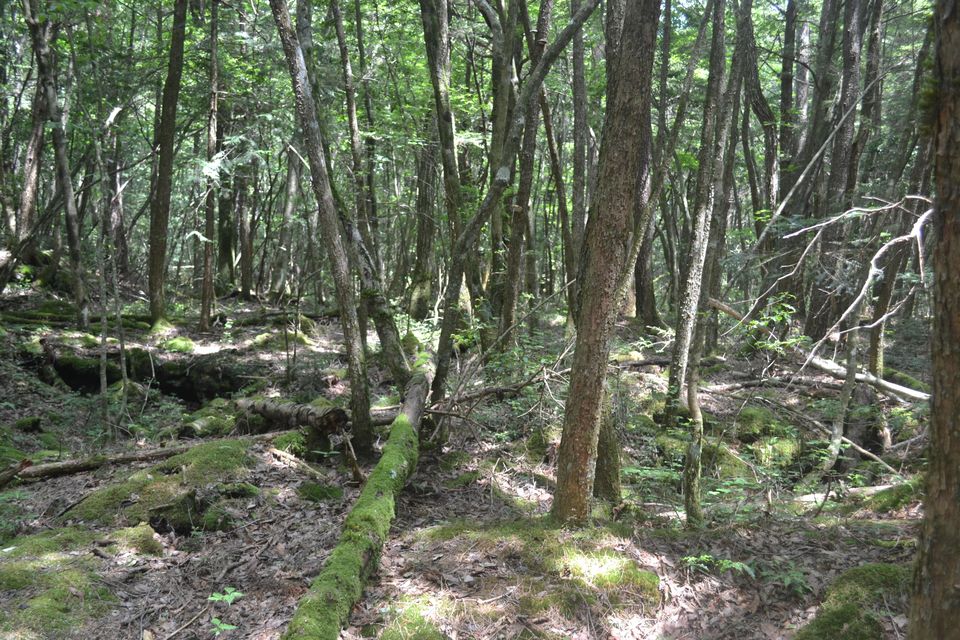 Next stop was 'Iyashi no sato Nemba'. An old village destroyed during landslide, reconstructed as open air museum. There are around 20 buildings with thatched roof, everyone displaying different forms of Japanese culture/art, like pottery, metal works, glass works, Japanese handmade fans, incense sticks. When lady in incense shops knew that I was from India, she greeted me with 'Namaste' - Indian greeting. She showed me sandal wood imported from India. It takes around 1 hour to see all buildings. When you get down at bus stop, check for bus timings to return. Buses are available at intervals of 30 mins. So, if you miss one just by a minute, you will need to wait for half an hout till next bus. I reached bus stop at exact time, boarded the bus to find that it was wrong bus. So, I got down at some bus stop from where I could get bus for wind and ice caves.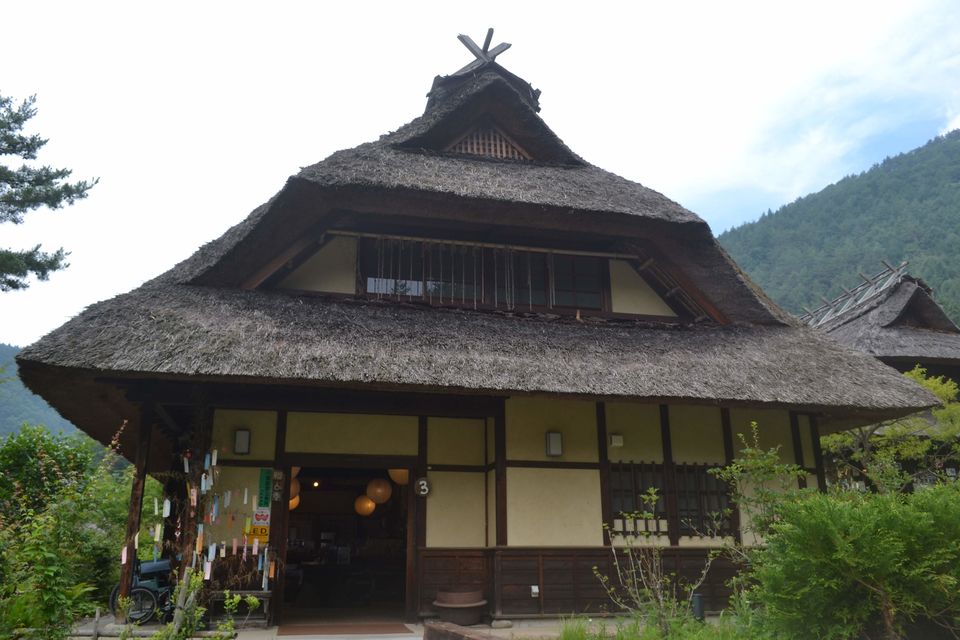 Wind cave was used as storage for silk worm at old times when electric refrigeration was not yet available. Natural ice during winter, would be stored in this cave. As temperature in side cave is below 0 degrees around the year, ice would remain as it. Ice cave is 2-3 mins by car from wind cave. You can also walk by highway for 15-20 mins or take a trail through forest (20 mins). I checked the time, had missed the bus by 4 minutes. So I took trail to reach ice cave. It was crowded here and I had to wait in queue for 30 minutes. This also wasn't that big cave. Climb down 90 stairs and come back. But at some places it was very narrow, around 90 cm in height, that we have to sit then move ahead inch by inch, so that not to bang head against cave wall (Safety helmets are provided at the entrance). When I came out of the cave, it was 15:15 and next bus for Kawaguchiko station was at 15:35 from wind cave. I had to run to catch that bus and reached station around 16:15. Bus for Shinjuku was at 17:15. So, I got some time to ate and take rest. But bus got late and left around 17:30.As we reached highway, I was relaxed. Thinking that I had a good trip. I will catch next from Shinjuku on time and will rest properly at home to get ready for office next day. But that was just for few minutes. Around 6 o'clock bus got very slow. When I looked outside, saw long queue of vehicles in front of bus. I checked on Google maps, for expected time duration to reach Shinjuku and it showed more than 2 hours due traffic jam. Sigh!... It took away all the happiness. In the beginning of the post I praised for punctuality but sometimes there are delays too. It might be because of national holiday and a popular destination - Fuji Q highland amusement park on the same road. I reached Shinjuku at 21:00 and my bus for Koriyama was at 20:00. I checked for Shinkansen schedule and last train was at 21:44 from Tokyo. I ran to station, caught train for Tokyo, bought tickets for Koriyama, and running again went to platform and sat in the train. I settled and then saw notification board inside train - ' This train is bound for Niigata'. It was going in opposite direction. I got out immediately and got into train on opposite platform. I double checked if it was correct one. When I assured my self, settled down, and went asleep fast......
Note: All images used in this post are shot by me.