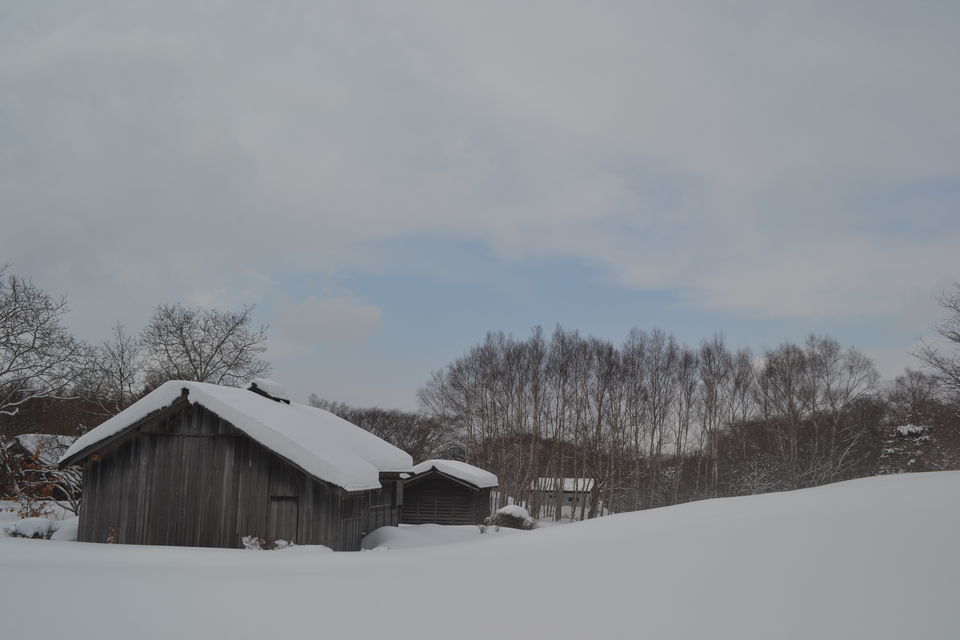 It's getting very cold here Japan now with frequent snowfall and it's also time for snow festivals. Snow festivals means small-big snow sculptures, food stalls, live performances and enjoyment. There are many places in Japan where snow festivals are organised. Most famous among them is Sapporo Snow Festival. It is held in first week of February every year at three sites in Sapporo - Odori park, Susukino and Tsudome. Odori park has snow sculptures, Susukino displays ice sculptures and Tsudome site has snow rides mainly. I had never been to any snow festival before so I was excited a little bit before leaving for trip.
February 09, 2018
We were 6 people this time, left Koriyama by 7:30 to go to Sendai. Taking local train from Sendai JR station reached Sendai airport. Flight duration was around an hour or so till Sapporo new Chitose airport. To goto Sapporo, we need to take a local train again and journey is around 40 minutes. We reached Sapporo by around 13:00 and we were quite hungry by then. We found some nearest Indian restaurant online and went there. It was Spice dining Chandama and to say truly, food was very tasty here. It was after a long time we got good Indian food in Japan. After lunch, we went to guest house. We dumped our luggage, got fresh and left for Odori park. It was 15-20 minutes walking.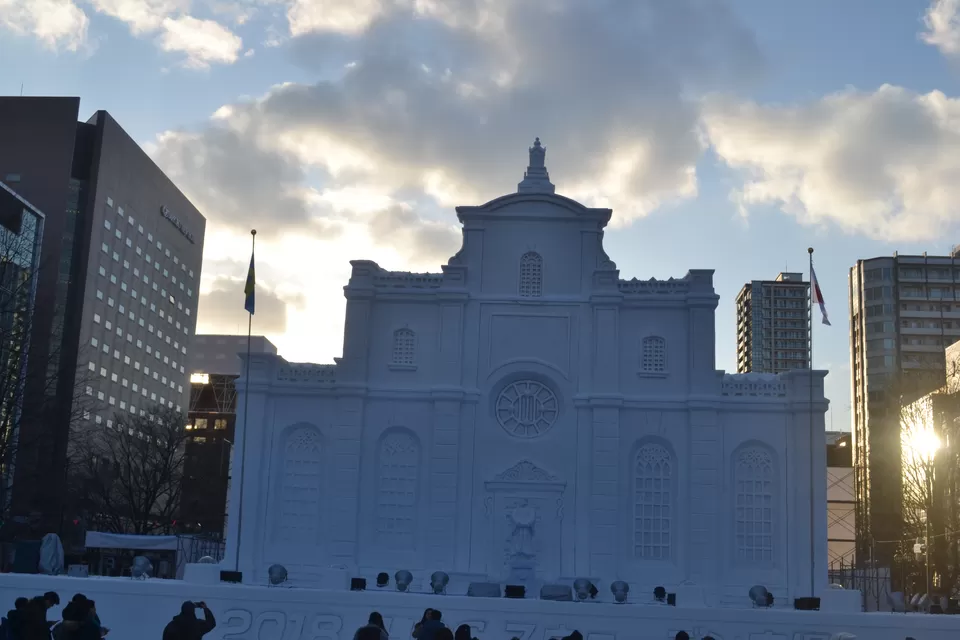 Ice sculptures are made along the Odori park, with walkways on both sides and sculptures in between. The large structures included Stockholm Cathedral, large lecture hall of Yakushi-ji temple in Nara, a scene from Final Fantasy game, a sculpture of characters from Manga comic in memory of Osamu Tezuka, Pacific Music Festival. One section is for citizens of Hokkaido to build small sculptures. One square had snow sculpture competition where teams from around 12 countries had participated and a cock-fight statue by Finland team won the first prize. As the Sun goes down, sculptures are illuminated with halogen lights and that view is more beautiful. At some places, 3D videos are projected on the structure along with sound effect giving you the feeling of real life. Many food stalls are set up along the walkway and you can enjoy Japanese as well as other cuisine. At one place a skating rink was formed. You can try yourself at ice skating and also enjoy performance by artists organised in between. On a huge snow jumping platform, professional snow boarders showcase there skills. We were quite tired by the time we saw all sites. We again went to some other Indian restaurant for dinner and then returned to room by 22:00 as we were quite tired after travelling and roaming in Odori park.
February 10, 2018
After tiring yesterday, we got up late. Our plan was to visit Moerenuma park. But when we asked our host about it, they said it will be just snow there everywhere and not that good to visit during winter. So, we went to Hokkaido University. We roamed around campus, shot photos in beautiful scenery, made first snowman as there was lot of snow. We then went to Odori station for lunch and got on the train for Otaru. Otaru is an old port town famous for music box, glass works and candles lit along canals at night. We first went to Otaru Music box museum. Just a small part of it actually a museum, otherwise it's a shop only, but worth of visiting. Music boxes in all shapes and sizes are present here from 1000 yen to more than 1,00,000 yen per piece. Merry-go-round, angels, cartoon characters, Ferris wheel, photo frames... I bet you can't restrict yourself from buying at least one. Even if you are not going to buy anything, do visit it. We then just kept walking along Sakaimachi street. You will find mainly shops of glass works, chocolates and Hokkaido beer/sake along this road. Next stop was canal area. By the time we reached there it was already dark and candles were lit along the bank and in the canal. If you are interested in photography, do carry a tripod and reach early to get good spot. It was very crowded and I had to wait 15-20 mins to get near the edge to get good photos but sight was beautiful. Spending sometime there we decided to return now. Along the road you will see, restaurants make snowman in front of there entries to attract customers. Some lit candles making a hole in snow. While walking we came across an area having illuminated ice statues. So dropping the plan of catching train, we went to see it. It was Temiyasen Kaijo area which is around half a kilometer long path with illuminated ice/snow/wax statues/lanterns. The combination of light, snow and wax was amazing and it's better to see photos than I explain it.
Spending sometime there, we went back to Sapporo. Eating at Subway at Subway station we went to Susukino. You can walk from Sapporo subway station to Susukino through underground walkway. It's a big shopping complex around 1.5 kilometer in length. Susukino displays ice sculptures. Various companies had their ice sculptures marketing their products. Another section had ice in shape of peacock, dragons, cranes etc. Last section had structures on which you can sit and take photos. They included a sofa, a F1 car and a slide among others. We returned to room by 23:00.
February 11, 2018
Others were going to Shiroi Koibito park for cookies making lesson. I wasn't much interested so I made different plan and left by 7:30 in the morning. Getting on to Toho subway line from Odori, I reached Sakaemachi station. From exit 1 and 4, shuttle buses are arranged for Tsudome site - third site of Sapporo snow festival. Shuttle bus takes 10 mins to reach Tsudome site. This site has mainly snow rides and less sculptures. Some slides are only for adults and some for only children. Other rides include snow rafting, snow bike, sledge sildes etc. Inside a community dome, some amusement rides are arranged for children. On stage, some entertainment programs are organised. Check schedule before going, so that you can attend the one you like. Food stalls are also present inside the dome. Mainly Children will enjoy going here. When I reached it started snowing heavily and I couldn't take much photos. If you are traveling during winter in Japan, carry covers for your camera if you wish to take photos even during snowfall. I didn't have one and had to restrict myself from taking out camera. If you wish to go on any ride, take numbered tickets first standing in queue. Since on weekends it is more crowded it's better to reach early and take a ticket.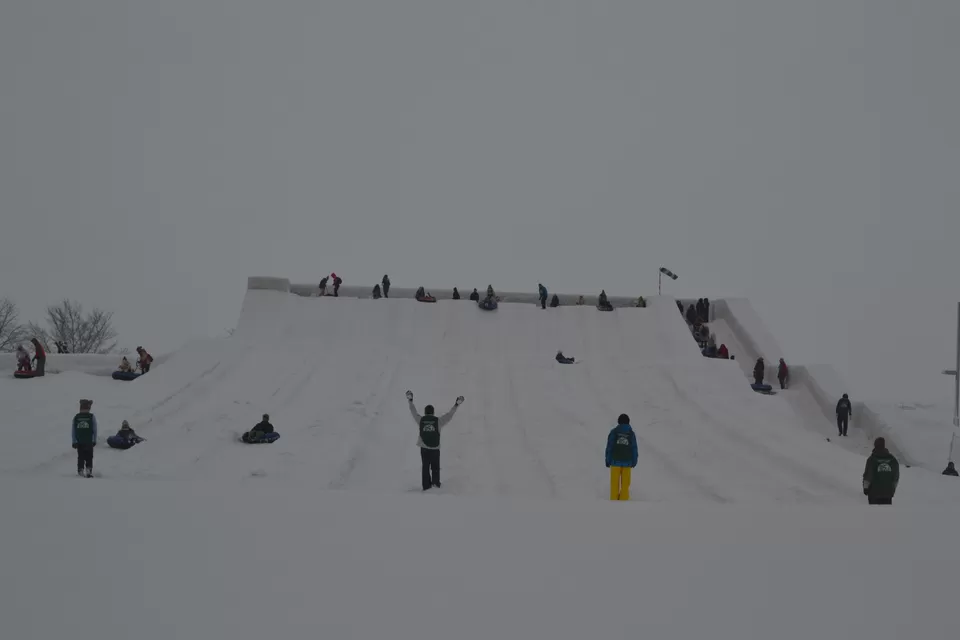 I left from there around 10:30 for next destination. Changing subway at Odori to Tozoi line reached Shin-sapporo around 11:15. Bus for Historical Village of Hokkaido (Kaitaku no mura), Shin 22, leaves from south bus terminal. Frequency is like 2 buses per hour and one per hour on weekends. So check timings while planning. If you miss one, you will have to wait for long time. Bus rides takes around 15-20 mins and costs ¥210. You can get on the same bus from Shinrin koen station also. Kaitaku no mura is last stop. Second last stop is for Hokkaido museum. I went to Historical Village directly. When we got down, it was still snowing. Along the walking path a wall of ice was formed upto height of 2.5-3 feet. You get the idea of what you are going to see looking at the entrance of museum. This building resembles old style western buildings. At ticket counter, you can also rent a sledge or an old style wooden skis, shoes made of rice straw or an old style overcoat to enhance your experience of historical village. This is an open air museum with old buildings representing a village in Japan. Buildings which are commonly found in all villages like government offices, police box, grocery shop, sweet shop, a horse stable are present here. Some buildings are reconstructed while some were transported from original place and placed here. You can enter inside the building and see the interior also. Some buildings are wooden while some are built with stones. One can observe how western style influenced japanese architecture over the time. There is one silk mill explaining the whole process. An old photo studio with glass roof to get proper light while shooting, a godown, a shrine etc. It takes around two hours to see all area. Being a winter and heavy snowfall from last few days added to beauty of the landscape. I returned to Shin-Sapporo by bus at 14:30. One can visit Hokkaido museum also. My flight was at 17:00 so I had to leave. I caught airport rapid local from shin-sapporo at 15:00 and reached airport by 15:40. Other friends also reached in time and we boarded flight at 17:00. We had dinner on Sendai station at T's Tantan Ramen. This chain is famous for vegan ramen made using soya beans. It's very tasty and delicious. Do try it if you visit Sendai or Tokyo. We returned to Koriyama by Shinkansen later.
This was my first snow festival experience and it was amazing. While I struggled hard to make a snow man, I could just imagine how artists would have made those sculptures. Not just massive size but detailing work on those sculptures is fabulous. Also, I had experience of heavy snowfall too. There are some more places in/around Sapporo. Shiroi koiboto park is famous for white chocolate cookies factory. If you reserve early, you can get experience of making it yourself. Other places include Mt. Moiwa, koerunuma park, Hokkaido museum, Shinrinkoen. It depends on in which season you are visiting Sapporo. Do check reviews of those places about good time to visit. Incase you are visiting in winter, do check weather forecast and prepare accordingly. I had a great time there and hope you will also have it.....