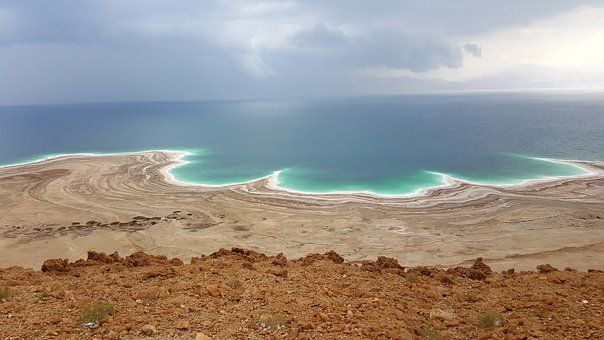 https://www.mydestinary.com/jordanFrom over 30 countries I have visited or travelled to, Jordan was one of the most unique countries as it is highly rooted to its culture. Jordan is known for a lot of things- be it Amman city,Petra, the Dead sea, Mount Nebo, it's Arabic culture or its ancient Roman monuments. But what I love the most about the country is the diversity it offers. Jordan geographically sits in the middle of political unrest around its neighbouring territories, yet you will never feel the tensions surrounding it, when visiting this place.
My university pal and me decided to cover Jordan after attending our friend's wedding in Kuwait (I will cover that in a separate blog). We visited in September, the weather was quite hot around then.
Our plan was to cover as much as we could over our 3 days and hence focussed mainly around Amman and Petra. Before I delve into our each day coverage, let's cover some basics first.
As a starter, we bought the Jordan Pass for 70 JOD (Wanderer Pass) which waives off your Jordanian visa fee, includes a 1 day entry into Petra and 40 other attractions across Jordan including Amman Citadel. I would highly recommend buying it.
Currency: Jordanian Dinar (cash is the main medium of transaction, so please ensure you carry plenty of cash at all times).
How to get there: Queen Alia International Airport, Amman is your key port of entry into Jordan. Many international airlines connect Amman to all the major global hubs across US, Europe, Asia and Middle East.
Language: Arabic. However, the locals are quite good in speaking English.
Recommended months of travel: November to April
Visa requirements: Most countries can get visa on arrival for around $30. To check your specific visa situation, you can visit the link below http://www.projectvisa.com/visainformation/Jordan.
Day 1: Amman
I flew from Kuwait to Amman and landed at 13:35 local time. Upon clearing immigration, the ride from the airport to main city was approximately 45 mins (traffic can be bad during peak times). We decided to save costs on hotel and booked up at hostel called Jordan Tower Hotel right in the heart of the old town, hardly 2 mins walk from Roman amphitheatre.
Our hotel was for budget backpackers like myself. Honestly, I didn't like the hygiene standards much and both my friend and I were extra cautious on whatever we used.
The huge hookah lover I am, the moment I reached my hotel and as I waited for my friend to reach, I ordered a dirt cheap Double Apple Bahraini hookah for myself. Trust me, it was outstanding! My friend finally arrived around 7pm and we both were starving at that point.
We decided to grab a falafel from one of best local Falafel joints: Abu Jbara at Mecca Street. The food was scrumptious! Being a vegetarian, it was truly a delight for me. And as an added recommendation, do try the mix fruit juice cocktail, one of my regulars with any Arabic food. Another favourite Arabic cooler of mine is the Lime Mint juice. Just the kind you need in the Middle Eastern heat.
Amman is a really lively city even at night, so we decided to explore some of the neighbouring streets around our hotel. We crashed back into our rooms about an hour later, to be fresh and ready for the real cultural experience the next day.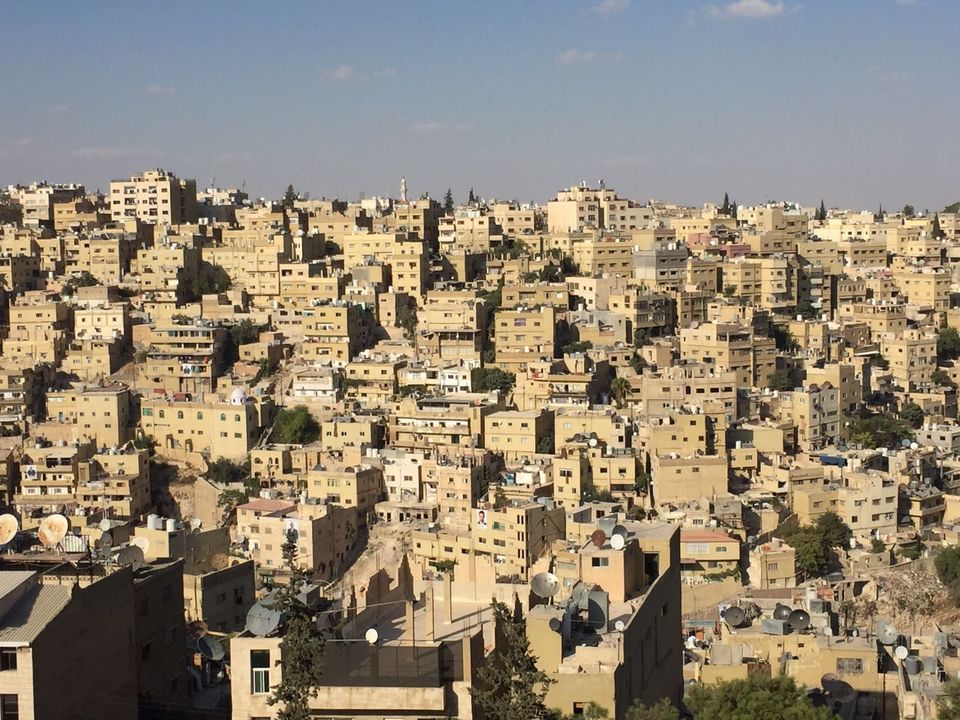 Day 2: Dead Sea, Mount Nebo and Amman Citadel
Given the limitations we had on time, our second day was very critical in terms of coverage. That was the only day we had in hand to not only cover Amman but also the ancient historical sites surrounding it.
Amman offers several day trips at very reasonable rates. Our tour covered:
- Mount Nebo: Did you know that, this was the site where as per Hebrew Bible, Moses was granted a view of the Promised Land? Moreover, the Bible says, Mount Nebo is where Moses lived his final days and therefore, it is said that, this could be the place where Moses' body may have been buried. All of that certainly came as a real surprise to me. There is a divine peace and tranquillity to the place which can only be explained when you visit Mount Nebo.
Apart from the biblical reference, Mount Nebo also offers exceptional panoramic views of Israel to your North and a more limited view of the valley of River Jordan.
If you are a cyclist, you may also want to check out cyclist groups which do cycling tours to Mount Nebo and the surrounding regions.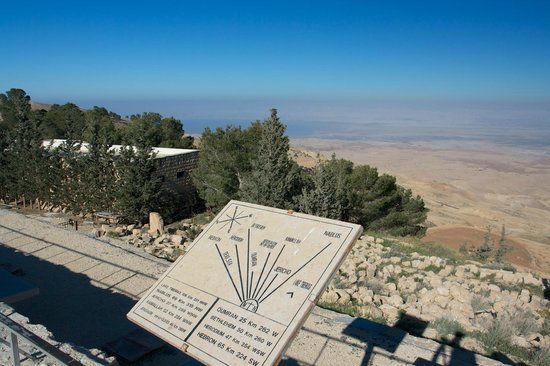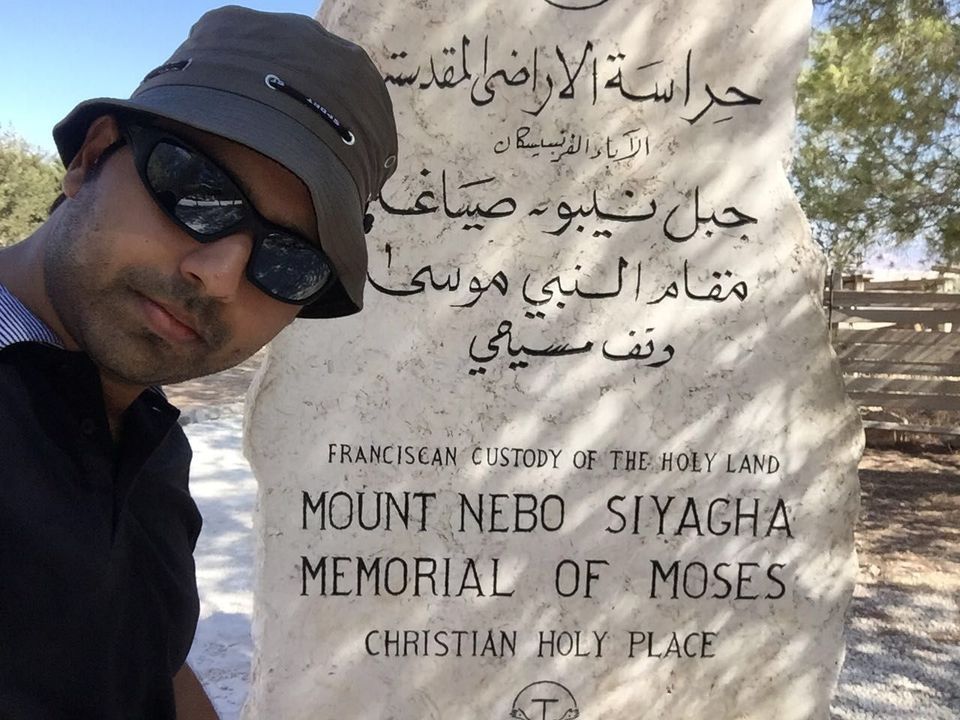 - Madaba: Our next stop was a small medieval town called Madaba, which was hardly a 10 minute drive from Nebo. Best known for its mosaics from Byzantine and Umayyad era, it is worth the stop if you are fond of mosaic artwork. There are several shops which sell mosaics, and if you are an expert at bargaining, you might be able to crack some nice deals too. Unfortunately, the town doesn't have anything more to explore.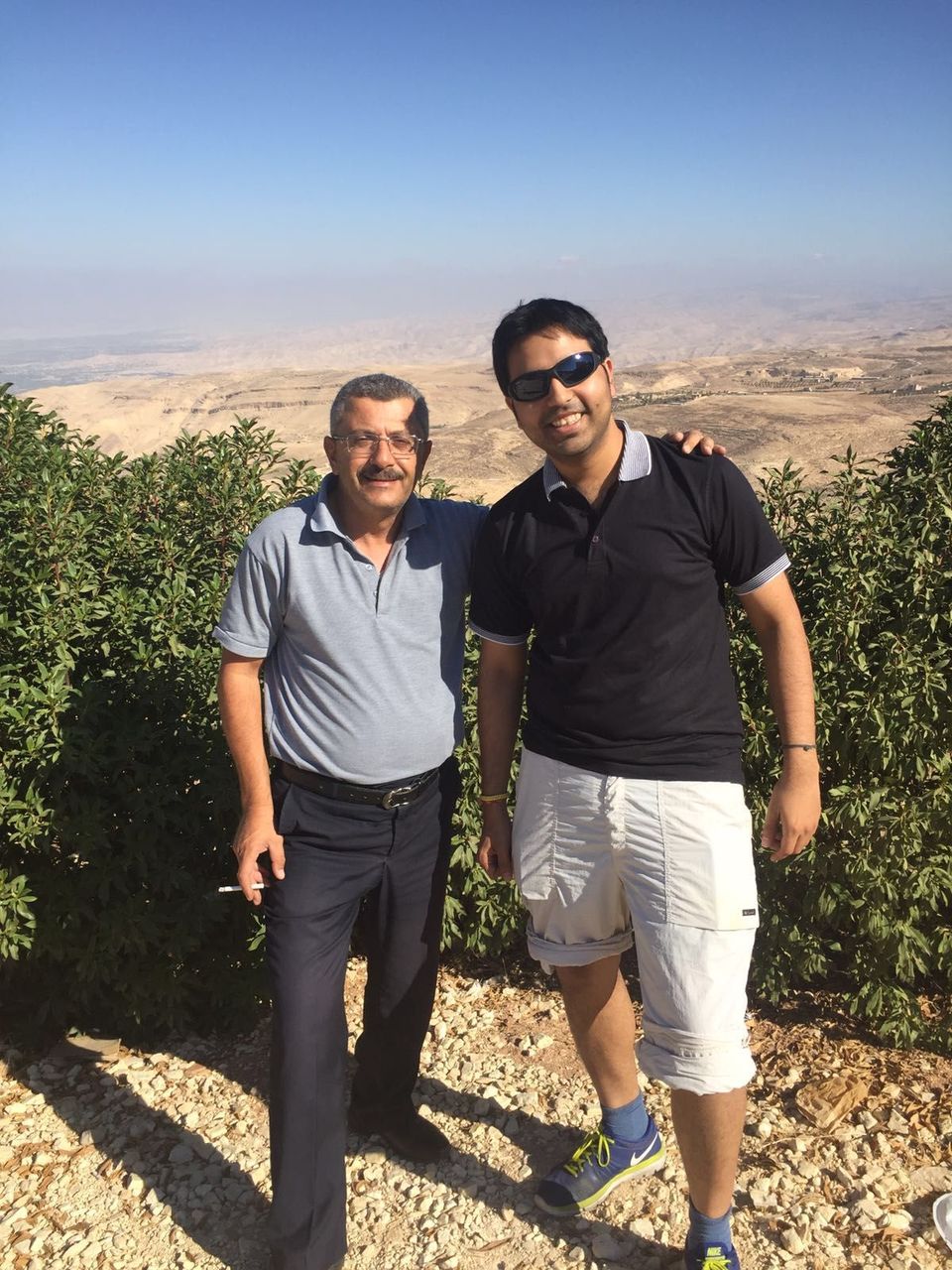 - Dead Sea: Our last destination on the tour was finally, the Dead Sea itself. To begin with, the journey from Madaba to Dead Sea was exceptionally scenic and unique. You drive through a mountainous desert terrain which offers a variety of views on all angles of the Dead Sea and beyond (for e.g. you can see Israel territory quite easily).
As you get closer to the Dead Sea shoreline, you will find a range of holiday resorts at the coast. Our tour had already arranged a setup in one of the resort changing rooms. We changed into our swimwear and headed straight to the Dead Sea beach.
At 408m below sea level, the Dead Sea is the lowest point on our planet. It is composed of 34% salt and is 10 times more salty than any of our oceans and therefore, there is no aqua life. When we entered the water, the extreme salinity helped us discover cuts which I never knew I ever had. I felt like my skin was cleansed for eternity. Wow what a unique feel that was. You are not recommended to swim like you normally do at beaches and swimming pools, because, if the water touches your eyes it can cause a lot of pain and discomfort.
Tip for you: make sure you don't shave before visiting the Dead Sea!!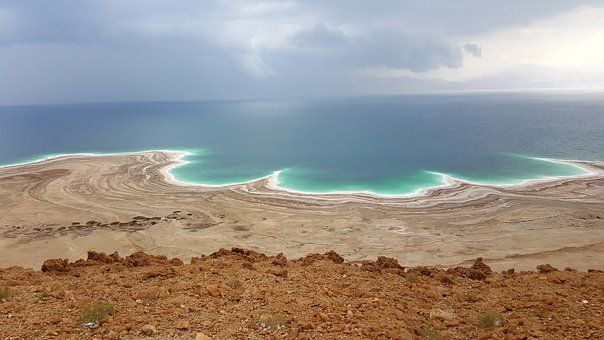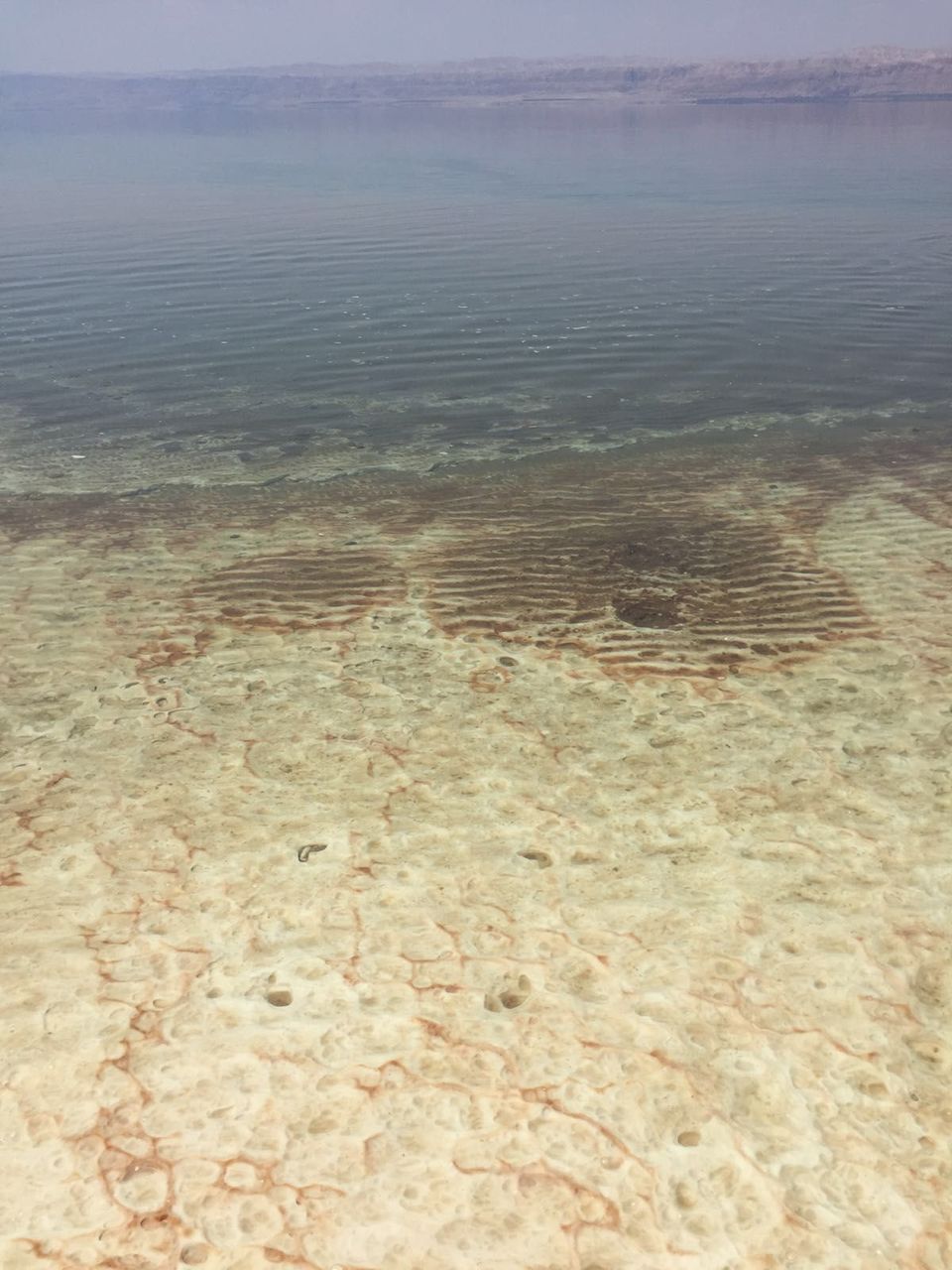 A lot of the other tourists covered their bodies with the mud along the shoreline, although I didn't do this to myself. Apparently, it contains numerous minerals and is said to have medicinal and therapeutic benefits. You can also buy the mud from some of the boutique stores in the hotels.
We were then offered a complimentary lunch arranged by our tour at the hotel which had plenty of international dishes. Post that, our tour guide drove us back to Amman city centre.
By the time we were back in Amman city, it was almost 2pm. Our next stop was the Amman Citadel. The site has been occupied since the Bronze Age and has gone through several re-construction stages during Bronze and Iron Ages, as well as, Roman, Byzantine and Umayyad periods. The citadel has a lot to see, but I would highly recommend the Temple of Hercules and Umayyad Palace. Lastly, the views of Amman city are exceptional from the Citadel. Ensure you save some time for photography!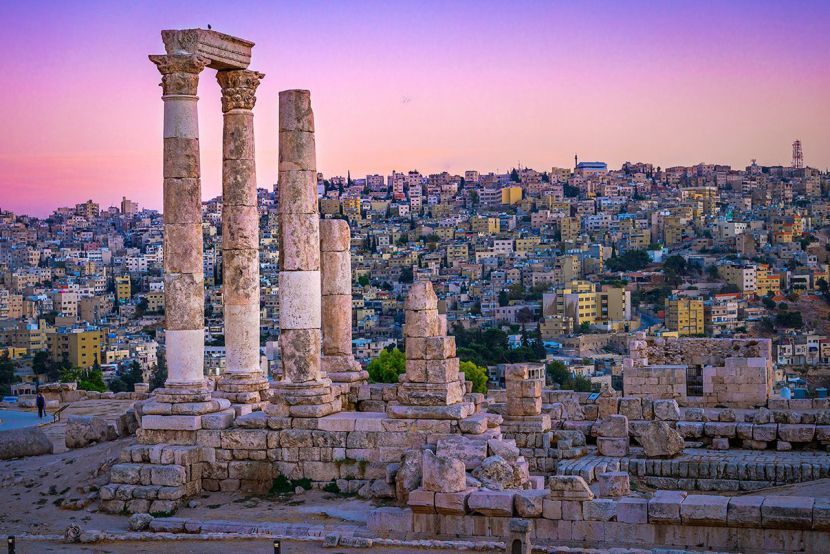 After the Citadel, we were very tired and badly needed a break! So we walked from the Citadel to a café/restaurant called Wild Jordan Center (about 2km walk). It is built on a hilltop and once again the view of the city is splendid. The café has a long list of drinks, snacks, cakes, meal items and so on at par to the standards we have in the West. They have fantastic wifi connectivity as well, which came really handy to us in order to plan our next day.
We spent a good few hours at the cafe, and then took a walk to the famous Rainbow Street which was about a half kilometre away.
Rainbow Street is one, which should not be missed. At night, it is sizzling with boutique stores and urban bistros, and plenty of fancy hookah bars. I felt like I was in a European city.
At that point we were truly knackered. The walk back to the hotel was a task. By the time we hit the bed, we had walked 15km over the course of the day, all a pure delight of course!!
Day 3: Petra
To ensure you make the most of your time at Petra, I would highly recommend reaching there as early as you can. We took the Jett bus from Amman to Petra at 6:30am, which was approximately a 3 hour journey. The trip cost us about 11 JOD.
The drive to Petra is surrounded by desert terrain, however, as you come closer to Petra the scenery improves drastically.
Having stayed in a fairly budget hotel in Amman, we decided to put in a little more cash for our Petra stay and booked ourselves at the Petra Guest House Hotel (4 star). It was right next to the Visitor Centre, thus making it easier to access the archaeological site. The hotel has one of the funkiest bars I have ever seen called the Cave Bar. The inside décor is surely unique, as it makes you feel you are in a cave. The hookah on offer is delicious. For those who are into alcohol, there are a wide variety of drinks available in the bar.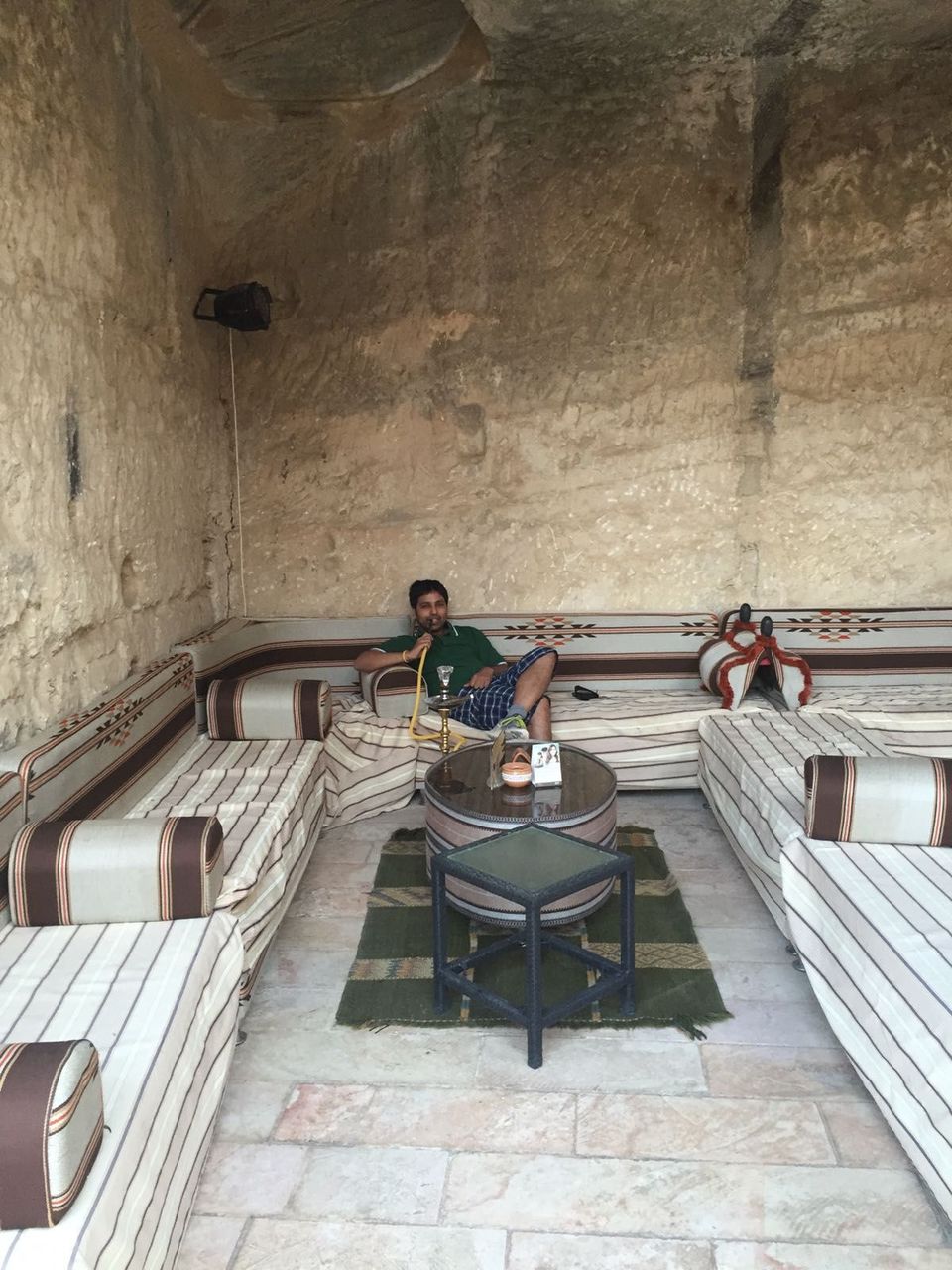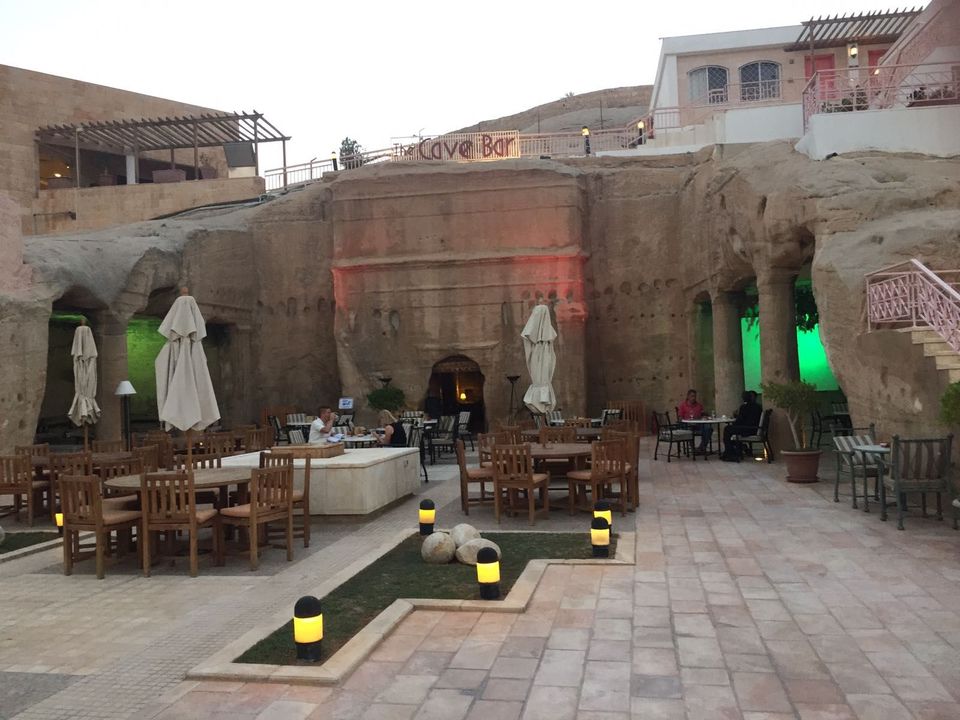 Once we settled into the hotel, we went straight to the Visitor Centre to kick off our hiking excursion into Petra. Ensure you wear trainers or walking friendly shoes on the day, and carry plenty of sun lotion, ideally a hat and a pair of sunglasses to save you from the scorching sunrays and heat. More importantly, keep yourselves hydrated.
Before I walk into the details of what all we covered, let's discuss a bit about Petra history. Petra served as the capital city to the Nabatean Arab Kingdom around the 4 th Century BC, until they were annexed by the Roman Empire. Petra grew increasingly rich during the Nabatean rule as it became a centre of trade for frankincense, myrrh, and spices in the region. In AD 363, the city was struck by a massive earthquake which destroyed most of its existence. Now it is a major archaeological site.
There are plenty of trails one can follow when exploring Petra, however the one we took was the Main Trail (around 4km walk each way). This covers:
- The Siq: about 1.2km in length, it was my personal favourite in Petra. The walk is truly exclusive. The Siq was the main road that lead us from the Gates to the main city. Most of the rocks are natural and a portion of it are sculptured by the Nabateans.
- Al Khazneh (The Treasury): Built around 1 st century BC, this is the most popular sight of Petra. According to local legends, there are treasures hidden inside the building.
- Roman Theatre
- Royal tombs
- Colonnaded Street: Back in Nabatean era and followed by the Roman era, this was the principal shopping streets of Petra.
- Great Temple: One of the archaeological marvels in Petra. I can only imagine how beautiful a sight this would have been two millennial ago.
- Qasr Al Bint: A Nabatean Temple, known for it's inner and outer stucco decoration.
We returned to our hotel room around 4pm to recover from a day of intense hiking in the heat. It had left an everlasting impact on both my friend and me. But this is not where our Petra experience ends. We booked ourselves on the night tour of Petra, and honestly, do not miss this one out.
At around 9pm, all registered tourists were asked to assemble at the Visitor Centre. A local guide then walked us all (almost a group of around 100+ tourists) from the Visitor Centre through Sik all the way to the Treasury building. After reaching here, we took a mat and sat on the floor opposite the Treasury building which was lit up by candles. A truly mesmerising sight. The tour guides would then sing some local folk songs and share a few stories of Nabatean civilisation. By around 11pm, we were back in our rooms.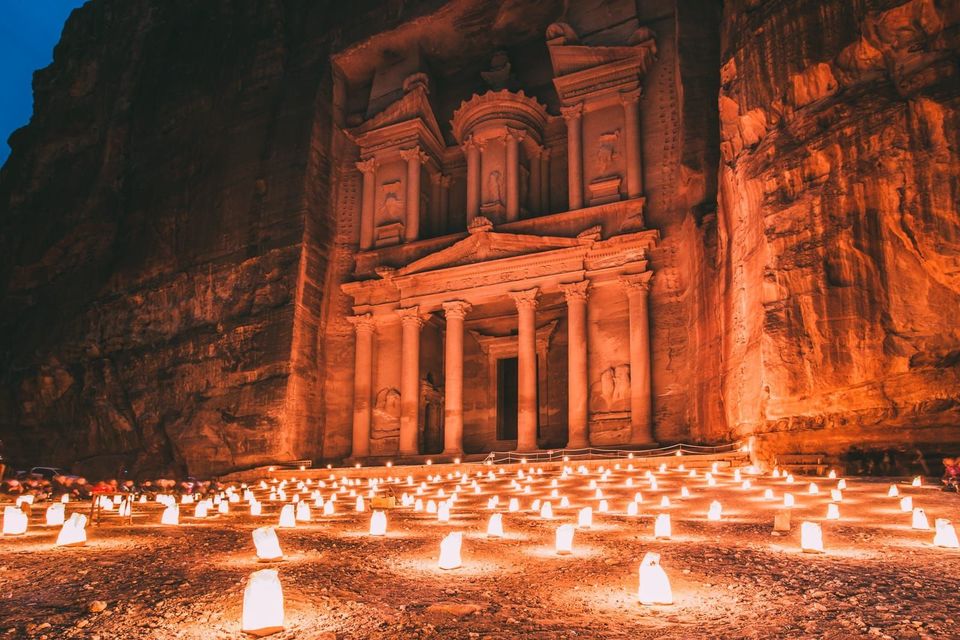 Unfortunately, that was the end of my Jordan experience. The next morning, I had arranged a taxi for 80 JOD to drop me off to Amman Airport for a flight home to Dubai. I was convinced I will be back soon, and good byes were only temporary. I still have a lot pending to explore in Jordan especially Aqaba and Wadi Rum, and maybe yet another trip to my beloved, Petra!!
Follow me on Instagram - https://www.instagram.com/mydestinary/
Book through Booking.com and use my referral code to get 15 pounds discount!! https://www.booking.com/s/35_6/sneha161