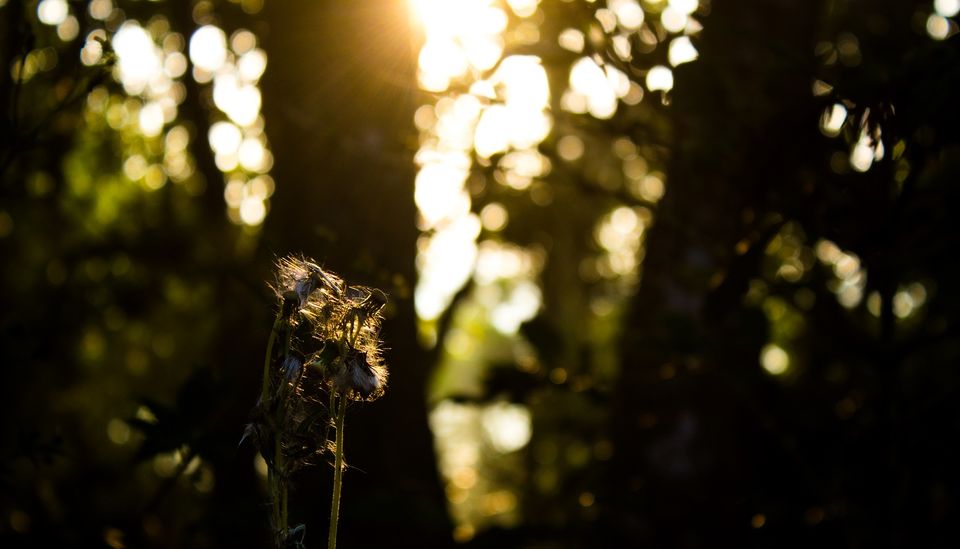 Chikmagalur is a beautiful district in Karnataka, located at the foothills of the Mullayanagiri range of the Western Ghats. It offers what nature has best to offer - sprawling greenery, sereen hills, magnificent waterfalls, verdant valleys, exotic flora and pristine air to fill up your senses.
I moved to Hyderabad in Sept 2017 for a new job. Diwali was just around and I was terribly missing my family. :( But Bangalore was just an overnight journey and one always has friends at Bangalore. Also, I was desperately looking for a brief escape from the din of the cities to somewhere greener, quieter and closer to nature. Some place soothing enough to strip my mind of the 'alone in a new city' anxieties. Yeah, moving to a new city all by myself was more challenging than i had thought.
So, team Bangalore consulted and unanimously agreed on this place which was pretty new to me - Chikmagalur. I checked a few images on the internet and oh! the place looked like everything my eyes and soul needed at that time!
Here goes some quick info about our trip :-
Duration: 1 night 2 days
Month: November
Distance: The city is around 251 km from Bangalore. Takes 4 to 5 hours by bus/car. The homestays will be mostly farther close to the viewpoints which usually takes another 1 hour from the city.
Transport: We started from Bangalore (Electronic City) early at 6 a.m. to spend maximum time in the hills. Our ride, a Force Traveller (12 seater) was spacious and cozy enough for 9 of us. We took the Bangalore-Mangalore Highway (NH-48) because the road was better and offered great views. Traveling cost us Rs.12/km and driver's allowance Rs.800 for 2 days. You can also book KSRTC buses, rates are around Rs.450 from Majestic Bus Stand. Karnataka offers one of the best State run bus services in India. I have traveled in Airavat (owned by KSRTC) many a times and they are even better than some of the private services. But bus will drop you till Chikmagalur city, from there you will have to take a bus or a cab to reach your homestay. So a private(own/rented) vehicle is advised to make it less hectic (also not much difference in overall budget).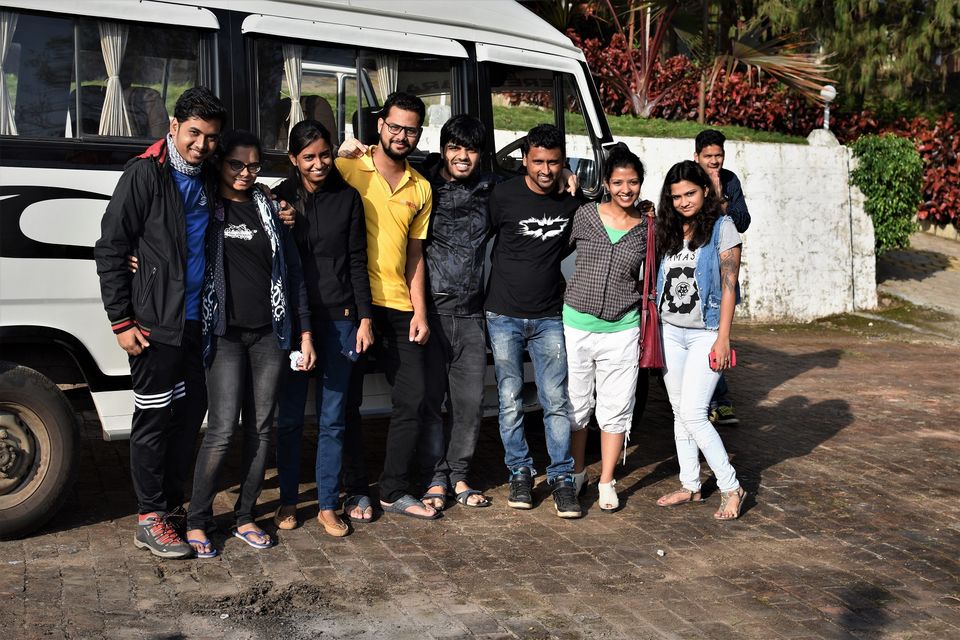 Acommodation: We stayed at this lovely place Good Earth Homestay. It is 16 kms away from Chikamagalur and situated in a 40 acre coffee plantation. This homestay has a refreshing and peaceful ambience. We booked 2 dormitories with 5 beds each.The food was very tasty, we had a nice,warm dinner by the camp fire. The rooms were clean and spacious and most importantly, the staff was very helpful and polite. Tariff was Rs.1200 per head which included evening snacks, tea, coffee , dinner , campfire and breakfast.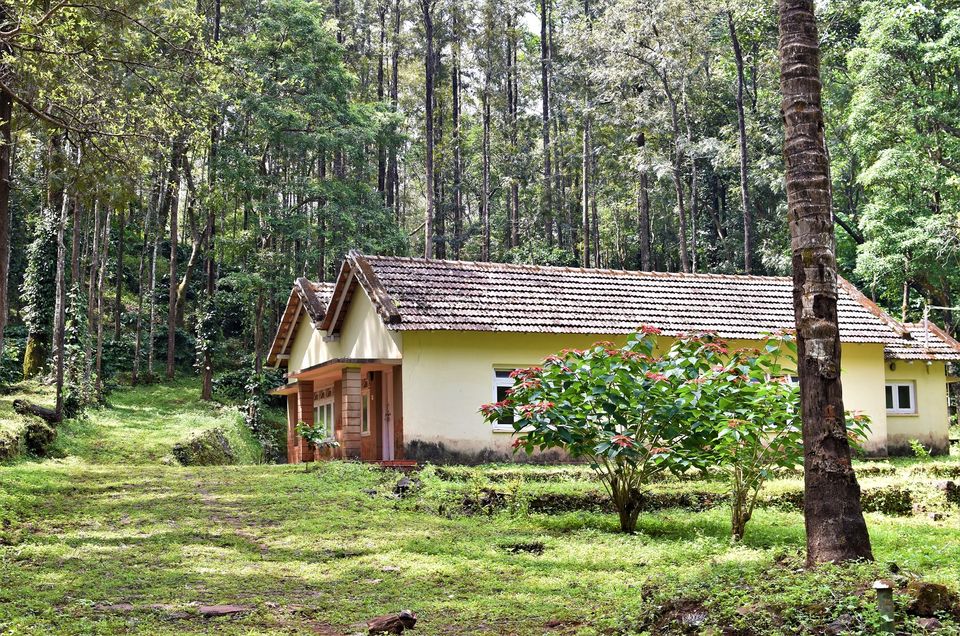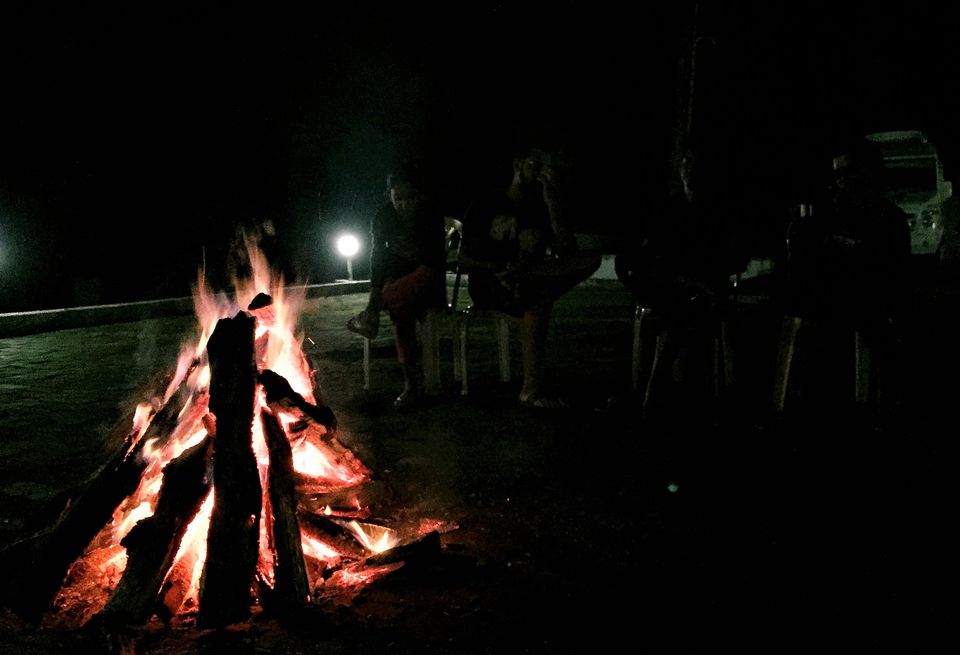 Estimated Budget: Rs.5000 (from Bangalore)

The coolest part: Taking a plunge in the chilly cold waters of Hebbe Falls
The not so cool part: The maximum speed of our vehicle(Force Traveller) was 80 kmph.
Our tryst with Nature
Chikmagalur is known as the 'Coffee Land' of Karnataka, owing to its extensive coffee plantations. You will notice plenty of coffee gardens as soon as you enter the hills. The climate, topography and biodiversity of this place favors the growth of finest quality coffee beans.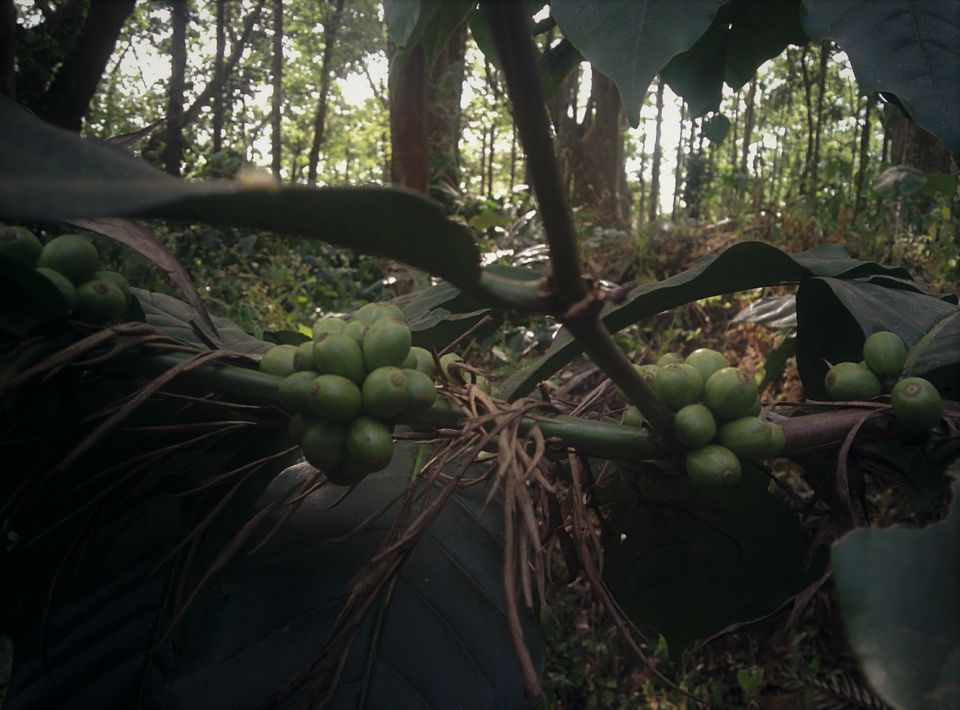 The Central Coffee Research Institute, a premier organization engaged in intensive and advanced coffee research is also something this district is proud of. Do taste some freshly brewed coffee from the roadside cafés.
Mullaiyanagiri
Chikmagalur has some excellent trekking trails but the trek to the highest peak of Karnataka, Mullayanagiri is one of its kind. It is around 15 km from the city and the road keeps getting narrower as you approach. Eventually, it gets so narrow and bendy that you have to park your vehicle and trek up the hill.
The gradient was easy at first and we enjoyed walking around greenery and breathtaking views.The trail was lined with pretty flowers all along and we stopped frequently to take pictures.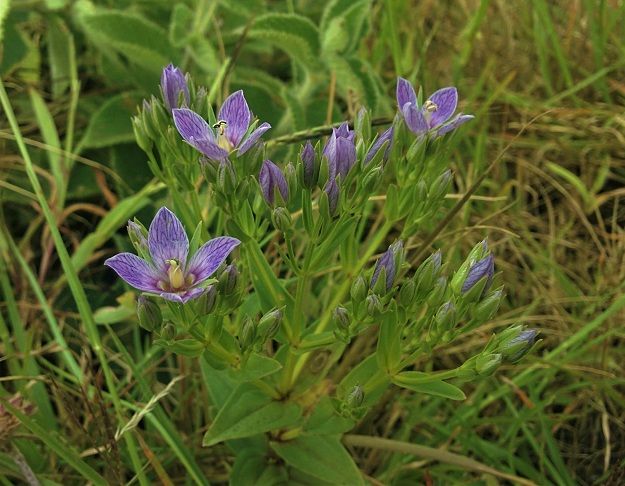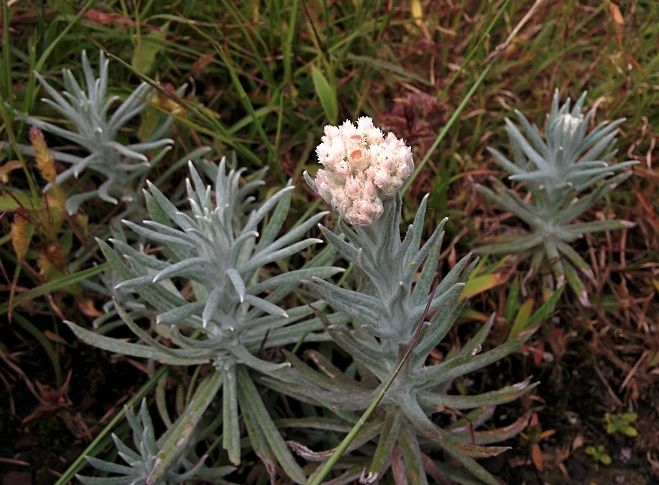 This peak is more than 1900 meters above sea level, so gradually it got tougher for us. But this is where the challenge kicked in and we pushed ourselves to make it till the top. The beauty all around was hard to miss even as we started panting heavily.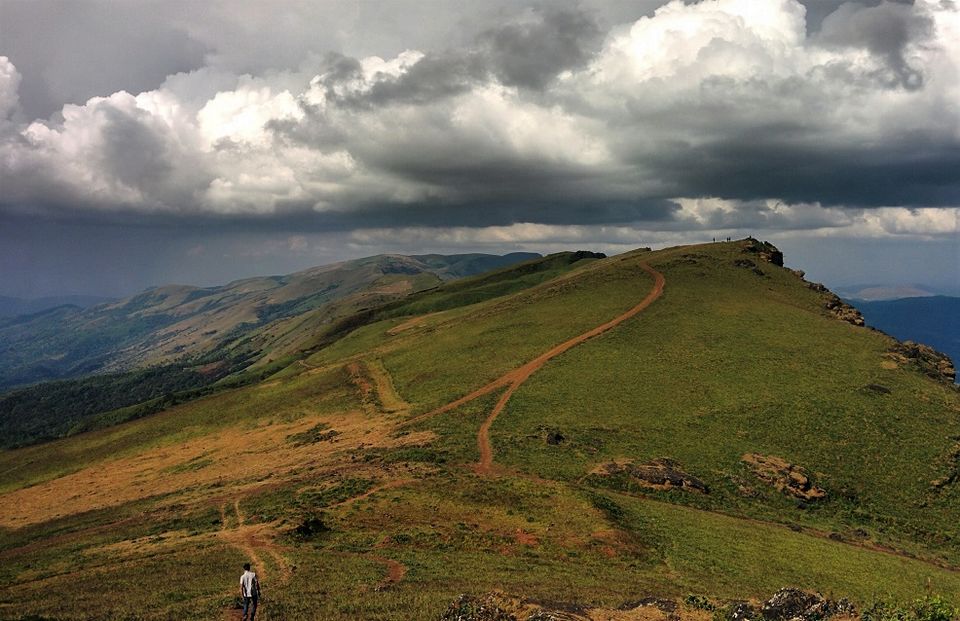 Once I reached the top, I couldn't help marveling at the sheer beauty this treacherous path has led me to. There was a wide expanse of green vegetation till as far as my eyes could go.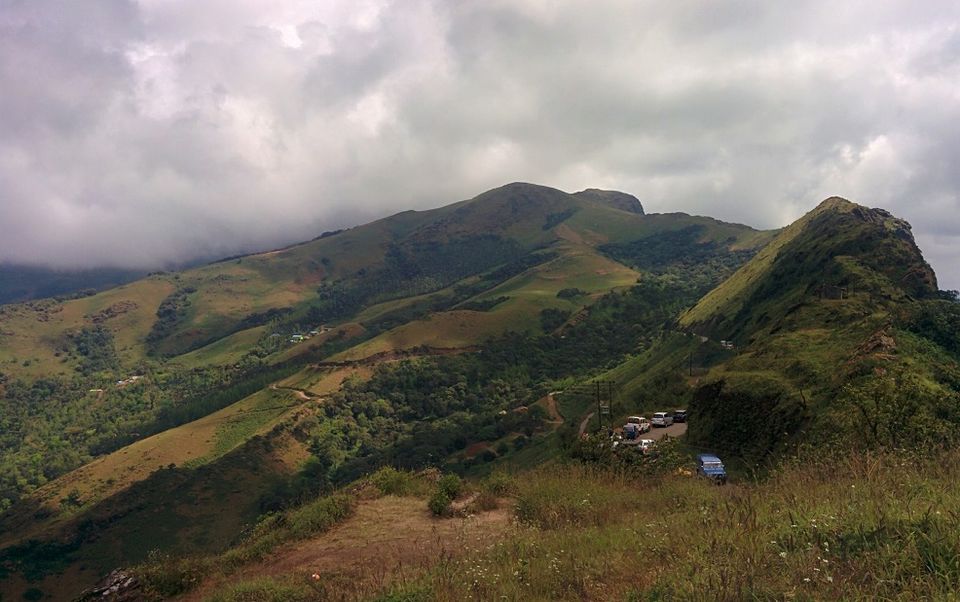 Fresh grass was starred with tiny colorful flowers which were strewn with dewdrops.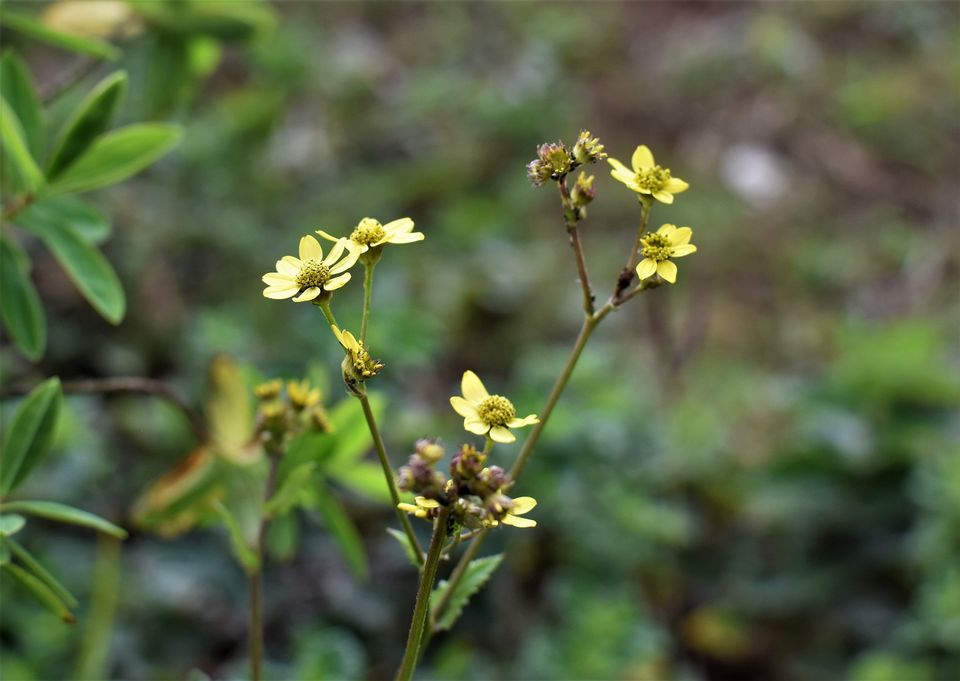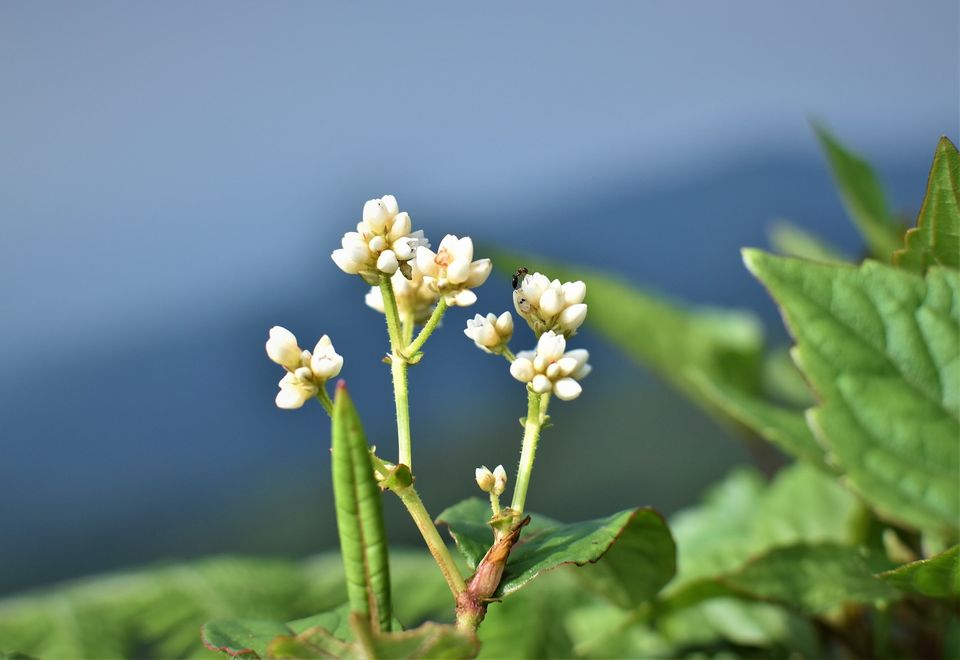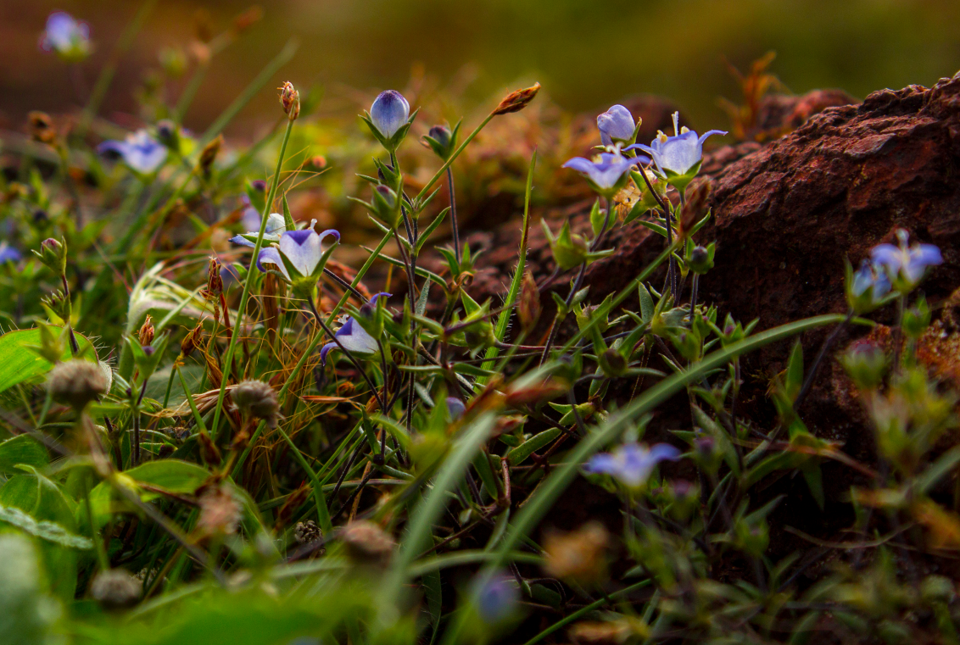 Our fatigue from the trek vanished and we felt like just sitting on a rock and admire nature at it's best.
Hebbe Falls

This offers another exciting trek through the jungle. Our car dropped us at a point in Kemmangundi hill station from where we had to hire a jeep. The charge is Rs.350 per person for pick-up and drop from the trekking point. The journey henceforth is going to be the best part of your trip. :) The jeep took us through a precarious road, very steep and rocky. We tightly held on to whatever we found to keep ourselves from banging against the doors and against each other, that's how much the jeep was swaying. Most of the time the wheels were just on the edge of the road. Beyond that edge, the only way was straight down. We popped out of the vehicle with a sigh of relief, as soon as we reached the spot.
Our driver directed us towards the path we had to trek to the waterfall. This was a totally different trail.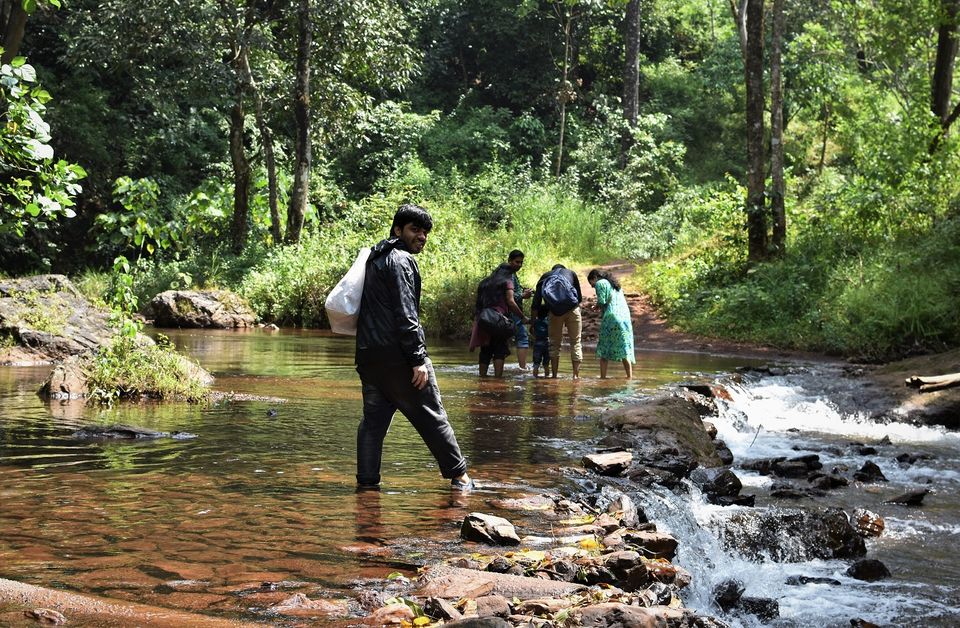 At places the water had flowed down to form puddles on the track. We had to be careful while stepping on the boulders as they were slippery and very unstable. We slipped a few times and some of us got cut in our feet. It was fun helping each other with the balancing part. The path vanished somewhere in the middle and we had to climb on to rocks and muddy trails with slippers in our hands. But never did the experience get any less enjoyable. Curiosity only grew as the sound of the waterfall felt closer. When we reached the waterfall we were completely swept off by its immensity.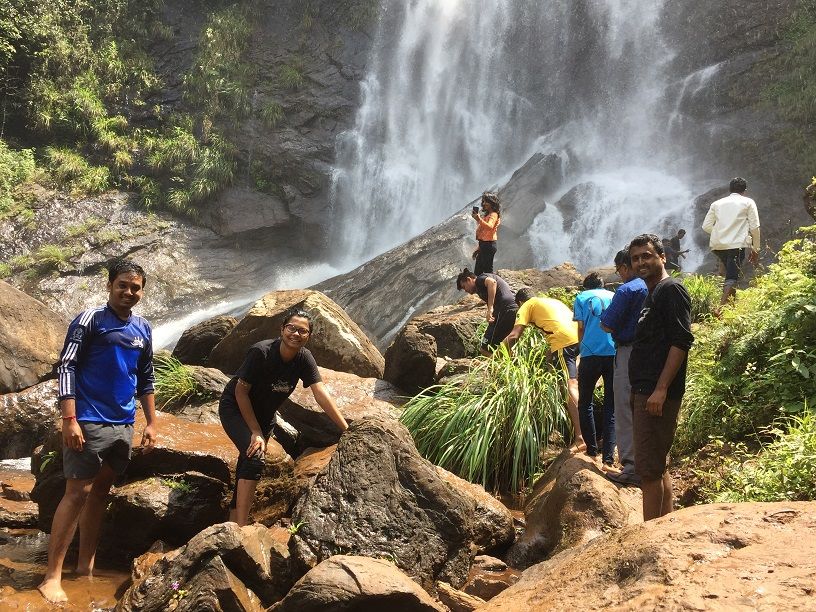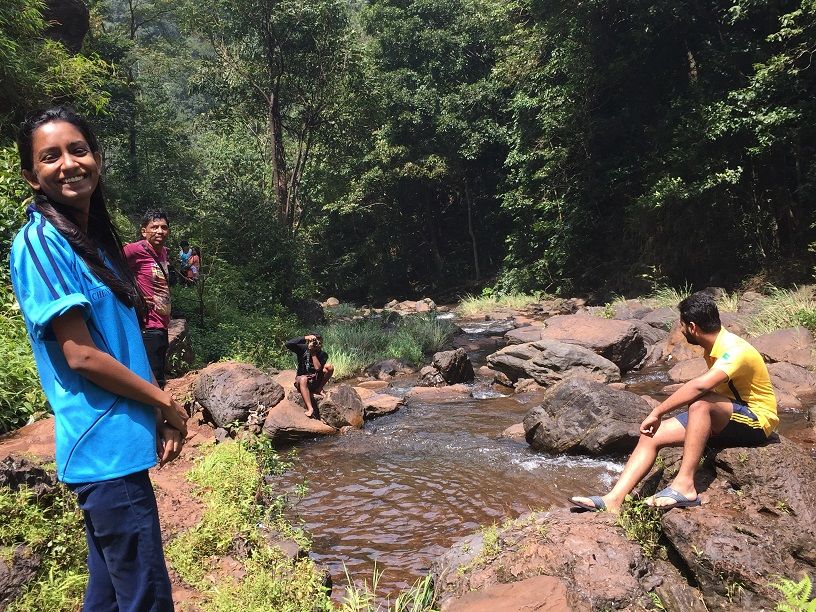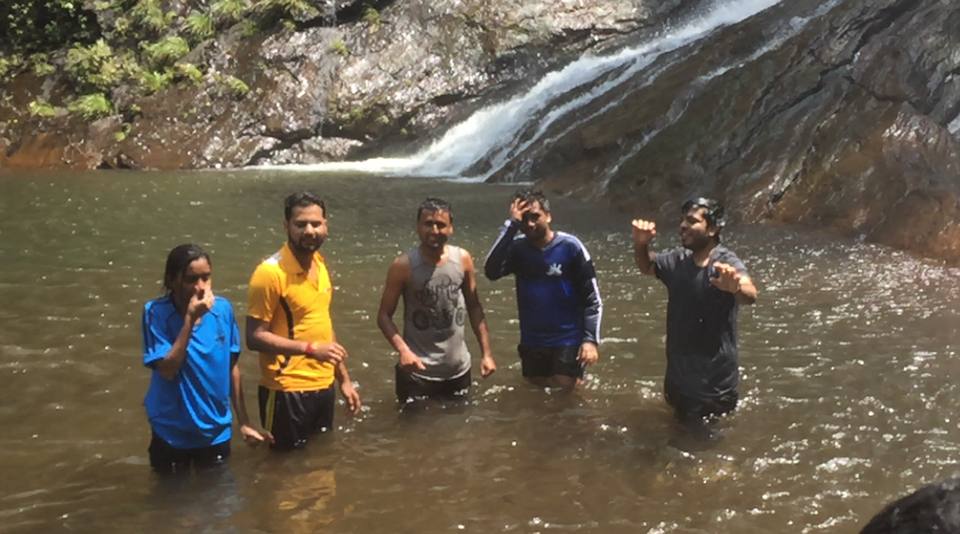 Do take a team 'dubki' in these waters to feel that chill in every nerve of your body :P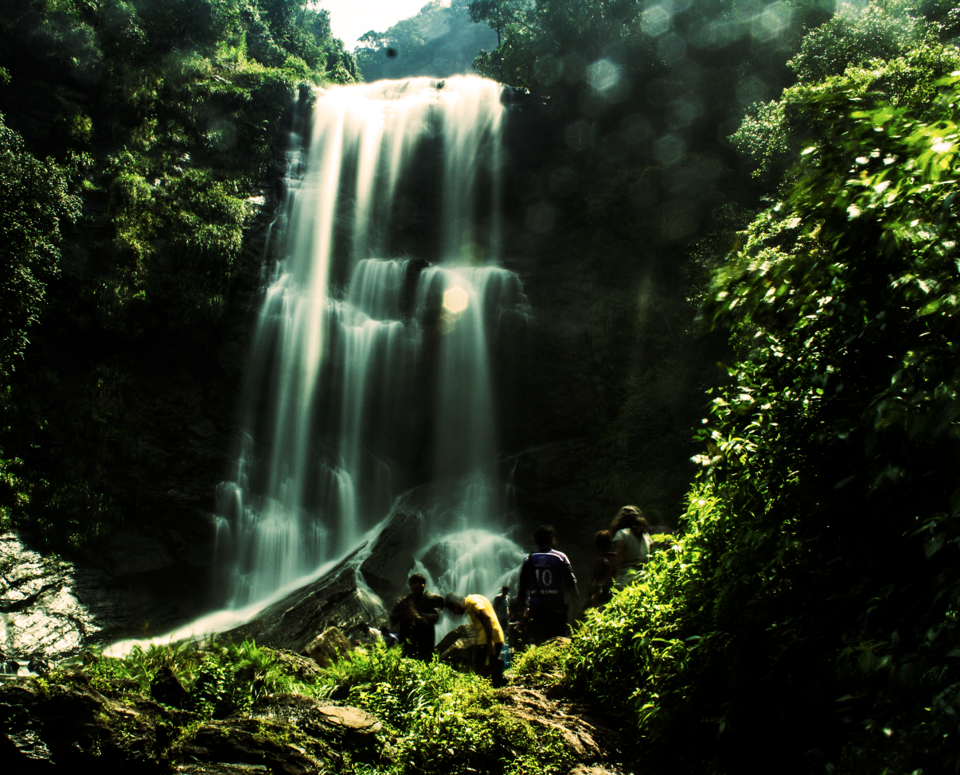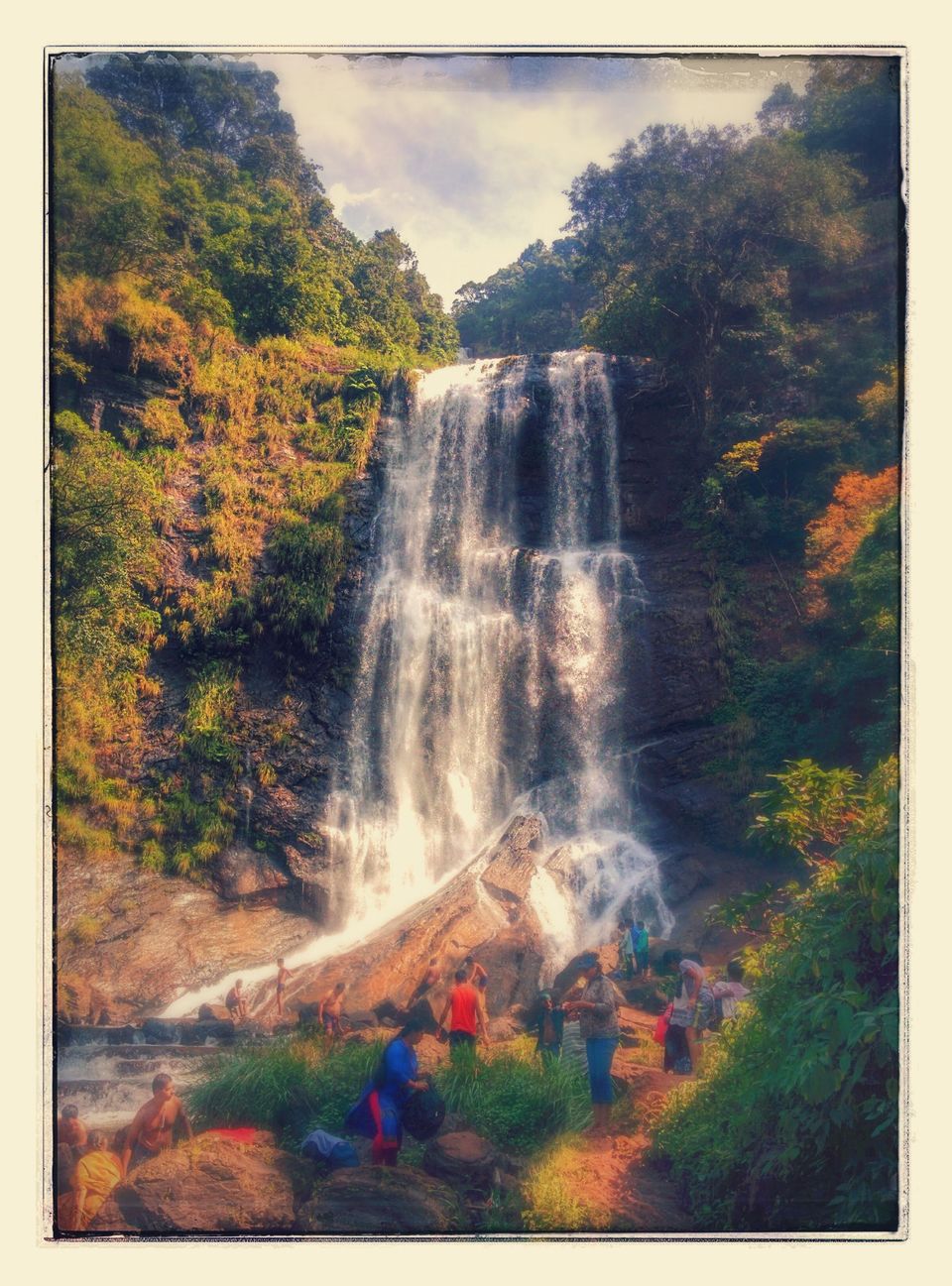 The return trek was more difficult as we were completely drenched, but we loved every bit of it.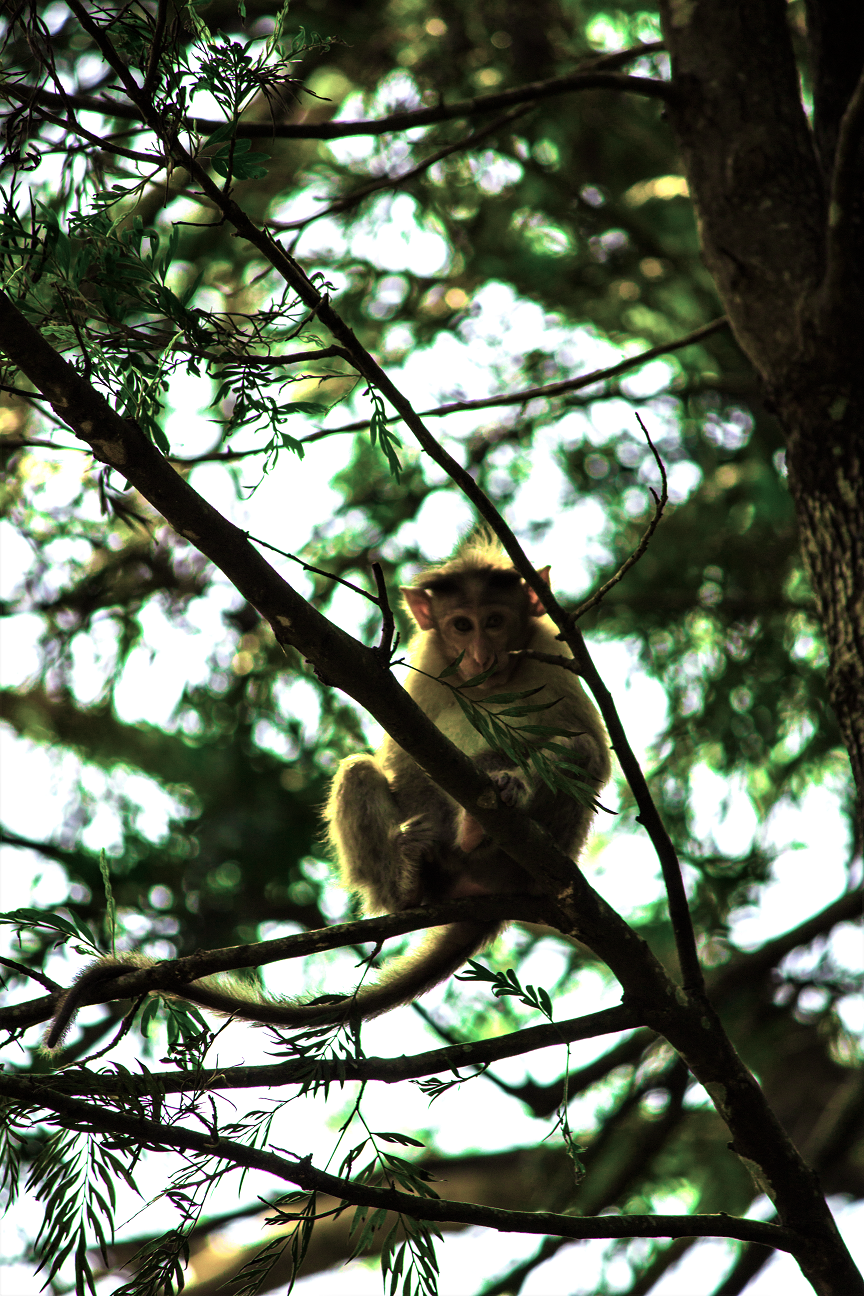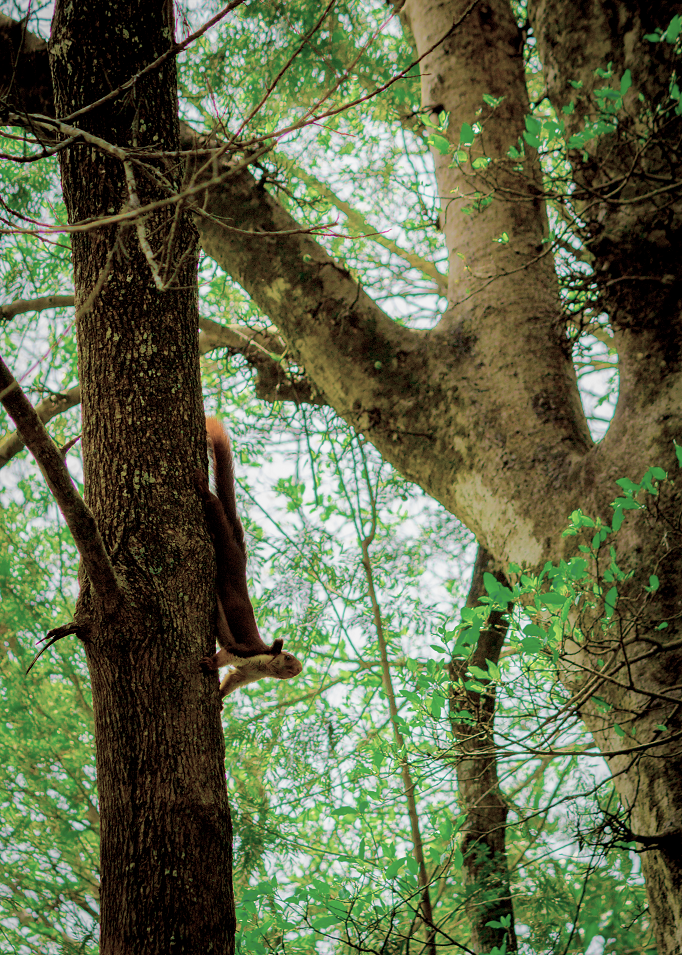 Below are some of the other popular attractions in Chikmagalur. I have listed these according to interest.

Wildlife
Bhadra Dam & Wildlife Sanctuary
This dam is built over river Bhadra - a tributary of the mighty Tungabhadra river. It flows through the nearby settlements and the jungle. The sanctuary is home to some of the most rare species of flora and fauna. Gaurs, barking deer and spotted deers are found in abundance. If you take the private jeep safari you might even spot a bear,leopard or a tiger.
Kudremukh National Park
Located in the lap of the Western Ghats, this park has a rich diversity of flora and fauna. Tigers, leopards, gaurs and barking deers are spotted frequently. It is also abundant in the medicinal plant eucalyptus.
Waterfalls
Kalhatti Falls
This waterfall is close to Kemmanagundi. The surrounding hills and thick forests make it a refreshing treat to the eyes. You can trek to the small temple nearby or just camp and enjoy the pristine environment.
Kadambi Falls
This will come on your way if you trek through Kudremukh National Park. You might spot jackals or Malabar barking deer or wild dogs on your trail. The intriguing trek and the beauty of the coffee plantations surrounding the waterfall make it a unique piece of nature.
Temples
Sharadamba Temple
This beautiful temple is dedicated to Goddess Sharada Parameswari, the Goddess of Knowledge. It is a spectacular example of modern Dravidian architecture.
Sringeri Sharada Peetha
This is one of the four Hindu Advaita Mutts, established by Adi Shankaracharya. It has a serene location amidst green forests.People all over the country come here to listen to eminent scholars reciting the scriptures. It is a famous center for knowledge and wisdom.
Trekking and Sightseeing
Baba Budangiri Giri(Datta Peeta)
This is the main mountain range named after the Muslim saint, Baba Budan. This is must visit for those who love hiking and trekking. Also, try to make it to one of the caves here.
Kemangundi
This is a charming hill station located at an altitude of about 1400 meters. This is a very good option for those who are looking for an offbeat destination. There are gardens, mountains and valleys everywhere you look around. Trek to Z point which is close by, to catch some splendid views of the sunset or sunrise.
Clearly, Chikmagalur has plenty for every kind of traveler.So, ditch the malls and pubs for a weekend and drive to this unspoiled land nestled in the hills.
A few helpful tips
Monsoon is not the best time to visit this place as it rains heavily and frequently. If you do travel in monsoon try to start early for the sightseeing, especially Mullaiyanagiri. For winter, carry ample warm clothes.
It is a good idea to carry a second set of clothes when visiting the waterfalls. You might have an irresistible urge to take a plunge.
We booked a 12 seater Traveller because we wanted to travel together. But it took us a long time as these mini-buses have a maximum speed of 80 kmph. The roads to Chikmagalur are really good, so start early and drive yourself for the best road experience.
Happy Travelling :)