Adding to my previous blogs on #ExploingBaliOnScooter, here is more interesting place to visit in Bali. Pura Lempuyang Luhur temple is one of the most Instagramed moment for sure.
MUST VISIT in BALI :)
Its around 2 hours away from the Ubud City Center or even Sanur beach.I just followed the Google Map on my Indian Phone equipped with local SIM Card which I collected at Airport at just Rs.450. You can book online at best prize here:
https://www.klook.com/invite/Q161Z?c=INR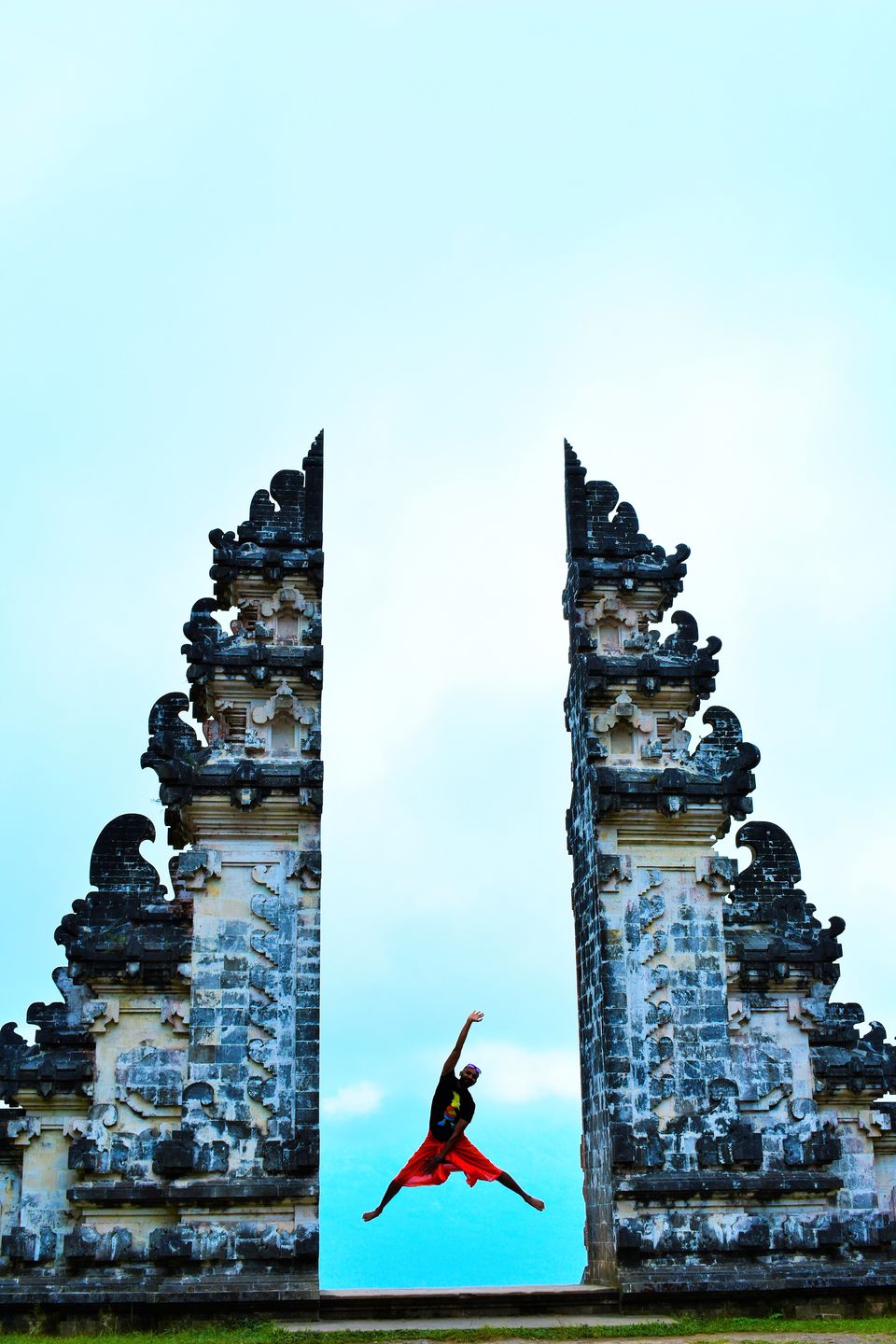 You can see the amazing view of Mount Agung Volcano from the temple. If you heard the recent news, this is the same volcano which erupted volcanic ashes in the air as high as 2 km causing shut down of the Bali airport for 1 day resulting in cancellation of 400+ flights. I was quite lucky as I had to fly to Bali on Friday night and Airport was shut down on Thursday, I was concerned about missing my flight. Luckily Mount Agung heard my prayers and was relaxed on the Friday which gave a green flag for the Airport to open and I landed in Bali on Saturday morning. yeahh :)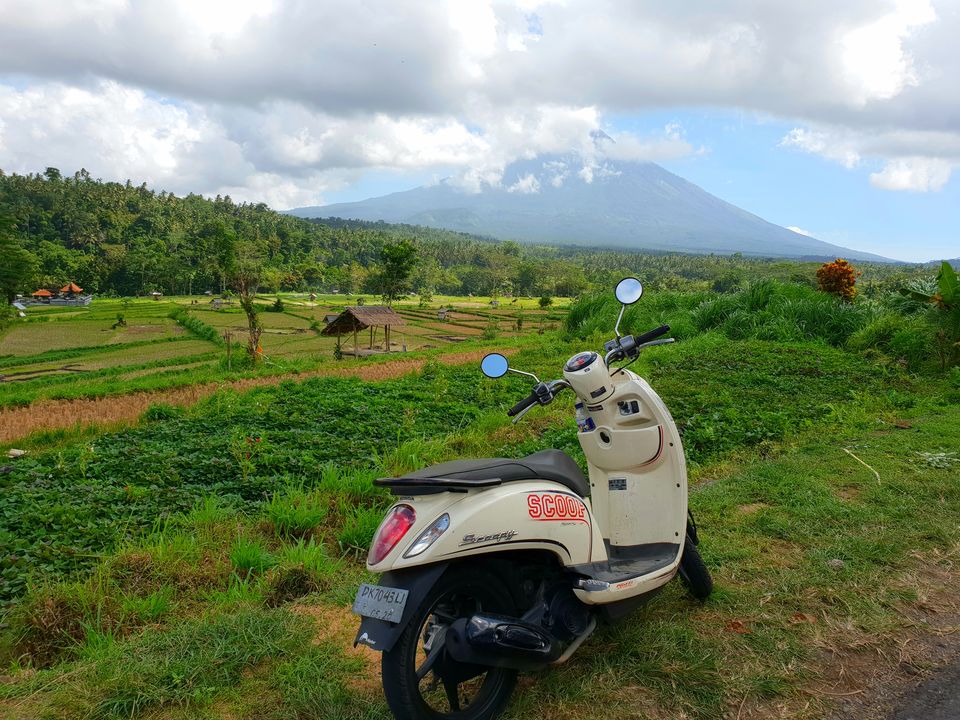 I decided to go by 150cc Scoopy and it had its tough time going though up and down the hills. I added a quick stop over near Blue Lagoon beach as it had perfect set for clicking some colorful memories.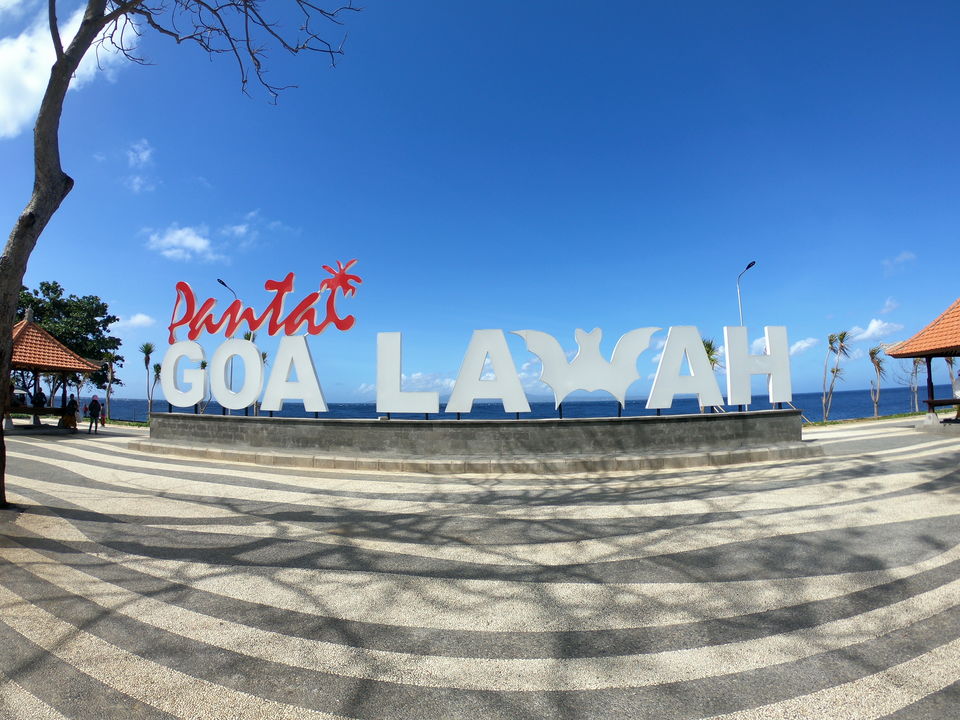 I also got the opportunity to introduce a new friend for the Scoopy :D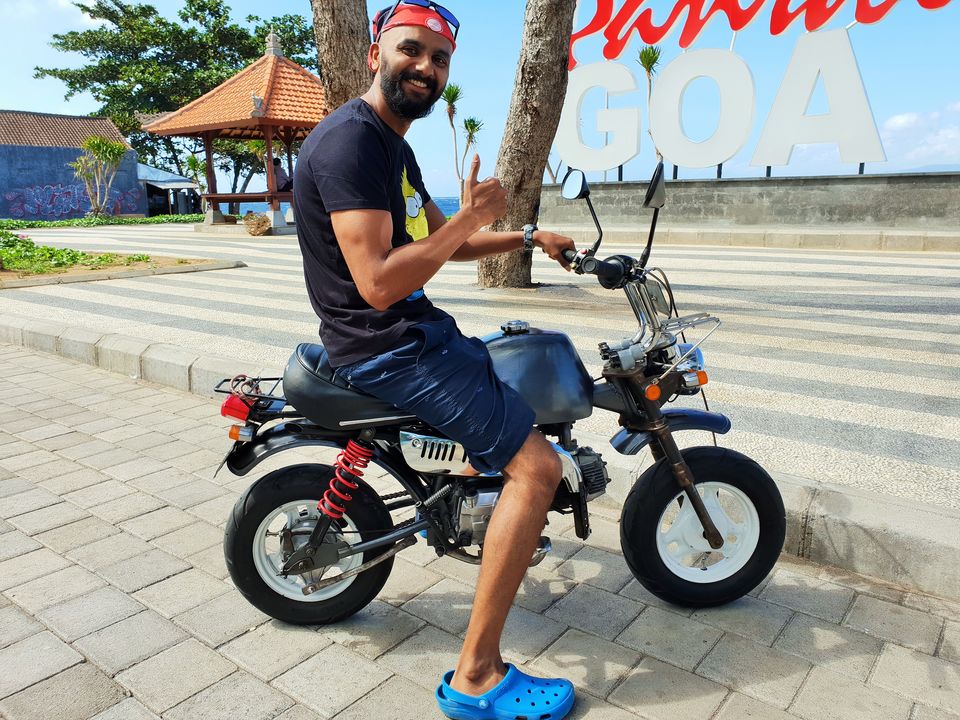 If you ask me, there is nothing special at Blue Lagoon beach as its just a pier side. Instead, you should stop 15 minutes before where the view is much much better.
After spending an hour there, I challenged the Scoopy for the next mountain task. It helped me to reach the temple safe and sound.
The entry to temple is free of cost, but usually you need to put money in donation boxes before you are allowed to go up to the temple. I head lot of negative comment about Pura Beshaikh temple where you will be forced for a donation as high as 50-100 USD to go inside, but at this temple I just donated 20000 IDR (100 INR or 2 USD) without any pressure as such. You have to wear Sarong (like a Lungi) before you go to the temple.
The temple has two main attractions, one is the place to take a photograph where you can see a long queue usually. Your photo will be taken by few local people with your phone and a mirror which gives amazing illusion of a lake. You can donate as much money(2-5USD) you want . Unfortunately it was cloudy day so you cant see the Mount Agung in the background, otherwise its a view worth of every penny on a clear sky :)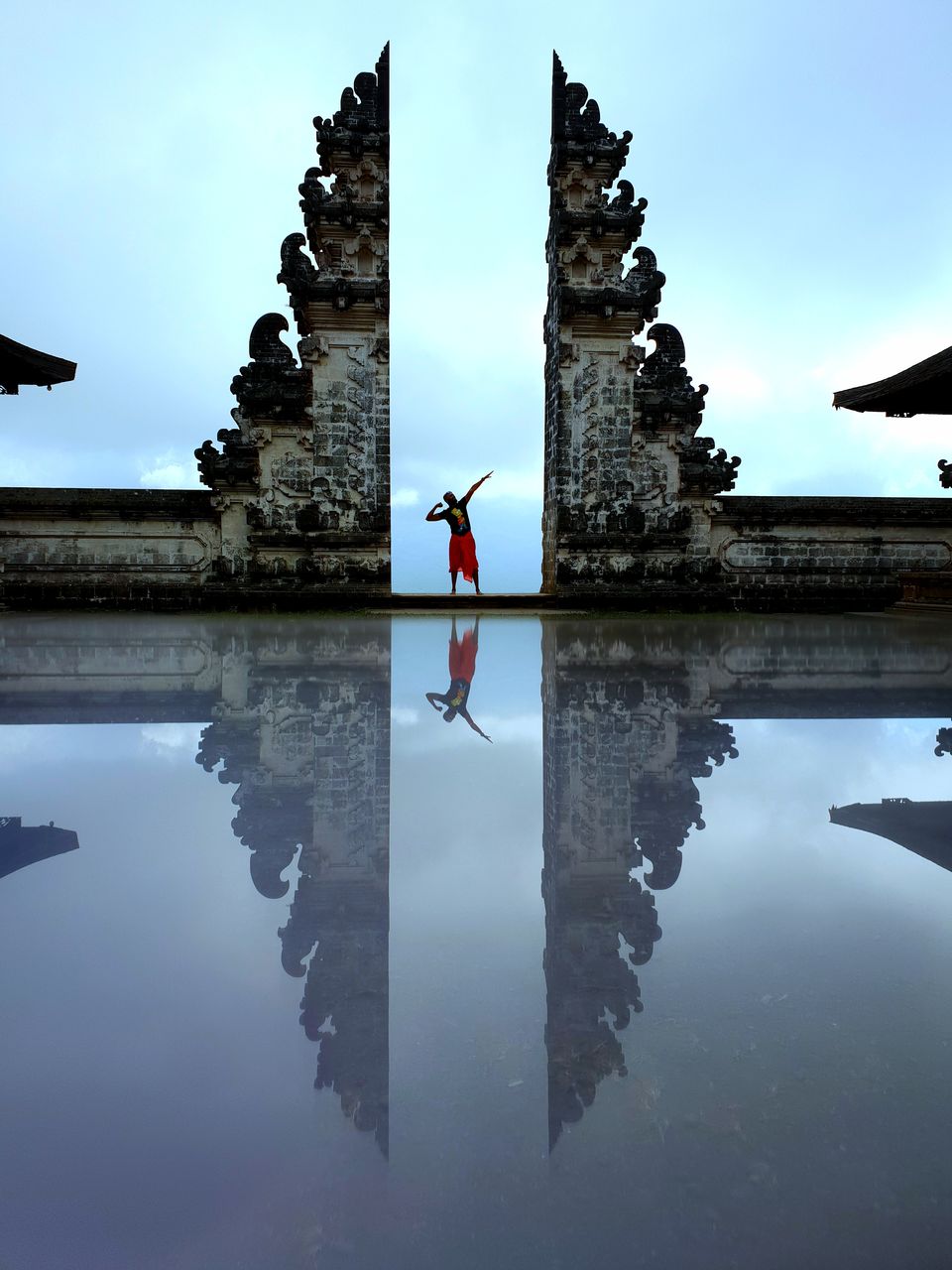 The second attraction is the thee way stair case entrance to the man temple. The middle one is used for ceremonies and you are not allowed to climb up, but you are free to climb up through side ways.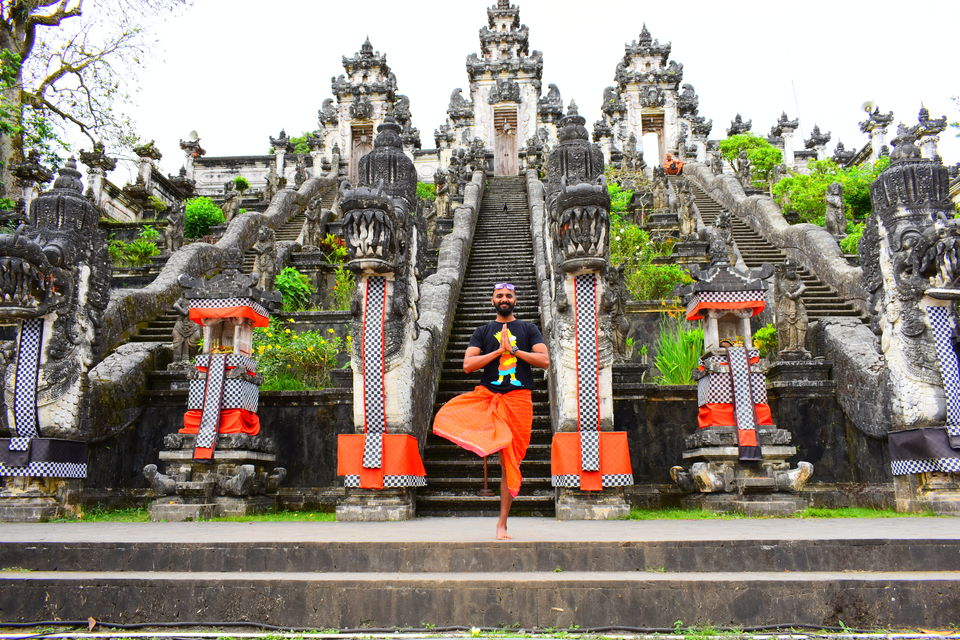 The view from the stairs looks absolute amazing :)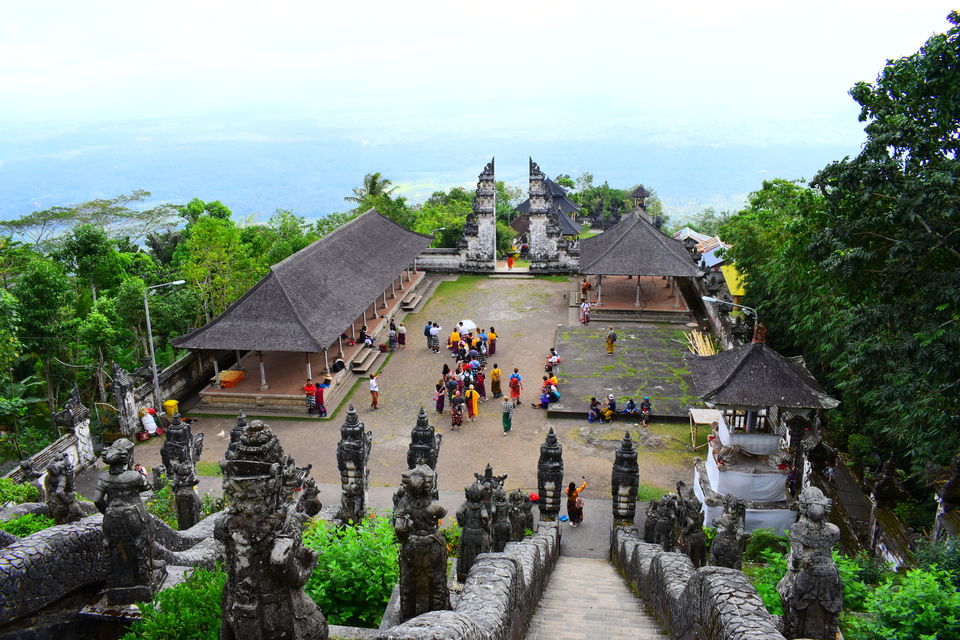 I hope you have a nice time in Bali :)