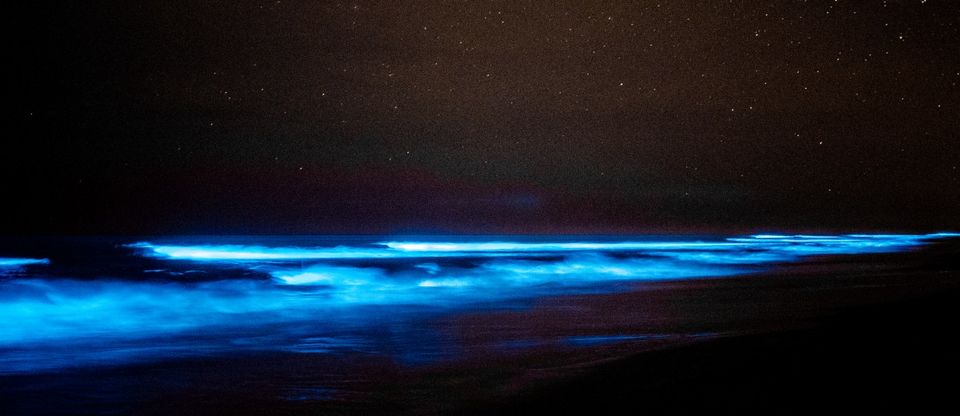 It's a normal phenomenon to see a night sky lit by stars, but it's an altogether awesome feeling if a water body glows at night. And recently we have read about beaches in Juhu and Goa glowing at one point of time and also many researchers are behind this phenomenon. The phenomenon is named as Bio luminescence which is the production and emission of light by a living organism.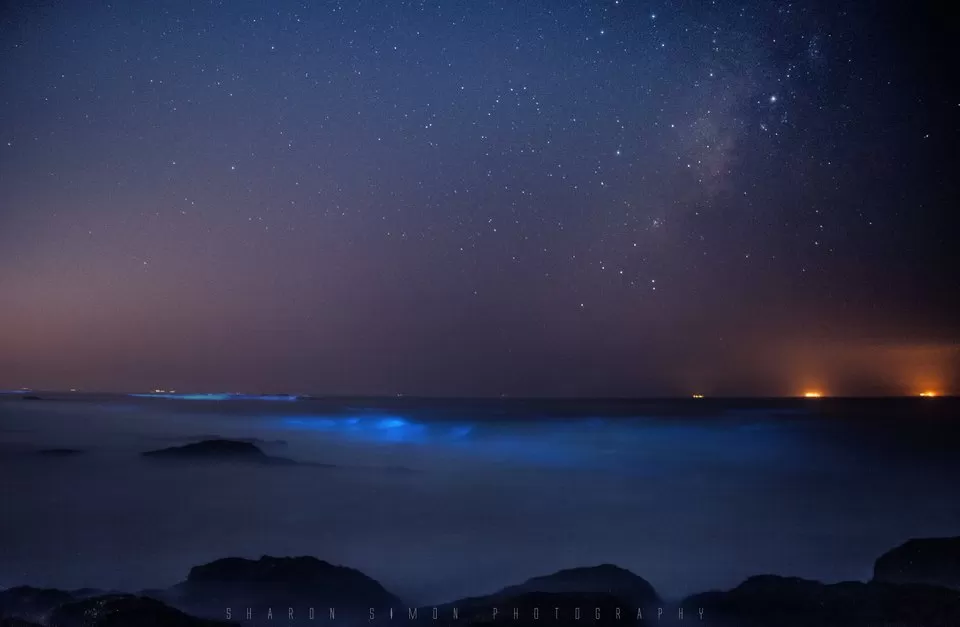 Bio luminescence occurs widely in marine vertebrates and invertebrates, as well as in some fungi, microorganisms, including some bio-luminescent bacteria and terrestrial invertebrates such as fireflies.
Marine biologist Abhishek Jamalabad says that the glow or a sparkle in sea is due to the bloom of a microorganism called Noctiluca. Noctiluca scintillans, commonly known as the sea sparkle, is a free-living, marine-dwelling species of dinoflagellate that exhibits bio luminescence when disturbed.
Mohith Shenoy K from Udupi, who has captured the phenomenon said that "It is learnt that bioluminescence is happening across the coastline. The phenomenon has also been noticed at Sashihithlu beach, Someshwara beach and NITK Suratkal".
Mattu Beach:
This beach is relaxed, secluded beach for swimming, also popular for walks, picnics & sunset views. It is a 30 Kms long beach 15 kms to left is Kaup beach and 15 kms to the right is Padukere beach running all along the beaches of Arabian Sea.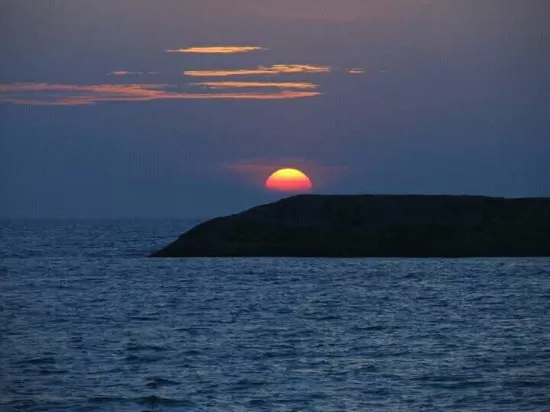 Getting there:
By Local Transport: 45 mins from Manipal, after changing a bus at Udupi. Cross the bridge and walk for about 15 minutes to this coastal paradise.
By Air: The nearest airport is 60 kms away - Mangalore International Airport .
By Railways: Udupi railway station is well connected from cities like Bangalore, Mangalore, and Mumbai.
By Road: On the way from Mangalore to Udupi, a left turn at a place called Katapadi leads to Mattu Beach.
Other attractions in Udupi:-
Visit the ancient Hindu temple dedicated to Lord Krishna and also Dvaitha Matha.
Take a ferry to St. Mary's Islands, also known as Coconut Island and Thonsepar, are a set of four small islands in the Arabian Sea off the coast of Malpe.
Head back to 8th Century in Udupi Anantheshwara Temple dedicated to Shiva.
Also head to Arbi falls near to Manipal, if you are in Udupi in monsoon.
Other noted beaches you shouldn't miss here are Sashithlu Beach, Delta Beach, Malpe Beach, and Kapu Beach.
Stays in Udupi:
The Best hotels and resorts to stay on the coast....