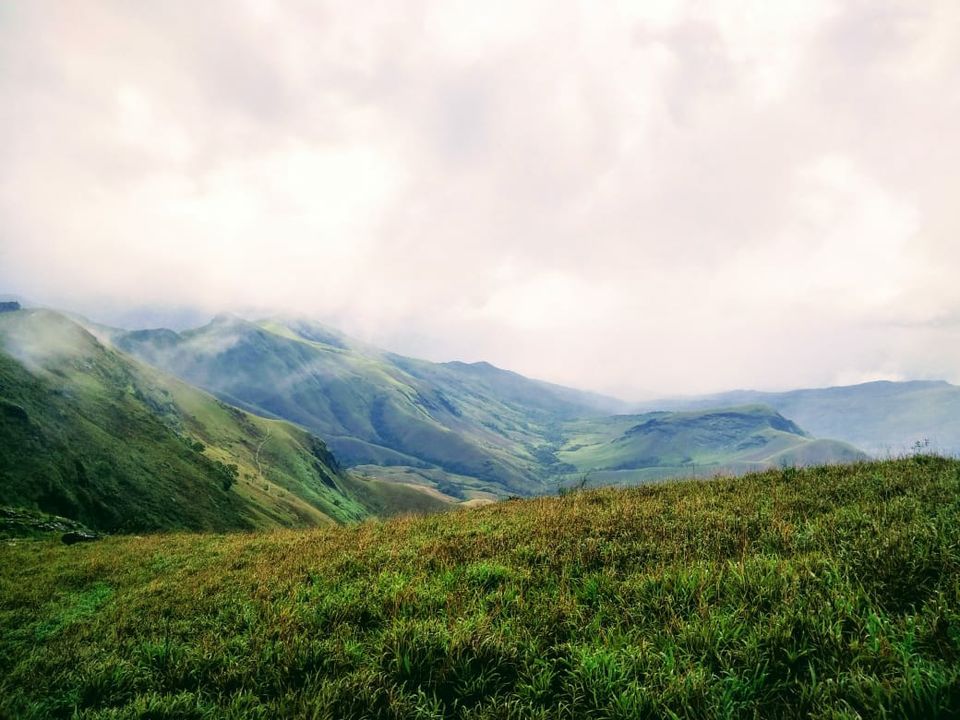 Hello Trekkers!!!!!
Are you a Trekking and Adventure freak??? If so, there you go one of the must visit peak point in Karnataka. Kudremukh Peak is the Third Largest hill which is 1894 mtrs above the sea level. The heart of Western Ghats in Karnataka.
The place excited me so much just by its interesting name, In Kannada, Kudre means"Horse" & Mukh means "Face" so literally in English it means "Horse Face". Fun to listen right but yeah each and every thing, place, incident everything as its own reason and justification which makes life fantastically magical one. Now thinking the reason behind this place to be named as "Horse Face" or simply "Kudremukh" chaloo let's explore this beautiful heaven together and get to know the reason behind it. Are you ready???!!!!
Yaaahhhhhhhhhhhhhh Excited.......!!!!!
Kudremukh is easily reachable by Bus,Train and own vehicle. However very quite number of buses available based on timings. Suggestion - from Chikmagalur bus stop, board Kalasa Bus. The journey in bus in amazing one and every person will definitely like it, as its totally different experience when compared to bus journey in cities with hectic traffic and crowd. Travelling in bus in the midst of greenery around, Hills and Slopes, Tea estates, Peace all over and chilling weather a window seat and ear phones plugged is a jolly ride. After two and half hour of journey from Chikmagaluru, Exactly get down in Balgal bus stop. Private Buses available @5:30 am from Chikmagaluru bus stop.
If you're traveling from Bangalore, Hassan - Mudigere- Kotigehara- Kalasa- Kudremukh Road- 10kms - Balgal Stop. However direct Buses are available as well. The mentioned route is amazingly beautiful ride.
Important Note : Try reaching the entrance of Kudremukh Security Place very early in the morning, as it is restricted place and only limit of members allowed for Trekking per day is 50, so would be good reaching very early and buy the entrance tickets. You must definitely be a luck one to get the ticket, as the queue starts very early morning 4 am to get a entrance ticket and ID proof verification.
Ticket price - 500 rs per head
Stay - Mullodi homestay, how to reach?? From Balgal Stop you must take a jeep journey, if you mention Mullodi homestay, Satish Anna the jeep person will drop you their. It costs 500rs per head. The home stay is awesome one, in between the midst of Forest and the Greenery around and the person Satish is great person who takes care of guests as his own family members. Village home is damn mind-blowing where the food, stay and people are very kind and caring. You get village homemade food and care without fail. Satish Anna really helped me a lot and took care like his daughter even though I stayed for just a two days trust me, you will not miss you're home and family.
Mobile - 9481074530
82777519229
The home stay itself has Jeep service, suggest to pre-call Satish Anna and check the weather and availability of stay,he will definitely guide and pick you from entrance. The stay inclusive of food and snacks for two days is very affordable.
Thank you so much Satish Anna and Family for all your assistance and care!!!!
Okay,now we reached the home stay isn't it and got tickets with us right?????? Yes Yes....,,,,,,!!!!
Now, let's talk about some important precautions to be taken while Trekking,of course it's gonna be Daringly Adventure one!! Get ready.....!!!!!!!
Things to carry and Precautions to be taken - A Raincoat, Wear comfortable Trekking clothes and Shoes, Salt, Lemon, Lighter, Trekking Pole and a Small Backpack with some energy drinks, chocolates,water bottle and a parcel of lunch from home stay.
Daring attitude is definitely a one must carry with you and okay all this is enough for your adventure!!! Get Set Go....
1894 mtrs above the sea level, 3rd largest peak in Karnataka woahhhhhhhhh :) :), 8- 9hrs of Trekking ????????????
Only those who will risk going too far can possibly find out how far they can go...
Started from home stay to trek around 9:30 am , a walk for a while in forest to reach the starting point and security check is must where ticket, ID proof and plastic if any, you're carrying the guards will have a count before they let you go and you must definitely keep the plastic bag or paper safe and get it back with you ,else you will be fined - Go green and Keep Clean. The daring and adventure trek to heaven begins in a excitement way of discovering new things in forest , lush greenery all over, Leeches, Snakes, Water Falls, Mangoes and few other fruits. Trekking is definitely fun where one must try once in life. We kept trekking for a hour in drizzling weather with our rain coats on. I haven't done trekking in rain before & this hiking in rain excited me more, where each and every thing is Nature is something of Marvelous. We stopped in a place to have our breakfast, a different occurrence in nature standing and having breakfast in between full of trees all around, Leeches all over, Drizzling. Leeches are scary and night mare for me until i had been here, definitely this trek made me to overcome the fear of Leeches, in fact learnt how to handle them. You might be wondering why I mentioned salt, lemon and a lighter at initial stage of blog here you go Leeches are freaking and one must have all these precautions to get rid of them. Hahaha a funny and scary incident did happen so while having our breakfast the place had countless number of Leeches and the interesting things about these creature is we don't even notice or feel when they stick to our skin and suck blood....after all this was my first experience in rain and leeches, I stood aramse having enjoying the nature view but hell these creatures were sucking blood, post sometime I saw them crawling in depth and I freaked out. In that freaking moment definitely I didn't have patience to think about anything after all I just took a stick and started pushing them aside, moving all around haha fun it was lol....finally we somehow had a lite breakfast, continued to trek.
The heaven seems so closer at hills, & so you want to reach heaven?? all the risks and freaking incidents must. Beautiful greenery, Slope of hills, Water Falls, Calm Nature. Walking for a distance, Hiking, Trek in rain , Cross numerous Water falls in forest, (a dark and dead leaves run haha...we kept running when we reach this place all because the Leeches are numerous in dark place where the place is fully covered with trees and wet land so no go all of us kept running to from escape hell creatures, Snakes are expected too.
The view of nature was different at each and every pace of hiking as we keep reaching we kept noticing and experience beautiful view. Just in fraction of secs clouds come so closer carrying rain, showers on greenery and make them bloom and glow so amazingly passes right in front of you making you invisible to other person covering with the fog all over, rise from sun hits on slope of hills making the scenery best. This magical moment happens in fraction of second as we keep reaching the peak, the place will make you feel happy, gets peace within and forget oneself. Click here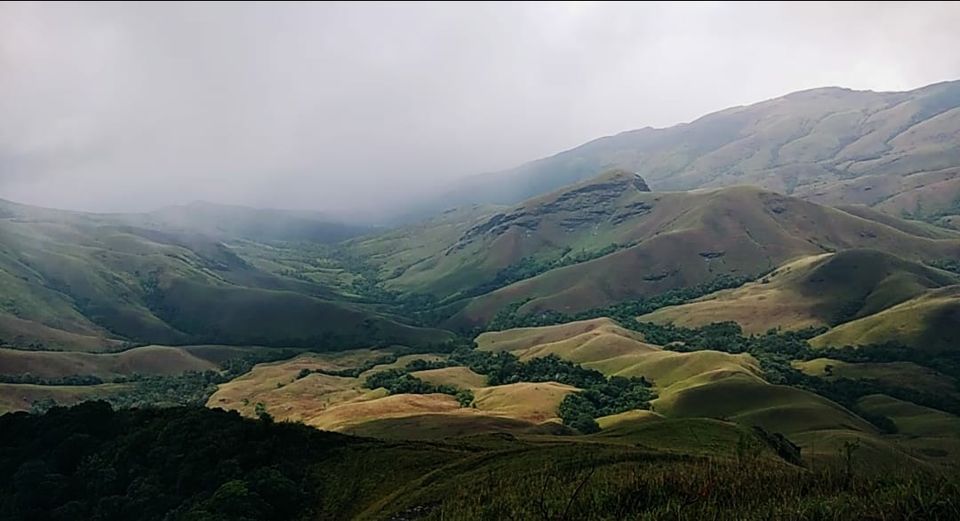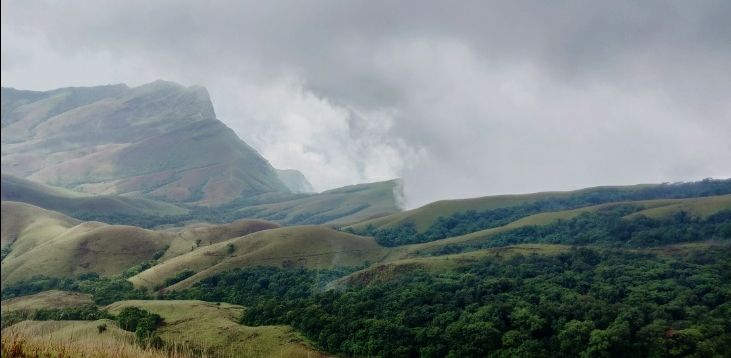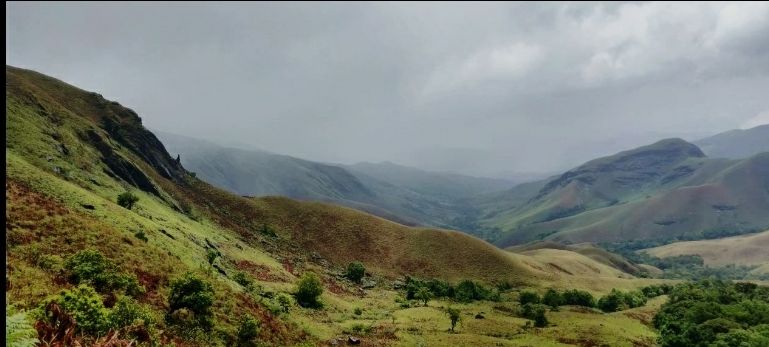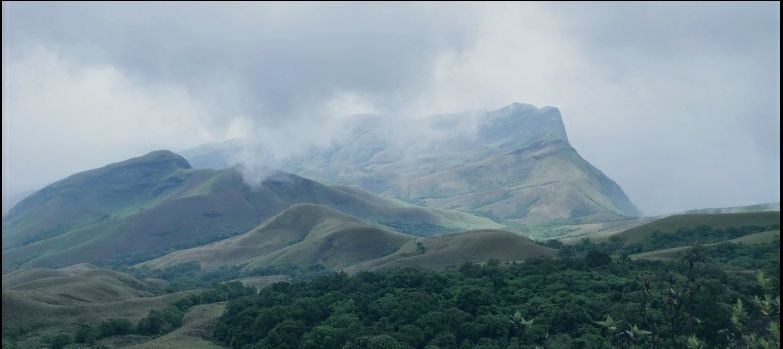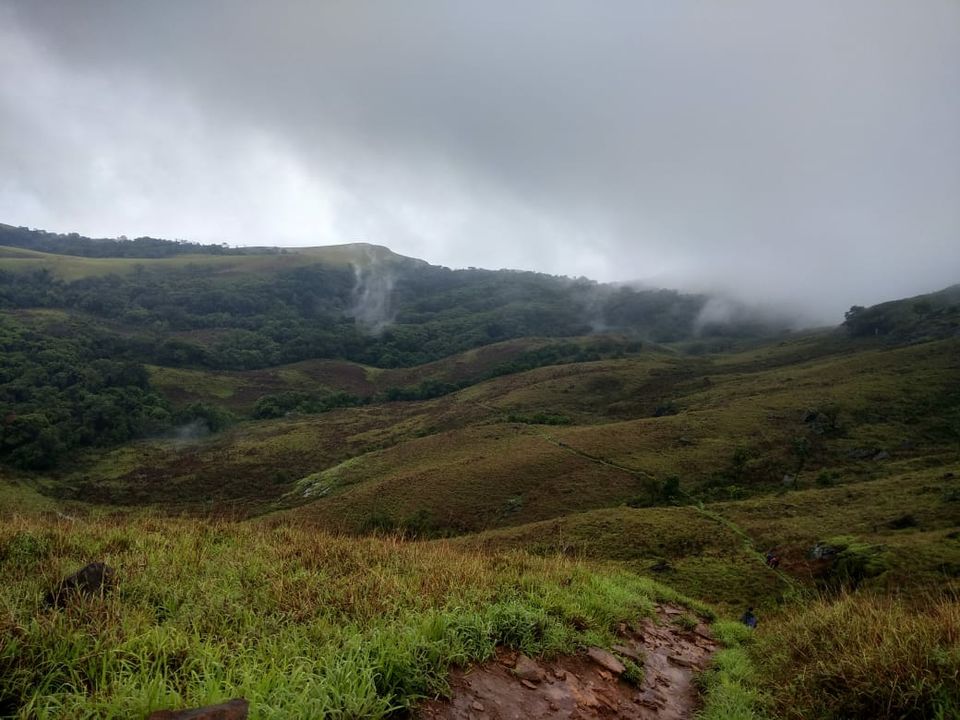 My wish is to stay always like this, living quietly in a corner of nature fulfilled in a day spending here????
Passing numerous Waterfalls was Best. Nature Spa, Fresh and Clean water. Waterfalls sound so melodious way passing on rocks in their own way!!! If their is magic on this planet it is contained in Water. here
Okay how are you feeling now???? Happy, Peace, Excited, Tired???? Haha hold on we're almost done reaching the destination, hey trekker, do you remember my description about the name of this place in the beginning of our journey?? Why Horse Face or Kudremukh?? The Third Largest hill in Western ghats of Karnataka is so called because of it's "Shape of Hill" the entire hill is distinguished and looks like each and every part of horse and peak point is in "Horse Face Shape" - Nature is so Beautiful and Magical having a reason behind each and every thing and interesting is we discovering it by exploring.
Note : One must be very careful while you reach the peak point the wind is Unconditional. Also don't cross after the board.
After reaching the destination, we had our packed lunch standing in waterfalls feeling the nature Spa after a hard and tiring hike. Spending sometime in water feeling each and every moment made us forget the tiredness and instead get ready for anything further. " You don't need magic to disappear, all you need is a DESTINATION"
Hoping you enjoyed the journey, let's ahead back to homestay, get freshen up and look for Leeches within your shoes hidden haha have some snacks at Satish Anna home and get drop in Jeep back to bus stop!!!
Travel makes one modest. You see what a tiny place you occupy in the world.
Thank you,
Usha L