With monsoon setting in, all of Western ghats is covered by blankets of green landscape. Milky white roaring rivers are criss crossing their ways through the dense forests. Leeches have woken up alive to the sprinkling rain drops waiting to breed. Wild pink flowers have bloomed on the mountains. Waterfalls have erupted from the hills making their way to join the rivers of Bhadra, Tunga and Nethravathi; mighty rivers originating from the Kudremukh area of the Western Ghats.
Yes! I am speaking about the place where I was raised for 15 years. I have written enough about how awesome the place is and how beautiful my childhood was. Enough said, Kudremukh is a must visit place to experience the beauty of monsoon!
In this post, I would like to write about places to visit in and around Kudremukh.
Kudremukh township is officially shut down after the mining operations stopped in 2005. But, the roads are operational and its definitely worth your time to drive through.
I have listed 10 places in this post.
Kudremukh Trek
If you are looking for a little adventure in the rain, then this is definitely the trek you should do. I can promise you will have the best of your time trekking through the gushing water streams, lush green hills, experience leech bites, walk over the clouds, witness plethora of colourful wild flowers! I have written a detailed posthere. Tip: Leeches can't stand salt. Do carry a pack of salt to get rid of them.
Kurinjal Trek
This is yet another trekking place on the Kudremukh-Mangalore highway. You have to get permissions from the forest office at Kudremukh to trek here.
Samse Tea Estate
An estate spread over series of mountains which is around 10 kms from Kudremukh. Nothing like walking through the tea estate and smelling the fragrance of fresh tea leaves. There is a beautiful cafe right in front of the estate with a backyard view of a overflowing stream. The cafe also has a great collection of spices and condiments of Western Ghats.
Horanadu
Horanadu is around 25 kms from Kudremukh. Its famous for a temple called Annapoorneshwari temple, God of the food, where scrumptious meals are served throughout the day living by their name. The temple is located at a picturesque location with a view of the packed dense forests of Western Ghats. You will be leaving this place with a happy tummy and a treat to your eyes.
Sirimane Falls
Sirimane waterfalls is a little interior from the main road. Its around 14 kms from Sringeri. You will first come across a place called Kigga, where there is a famous temple called Rishyashrunga. Going further through the cool forest route and the curviest of ghats, you will reach the parking lot. You will have to trek down for over a km to reach the waterfalls.
Sringeri Sharadamba Temple + Tunga River
One of my favorite places for all good reasons. Sringeri is my mum's place and I have fond memories of my childhood spent with my cousins and grandmother. Sharadamba temple is a glorious place with the mighty Tunga river flowing with all its fury in the monsoon. Vidyashankara temple adjacent to it will leave you spellbound with its architecture and stories. It's a huge campus with Gurukulas located across the river, goshaales, elephant stables, . Just like Horanadu, thousands of people are fed everyday! Don't get me started on how tasty the food is here!
Drive from Kudremukh to SK Border
No matter where I have travelled in my life, Kudremukh to SK Border road, part of the Kudremukh-Mangalore highway remains one of the best roads I have taken in my life. I have travelled on this road a thousand times, and I find the journey extremely beautiful every single time. On either side of the roads, you will find lush green mountains and unlimited stretches of grasslands. There are many waterfalls that you will come across as you drive. This is a non parking stretch like the stretch in Bandipur under the surveillance of National Forest. [Exceptions: Hanumangundi Falls/ Kurinjal Trek with permissions from forest office Kudremukh] If lucky, you will be able to spot bisons by the side of the road. You will come across overflowing Bhadra river as well.
Kadambi Falls and Hanumangundi Falls
You find these waterfalls along the Kudremukh- SK Border road. Hanuman Gundi falls which is maintained by National Forest Department can be trekked down. There is a ticket counter issuing tickets at nominal price. As you trek down, the place gets really chill with ice cold water. Kadambi Falls is just by the side of the road and cannot be trekked.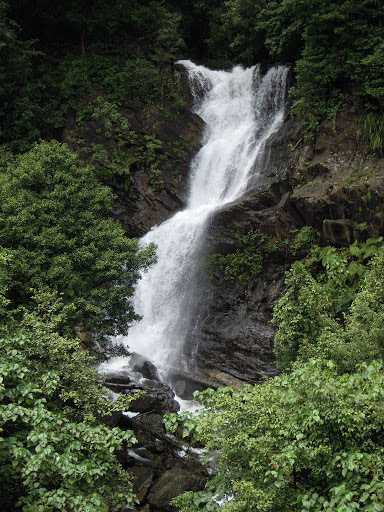 Bhagavathi Nature Camp
This is run by National Forest Dept again. There are camping options available. This is located very close to Bhadra river. I do not have camping experience here to share as this is only 8kms from my childhood home.
Kyatanamakki
A lesser known place, located at about 10 kms from Horanadu. If you are looking for an adventurous bumpy jeep ride on the hills, you should check this place out. Again, there is a detailed blog posthere. Do check out.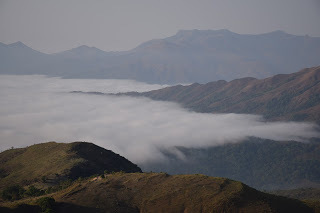 Here is a rough round trip route from Bangalore to Kudremukh.
Bangalore- Horanadu- Kyatanamakki- Samse Tea Estate- Kudremukh Trek- Kurinjal Trek- Bhagavathi Nature Camp- Kadambi Falls- Hanumangundi Falls- SK Border- Sirimane Falls- Sringeri- Bangalore
Happy Travelling!