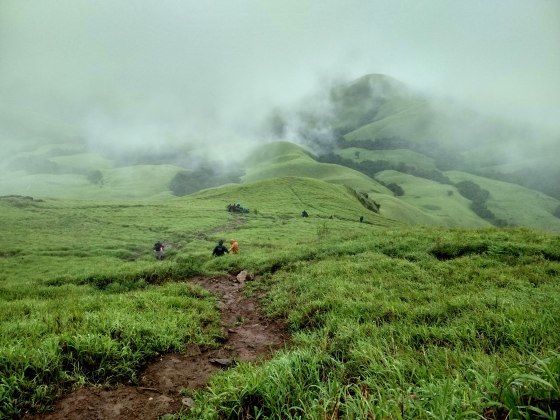 There is a magical and enchantingly beautiful place hidden amid the clouds and you don't get a ladder to climb up there.
Original post on Kudremukh trek at 2littlemoments.
To reach there, you must follow the trail through the dense Shola forest, cross the paths of blood sucking monsters, witness excessive green color that hurts eyes, step through mud and puddles, dodge rocks across 10 streams of cold rushing water, climb altitude against stormy winds and necessarily push against your exhausted body and the illusions of mind.
Not, but almost literally.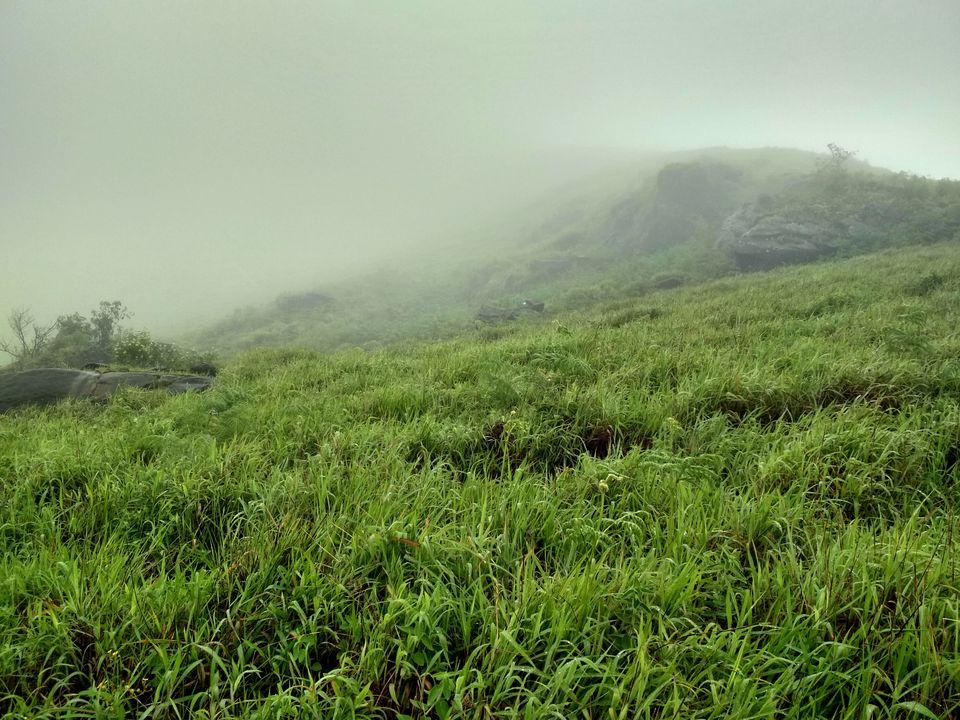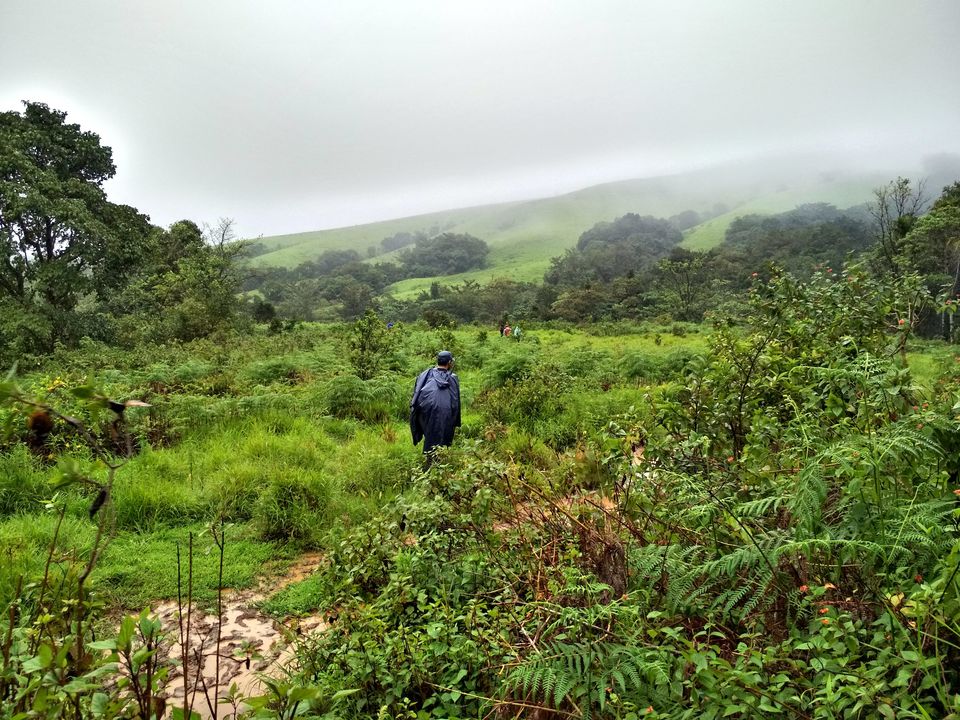 Kudremukh is an undulating mountain range that is a part of the Western ghats of the Indian peninsula. Known for its lush and green stretches, the range looks so appealing and surreal that the landscape seems to appear right out of a painting.
Located in the Chikkamagaluru district of Karnataka, Kudremukh is also a national park and a peak. At 1894 meters of altitude, it is one among the highest peaks in Karnataka.
Kudremukh means horse's head. The range appears to be shape of horse's head from a certain viewpoint and angle. However, right from where we started, we were blessed with continuous rains and breathtaking combinations of greens (lush) and whites (clouds) that obscured our view.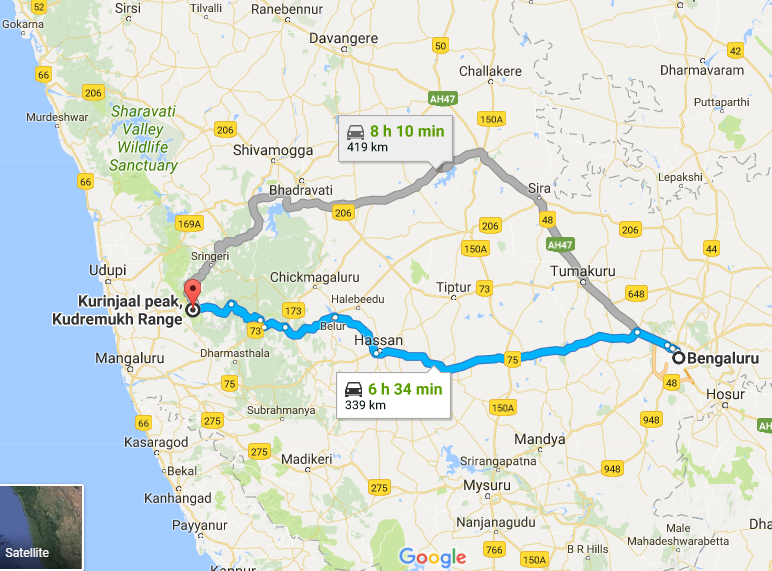 The picturesque grasslands, meadows and forests embellished by the stark white clouds appeals to trekkers and photographers alike. Kudremukh National Park is home to a variety of flora and fauna-you can either visit the national park or choose to trek to the peak.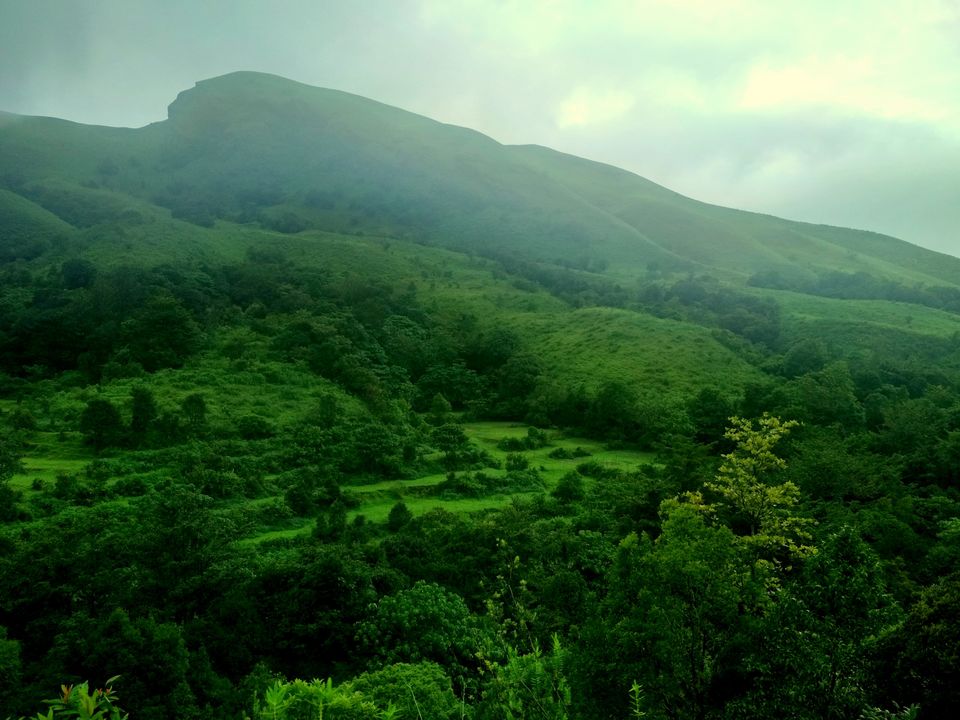 We recently did a trek to the Kudremukh with Nature Walkers who are a bunch of enthusiastic travelers from Bangalore and organize similar treks and trips.
The most favorable time to trek to Kudremukh peak is from October To February. We went at the peak of monsoons and no wonder, the weather added to the thrill.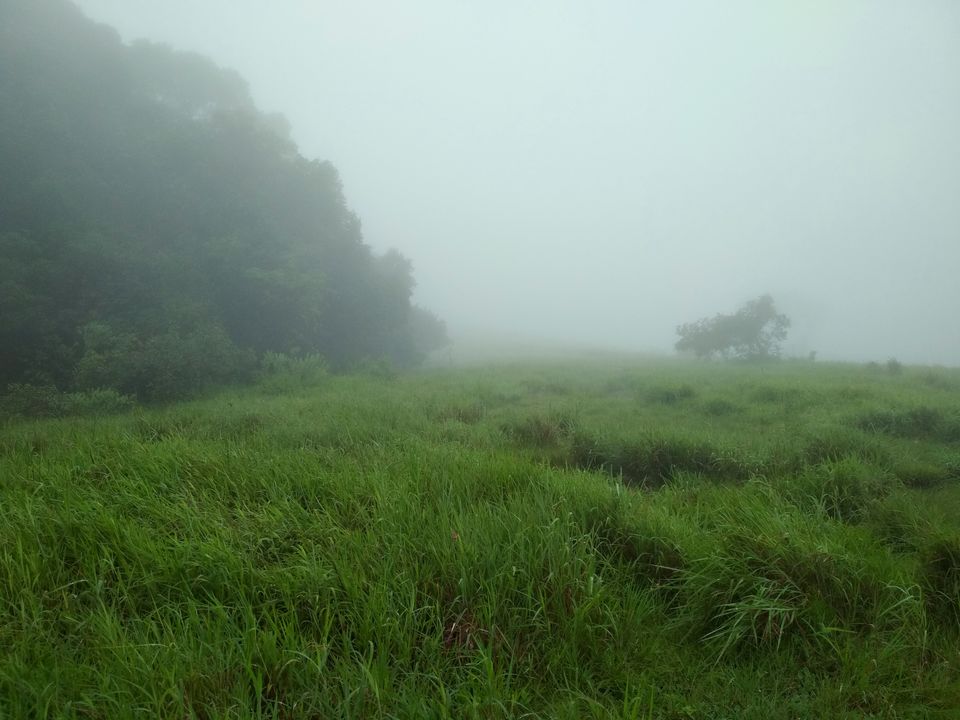 It is best and preferred to book a home stay that the localities of Mullodi village offer, to get closer to nature and for the convenience of the trek. For easy availability, you must do the booking a month before the day of the journey.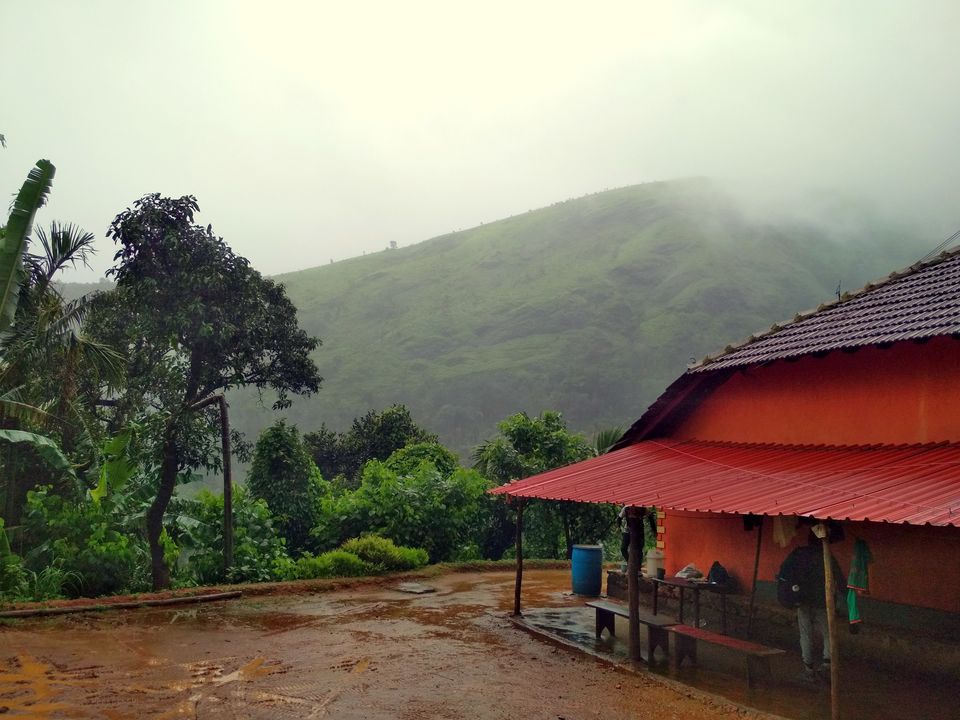 The Nature Walkers team had planned everything in advance. We simply had to board our bus on Friday night, from the respective pickup points in Bangalore. In our 6-7 hour journey, we stopped for dinner at New Green Palace Dhaba at Kunigal Road.
We also stopped at a roadside dosa shop at 4 am early morning to have Neer Dosa and the much-needed hot cup of tea. Drizzle and chilling winds welcomed us, indicating that we were closer to our destination.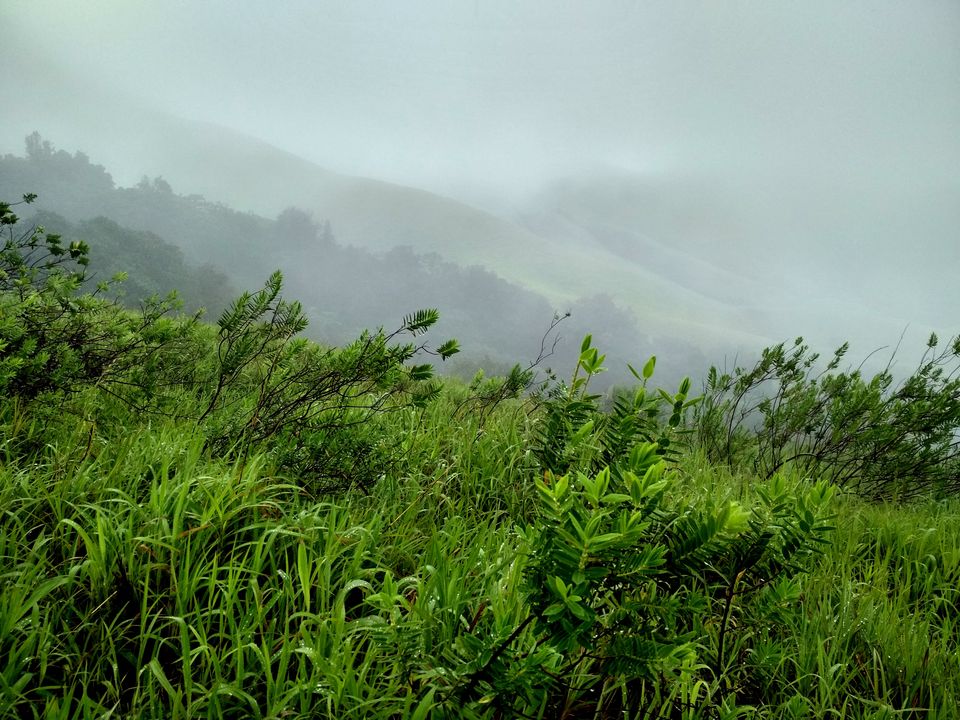 You can't miss the scenic beauty on the way to Balgal, but we did as we all slept away until we reached there at 6 in the morning.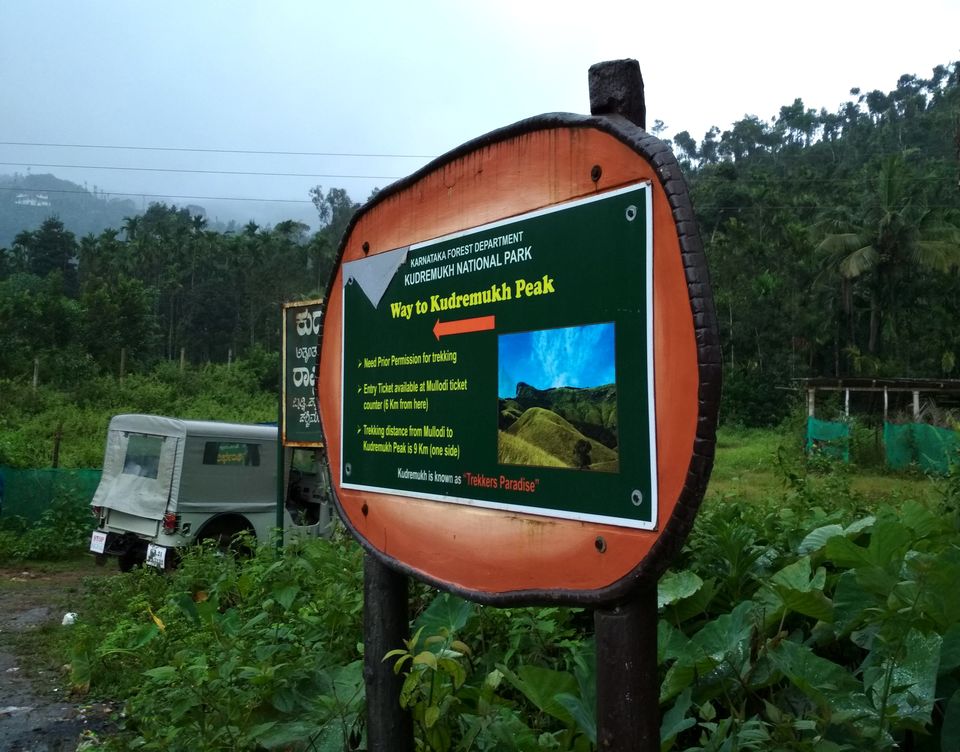 From there, it was an uphill drive of about 4 kilometers to Mullodi village, which you can either trek through mud and puddles or hire a jeep to reach there.
The jeep takes 500-600 rupees for a group of 8 people. Our jeep bellowed, wobbled, jigged on the rocky terrain and occasional tiny streams throughout the climb.
Check out the video of the jeep ride.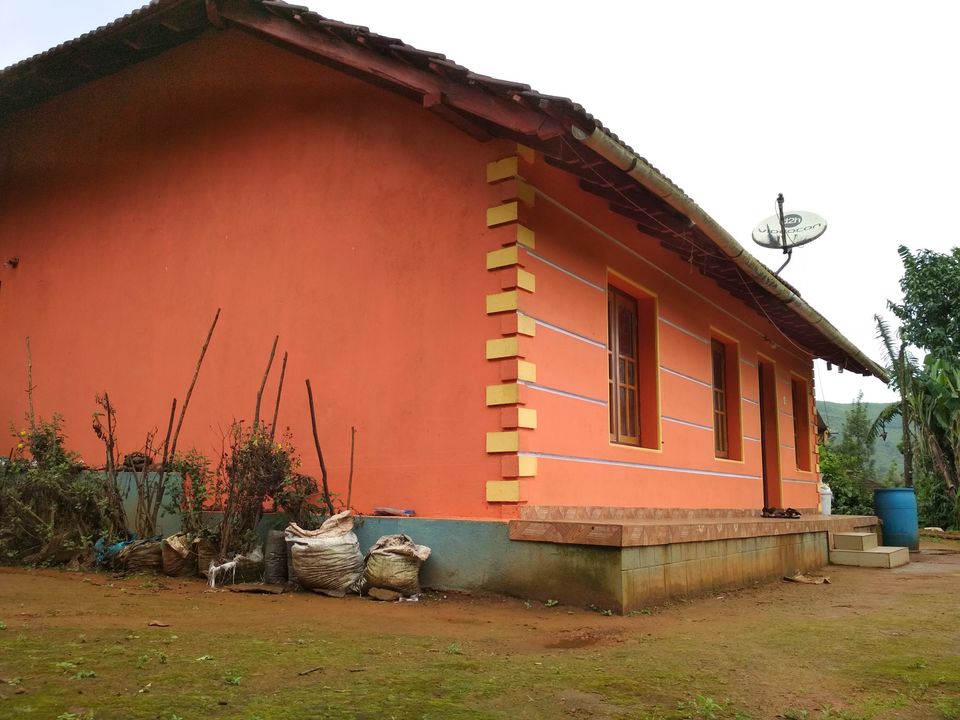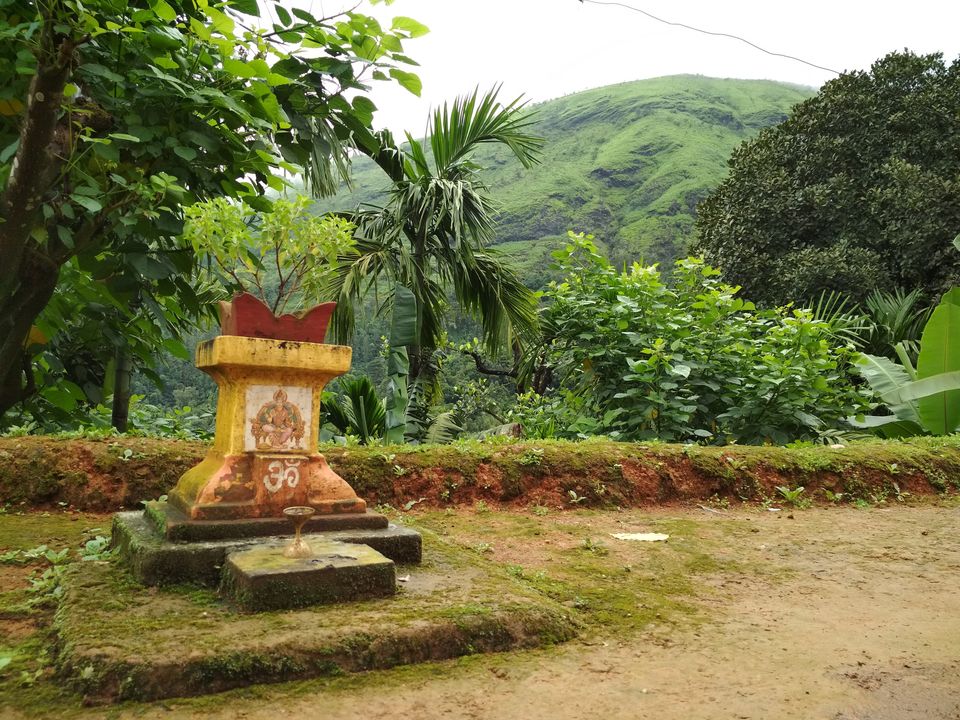 We reached the home stay in about 15-20 minutes, finished our breakfast of hot idli-sambar and chutni and set out on the trek. The guides were hired to lead the way while the organizers took their positions with one as the lead and the other tailing at the back.
Pumped up with adrenaline were 15 people, trekking up the rocky trail to Kudremukh peak.
8:30 A.M
The first hour of the 9 hour trek (both ways) passed smoothly-all we did was walk through the greens.
1. Crossing 10 Streams Of Cold Rushing Water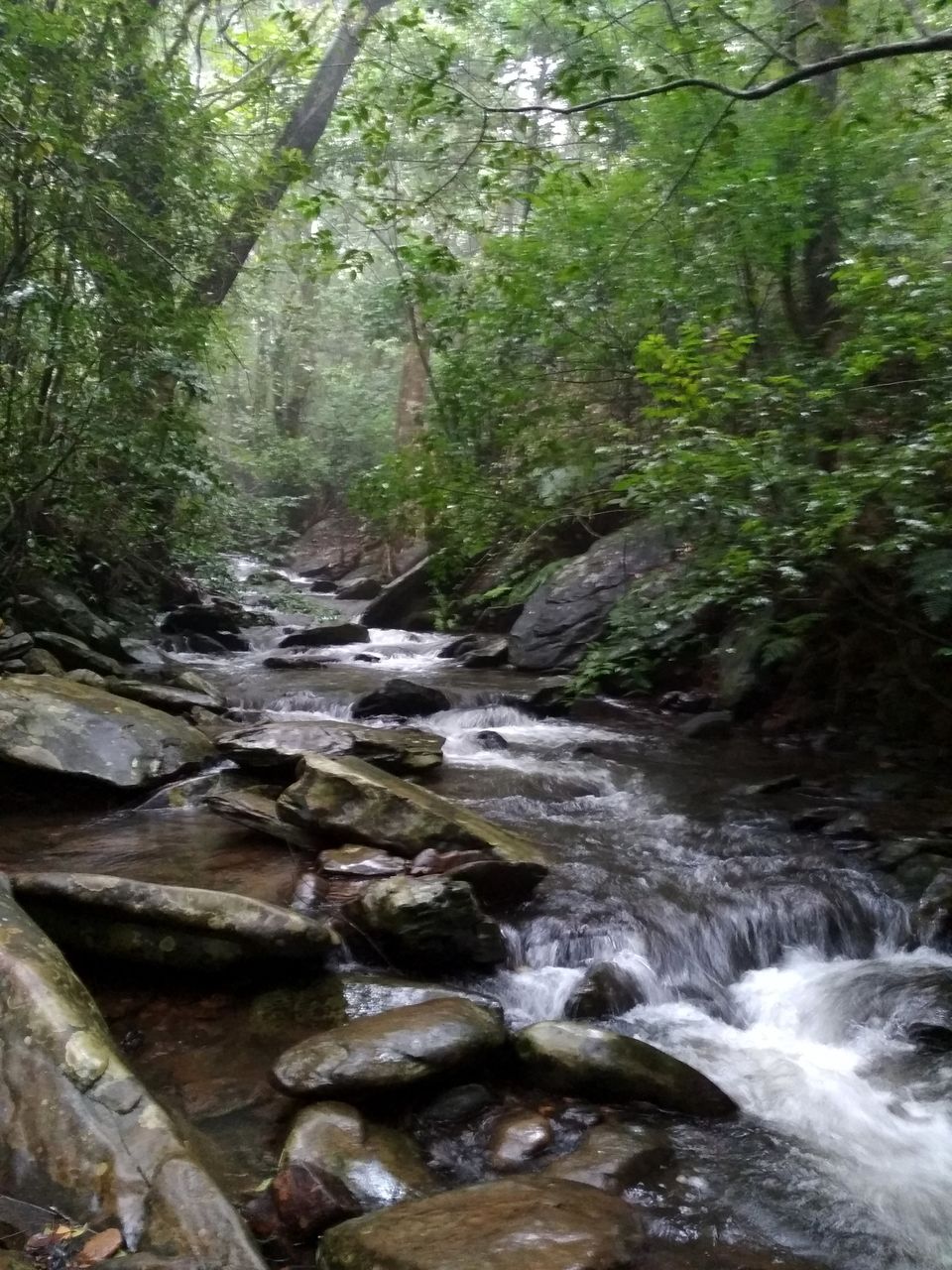 We weren't able to see much-the scenic view included the color green of the lush and white of the clouds. No sooner we came across a stream of fresh water.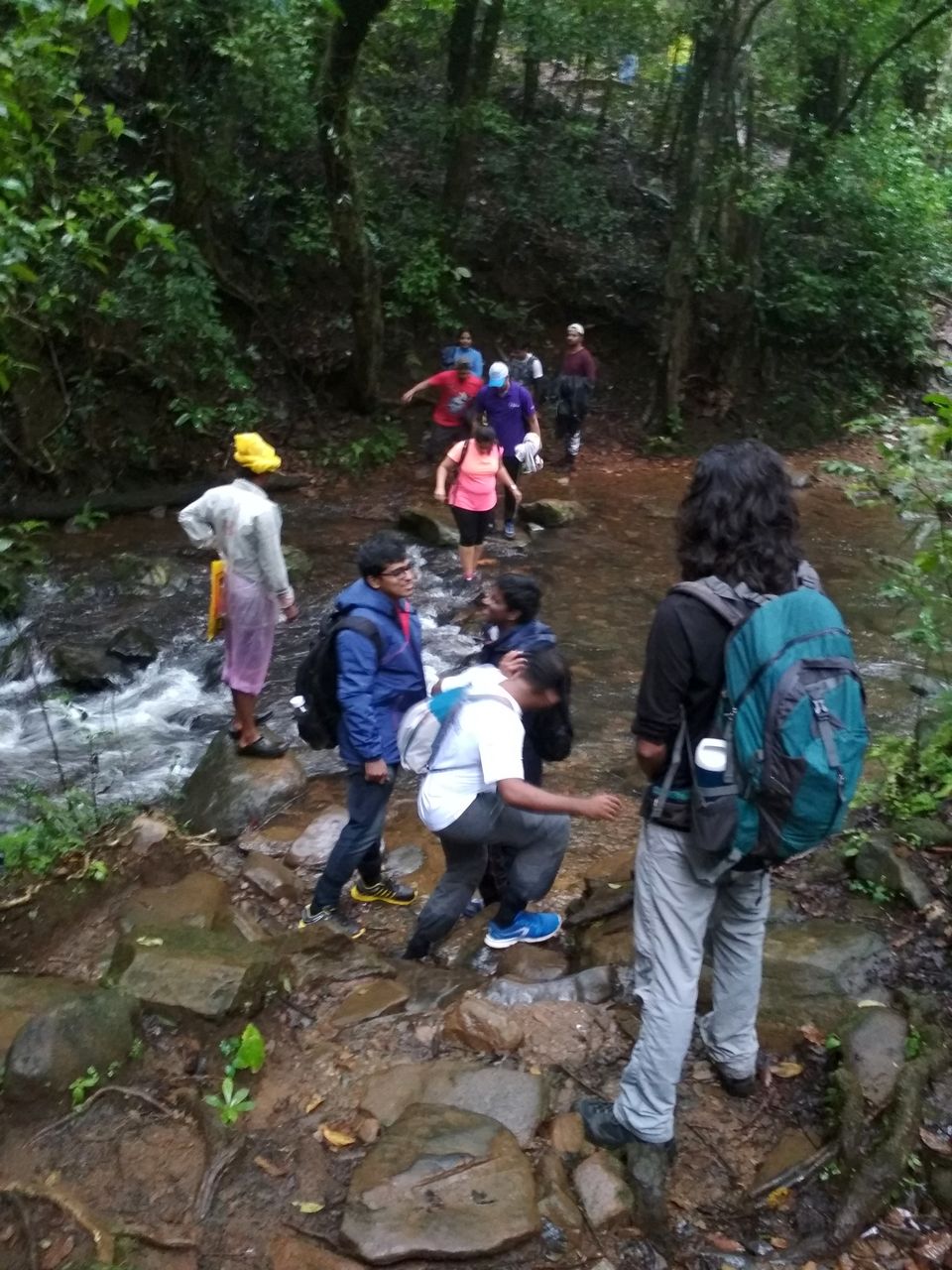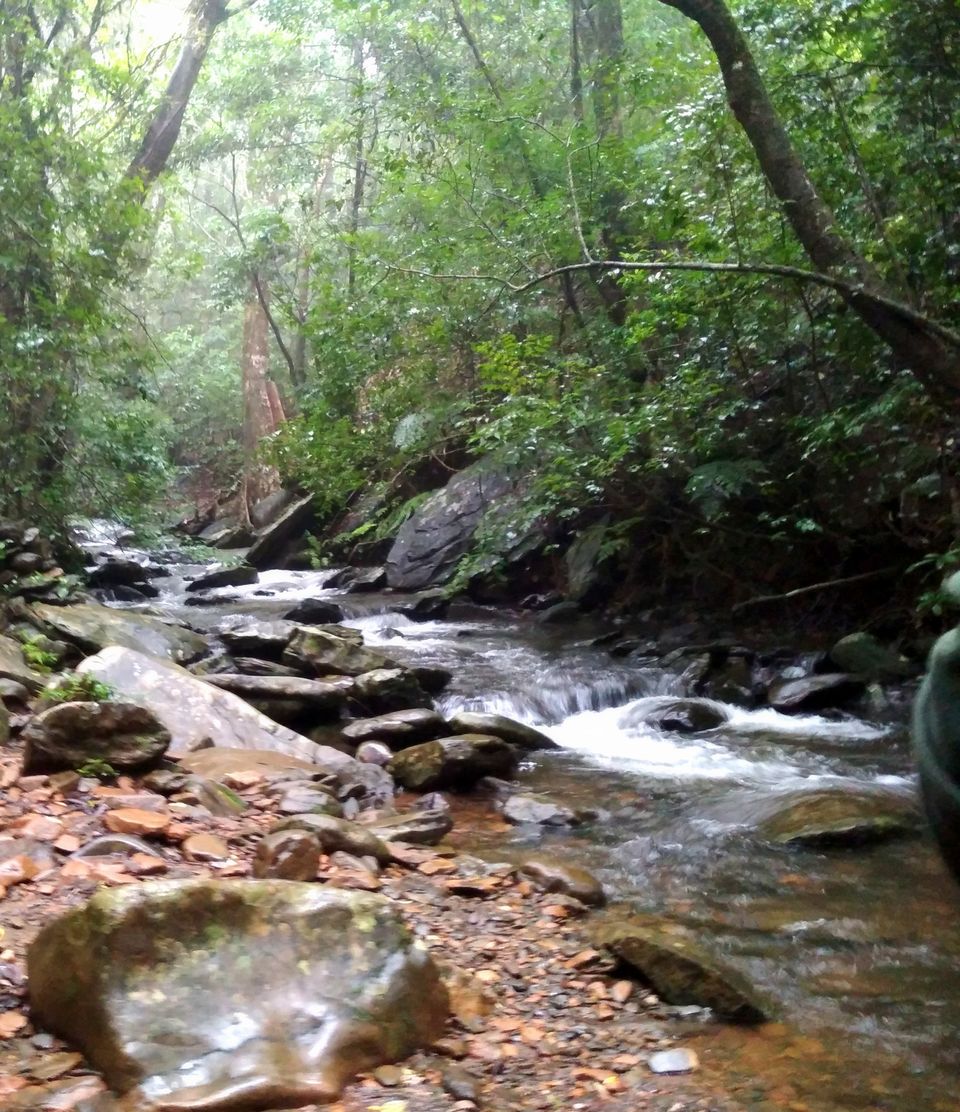 Dodging the slippery rocks, stepping onto the visible ones, falling at every second step, we were slow while the local guides who wore chappals and usual footwear rushed ahead as if they were walking through their backyards.
Note: Waterproof shoes would be of no use to you here.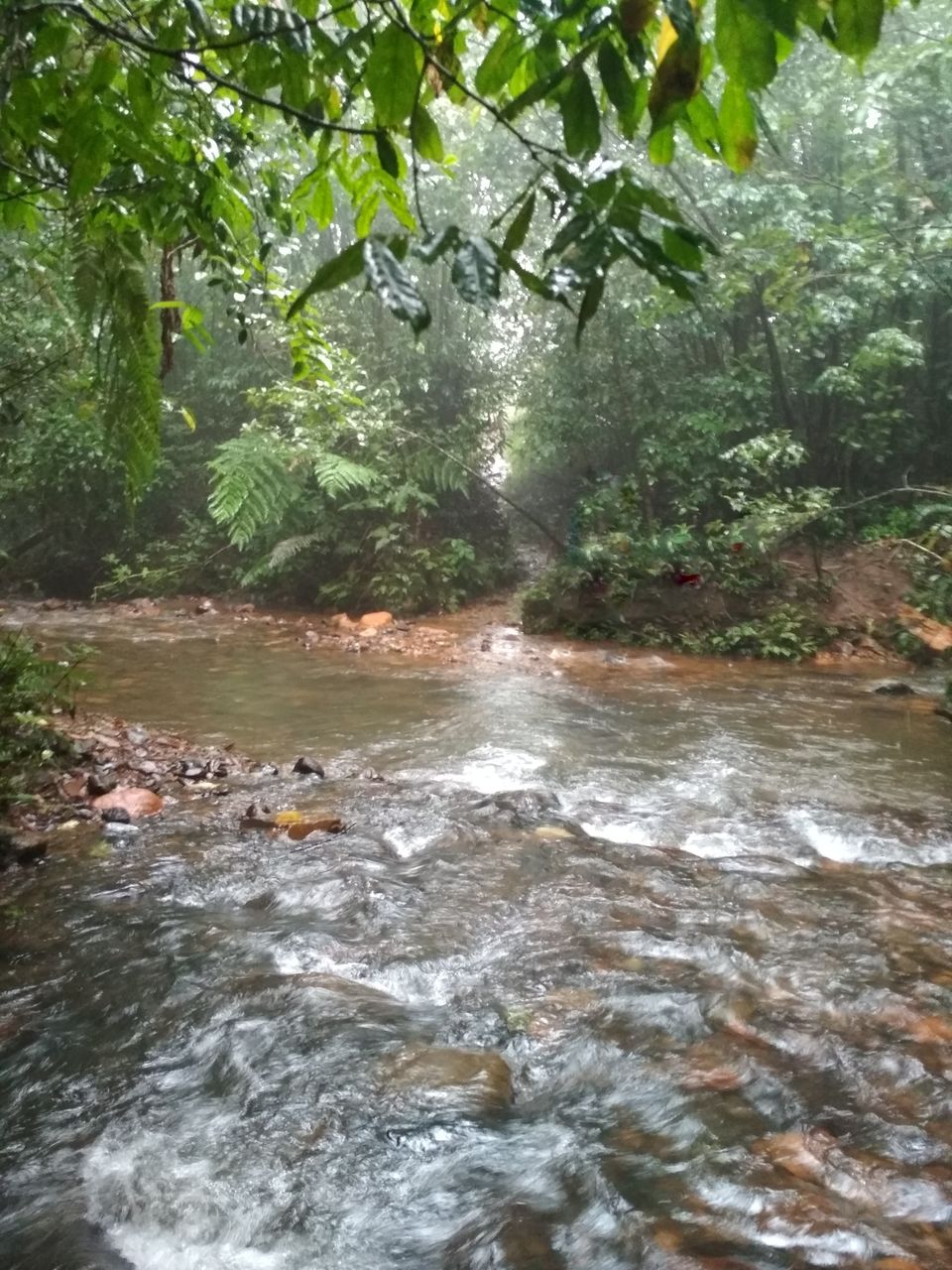 We crossed 10 such fresh water streams-some flowed as tiny waterfalls, stark white against the dark stones.
2. Entering The Dense Tropical Jungle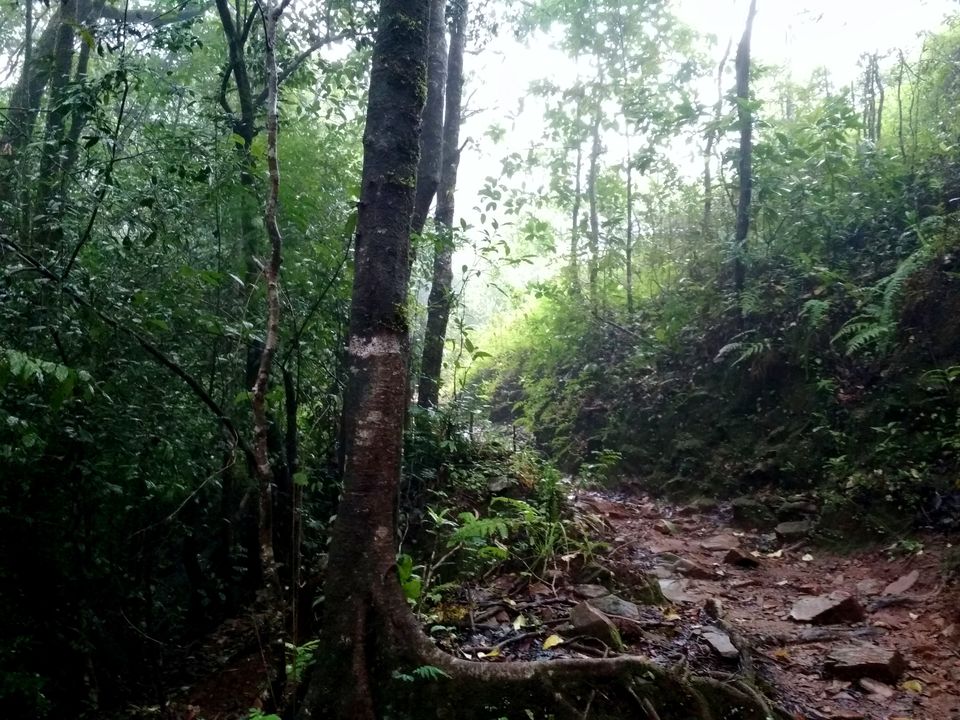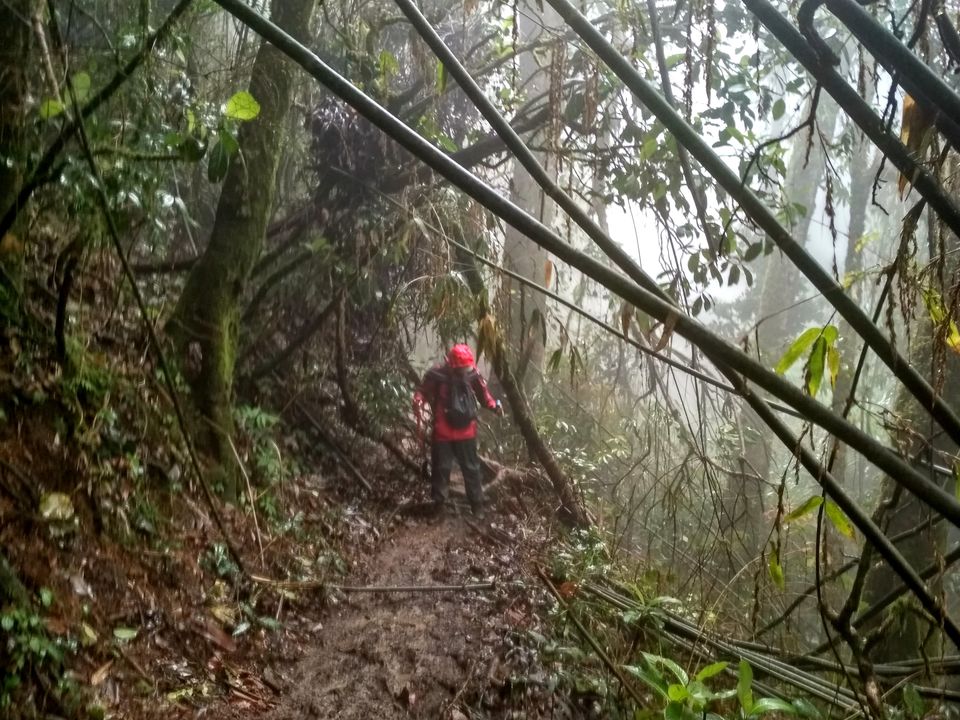 The streams made their way through dense shola forest. We had already drenched our 'waterproof' shoes when it started raining. The rain was expected-after all we were passing through the tropical jungles of the Western ghats in monsoon.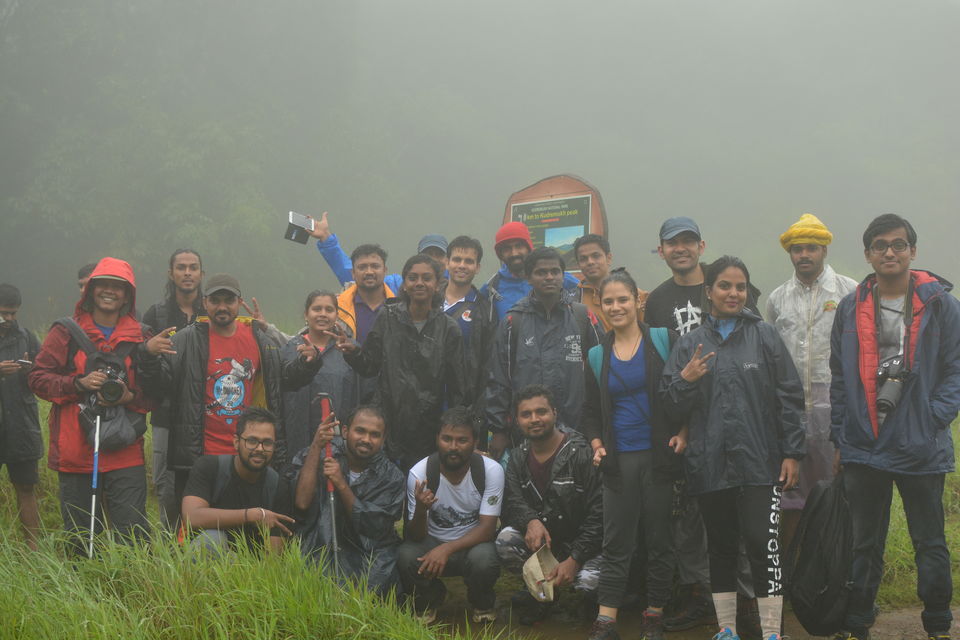 Though the raincoats protected us from drizzle, our trail became mucky and slippery. We did halt for a while here, to take rest and pull out leeches stuck into our skin.
3. Fighting Off The Blood-Sucking Monsters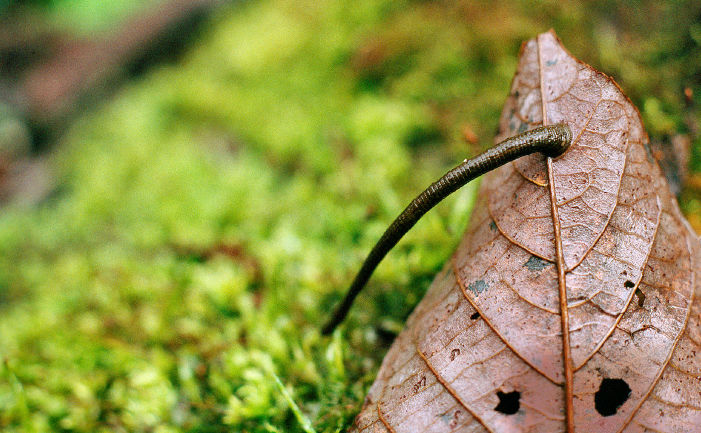 Where there is shade and moisture, there are leeches. No wonder, most of us were quite a feast for the blood-sucking predators. Slithery and receptive towards body heat, leech removal proved to be an absolute mess since we didn't want to kill them. Lol.
For those who aren't familiar, leech bites are painless, non-venomous and harmless in most cases-but, the wound can get quite itchy even after days. At most, you will bleed from the bite-an immediate treatment is pressing turmeric powder over the wound.
Read on to know how to manage in a leech-stricken moist place.
4. Witnessing Excess Green That Hurt Our Eyes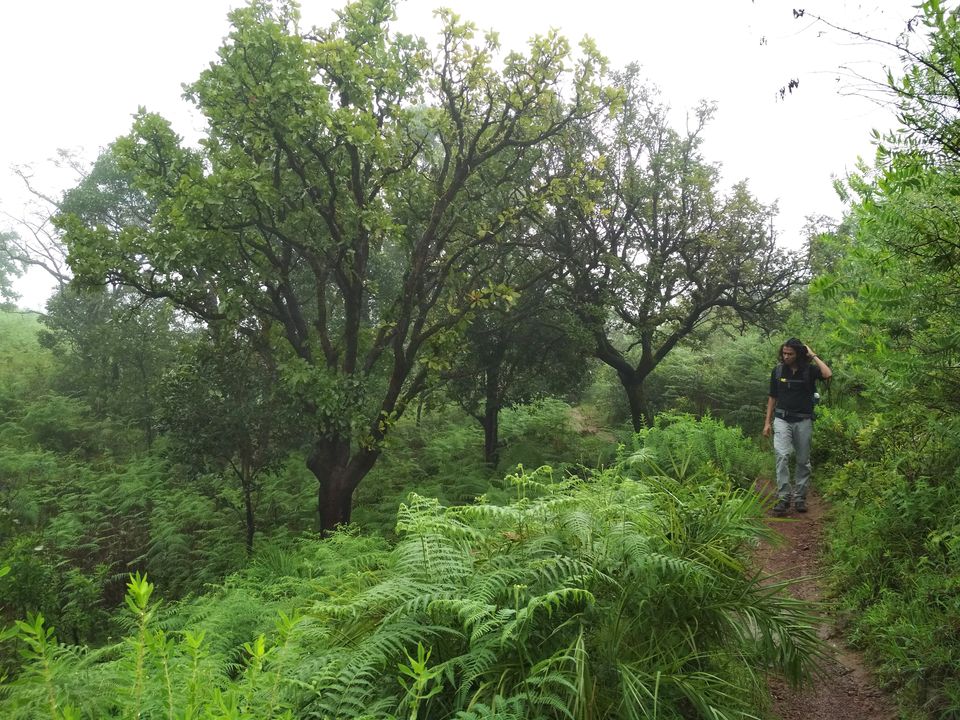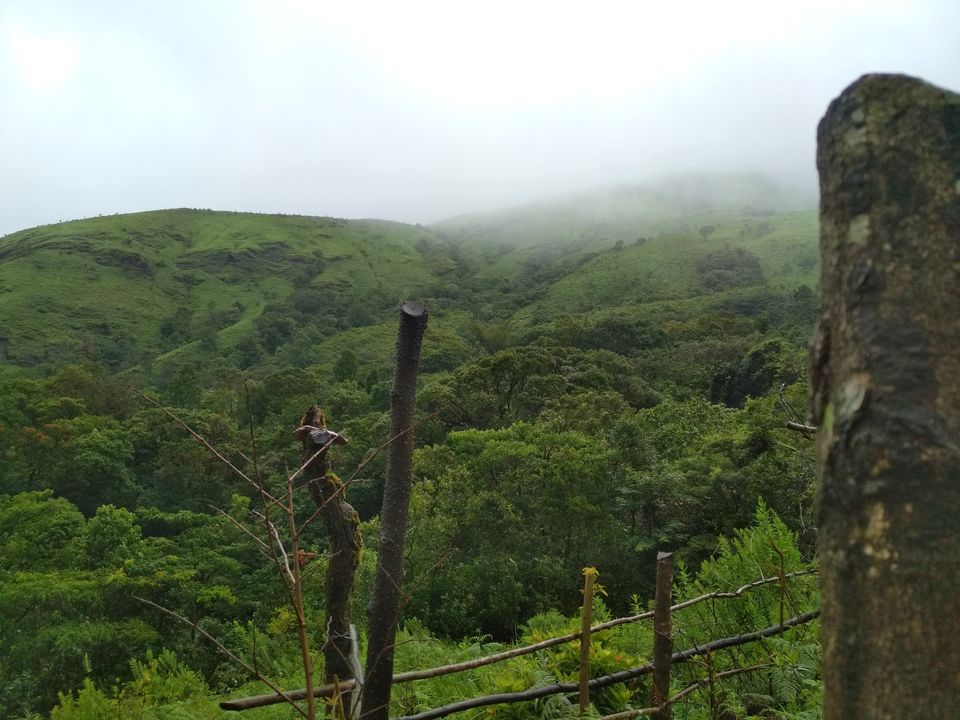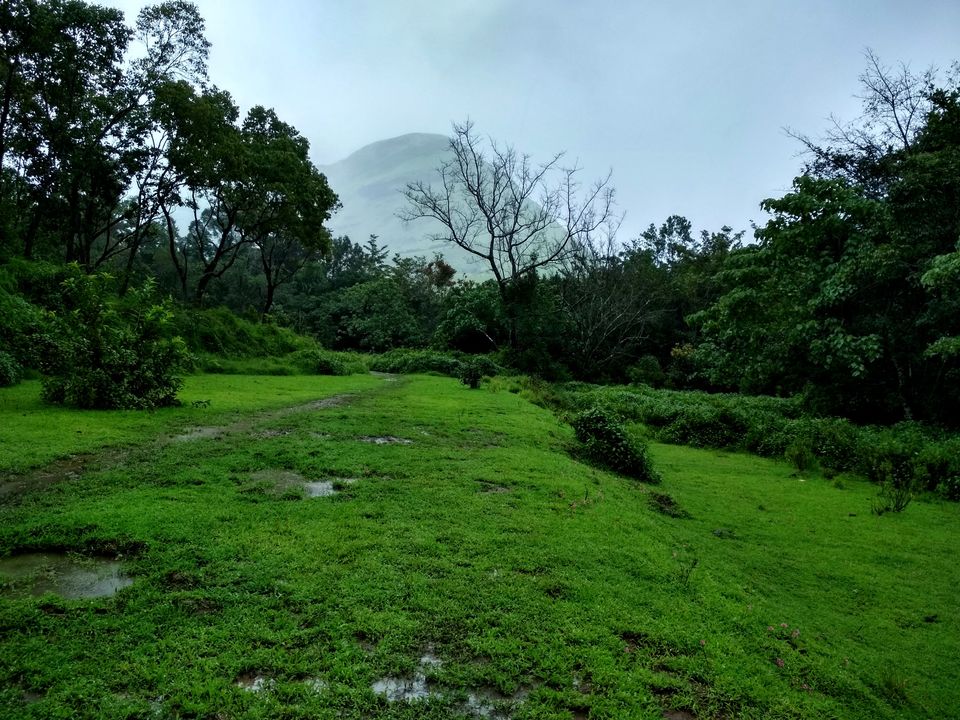 The green color dominated everywhere except the sky. The pouring didn't stop and so didn't we. You can't miss out on a single vibrant shade of green while passing through the valley below. It is an absolute pleasure to the eyes.
5. Climbing Altitude Against Stormy Winds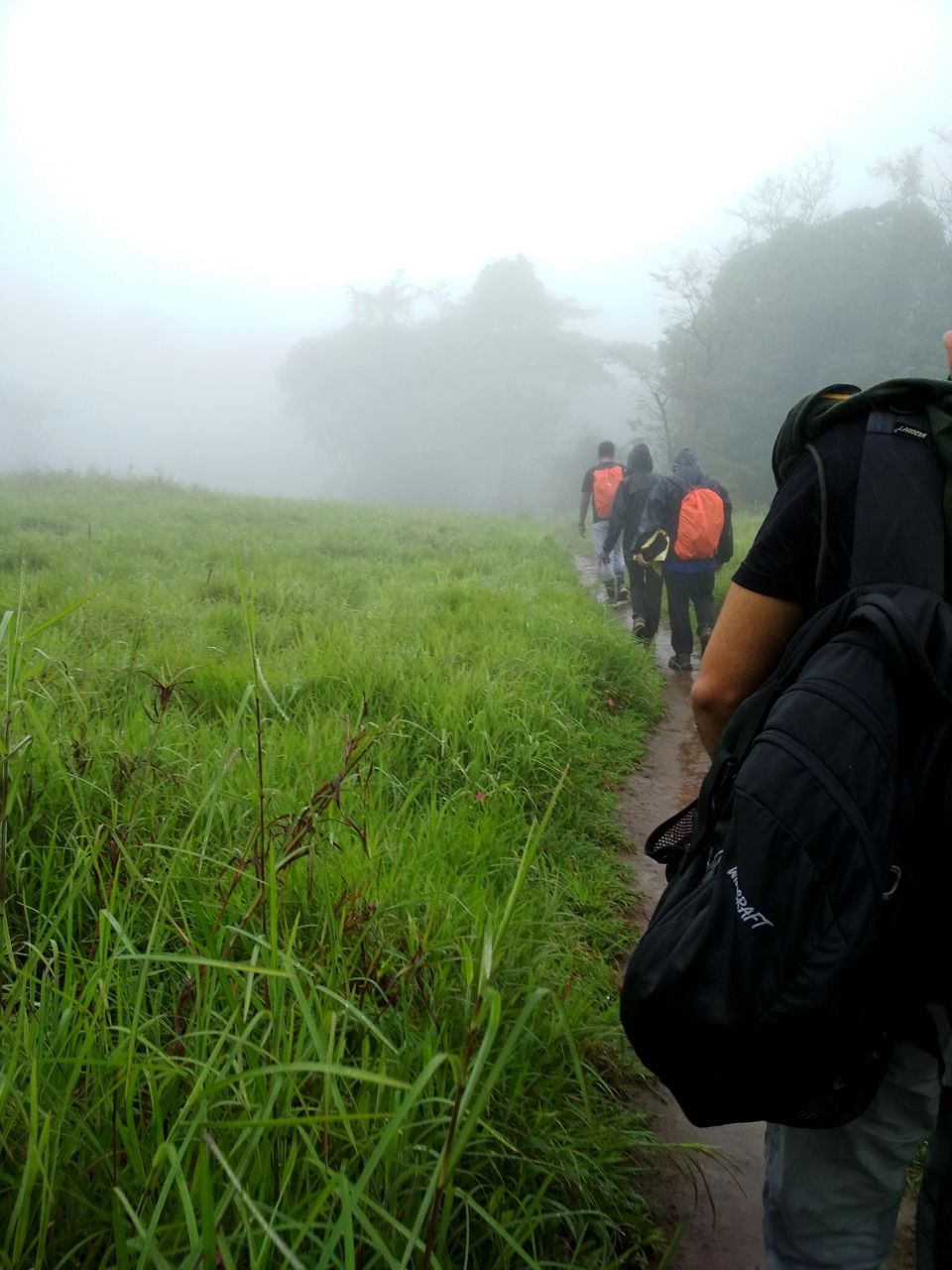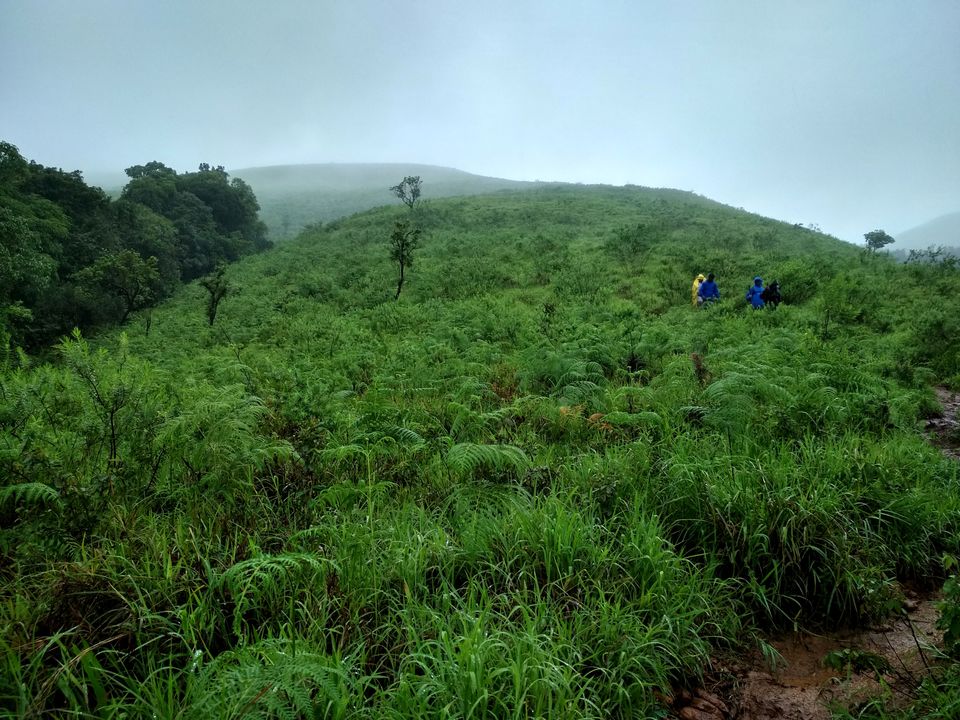 The trek got tougher with the rains bestowing upon us the fresh water from heavens above and the gales pushing against us with all their might. All we could see when we looked up were clouds and after every 100 meters of trekking uphill, there still appeared another climb to ascend.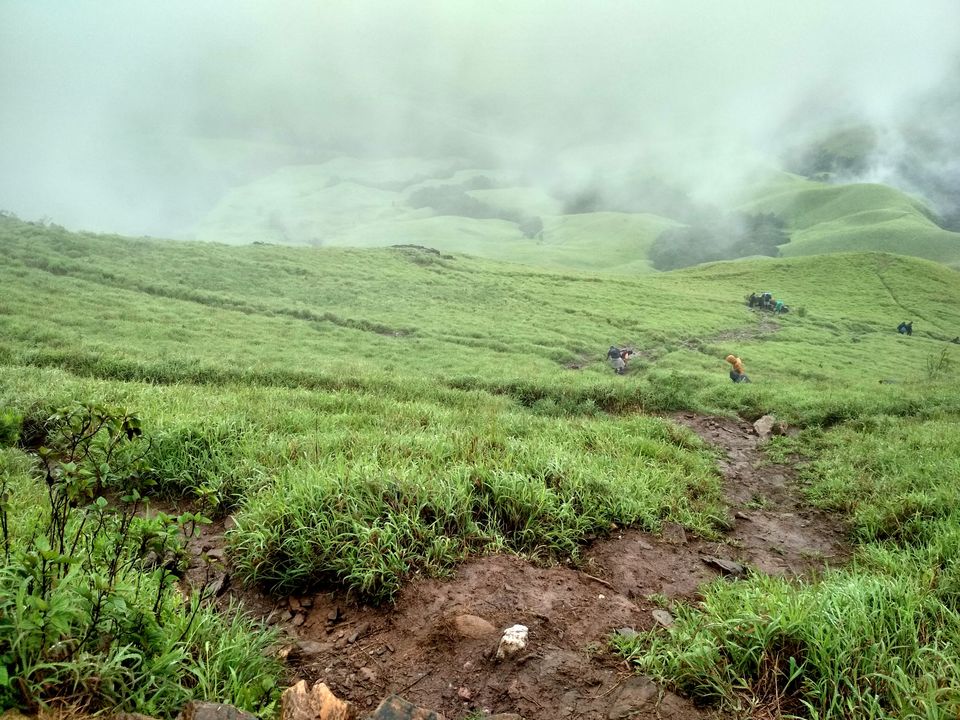 We couldn't get a clear view, neither of the downhill trail nor of the way upwards. I am sure people weren't discouraged that they couldn't see how far they have come and how much more they had to trek up-in fact, that was the best part.
6. Against The Exhausted Body And Mind
We couldn't distinguish between the sweat and the rains that had now drenched our clothes completely. We breathed hard, stopped multiple times in between, but we were asked/poked/encouraged by our organizers to keep moving .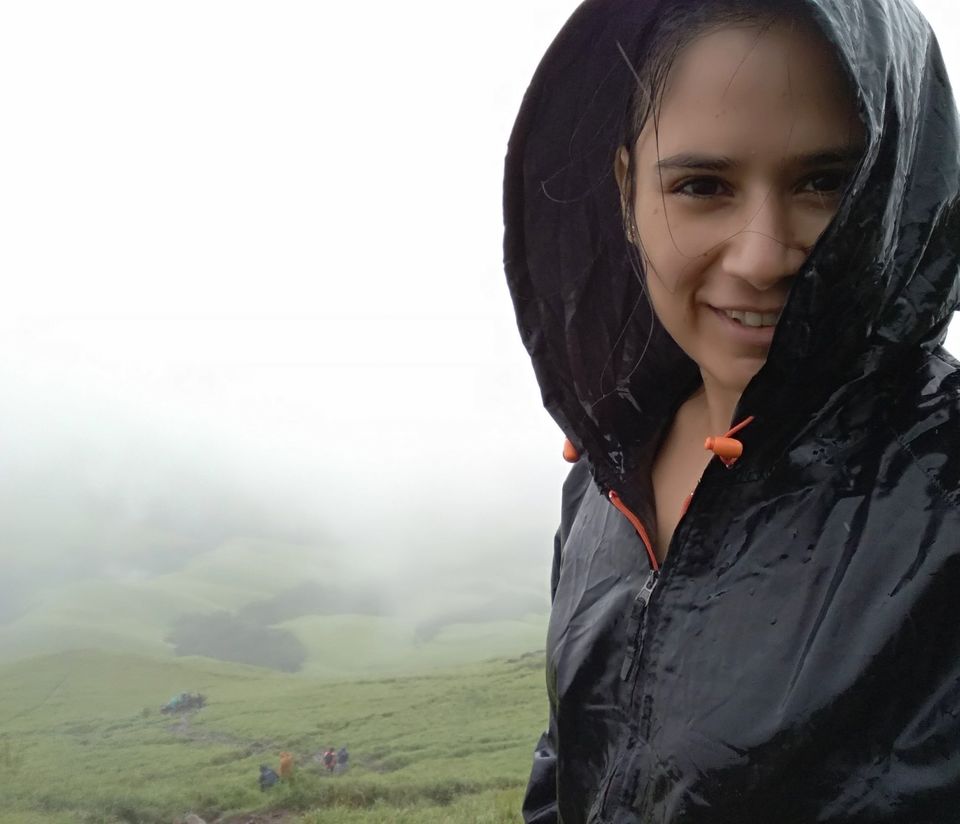 Despite the exhaustion and feeling the strength drain away from our bodies, despite constant rains and strong winds pushing us down, despite the clouds slapping against our faces, we reached a plain ground at the top-but, no, this wasn't it!
7. And There Was No Stopping Till The Peak
It so happens that when you have only a single choice left with you, you don't let it go to waste. So, we dragged our legs and walked, singing our way up to the peak, which was another 100-150 meters away from the flat, walkable base.
"5 minutes!", one said. "Just 30 more steps" said another who was now coming down from the peak. Nothing felt more annoying than watching their contended faces appear from between the clouds.
We slogged and crawled our way to the peak.
The Zenith 1894 Meters 2 PM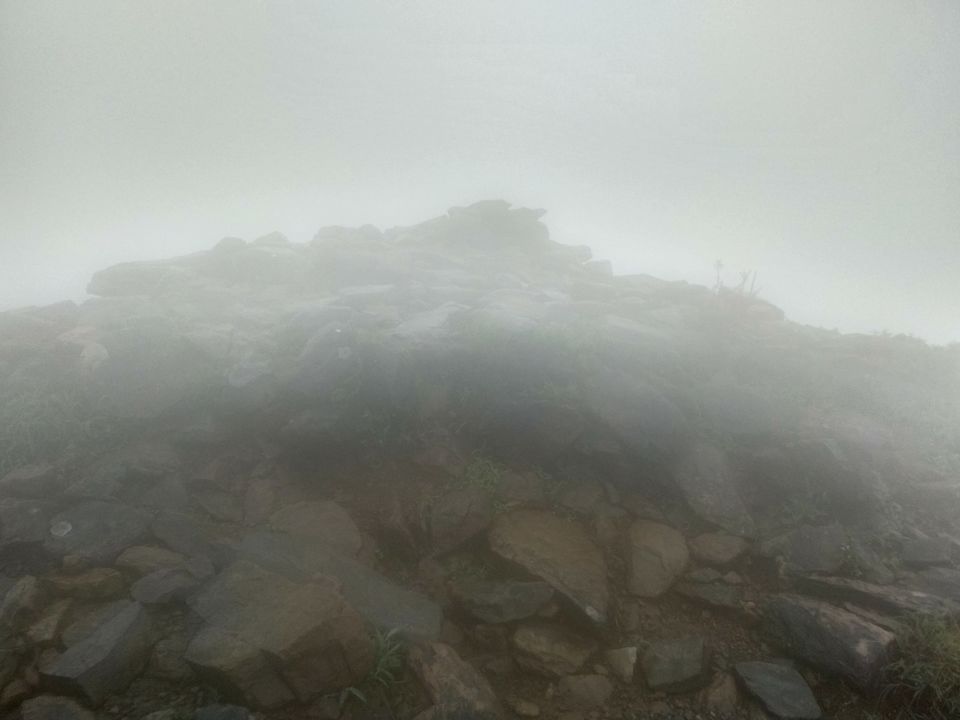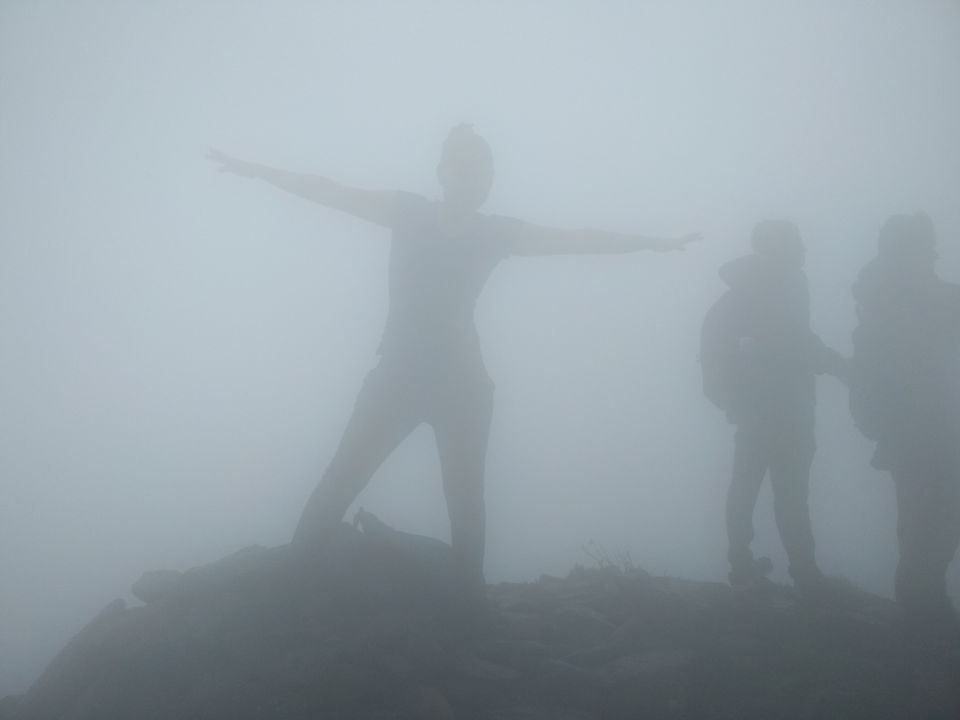 We had reached the Kudremukh peak. Just being there felt exhilarating. Words are less to describe the excitement of finally arriving at the peak.
Wind speed: >20 kilometer per hour
Temperature: 15 degree Celsius,
Visibility: 2 meters
It was the time to celebrate, with high chances that we would be pushed off the cliff by the combination of clouds, winds and rain.
The winds were so strong and cold that our teeth started clattering-your fingers and toes could almost approach a state of hypothermia-blame the chill of the monsoon. Don't even try take out your shoes to have a look at your feet.
We ate our food (we had received fried rice/puliogre to carry along) picking up each morsel with unstable and shaky hands. The downward decent was to begin soon and turned out to be more difficult than the climb.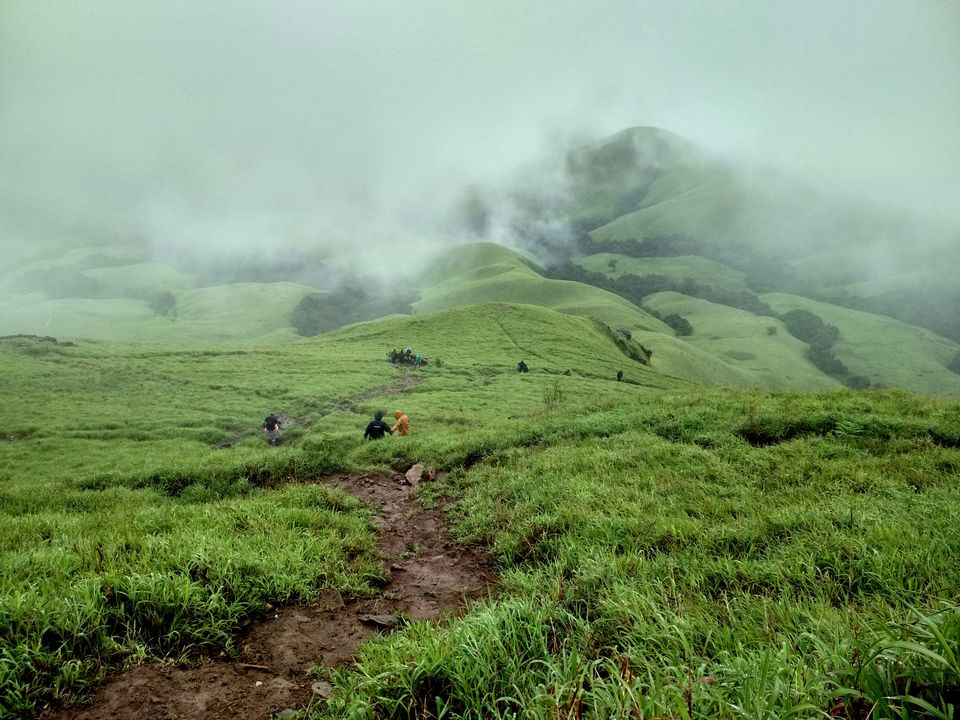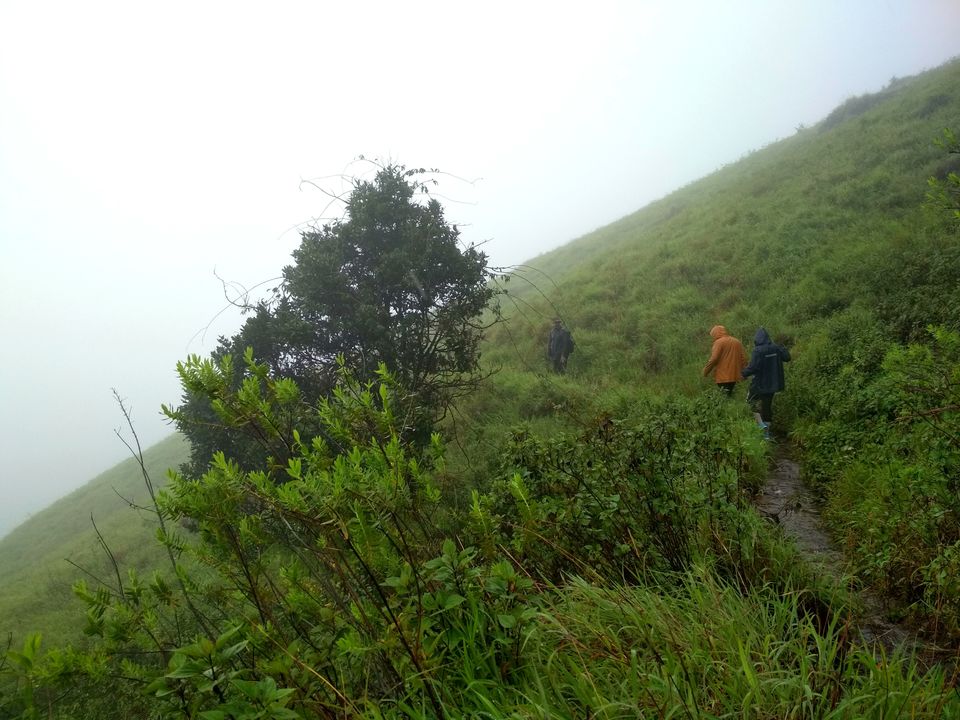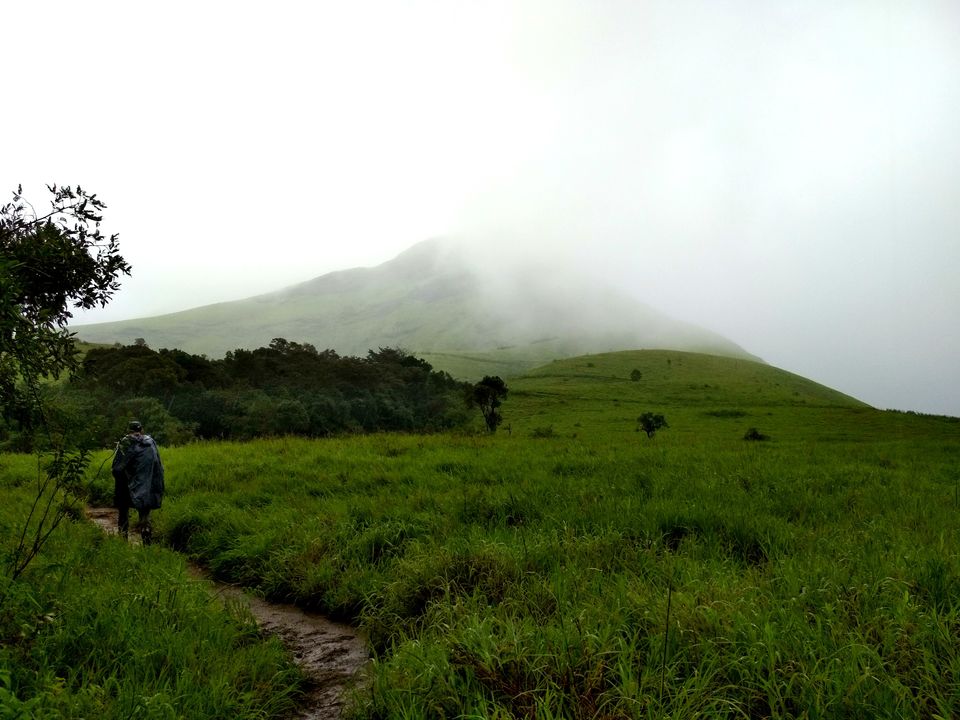 If it is not tiring, back-breaking, not about leech biting, shivering, teeth-clattering and mesmerizing, it is not worth it.
It was already dark while we were coming back and the jungle came alive with strange sounds in the evening. We reached back by 6 pm.
At the homestay, the facility for a refreshing hot bath, tea and hot pakoras had been arranged for us. We were revived after feasting on the meal (they offered non-vegetarian food as an option-rice, chicken curry, pappad).
Post dinner, a campfire was arranged for us. The warmth of the fire slowly awakened us to life
We started singing and chatting while it was still raining out there in the dark cold night. The sleep gently took over our tired bodies.
Day 2 : 7 Am
We went to a stream nearby ( 5minutes away from the homestay) to take a dip in the fresh, leech free and cold rushing waters. Since it was raining heavily the last night, we were asked not to climb up the rocks over the falls as it was too slippery and dangerous.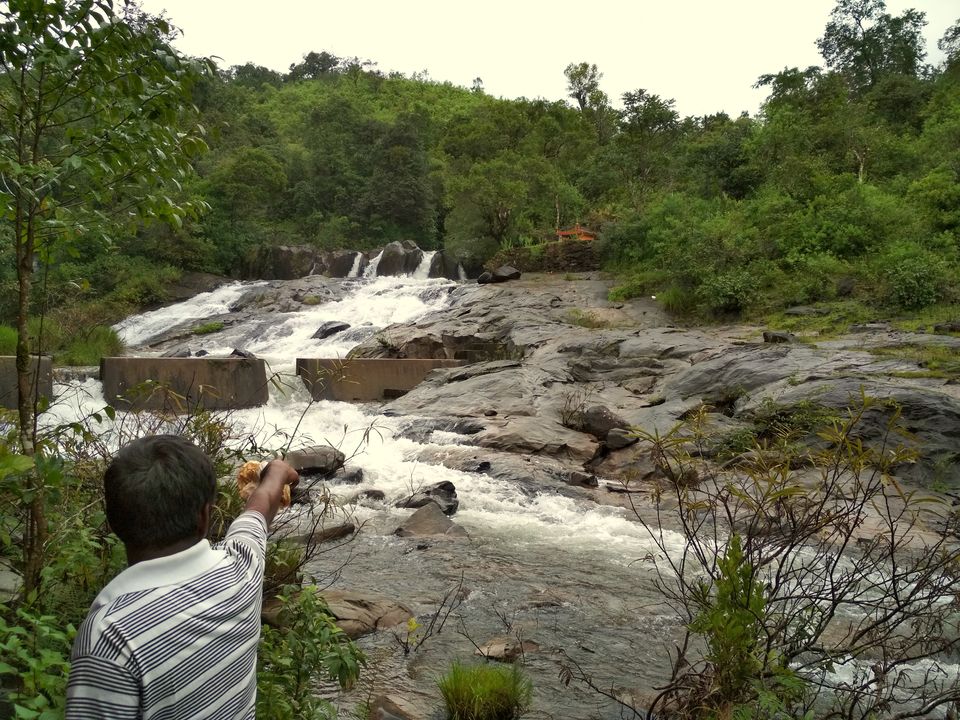 However, we had a fun time, fixing our feet at the base of the stream and struggling to avoid getting carried away by the strong flow.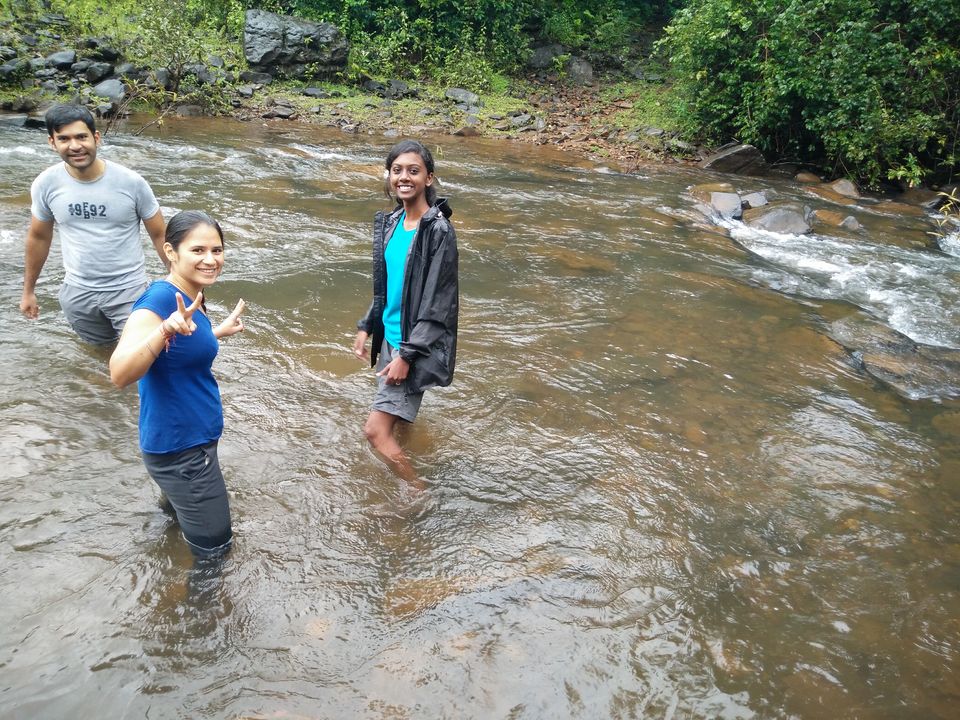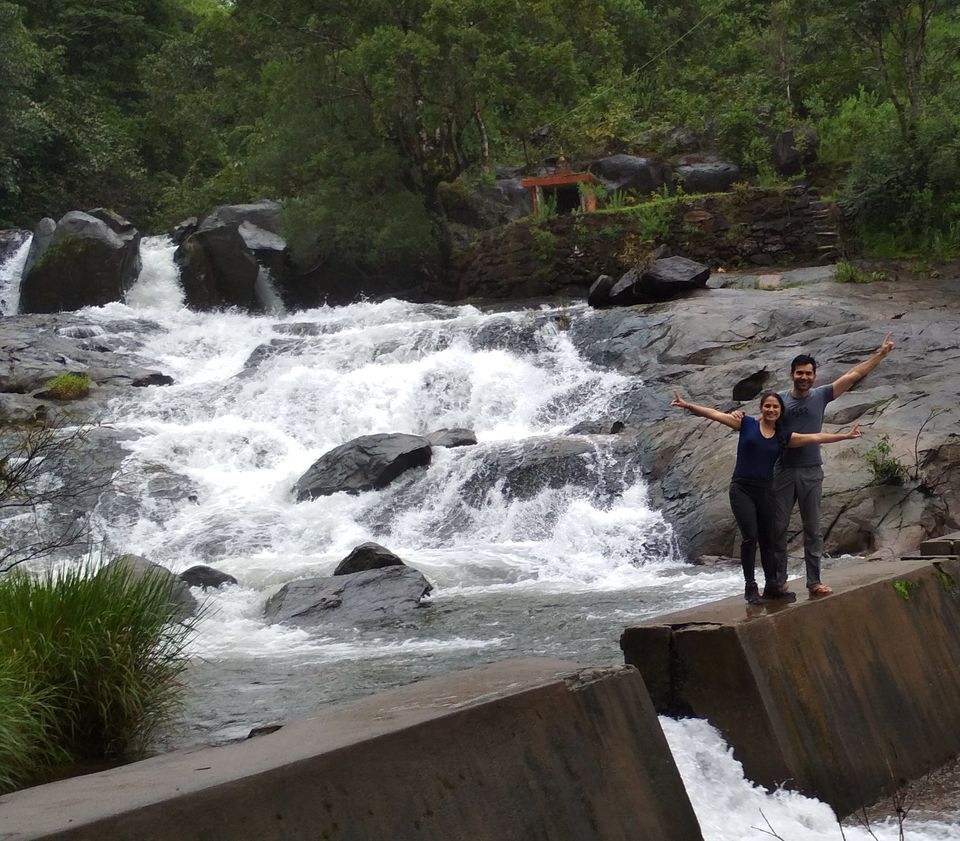 Before You Begin
1. Prefer going with an organized group than doing it alone-you won't have to bang your head for arranging transport, food and stay.
2. Wear long track pants and leech socks over your socks to prevent leeches from biting. You could also tuck in your tracks inside long socks-don't wear ankle length socks. Carry salt to remove leeches.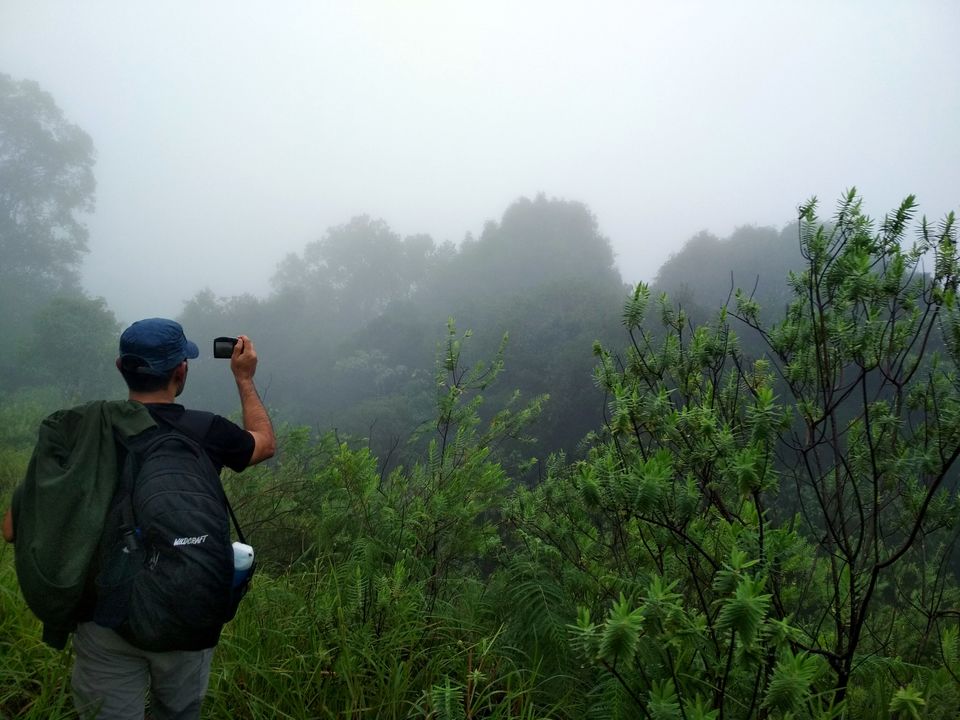 3. Always carry a raincoat. No ponchos please-you won't know where you are stepping and they can fly away with air, restricting movement. Don't forget to carry torch-it might get dark while coming back.
4. Don't venture away from the group-stay with your clan. The jungle can get dark and tricky. There is no campsite permission.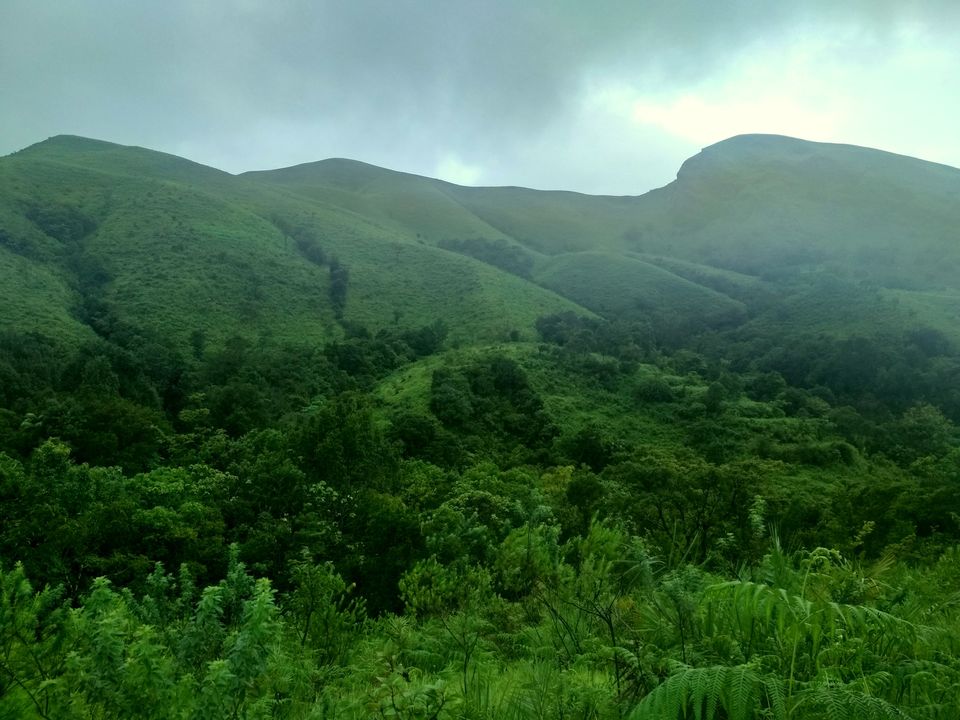 5. Trekking shoes with good grip are a must if you want to trek in monsoon.
6. Carry waterproof cover for mobile phone. Energy bars will help you on the way.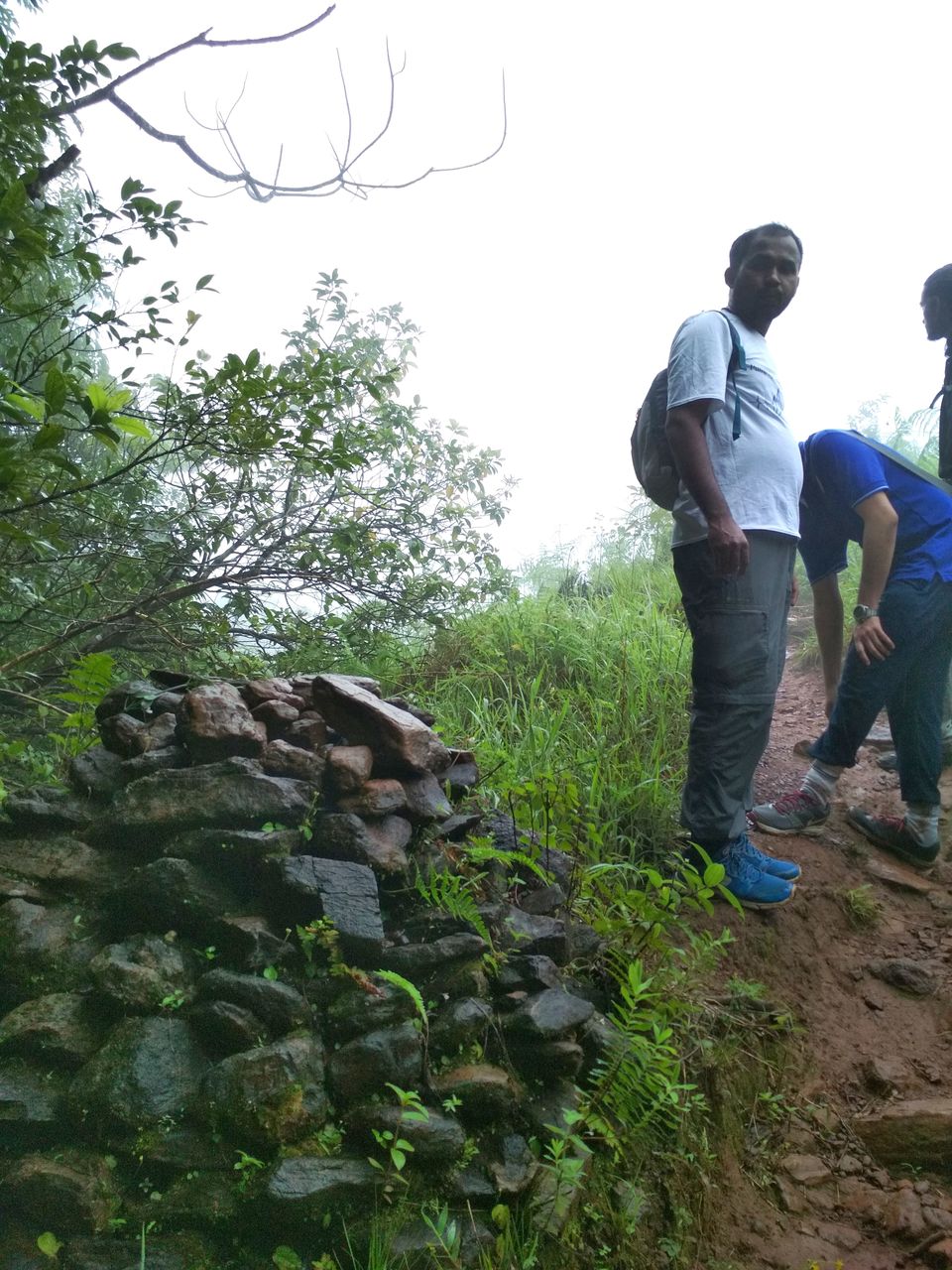 7. There is a pile of stones and pebbles like above to mark the trail and distances. Keep a track of these to make sure you are going on the right trail.
8. Don't run/race while ascending, you will tire yourself in the beginning itself-start slow, be steady and make your halts shorter.
9. While descending, turn sideways and take one step at a time-let your step be side-facing. Don't rush or run downhill-land on your heel than on your toe.
We had Prashant ( wearing grey shirt with stripes) and Santosh ( wearing vibrant blue, sitting in first row) from the Nature Walkers team and here we all are posing tautly in front of the camera for our last pic together before departing from the homestay.
No camera can capture the beauty that you witness through your eyes-the reason there aren't as many pictures as should have been.
Kudremukh is like a heaven on earth, especially in the monsoons when it becomes more challenging to reach the peak and you have to strive for it because it is worth it.
Original post on Kudremukh trek at 2littlemoments.