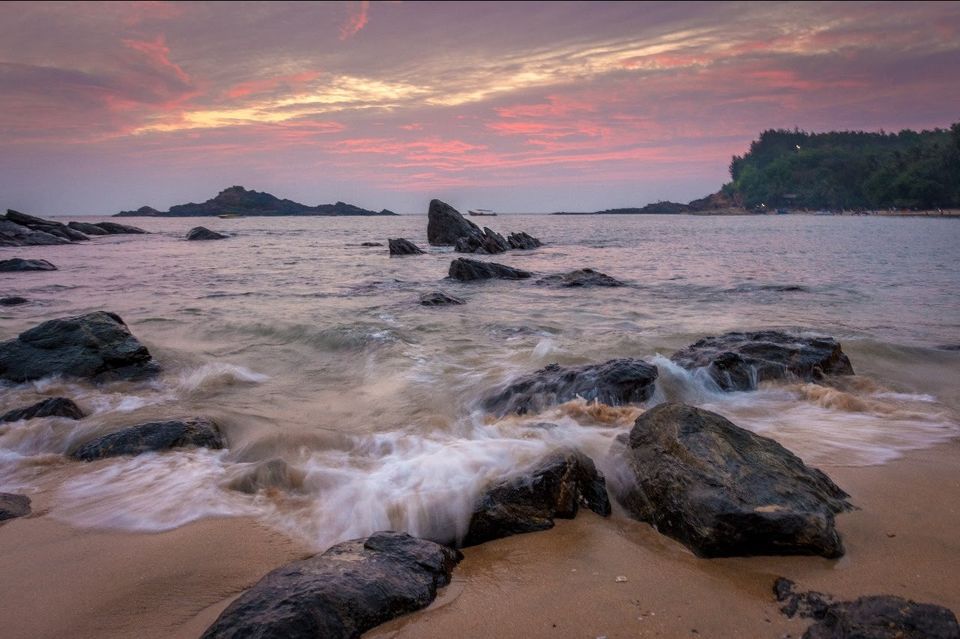 There is a famous saying, "Unplanned trips are the best. Because planned trips never happen."
Though not a firm believer of the above quote but I do believe that some unplanned trips turn out to be the best! Successful trips do not happen overnight, they take days & nights of research, still few things go out of control, hence proper planning lies at the heart of every smooth trip. But, once in a while we should go on unplanned trips & unleash the adventures of the place like a true blue wanderer.
Gokarna was on our minds since a long time, so one fine afternoon we just decided on tripping over the weekend & the next morning we were halfway through! Gokarna lies 485 km away from Bangalore & it takes almost 8 hours to reach there. Roads are super smooth with views of the lush green countryside of Karnataka. We passed by hundreds of windmills of the 'Tuppadahalli Wind Farms' near Chitradurga. There is a small stretch of 'ghat' road which descends downwards called the 'Arabail Ghats', a lot of caution is needed while driving through the deep bends of this mountainous road. While we were approaching Gokarna, we could see a vast expanse of blue merging into the sky, which was a beach obviously, but we couldn't figure out which one. Later we came to know it was Kudle beach.
We reached our resort, 'Namaste Cafe' at around 2 pm. Surrounded by dense greenery on one side and Om beach on the other, this resort is a gem of a place. There are beautiful cottages all around which were largely occupied by foreign tourists. Our cottage had a tree house like structure covered by trees all around. It was already late, so we headed direct to the restaurant. To our utter surprise there were many beach facing tables & few were empty, so we occupied one & enjoyed the awesome view until food arrived!
Om Beach is shaped as two semi crescents joined together forming the shape of Om (Hindu Symbol) hence the name Om beach. Covered by lush greenery and rocks forming small mounds on the shore, the beauty of this beach is unparalleled. We spent the entire evening by the beach & luckily caught a glimpse of the sunset. As night crept in, tiny crabs rushed into their sand holes, the sound of waves getting intenser, we started returning to the resort.
At Namaste cafe, there are few seats in the restaurant from where one can get the breathtaking view of the sea. We grabbed those seats for ourselves & had an early dinner. Then we returned to our cottage. It was so peaceful & silent over there, the only sound we could hear was the hustling of leaves.
The next morning I woke up quite early, there was still time for morning. Sounds of chirping birds especially cuckoos were so soothing & charming, I almost travelled back to my village. These amazing little things we don't get to experience in the cities we dwell in, so its so precious for us. I spent a lot of time at the balcony, gazing at the trees, birds, frogs feeling fascinated like a kid and reflecting upon the fact that villages are far far better than the concrete jungles we stay in.
We then set out for a morning stroll, to catch the beautiful sunrise at Om beach & have a short trek for our breakfast. As we reached the beach, we were again stunned by the view. The blue ocean sparkling with sun rays and the crimson orange sun rising out of a herd clouds was a magnificent view. We strolled some distance and clicked the amazing views of sunrise against the beach.
It was time for our short trek to 'Shantidham Cafe' which lied at hardly 1 km distance from the beach. The way to the cafe offers such majestic views of the beach, this place is a must visit. We were welcomed by two dogs barking at us endlessly from a distance, but as we came nearer they stopped barking & rather escorted us to the cafe. 'Shantidham Cafe' is a one of its kind cafe! It has seating arrangements on the edge of the mountains, also an egg shaped chair swing. I was counting the number of surprises I got since morning, and it was surely one amongst those. The two dogs had become our companions by then & were not leaving us at all.
We spent a long time at the cafe & had a king sized breakfast consisting of pancakes, omelettes, sandwiches, poori sabzi & what not!
We then returned to our rooms & quickly got ready for our next trek to Kudle beach. Kudle beach lies at 2 km distance from Om beach. The route is through hillocks.
This beach is completely secluded from the outside world by hills & is a serene & peaceful place. It was almost afternoon so we went directly to a restaurant called 'Cafe Nistara'. This place & almost all the restaurants here have hut like structures & the sitting arrangement is on the ground resembling something like a dhaba by the beach, but quite cosmopolitan in nature & stylish. In Gokarna, almost all places play trance music & this place was no different. So we enjoyed the trance music gazing at the sea while having sumptuous food. Bliss.
We spent the whole afternoon there & went to the beach at around 4 pm. Kudle beach is famous for its never-ceasing tides, its serenity, sunset & boatrides. We played with the tides for sometime & headed back to Om Beach. As evening was approaching, the sky was getting more gorgeous & we were more excited to watch the sunset.
It was looking as if the sky wore a garland of golden clouds, even the sea looked golden & slowly as sun was setting, the sky turned pink, much to the delight of the onlookers! Speechless I was. Prathamesh was super engrossed in sunset photography & came back only after night set in. What an amazing day !
Next morning we went for another short trek up an hillock. This time it was on the left side of the Om beach. Sights of people teaching or practising yoga on the beach is not uncommon, we passed by many such & started on our trek. We climbed the hill through a narrow passage until at one point where there was no path. Finally we reached up a cliff from where "Half moon beach" could be seen. The view of the morning sun dazzling upon the still waters of the ocean was mindblowing & captivating. The whole trek seemed worthwhile after watching the view.
We then returned to the resort and were super hungry after the trek and hence it was time for a king sized breakfast !
The famous 'Mahabaleshwar' temple lies on the way at 6 km distance, so we went to the temple for darshan. After that we embarked on our journey back.
The present day Gokarna is very different from what it used to be in the past. Gokarna used to be famous for its temples & is still a place of pilgrimage. In fact it is one of the seven most important Hindu pilgrimage centres. The main temple and deity is Lord Shiva, who is also known as Mahabaleshwara. This temple houses what is believed to be original image of Lord Shiva's linga (Atmalinga). Etymology has it that Gokarna means cow's ear. It is believed that Lord Shiva emerged from the ear of a cow (Prithvi, the Mother Earth) here. It is at the ear-shaped confluence of two rivers Gangavali and Aghanashini.
As per legend, Ravana was given Atmalinga by Lord Shiva and instructed that it would stay permanently where it is first placed on the land. But Lord Ganesha came in the form of a boy and planted it in Gokarna while Ravana was performing rituals. Once placed Ravana could not remove it from ground, but he removed some pieces of the Linga and threw them in different directions.
The face of the town has changed very recently due to the influx of tourists in large numbers. The rustic, untouched & pristine beaches have been frequented by young western tourists since a decade now. It is being said that Goa was the favourite among western tourists, but now that it has become overcrowded, they prefer Gokarna because of its peaceful atmosphere & pristine, unexplored beaches. Before that the beaches were not used much by the locals. But now there are lots of shops, restaurants & resorts. Our trip to Gokarna was wonderful & would definitely recommend everyone to go there & spend few days. This brings me to an end to the Gokarna blog.