In retreat, we looked back to that place once again, it was a hope for those orphans, a home for those travelers, true heaven with the most delicious food and one epic kashayam.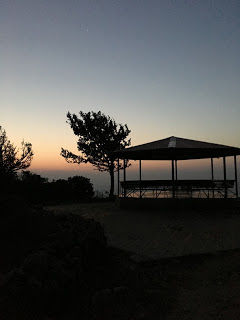 Even in the morning, we were not sure about will we go or not because as everyone most of our trips ended in just planning. In the end, four of us took the train to Udupi at midnight. And midnights are the most beautiful time to start something, ain't they?
We reached Udupi by morning 6, had tea from a nearby teashop and then took the bus to Agumbe.
Agumbe is a small hilltop village in Shimoga district of Karnataka, surrounded by rainforests and mountains. Agumbe is known as the Chirapunji of south India because of its high amount of rainfall.
Bus to Agumbe was really adventurous, there's a pass on the way which consists of 12-14 hairpin bends, with low security. But the driver was like he was driving on NH, he was even phoning somebody while driving in a pass.
After 2 hours of bus, we reached Agumbe. Climate was really cool, you can survive without a jacket, but we suggest one. Apart from BSNL, none of the networks will be of no use in Agumbe. Luckily we had no one with BSNL, so we asked a native for directions to Dodda mane, he said it was just a block away.
Dodda mane is a 130-year-old homestay in Agumbe, looking after by Kasthuri permal aka Kasthuri akka. It was one of the prime locations for 80's show Malgudi days. We were so excited to visit Dodda mane as many bloggers noted that it was a must visit location and their hospitality was exquisite. Food and accommodation will not cost you anything, but if we pay anything on honour, it will be taken as a donation to the nearby orphanage.
When we went there a couple of men were sitting in the verandah, they said that whole day was booked and no room was available, we tried to convince him that we tried to contact them before but no one was answering and in the end, guess what? They said we can stay there.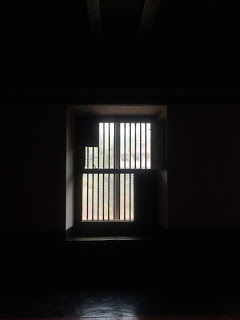 We got inside the home where memories of 130 years remain and then there came Kasthuri Akka, a woman in her 80s, the mother of Dodda mane. She served us the breakfast for that day. We would rate it 3/5 it this was some food blog. It was a platter of potato with beans with paneer and in place of tea, they serve a drink that we call 'Kashayam' in Kerala made with 29 different herbal ingredients and it's only available in Dodda mane. Its strictly non-alcoholic in there and non-veg dishes are not served.
After refreshment and unloading our luggage we went to the bus station and took bus to Sringeri. It was a 20 KM bus ride from Agumbe to Sringeri which cost us around 300/- for the 4 of us. Sringeri, which is a religious hilltop town with a number of temples. It starts with Rajagopuram entrance which is a 127 feet tall gate, Inside the gate, there is Sharadamba temple and Vidyasankara temple. For those who like to spend their time in a religious ambiance, Sringeri is the perfect destination. Next, we took off to Sirimanei falls which were 15KM away from Sringeri.
Buses are not available, so we had to go for Autorickshaw. The auto driver told Rs 600 will get us to and fro, after minutes of talking we both agreed on 550.
Way to Sirimanei were too offroad - Brocken inside dense forest - We reached Sirimanei in style and changed to Swimwear. There's a small entrance fee to the falls. Sirimanei is not too big with crowded and heavily flowing water, but small beautiful falls with the coldest of the coldest water. It was a really cool experience at Sirimanei falls.
It was almost 2.30 when we changed our clothes to return, so we decided to eat our mild lunch in a cafe at the parking lot at the falls. We ordered some native snacks and ginger soda. In return, we made friends with Auto-driver. He dropped us at Sringeri bus station. We got into a bus filled with school kids. It sure was one of the most memorable and Nostalgic Bus rides. After a standing experience of 1 and a half hours, we reached back to Dodda mane where we had our mandatory photo session and then kasthuri akka served tea. She said that nearby, there was this world famous sunset point and we should check it out. When we set foot to sunset point it was already getting dark.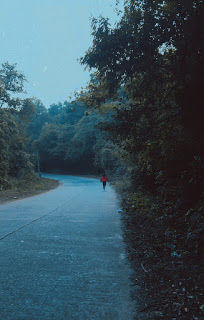 * playing 'run boy run' by woodkid in background It was already 6 pm in the evening so we ran the next 3 kilometers in 15 minutes to reach there. Sunset point was too crowded, it was beautiful, but no big thing for us from Kozhikode where sunset is no big thing. In return it took 1 hour to cover 3KM, Walking-Talking is the best thing we can do.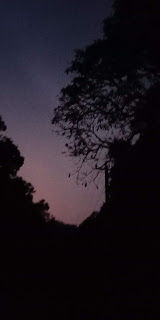 After reaching Dodda mane, we met 2 new friends Sreyas and Amit, who were engineers based on Bengaluru and had a nice talk. It was almost supper time, made it to the table at first call. It was our so-called Sadhya with Dodda mane unique dishes. That's one speciality on Dodda mane, you can these things only in here. It was the best supper I had in near life. It was Rice, Sambar, A sweet paste, A coconut thing, Some something, Pappadam and Brahmin smelled pickle, and of course 'Kashayam. In our rest after the battle, we decided to see sunrise next morning at Kundadri hills, Akka arranged Auto for the morning. After a small talk, we went to sleep.
Morning 5 am, Mr.Ravi Kumar, manager of Dodda Mane told that Auto was outside for our journey to the sunrise. In 5 minutes we took off to Kundadri. It was really cold out, this time you can't survive without jackets, if not you'r familiar with such conditions. It was 17 KM steep road to Kundadri hills. When we reached there, sun was getting ready to rise and shine, in the hill, there was a temple, a hangout zone and a viewpoint. It was a real beauty to see the sun rising from the bottom, as unlike sunsets, sunrises weren't a regular thing in our lives; it was really heartwarming. We spent almost 1 hour there and had a short visit to the temple. At 8.30 we reached Dodda mane and had our breakfast. It was Idli, 3 of square shape and 1 of special shape, we don't know what is the motive behind that.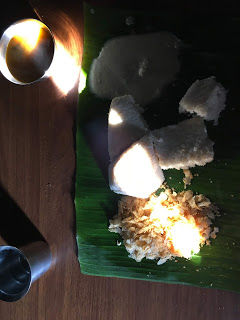 *if you're gonna ever visit Dodda mane, make sure you finished the whole plate ,otherwise, they will abuse you [ carved from exp. ]
After breakfast we went to bed to have our morning sleep. At 11 they said that we have to checkout as another party had already booked. So we packed our bags, had refreshments and thanked kasthuri akka and Ravikumar for their unpricable hospitality.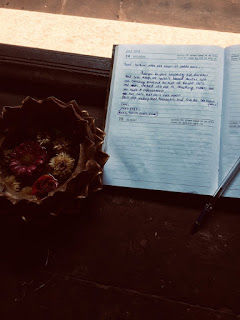 There was a review book where we left our experience in words and took some photos with kasthuri akka, also paid some money as it was for a good cause.
In retreat, we looked back to that place once again, it was a hope for those orphans, a home for those travelers, true heaven with the most delicious food and one epic kashayam.
I bought Nandini Milkpeda as a Souvenir which was the Milma peda of Agumbe, and got into the bus back to Udupi. When we left the pass my phone popped. "You have 4 new messages". It was then I realized that it has been almost 30 hours since I last checked into my social-media life. Maybe these things aren't as crucial as I thought it was. Maybe, what we all need is some quality time with quality people.
Some memories are enough for survival, this was one, an eternal one.