Our friend's wedding was at Moodbidri and that was a good reason for a short trip :)
Initially wanted to Ride Solo, but was glad that i got company of two friends and we had an amazing Bike trip for 2 days.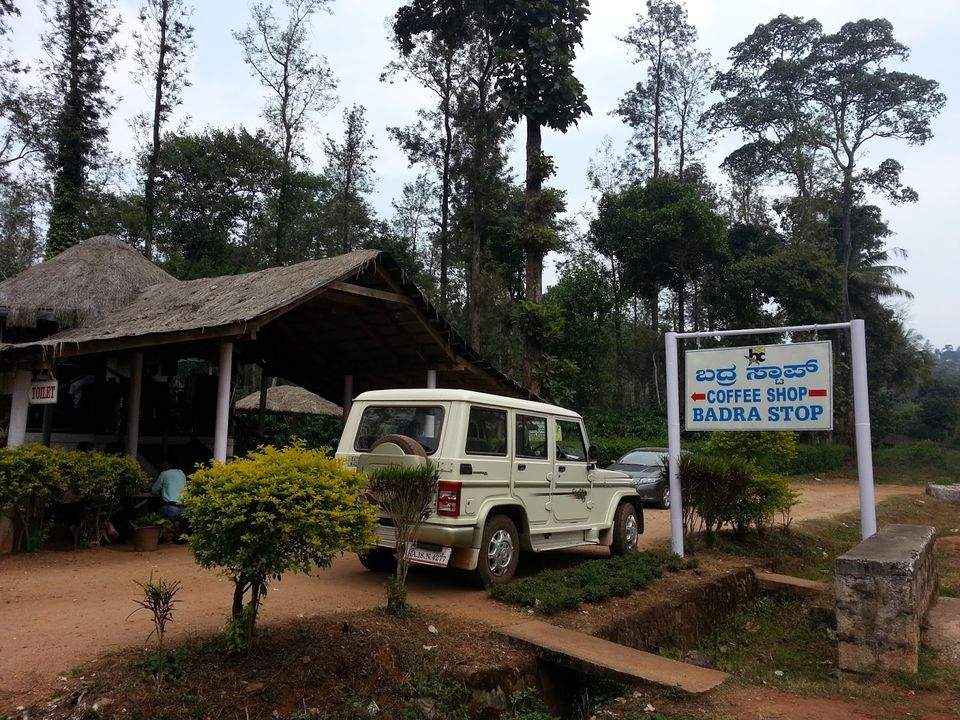 Day1:
Blore-Hassan-Belur-Chikmagalur-Balehonnur-Sringeri-Sirimane Falls-Sringeri(Halt)
Started the Ride early around 4am in the morning. Not much traffic. It was a smooth sail. The Route is very good all the way.
Chikmagalur-Balehonnur-Sringeri is Superb twisty roads.
Breakfast near Belur, Coffee at Balehonnur Bhadra Coffee shop, Numerous stops for photo and video sessions..
Finally reached Sringeri around afternoon. Initially we wanted to Ride to Moodbidri/Udupi but later decided to halt at Sringeri itself, just so that we get time for rest and to explore some places. Also the wedding was on the next day.
Checked in at a lodge(KanyaKumari lodge, Sringeri). Kept the lugguage and headed to Sirimane Falls, Kigga.
WaterFall was beautiful as expected. Not much crowd. Spent some good time. It was very refreshing to stand beneath the falls and relieved us of all the tiredness from the Ride.
Strangely, everything at the falls seemed somewhat familiar to me. Next day, when a friend told me, realized that we had visited the same falls few years back :p
Had dinner at Sringeri Sharadamba Temple. Spent quite some time strolling around in and around the temple.
We were quite tired by then so got back to the lodge and slept off early. Good that there was no Tv at the lodge.
Day2:
Sringeri-Kundadri Hill-Sringeri-Moodbidri-Belthangady-Ujire-Charmadi-Mudigere-Belur-Hassan-Bangalore
Woke up at 4am. Got ready, went near the temple again.
The Gopuram looks amazing at night. Each storey is lit up in different color. Clicked some pics there and had hot coffee. Great start for the day!!
Rode to Kundadri Hill. The gates were opened around 6am.
The place was calm and quiet and unlike our Nandi Hills, crowd was well behaved. No screaming, shouting and all. Everyone was just sitting on the hill and enjoying the view. Got a good view of the Sunrise and western ghats. Recorded a timelapse and it was time for some photos and crazy slow motion videos.
While taking the pics, there was this big g:roup of guys in the background who were moving around. My friend said something - "Kal nan makla.. hogro akade.." and to our surprise they somehow heard it :D They were like "yaak guru, ayth bidu kal nan maklu naav hogthivi". It was hilarious. We had a good laugh throughout the trip recalling that.
Din't realize how time flew by. Remembered the wedding and started back to the lodge in Sringeri. Packed everything. Got ready, For the first time, Wore a formal shirt with Riding jacket. Skipped breakfast and headed straight to Moodbidri.
We thought we'll be late coz the Route was full of curves, Narrow roads and oncoming traffic. Good speeds and a non stop Ride ensured we reached moodbidri on time for the wedding.In fact, we were the first to reach and our friends (from Udupi) came much later :D
Met our friends after a long time. We were damn hungry. Had Stomach full. Got tank full(petrol) for our Bikes too and Started back to Bangalore around 2:30pm. Decided to take the route through Charmadi Ghat. It was single lane till Hassan and we din't want to Ride much on single lanes in the dark.
Riding through Charmadi was nice. Saw an Avenger group at a view point who had stopped there for pics and we too stopped for a break.
It got dark somewhere after Mudigere. Reached Belur carefully overtaking every other vehicle on the way. The good lunch we had, ensured we had the energy for the long Ride, but it was quite tiring till we reached Hassan.
Once we reached the highway at Hassan, our speeds increased and it was a breeze thereafter. Stopped at Swathi Delicacy(Kunigal) for Dinner around 10pm. Next stop was Nelamangala toll where we parted ways.
Reached home around 12am. Trip meter showed 857Kms.
Waiting for more pics and Videos from my friend's unbearably and unsharably secure Iphone.. :)
============
Camera Gear
===========
GoPro Hero 3+ Silver: https://amzn.to/2sZ861f
Spare Batteries: https://amzn.to/2lbGEJ9

Nikon 5300 DSLR: https://amzn.to/2sZiCp3
Suction Cup Mount: https://amzn.to/2yeClWR
MonoPod: https://amzn.to/2thyrXR
Gorillapod: https://amzn.to/2JOFTRc
Lavalier Mic: https://amzn.to/2HRhMzm
Memory Card: https://amzn.to/2tcJRMp
Accessories
Car Charger (23W Dual USB 4.8 A) : https://amzn.to/2tbSWor
20800mAH Power Bank: https://amzn.to/2ynV0Qr
WD Elements 2TB Portable Hard Disk: https://amzn.to/2LSBddx
TubeLess Tyre Puncture Kit: https://amzn.to/2JWUbSW