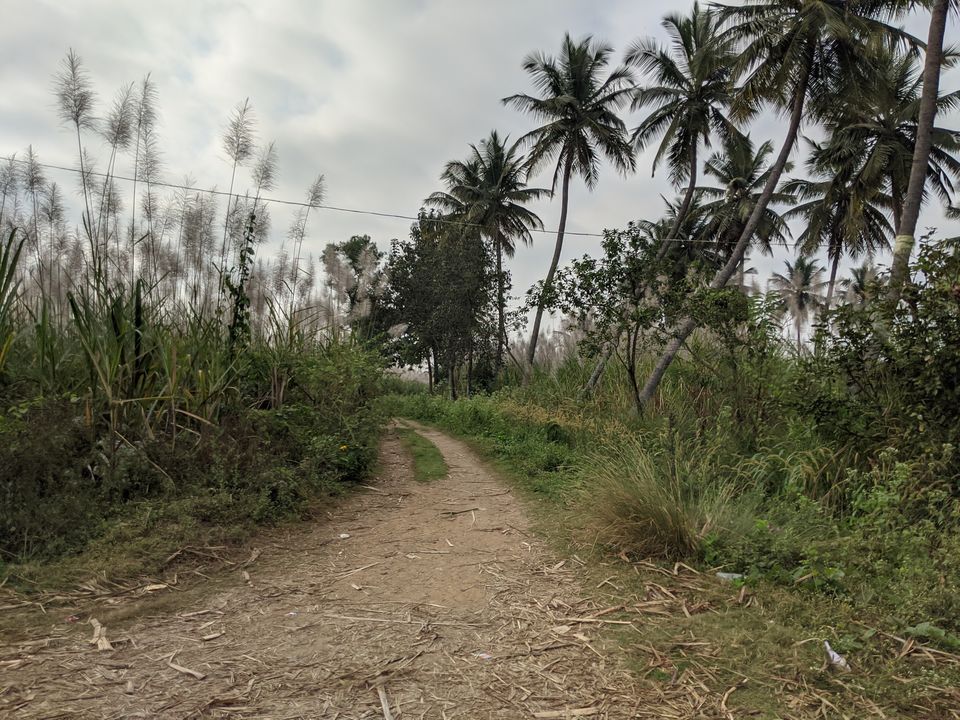 This blog is dedicated to all the parents who encourage their children to live a life of adventure!
If you have a parent who is over the age of 50, you know online research isn't usually their strength. Just like every other parent, my mum too struggles with the use of a smart phone and is often confused about what "Google" means.
Planning the surprise
Knowing that I love road trips, architecture and nature, my mum devised a sweet birthday surprise for me - a little getaway within Karnataka! She painstakingly researched unknown temples within the state and even managed to use YouTube to discover an untouched architectural marvel in Mandya, Karnataka.
On the eve of my birthday, she told me to pack a bag for a road trip and be ready at 5 AM! If you love travel, you know that you won't get any sleep before a getaway. So I was ready much ahead of my mum's 'deadline', with the anticipation of a 10-year old about to cut a delicious cake. She even managed to arrange a car and driver with the help of some of her friends. The polite driver knew it was my birthday and greeted us with a "happy birthday" at 5 AM on a chill, December morning.
Breakfast pit stop
Like all disciplined parents, my mum ensured that we start our day with a wholesome breakfast. Our first stop was breakfast in Maddur - home to the famous Maddur Vada! A must-try for anyone, it's a savoury snack made of lentils, filled with bites of spice and onions, and served with a coconut 'chutney' which is a South-Indian version of sauce. Best accompanied with a glass of steaming filter-coffee, one bite is never enough.
After the first part of my 'birthday surprise', we headed off on to the road once again. Past the highway and large roads of the city, we left the urban jungle behind for sugarcane fields dotted with sugarcane factories. Mandya is known for its sugar belt which is a major contributor to the economy of the region. The unmistakable smell of caramelised air invites you into the empty corners of the district. It makes you feel like a child at a candy store who can order whatever she wants because it's her birthday. We were tempted to stop and watch the making of jaggery and sugar but had to move on as my mum wanted to maintain her schedule (typical of my mum!)
As we made our way towards this surprise destination (which my mum managed to keep hidden till we arrived) it felt like we were moving through a time machine to a bygone era. As we drove past beautiful fields of sugarcane and coconut trees, the need to stop, take a calming nap in a patch of shade and leave reality behind was strong.
Old school navigation
Within a few hours we were slowing down to locate the little temple dedicated to Lord Mallikarjuna in Mandya. Google Maps on the driver's phone led us to several main roads. But after awhile we realised it's best to stop and ask one of the inquisitive locals who were wondering what a few strangers were doing out here. One kind gentleman on a bullet offered to guide us to the main entrance. After meandering through some narrow paths, we finally encountered a hidden board with an arrow pointing to the direction of the temple.
Since it's an unpopular, yet protected temple, there was parking available right in front of the the temple entrance and no one objected.
Unraveling the birthday surprise
I was immediately consumed by the rare beauty of this 'present'. The guard to the temple was surprised that anyone would want to dedicate their day to this little temple. He quickly ran up and enquired about what we wanted before he pulled out a set of keys to the temple door. We were awestruck at the intricate nature of the carvings and the tiny doors which no one seemed to want to open - were we so lucky to encounter this little gem? A feeling of exclusivity immediately took over.
Built around 1230 A.D. this beautiful monument welcomes you with statues and carvings that seem to begin luring you with fairy tales. Much to our surprise the carvings are perfectly intact.
As the little door beckons you to bow in humility, you're astounded by the quiet and still Nandi, watching over the sanctum santorum. The cool, black stone of the floor feels refreshing as you make your way under a sunroof that creates a column of light to walk through, towards the main statue.
The tiny yet ornate walls of the temple have three main deities - you'll be surprised at how perfectly the form of the statues have been maintained, without a single scratch!
My favourite was the statue of Mahishasura Mardini in pure black as she almost smiles at visitors with a peaceful expression on her face, while she kills the evil demon.
The inside of the temple is so well designed that natural light floods each deity's section. Because of this, there was no electrical connection, within the temple which is held up by dramatic pillars.
Interestingly this Hoysala style temple has a special secret - the Nandi at the entrance is placed in such a way that you can view the Shiva statue through the Nandi's ear - a remarkable piece of architecture and something I'd never come across before! The locals believe that only if God permits, you will be able to catch this unique view, if not it will simply slip from under your nose - literally!
After you've attempted to view the Shiva statue through Nandi's ear and gasped at the wonder that is this temple, you'll be led by the columns of light to the outside of the temple.
As you encircle the shrine, you'll keep staring at the detailing on the outside walls of the temple. It makes you think about the seemingly immeasurable dedication and patience of the Hoysala Kings and their artisans who would have chipped away at the stone to create this remarkable piece of 'divine art'.
The compound enclosing the structure is quite small and you can finish walking around it in no time. Unless you stop to look at every carving with great detail and try to read the stories being depicted on the temple walls - with no one around - it'll seem like the entire temple has been waiting for you to discover a forgotten era.
How to reach
This lovely temple is well connected by road from both Mysore and Bangalore. Located in a village, you'll need to ask for directions as most part of it is not listed on maps.
When to visit
Mandya being a very hot region. It's best to visit between October and January, before summer begins to set in. Choose to arrive in the morning as the temple has only one guard and is also most visible with natural light
What to bring
A sense of curiosity and respect! Unlike most temples, while the Gods are taken care of by the village priest, it's not a temple that invites offerings. It's ideal to marvel at the ancient architecture of the Hoysala dynasty, without the tourists. There are no shops or amenities here so be sure to carry some water with you.
Do remember that the Mallikarjuna Temple in Mandya is a protected site. While the urge to touch the walls and carvings may be strong, it's best to appreciate it from a distance. The constant touch from tourists can lead to the statues losing their lovely forms over time - not something we should encourage if we want to travel responsibly!
A thoughtful gift
My mum's always been someone who has encouraged me to follow my inner compass. When I was 18 she tried to get to me to go backpacking alone through Europe. She has always believed that being young, backpacking and traveling minimally is the right thing to do. And while she isn't social media savvy, connected online or great at keeping secrets, she managed to pull off this sweet, birthday surprise for me - something which only brought us closer together!
I realised how much we take for granted as millennials. Navigation with smart phones and discovering hidden destinations comes easily to us because we're so well equipped with technology. But for my mum who has grown up in the era of radio shows and James Hadley Chase novels, planning this surprise must have been a huge task. My best friend while growing up, she truly surprised me with the way she managed to plan my birthday and so perfectly well too! Added bonus - naps on her lap after the excitement of the day wore off as we made our way home past sunset.
Follow me for more travel updates on Instagram or wishlist this trip to make your bucketlist more interesting!