Located in the western ghats of Northern Karnataka lies a sleepy hill town, that has successfully managed to stay in a bygone time, as the world around it developed at a breakneck speed. Named Banavasi, this town is believed to be the first capital of Karnataka, ruled by the Kadamba Dynasty in 4th century AD. Deep in the rain forests of Western Ghats, on the banks of River Varadha, Banavasi has ancient temples and is blessed by cascading waterfalls and lush green fields during monsoons.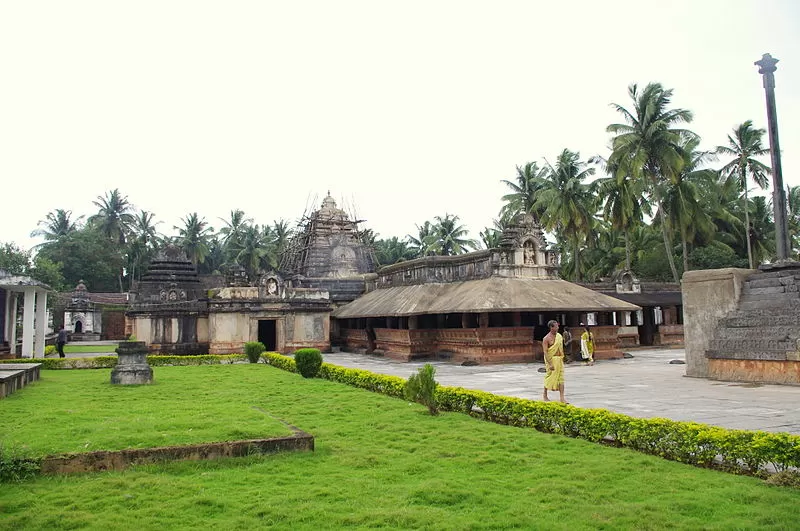 Why travel to Banavasi?
This ancient town has been featured in writings of ancient travellers Greco-Roman writer Ptolemy in 2nd century A.D and Persian scholar Alberuni. And once you visit here, you'll know exactly why this small town has been enamouring travellers since centuries.
It was in 4th century AD that Mayur Sharma, of the Kadamba Dynasty, established the first formidable centre on power in Karnataka, and chose Banavasi as his capital. He was the one who ordered the construction of Madhukeshwara Temple. Originally dedicated to Madhava (a form of Vishnu), the architecture of Madhukeshwara Temple is a mix of Kadamba, Chalukya, Hoysala, Sonda and Vijaynagara schools of architecture. The temple houses some exquisite sculptures and carvings namely the Trailokya Mantapa near the Nritya Mantap, an ornamented lithic cot, huge Nandi statue, honey coloured Shiva lingam and statues of the guardians of the eight directions.
In the village of Gudnapur, 5km from Banavasi, lie the origins of the Kadamba dynasty. The archeological site has a pillar inscription of the Kadamba king Ravivarma. The inscription, in a box headed script, reveals the origin and genealogy of Kadambas and has a description of a temple, palace, harem and dancing halls. Today, all that remains of this ancient settlement are plinths of the aforementioned structures and a temple, with ornate statues of Jain Tirthankars, overlooking a vast lake that is flooded during the rainy season.
The uneventful village of Balligavi, around 43km from Banvasi, is currently home to impressive temples of the Hoysalas and Chalukyas, that stand in stark contrast to the humble dwellings nearby. But, once upon a time, this tranquil village was home to around 54 temples and maths affiliated to Shaivas, Vaishnavas, Jains and Buddhists. However, the only thing left here now is some ruins and the two temples.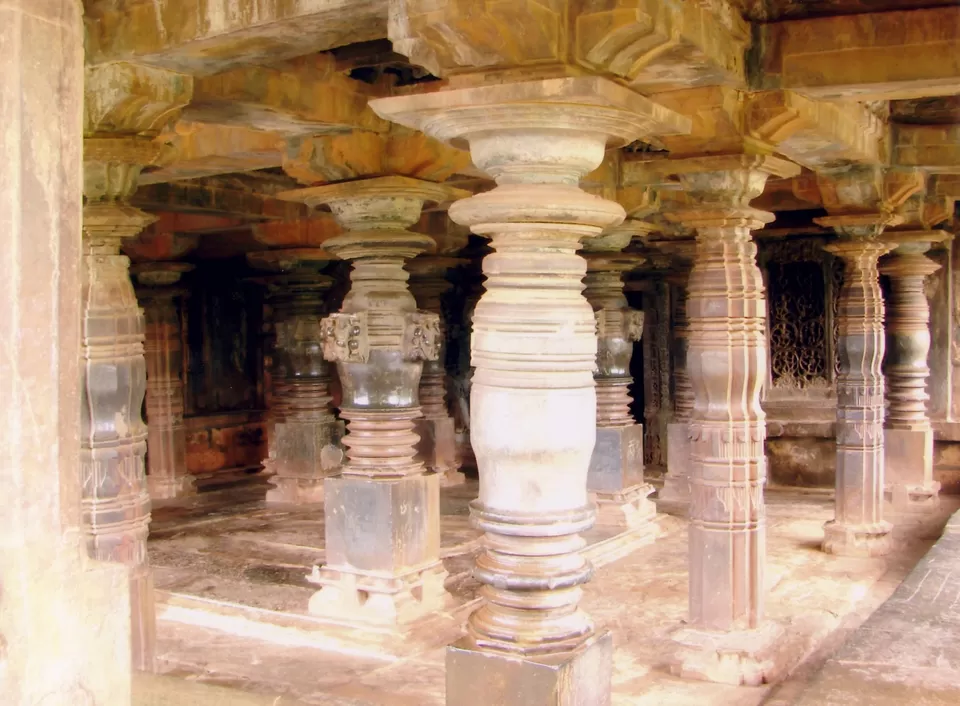 Another temple in Balligavi, Tripurantakesvara, is a victim of the damage done by natural forces. The two parallel shrines facing east display signs of decay and whole portions of the temple have fallen into disrepair. However, there are still intricate carvings on the stone, you only need a keen eye to spot them. This is also a temple, that is from the Hoysala period but unlike other Hoysala temples, has a number of erotic figures carved all arounf the temple platform.
Cuisine on offer
"Khanavalis" or small eateries in Banavasi serve up hot, delicious food with a warm smile. There are several breads made of rice, jowar and corn as well as rice served with a variety of sweet, sour, pungent and spicy curries and sauces. Accompanying the meal is a wide range of fresh powders and chutneys made of lentils, chillies, and tamarind.
When to go
The dry season from October to February is a great time to visit if you wish to enjoy the temples. However, if you also want to take in the lush greenery of the surrounding fields and paddy fields in full bloom, monsoon months from mid-June to August are perfect.
Getting there
By air: The nearest airport is Bangalore, 400km away. Daily flights from New Delhi, Mumbai, Kolkata and other major towns of India operate to and from Bangalore.
By train: Nearest railway stations are Shimoga and Haveri, 122km and 70km away respectively. Taxis and buses are both available from these towns to Banavasi. Taxis charge ₹10/km for a hatchback.
By road: Bangalore to Sirsi (25km from Banavasi) is a popular route of KSRTC. Buses sometimes stop at Banavasi. Otherwise you can get down at Sirsi and take a taxi to town. Taxis charge ₹10/km for a hatchback.
Getting around
Banavasi is a small enough town that you can easily walk from one attraction to another. However, you can also take a day-taxi for all sights. Taxi prices start from ₹800 - ₹1000 for a hatchback. You can negotiate the prices.
Accommodation
There is only one accommodation option in Banavassi itself. It's an eco lodge with basic amenities. You can contact on +91 81055 45777 for a booking. They also arrange transport from Haveri for a price.
You can also opt to stay in Haveri and visit Banavasi as a day trip. Shivshakti Palace is a decent place to stay in Haveri with rooms starting at only ₹1000 for a night for two.
Have some tips or travel-related questions? Visit the community forum to ask questions, get answers, meet other travellers, and share your advice.
Frequent Searches Leading To This Page:-
banavasi temple Karnataka tourism package, banavasi tour package from Delhi, budget banavasi temple package from Delhi, weekend getways from bangalore