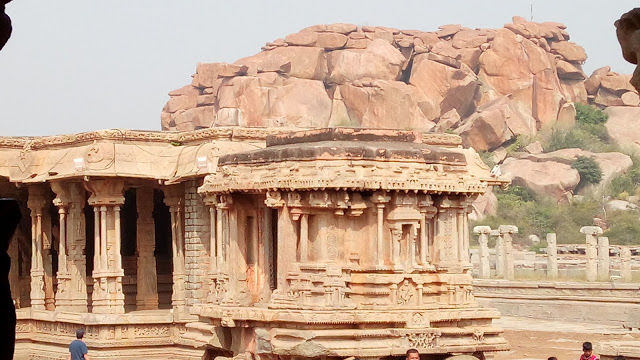 Have A Look at My Itinerary for Hampi , Badami, Pattadkal and Aihole from Pune.....May be useful for your road trip :)
Day-1
6:00 AM- Pune to Tuljapur (5-6 hrs.) (Tea Break at around 10:00)
12:00-1:00 Darshan of Tuljapur Bhavani
2:00 pm Lunch at Gadag Express , (Solapur ) ( South Indian Food)
After lunch Proceed to Akkalkot (1Hr) -Visit and Darshan
5:00 pm Check in Balaji SarovarPremium Hotel , Solapur
8:00 PM Dinner at Balaji Sarovar Premium Hotel, Solapur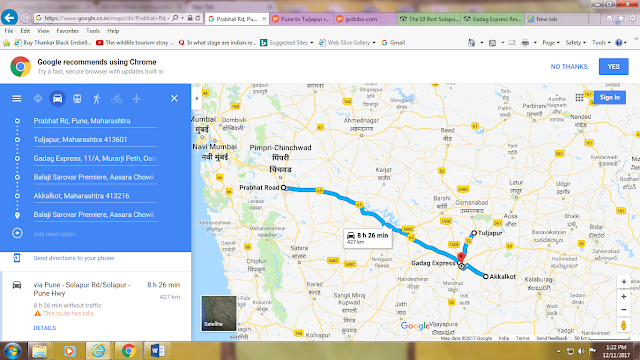 Day-2
8:00-8:30 am Breakfast at Balaji Sarovar Premium Hotel, Solapur
8:30 am Check out and proceed to Vijyapur/Bijapur ( 2:15 hrs)
11:00 am Bijapur , Visit Gul Gumbaz and Ibrahim Rauza Tomb ( 1 Hr)
12:00 pm Leave for Almatti Dam ( 1:30 Hr)
1:30 pm Lunch at Almatti Dam at any local restaurant ( Local food - Rotti,Pundi palya, with Curds and various chutnis are popular food over here ) and after site seen proceed to hotel near Hampi
7:00-7:30 pm Check in In Hotel Shivavilas Palace
8:30 Dinner in Hotel Shivavilas Palace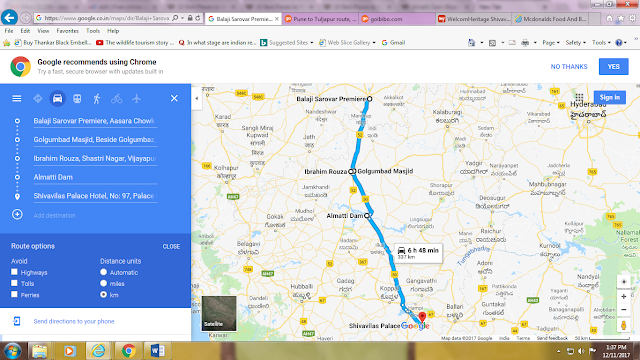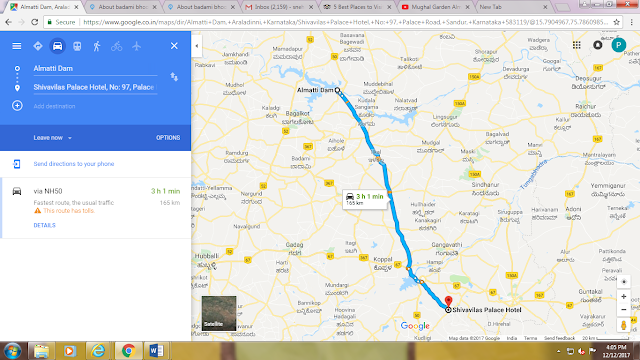 Day-3
8:30-9:00 am Breakfast at Hotel Shivavilas Palace , Sandur
9:00 am - Proceed for Hampi ( 1:30 Hr)
10:30 am Onwards Local Sight seen of Hampi -Monolothic Bull, Virupaksha Temple, Lakshmi Narasimha, Badavi Linga, Underground Shiva Temple, Elephant Stables, Palace Area, Vijaya Vithala Temple (Stone Chariot), and King's Balance, Purandara Mantapa, Old Bridge Pillars and Queen's bath.
1:30 pm Lunch at Mango Tree / Laughing Budha Restaurant
2:30 pm Local Sight Seen Continue
4:00 pm Back to Hotel Shivavilas Palace , Sandur ( 1:30 Hr)
5:30 At Shivavilas Palace
Enjoy at Shivavilas Place / Library / Spa/ Car Museum / Coffee shop etc.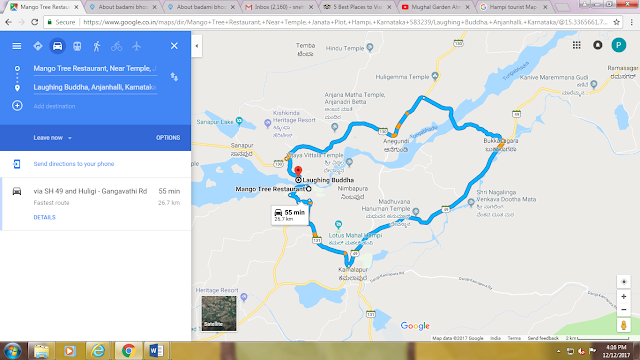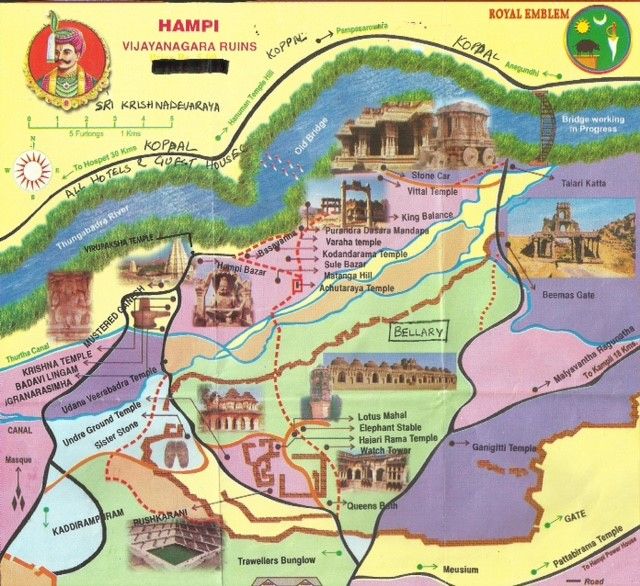 Day-4
8:30-9:00 Breakfast at Hotel Shivavilas Palace , Sandur
9:00 am- Proceed for Aihole ( 3 Hr)
Visit Aihole ( Local tourist Places)
1:30 Proceed for Pattadakal ( 30 mins)
Lunch at Pattadakal at 2:00 / May pack from Hotel from Sandur
2:30 Local Visit Patadakal
4:00 proceed for Badami ( 45-50 mins)
Sunset at Bhoothnath temple
8:00 Dinner in clarks Inn, Badami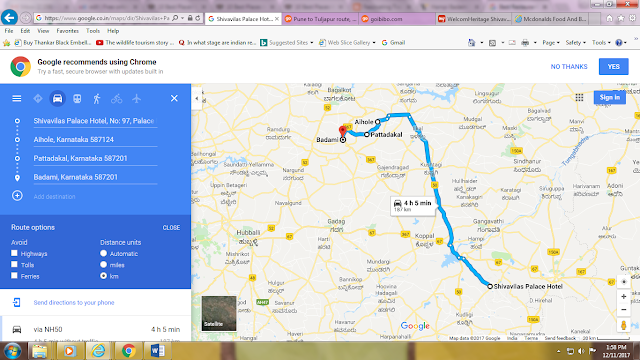 Day- 5
8:30-9:00 am Breakfast in Hotel Clarks Inn
9:30 am Onwards Local Sight Seen in Badami including Banashankari Temple, Badami Cave Temples , Mahakuteshwara Temple followed by lunch in Badami
2:00 pm Proceed for Kolhapur ( 5:00 Hr) ( Tea Break around 5 clock)
7:00 pm Check in Citrus Kolhapur
8:30 Dinner in Citrus Kolhapur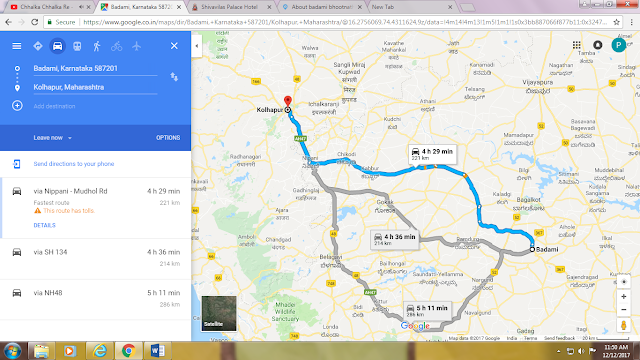 Day-6
9:00-9:30 am Breakfast in Hotel
10:00 am Check out and Proceed for Darshan of Mahalaxmi.
12:00 am Lunch at Patilancha wada, Kolhapur
1:00 pm Proceed for Pune ( 4:30 Hr)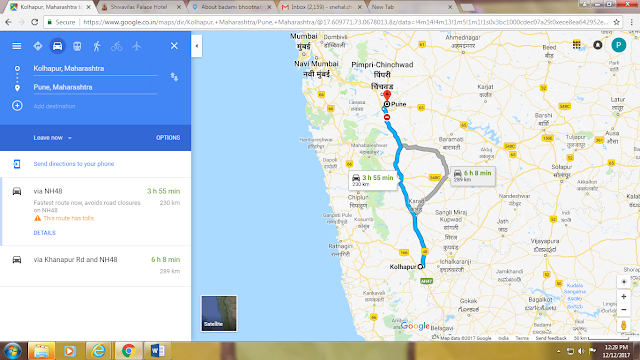 Happy Ending with sweet Memories :)