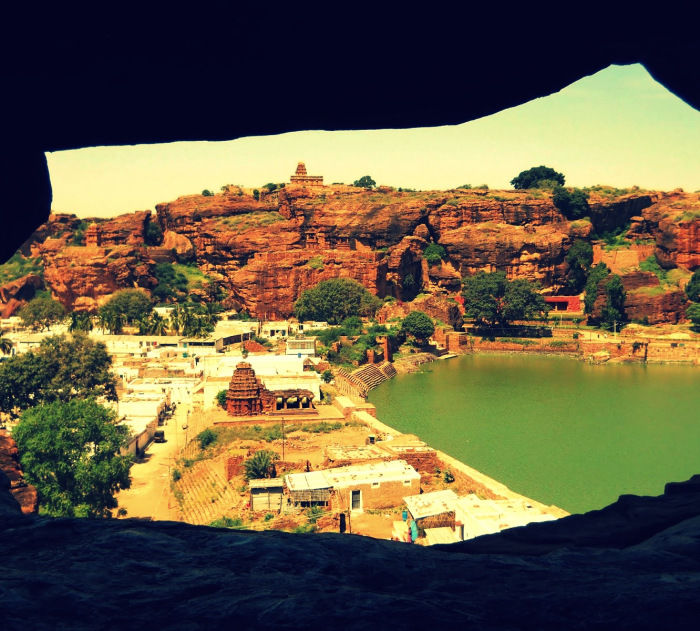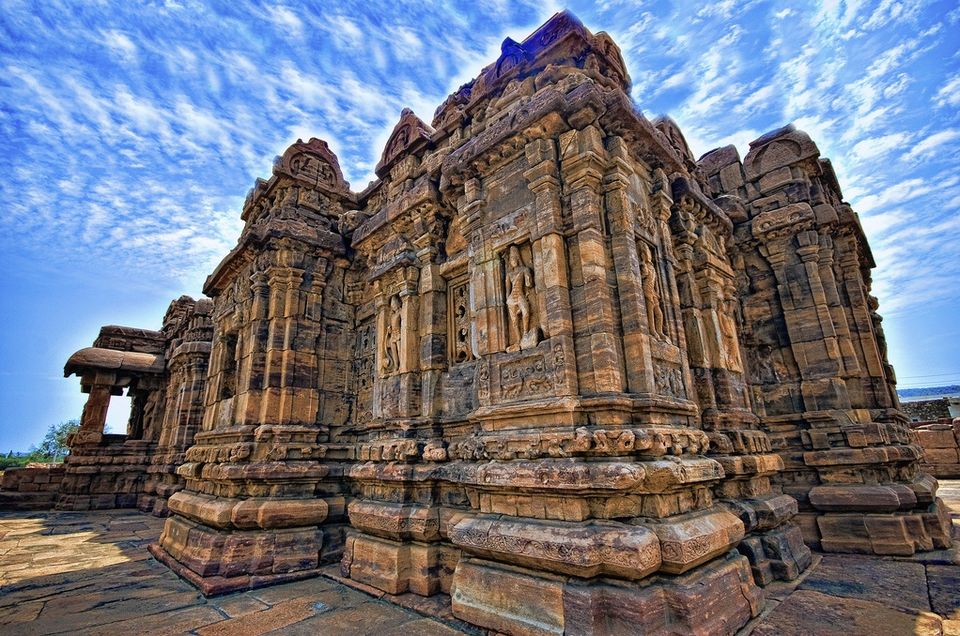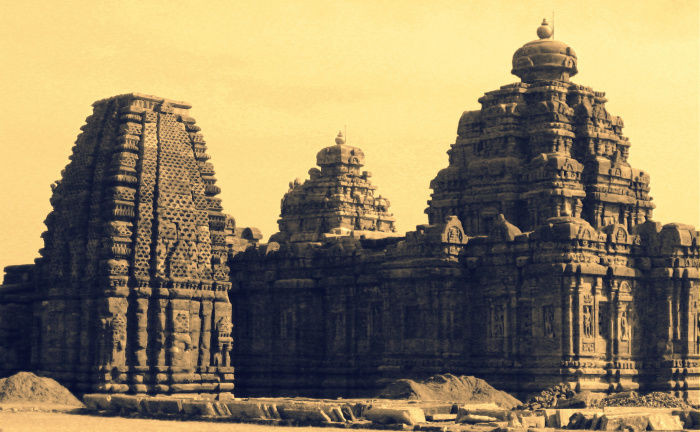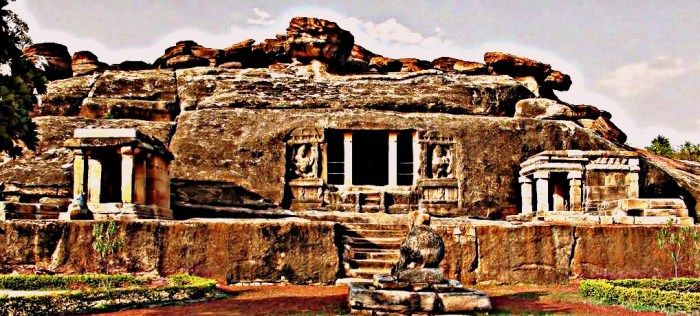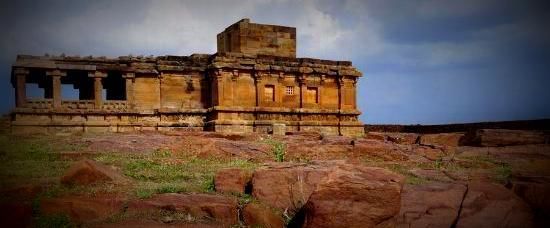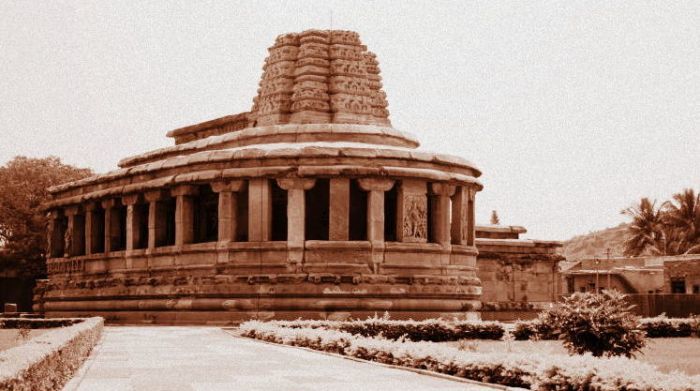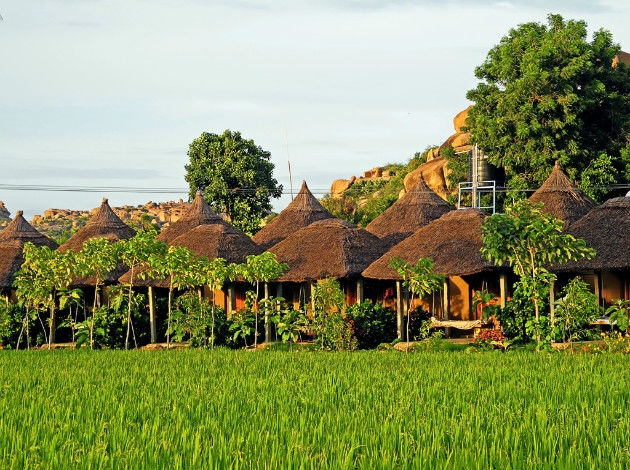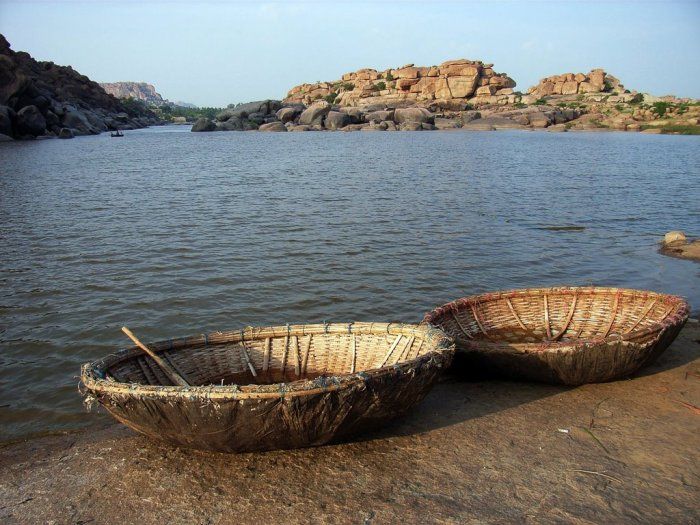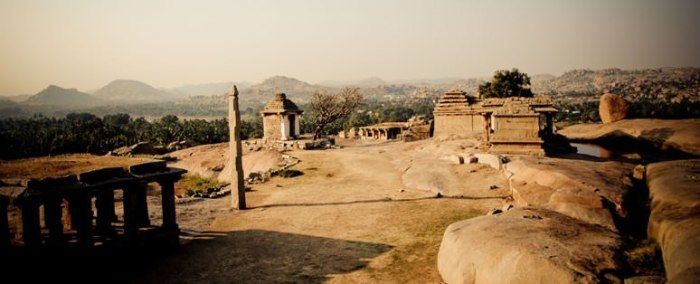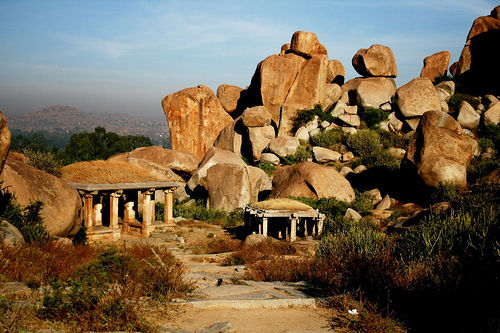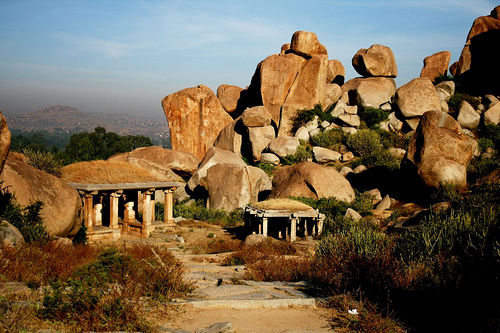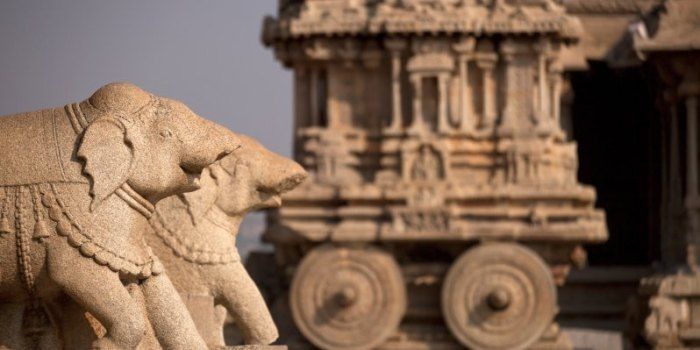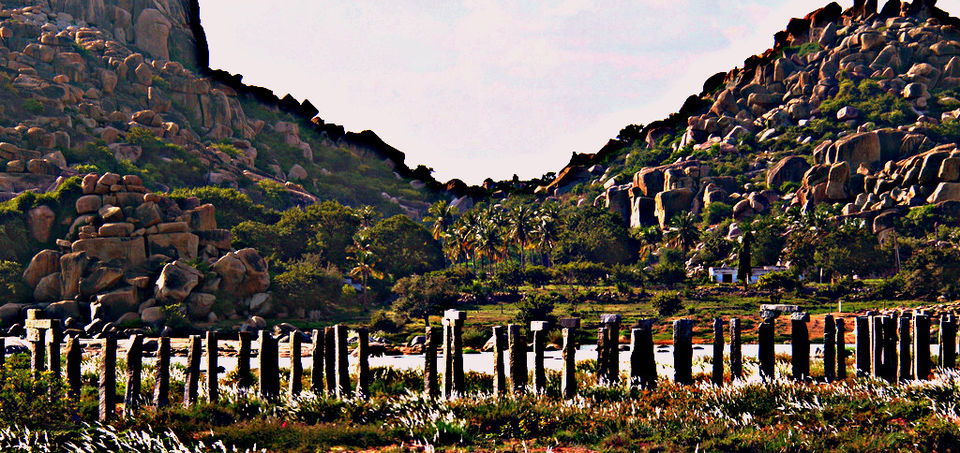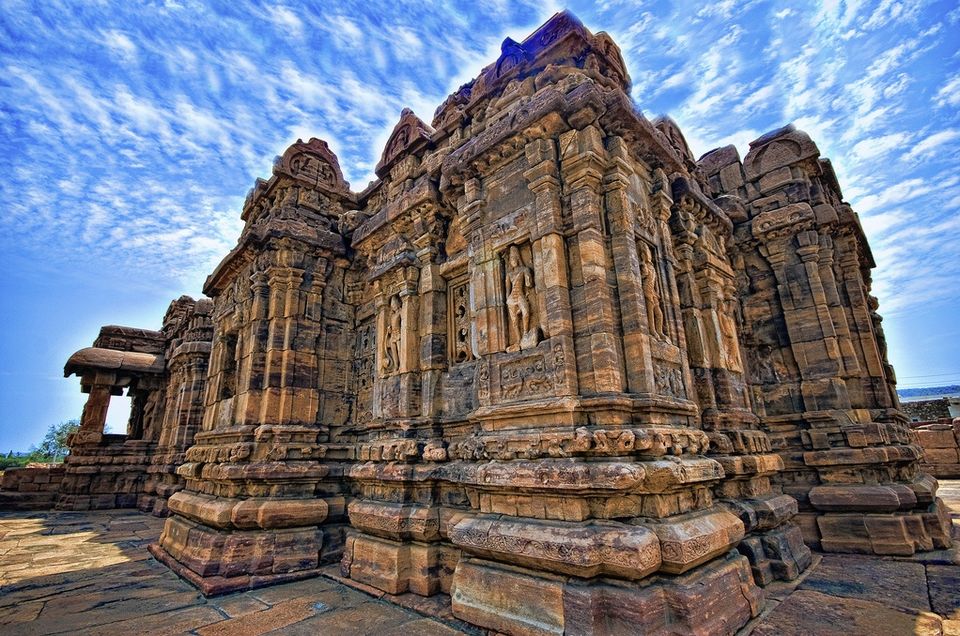 Today, I am going to take you on a virtual tour of famous archaeological sites of Karnataka. Collectively, they are also well-known UNESCO heritage sites of Karnataka. And, yes! You guessed it correct. I am talking about Hampi, Aihole, Pattadakal and Badami.
I know what you are thinking! To be honest, I can pretty much connect with you.
Trust me, my article is not about exploring only temples, wandering around the archaeological sites and then, returning back home.
Instead, what if I tell you this – Did you ever imagine to do something beyond usual things?
Let me break it down for you, if you didn't get it. Say, trekking or coracle ferry ride at Hampi! Now, does it sounds interesting to you- Yay or Nay?
What say, shall we give a try to find out what else you can do at Hampi, Aihole and Badami?
Before we begin, firstly, let's check the Route Map. To get an idea about the distance, where we are going to head out.
Bangalore-Hampi-Aihole-Pattadakal- Badami-Bangalore
Travel Options:
From Bangalore to Hampi
By Rail: Try out for Hampi Express to reach Hampi from Bangalore.
By Bus: Look-out for Redbus.in (from Bangalore to Hampi) travel options by bus.
Advisory:
The train journey takes a longest hour of time duration in compared to bus journey.
Whether your travel options are by rail or by bus, you have to get down at Hospet. From Hospet town to Hampi, you can either take an auto-rickshaw or catch the local bus (Local Buses are available every 30 minutes).
Visit Badami via Aihole and Pattadakal
Badami possesses well-connected bus routes and Karnataka State Road Transport Corporation networks, which makes travelling for convenient and accessible.
The city buses are pocket-friendly and cover the entire town.
Apart from this, you may also opt for Auto rickshaws. They are the main mode of transport in Badami and also connect the town to adjoining areas such as Pattadakal and Aihole.
There are also options for car rentals/ bicycle rentals/ scooter rentals. (However, you have to hire from Hospet, in case, if you are planning to hire.)
Another mode of local transport is the ubiquitous tonga, which gives you a very different and interesting experience, who are interested in exploring the ancient town at a more personal level.
(c ) From Badami to Bangalore
By Rail: Try out for 90di.com, and Makemytrip.com
By Bus: Look-out for Redbus.in for travel options from Badami to Bangalore by bus.
Advisory: Train journey takes a longest hour of time duration in compared to bus journey.
In case, if you are self-driving, then you may use the following route map to follow the route directions:
Bangalore to Hampi
Hampi to Aihole
Aihole to Pattadakal
Pattadakal to Badami
Badami to Bangalore
Advisory:
The Fuel station in Hampi is located at Kamalapura (which is a few kilometers away from Hampi Bazaar) and in Badami, located at Bagalkot.
The rental shop can 'arrange' petrol locally at a slightly worst rate.
No fuel stations are available to near any of the ruins sites.
In the Anegondi area (the other side of the river), a mechanic shop near the Gagan Mahal at the village square is of help to organize fuel.
Don't expect fuel efficiency more than 25 kilometers per liter. So fill it up with adequate and stop worrying (about 3 liters is okay for a day to roam).
Short Itinerary of Travel Plan:
Day Short Travel Itinerary
Day 0 Departure from Bangalore. Overnight Journey
Day 1 Reach Hampi. Sight-Seeing. Overnight Stay.
(Breakfast and lunch- en route. Choice for having dinner- en route or at stay)
Day 2 Head for Aihole and Pattadakal. Sight-seeing. Reach Badami. Sight-seeing. Depart Badami. Overnight Journey.
(Breakfast, lunch and Dinner- en route)
Day 3 Arrival at Namma Bengaluru.
Highlights of exploring sites:
Hampi- Ride among the ruins
Aihole- The Cradle of Rock Architecture
Pattadakal- Harmonious Convergence of North and South temple architectures
Badami- Chalukya Dynasty Capital
Buckle up to explore the Stonehenge era of East, step-by-step!
Hampi- Ride Among the Ruins
The forlorn ruins of Hampi dot an unearthly landscape, which will leave you spellbound the moment you cast your eyes on it. Unlike Stonehenge, where it confines to a small attraction, here, the entire town of Hampi is full of impeccable attractions.
Duration at Hampi: 1 day and 1 Night
Hand-picked places to visit Hampi for 1 day Sight-Seeing:
Virupaksha Temple, Anegondi, Hampi Bazar, Achyuta Rayas Temple, Varaha Temple, Vittal Temple, Yantrodharaka Anjaneya Temple, Krishna Temple, Lotus Mahal, King's Balance, Queen's Bath and Elephant Stable.
However, if you want to spice-up your tour with an adventurous ingredient(s), other than usual places of sight-seeing of monuments and temples, then you might opt for the Matunga Hill
If you want to have a panoramic view of the town and especially Vijayanagar, then Matunga Hill offers you the best. This hilltop is the best spot to get an aerial view of Hampi. Located in the center of Hampi and considered as the highest point. The north part of the hill ends at the southern banks of Tungabhadra River, where the Kodanda Ram Temple is located.
Hemakuta Hill
Ideal for trekking. Considered as one of the highest hills in Hampi. It will take about approximately 15 minutes of a climb to reach the top and lets you  feast your eyes on stunning sights from the top by witnessing the mesmerize sunset or sunrise view! You can reach Hemakutta Hill either by the side of Kadalekalu Ganesha or from the side of the Virupaksha Temple.
Courtesan's Street
Also ideal for trekking. A short trek across the Matunga Hill will bring you to the middle of the Courtesans' Street. Lies in front of the Achyuta Rayas Temple. Once the temple is visited, trek along the Courtesans' street till the river-side path (also known as Kampa Bhupa's path).
Virupapur Gaddi
If you want to explore a "hippy hideout", then Virupapur Gaddi will not disappoint you! Two reasons to visit this site- a) This place is known for its laid back ambient. Because of being 'rural in heart'. And, b) This is the 'party central' of Hampi. The beauty of this place is about its accessibility, by crossing the river near Virupaksha Temple. You need to take a coracle ferry to reach this side of the river, as there are no bridges available so far.
Shanti Guesthouse
Staying in a cottage on the rice fields! Who doesn't want to spare a night? A perfect place to witness the mesmerizing sunset view of all the times from a swinging porch bed.  You will definitely enjoy every moment of your stay at this wonderful place.
Let's head for another journey to Badami, via Aihole and Pattadakal.
Aihole- The Cradle of Rock Architecture
The rock architecture at Aihole has an immense potential to mesmerize the pious as well as the archaeological buffs. The temples of Aihole are often regarded as symbols that stand testimony to the evolving styles of Chalukya kings in their attempt to bring about a definitive Chalukyan architectural heritage.
Duration at Aihole: Half day
Hand-picked places to visit Aihole for half-day Sight-Seeing:
Durga Temple, Lad Khan Temple, Konti Group of Temples, and Suryanarayana Temple.
Other than usual places of sight-seeing of temples, you may opt for the following to make your trip exciting:
Meguti Hill
Climb Meguti Hill and spot a few Neolithic dolmens. Located at the top of the hill. The temple has a breathtaking location. When you stand inside of the pillared hall, there is a perfect silence all around, except the whispering breeze, the serenity of this place can only be experienced!
Ravanphadi Caves
If you are interested in cave exploration, then Ravanphadi Caves will be your perfect match. Ravanphadi Cave is one of the oldest rock-cut shrines of Aihole. The temple consists of two mantapas and a Shivalinga at the sanctum or the inner room. Lined by carved pillars, this sanctum of this Shaivaite cave temple has a hall with three entrances. Free-standing temples are on both sides of the sudden depressions that are created on a deep ledge of the cave. On the walls and at the sides of the shrine, you can find different figures like dancing Shiva.
Pattadakal- Harmonious Convergence of North and South temple architectures
Known for its harmonious convergence of North Indian Nagara style and South Indian Dravidian style of temple architectures. A trip to Pattadakal will surely take you to the glorious past when the Chalukyas reigned and controlled their part of south India.
Duration at Pattadakal: Half day
Hand-picked places to visit Pattadakal for half-day Sight-Seeing:
Galaganatha Temple, Mallikarjuna Temple, Jain Temple, Jambulingeswara Temple, Kadasiddhesvara Temple, Virupaksha Temple, Papanatha Temple, Sangameshvara Temple
Badami, also known as Vatapi, was the capital of the Chalukya Dynasty from the 6th to the 8th century. Badami is set in the ravine at the foot of a red sandstone projection that surrounds Agastya Lake.
Duration at Badami: Half day
Hand-picked places to visit Badami for half-day Sight-Seeing:
Badami Cave Temples, Badami Fort, and Bhutanatha Temple
Agastya Lake
The lake over here is pristine and surreal. Rediscover the serenity and uncover what makes you to trove for nature enthusiasts seeking a thrilling experience!
Budget Proposal for Tentative Cost Estimation:
Hampi Express (Bangalore to Hospet) – INR 540 per person (Third AC- 3A). In case, you have no problem in opting for a passenger train, then it would cost you INR 146 per person (Sleeper Class for Train No. 583). Passenger trains are recommendable for backpackers or solo travelers, not with family members.
Buses (Bangalore to Hospet) – INR 600 per person (Non A/C Sleeper-Sugama tourist).
From Hospet to Hampi:
By local bus- INR 10 per person
By Auto-rickshaw- INR 15 per person (on shared)
Auto-rickshaw for temple-to-temple visit: INR 25-100 per person
Coracle ferry ride: INR 10 per person
Bicycle rentals- INR 30 per day
Moped rentals- INR 150 per day
Scooter rentals- INR 200-300 per day
Car rental- INR 600-800 per day (includes driver allowance)
In case, opting for tonga- INR 50-100
Stay at Hampi- INR 1200- 1600 per person (Shanti Guesthouse)
For Entry-fee- INR 10-100 per person (subjected to temple visit at various locations)
For drinking water- INR 15 per liter (packaged drinking water)
For Food:
South Indian breakfast – INR 15 per person
Breakfast (western type) – INR 60 per person
South Indian meals – INR 25 per person
Dinner with special dishes – INR 100- 200 per person
(Please Note: Above mentioned prices may subject to change. During peak season, you may find price variation up to 40-50% hike in prices.)
Recommendations:
Hampi is a safe and peaceful place. However, don't wander around during dark time and especially, if you are travelling alone. There are chances that you might get lost in the terrain.
You may take a tour guide to assist you and give you a brief about the places.
Beware of monkeys at some sites. Keep all your eatables inside your bag, if you are carrying any.
The temple complex of Pattadakal also serves as the backdrop to the annual Classical Dance Festival, held between January and February.
Please carry dry fruits, other eatables and beverages along with you, while you are travelling.
Clothes subjected to the season.
Don't forget to do city shopping.
If you got enough of information to head out to Stonehenge era of the east, then what say, shall we embark the journey!
And, I would also love to hear your feedback from you end. So, don't feel shy to drop your comment!
This trip was originally published on Excursionistsite.