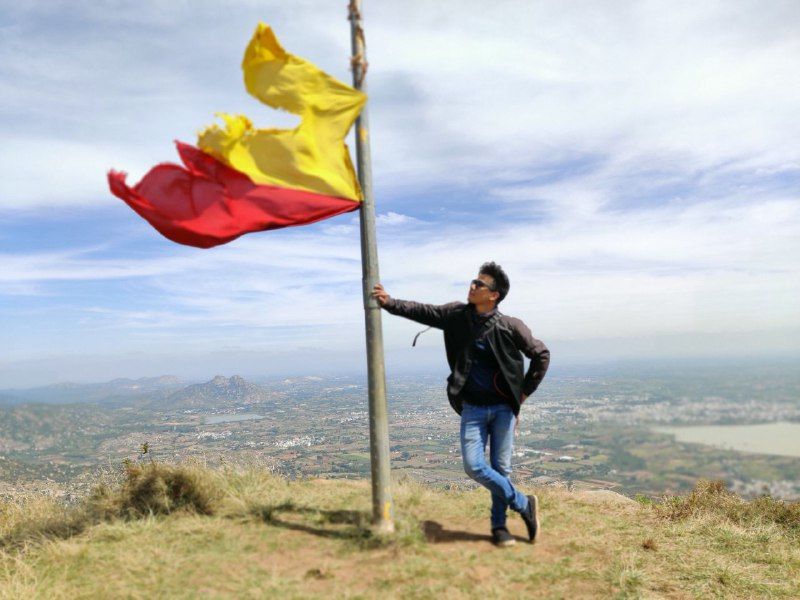 Hello everyone, welcome back to Bikemybuddy and presenting you another vlog, click on the link above, watch and share your thoughts.
Who would not like to watch early morning sunrise, everyone does, right. We too and hence we (Myself, Punam and Santhosh - disclosed their identity later) decided to go to the best sunrise destination near Bangalore, which is Skandagiri Hills. The sunrise from the hills is magically mesmerising. I had been here last year but was not allowed to enter the hills since I did not have the tickets, did not i requires tickets to trek this giant hill. Below is the link of myecotrip to buy tickets. https://myecotrip.com/trailDetail/3/skandagiri.
Skandgiri is a beautiful hillock about 70km from Bangalore, which is famous for trekking and sightseeing and is also known as Kalavara Durga. It is only 3 km from Chikkaballapur district of Karnataka and on top of hill there is an old lord Shiva temple.
Morning, I woke up at 3:00 am and since my sister is accompanying me in this trip, I disturbed her sleep and asked to get ready. We were very excited, because usually we don't get up this early for any reason what so ever, however trekking to this hill was a dream to fulfil. We had tea at home with roasted toast, it was chilling inside home and no need to say how was outside, I cleaned the bike and started bike to ride for Skandagiri Hills.
Another friend was joining us, however, never met him, got in touch recently on Instagram, he is a youtuber, and his name is "Santosh". We met at Hebbal bus stop. He was on his bike and the moment we met, he took out his Gopro and started shooting. Well, riding in the night & on the highway was chilling and thick fogs had covered the road and we had poor headlight making it difficult to ride. We reached Skandagiri at 5:30am and met the forest guard who was waiting for us, we showed our tickets to the forest guard and seen there are other vehicles parked which means people had gone to the hills. The parking was closed due to the road construction and hence we parked on the road side. There is a Papagni temple at the foothills and our trek commenced from here.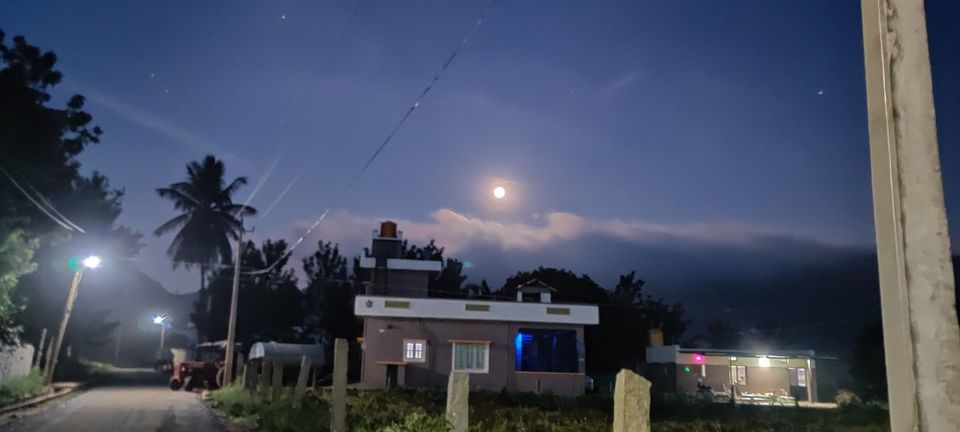 The trek was looked easier for the next 300 mts as it was even trails, after sometime the trails became difficult, it was like the more we trekking high the trails becoming more difficult. The trail will consists of uneven terrain, mud and boulders makes it difficult. I must say, this trekking had tested the physical and mental strength of each ones, the trail is moderate to difficult level, before coming one must fit. The total hiking distance 9 km which makes it important to be physically and mentally fit.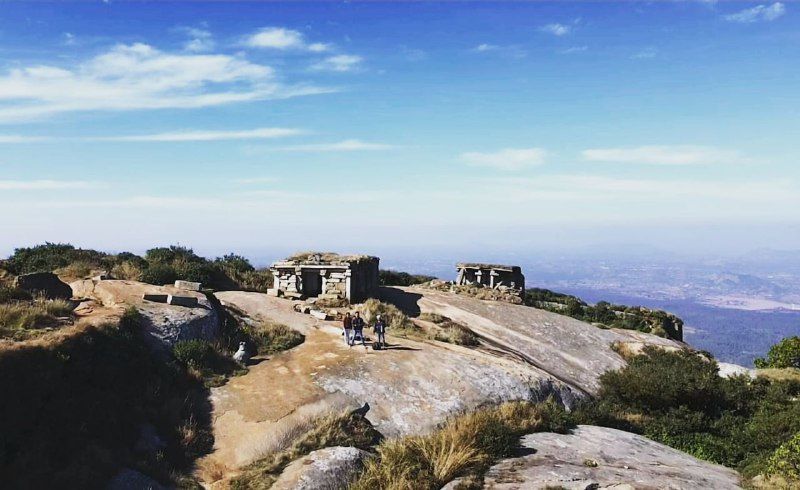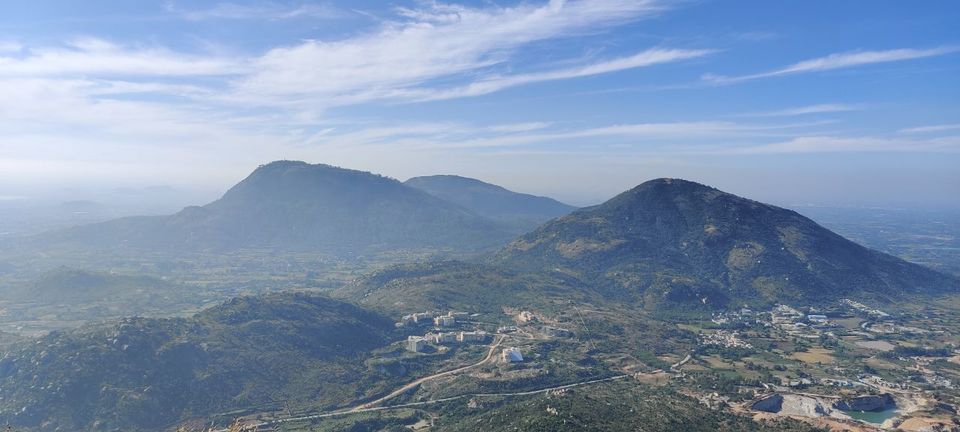 After reaching the hilltop, we experienced high wind, it was cold up there and sadly the sun had already out. We missed the sunrise, if you want to enjoy the majestic sunrise start the trek before 4:30am in the morning. One can also view the Nandi Hills from there. The remains of fort and temple can be witnessed on the hilltop.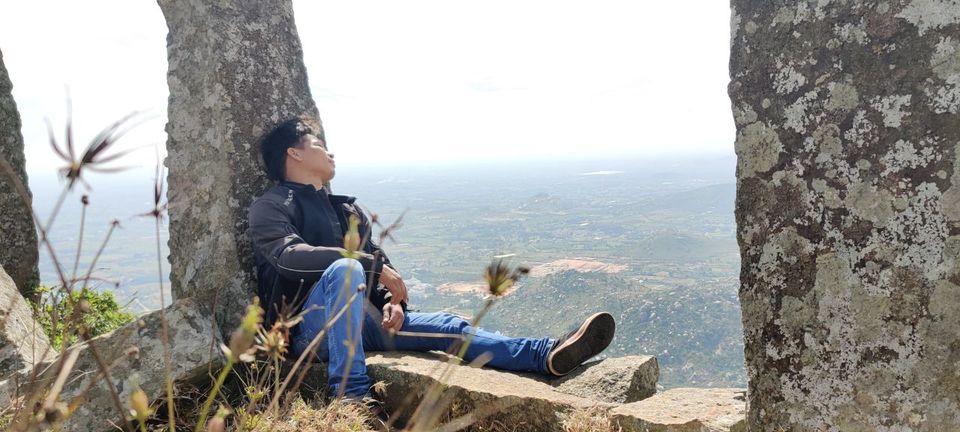 This is one of the toughest trek near Bangalore with an altitude of 4500 feet height and 9km walk. It is known that Skandgiri was once home to a majestic fort built by Tipu Sultan, who was the ruler of the kingdom of Mysore in the 18th century. When the battle between his kingdom and the Britisher's was lost, the fort was left alone.
There is a flag up there before the hilltop and could be seen from the down, we thought that's the hilltop and pumped ourselves to reach there, but once we reached we seen it's not. The hilltop is still 300 metres away.
Skandagiri trekking is a day long trip and hence carry enough water, energy bars and food to eat up there. The trekking is quite difficult hence a good shoes will help you a lot, so get a good gripping shoes.
Skandagiri Hills google map location - https://goo.gl/maps/HMKT2GV9PeCsvEE96
If you like the video, please subscribe the channel and hit the bell icon for new updates. https://youtube.com/bikemybuddy
Do share your thoughts in the comment and stay fit.