After my trek to Doodhsagar, I was very eager to share my experience with u all... With the failure of my first DS trip due to lack of water , were i cant enjoy the complete waterfall. So decided to visit again at the monsoon. So, as planned we started our journey with full of enthusiasm. This time our plan wast to visit DS not by train but by trekking. As decided, we started our journey to Dharwad railway station at around 8am. The train arrival time to Dharwad was 9.30am. We waited in station by discussing our old failure trip. The lady announced in the mike.. "VASCO KO JAANEWALA AMARAVATHI EXPRESS THODI HEE DHER MEIN PLATFORM NO EK PAR AAYEGI" the train arrived in the station exactly at 10.00am. we boarded into the train. We were 4 members (shankar,umesh,rajshekar & myself). Both shankar and umesh got their window seat. Me and Raj sat near the window to take some photographs of landscapes.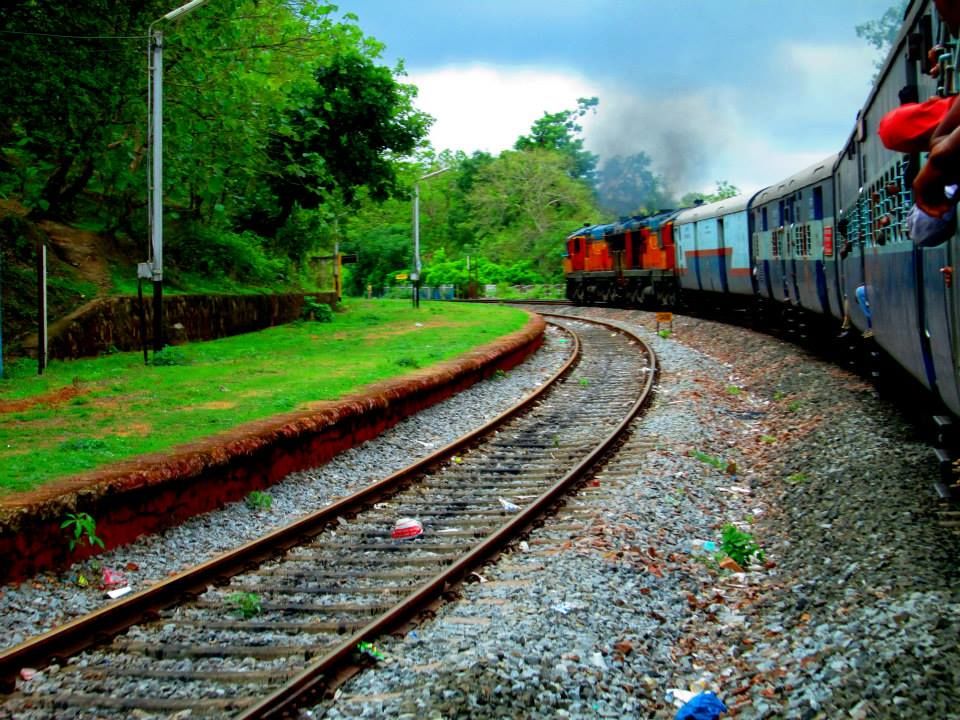 This was my second trip to DS along with my friends and this was very special for me because of monsoon and it gave me a very thrilling and wonderful experience. In the train we were discussing of our trek and from were to start our trekking ?. Shankar said "let us start it from Castle Rock" but Umesh was not ready. He said "no no it will be very far, lets start from 3rd tunnel(u have to cross 11 long tunnels to reach DS). we agreed about his plan only because, he was our senior :D. Our discussion continued for an hour. Both shankar and umesh were in their own world,making some fun with elderly uncles in the train, me and Raj were busy in taking photographs of the beautiful Ghats.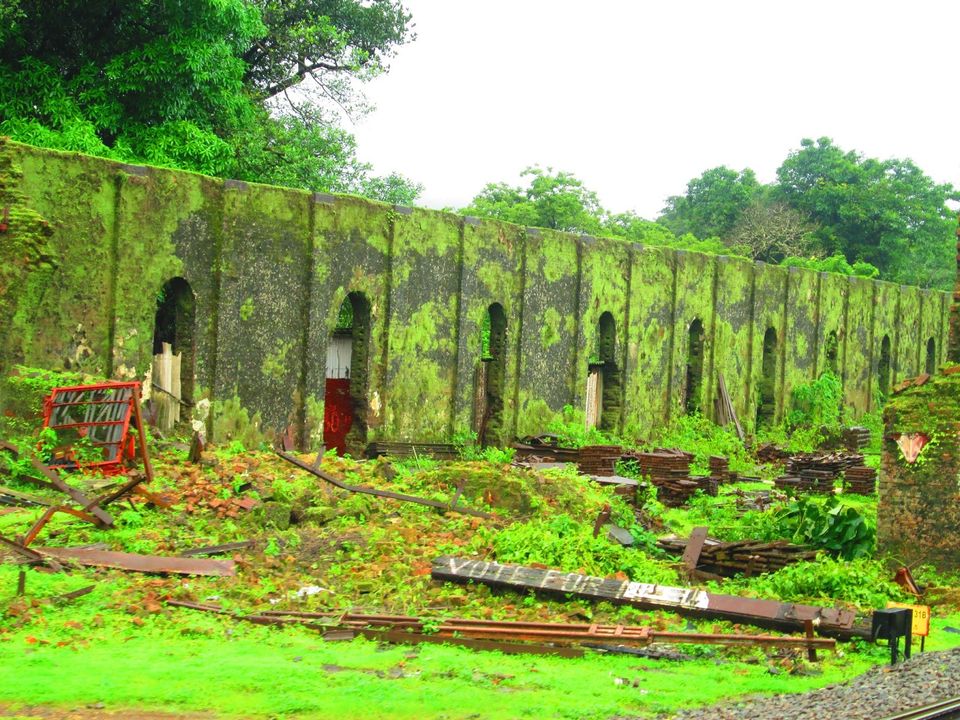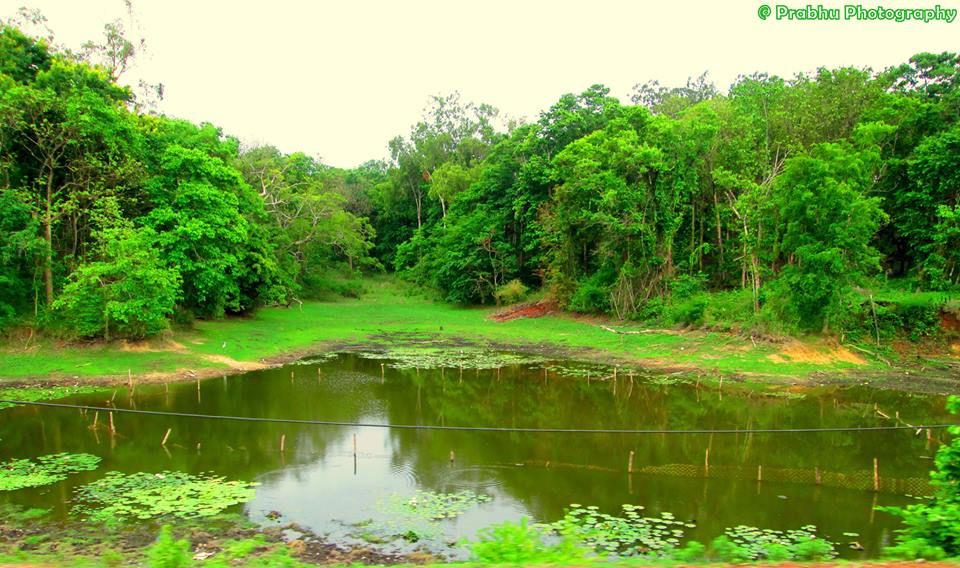 The rains were playing Hide & Seek upto the castle rock station. we were in feeling that whether we can enjoy the falls or not due to the heavy fog covered mountains. So all four of us prayed for rain to stop.:p. Yes, rain took some mercy on us and it stopped, stopped completely. Now we were in the castle rock station. We remembered of Nitya Menon, the cute heroine acted very beautifully at this Railway Station in Myna Film. Here goes the starting point of our trek CASTLE ROCK.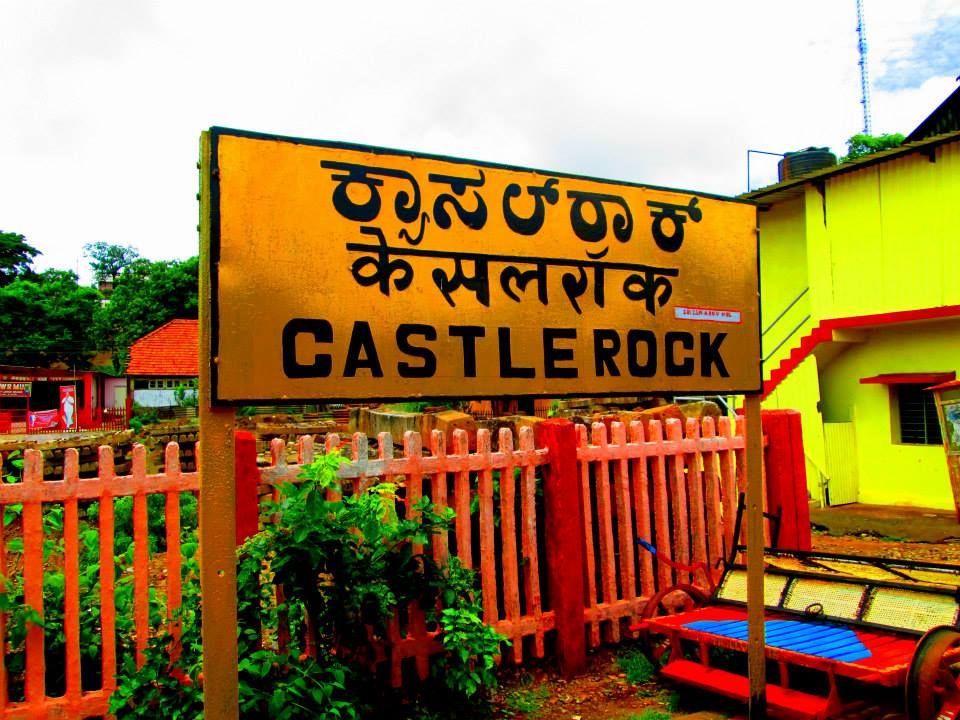 One has to see man!!! What an awesome greenery over there. Being from hot city Raichur it was like different world for me personally. Taking photographs of train gave me beautiful experience. As i was standing near the window the Ist tunnel well -comed us. woowwww, train pierced into the Ist tunnel, the darkness sorrounded us. It was an amazing feeling. All passengers in the train started shouting with joy and even me.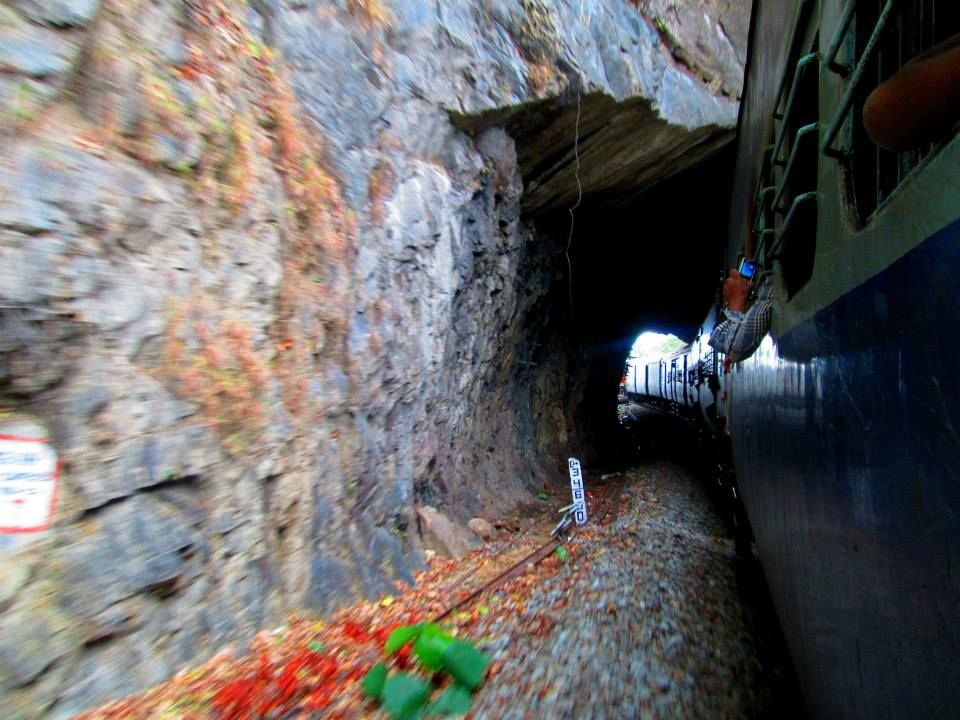 After Ist tunnel our train stopped near to the 2nd tunnel and we decided to start our trek from here itself. Umesh said "Chalo Uthro" we four of us stepped out from the train, and train started moving and we said bye-bye to the train. We started walking along with the tracks. As we entered into the second tunnel the dark started fearing us. we took our torch and crossed the 2nd tunnel successfully. After crossing we were laughing by looking at each other because, it was the sign of our first victory lol. Because it was very long tunnel. It took around 10mins to cross. Inside the tunnel we were with alert ears to hear any trains approaching the tunnel so that we can cross the tunnel safely. However there were some provision to stand across the track.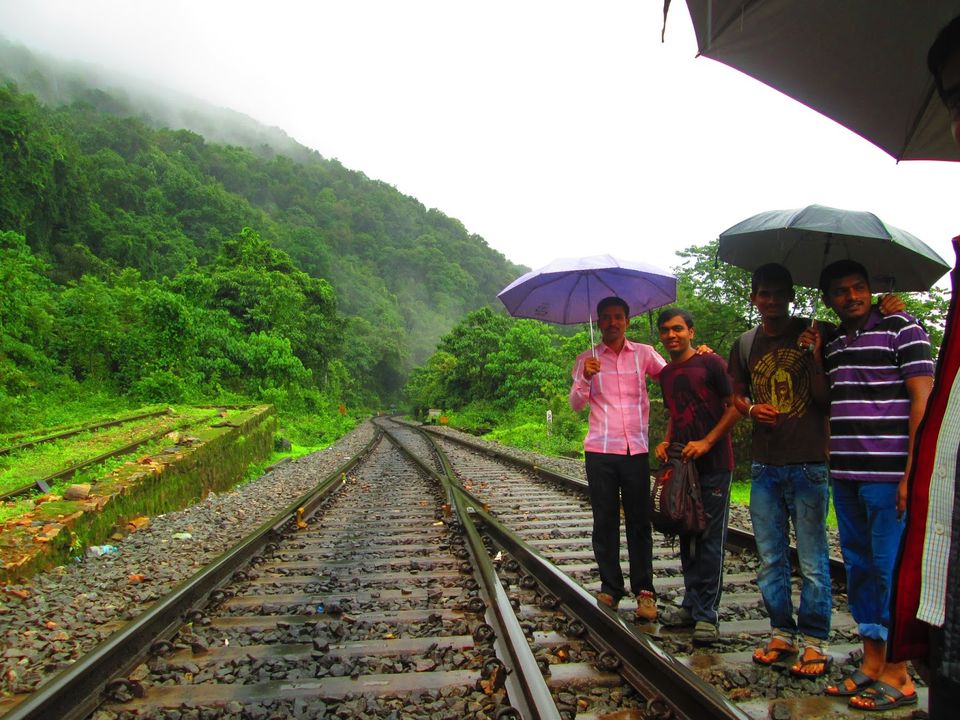 After the 2nd tunnel we continued walking, while walking many tiny falls attracted us and made to forget our fears about the dark tunnels. we can see a tiny falls near the entrance of 3rd tunnel. we entered into the third tunnel, the eerie sound of wind seeping through the tunnel roof and falling on our already drenched body. we pushed our body because we know that our destination is still very far. we continued our walk by taking some beautiful photographs of some interesting sights. While walking in the track with over conquered forest , i was feeling like Im somewhere out of this world. The Squirrels, The Monkeys were looking at me like alien. they might be thinking that "who is this idiot entered in our own kingdom" ?? after that, i thought of Railway workers. My God, How they have worked to put the tracks in this wild forest ?? How they have discovered the places for these long tunnels?? this was a big question mark for me. Literally we have to salute those workers. I saluted them all sincerely in my mind and continued my walk.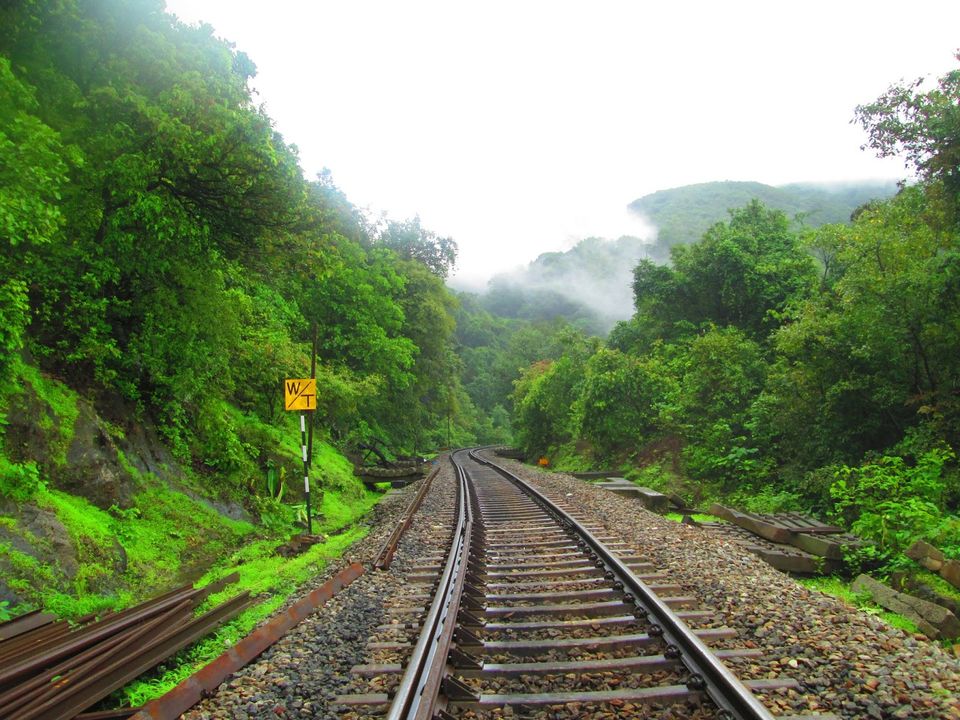 Now it was the 4th tunnel. It was very small we crossed it easily. as soon as we crossed 4th tunnel we heard a roaring sound of water, we ran on the tracks to reach that falls. we were very eager to see our first falls. My god, the feet were aching beyond the limits, running in those loose stones covering the railway track was very hectic job. finally we were at first falls which was flowing very rapidly by making a huge sound. Guys were taking photographs of that first water fall. I reminded them about the remaining tunnels and said bye bye to our first falls.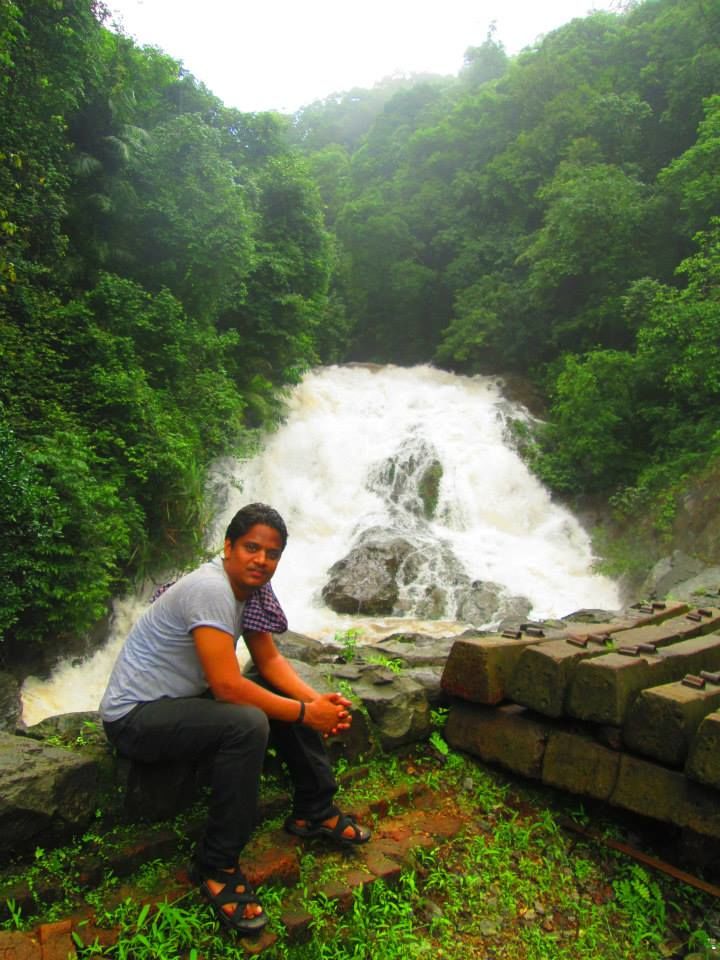 The 5th tunnel was not too long. we crossed the tunnel. Here we met 8 people who came from Davangere were resting in the midst of this heavenly place. We communicated with them, shared our experience and all of us became very close. Now we were total 12 trekkers, continued our journey by sharing our further plans. now its the time for crossing the 6th tunnel. It was very long, it took around 10mins to cross.
The tunnel ended. Within a couple of moments we were at the bridge. we carefully crossed the bridge. one of the trekker said. "not to look down" as it was very deeeeep and scary. After crossing the bridge my friend shouted. "HEY EVERYBODY !!! LOOK AT THE MOUNTAIN AT YOUR BACK SIDE" we all turned back our faces and looked the huge, really huge mountain. OHHHH my god it was a breath taking scene. we all started looking at the mountain with our open mouth. Deadly silence, no one were speaking, everybody were awestruck, literally, we cant keep our eyes off this deadly mountain. The two-three thin falls added extra beauty to this huge mountain. After enjoying the beauty of this mountain we said good bye and started walking to our next destination.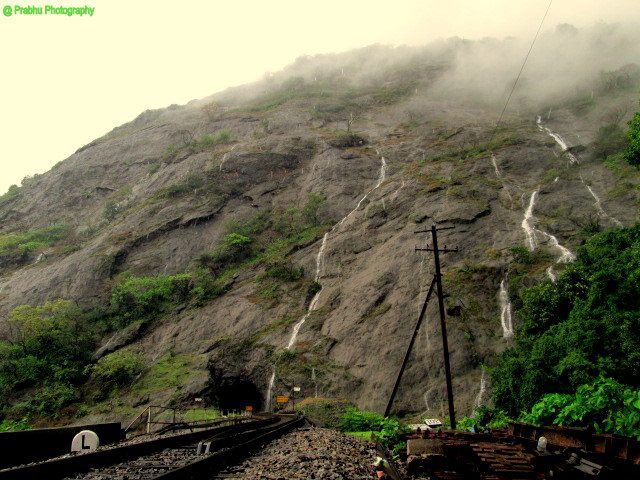 Its was the time to cross 7th tunnel, it was very small tunnel, we crossed it easily. now headed towards 8th tunnel, it was very long took around 15mins to cross. 9th and 10th tunnels were quite easy to cross. After crossing the 10th tunnel, we saw many travelers resting beside the track. It gave extra courage to all of us. Many of them smiled by looking at our condition, we too responded them with the same smile, and it was the Doodhsagar Railway station. We took rest beside the tracks, and we discovered that , all have been hear for the trek. One of the worker in DS station informed us.. "after crossing the 11th tunnel aapko Doodhsagar milege"
WTF!!!! Still one tunnel??? said my friend Umesh. Come on yaar!!! life adventure honi chaayiye" I said. He looked at me from top to the bottom, I laughed, and he also laughed, said F***K and stood up.
Now we were around 25 trekkers came from different cities to watch this fabulous water fall. One of the traveler shouted suddenly " yooooooo !! here is the 11th tunnel" It was the funniest moment among all the trekkers, all were laughing by listening his super natural voice. Finally we are at 11th tunnel and crossed it successfully. All were eager to see the waterfall. Some were shouting, Some were dancing.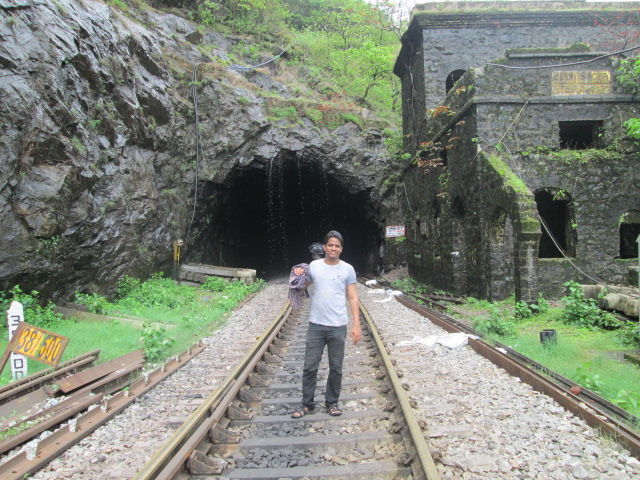 Slowly we hear a mighty roar. Is that a Train? but we were not sure about that and continued our walk. But it was not the train, It was our final destination. Yes, Its Doodhsagar, really majestic Doodhsagar, Fantabolous Doodhsagar falls, flowing in its full of glory. All trekkers were rising their heads and watching doodhsagar and there was some sort of happiness in their face after a long adventurous trek. We all stood in the middle of railway bridge, which was built during the British era and got splattered by the water drops of doodhsagar.
Kudos to the god of nature for creating such wonderful place :)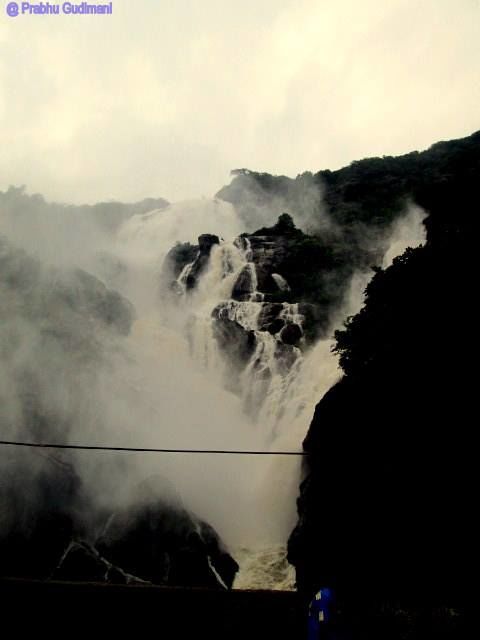 "WE DID IT DUDE" i said to Umesh. Yooo man we did it, Life Adventure honi Chaayiee ooooooooo, he shouted near the falls....