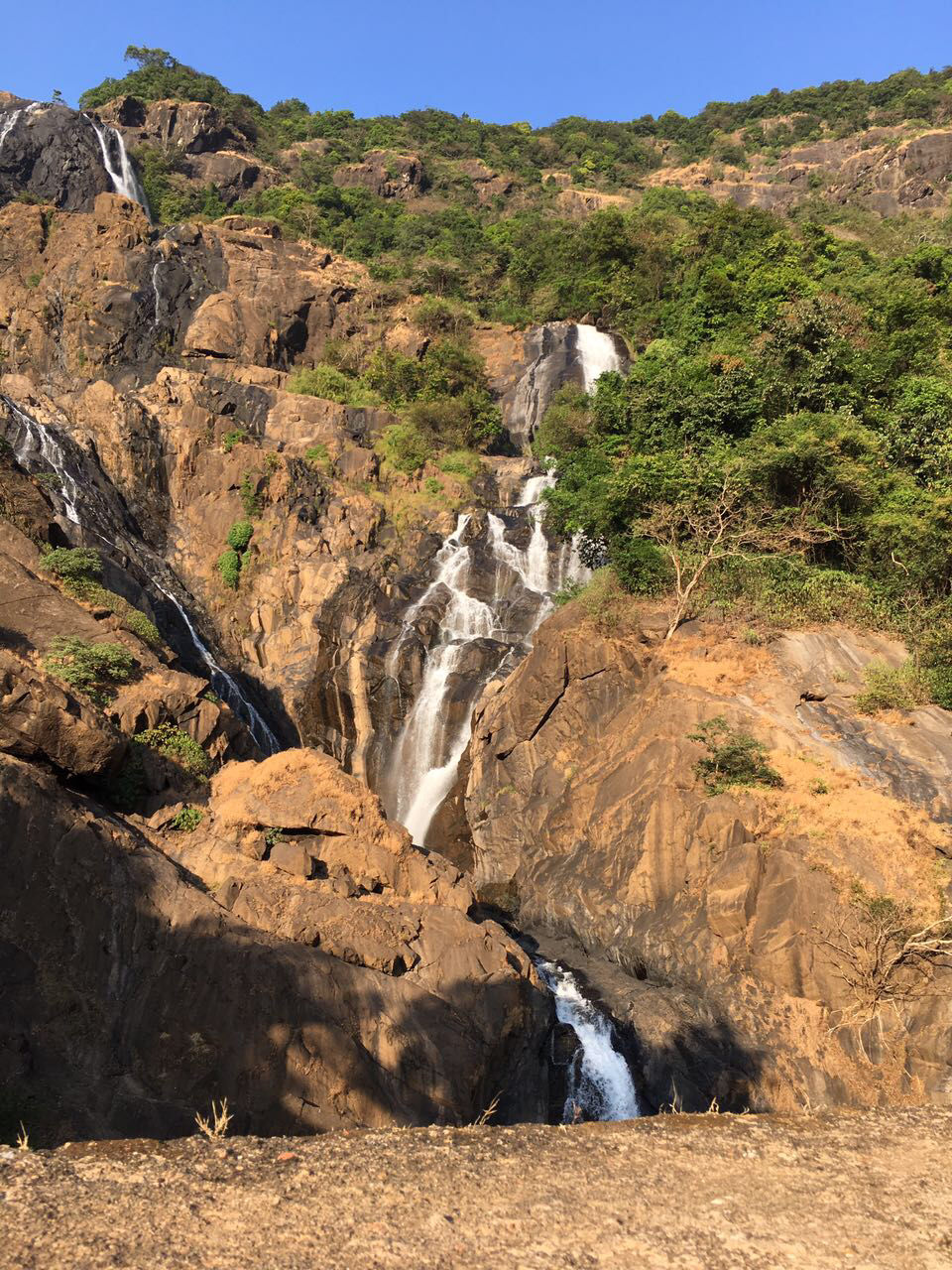 It was our last day in Goa ,we had not decided what to do for the day . It was early morning all had mobile in their hands searching for the places to visit . After 2 hours of discussion we came to conclusion of dudhsagar trek , it was 9 in the morning we checked out of our room. Gave back our rented scooters and decided to go by bus . We had our breakfast and went to bus stand it was 10:00 we checked the bus timings our bus was at 10:30 we waited for half an hour and boarded our bus. It was 2 hours bus journey to mollem . Dudhsagar falls lies on the border of Karnataka and Goa . People can trek from both sides if u r trekking from Goa u have to get down at Mollem and if u r trekking from Karnataka then people should get down at Anmod , if You get down at a mod u have to take auto or some mini bus to castle rock from castle rock your trek starts on the railway line .
If people get down at mollem then u have to go to collem which is 8 km from mollem junction where u will get mini buses or u have tourist jeeps from collem ur journey starts towards Dudhsagar falls . It is around 14 km one side .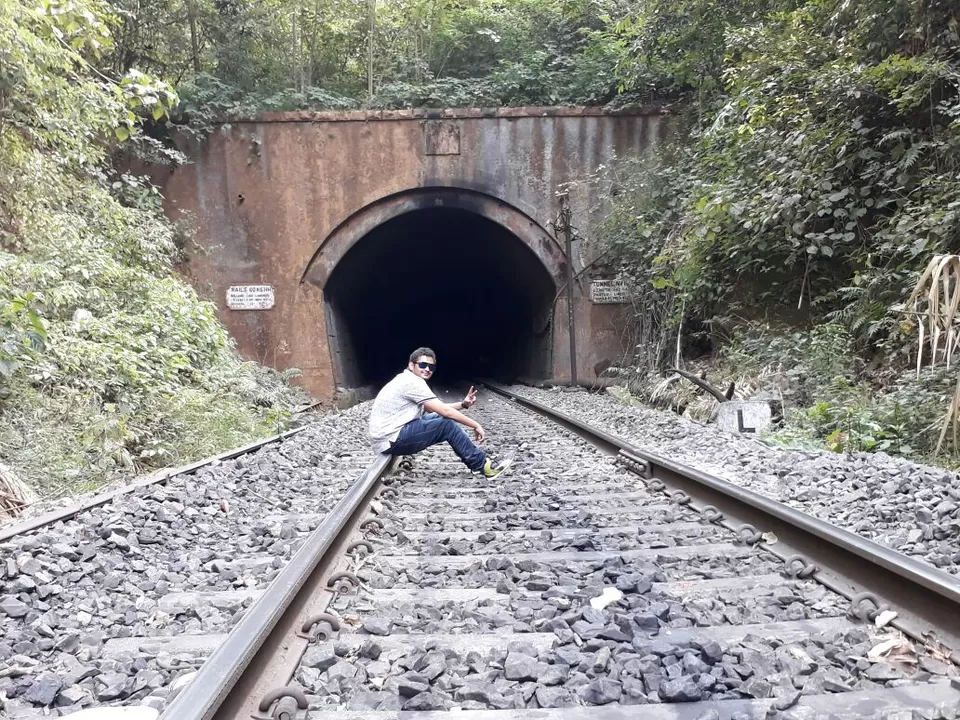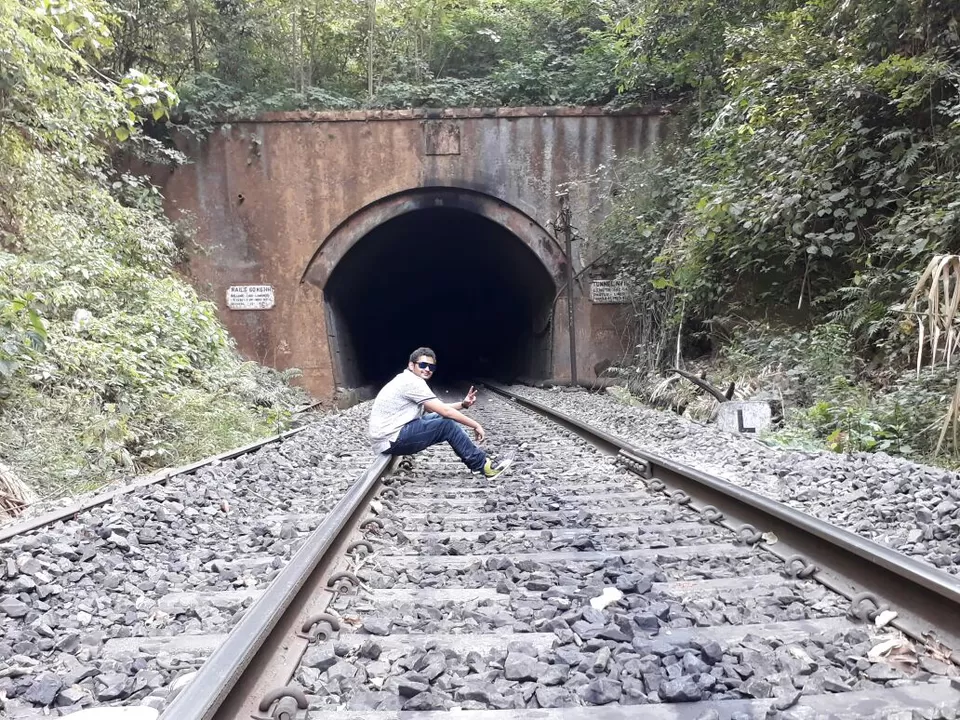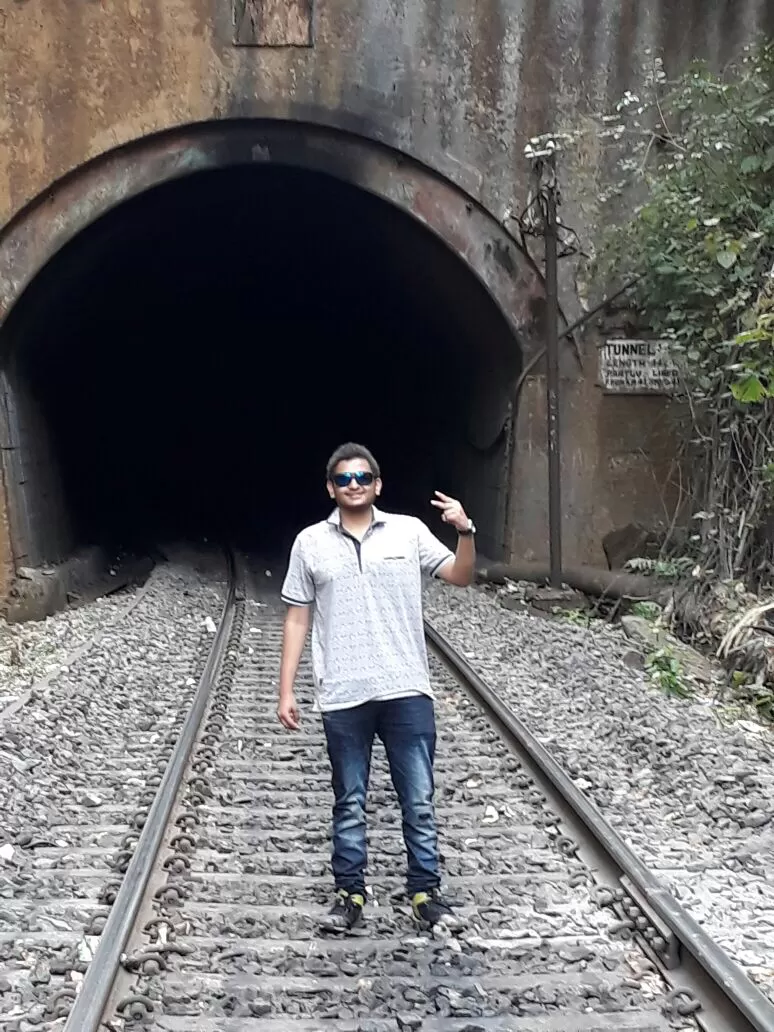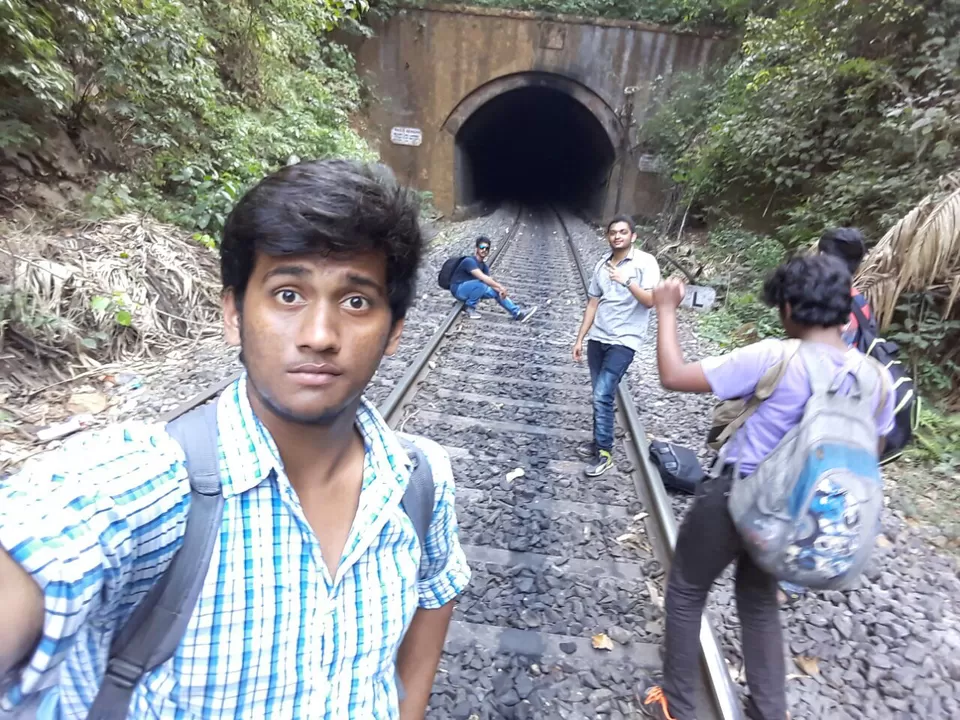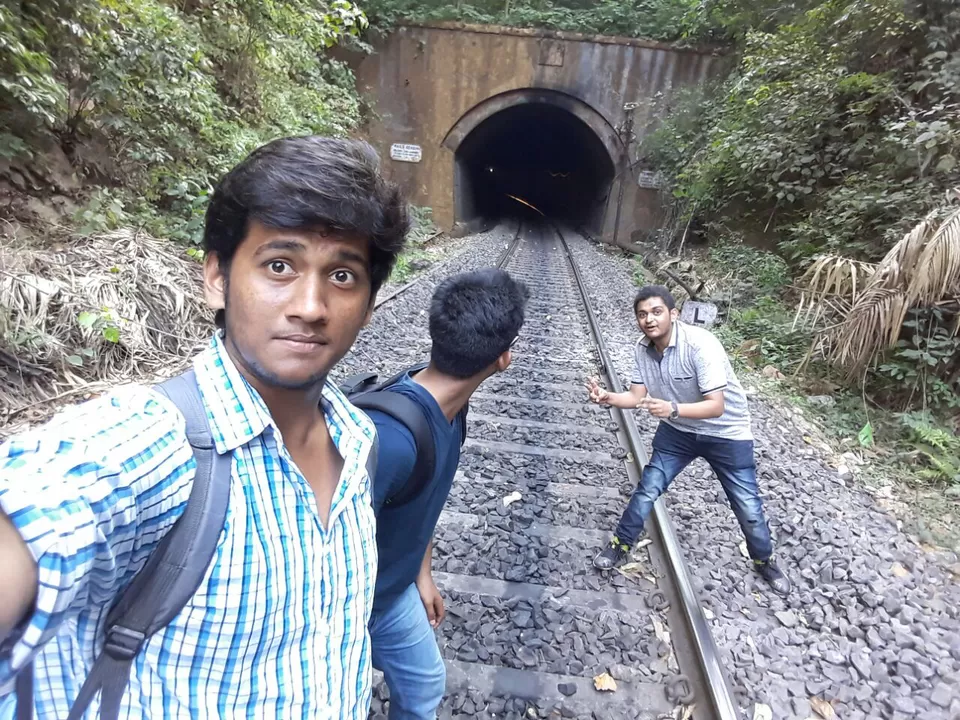 We had decided to go from mollem it was time to get down from the bus after 2 hours of bus journey. We were at the junction don't know which side to go Dudhsagar village and Dudhsagar falls lies opposite side of the junction so ask properly for Dudhsagar falls only don't ask for just Dudhsagar.
For every half an hour we have bus from the junction by that time we found a jeep going towards Dudhsagar falls we stopped him and asked whether he could drop us , he agreed for Rs 100 for 5 people . It is just 12 mins ride from junction to collem .he dropped us at collem tourist office.
People were visiting Dudhsagar falls through jeeps where they take Rs400 per head with life jacket and water bottle, life jacket because they allow us to swim at the falls .
We asked few localities about trek from where to start what and all to carry etc. they told that no need of any permission just start walking on the railway line . We started walking towards Dudhsagar falls after buying some water bottles , banana ,some chips . We started our walk at 1:15 pm. We did not feel much hot because both our sides where covered with forest ya it is little scary but it was ok .
After 7km walking continuously we took our first break. We finished the banana and one pack chips as soon as we finished off the break a train we heard train sound we checked either side we couldn't find any train nearby after 10 mins we saw the train coming, we jumped off the track and waited for it it was a goods train carrying some coal. After 5 mins we were back on the track , after 3 more kilometres we found a train tunnel . We badly wanted a break, we were sitting outside the train tunnel finishing our chips soon we heard train honk we got up from the rail line and moved aside it was goods train again after 15 mins we were still outside the tunnel taking rest the train was coming from the tunnel we took few selfie with the train coming out of train . After train passed we started walking back on track inside train tunnel after few seconds inside the train it was fully dark we couldn't see anything including our leg . We switched on the flash light of our mobile and started walking as soon as the tunnel ended we saw a small station called sonalium. The station did not have a platform it had only a small control room, There were 3 people sitting there. we filled our water bottles there and continued our journey .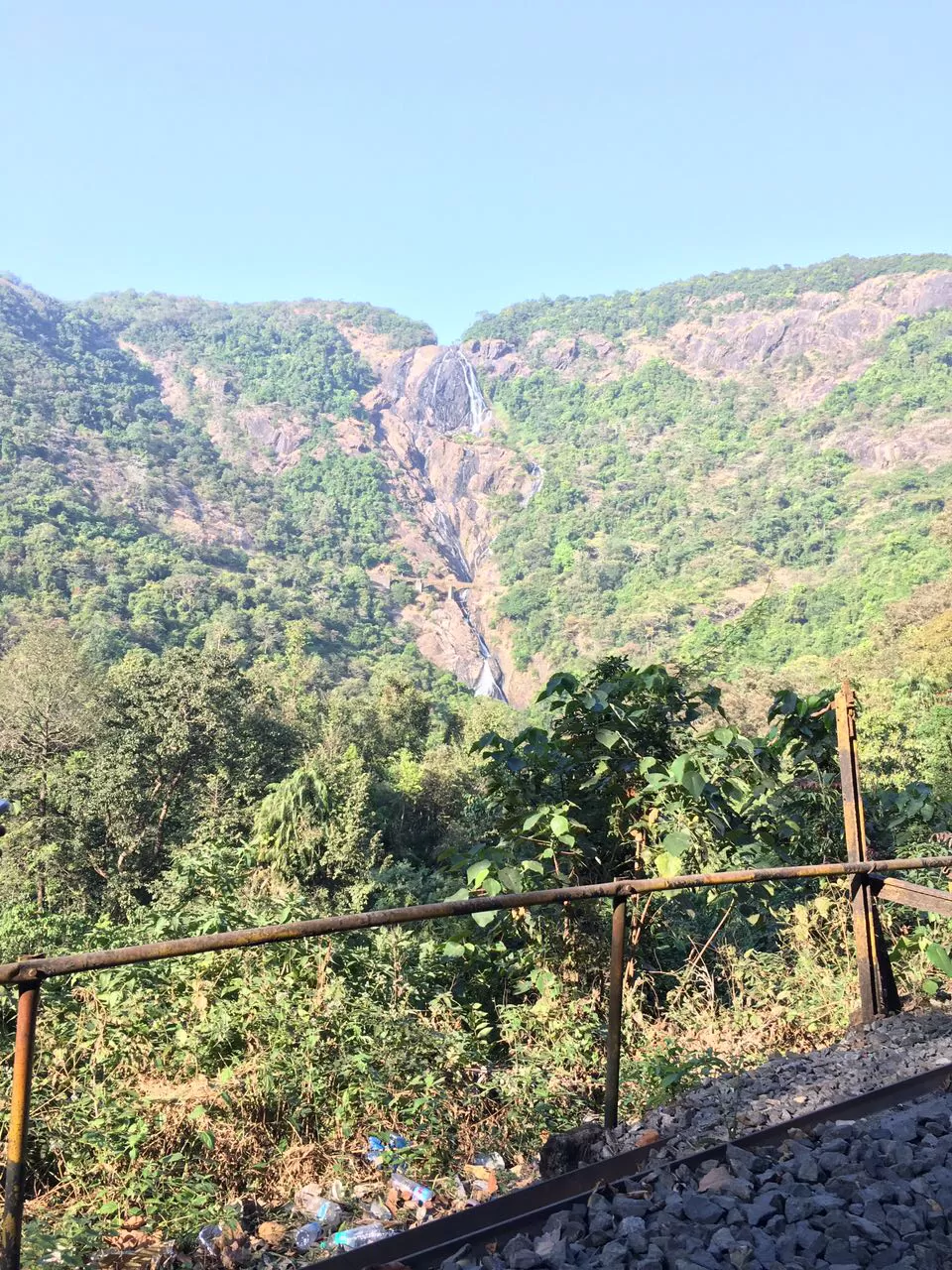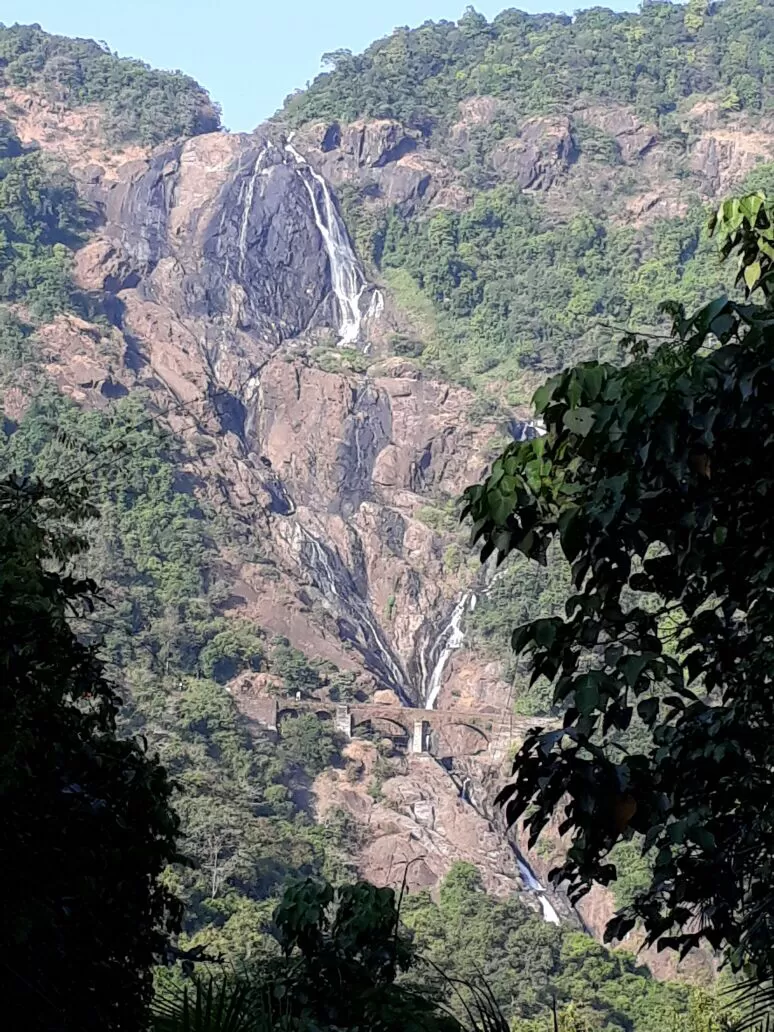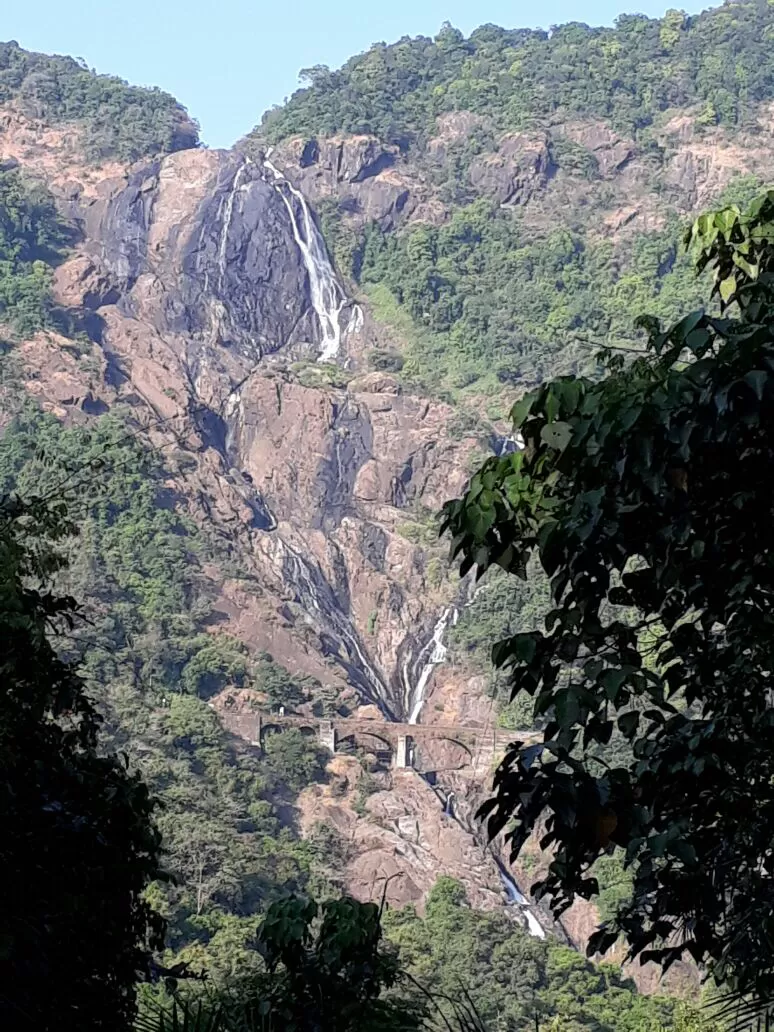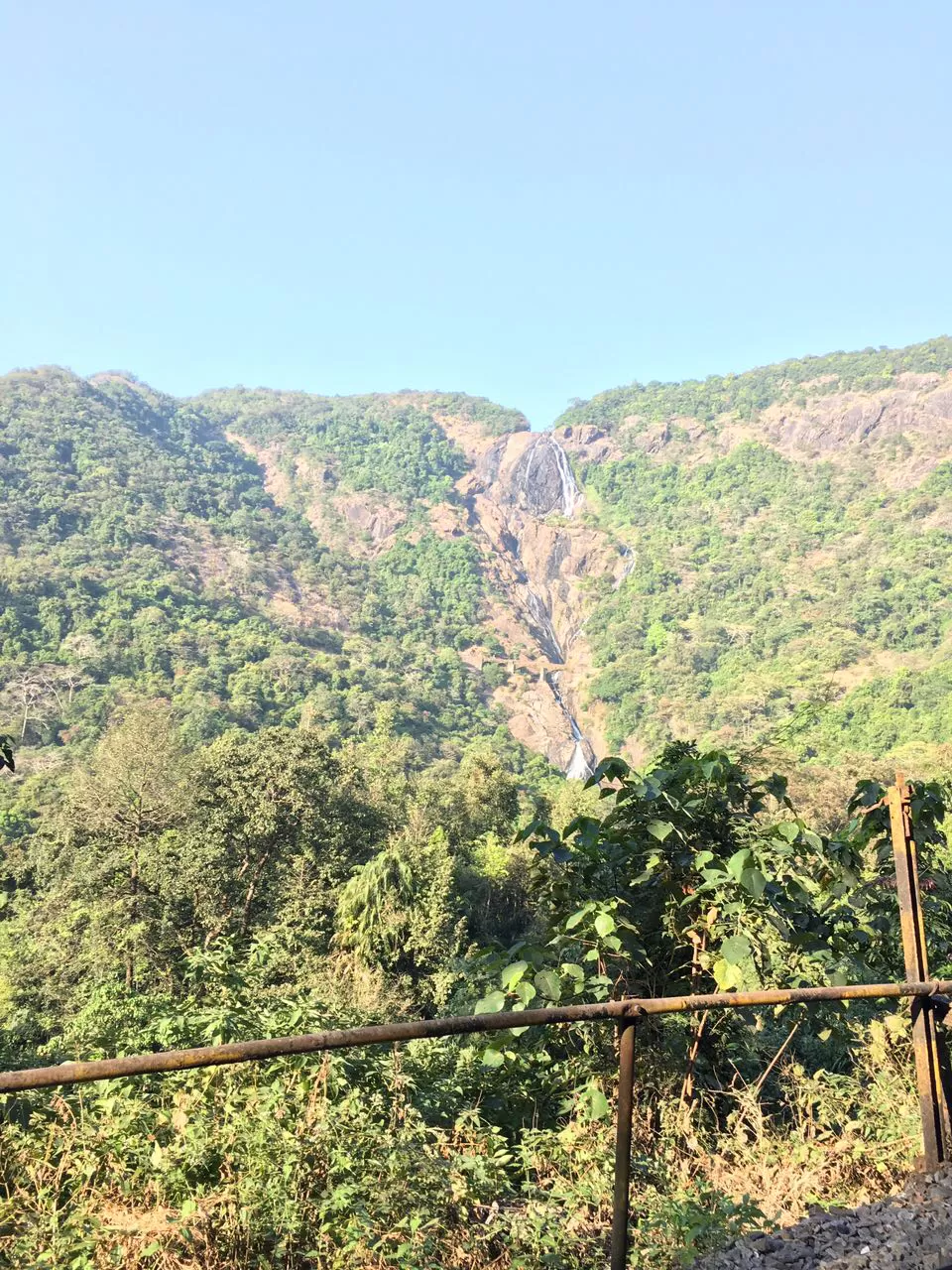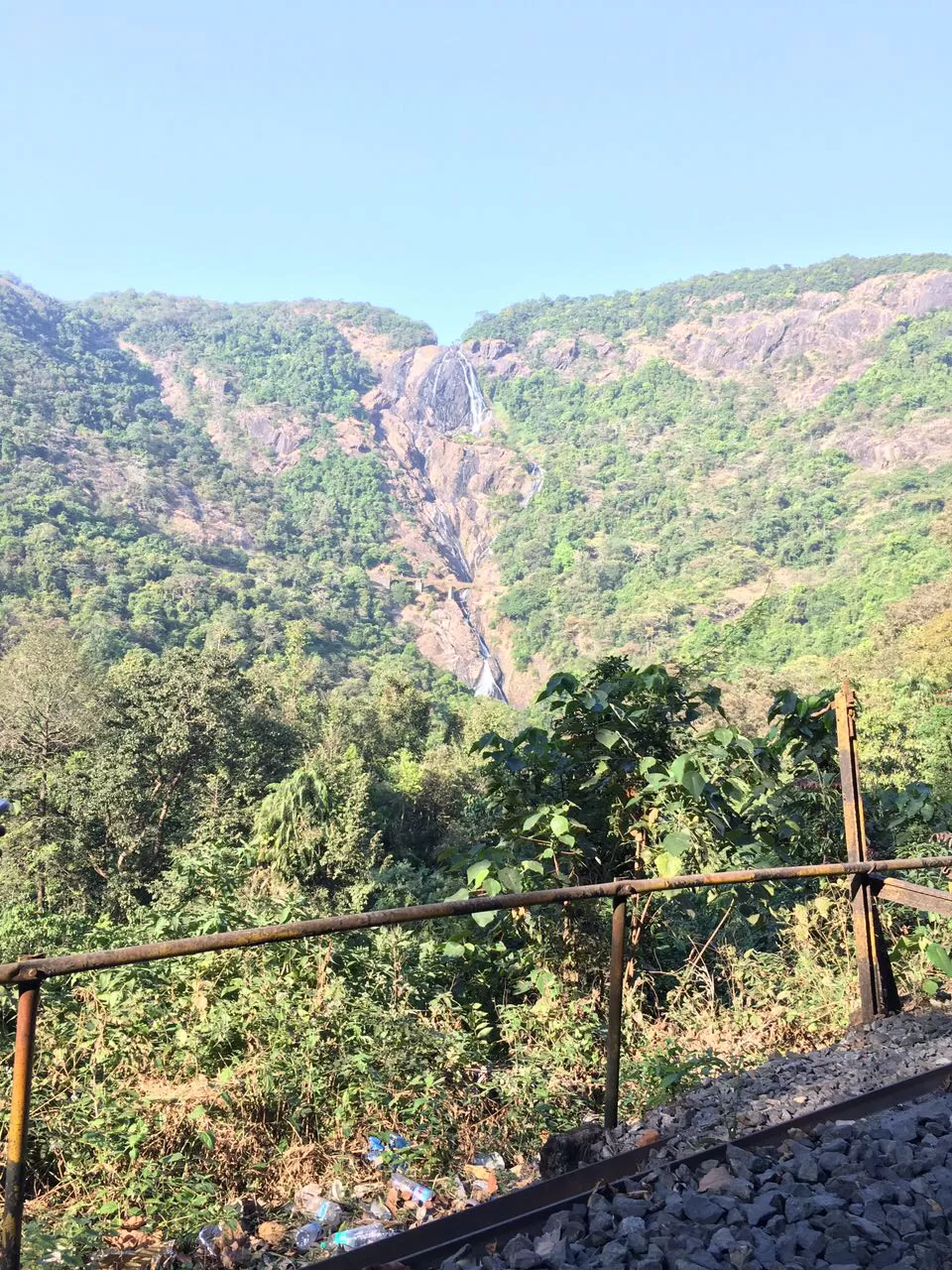 after walking for 3.5 Km we could see dudhsagar falls from far it was amazing ,our adrenaline rushed for next 0.5 Km and we were finally there on the bridge watching the most beautiful falls. it 5:00 when we reached there, we did not have any clue what to do next as there were no rooms to stay , no shops to eat something. We could see people down the bridge playing in the water , they had come from jeep. there were few people working on the track they were ready to leave because the last passenger train would arrive in 30 minutes on next station we asked them how to go down . they told is the route , before entering on the bridge we will get two continuous tunnel between two tunnels there is a way to get down . I wanted to catch the last passenger train but my friends wanted to go down and ask jeep people to drop us back . we took half an hour to go down . after getting down we filled our bottles and crossed the river. the falls was looking great now i loved it. after 10 mins spending there we went to ask jeep drivers to drop us back . No one agreed to us we were ready to pay the double price but no one agreed . i dont know why all were acting like fuckers , all told our jeep is full and all . and we asked them what to do here is there any rooms to sleep , they suggested that there is a temple after 4 km from here there u can sleep , it was 5:30 by the that time . so we started to run we had to search for the temple by the time it turns dark .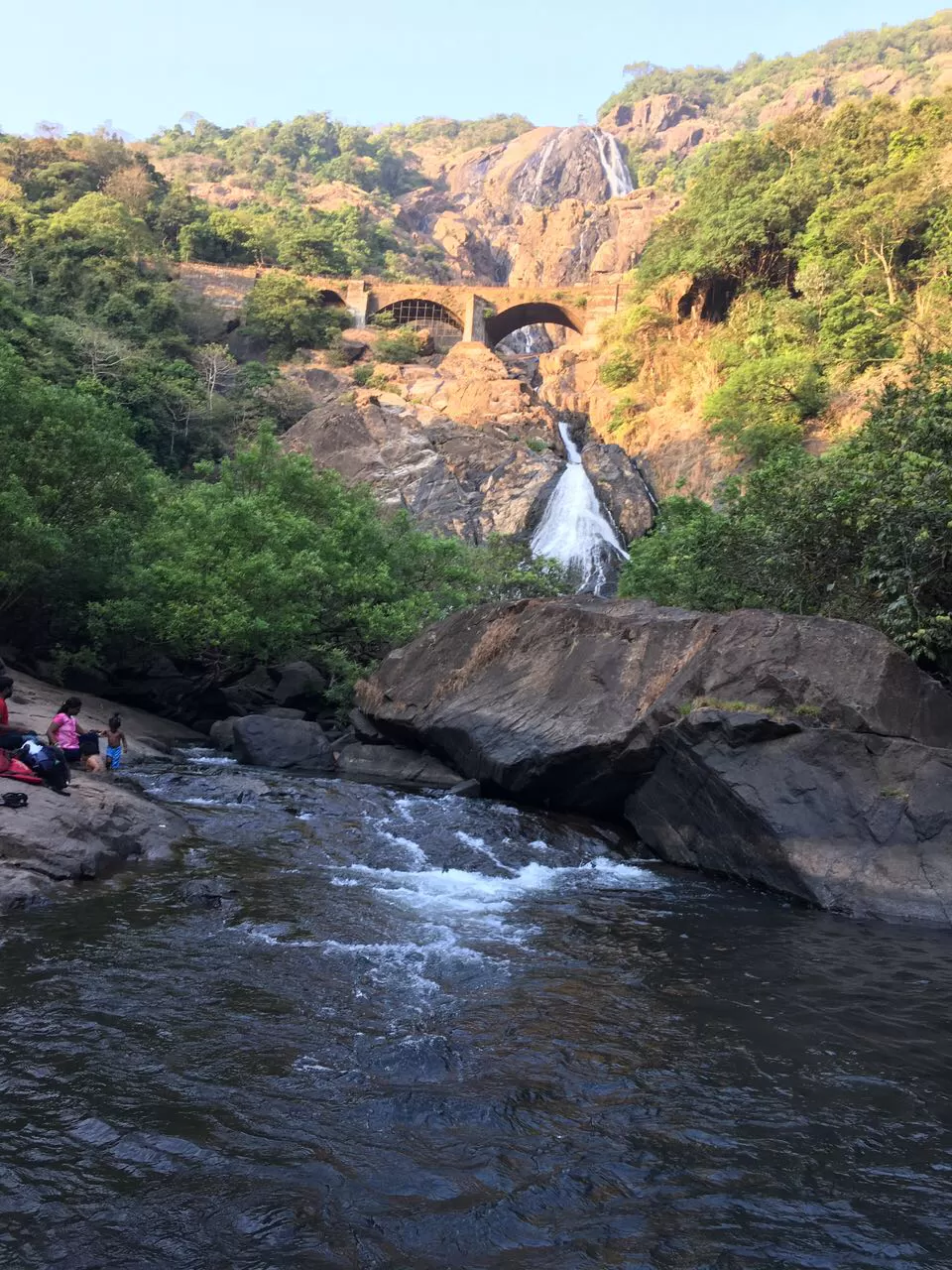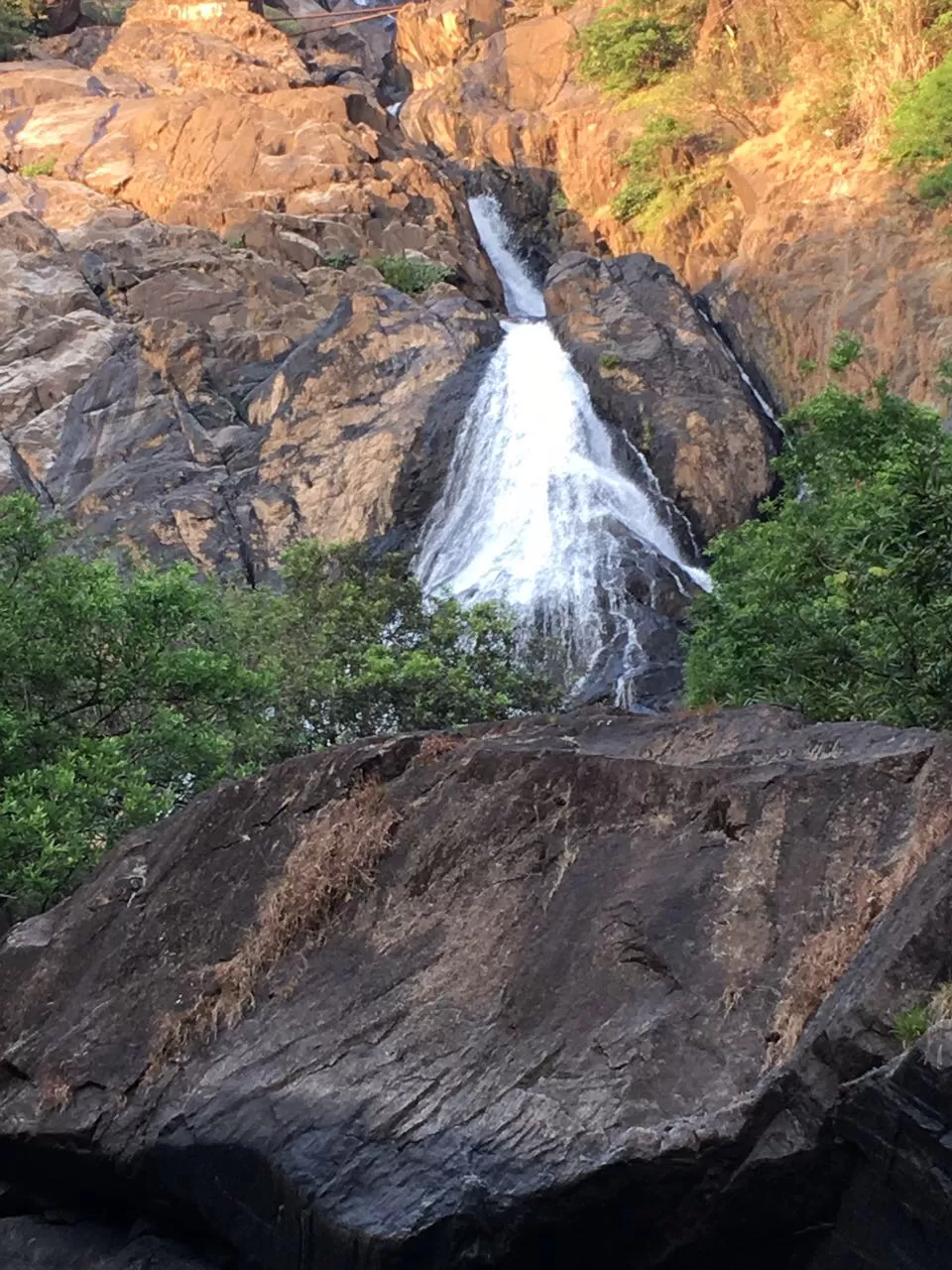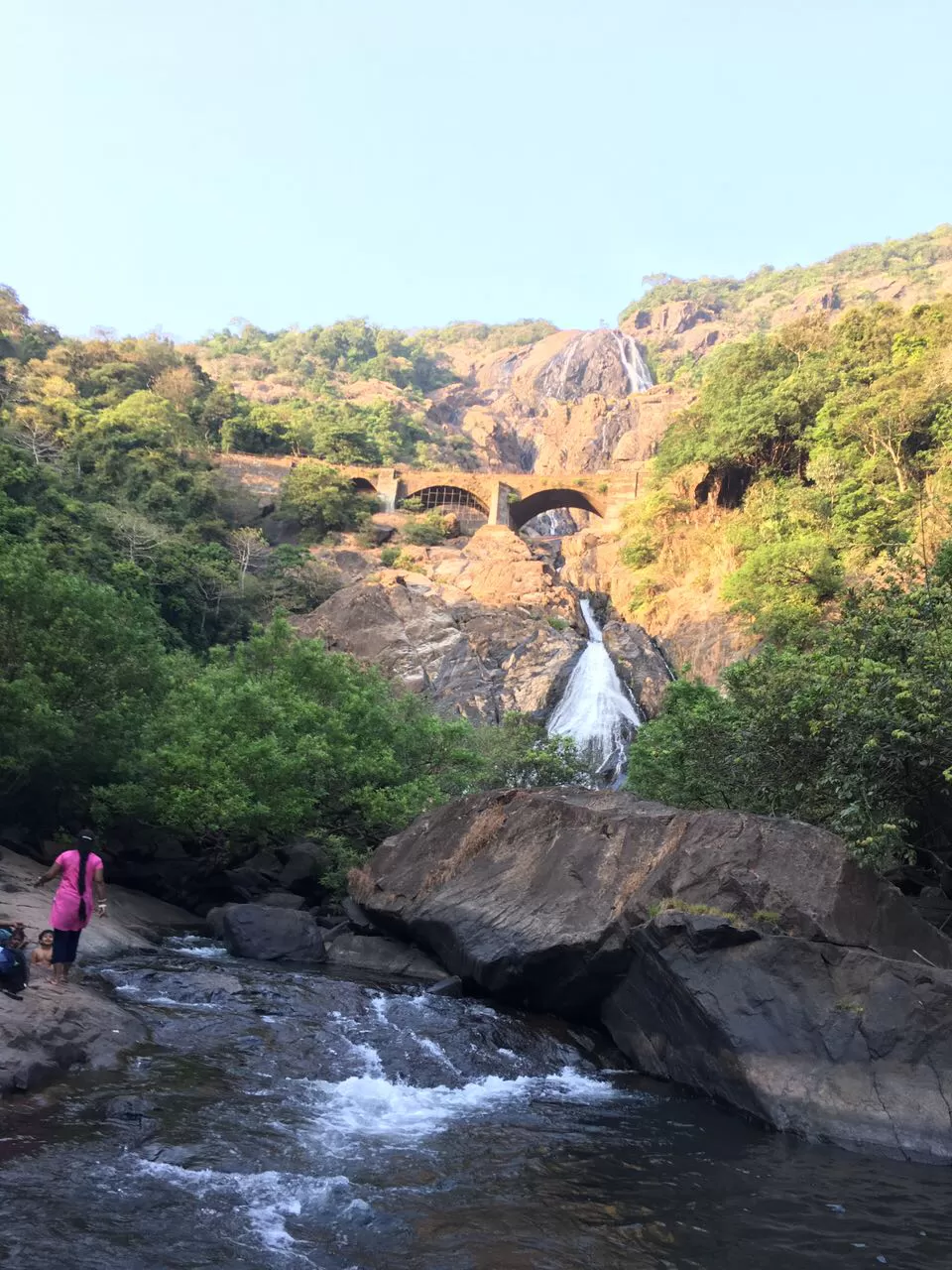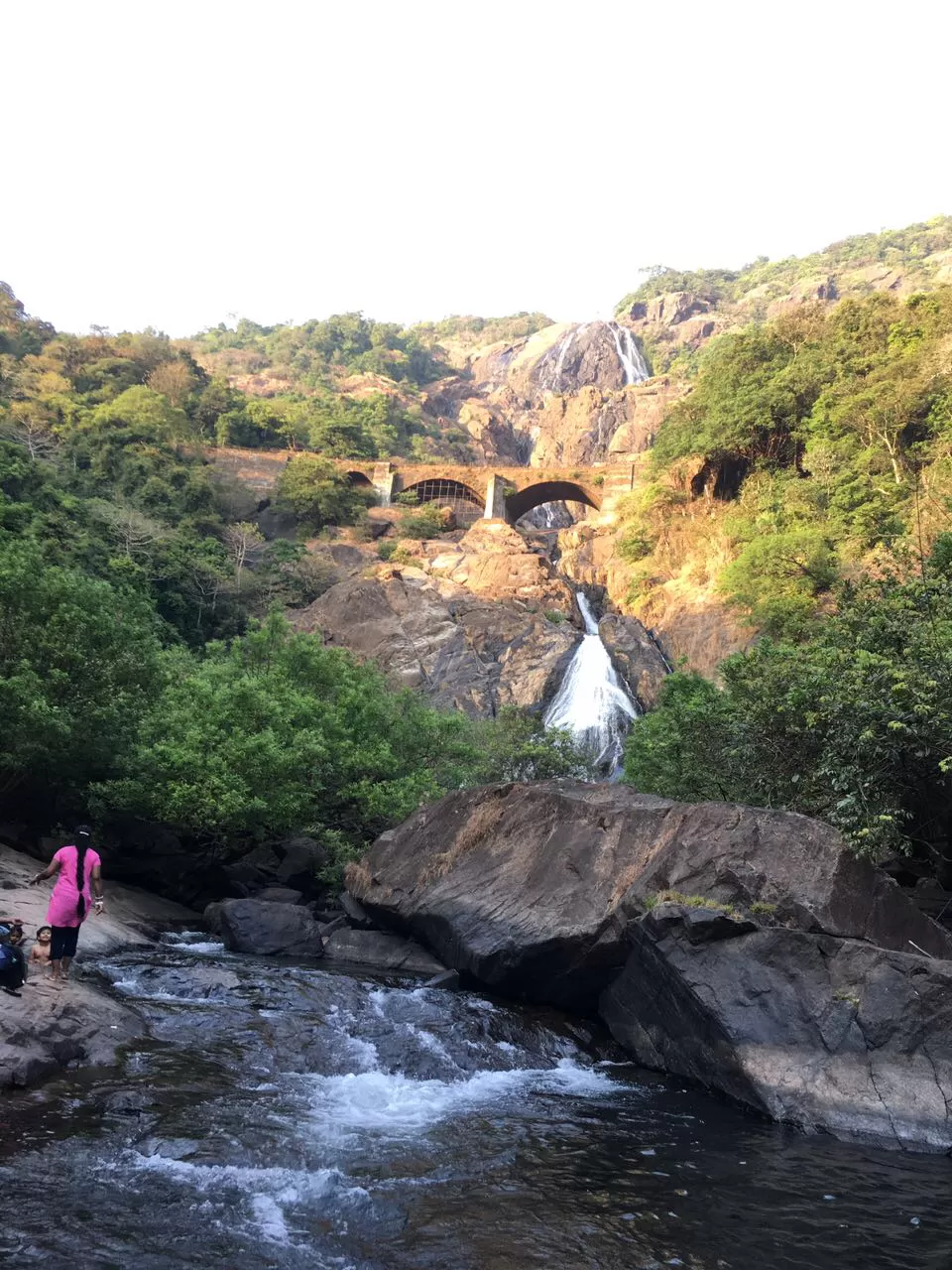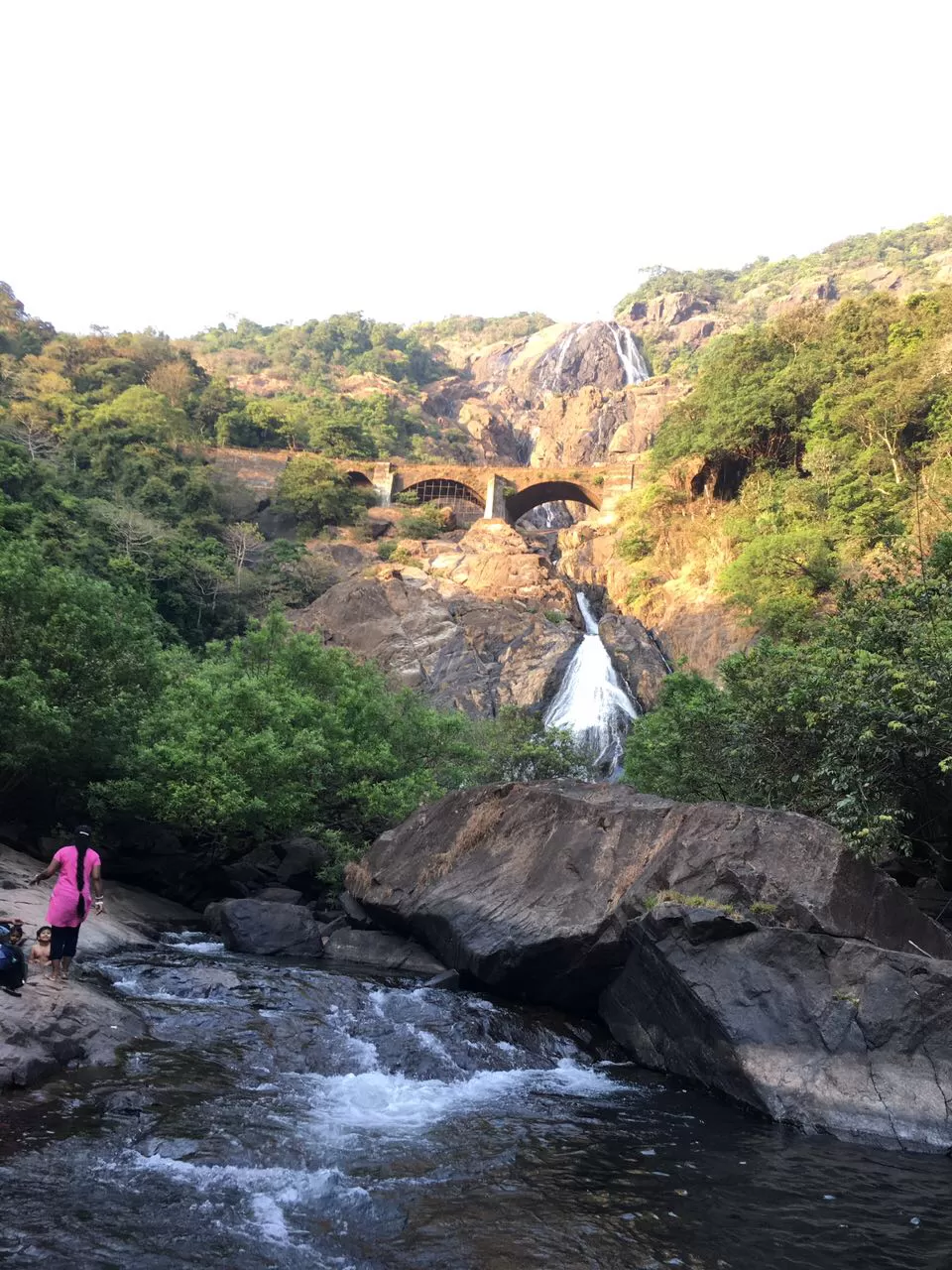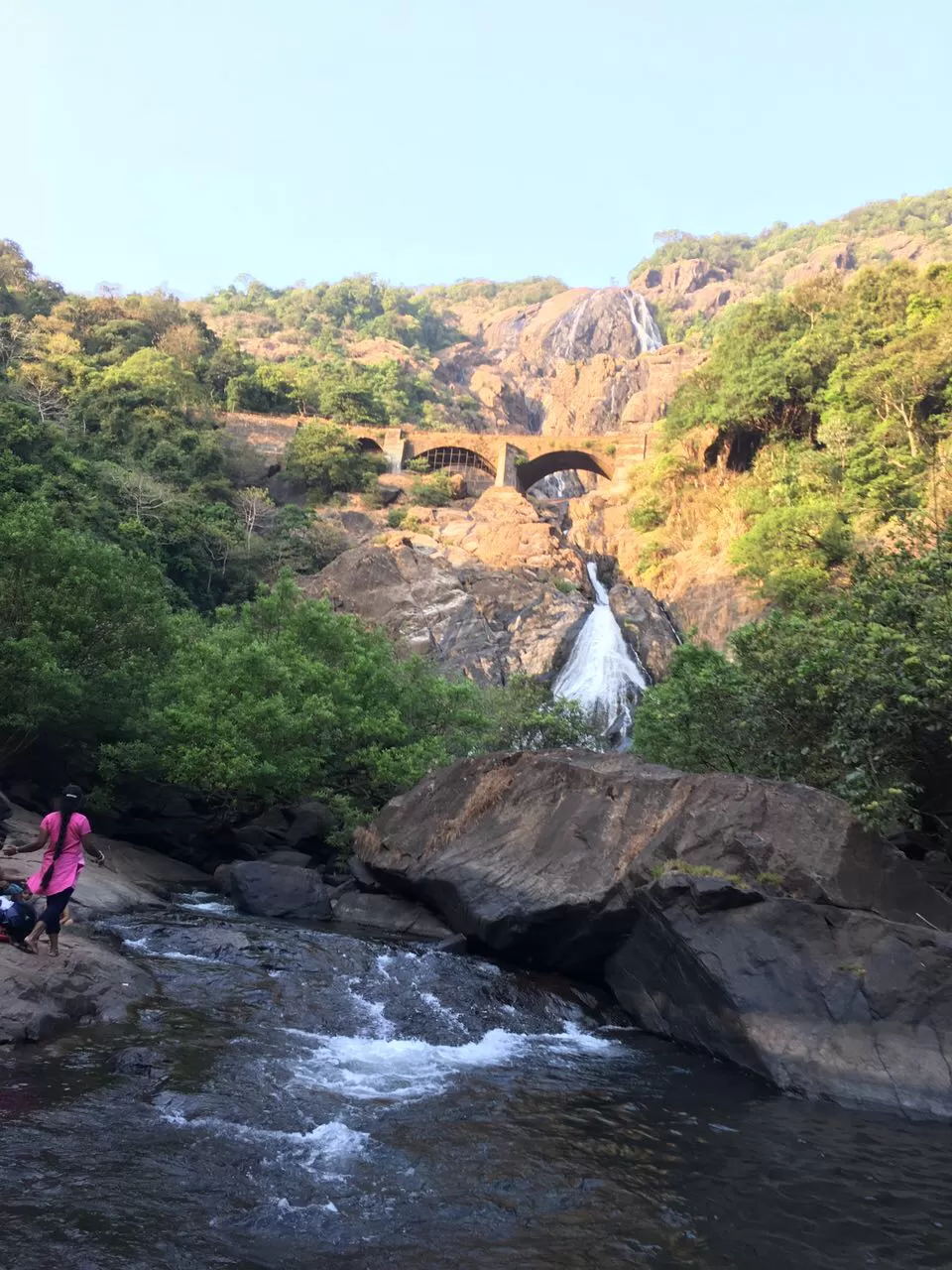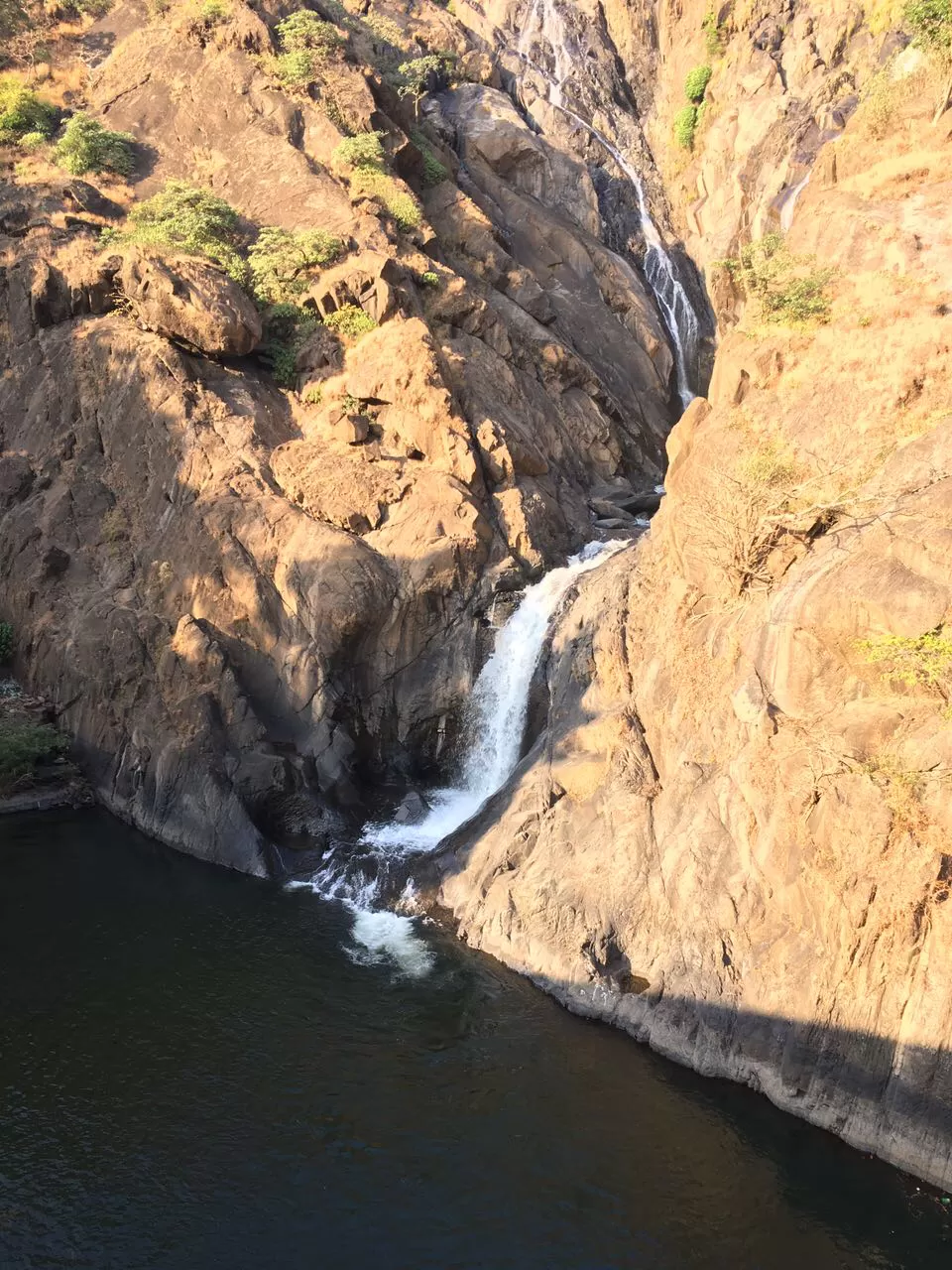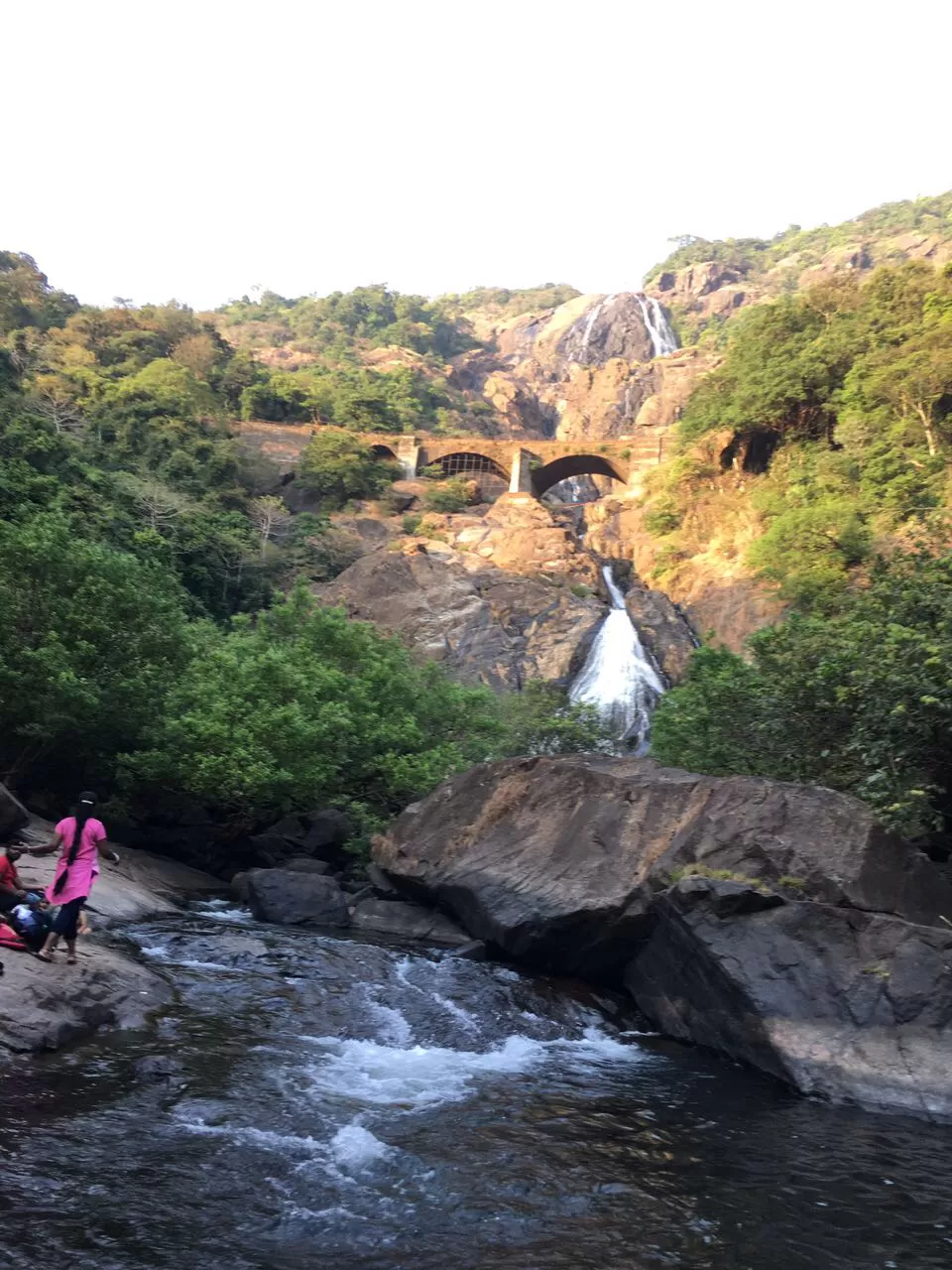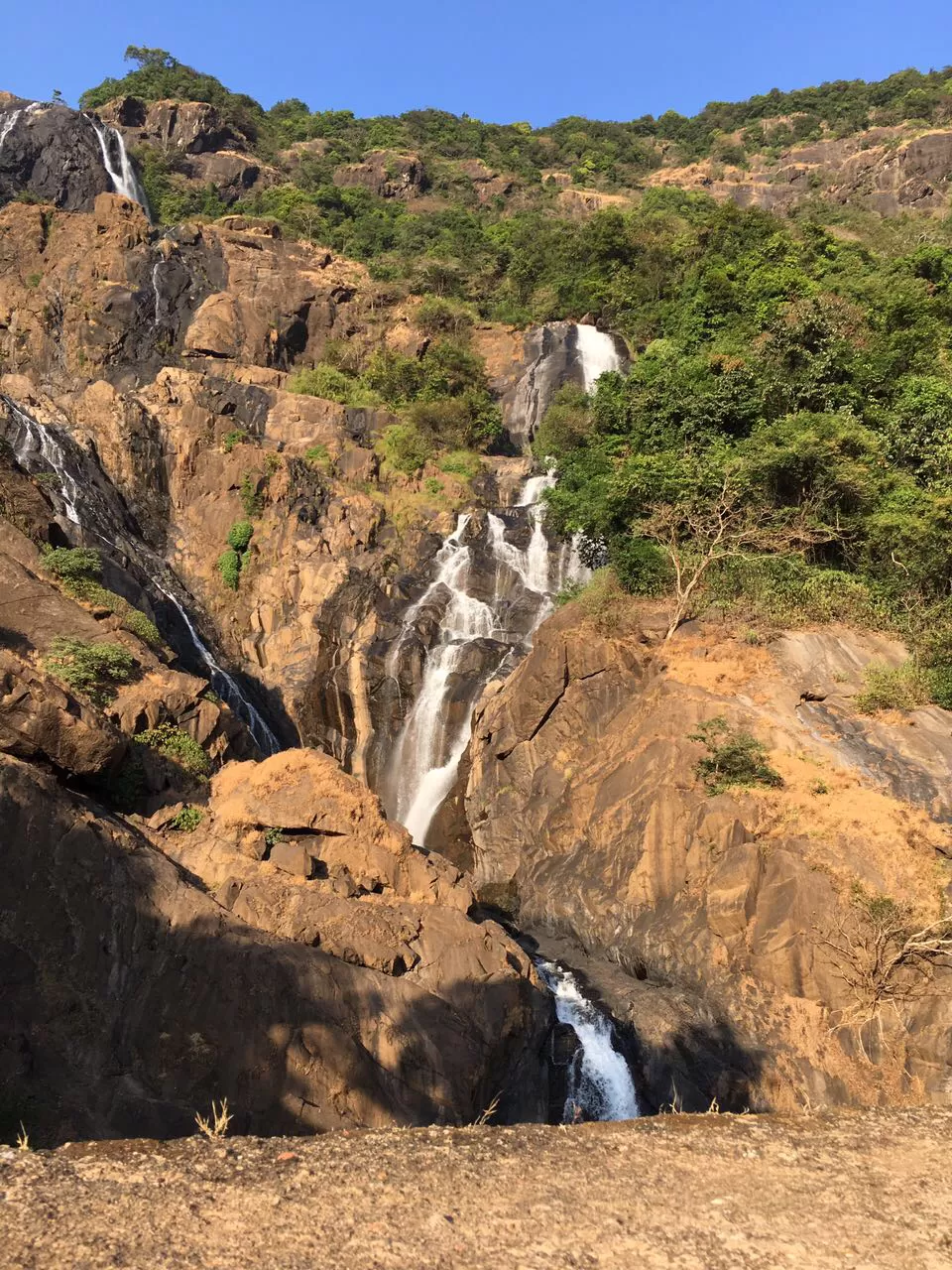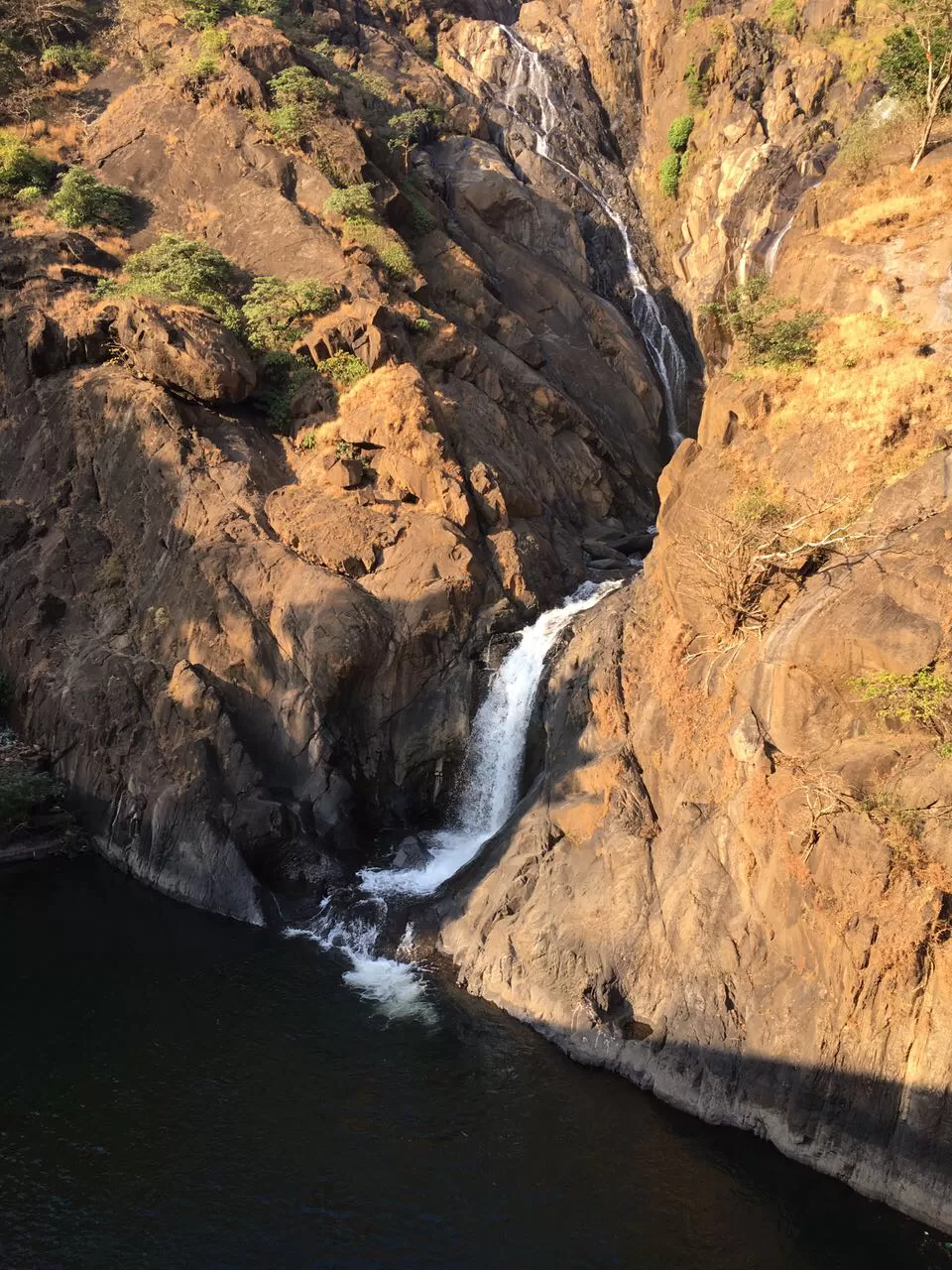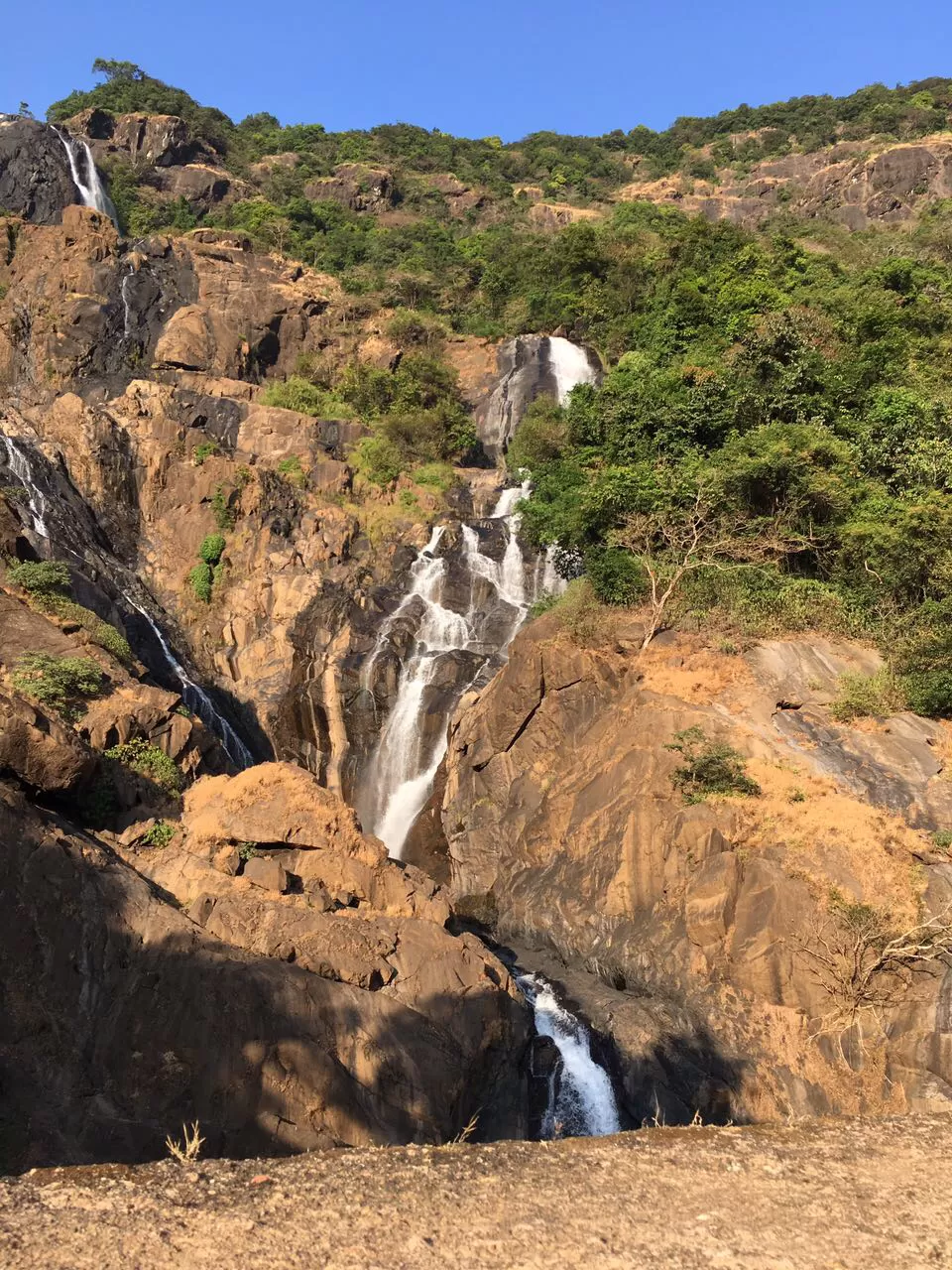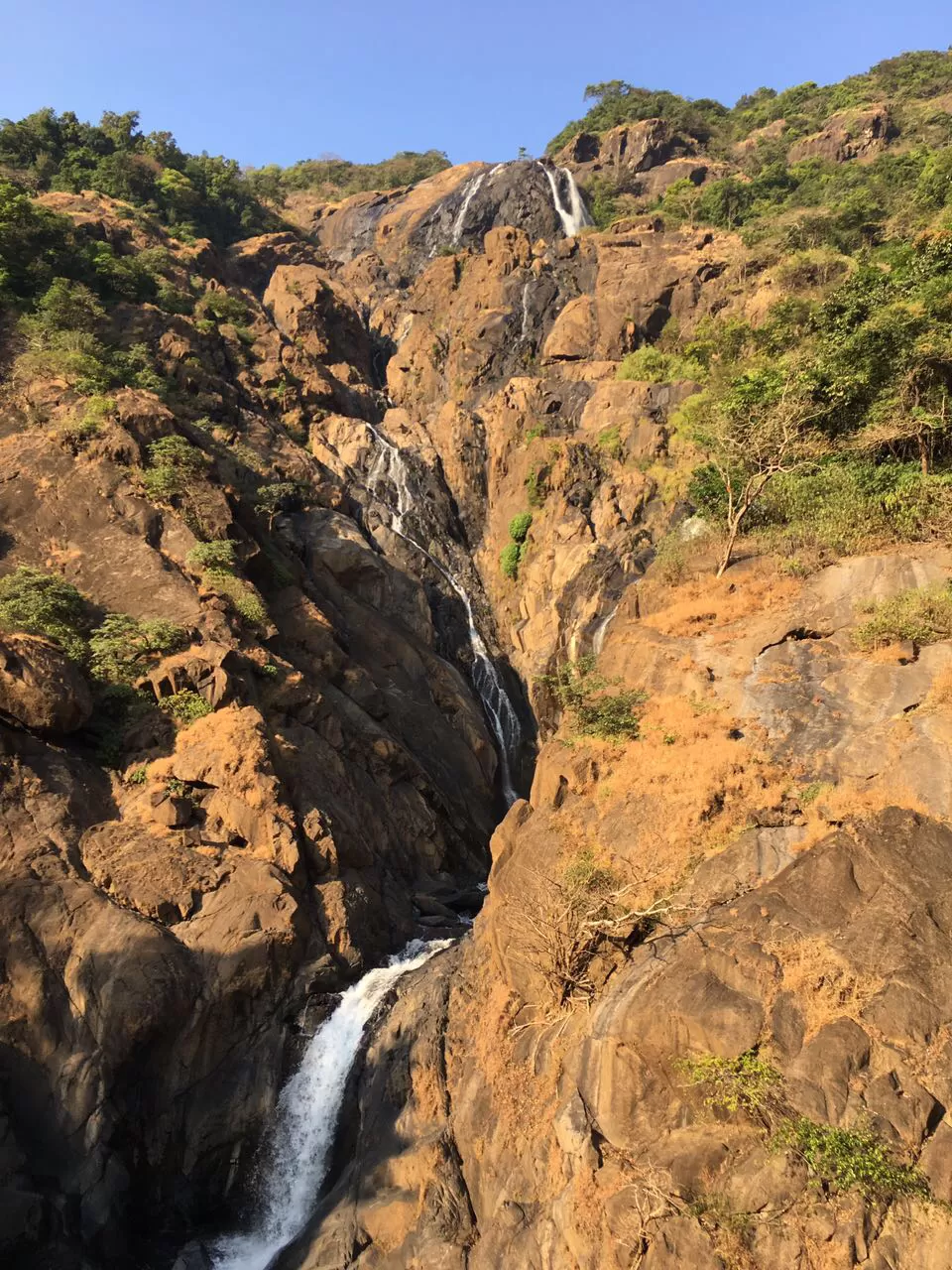 I was completely exhausted . I wanted water badly but we had only empty bottles with us it turned 6:00 . we were walking inside the jungle , it was very dark one side of my heart started beating fast as we did not find any temple now and asholes jeep people passed away without stopping. all the jeep were empty they had lied to us never trust the jeep people in dudhsagar they biggest fuckers, finally we reached the place . by the time we reached there we heard the train sound from top of the mountain we thought of catching the train better than staying in temple . so we started to climb the steep mountain i fell down I was fully exhausted ,I did not have any stamina to get up on my legs, my friend helped me they lifted me and i was finally on the railway track it was the same sonalium station the train had started to move two of my friend caught the train but i wasnt able to move but i tried to move and fell on the railway track .I was lying on the center of the railway track on the other track the good s train was moving , my two friends were already on the train cheering up for me to catch the train i couldnt move a single inch , they got down from the train because of me they helped me to get up and we slowly moved to near the station control room . opposite to control room there was a tree we sat down near the tree . my friends bought water from the control room , after 15 mins of rest I was able to move a bit. i crossed the track went to ask them when will the next train comes , next passenger train was at 10:30 towards madgaon that was going back to goa we wanted to go to karnataka but we were even ready to take that train but we had to wait for 5 hours , we thought of catching goods train if it comes after 15 mins we could see a train coming it was just the engine of the train and did not stop at the station. one worker from the station came to us and sat next to us and we were having a talk and we asked them whether we could sleep in the control room or we could sleep down the tree outside , he said it was not safe to sleep here as there were many wild animals and snakes in that area and suggested us to go down the hill there is a shop and we could get biscuits, chips and water also , so we started to go down the hill it was already dark we used our mobile flashlight to go down and we found that shop we took some biscuit chips water and ate it . and we asked the shopkeeper whether they could drop us back to collem , they tried calling few people but it was unsuccessful . after finishing up the biscuits and chips we asked them whether they could provide us some food for the night they agreed for rice and dal , that was more than sufficient for us . Uncle and aunty were very helpful after spending 1 hour .the food was ready we had our dinner. It was very cold outside first, we thought of sleeping in temple but the temple was under construction and it was open and we did not had anything to cover so we asked Uncle whether we could sleep inside the shop as it was covered , he did not agree for that but he gave space inside his house with blanket and all.
he was very kind and helpful. he suggested that there is a train at 4 in the morning u could leave at 4 in the morning . we agreed to leave at 4 in the morning . the whole night we couldnt sleep it was very cold and we were not getting sleep at all i dont know why. after spending 6 hours at their home it was 4 in the morning we were awake the train had arrived but it was fully dark and it was very cold we could not go at 4 in the morning we waited for sunrise , it was 6 in the morning we were ready to leave we paid 600 Rs for them for their hospitality we again climbed the mountain and waited for the train after 15 mins a goods train came we climbed the last compartment of the train which will be open .
It was 10 mins journey in meanwhile we brushed our teeth and got down at collem station and went out to find a hotel for breakfast but there was none hotel open at that time only a small shack was open we had some tea and biscuit and left to Belgaum back to our place.
"We had gone in the month of January so the water is not force but it was beautiful to watch"