You Have to Know these top 16 things before your trek start to Everest Base Camp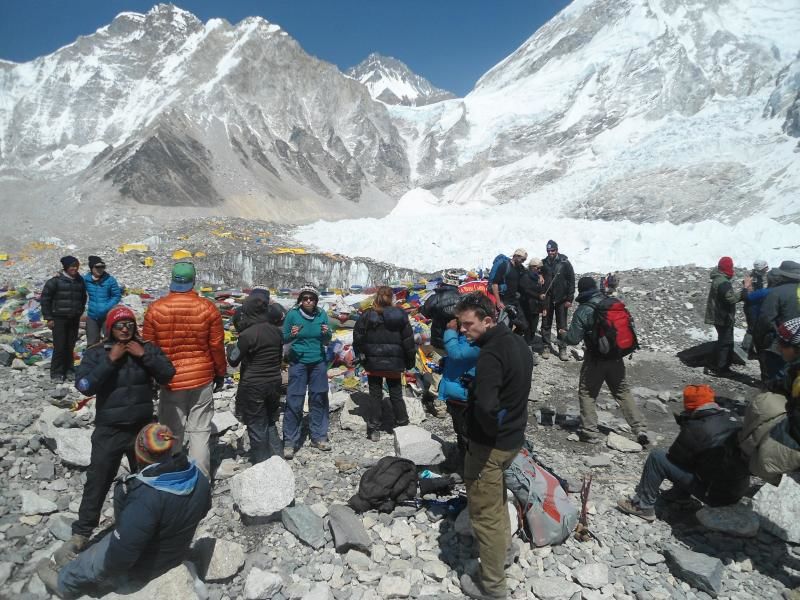 EVEREST BASE CAMP LOCATION BEST SEASON FOR EVEREST BASE CAMP TREK BOARD A FLIGHT TO TENZING-HILLARY AIRPORT FOOD AND ACCOMMODATION IN EVEREST BASE CAMP TREK EVEREST BASE CAMP TREK COST EVEREST BASE CAMP TREK ITINERARY HIRE A TREKKING GUIDE FOR EBC TREK GROUP AND SOLO TREK ARE POSSIBLE NECESSARY TREKKING GEARS REQUIRED DOCUMENTS AND PERMITS TO EBC IS ALTITUDE SICKNESS A HUGE PROBLEM UP UNTIL BASE CAMP? SYMPTOMS OF HIGH ALTITUDE SICKNESS HIGH ALTITUDE SICKNESS CAN BE PREVENTED HIRE PORTER FOR EVEREST BASE CAMP TREK YOU SHOULD CARRY NEPALI CURRENCY TRAIN YOURSELF FOR EVEREST BASE CAMP TREK
Everest Base Camp Location
GPS coordinates of Everest Base Camp, Nepal. Latitude: 28.0043 Longitudes: 86.8557. Everest is the tallest Mountain and known as the roof of the world. Mt. Everest in English, Sagarmatha in Nepali and Chomolongma in Tibetan language (8848m. / 29029ft.) is in Solukhumbu district of North-Eastern Nepal. It is marks the international border of Tibet China and Nepal. Mount Everest is the most outstanding part of Mahalangur range of great Himalayas. It takes a week to reach the base camp of that mountain from Lukla during the trekking.
Best Season for Everest Base Camp Trek
There are two main trekking season for Everest Base Camp. Autumn trekking season (September to November) and spring trekking season (March to May) are the best trekking seasons. The weather is perfect sunny and warm with wonderful mountains views clean air and not rain compare with other trekking season (winter and Monsoon) If you want and wish to avoid crowds and enjoy some alone time with nature and culture, you can do this trip during the winter (December/January and February) also could be an option. But, the temperature during winter could be little bit cold for most trekkers. In the summer season (June to August) is raining but best for nature lovers. That is why; you can choose your best season for Everest Base Camp Trek depends on your Vacations.
Board a Flight Tenzing- Hillary Airport
Most of the trekkers flight to Tenzing-Hillary airport in Lukla. That place is popular ease point the access to Everest Base Camp Trek. It takes just 30 to 35 minutes' flight from the Kathmandu airport to reach Lukla. Lukla airport is located on Mountain region. That is why the flight takes you through the many hills and able to see panoramic mountain view on the north side. If you choose to board a flight to Lukla, your trek starts the same day to Everest base Camp. There is others option to get there by bus to Jiri or Phaplu but you have to spend some extra days of trekking before reach Lukla. Sometime could be bad and critical weather might delay your journey to and from Kathmandu-Lukla-Kathmandu. Himalayan and Hilly Region weather can be changeable sometimes. But, we will try to make the best itinerary days as it is possible. In case of flight delay and cancellation situation arises, there you need to extra few days before and after the trekking days from the itinerary.
Food and Accommodation in Everest Base Camp Trek
Everest region is popular trekking destination in Nepal. There are many new tea-house because every day increasing new house and tea-houses from starting tourism. Tea-house is not only offers tea but also food and place to sleep. If you are signing up for tea-house trek in Nepal, you will not need to carry food and camping gear. That is why hike for 5-7 hours at day time and rest and sleep in the tea-house at night during the trekking in Nepal. If you are planning of trekking in the popular area of Nepal like Everest region, Annapurna Region and Langtang Region etc are the best tea-houses trek and best way to experience and explore the Himalayas of Nepal. The routes are the trekking trail to the Himalayas has beautiful tea-houses at the lower altitude and increase many nice tea-houses in the high altitude. So, you can have easy to finding comfortable accommodation in the Everest region. Almost all tea-houses are tried to give you best service for all traveler. Every different place diffident quality of the tea-house so, you can choose based on your budget. During the Everest Base Camp Trek, food is mostly typical Nepali (Dal-Bhat) and you can choose food menu every Tea-house. Most of the tea-houses produced fresh Vegetables on their garden and serve to costumer. So food and accommodations are enough in Everest Base Camp Trek in Nepal.
Everest Base Camp Trek Cost
In Nepal many trekking agency organize Everest Base Camp Trek on different cost so there is no fixed price for hiking up to the Mt. Everest Base Camp. But we (High Pass Adventure) have reasonable price for that Everest Base Camp Trek. We have 12 days itinerary for the Everest Base Camp Trek and cost is depends on yours group size and types of tea-houses. Normal average cost will be charged from US$ 1000 to US$3000 for 12 days to 17 days' trek. This cost is full package of the whole trekking. From that cost, exclusive sections are shower, WiFi, phone call, electronic device charging bar and beverage and personal shopping. If you will do yours self, the price is also same amount. Because, basic accommodations cost is per night per-person $5-10, foods (Breakfast, Lunch and Dinner each meals) $5-10. And other cost are Guide and porter salary, Guide porter trekking insurance, Trekking Permits and flight Fair to Ktm-Lukla-Ktm (guest + guide).
Most of the trekkers follow the itinerary for Everest Base Camp Trek. If you continue walk to Everest Base Camp by following itinerary, it takes 6 days to get there but there are 2 extra days for acclimatizing day and 4 days back to Kathmandu from the Everest Base Camp. Combine all together is 12 days itinerary of Everest Base Camp Trek. We always offer best itinerary to all costumer.
Outline itinerary of Everest Base Camp Trek.
Day 01: Flight to Lukla (2800m) and trek to Phakding (2610 m) Day 02: Trek to Namche Bazaar (3440 m) Day 03: Rest day at Namche Bazaar (3440 m) Day 04: Trek to Tengboche (3860 m) Day 05: Trek to Dingboche (4410 m) Day 06: Rest day at Dingboche (4410 m) Day 07: Trek to Lobuche (4940 m) Day 08:Trek to Gorakshep (5180 m) and hike up to Everest Base Camp (5363 m) Day 09: Trek to Pheriche (4250 m) Day 10: Trek to Namche Bazaar (3440 m) Day 11:Trek to Lukla (2800 m) Day 12: fly Back to Kathmandu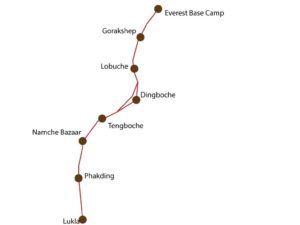 Hire a Trekking Guide to EBC Trek
The Law of Nepal has not legalized the necessity of trekking guide for any foreign trekkers in the Everest Region special Everest Base Camp. But some trekking region like Upper Mustang Region, Manaslu Region, Kanchenjunga Dolpo Region, Mugu Limi Valley etc are legalized necessity of trekking guide. If you will do any trek in Nepal, you must have hire guide for your trekking because the guides are fully dedicated towards the work with responsibilities, care, honesty and kindness to trekkers. Who can communicate, explain and support you with all things that you need during the trekking period. For those things you can just hire the best trekking guide of your choice and we have best package of this Everest Base Camp guide service. All our guides are in our company have trained and got license by government. Our guide and porter are from rural area and they have enough knowledge about trekking. Our guides have also general knowledge about First Aid and they can also help you medicals treatments and emergency services of altitude sickness during the trekking.
Group and Solo Trek are Possible
All trekking agency can provide best and experience trekking staffs for any size of trekking group but it is all depends on trekker's choice. If you want to love solo trek to Everest Base Camp, you can just hire a guide and he will explain everything. Solo trek is comfortable and flexible but budget is bit higher than Group Join Trek. If you want to do Group Join Trek, it is benefited trek for single trekkers because you can share every thing during the travel. High Pass Adventure always observes with the new idea and recommend to our clients and set up the trekking date of their suitable holiday schedule. If you are single and willing to trek and tour with a group, we can easily arrange suitable group that match your time and interest.
Necessary Trekking Gear for EBC Trek
Trekking gear is the important thing for the travelling and trekking in Nepal because weather is in the mountain area is always changeable every different season and altitude. In the higher altitude, the temperature may drop quickly freezing point from hot weather. Some time unexpected rain falls and snow falls. That is why; you must know pack necessary trekking gears for Everest Base Camp Trek.
Trekking gear for Everest Base Camp Trek Walking shoes and sport shoes 1/1 pair Normal and warm gloves 1/1 pair Sun glasses and sun block cream 1/1 pieces Down Sleeping Bag and down warm jacket 1/1 pieces Normal Socks 2/3 pair Fleece Jacket and Trouser 1/1 pieces Head lamp 1 piece Gore-Tex Jacket and Trouser 1/1 pieces Water bottle 2 pieces Trekking day back pack bag 1 pieces Trekking stick (pole) 1 pair T-shirt 4/5 pieces Sleeper (sandal) one pair
Required Documents and Permit Cost
Everest Base Camp Trek is lies in Sagarmatha National Park, so you do not need special permit. TIMS (Trekkers Information Management System) card and Sagarmatha National Park entry permit are requirements. If you are doing trek from trekking agency, your guide will help you in obtaining the permit and TIMS card. If you are on individual trekkers, you can buy those things along the trail or you have to buy tourism board in Kathmandu. Yours permits need to show on the check post along the Langtang valley trekking route. If you go there without permits, you have to buy from there or you may have accepted punishments as per the law of Nepal government. TIMS Card TIMS (Trekker's Information Management System) is compulsory for everyone to Trek in Nepal. It Cost US $ 20 per person/ per trek Langtang National Park Entry Permit It cost US $ 30 per person/ per trek Both permits you can buy in Kathmandu (Nepal Tourism Board) before you go on Trek.
Altitude Sickness is a Huge problem until Base Camp?
High altitude sickness is main issue in the Himalaya region in the Nepal. Everest Base Camp Trek is one of the famous trekking routes in the world. This trekking starts at 2,600 m at Lukla Airport and getting high point of over 5,500 m at Kalapathar. Along with these high altitudes area come the risk of the altitude symptoms and sickness such as Acute Mountain Sickness (AMS). There is no different of age, gender or physical fitness, when it starts to suffering from high altitude sickness. That is why, we create and introduction best itinerary with acclimatization day. If you have symptoms of high altitude sickness, you have to come lower altitude to rest and sleep with trekking guide.
Symptoms of High Altitude Sickness
Normally starts high altitude sickness from 3,500 m high in the Everest Base Camp Trek. When you will have these symptoms such as Headache, Fatigue, Nausea, Shortness of breath, Dizziness Lack of sleep, Loss of appetite etc, you feel that is high altitude sickness. These symptoms are very common for most trekkers and others people as soon as they arrive in high altitude areas and can be determined by allowing 1-2 days of rest for the body to acclimatize. From then you can climb to higher altitudes.
High Altitude Sickness Can be prevented
This high altitude sickness is the dangerous, when you will walk up after those symptoms but it is easy to prevention. You must have understood about high altitude sickness and that is proper acclimatization is the best fight against that disease. When reached 3000 m or 3500 m, you will have to spend at least two nights. For the Everest Base Camp Trek, Namche Bazaar is the best place spends 2 nights for acclimatization. Normally, trekkers have to ascend 300 m to 500 m per day. Here are main things you can do prevent yourself from high altitude sickness. Climb slowly, eat carbohydrates, Avoid alcohol, drink water, take it easy, sleep lower and medication. You should not go on any medication without a doctor's recommendations.
Hire a Porter for Everest Base Camp Trek
If you are planning trek to Everest Base Camp with group or solo, hire a porter is better idea to carry your bag during the hiking. Some trekkers want to do trek without porter but that is not good on the Everest base camp Trek. Porter will carry yours all stuff desired your destination and you carry just a day bag with important stuff. If you carry your luggage yourself, that is very difficult to ascent on higher place and makes very tired. If you buy the full package Everest Base Camp Trek, trekking agency provide best porter to carry your luggage from that cost.
You should Carry Nepali Currency
Everest region is popular trekking destination, so some where they can exchange US dolor and Euros but it is necessary for you to carry Nepali currency during the trek. You can exchange your currency in the Kathmandu city after you landed on Nepal. It is necessary because shopping personal and tipping to driver and trekking staff. You have to exchange an amount of money, which is sufficient the whole trek.
Train Yourself Before Everest Base Camp Trek
Trekking in Nepal is walking one place to another on hilly and mountain region. If you never walk on ascent and descent before trek in Nepal, it will be uncomfortable on your health. Only you need basic experience for walking. The Everest base camp trek is not climbing peak so, you do not need any previous technical climbing experience or even any altitude experience to complete that trek. This trek requires you have to be physically fit and to have excellent strength. That is why, we highly recommend to you train like hiking, short running, cycling walking 1 or 2 hours every day before come in Nepal for Trekking in Nepal.