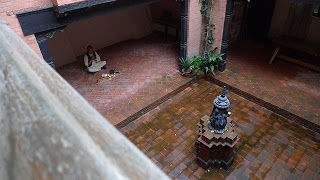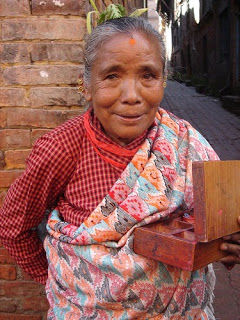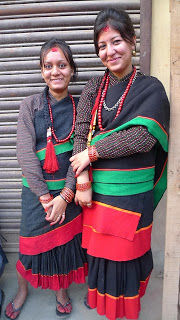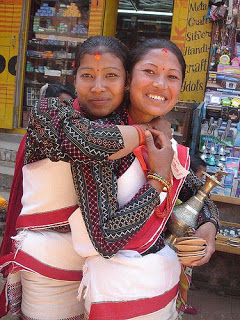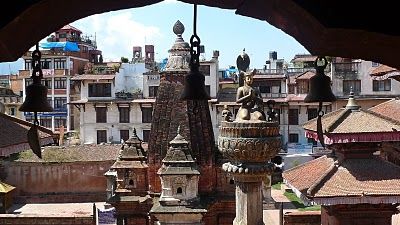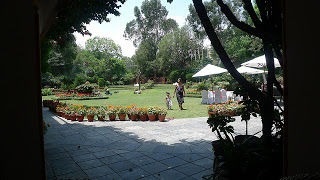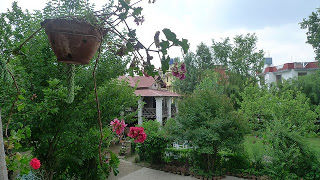 Escape from Kathmandu is a book by Kim Stanley Robinson, which I saw constantly while in the city, and never read. It's also something you'll want to do frequently while living and working in Kathmandu. The city has its share of magic, but more than its share of air and noise pollution. The Mountain 'Du is a perfect example of how increased "prosperity" can actually make a place less liveable. An increasing number of personal vehicles on the road, paired with zero emissions laws and aggressive "horning" habits have turned the pagoda-filled valley into a smoggy cauldron. Increased political awareness and labour organization mean more frequent garbage strikes, with mini-Mount Trashmores accruing on every other corner. Negotiating the obstacle course of a Kathmandu street can provide great practice for rural trekking.Fortunately, behind its traditional brick-masonry walls, Kathmandu hides a number of gracious courtyards where soothing fountains flow, sunlit gardens quietly thrive, and iced drinks are served in the shade. The "valley of Shangri-La" was thought to be a hidden paradise amongst craggy mountains; similarly, these urban oases offer respite from the grime.
Hotel Shangri La Shambala Gardens: Along with the Yak and Yeti, Shangri-La is the old, established face of genteel higher-end Kathmandu tourism. The Shambala garden, designed by artist and Nepalophile the late Desmond Doig, serves Illy coffee imported from Italy and seemingly endless sunny days.To step off noisy Gaushala (the name means "Cow shelter") and enter the gates of Dwarika's heritage hotel is to truly experience another city within the city. Dwarika Das Shrestha devoted his life to collecting the intricate hand-carved wooden pieces being discarded by Kathmandu's modern property developers, not knowing what he'd ever do with them, but sensing their innate value. His hobby eventually became this hotel, which doubles as a museum for Newar art heritage. Dwarika's is located rather out of the way, unless you are on your way to either Pashupatinath or the airport, but is well worth the taxi ride. Kantipur Temple House is less illustrious than Dwarika's, but with its central Thamel location, far more convenient for most travelers. A stroll down the labyrinthine streets toward the neighborhood known as Jyatha will bring you to the courtyard of the Temple House, where you can easily alternate between the cool shade of the interior or the soothing sun of the gardens. Garden of Dreams was concocted in the 1920s as a classic Victorian "folly" of Field Marshall Jung Bahadur "Kaiser" Shamsher (namesake of the neighborhood, Kaiser Mahal), during a phase in Nepali history when local rulers were smitten with European tastes and trends. Hotel Nirvana Garden is another pleasant surprise within Thamel, all the more so for its proximity to the hustle and the high-decibel rock music that pervades the area from 8pm to the wee hours. A lush garden with waterfall and noisy frog pond will soothe your traffic-shredded ears. It's located just round the corner down a backstreet from the world-famous Kathmandu Guest House. A personal favourite (and round the corner from my flat) is the restaurant Tushita (translation: place of contentment). The coffee is good, the food mediocre; but its traditional Brahmastanam architectural structure is uplifting and spacious, with plenty of cool corners to hide in, and free wi-fi. There are still more hidden gems - Babar Mahal Revisited, Mike's Breakfast, Cafe Imago Dei, and the gardens of the sequestered Hotel Vajra. Gritty on the surface, modern Kathmandu secretly retains the laid-back ways that made Nepal so popular with road-weary backpackers 1970s hippie overland days.
While I was in NYC my mind wandered off to Nepal. It's Dasain time - the nine-day festival dedicated to goddess Durga, in her local Nepali incarnation as Taleju Bhavani. As a visitor to Nepal, Dasain can be frustrating - transportation is crammed full, shops open and close erratically, most government offices (including those for trekking permits) are closed, and tourist restaurants and many hotels are running on a skeleton crew. The best way to spend Dasain is to relax, forget your goals and travel checklist, befriend some Nepalis and get invited to their home. You will enjoy the traditional foods, and receive the blessings of tikka and jamara from the family elders.
I recommend combining a trip to the Patan Museum - which rightfully has a reputation as one of South Asia's finest museums - with a visit to the House of Wo. Also on the same block of Patan Durbar Square, the Sundhara Hiti (sometimes called the Royal Bath) made famous by a scene in Bertolucci's Little Buddha - has just recently been reopened.You can enjoy the Museum's luxurious gardens and umbrella'd outdoor cafe, peek at the psychedelic ornamentation of the Sundhara Hiti, then chow down with the locals round the Wo House cookstove. At dusk the temple bells from Krishna Mandir will serenade you, and bhajans (devotional Hindu hymns) will begin upstairs in the nearby Bhimsen Stan.